Hello and welcome to the Garden Outline photo gallery of pergola ideas. Below you will find a summary of the benefits, main options and some design ideas we handpicked for you along with beautiful photos. Enjoy!

What are the benefits of pergolas?
Provides function and beauty to your outdoor space
Works well with a patio or a deck
Helps define outdoor spaces
Minimally protects from elements depending on the size of rafters and if pergola is covered
Can be DIY

What are the main options for pergolas?
Type: freestanding or attached, covered or not
Material for rafter and/or post: hardwood (oak and cedar), reclaimed wood, aluminum, stone, engineered wood
Material for pier: brick, stone, concrete, stucco, steel
Cover: none, corrugated plastic, acrylic or sunbrella fabric awning, custom mesh, natural bamboo

What follows are beautiful photos of pergolas along with design ideas we thought may be of interest to you. If you would like to see more related design ideas, try Attached Pergola Designs, Covered Patio Ideas, and Backyard Patio Designs and Ideas. Enjoy and happy outdoor decorating!

1. Touches of Asia
Points of Interest ● curved top wooden pergola with slim rafter tails ● hanging jar lanterns ● bamboo privacy fence ● red awning ● zinc chest ● area rug
2. Café Terrace
Points of Interest ● attached white wood pergola ● white pergola post with fragrant climbing jasmine ● vintage cafe style bronze terrace table ● gray deck railing ● sliding French doors
3. Hardwood Support
Points of Interest ● hardwood support beams and columns ● white stucco foundation ● fully equipped outdoor kitchen ● iron pergola gate ● tiled inlay floor design
4. Stucco Columns
Points of Interest ● wood pergola on stucco columns and concrete piers ● slatted wooden deck ● twin outdoor wall lanterns ● terracotta pots ● deck plank stain matching pergola
5. Tree Branch Posts
Points of Interest ● tree branches and stone pier pergola ● built-in stone bench with iron back ● brick floor with 2 different pattern (living space: herringbone pattern, to stairs: stack bond pattern) ● outdoor curtains on iron rod
6. Rustic White
Points of Interest ● white stucco outdoor space with columns ● bamboo slat roof ● dining table and benches from salvaged wood ● wood storage ● birdcage candelabra
7. Wood Stove
Points of Interest ● twin attached pergolas ● decorative fan scrollwork brackets ● crawling vines covering 2nd pergola ● wood burning firehouse fire pit ● iron plant stand with gerberas
8. Scrolled Wall Lamps
Points of Interest ● freestanding wooden pergola above lawn area ● lattice top wooden fence ● rectangular elevated brick pit ● wrought iron scrolled outdoor wall lamps
9. Sun Protection
Points of Interest ● doric pergola columns ● hardwood rafters and purlins ● sun protecting corrugated polycarbonate roof sheet ● wood deck "carpet" on deck ● mounted stainless steel outdoor lights
10. Hanging Decorative Balls
Points of Interest ● white pergola and purlins ● white curtain decor ● composite deck floor ● extended uncovered patio area ● iron bench with cushion seating ● decorative balls and lanterns
11. Lattice
Points of Interest ● hardwood pergola with lattice knee brace brackets ● easy to install interlocking deck tiles ● stained wooden fence with concave lattice top ● white planters
12. Lampshade Chandelier
Points of Interest ● standalone hardwood and concrete piers pergola ● fireplace with brick herringbone chimney accent ● wooden privacy fence with stacked stone columns ● 5-light shade iron chandelier
13. Scroll Rafter Ends
Points of Interest ● large attached pergola with 3 areas ● pergola rafter tail ends ● ceiling fans ● sliding door with transoms ● barrel planter used for wood storage
14. Polycarbonate Sheet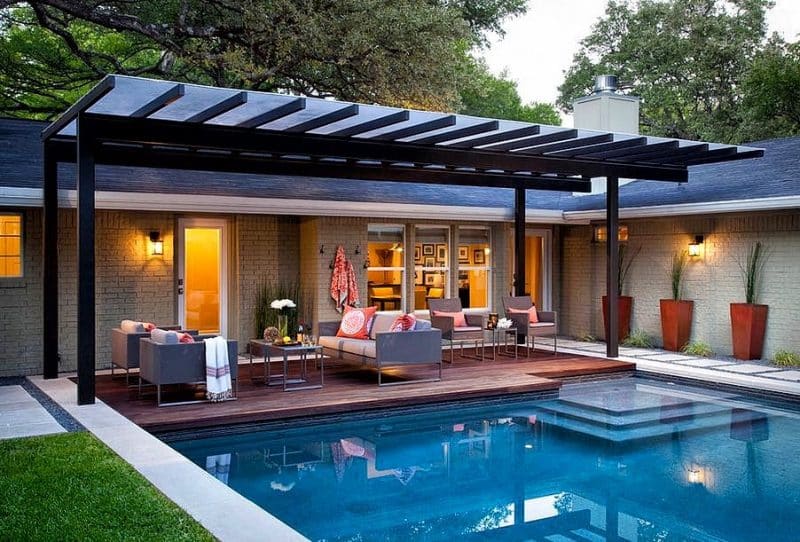 Points of Interest ● steel pergola with polycarbonate sheet roof ● wooden pool deck ● porcelain step stones and pool coping ● gravel edging ● tall tapered planters matching deck stain
15. Apartment Pergola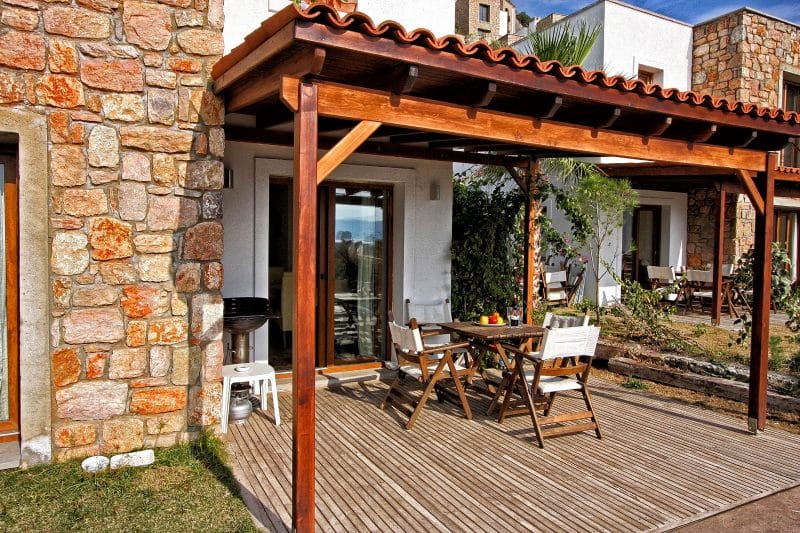 Points of Interest ● terracotta tile pergola roof ● folding directors chairs ● wood-trimmed sliding door ● stainless steel outdoor sconce ● stone veneer siding
16. Sunny Brick
Points of Interest ● fabric drapes on tall wooden pergola ● raised brick pergola flooring ● brick pavers with circular sun and blue diamond tile inlay ● bird bath ● hammock
17. Sliding Stacker Doors
Points of Interest ● attached narrow pergola ● glass sliding doors ● slatted wood sliding stacker door calling back pergola rafters ● slim upper level transom
18. Lush Green Cover
Points of Interest ● lush vine covered pergola roof ● squared flowering beds and vines around pergola posts ● brick flooring ● cast iron green garden set ● shutter doors
19. Natural Stacked Stones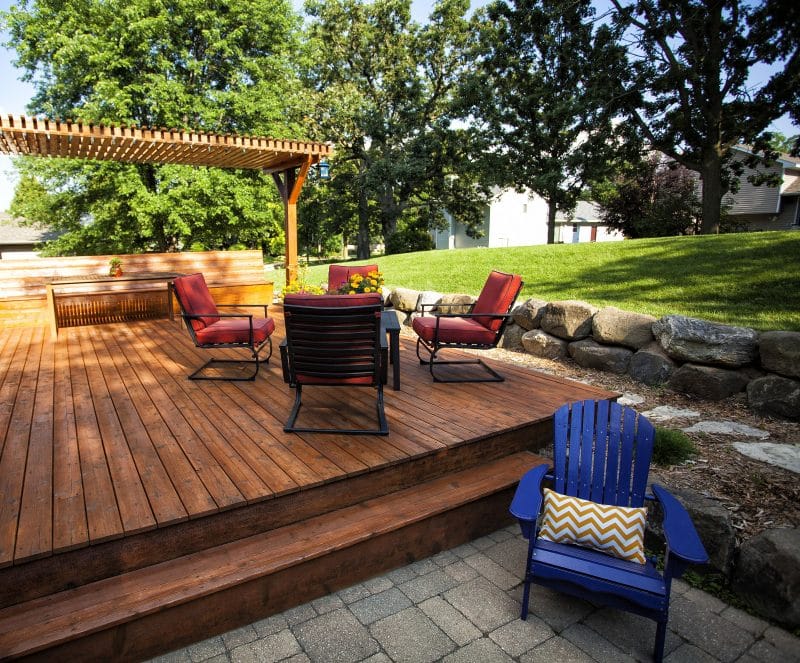 Points of Interest ● narrow pergola above built-in seating bench ● 2-step wood deck ● blue adirondack chair ● stepping stones ● stacked natural stone border
20. Natural Logs
Points of Interest ● log pergola ● built-in bench wrapping around base of the timber column ● stringed bamboo roof ● green-trimmed mirror ● repurposed chest used as coffee table
21. All White
Points of Interest ● white wooden pergola with steel piers ● pebbles in concrete floor ● resin rail on stucco fence ● glass-topped iron garden table with wicker storage detail
22. Shasta Daisies
Points of Interest ● detached aluminum base and wood slat rafter pergola ● bamboo blinds ● black wooden fence ● cast stone urn with shasta daisies ● white candle lamps
23. Firewood Shed
Points of Interest ● matching mini pergola over backyard gate ● DIY concrete block fireplace ● patio pavers matching fireplace material ● firewood shed ● wooden privacy fence
24. String Lights
Points of Interest ● DIY painted wood pergola with acrylic awning ● DIY folding wood chairs and bench ● string lights ● two-tone repurposed coffee table ● outdoor garden lighting
25. Diamond on the Fence
Points of Interest ● semi-circular pergola ● 3-step wooden deck ● wood fence with diamond accent ● privacy evergreen ● stone and mulch garden bed ● hanging basket planters
26. Bamboo Water Fountain
Points of Interest ● natural wood post and and painted pale sage brace and support beams ● bamboo water fountain ● iron wagon planter ● bonsai plant by the fountain
27. DIY Roof
Points of Interest ● stringed bamboo makeshift privacy walls ● DIY tree branches and wood pieces pergola cover ● wooden folding chairs ● silver candelabras ● light bulb