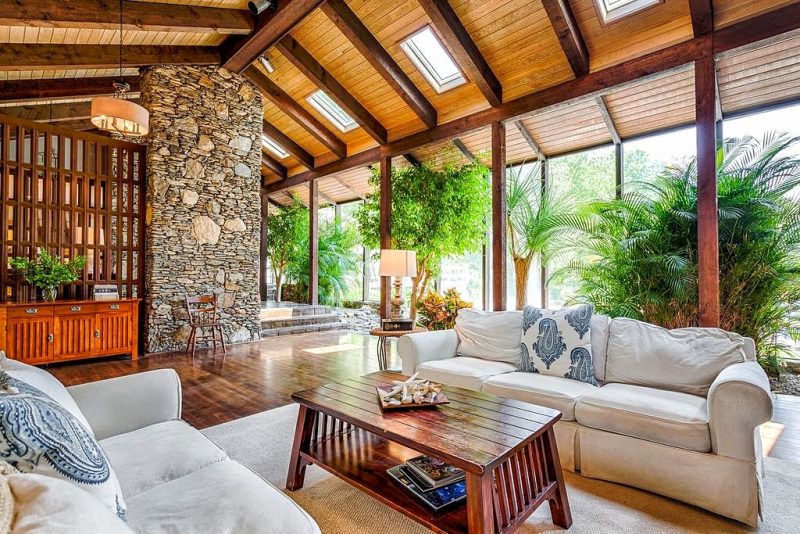 Hello and welcome to the Garden Outline photo gallery of covered patio ideas. Below you will find a summary of the benefits, main options and some design ideas we handpicked for you along with beautiful photos. Enjoy!

What are the benefits of having a covered patio?
Lets you enjoy outdoor parties rain or shine – with the right type of cover, your family and guests can be safe from sudden showers or the UV rays
Protects patio furniture and floor – can shield your furniture and patio flooring from direct sunlight that can cause bleaching
Adds beauty to your home exterior – enhances your home aesthetics as it comes in various styles and materials that complement the outdoors

What are the main options for covered patios?
Material: wood (beams, planks, stacked, timber, beadboard, trusses, grill), metal (corrugated/painted sheet), concrete
Style: vaulted ceiling, awning, canopy (barrel vault, retractable), gazebo, pergola with draping cloth shade, terrace style, wooden grill
Accents/Features: skylights, tropical leaf ceiling fan, pendant lights
Flooring: flagstone, tiles (granite, faux concrete porcelain, travertine, porcelain), wood planks, brick

What follows are beautiful photos of covered patios along with patio design ideas we thought may be of interest to you. If you want even more patio ideas, we've got you covered. Take a look at all the photos along with points of interest and terms of art in the following galleries: patio designs with fireplaces, backyard patio designs and ideas, brick patio ideas, patio planter ideas and privacy wall ideas for patios. Enjoy and happy outdoor decorating!

1. Reclaimed Wood Beams
Points of Interest ● reclaimed wood beams on planked ceiling matching the lintels over doorways ● antique bronze candle chandelier over seating area ● concrete fireplace with antique bronze screen ● brown wicker sofa and armchairs
2. Zinc Roof
Points of Interest ● corrugated galvanized zinc sheet ceiling ● DIY multi-bulb chandelier ● white brick walls with contrasting grayish grout ● dark brown faux rattan swoop armchairs ● weathered flagstone floor
3. Ceiling Lights
Points of Interest ● ecru patio ceiling with 3 ceramic ceiling lights ● round window mirror above white fireplace ● white slipcovered tuxedo sofa with mixed throw pillows ● natural wood armoire ● sisal rug calling back the wicker seats
4. Barrel Vault Canopy
Points of Interest ● tan barrel vault canopy ● built-in bench with cedar brown cushions ● round concrete column ● matching varnished round wooden coffee table and armchairs ● gray granite tile flooring
5. Stacked Wood
Points of Interest ● Tuscan-inspired terracotta roof tiles ● mortared stone walls ● rattan square ottomans and sofa ● climbing flowering vine on natural stone column ● dark antique bronze tables ● river rock pebble garden path
6. Reclaimed Timber
Points of Interest ● reclaimed timber on wood planked ceiling ● mortared stone walls ● glass and metal teardrop pendant light ● sage green round pouf ● wood topped coffee table with square wrought iron legs ● jute area rug
7. Beamed Ceiling
Points of Interest ● chocolate brown beamed ceiling with large antique bronze candle chandelier ● segmental arched fireplace with herringbone long brick interior walls ● solid wood long dining table with matching benches
8. Ivory Ceiling
Points of Interest ● ivory ceiling with tropical leaf ceiling fan ● arched window mirror ● unfinished Cogswell chair ● striped patio curtains ● slim wood planked flooring ● French doors with sidelights and transoms
9. Skylight
Points of Interest ● beige beadboard ceiling with skylight roof ● 2 seeded glass pendant lights ● sliding brown and white floral curtain with tassel ● 2 mercury glass pillar candle holders ● orange patio umbrella
10. Tray Ceiling
Points of Interest ● tray ceiling with recessed lights ● etched amber glass pendant light ● carved cast stone range hood matching the countertop base ● oversized gray suede ottoman coffee table ● antique cane sofa with blue green cushion
11. Vaulted Doorway
Points of Interest ● bluish gray planked ceiling with vaulted doorway ● stacked stone walls ● distressed slim wood coffee table ● 2 antique bronze lantern pendant lights ● faux concrete porcelain tiled floor
12. Wood Planks
Points of Interest ● brown wood planked ceiling with recessed lights ● ceiling-mounted patio heater ● travertine fireplace with lattice cast iron screen doors ● large sliding glass doors to living room ● TV niche above fireplace mantel
13. Reclaimed Beams
Points of Interest ● reclaimed beams on wood planked patio ceiling ● 2 black iron lattice side tables ● wrought iron wall-mounted planter holder ● 3 armchairs with matching foot stools ● travertine tile flooring
14. Exposed Stone Walls
Points of Interest ● large timber beams on ceiling with corbel ● arched exposed stone walls ● 4 dark espresso cane barrel chairs ● round solid wood table with X legs ● wrought iron railings
15. Varnished Trusses
Points of Interest ● varnished wood trusses with 3 oil-rubbed bronze chandeliers ● long solid wood dining table with nailhead trim accent ● curved back wicker dining chairs with green cushions ● folding pocket doors
16. Gazebo Patio
Points of Interest ● gazebo style patio ● stacked stone walls matching the arched fireplace ● matching travertine tile pathway and patio flooring with gray porcelain tile arched inlay ● raised flower beds with built-in concrete bench
17. Sloped Ceiling
Points of Interest ● sloped wood ceiling ● segmental arched doorways with white sheer curtains ● natural stone faced fireplace with subway tile interior walls ● glass topped faux wicker table ● striped area rug on slim wood planked floor
18. Striped Metal Canopy
Points of Interest ● black and white striped detached pergola ● 2 slatted wood outdoor chaise lounges ● 3-tiered round glass kitchen cart ● caramel mosaic tile walls ● two-toned gray porcelain tile and diagonal planked deck flooring
19. Log Columns
Points of Interest ● timber beams on ceiling extending to plum stucco exterior wall ● 2 log columns supporting the large wood lentil ● glass topped coffee table with square legs ● black and white table lamp ● flagstone flooring
20. Draping Pergola Shade
Points of Interest ● knotty pine pergola with striped retractable canopy ● arched lattice wall ● L-shaped sky blue sofa with stainless steel frame ● dual-purpose stainless steel bench with slatted legs ● herringbone stone flooring
21. Gray Shingles
Points of Interest ● multi-toned gray shingles on patio roof exterior ● arched stone fireplace ● cafe shutters on arched windows ● mini outdoor kitchen with cane bar stools ● decorative columns with stone pedestal design
22. The Beach Boys
Points of Interest ● dark espresso stained beams on pine beadboard ceiling ● distressed concrete topped bar ● stacked stone backsplash and island base ● wooden bar stools with half surfboard backrest ● large TV niche
23. Gothic Ceiling
Points of Interest ● gothic-inspired vaulted ceiling ● 3 Moravian star pendant lights ● 3 ocean blue French doors with large fanlights ● solid wood dining table ● antique golden Buddha statue in clamshell top niche
24. L-Shaped Patio Awning
Points of Interest ● white wood planked L-shaped covered patio with privacy curtains ● weathered wooden lounging daybed on black area rug ● square and round natural fiber poufs ● white lamp shade pendant light
25. Dark Stained Wood Planks
Points of Interest ● dark stained wood planked ceiling ● orange privacy curtains ● 5-leaf blade ceiling fan ● glass topped wicker coffee table matching the two cushioned sofas ● multicolored decorative seahorse on matte black wall
26. White Beadboard Awning
Points of Interest ● white beadboard half patio roof ● white square column with recessed panels ● white tri-fold sliding doors with glass panels ● stone brick wall with niche and fireplace
27. Wood Grill Ceiling
Points of Interest ● wood grill ceiling ● curved ends wood slat dining table with matching armchairs ● brick walled barbecue area with open rectangular window ● antique bronze candle chandelier