Hello and welcome to the Garden Outline photo gallery of backyard patio designs and ideas. Below you will find a summary of the benefits, main options and some design ideas we handpicked for you along with beautiful photos. Enjoy!

What are the benefits of backyard patios?
Adds an extra room to your home
Let's you entertain outdoors
Can become an extension of your kitchen
Can be a relaxing retreat to enjoy fresh air and the sun

What are the main options for backyard patios?
Types: covered patio, pergola, cabana, deck
Flooring: wood, stone, brick, patio pavers, outdoor tiles, pea gravel, concrete
Accessories: fire pit, barbeque or fully equipped outdoor kitchen, fireplace, heater
Furniture: teak, resin wicker, wrought iron, aluminum, stainless steel, plastic

What follows are beautiful photos of backyard patio designs along with ideas we thought may be of interest to you. Enjoy and happy outdoor decorating!

1. Skylights
Points of Interest ● custom designed skylights ● open French doors to brick patio ● Hanging lanterns ● sloped ceiling with exposed beams
2. Dinner Nook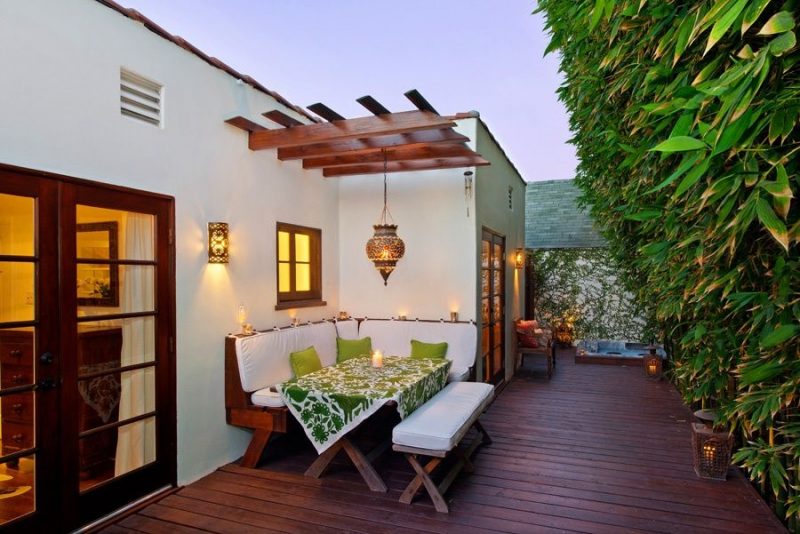 Points of Interest ● dinner nook ● Moroccan pendant light ● mood lanterns on deck ● in-ground jacuzzi ● pergola
3. Pea Gravel Patio
Points of Interest ● raised beds on stone wall ● pea gravel patio flooring ● cafe terrace style table and chairs ● country picket fence
4. Wood Fire
Points of Interest ● flagstone patio flooring ● wood storage ● beach blue gate ● market umbrella ● shrubs and flower beds
5. Fragrant Cabana
Points of Interest ● cabana posts ● bench seating ● terra cotta planters ● beautiful variety of plants and flowers
6. Outdoor Patio Dining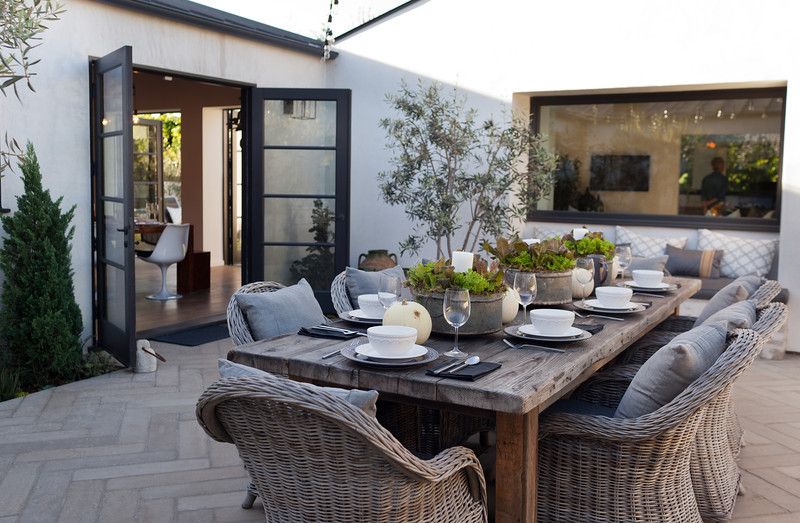 Points of Interest ● herringbone brick patio floor ● rattan chairs ● zinc centerpieces ● built-in bench under picture window ● makeshift door holders
7. Deck Siesta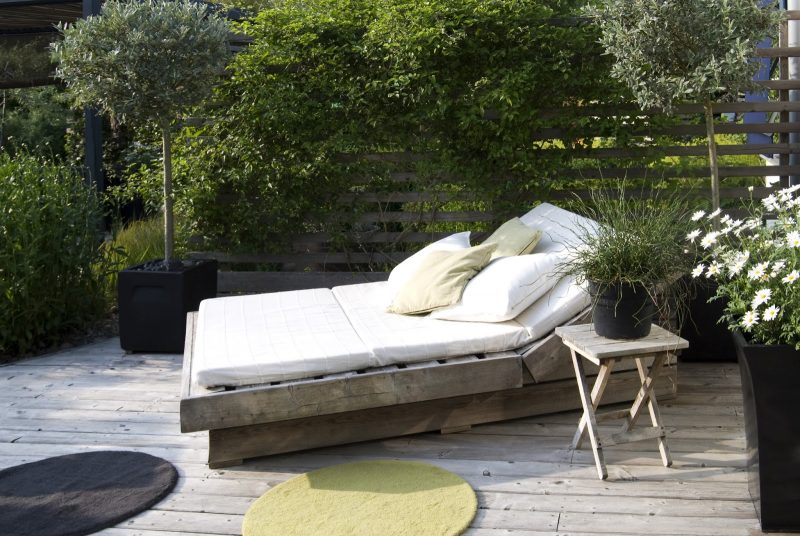 Points of Interest ● lounging recliner bed ● large black planters ● natural finish privacy fence which blends in with the matching deck flooring
8. Saltillo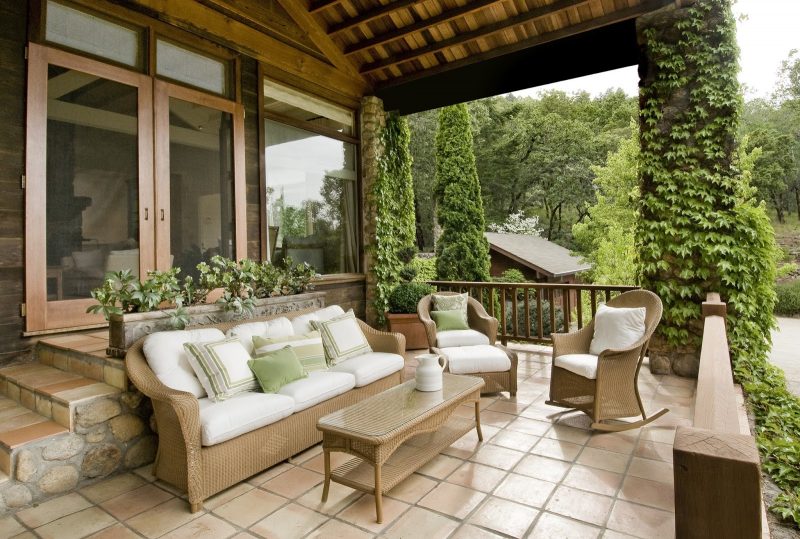 Points of Interest ● terra cotta tiled patio floor and stairs ● stone pillars ● carved stone planters ● tan wicker rocking chair
9. Two Patios in One
Points of Interest ● two levels (one for relaxing and one for dining) ● long pergola with pillars ● terra cotta planters ● rose garden with boxwood hedge
10. Warming Up
Points of Interest ● fireplace ● coffee table on retractable wheels ● light gray and muted apple green color palette ● beautifully designed tray on ottoman coffee table
11. Private Party
Points of Interest ● privacy wall ● grass between patio tiles ● elevated planters with color matching outdoor furniture
12. Mediterranean Touch
Points of Interest ● overall mediterranean style ● terra cotta planters ● rustic fountain ● antique lanterns on stone wall ● aged wood decking
13. All-Inclusive
Points of Interest ● dedicated fire pit area ● built-in outdoor kitchen with both a gas grill and charcoal grill ● outdoor TV
14. Garden Party
Points of Interest ● outdoor string lights ● lanterns of different shapes ● menu board ● cafe table and chairs
15. Blues
Points of Interest ● baby blue hand painted planter ● built-in seating/lounging bench ● slate privacy stone wall
16. Bubbles
Points of Interest ● patio bamboo shades ● paper lanterns ● planters of different textures and styles ● white rocks in tall corner planter
17. Lavender Borders
Points of Interest ● fragrant potted lavender edge ● curved high back benches ● diagonal slate style deck tiles ● lazy susan
18. Flagstone in the Lawn
Points of Interest ● two-tiered stone fountain ● random cut flagstone with grass grout ● exterior stone wood fireplace with wood storage
19. Earth Toned Checkerboard
Points of Interest ● caned outdoor chairs ● darker tile hue tieing in with outdoor furniture ● raised hearth ● diagonal tile pattern ● wrought iron accents
20. Chiming In
Points of Interest ● brick flooring ● white wicker rocking chair ● post brackets ● hanging pots on post ● wind chime
21. Rainbow
Points of Interest ● rainbow colors of adirondack chairs ● offset umbrella ● lattice patio fence
22. Step Up
Points of Interest ● side tables of built-in L-shaped sofa ● butterfly chair ● zinc lanterns ● planters of different sizes
23. Peek-a-Boo
Points of Interest ● shutter ● mesh wood transat chair ● dark deck flooring with matching exposed beams ● antique serving table
24. The More the Merrier
Points of Interest ● zero-clearance outdoor stone fireplace ● ceiling spot lights ● can seat up to six with four chairs and a bench ● patio flooring
25. Natural Pond
Points of Interest ● natural pond ● walking bridge path to patio ● glass topped resin coffee table ● beautiful and abundant plant life
26. Fenced In
Points of Interest ● step down fence ● black iron lounging chairs ● square stones used for patio edge ● chiminea
27. Breakfast for Two
Points of Interest ● aged brick patio flooring ● black patio and stair railing ● crawling vines