Hello and welcome to the Garden Outline photo gallery of attached pergola designs. Below you will find a summary of the benefits, main options, and some design ideas we handpicked for you along with beautiful photos. Enjoy!

What are the benefits of having an attached pergola?
Maximizes outdoor space – you can extend your living space outdoors by setting up seating furniture under the attached pergola
Plant and flower friendly – partners really well with climbing plants adding fragrance and beauty to your outdoor living area
More budget friendly than freestanding pergolas – attached pergolas need half as many posts as a freestanding pergola would need, can be DIY

What are the main options for attached pergolas?
Type: arched, open-top, promenade, gabled, pitched
Style: modern, contemporary, wrapped around tree, posts attached to railings, with lattice panels, with cylindrical rafters
Material: wood (planks, reclaimed timber), WPC (wood-plastic composite), metal (steel, wrought iron, aluminum)
Finish: bare/unfinished, high gloss, stained, weathered, copper
Accessories/Accents: lights (pendant, string, sconces), privacy curtains, shades (mesh, bamboo), repurposed chandelier, hanging candle holder, metal fretwork

What follows are beautiful photos of attached pergolas, along with design ideas we thought may be of interest to you. Enjoy and happy outdoor decorating!
1. Purple Shades
Points of Interest ● modern WPC pergola with center beam and thin vertical rafters ● 5 aubergine Marrakesh onion bulb pendant lights ● U-shaped cushioned wicker sofa ● sliding mauve privacy curtains ● lavender pergola fence with built-in planter
2. Al Fresco Dining
Points of Interest ● weathered off-white attached pergola with purlins ● tall stacked stone outdoor fireplace with curved raised hearth ● hanging antique planter attached to pergola's beam ● slatted wood dining chairs in satin finish
3. Antique Touches
Points of Interest ● open-top reclaimed timber pergola with large square pillars ● antique dining table with matching 2 ladder back chairs ● pine green French doors with sidelights ● 2 carved limestone table base
4. Slatted Wood Shade
Points of Interest ● wood slat pergola with off-white privacy curtains ● etched granite coffee table ● 2 oversized ironstone planters ● 2 facing wicker settees ● exposed aggregate concrete flooring on pergola area
5. Warm Lighting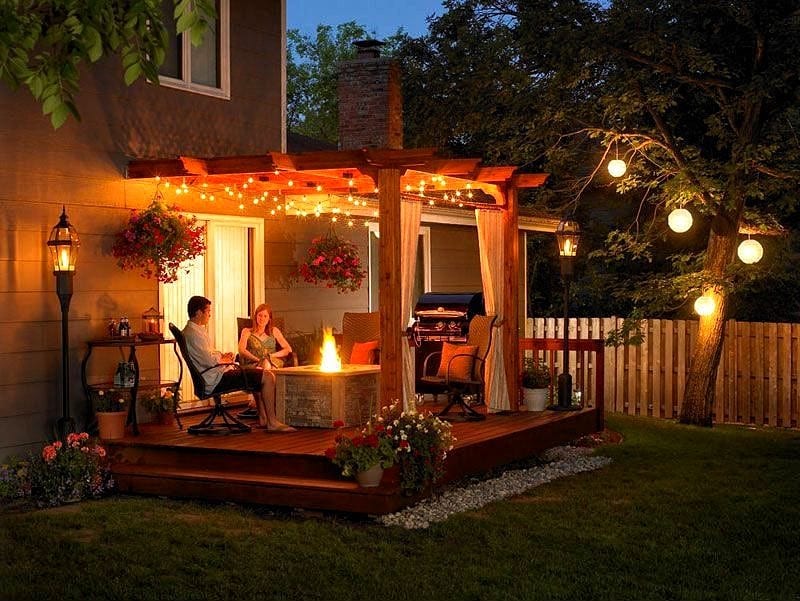 Points of Interest ● red cedar pergola with string lights ● 4 resin wicker swivel chairs with round base ● square faux stone propane fire pit table with stone veneer exterior walls ● 2 black powder coated outdoor gas lamps
6. Rustic Dining
Points of Interest ● medium stained wooden pergola wrapped around tree ● mortared stacked stone wall with wood planks supporting attached pergola ● 6 tree stump stools ● low board and batten privacy fence with raised garden bed
7. Scenic Outdoor Dining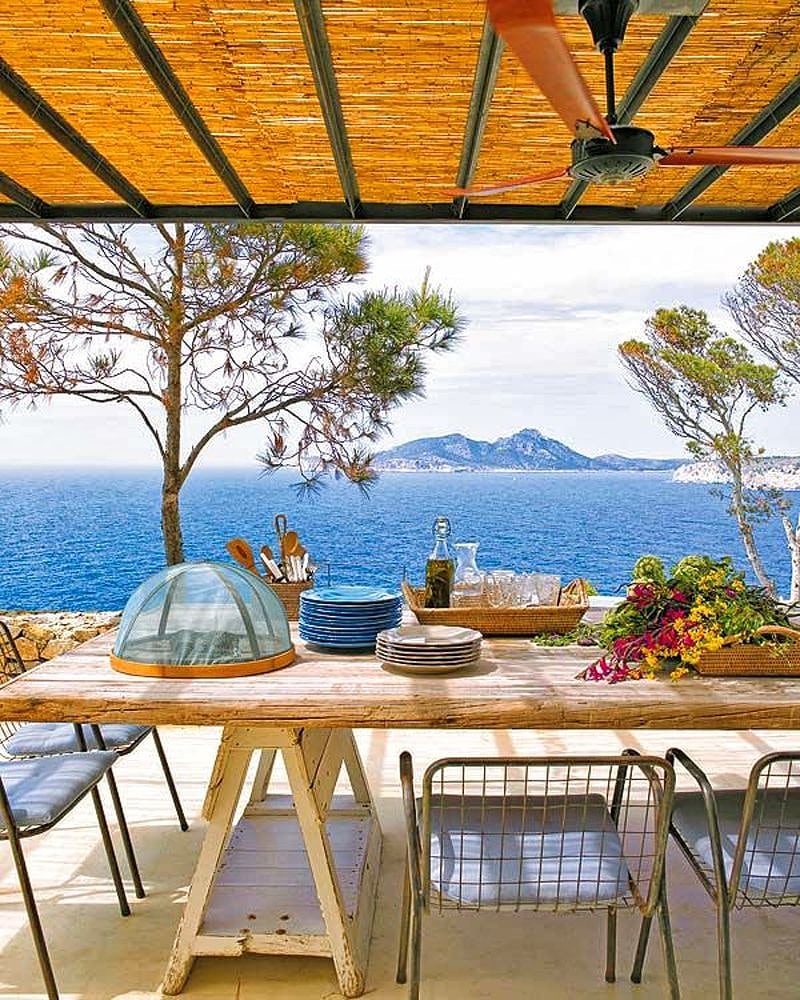 Points of Interest ● steel attached pergola with bamboo shades ● patinated wire chairs with light gray cushions ● weathered wooden dining table with distressed white trestle shelf leg ● bamboo and mesh food cover
8. Weathered Coffee Table
Points of Interest ● dark stained wood pergola with thin rafters ● large framed beveled mirror on tall privacy fence ● arched whitewashed brick open fireplace ● antique carved wood settee ● saltillo tiles with decorative ceramic tile inserts
9. White Posts
Points of Interest ● white pergola with posts attached to deck railing ● stacked stone open fireplace with raised concrete hearth ● slatted wood chairs and settee ● grayish black slate tiled flooring
10. Rooftop Escape
Points of Interest ● steel attached pergola with mesh shade and smaller rafters in between ● string lights on pergola ● stainless steel pyramid flame outdoor gas heater ● linear mosaic tiled fire pit table ● ecru modern modular sofas ● 2 light gray sculptural garden stools
11. Pops of Color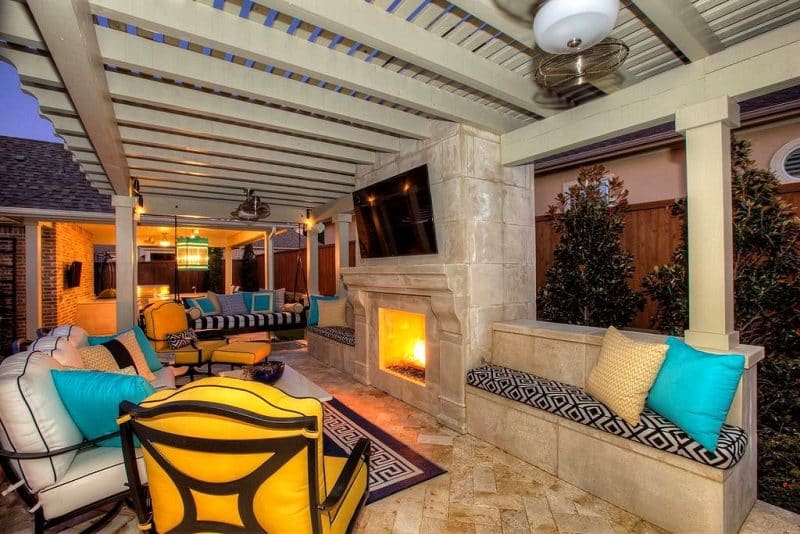 Points of Interest ● eggshell white pergola with brass ceiling fans ● limestone tiled fireplace with built-in benches ● swinging sofa with black and white striped cushion ● rustic limestone tiled floor in herringbone pattern
12. Lattice Pergola Panels
Points of Interest ● white attached pergola with combination open-top and lattice panels ● glass storm door with copper handle matching the outdoor wall sconce ● petunias and hibiscus flowering plants on patio stairs
13. Promenade Pergola
Points of Interest ● promenade pergola with large weathered stone columns ● green faux wood slat garden benches and table with hairpin legs ● pea gravel flooring ● stone garden bed edging
14. Hanging Lanterns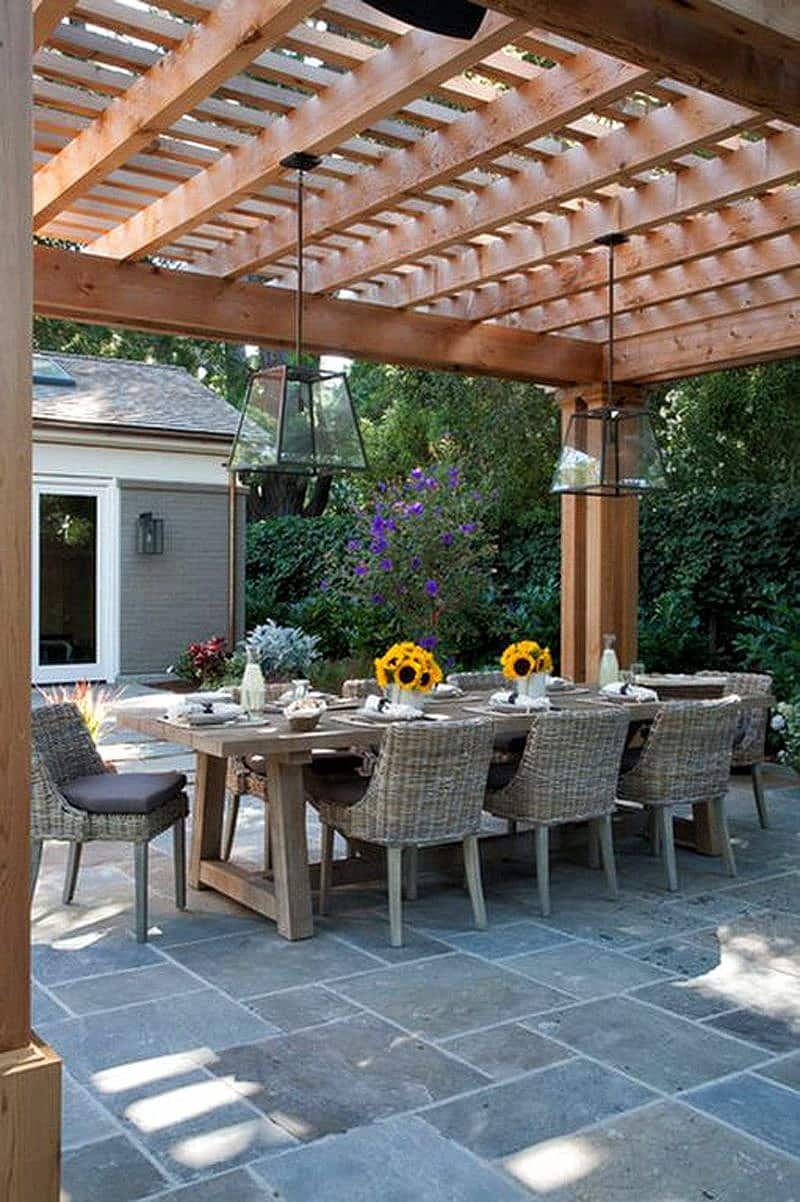 Points of Interest ● wood pergola with twin glass lantern pendant lights hanging from rafters ● whitewashed wood country style dining table ● Safavieh Caprice wicker dining chairs with gray cushions ● slate tiled patio floor in hopscotch pattern
15. Lush Greenery
Points of Interest ● attached wooden pergola with long decorative knee braces ● repurposed antique bronze chandelier as planter ● glass-topped two-tiered oval coffee table ● 2 pillar candle holders ● weathered wood plank flooring
16. Climbing Vines
Points of Interest ● lattice pergola with climbing vines ● oversized hanging lantern candle holder over farmhouse table ● pale sage green folding metal bistro chairs ● segmental arched pine green French doors ● 3 tapered square old stone planters
17. Mixed Plants
Points of Interest ● unfinished wood pergola with cream patinated brass sconces ● wrought iron railing ● spilling plants and succulents in faux corten finish planters ● black wrought iron deck railing ● terracotta tiled floor
18. Cylindrical Rafters
Points of Interest ● steel pergola with sage green cylindrical rafters over small pergola nook ● 2 industrial cage lights on linear brick wall ● out-swing sage green steel doors with sidelights ● curved back mesh chairs ● concrete patio flooring
19. Half Circle Fire Pit
Points of Interest ● two pergolas in contrasting colors ● aluminum framed bi-fold doors to patio ● curved built-in bench following the fire pit's semi-circle shape ● red concrete block wall ● irregular tan flagstone patio floor
20. Thick Vines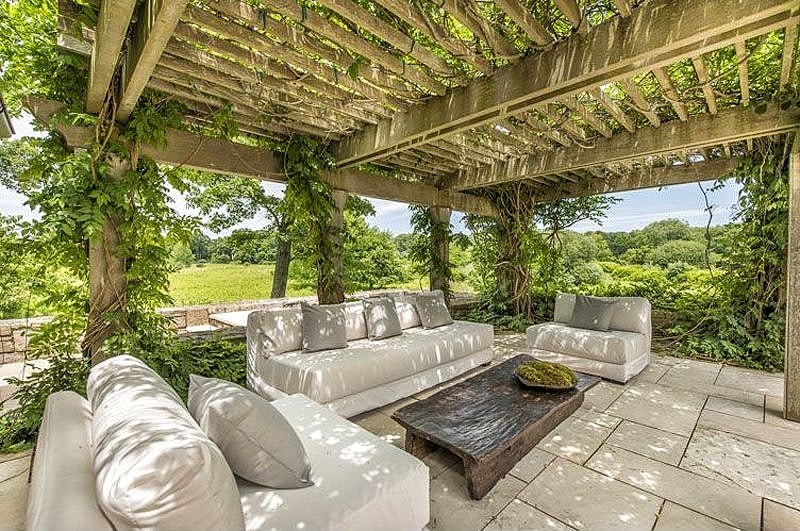 Points of Interest ● vine covered wood pergola over large seating area ● reclaimed wood coffee table with moss tray ● alabaster armless sofa and twin chair-and-a-half with fog gray throw pillows ● stamped concrete flooring
21. Creeping Branches
Points of Interest ● white pitched pergola attached to clapboard wall ● small lantern pendant light over dining area ● board and batten fence with lattice top panel and entry arbor ● flagstone pathway with matching pergola floor
22. Sea View Lounging
Points of Interest ● wrought iron pergola with metal fretwork and bamboo shade ● curved seating furniture with lath backrest ● sun loungers with wheels ● semi-circle swimming pool looking out to sea ● vintage cream flagstone flooring
23. Arbor Trellis
Points of Interest ● small attached wooden pergola with staggered ledger boards ● tan flagstone stepping stones to arbor ● raised pond with stacked stone retaining wall ● arched entry arbor with trellis ● exposed aggregate concrete flooring
24. Ocean View
Points of Interest ● long silver gray aluminum pergola ● oval infinity pool ● black L-shaped wicker sofa with mixed throw pillows ● glass-topped square wicker coffee table with split-leaf philodendron in hurricane vase
25. Stone Walls
Points of Interest ● steel pergola in copper finish with woven bamboo shades ● antique butcher block dining table with square steel legs ● natural stone exterior walls ● green metal dining chairs with contoured slatted seats ● arched in-swing glass door to pergola
26. Wood & Steel
Points of Interest ● attached side pergola with gray steel post and wood frame calling back front porch beam and post ● charcoal gray glass door with transoms and sidelights ● blue ridged ceramic planter with succulents on river rock parterre ● raised deck floor under pergola
27. Bare Concrete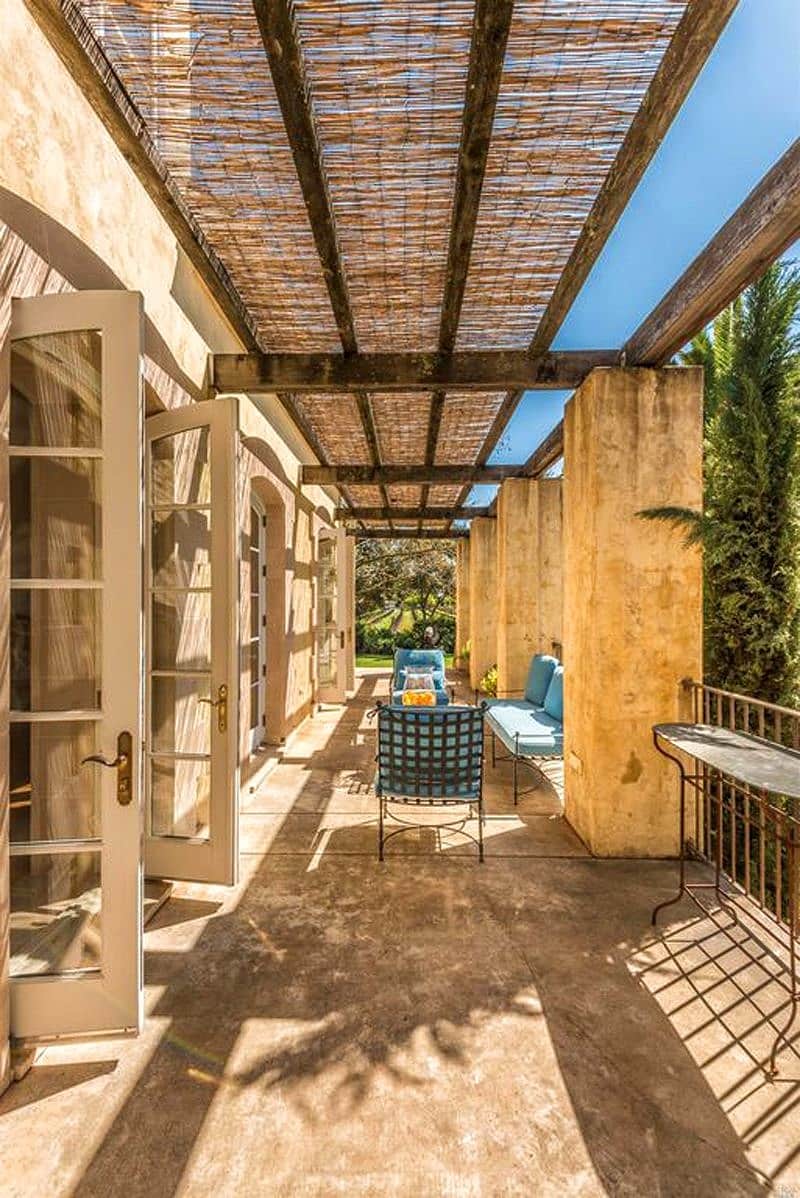 Points of Interest ● reclaimed long wooden pergola with partial woven bamboo shade ● wrought iron lattice seating furniture with baby blue cushions ● slim antique copper oval table ● out-swing segmental arched French doors