Hello and welcome to the Garden Outline photo gallery of white fence ideas. Below you will find a summary of the benefits, main options and some design ideas we handpicked for you along with beautiful photos. Enjoy!

What are the benefits of white fences?
Aesthetically pleasing and adds beauty to a property
Works well with many landscape design
Beautiful companion to flowers and plants
Relatively inexpensive addition to your property, can also be DIY
Variety of materials to choose from
Design and style can be customized depending on your home structure

What are the main options for white fences ?
Style: regular, concave, dog ear and gothic point picket, security, arched, ranch rail, stockade
Material: PVC vinyl, wood, wrought iron, stucco, concrete, salvaged lumber
Pair them with: arbor, trellis, wrought iron insert, gate, crawling plants and flowers
Location: to close in a property, garden, sandbox, ranch, parterre

What follows are beautiful photos of white fence designs along with ideas we thought may be of interest to you. Enjoy and happy outdoor decorating!

1. Herringbone Entry Walkway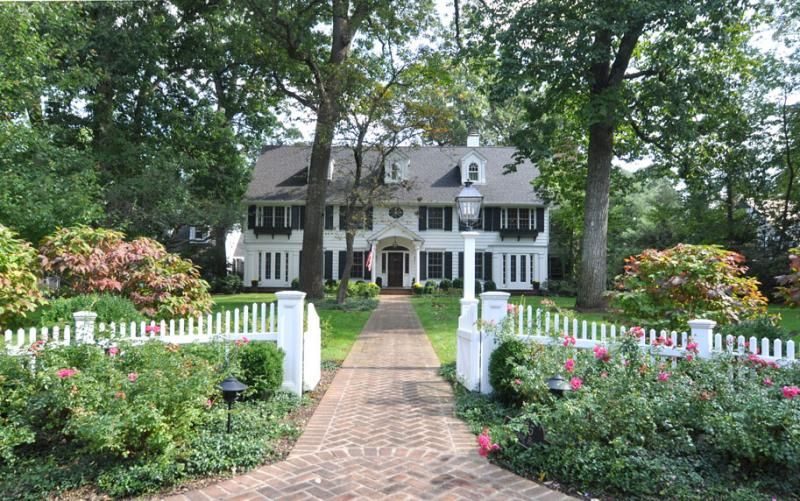 Points of Interest ● scalloped picket fence with square post ● brick borders and walkway in a herringbone pattern ● white lamppost ● portico ● ground level lighting fixtures
2. Green Cover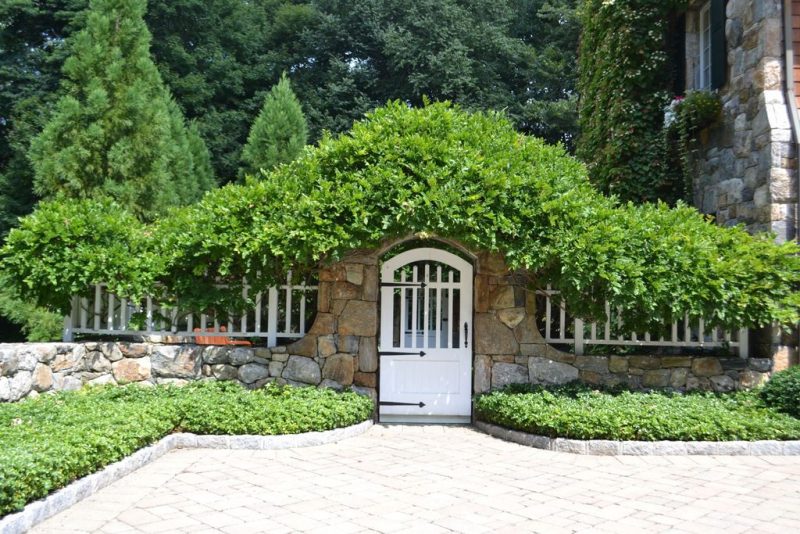 Points of Interest ● white picket fence on top of stone wall ● wooden gate with matching picket fences design and three iron latches ● stone garden bed edging ● lush shaped bushes
3. Lattice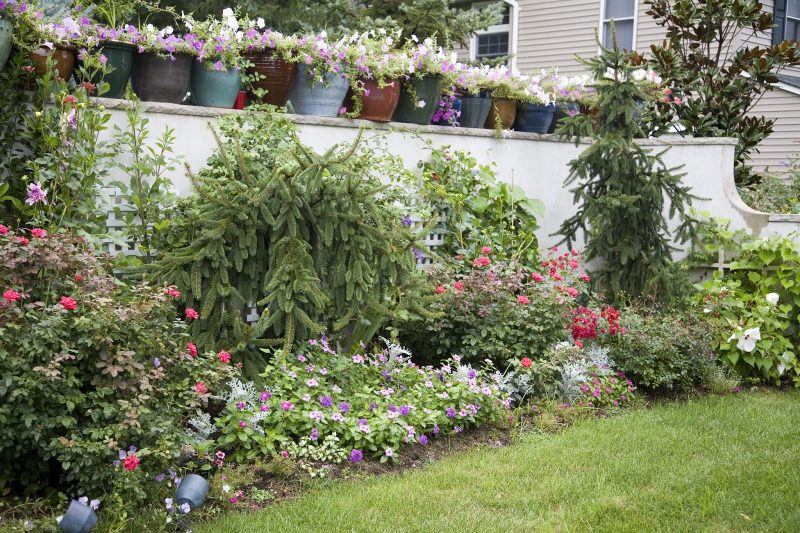 Points of Interest ● concrete fence with lattice details ● parterre with spruces and rosebushes ● ceramic pots with bougainvillea on fence ● directional outdoor lights
4. Craftsman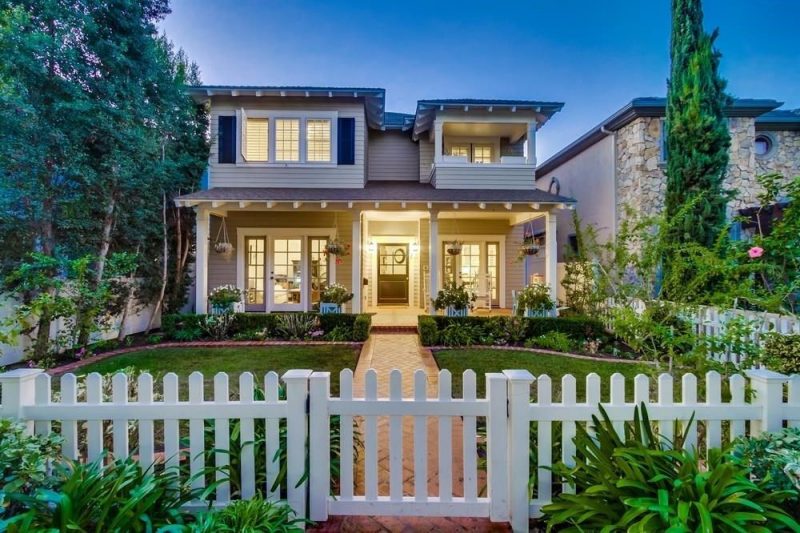 Points of Interest ● low white picket fence ● pathway of aged brick pavers ● brick with white grout garden edging ● covered balcony above front porch ● boxwood bordering the porch
5. Blue Gables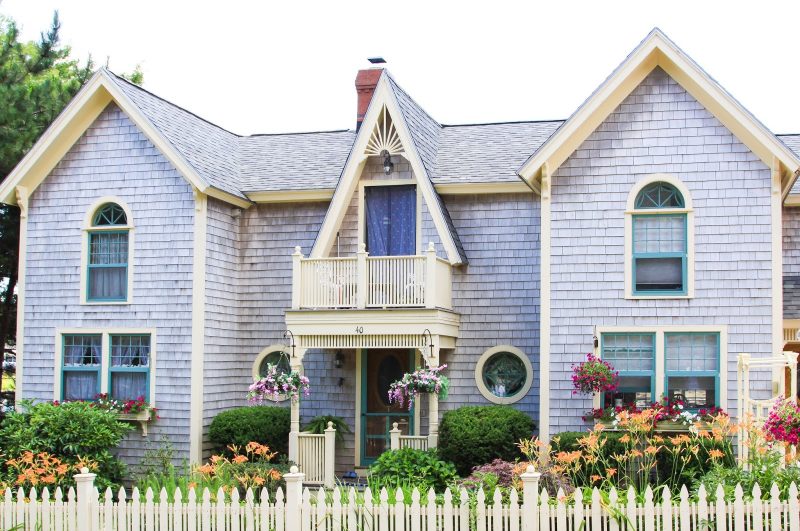 Points of Interest ● gothic point low fence ● lower window planters ● circular windows flanking front door ● balcony above small front porch ● matching arbor in ecru color
6. Arbor Entrance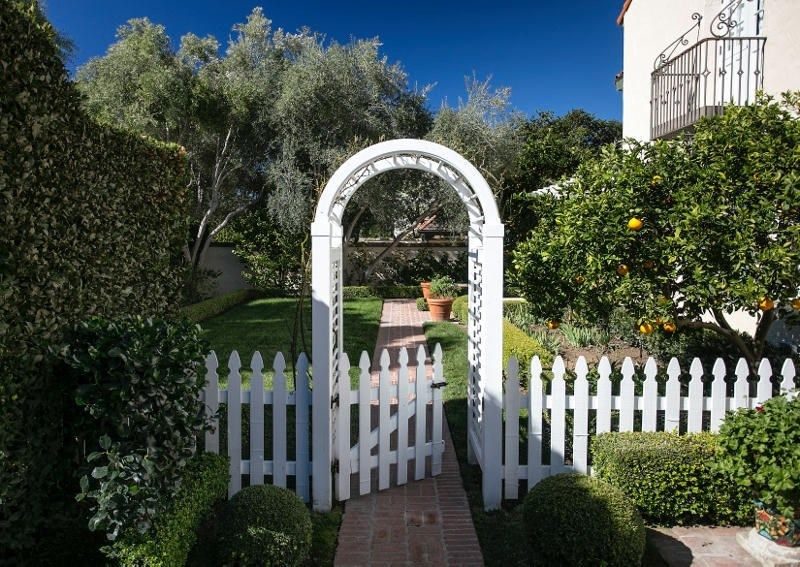 Points of Interest ● wooden fence ● arbor ● well-manicured hedges and topiaries ● lemon tree ● juliette balcony with wrought iron railing ● terra cotta planters
7. Off-White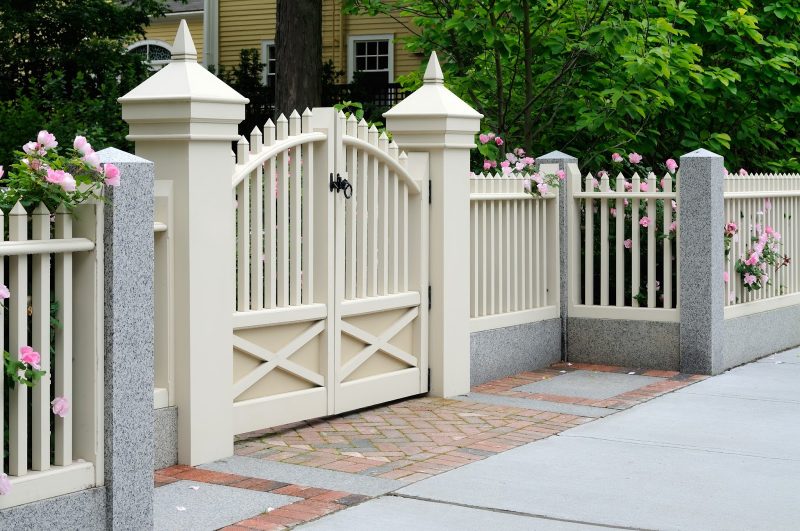 Points of Interest ● off-white gate and fence palette ● gate with X design ● granite wall and pointed posts ● brick flooring on entrance ● pink rosebushes
8. Slim Slats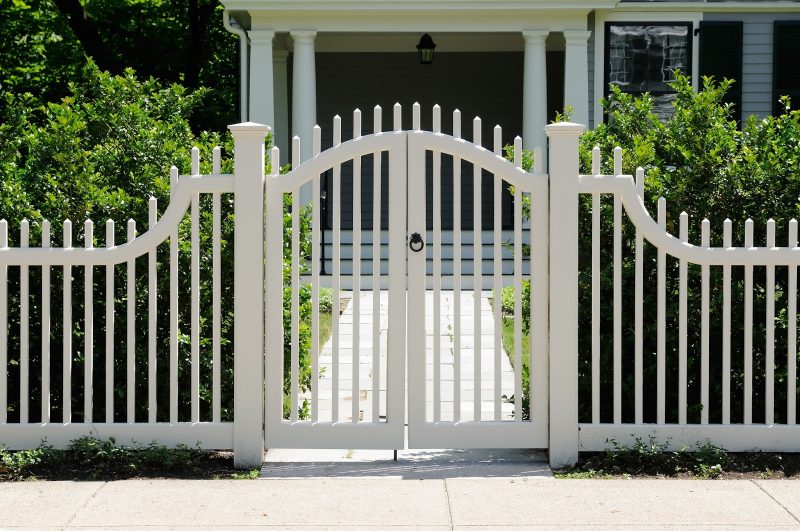 Points of Interest ● vinyl slim picket fence ● convex-designed gate ● columns with the same color newel posts ● black iron door handle ● concrete entrance way
9. White Welcome
Points of Interest ● narrow pickets with modified points ● low swing gate ● black front door with white frame and sidelites ● green mailbox ● porch shutters
10. Arched Gate
Points of Interest ● wooden arched gate ● wrought iron arbor accent ● pair of black urn planters ● concrete square stepstone tiles ● marble bench
11. Vintage Bicycle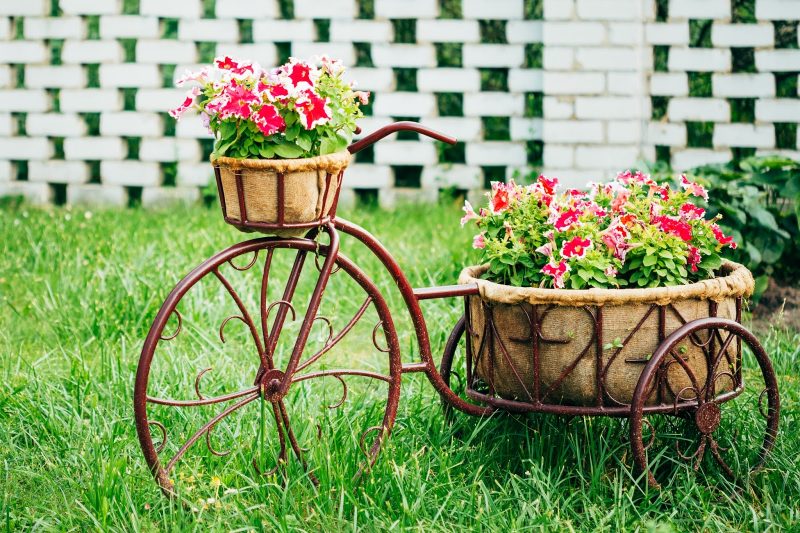 Points of Interest ● painted brick basketweave design fence ● three-wheeled vintage bike used as planters ● petunia red with bright white edges
12. Gothic Points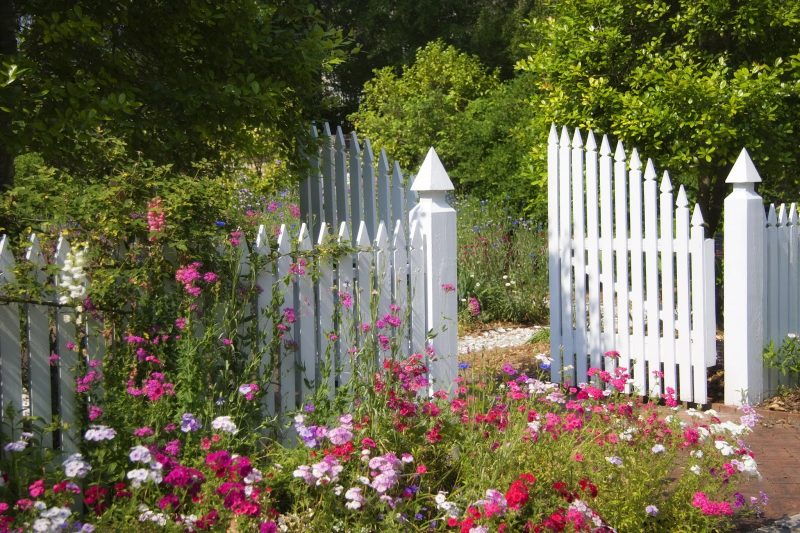 Points of Interest ● wooden fence with gothic points ● tall convex-shaped gate pointed columns ● ground level flowers and crawlers ● stone path inside flower garden
13. Bell Top Gazebo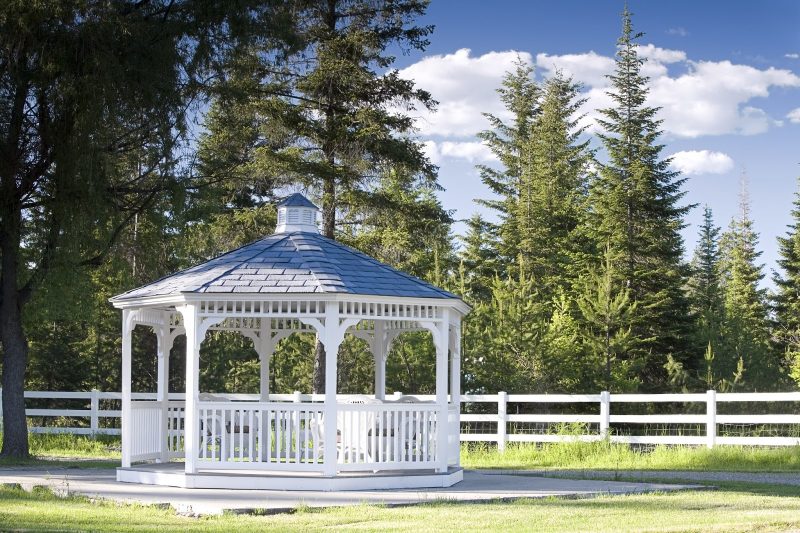 Points of Interest ● bell roof gazebo with blue slate tiled roof ● white border fence ● concrete platform ● white wickerwork armchairs
14. Low Picket Fence
Points of Interest ● candlestick pickets with black newel posts ● sun design on gabled roof ● petite porch ● diamond shaped small window ● parterre of stones and maple
15. Door Overhang
Points of Interest ● DIY wooden lattice fence ● stone and painted brick siding ● thatched roof ● front door overhang ● casement and awning windows
16. Wildflowers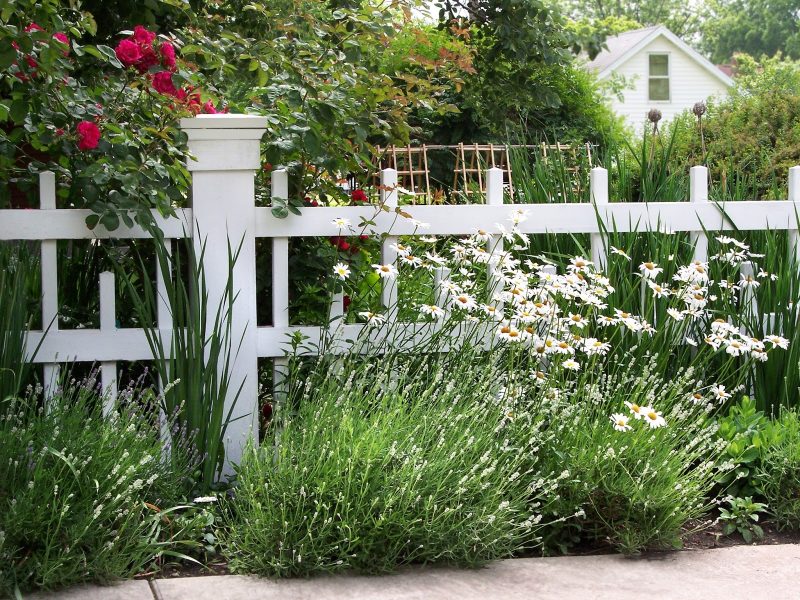 Points of Interest ● spaced out picket fence with short picket accents ● wildflowers and roses ● standing wooden trellises in the garden ● gabled roof house
17. Split Rail
Points of Interest ● split rail white vinyl fence ● aged shingle siding ● white lamppost ● light pink window box ● single-hung windows ● light pink shutters
18. French Veranda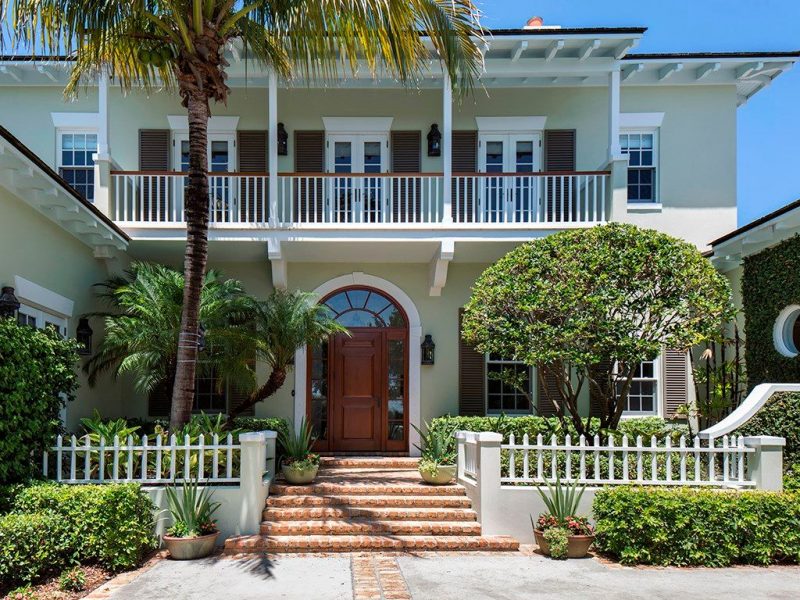 Points of Interest ● stucco retaining wall and vinyl pickets ● raised panel front door with transom ● bricks stairs and garden bed borders ● covered balcony and upper french doors
19. Decorative Blocks
Points of Interest ● bannister and concrete steps with blue swirl tile accents ● decorative concrete blocks on fence ● stone floor tiles ● multi-color plant beds
20. Iron Inserts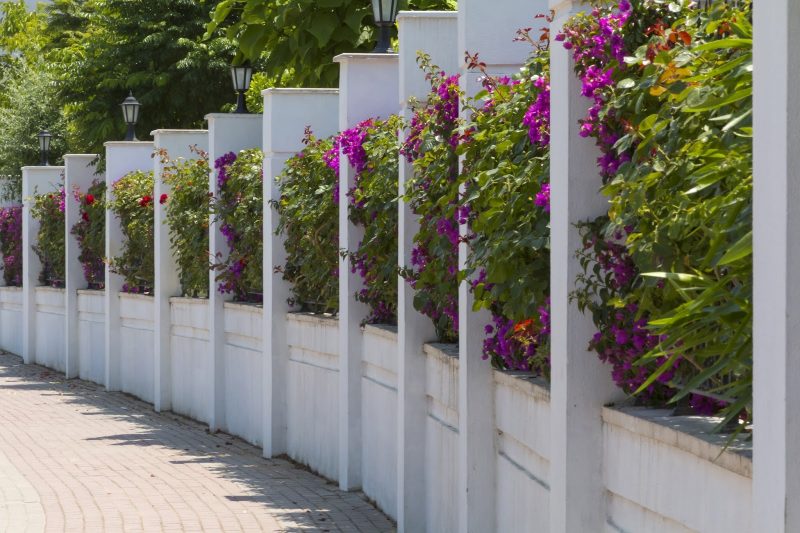 Points of Interest ● painted concrete white fence with tall narrow columns ● iron fence inserts ● climbing plants and flowers ● outdoor lamps on posts ● gentle contrast with paver sidewalk
21. Red Door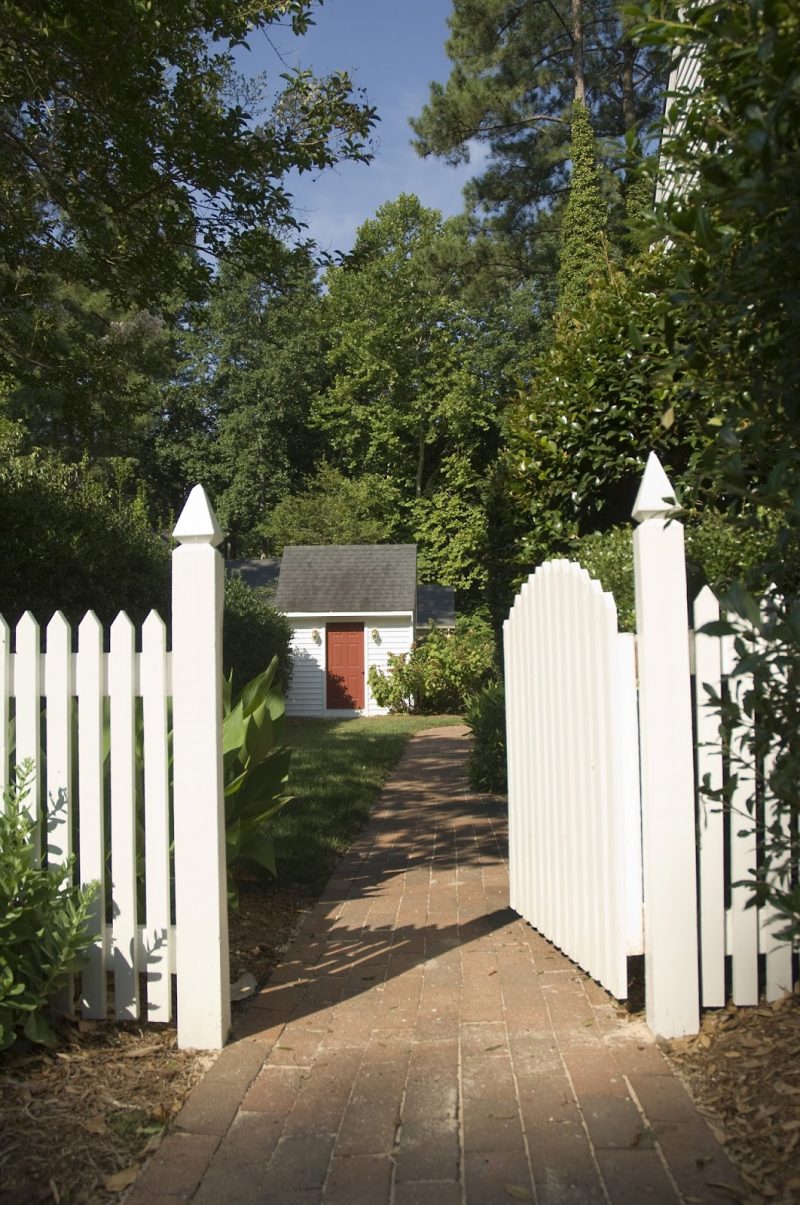 Points of Interest ● vinyl maintenance-free picket fence and swing gate ● garden shed with red door ● brick alley ● large trees bordering the property
22. Crabapple Tree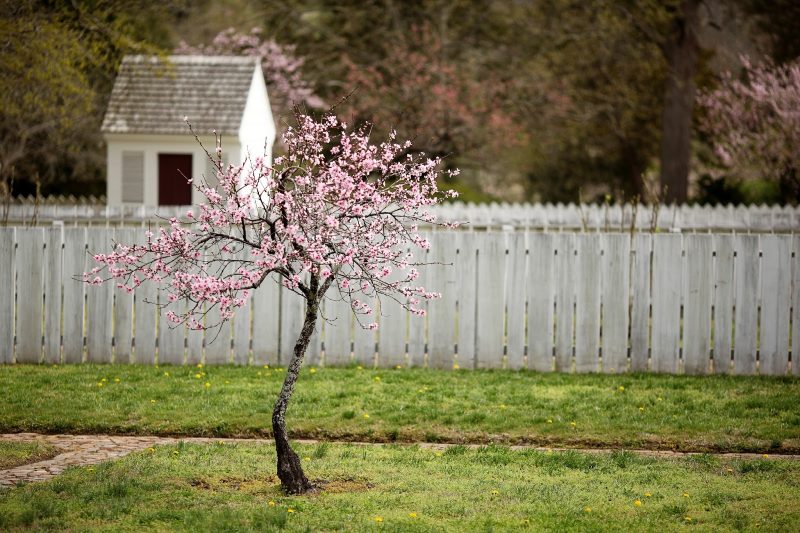 Points of Interest ● white washed stockade fence ● crabapple tree with pink blooms ● stone walkway ● gabled roof garden shed ● shingle roof on shed
23. Crawling Rosebush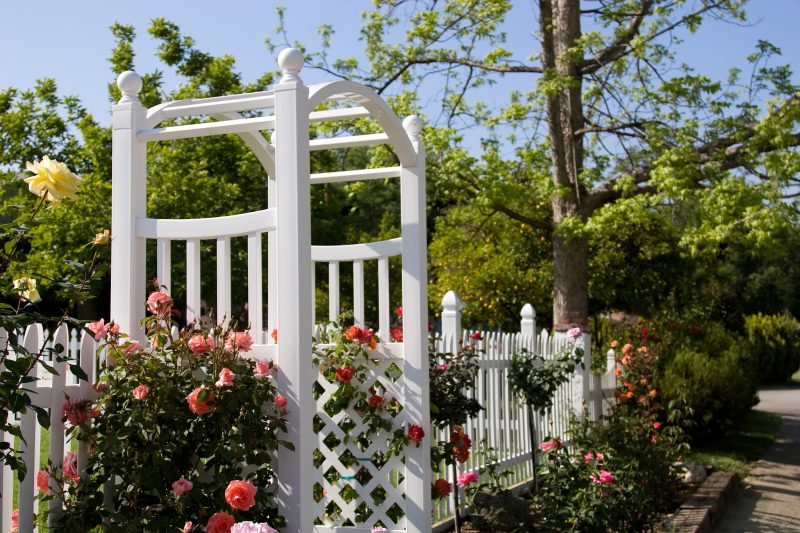 Points of Interest ● vinyl picket fence with pointed pickets and gothic point columns ● arbor with lattice detail ● rose bushes ● concrete edging on raised plant beds
24. Salmon Pink Accent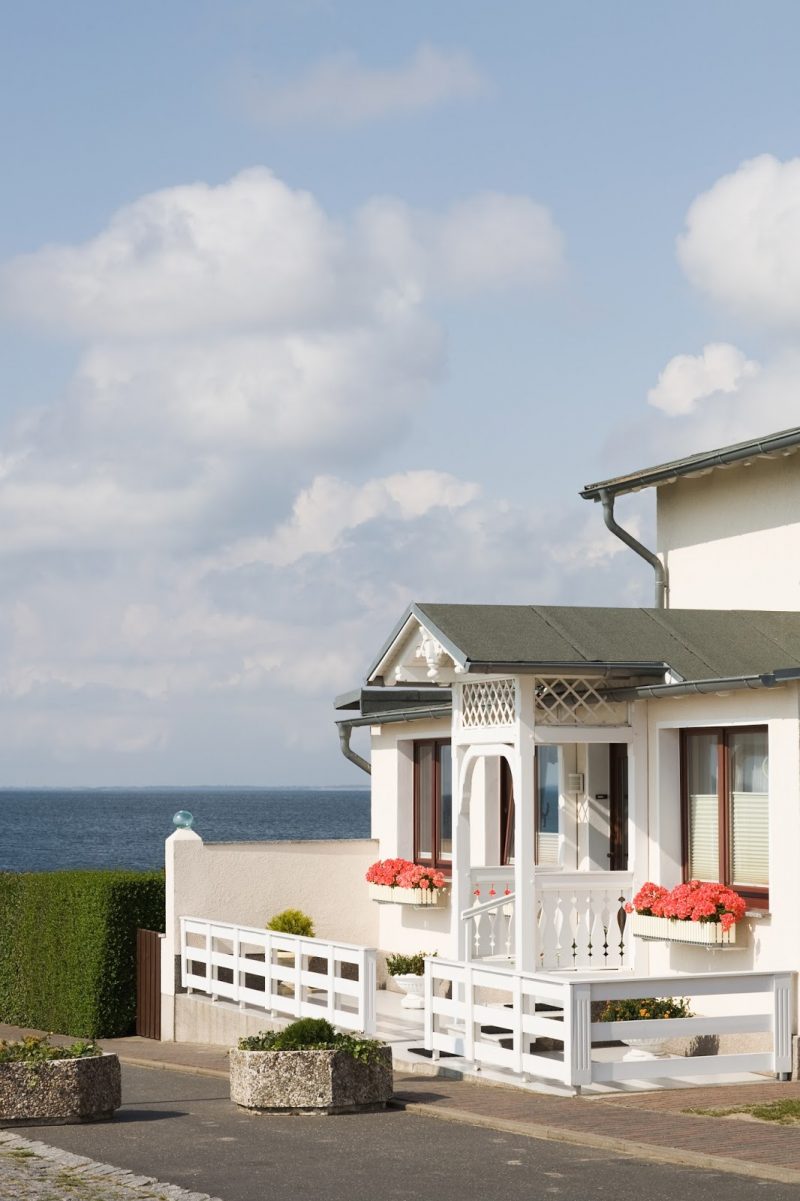 Points of Interest ● ranch rail fence ● white picket window boxes ● wooden portico with lattice top detail ● white urn planters ● brown windows matching side gate
25. Gravelbox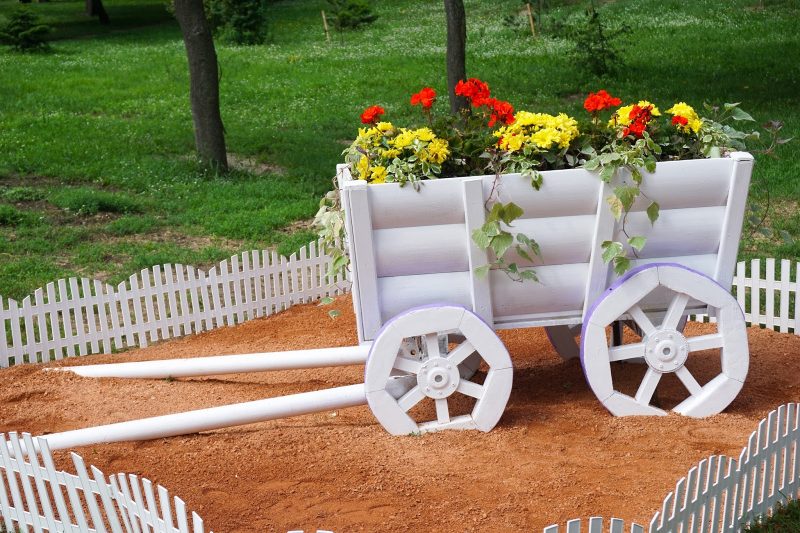 Points of Interest ● gravel and soil box with white wheelbarrow planter ● plastic convex picket fence ● red and yellow perennial flowers
26. Sidewalk Palm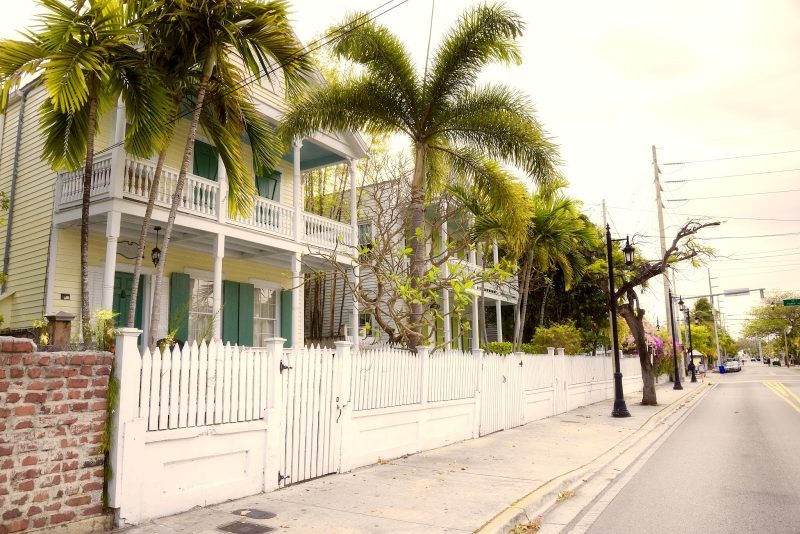 Points of Interest ● wood white pickets on concrete fence ● pale yellow thin siding ● covered balcony above porch ● green shutters ● palm trees in front yards
27. Flower Heights
Points of Interest ● flowering plants in varying heights ● regular point white washed wooden picket fence ● lavender colored blooms with yellow wildflowers