Hello and welcome to the Garden Outline photo gallery of wheelbarrow planter ideas. Below you will find a summary of the benefits, main options and some design ideas we handpicked for you along with beautiful photos. Enjoy!

What are the benefits of wheelbarrow planters?
Unique and functional garden decor full of old fashion charm
Versatile: can be painted or accessorized to match your patio or garden's style
Can be more easily moved around to accommodate your flower exposure needs or your inspiration for your garden layout
Eco friendly: by giving your tired wheelbarrow a fragrant second life

What are the main options for wheelbarrow planters?
Style: vintage, painted, with wood carving
Materials: metal, wood, plastic, combo of metal and wood
Plays well with: terracotta pots, ceramic planters, flowering plants
Location: garden, patio, in the middle of your parterre, by the front door, front yard/backyard

What follows are beautiful photos of wheelbarrow planters along with design ideas we thought may be of interest to you. Enjoy and happy outdoor decorating!

1. Flaming Blooms by the River
Points of Interest ● repainted wooden wheelbarrow planter ● burgundy celosia ● glowing marigold ● stone bridge ● poured concrete garden edging
2. Dutch-inspired Garden
Points of Interest ● semi-gloss stained wooden wheelbarrow with leg support ● Dutch Hyacinth ● purple tulips ● colorful pairs of klompen ● lattice trellis privacy walls
3. Wood and White Combo
Points of Interest ● DIY rectangular stained wheelbarrow planter with solid wheel ● white Mountain Sandwort flower bed ● arched wooden bridge ● cross bridge railings ● greenhouse
4. Ma Petite Fleur
Points of Interest ● miniature wooden wheelbarrow planter ● picket fence tray ● stylized wheelbarrow spokes and handle ● tulips and white blooms in ceramic pot ● spray-painted watering can
5. Beautiful Woods
Points of Interest ● rustic wheelbarrow with fan-back front and back panels ● split rail fence ● stone edging
6. Blooming Corner
Points of Interest ● wheelbarrow planter with intricate tray and handle wood carvings ● green ferns lovingly contrasting the burgundy coleus ● ironwork window guard ● concrete path with stone inlays
7. Blue Centerpiece
Points of Interest ● blue wooden wheelbarrow planter ● pink and red geranium ● resin light brown rectangular planters ● yellow-orange Gaillardia ● stone garden edging
8. Two Wheel Barrow
Points of Interest ● wheelbarrow planter with blue accents ● wheelbarrow bucket with ornate side panels resembling garden fence ● red blooms mixed with ivy ● concrete pathway ● topiary in terracotta planter ● ecru stone walls
9. White Border
Points of Interest ● aged wood wheelbarrow planter with metal wheel in a rust finish ● white arbor with gothic points ● pansies in hanging planter ● lock board fence
10. Minimalist Decor
Points of Interest ● pine wheelbarrow planter ● resin terracotta planters ● double petunia blooms ● concrete pathway ● teal blue facade
11. Fresh Blooms in the Vineyard
Points of Interest ● single-wheel barrow planter with rustic metal leg braces ● yellow chrysanthemum ● Bonnie Red Garden Mum ● rows of grape vine ● chipseal pathway
12. Rustic Centerpiece
Points of Interest ● vintage teal wheelbarrow planter filled with dry lavender and pinecones ● painted metal wheel to match wheelbarrow bucket ● natural finish aged patio planks ● weathered wood barrel
13. Showered with Colors
Points of Interest ● dark wood wheelbarrow planter ● pea gravel triangle area following wheelbarrow lines ● variegated ivy ● red geranium with blue lobelia companions ● petunias in window box
14. Parked Blooms
Points of Interest ● wheelbarrow planter with decorative handlebar ● bracket securing wheelbarrow on stamped concrete driveway ● white-purple blooms ● classic red and white barn doors ● white split rail fence
15. Pink Blooms on the Lawn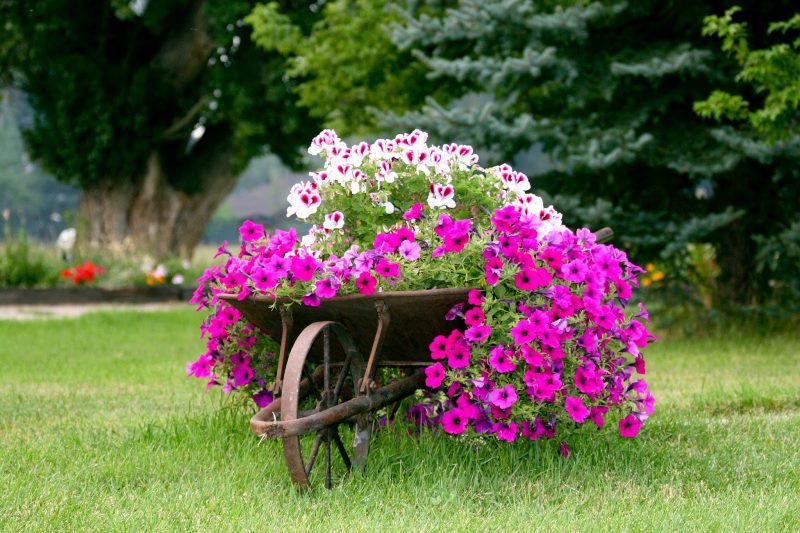 Points of Interest ● re-purposed metal wheelbarrow planter ● fuchsia and white petunia ● railway ties garden edging
16. Cool Petunias in Barrow
Points of Interest ● two-tone wooden-wheelbarrow planter ● white and pastel pink petunias ● grass pavers ● hanging wooden flower basket ● fuchsia dahlias
17. Colors on the Block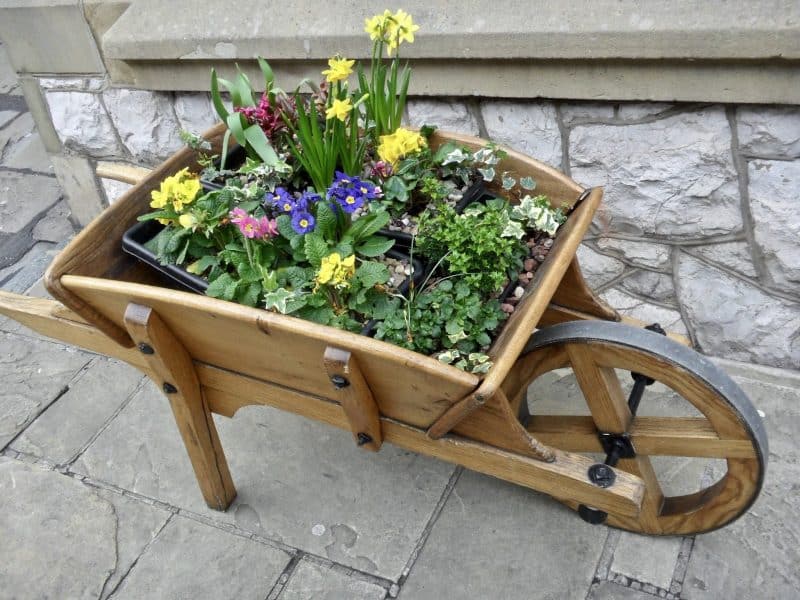 Points of Interest ● wooden wheelbarrow planter with metal tire axle ● rocks sprinkled on top soil and inside planter ● rocks sprinkled on top soil and inside planter ● cheerful daffodils
18. Bright Reds by the Window
Points of Interest ● vintage metal wheelbarrow planter ● geranium with variegated leaves ● red brick facade with extruded dark inlays ● black painted window sill calling back facade accent ● window casing painted in green
19. Colorful Harvest
Points of Interest ● old blue garden mesh cart ● joyful mix of pastel and yellow flowers ● thatched gazebo
20. Sunny Outdoors
Points of Interest ● vintage hand barrow with stylized plow handles ● paneless wheelbarrow planter ● silk flower arrangement of white daisies with yellow blooms companion ● sunflowers ● wooden door with ironwork hinge
21. Triangular Pea Gravel
Points of Interest ● variegated ivy flourishing in-between wheel spokes ● wheelbarrow planter on dedicated gravel spot ● Begonia Bonfire ● pink geranium ● purple Agastache
22. Contrasting Hues Working Together
Points of Interest ● white glazed planter nicely contrasting with baby blue wheelbarrow ● red and purple petunias ● white geranium ● warm-tone gravel ● board fence matching wheelbarrow color
23. Celosia Carpet
Points of Interest ● garden pallet cart made of wood and metal ● large wagon wheels ● cartful of vivid celosia ● DIY wooden raised flower beds
24. Highlighting Old Wood
Points of Interest ● vintage wheelbarrow planter with graceful scallop side panel edges ● white daisies ● geranium ● stone garden edging ● blue plastic rain barrel
25. Outdoor Accent
Points of Interest ● turquoise wheelbarrow planter calling back the blue windows ● wooden barrow with asymmetrical handles ● red geranium ● white painted brick wall
26. Miniature
Points of Interest ● decorative miniature wheelbarrow planter ● metal wheel spokes with scroll work ● yellow bush daisies ● horizontal shadowbox wall
27. Growing Greenery
Points of Interest ● unique garden cart without handles in semi-varnish finish ● ladder-style with scallop edge side panels ● aged dark wood window casing with window guard ● brick and mortar facade