Hello and welcome to the Garden Outline photo gallery of water fountain ideas. Below you will find a summary of the benefits, main options and some design ideas we handpicked for you along with beautiful photos. Enjoy!

What are the benefits of water fountains?
Water fountains change the look and feel of your outdoor space
The sound of water emits a relaxing and calming effect
Available in a variety of styles, sizes and materials

What are the main options for water fountains?
Styles: wall-mounted, tiered, disappearing, freestanding, cascading, self-contained
Materials: stone, marble, granite, concrete, hammered steel, terracotta, resin
Decor: statues, busts, lighting fixtures, plants

What follows are beautiful photos of water fountains along with design ideas we thought may be of interest to you. Enjoy and happy outdoor decorating!
1. Granite Centerpiece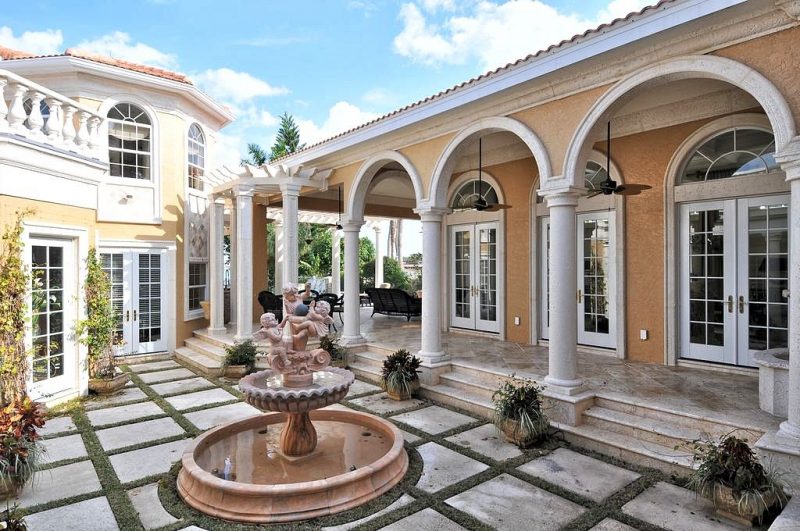 Points of Interest ● granite playful cherub fountain ● scalloped top basin ● concrete pavers with moss inserts ● pergola designed entryway ● stucco columns and arches
2. Glass Sphere
Points of Interest ● glass oval shaped fountain ● rough flagstone cantilevered pond coping ● stained wood covered deck ● buddha statue ● lattice fence
3. Twin Cherubs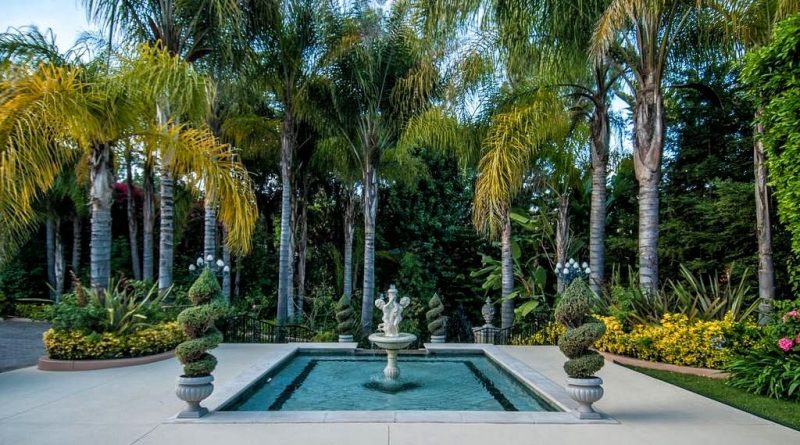 Points of Interest ● twin cherub stone cascading fountain ● rectangular pool ● darker tile pool inlay ● stone urn planters ● trimmed cypress trees ● wrought iron railings
4. Surrounded by Flowers
Points of Interest ● circular stone fountain with handcrafted siding ● Italian dancer stone statue ● clamshell spout spraying water into fountain ● arched stone front entry ● yellow rosebushes
5. Cascading Water Urn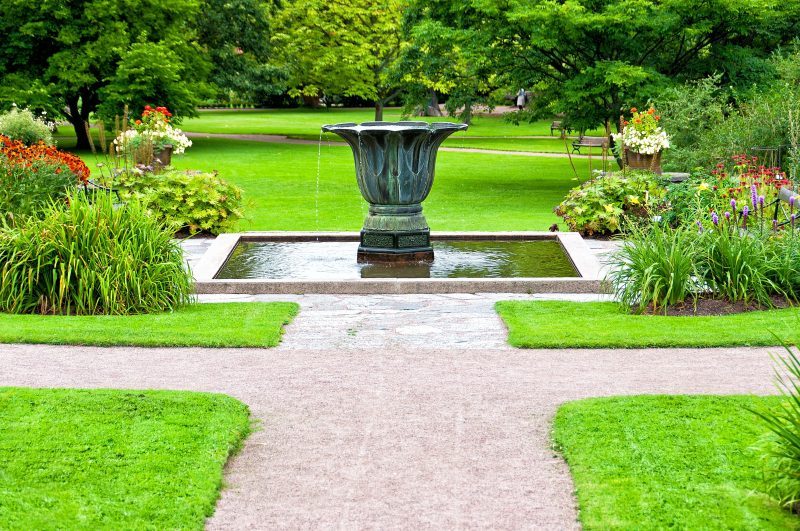 Points of Interest ● aged copper urn cascading fountain ● stone base ● rectangular pond stone coping ● garden benches ● twin urn planters on stone ledges
6. The Bronze Dancer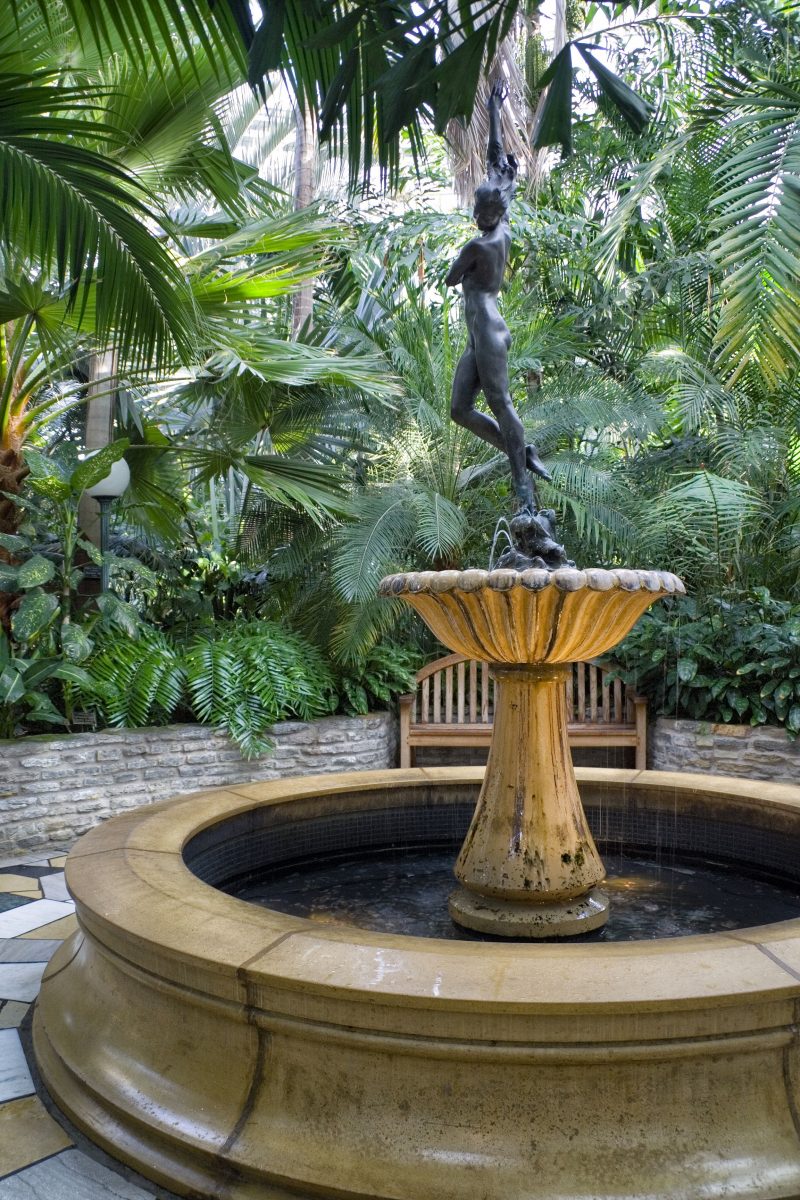 Points of Interest ● antique marble pedestal fountain with clamshell basin ● marble pond base ● mortared stone raised beds ● custom wood bench ● irregular cut tiles of contrasting colors
7. Disappearing Water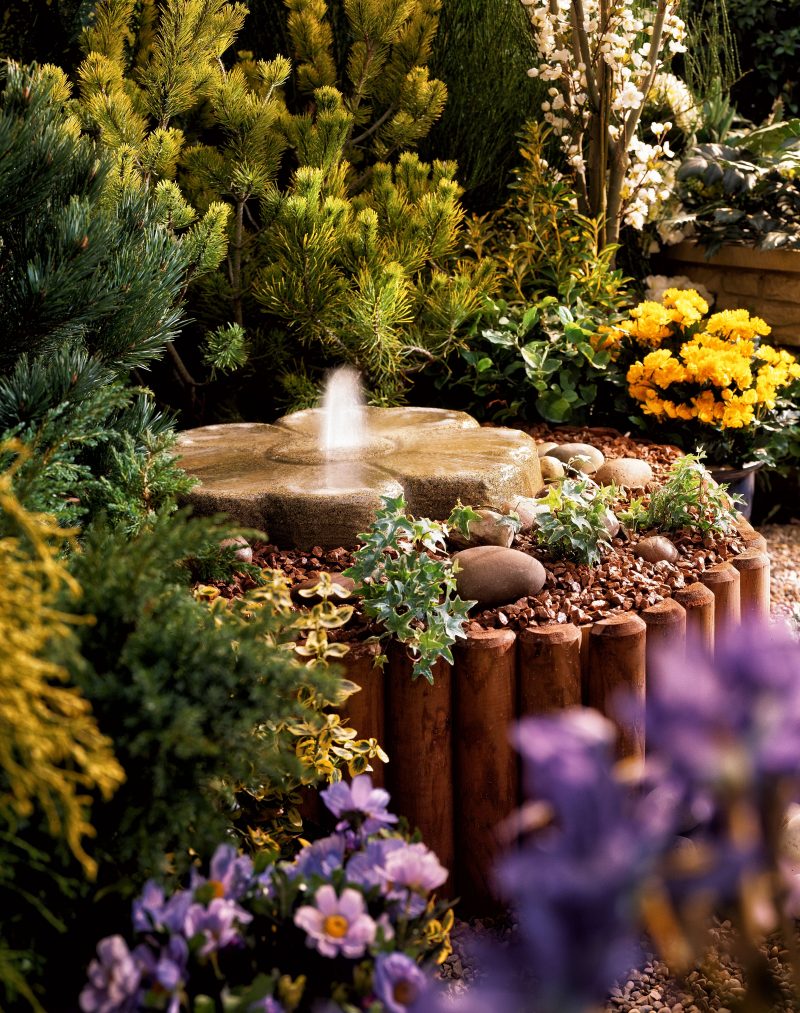 Points of Interest ● stone flower-designed disappearing fountain ● crushed stone drain rocks ● bamboo slats raised bed edging ● pea pebble flooring
8. Uplighting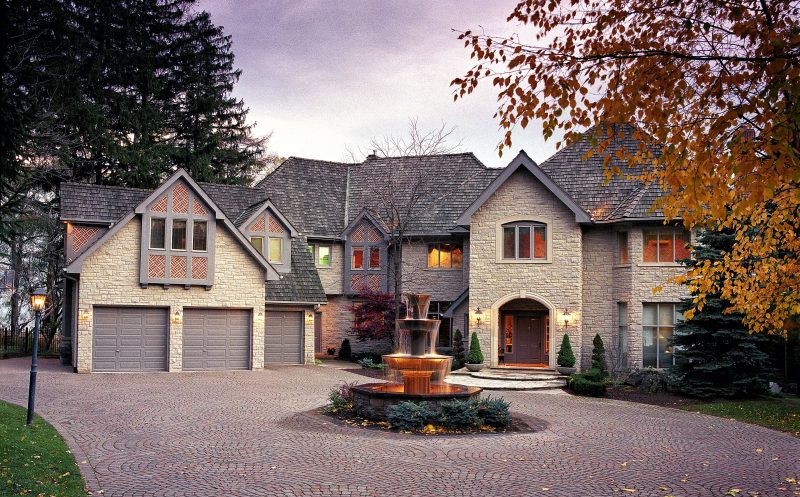 Points of Interest ● 3-tier cascading fountain with stacked stone base ● uplighting ● circular brick driveway around fountain ● red brick and white design pattern on dormer windows ● outdoor wall lamps flanking doorway
9. Spouting Turtle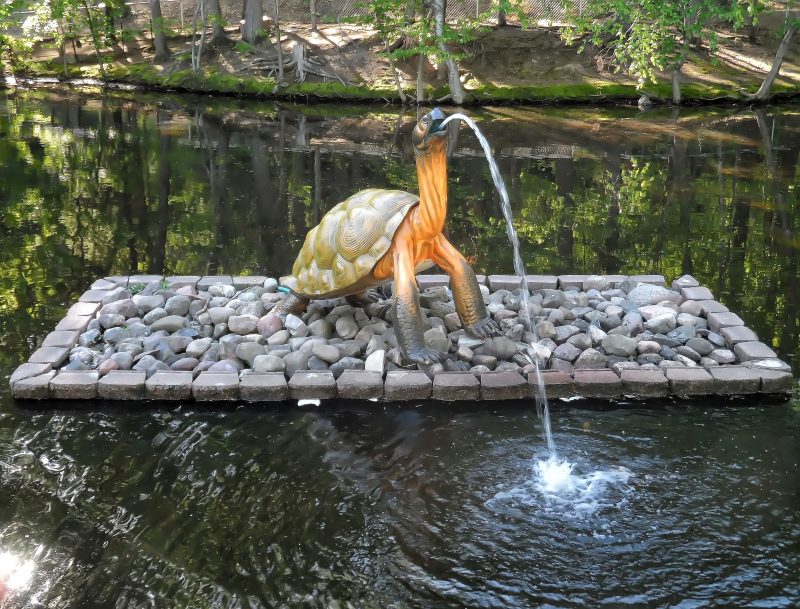 Points of Interest ● painted brass spouting turtle fountain ● river rocks rectangle fountain base ● stone base coping ● duck pond
10. 6-Spout Trough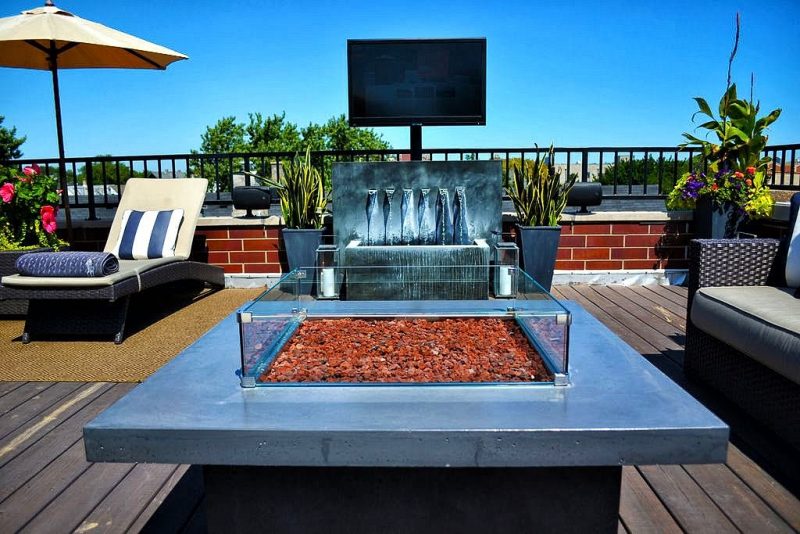 Points of Interest ● weathered zinc wall fountain 6-spout trough ● tabletop fire pit ● borderless glass fire pit screen ● wooden deck ● twin floor candle lamps
11. Scalloped Lips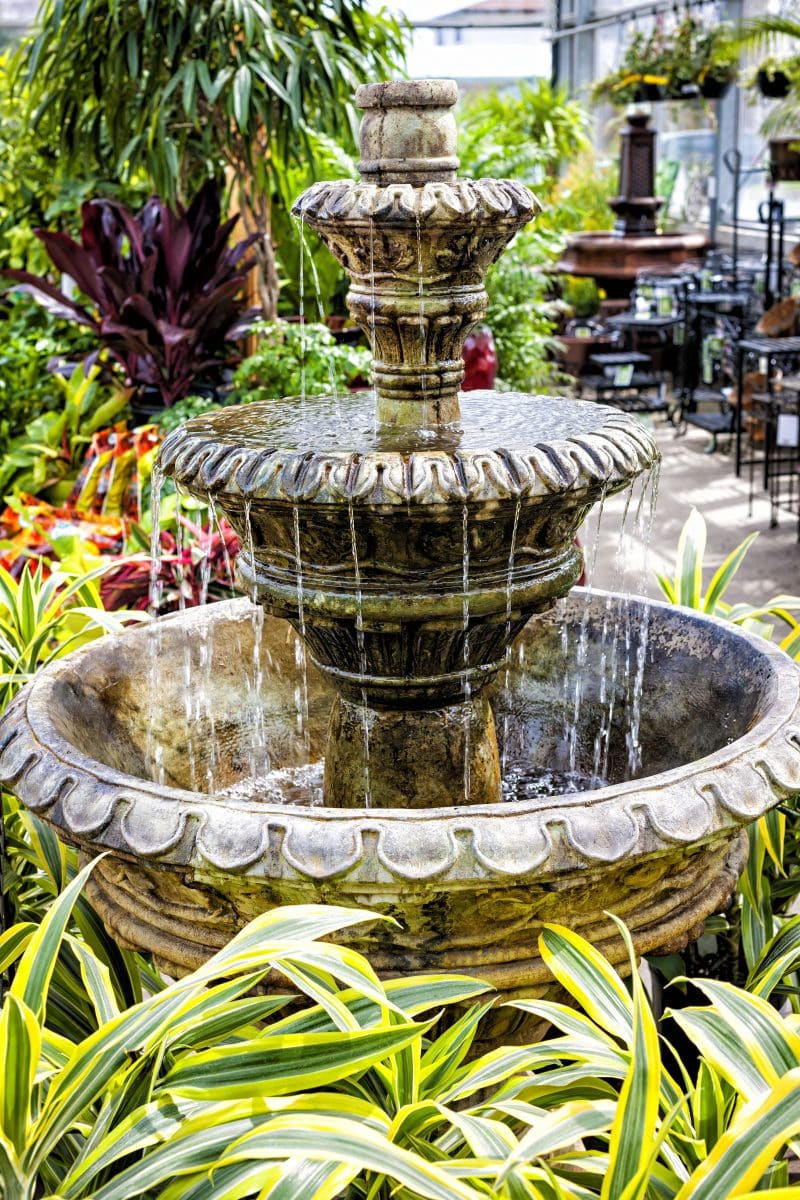 Points of Interest ● weathered stone 3-tiered cascading fountain ● carved basin lips ● golden zebra variegated plants ● hanging basket planters
12. Ridges on Stone
Points of Interest ● antiqued cast stone pedestal water fountain ● gravel and concrete paving ● buddha statue on parterre ● stucco low fence ● rosebushes
13. Bed of Colors
Points of Interest ● in-ground circular fountain ● black metal fountain spray head ● crawling vines covering basin rim ● variegated plants ● kaleidoscope of colors with various flower blooms
14. Hammered Steel
Points of Interest ● 3-trough hammered steel water fountain ● concrete rectangles and pea gravel inlay flooring ● mulched parterre
15. Sunflower Face
Points of Interest ● 2-tier cast stone pedestal fountain ● acorn-shaped water distribution cap ● sunflower ● wrought iron hanging basket holder ● colorful violas ● fragrant lavender
16. Open Field
Points of Interest ● 2-tiered acorn top stone water fountain ● stone and concrete surround ● screened in gazebo ● slatted wood gate
17. Twin Terracotta
Points of Interest ● hand carved ceramic tiered pedestal fountain ● wrought iron gate ● hexagonal "tomette" like tiles with diamond accents on entryway ● pair of terracotta planters
18. Rain Curtain
Points of Interest ● rain curtain water fountain with stainless steel frame ● river rock base ● pea gravel garden bed with white granite tiled edging ● precast concrete fence
19. Angelic White
Points of Interest ● marble pedestal angel basin fountain ● concrete fountain base ● orange marigold ground cover flowers ● DIY paver edging ● climbing snapdragon plant on fence
20. Wooden Deck
Points of Interest ● peasant woman statue with water jug stone fountain ● pebble surround ● wooden deck ● painted wood patio fence ● floor lamp
21. Aged Marble Pedestal
Points of Interest ● aged marble pedestal with marble pond surround fountain ● stacked stone retaining wall ● water spout ● red daylilies and delphiniums
22. Fly Away
Points of Interest ● aged circular stone spouting fountain ● trimmed hedges around the trees ● homing pigeon ● wrought iron window insert ● brick and plaster siding
23. Belvedere
Points of Interest ● antique bronze garden fountain with patina ● clamshell basin with patina ● circular driveway flooring ● topiary hedges ● belvedere ● terracotta hip roofs
24. Wall Cherub
Points of Interest ● wall fountain ● cherub head spout and swirl accents ● stone and concrete siding ● painted wooden door shutters ● glazed urn tree planters
25. Garden Fountain
Points of Interest ● 2-tier marble garden fountain ● pond surround spouts ● brick pathway with herringbone pattern ● circular flower beds surrounding fountain
26. In-ground Spray
Points of Interest ● in-ground fountain ● cobblestone circular pavers ● balcony over portico ● iron railings ● boxwood hedges in terra cotta planters flanking pathway to front door
27. Celosia
Points of Interest ● pedestal cast stone fountain with flower details ● carvings ● red celosia flowers ● gabled roof ● transom windows