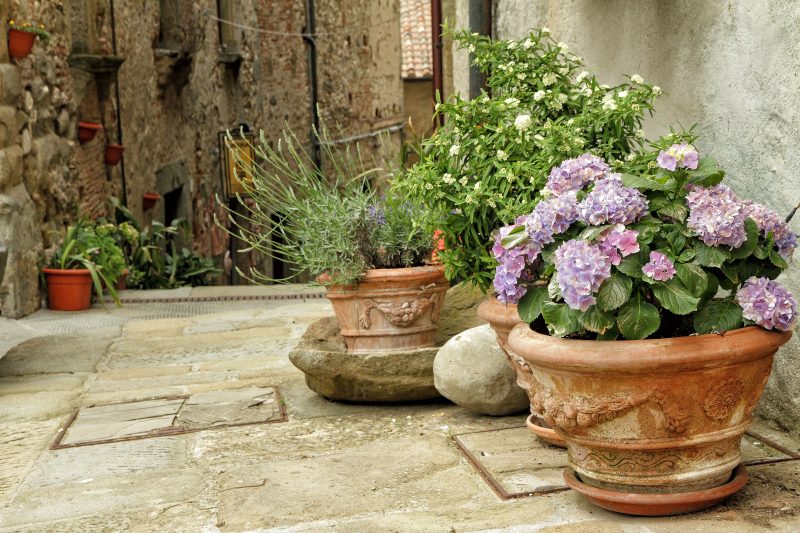 Hello and welcome to our Garden Outline of terra cotta planter ideas. Below you will find a summary of the benefits, main options and some design ideas we handpicked for you along with beautiful photos. Enjoy!

What are the benefits of terra cotta planters?
Classic look which becomes more beautiful as it weathers
Relatively inexpensive, especially if unglazed
Comes in many styles and shapes
Clay is a porous and thick material which helps with drainage and insulation

What are the main options for terra cotta planters?
Style: classic, rustic, roman, venetian, engraved, mediterranean, greek-inspired
Types: jar, window box, rolled rim, tree pot, bulb, azalea, garden bowl, standard, villa, regular banded, tall, half round, strawberry pot
Plays well with others: mix & match, glazed ceramic planters, stone planters

What follows are beautiful photos of terra cotta planters along with design ideas we thought may be of interest to you. For even more planter ideas, take a look at planter ideas that will fit in with plenty of settings and styles. If you are looking to touch up a particular space, try Patio Planter Ideas, Planter Ideas and Fence Planters Ideas. If you're looking for a planter that has that special look, try Antique Planter Ideas, Wheelbarrow Planter Ideas, Rustic Wagon Planter Ideas, Barrel Planter Ideas and Recycled Planter Ideas. Enjoy and happy home decorating!
1. Stump Support
Points of Interest ● standard, azalea, and tall terracotta pots ● tree stump plant stand ● pot arrangement from small to tall ● wild violets and daisies
2. Retractable Awning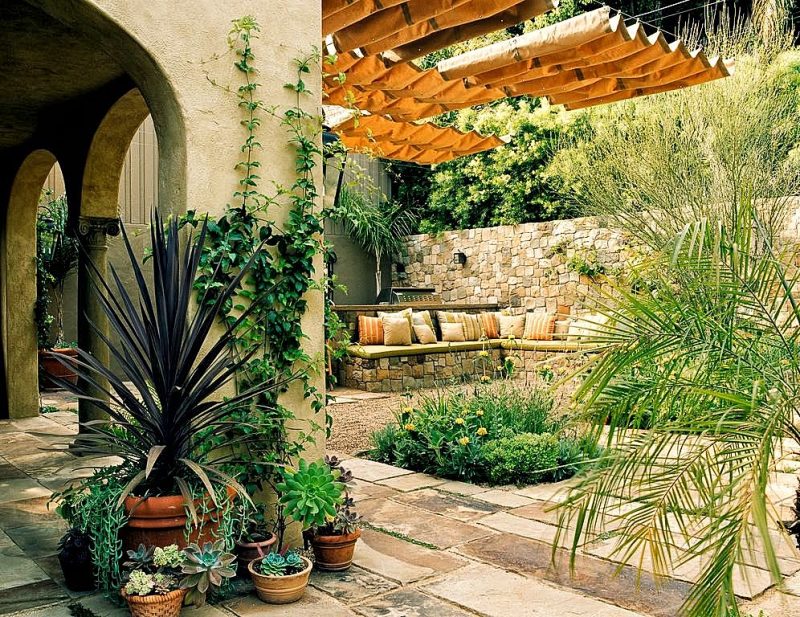 Points of Interest ● hand-designed and rolled rim pots ● arch and columns entryways ● built-in stacked stone bench ● patio retractable awning ● stone and pebble patio flooring
3. All Strung Up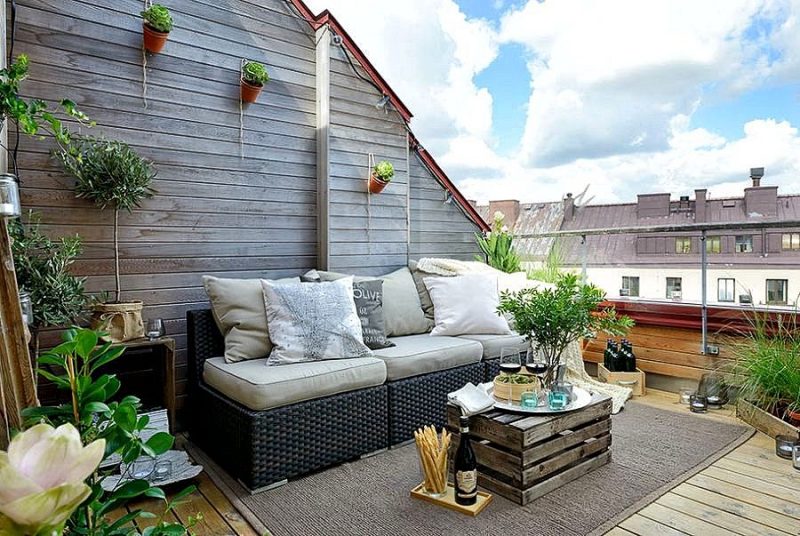 Points of Interest ● small clay pots hung by strings ● wooden roof top deck ● plexiglass railing ● wooden crates repurposed as coffee table ● salvaged wooden tray used as planter box
4. Aged Minis
Points of Interest ● aged hanging mini pots ● standard rolled rim medium-sized pots ● terra cotta roof tiles ● concrete patio floor ● chain drain
5. Bell Pepper Shapes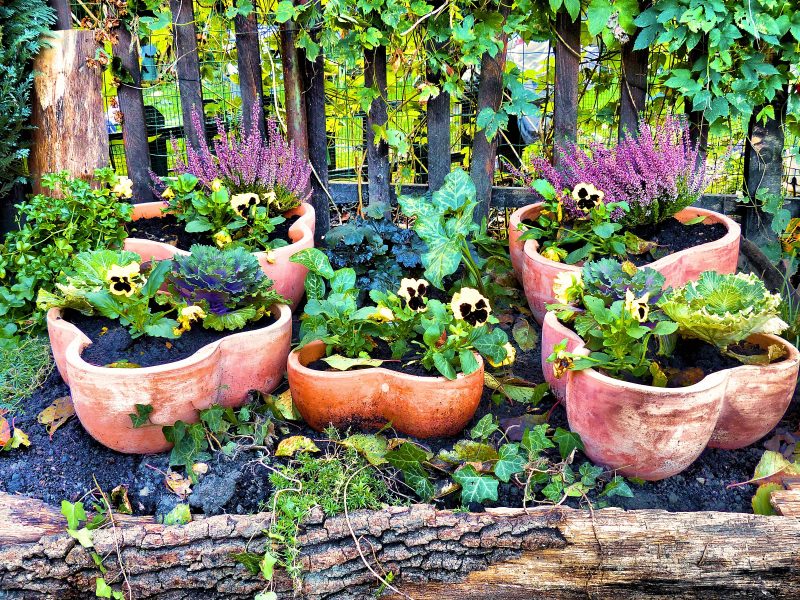 Points of Interest ● large bell pepper shaped planters ● raised garden bed with log edging ● DIY slatted wood fence ● chicken wire netting ● pansy flowers
6. Horizontal Slatted Fence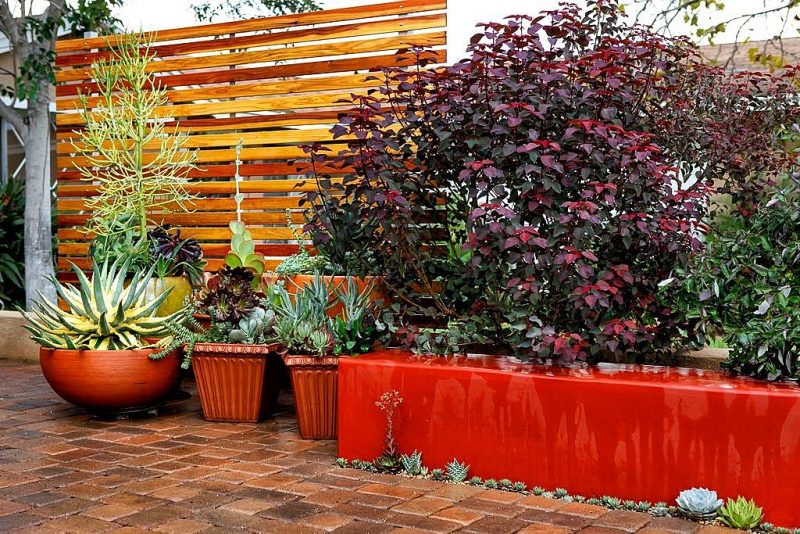 Points of Interest ● large terra cotta garden bowl with cactus ● twin fluted resin square planters with succulents ● stained horizontal slatted wood fence ● concrete paving stones
7. Weathered Clay
Points of Interest ● string-tied weathered terra cotta pitchers and glasses ● brass round tray ● rattan basketweave decorative wall accent ● weathered hardwood table
8. Pink Geraniums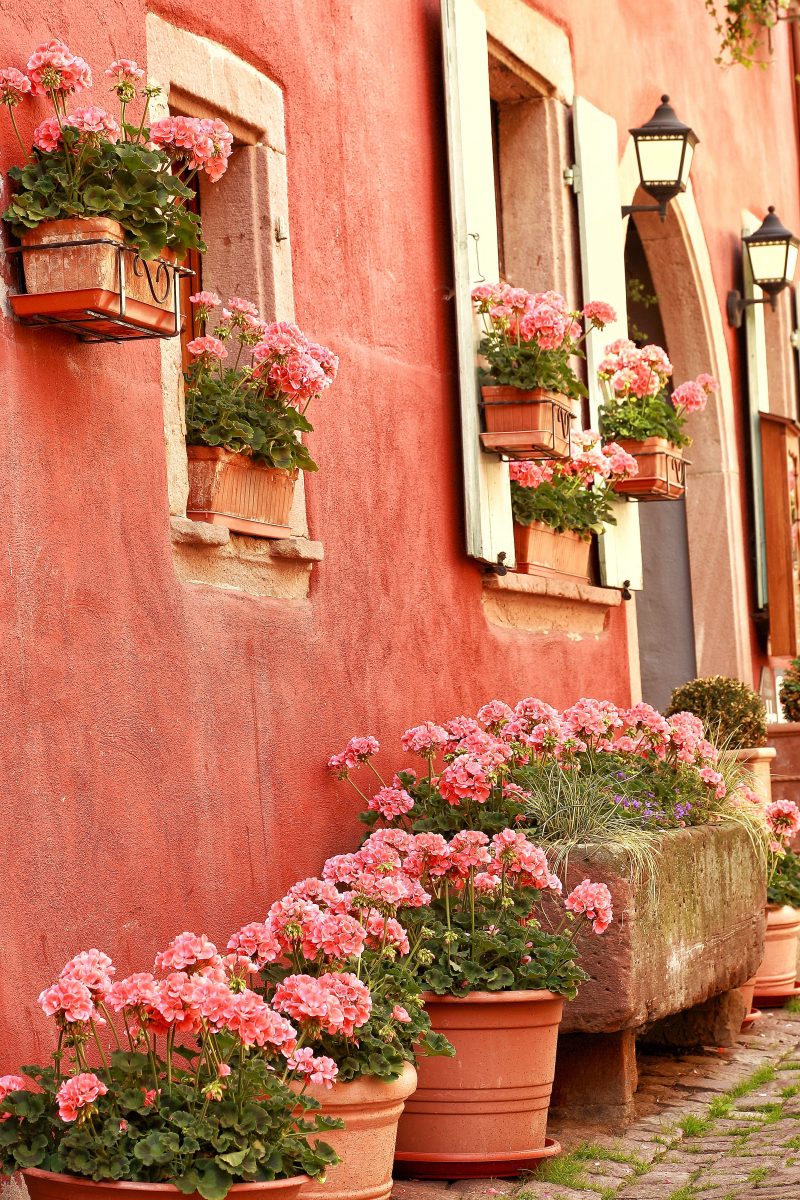 Points of Interest ● venetian window boxes ● cobblestone pavers ● repurposed concrete trough ● iron wall-mounted planter holders ● pale pink geraniums
9. Blooming Street
Points of Interest ● assortment of terra cotta planters of various shapes and styles ● fluted resin wall pots ● cotton macrame plant hanger ● outdoor rope to train red blooming vine
10. Saltillo Pavers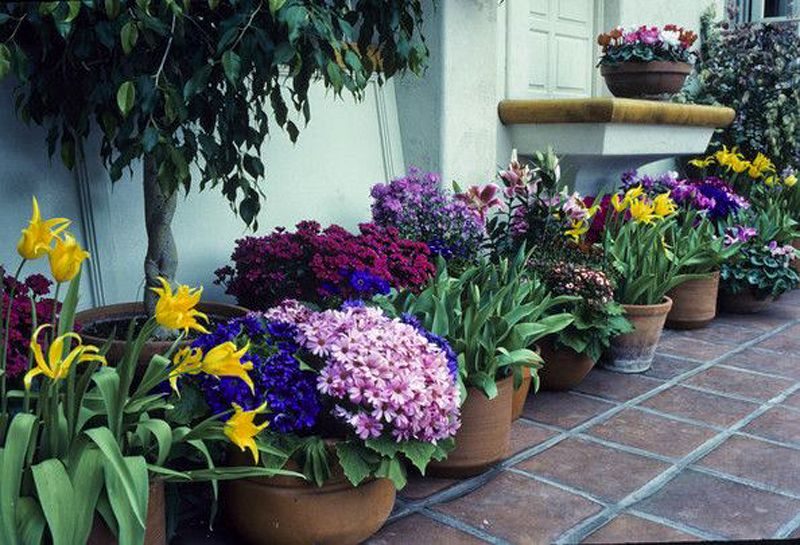 Points of Interest ● banded cylinders with yellow lilies ● ficus tree in large terra cotta pot ● garden bowl with blue and lavender gerberas ● ledge with brown accent calling back clay pots
11. Iron Swirls
Points of Interest ● multi-level stacked stone risers ● alcove entryway ● swirl-designed iron entryway accent ● terra cotta venetian window boxes ● painted clay tree pot
12. Black Wheelbarrow
Points of Interest ● banded clay and saucer pot with pansy flowers ● large painted cylinder ceramic planters in wheelbarrow ● gray brick siding ● black vintage wheelbarrow
13. Terracotta-Lined
Points of Interest ● twin tapered square planters with intricate hand carved flower designs ● large tree pot with ring patterns ● ceramic tile wall accents ● aged stone steps
14. Grecian Clay
Points of Interest ● rolled rim with flower detail planter ● petite patio ● white plaster walls and fences ● blue dome roofs with matching gates ● plaster and stone steps
15. Hanging by the Wall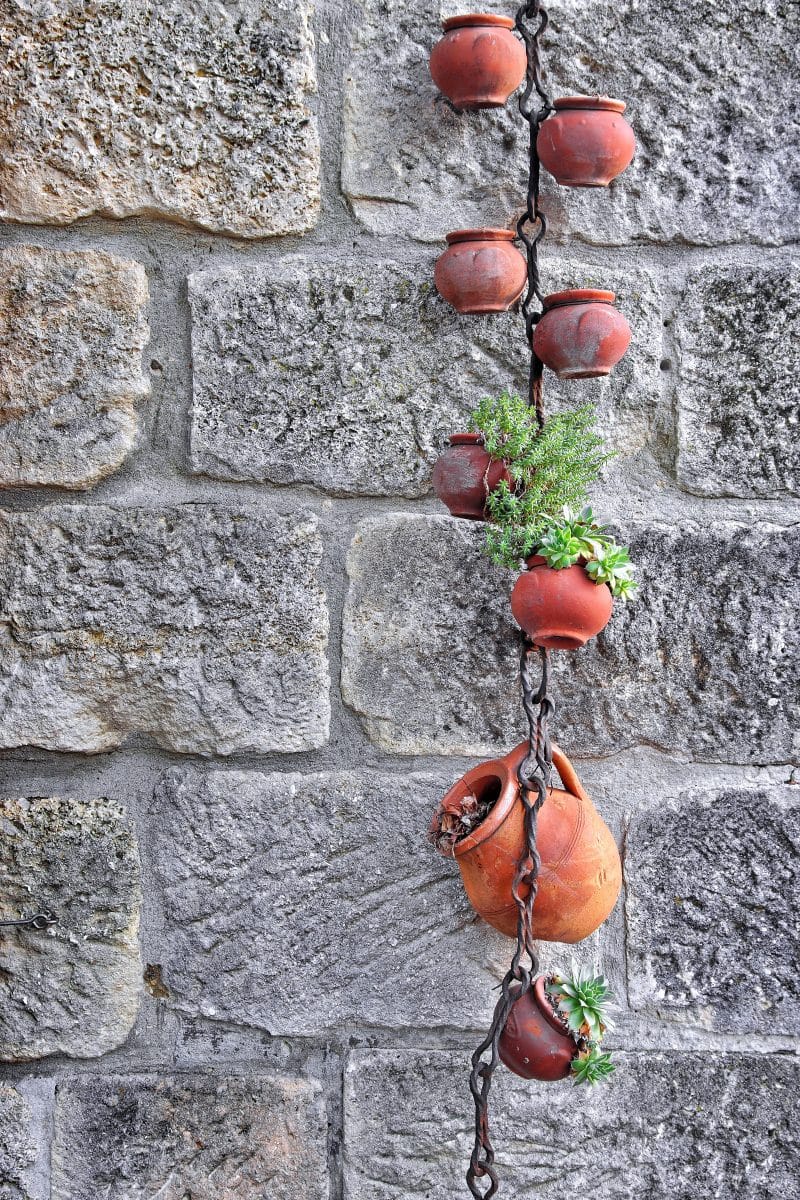 Points of Interest ● iron links repurposed as hanging planter ● small water pots with white washed coat from minerals in water ● clay jar ● succulents ● weathered stone and plaster wall
16. Ironing Board
Points of Interest ● wooden ironing board plant stand ● glazed purple ceramic dish as pot saucer ● larged cylinder unglazed clay pots ● wall-mounted pot holder bracket
17. Mountaintop View
Points of Interest ● combo of larger terra cotta planters on the ground and smaller ones on top of fence ● three small square pots with cacti and succulents ● handcrafted window boxes
18. Matching Blues
Points of Interest ● terra cotta planters mixed with glazed ceramic pots near door ● terra cotta window box on window sill ● blue salvaged wood planter matching shutters
19. Fragrant Jasmine
Points of Interest ● decorative terra cotta roman window box planters ● balcony ring pot holders ● hammered iron rail with fern leaf design ● fragrant potted climbing jasmine
20. Handcrafted Jar
Points of Interest ● weathered clay jar with handcrafted handle and sunburst design ● wine barrel ● dark pink hydrangeas ● stone floor brick inlay ● mortared stone wall
21. Iron Balcony
Points of Interest ● venetian window boxes ● juliet balcony ● wooden toplite swing doors ● carved stone street name ● stone doorway with carved molding and border
22. Twin Pots
Points of Interest ● stone and concrete siding ● 6-lite wooden swing doors ● lush violet bougainvillea ● hydrangeas in medium sized clay pots
23. Iron Stand
Points of Interest ● fleur-de-lys 4-tiered iron stand ● decorative wall brackets to hold single pots ● dark wood shelf to hold privacy ● mini lantern string lights ● white window box
24. Garden Bowls
Points of Interest ● clay garden bowls with patina ● rolled rim medium-sized pot ● twin clay pots with handles ● twin window boxes ● low brick garden fence
25. Pediments
Points of Interest ● large banded Roman clay pot ● matching plastic window boxes ● pedimented doorways ● French doors ● carved stone wall and siding
26. Black Knockers
Points of Interest ● venetian and banded window boxes ● custom swing wooden front door ● black brass door knockers ● arched stone door frame ● custom clapboard-designed side door
27. Yellow Stucco
Points of Interest ● classic clay planters ● blue shutters with Z-design ● bright yellow dash stucco siding ● mismatched planter saucers ● wooden planter stand