Hello and welcome to the Garden Outline photo gallery of sunroom design ideas. Below you will find a summary of the benefits, main options and some design ideas we handpicked for you along with beautiful photos. Enjoy!

What are the benefits of sunrooms?
Bright alternative for increasing your living space
Relaxed space for informal entertainment
Place to enjoy the beauty of nature 365 days a year
Convenient area to get some sun and be away from the elements
Can be customized to virtually any shape, style and layout

What are the main options for sunrooms?
Layout: attached, free-standing
Style: traditional, cottage, contemporary, conservatory, beach-inspired, coastal-inspired
Details: skylight, glass roof, sliding door, large window, transom, accent wall, fireplace
Decor: furniture made from natural material, bright colored cushions and pillows, chandelier, ceiling fan, potted plants

What follows are beautiful photos of sunroom designs along with ideas we thought may be of interest to you. Enjoy and happy outdoor decorating!

1. Beveled Glass
Points of Interest ● row of skylights ● stone veneer fireplace surround ● pair of yellow armchairs ● brass and beveled glass pendant light ● roman blinds
2. Sunroom Bar
Points of Interest ● exposed wood beams ● nautical-themed semi-circle bar ● window banks with transom ● hand carved wooden side table ● overhead display rack with antique oars
3. Conservatory
Points of Interest ● custom-built victorian conservatory sunroom ● swing sunroom doors with brass upper locks ● earth tone slate floor ● bay curved front windows
4. French Doors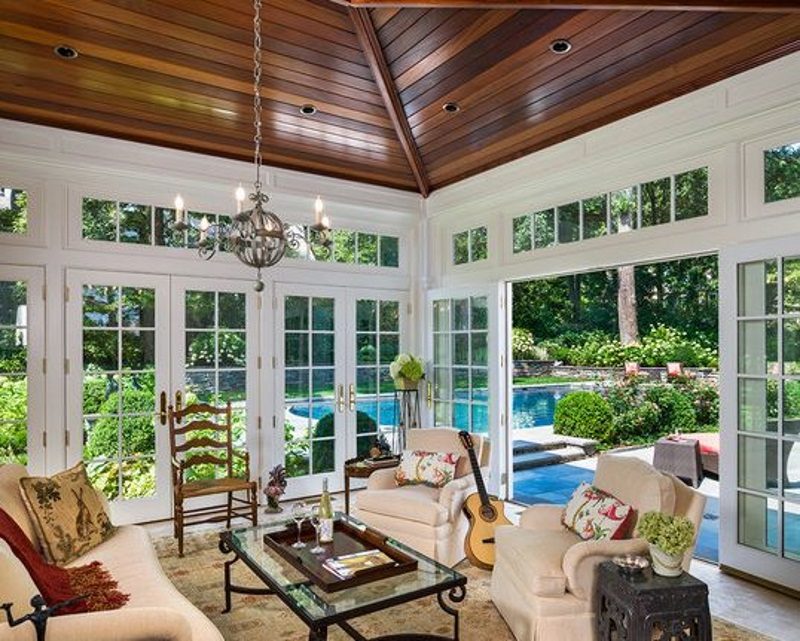 Points of Interest ● multiple swing-in french doors ● white muntins on transom windows ● stained wood panel ceiling ● globe candelabra chandelier ● iron base glass top coffee table
5. Pink Accent
Points of Interest ● aluminum beam skylights matching window casing ● wood framed hanging mirror ● custom hardwood dining table with flower carvings ● polished marble floor
6. Twin Topiaries
Points of Interest ● detached sunroom design ● weathered brick flooring ● segmented metal frames ● custom wood dining table set ● aged iron chandelier
7. Custom Tables
Points of Interest ● triangular transoms ● curved window banks ● travertine flooring ● ceiling wood beams calling back the inside wall ● custom inverted cone-shaped cocktail table
8. Partial Division
Points of Interest ● porcelain-tiled sunroom ● baker's rack used for planters ● hardwood floor in various hues ● partial divider with crown molding ● sliding door to living room
9. Checkerboard Ware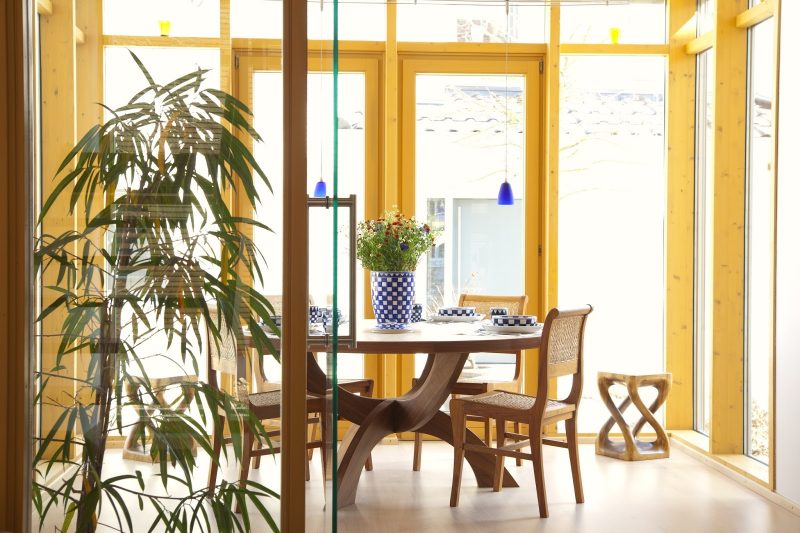 Points of Interest ● double french doors ● borderless glass swing doors ● custom hourglass-designed stools ● blue pendant lights hung lower ● checkerboard tableware
10. Well-Lit Workspace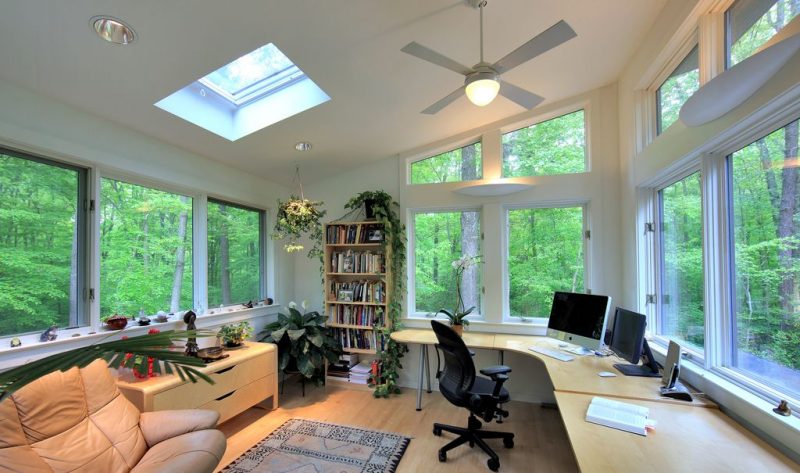 Points of Interest ● square skylight ● large casement windows with transoms ● white wall mount lighting fixtures ● curved workstation calling back floor ● window sill
11. Tropical Hideaway
Points of Interest ● mortared stone columns ● stained wood plank ceiling ● paneled window wall ● rattan chairs ● red and brown floor tile accent
12. Roller Blinds
Points of Interest ● skylight roller blinds ● forest green aluminum sunroom beams and columns ● rattan chaise lounge ● custom carved wood side table ● rectangular area rug
13. Wallpaper Accent Wall
Points of Interest ● elephant and palm trees wall paper accent wall ● bird cage ● pendant light with tassel ● retractable fabric skylight awning ● antique glazed jars
14. Glossy Black Urns
Points of Interest ● glass and steel attached sunroom design ● picture windows casing matching sunroom door frame ● brick siding ● glass and stainless steel wheeled food tray
15. Crisscrossing
Points of Interest ● dark wood tray ceiling ● sliding doors ● ceiling trim crown moldings ● twin cane armchairs with crisscross details ● carpet design matching the armchairs
16. Clear Roof Sheets
Points of Interest ● corrugated polycarbonate roof sheets ● outdoor privacy fence ● salmon pink ceramic top garden table ● iron folding chairs with ceramic back detail
17. Skyblue Addition
Points of Interest ● skyblue attached sunroom ● alcove design on windows and door ● semi-circle brick steps ● brick siding ● millwork accent on sunroom roof
18. Jacuzzi Garden Room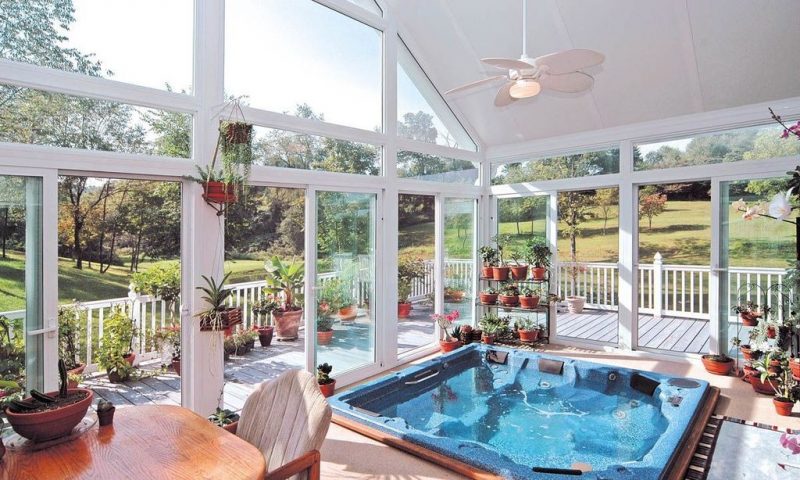 Points of Interest ● jacuzzi hot tub ● transom windows in varying sizes ● bonsai plants on a 3-tier iron plant stand ● assortment of terra cotta planters ● wraparound porch
19. Rotating Fans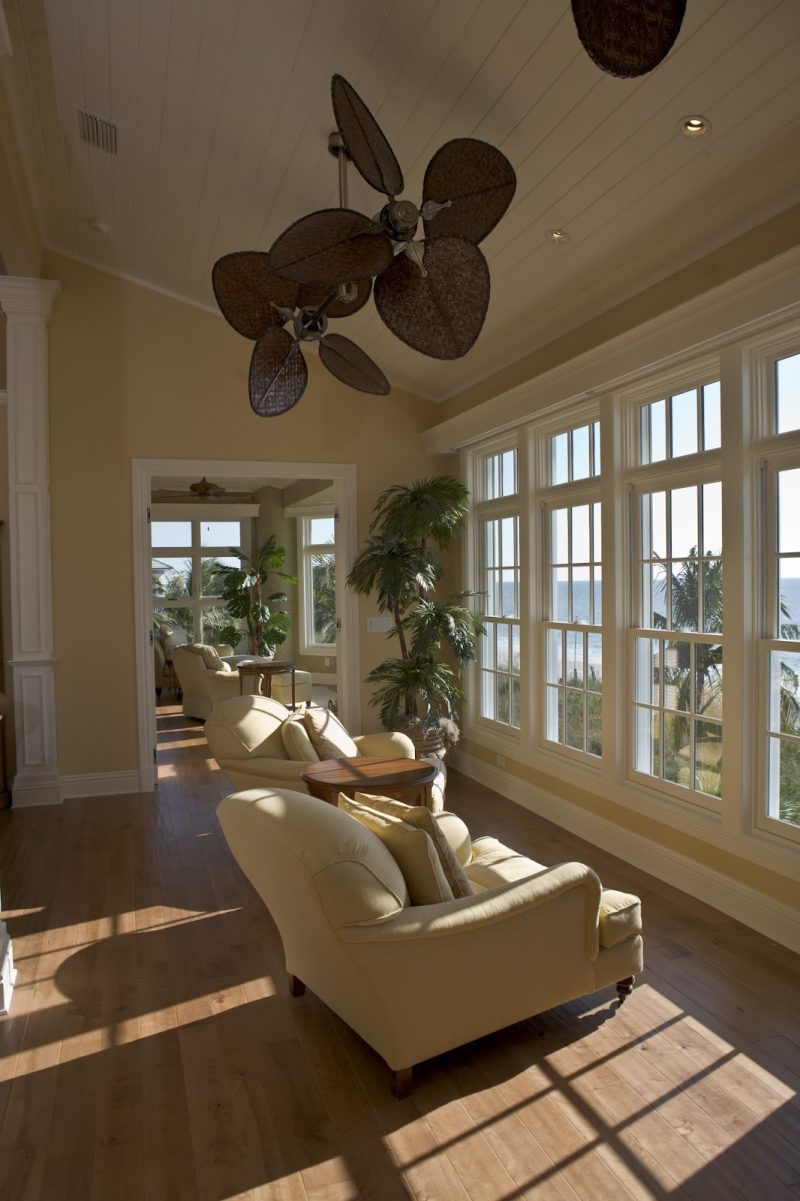 Points of Interest ● white beadboard ceiling ● wood laminate floor ● dual motor palm leaf ceiling fan ● shaker panel and crown moulding on column
20. Flower Lights
Points of Interest ● polished porcelain tile flooring ● borderless glass door ● wicker armchair with brass ball feet and footstool ● flower bouquet torchiere floor lamp
21. Diamond Inlays
Points of Interest ● cathedral glass ceiling ● space saving pocket doors ● white aluminum frame and sill ● tile flooring with diamond inlays ● vintage candelabra chandelier
22. All Over Awning
Points of Interest ● awning windows ● gravel and steel squares walkway ● brick base ● makeshift wood slab door step ● glazed ceramic and resin planters ● rain barrel
23. Ledge for Plants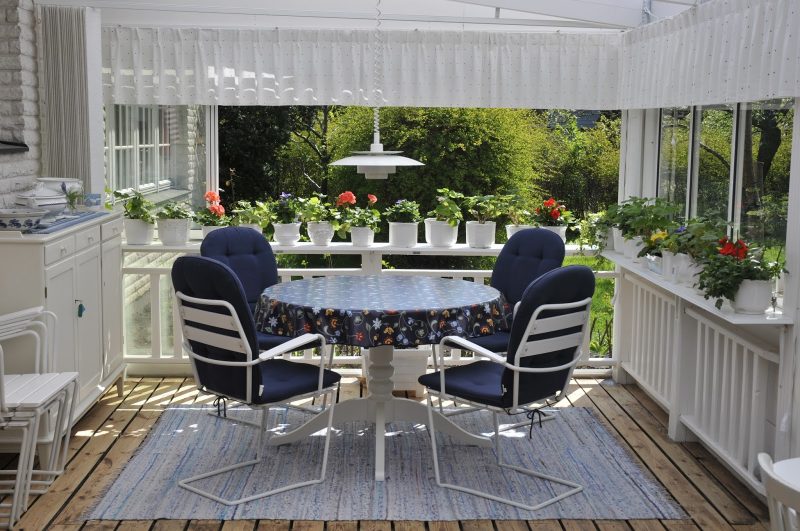 Points of Interest ● wood and glass picket fence with ledge ● bi-fold windows ● extend ceiling pendant light ● wooden plank deck ● long vertical sun protection blinds
24. Chaise by the Beach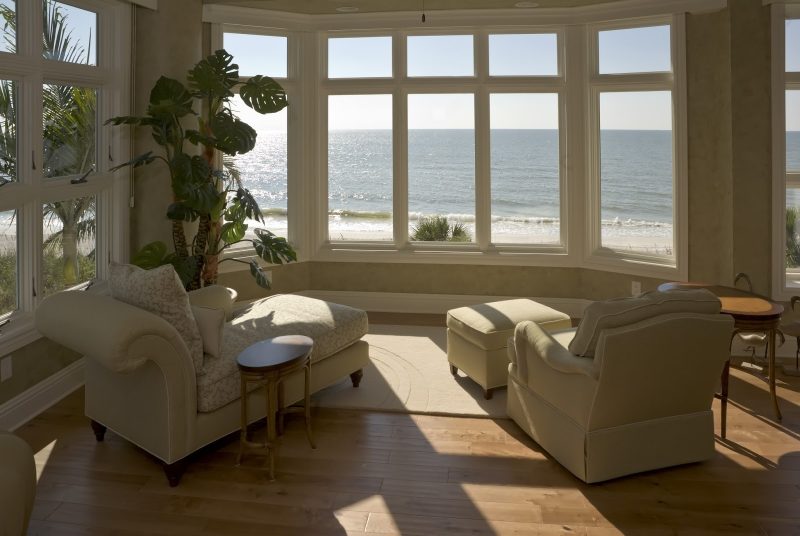 Points of Interest ● window trim with molding matching the baseboard ● faux finish painted walls ● chaise lounge ● awning windows by the chaise ● delicate wooden side tables
25. Rugs of Many Colors
Points of Interest ● stucco upper wall curves details ● wooden window frames and sill ● area rugs doubling as cushion covers ● antique wooden chest doubling as ottoman
26. Twin Skylights
Points of Interest ● twin wood framed skylights ● brick wall with running bond pattern ● extended painted window sill matching baseboard ● window roller blinds ● candle lamps
27. Sliding Simplicity
Points of Interest ● glass with white muntins sliding door ● evergreen natural privacy fence ● white wicker seating ● porcelain tiles in diagonal pattern ● hanging green bottle