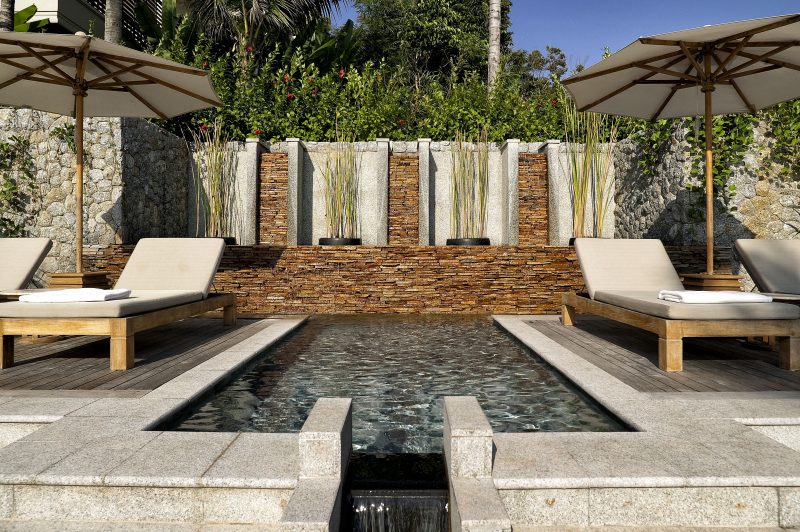 Hello and welcome to the Garden Outline photo gallery of small swimming pool ideas. Below you will find a summary of the benefits, main options and some design ideas we handpicked for you along with beautiful photos. Enjoy!

What are the benefits of small swimming pools?
Practical for backyards with limited space
Homeowners have more area for other backyard features such as a deck, patio, outdoor kitchen, garden or grass area
Easier to clean and maintain
Many shapes and styles available

What are the main options for small swimming pools?
In ground: plunge, infinity, hot tub, lap
Above ground: spa, kids, step-up stair entry
Shapes: classic rectangular, kidney, freeform, geometric, oval, roman, L-shaped, figure 8, circular
Features: waterfall, fountain, sun ledge, fire pit, catch basin
Complementing out-of-pool structures: deck, outdoor kitchen, patio, pergola, screen or glass enclosure, fireplace

What follows are beautiful photos of small swimming pools along with design ideas we thought may be of interest to you. Enjoy and happy home decorating!
1. Hedge Keyhole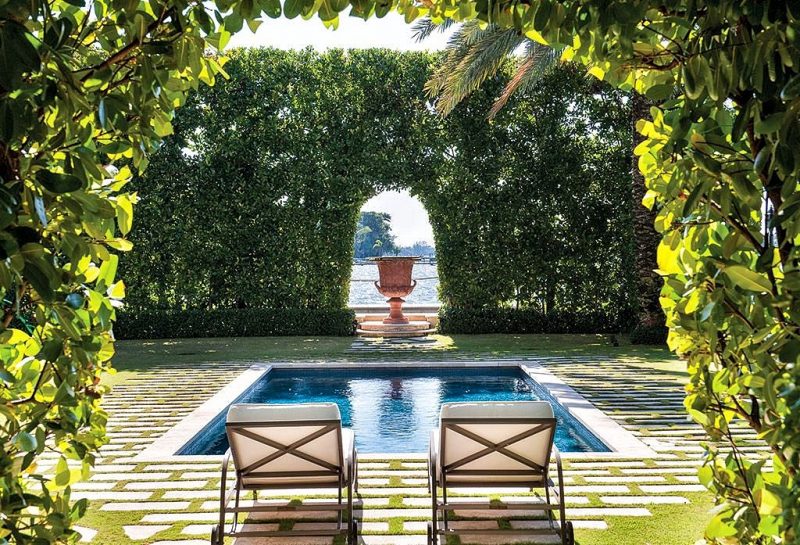 Points of Interest ● rectangular pool ● blue tile edging ● concrete paver with grass inserts ● security hedges ● boxwood ● keyhole hedge opening with large antique urn
2. Lap Plunge Pool
Points of Interest ● lap pool with 2 wall fountains ● stamped pre-cast concrete pavers ● backyard space saving in-swing 8-lite french doors ● palm trees
3. Pool Cover
Points of Interest ● stamped concrete pool coping ● retractable pool cover ● double concrete in-ground pool steps ● tree wall ● built in narrow wooden slab bench ● brick fence grass patio area
4. Teal Ceramic Stools
Points of Interest ● small roman pool ● covered patio doubling as pool house ● stacked stone fireplace ● outdoor kitchen ● pergola extension with corbel rafter tail
5. Elevated Patio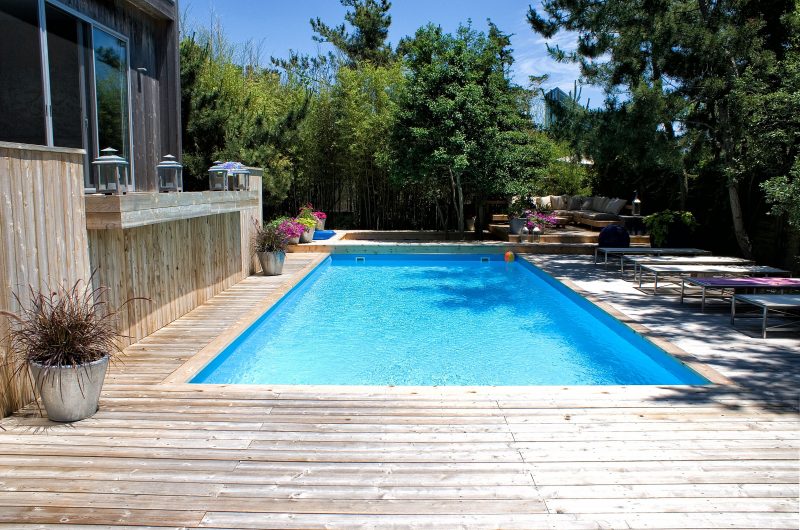 Points of Interest ● classic rectangular pool ● wood pool coping ● wooden deck ● ledge with outdoor lanterns ● elevated patio ● built-in seating on patio ● galvanised silver planters
6. Picket Pool Fence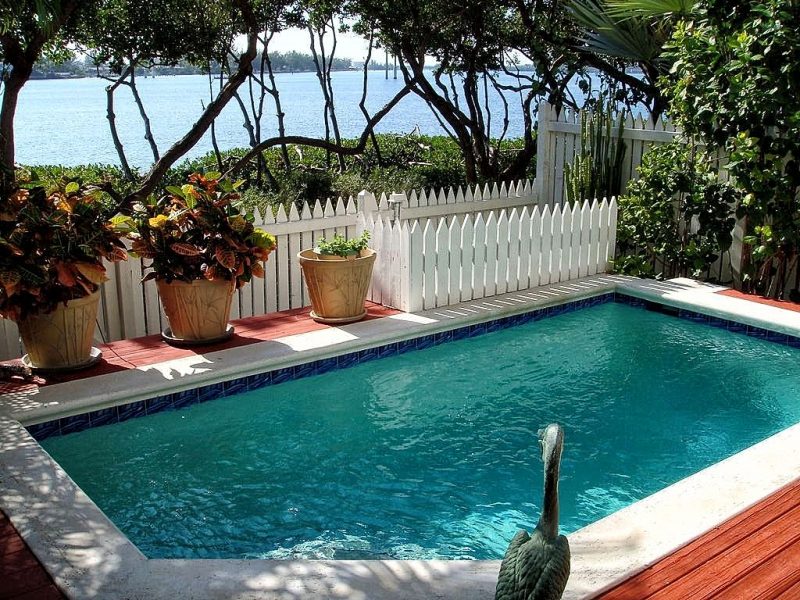 Points of Interest ● blue ceramic tile pool surround ● bullnose coping ● antique swan statue with patina ● handcrafted planters with bamboo designs ● white picket pool fence
7. Two Tone Wicker
Points of Interest ● L-pool ● glass and metal pool enclosure ● high back two-tone wicker Bergères armchairs ● concrete cobblestone patio pavers ● hot tub with mosaic tile pattern
8. Evergreen Trees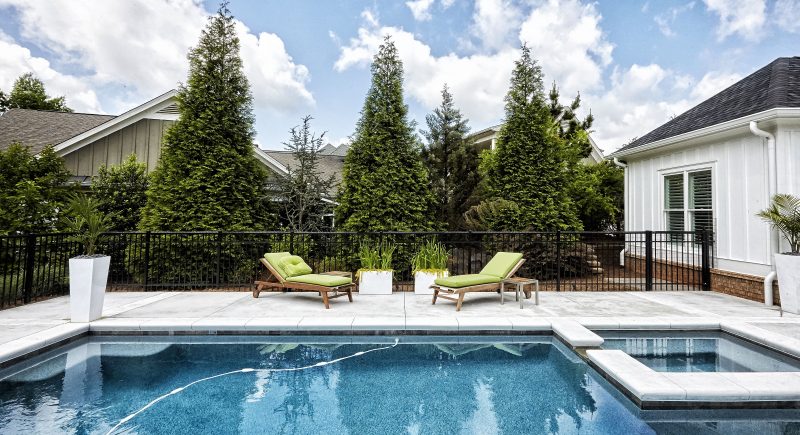 Points of Interest ● geometric-shaped pool ● black iron pool fence railing ● tall square cylinder white planters ● precast concrete pool coping ● natural wood lounging chairs
9. One Vanishing Edge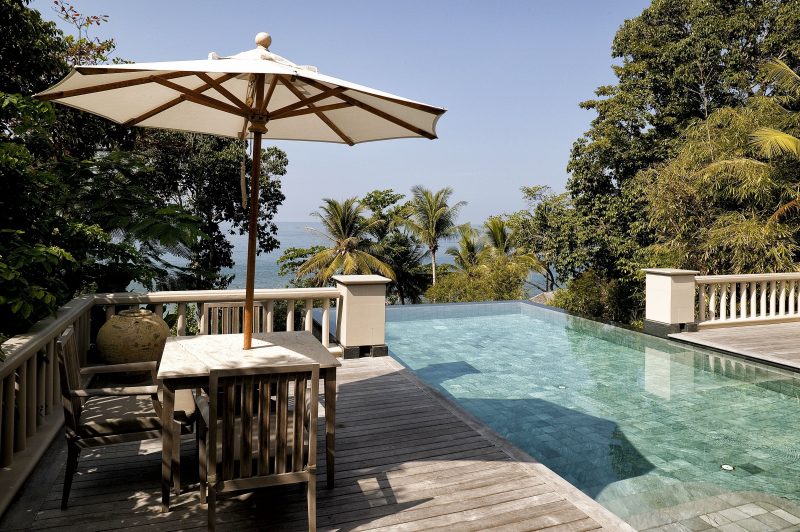 Points of Interest ● black tile pool edging ● square pool tile flooring ● larger steps doubling as sunning ledge ● wood plank deck ● market umbrella matching low cream-colored vinyl fence and posts
10. Awning
Points of Interest ● classic rectangular pool ● flagstone patio and pool area flooring ● garden canopy with green stripes ● frog fountain ● hip roof with corbel accents
11. Water Spheres
Points of Interest ● circular vanishing edge plunge pool ● borderless plexiglass fence ● slate tile pavers ● slate tile coping ● flush hot tub
12. White Picket Fence
Points of Interes ● kidney-shaped pool ● mosaic tile pool edging ● pool area brick pavers ● white concave picket fence ● raised beds with bromeliads ● vinyl lounge chairs
13. Raised Beds
Points of Interest ● freeform pool ● hot tub ● twin pool raised beds ● accent tiles on hot tub and bed surround ● pool steps with brown tile edges ● wrought iron fence
14. Above Ground
Points of Interest ● aboveground pool ● marble coping ● shades of brown mosaic slate tile edging ● linear waterfall feature ● marble retaining wall ● dark stained wood privacy fence
15. Recreational Pool
Points of Interest ● water slide ● water wall feature ●travertine flooring and steps ● firebowl on pool columns ● stone cladding on retaining wall and stair bannister
16. Shutter Doors
Points of Interest ● lap pool ● pea gravel with step stones pool lounging area ● wraparound balcony ● invisible stringer balcony fence ● 3-section covered patio ● large lawn area
17. Staggered Fence
Points of Interest ● freeform pool ● two-toned retaining pool wall ● white metal staggered fence ● glass tile accent on spa ● brick patio floor in herringbone pattern
18. Ocean Pool
Points of Interest ● combination of regular coping and vanishing edge pool ● circular hot tub ● irregular flagstone pool flooring in different hues ● mini lanterns ● curved grass mimicking pool curves
19. Wooden Decking
Points of Interest ● wood deck and tub coping ● pergola with built-in bench ● concrete square floating table ● built-in stone based outdoor bed ● stacked stone veneer accent wall
20. Mosaic
Points of Interest ● mosaic tile pool edge and floor ● rolled coping ● mortared stone fence ● flagstone irregular paving ● large terracotta jar and planters ● wooden gate ● elevated small stone deck
21. Southern Cross Fence
Points of Interest ● flush edged pool ● blue inlay tiles in pool ● iron on stone wall with X-shape railing ● rectangular tiled pool floor ● low stone fence with gravel ground borders
22. Attached Hot Tub
Points of Interest ● rectangular pool with tanning ledge ● automatic pool cover ● low stone veneer fence with iron gates ● white urn planters on columns ● white pergola with stone pillars
23. Glass Enclosure
Points of Interest ● roman pool on one side ● one side invisible edge ● square spa spilling over ● narrow pebble parterre lining pool ● planters on pool columns ● palm trees
24. L-Pool
Points of Interest ● L-shaped pool ● white washed wooden deck ● inclined pool coping on one side ● large square porcelain tiles ● metal base resin wicker armchair with ecru outdoor cushions
25. Rubber Tiling
Points of Interest ● small square blue tile pool edging ● diving board ● in pool lighting ● outdoor lamps ● pavers with darker tile accent ● composite privacy fence
26. Retained by Bluestone
Points of Interest ● kidney-shaped pool ● terraced backyard with sunbathing area above pool ● bolder accent on pool edge ● staircase wooden fence ● garden shed with deck
27. Trimmed Hedges
Points of Interest ● covered kidney pool ● blue strip pool edge ● privacy hedges bordering outside of pool structure ● stamped concrete pool floor ● dome-shaped enclosure