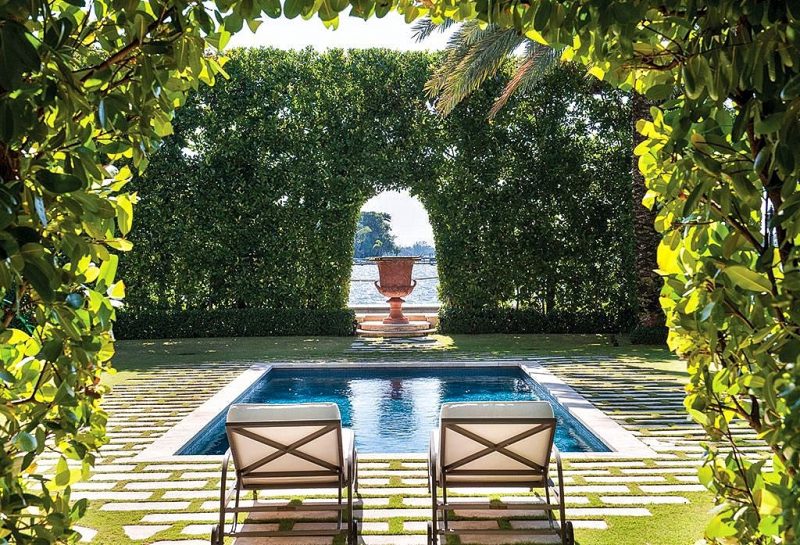 Hello and welcome to the Garden Outline photo gallery of small inground pool ideas. Below you will find a summary of the benefits, main options and some design ideas we handpicked for you along with beautiful photos. Enjoy!

What are the benefits of small inground pool?
Works in small backyards – small inground pools do not take up a lot of space and can still offer you a lot of options when it comes to design
Additional space to entertain – you can host pool parties or have outdoor time with family beside the pool during hot summer days
Encourages healthy lifestyle – you can de-stress and relax around the pool, or exercise while enjoying the cooling effects of water

What are the main options for small inground pool?
Shape – geometric (rectangle, circle), freeform, figure 8, L-shaped, spool, kidney
Decking – limestone, sandstone, flagstone, pebblestone epoxy, marble, slate, travertine, natural stone, concrete
Water Fixtures – waterfalls, deck jets, spouts, scuppers, bubblers, pool fountains
Affixed Structures: cabana, patio (covered, open, garden), spa, outdoor shower, deck (sun deck, with pergola), bar, hot tub
Furnitures: chairs (chaise, lounge, club), tables, stone bench, swing glider
Accents: plants (arborvitae, topiaries, palms), lighting (lanterns, path lights), garden ornaments, sun shades, umbrella

What follows are beautiful photos of small inground pools along with design ideas we thought may be of interest to you. Enjoy and happy outdoor decorating!

1. Rest and Relaxation
Points of Interest ● small L-shaped pool with ornamental palm tree ● sandstone pool deck and coping ● 2 metal framed cushioned reclining chaises lounges ● ornamental stone slab on pool edge ● stone waterfall in swimming pool corner
2. White Picket Fence
Points of Interest ● small rectangular swimming pool with one angled corner ● white picket fence border ● variegated croton shrubs in plastic flower pots with saucers ● concrete pool coping with composite wood pool decking ● bronze bird statue ornament on deck
3. Swim a Lap
Points of Interest ● lap pool with sheer descent waterfall wall feature ● blue blend swimming mosaic tiles on pool sun shelf ● teak hardwood pool decking ● river rock as garden mulch and deck inlay ● cube corten steel planter boxes on poolside
4. Garden Patio
Points of Interest ● garden patio with square swimming pool ● cast iron outdoor dining set with scrollwork frame and lattice details ● stone veneer retaining walls on elevated patio ● natural stone swimming pool deck ● emerald green arborvitae around pool and patio area
5. Grecian Style
Points of Interest ● Grecian shaped swimming pool with underwater LED lights ● outdoor kitchen with grill and sectional sofa on seating area ● ceramic drum-shaped side tables between outdoor wicker adjustable chaise lounges with custom contour headrest pillows ● tiered outdoor wood-burning stone fireplace with built-in firewood niches ● poolside patio covered pergola with stone veneer base column wraps
6. Glass Fence
Points of Interest ● narrow rectangular lap pool with raised spa ● frameless glass pool fence ● travertine tiles on swimming pool deck ● raised stone veneer pool wall with water feature ● 2 low bowl planters on capped stone pedestals
7. One With Nature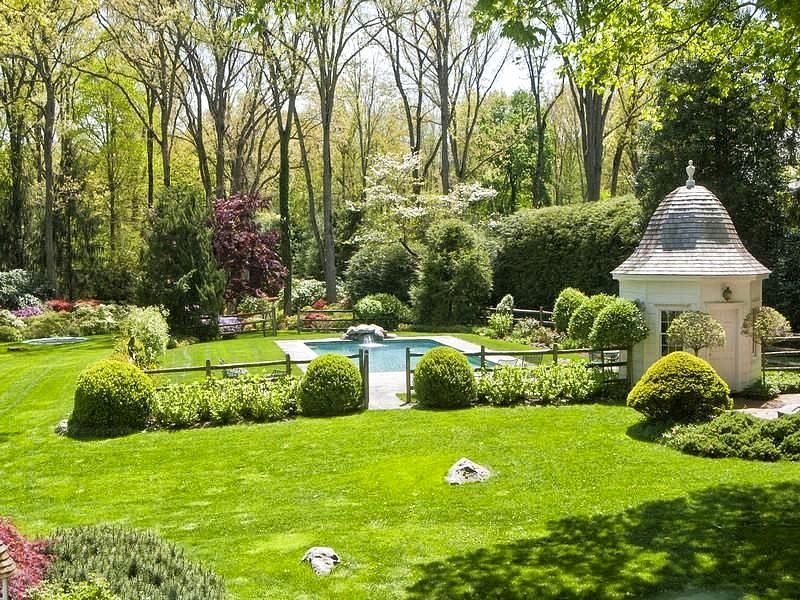 Points of Interest ● stone waterfall on one end of pool ● pool house with bell-shaped roof ● Western style rail log fence ● artificial turf surrounding swimming pool area ● topiaries accenting border hedges
8. Family Backyard Pool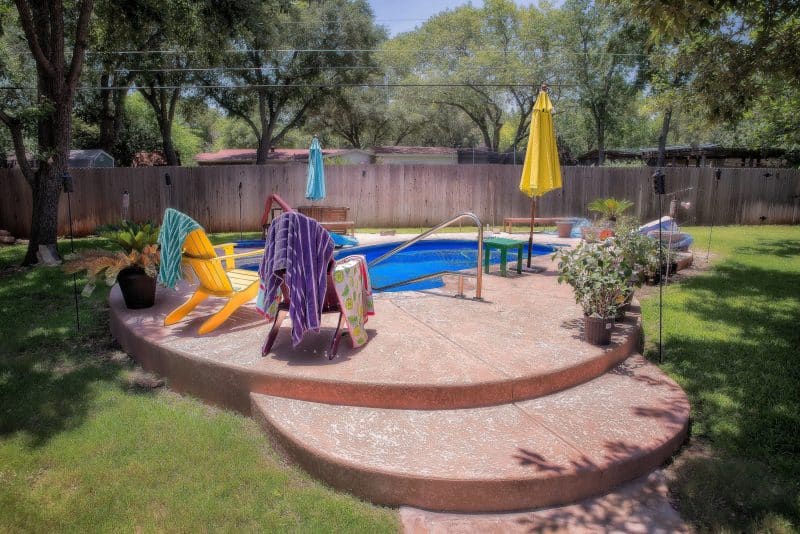 Points of Interest ● kidney-shaped swimming pool with polished steel deck mounted stair rails ● towels draped on painted Adirondack chairs ● dog ear wooden panel fence ● blue and yellow closed poolside umbrellas ● concrete pool decking with stained acrylic surface
9. Freeform with Spa
Points of Interest ● freeform shaped swimming pool with rounded spa ● Agapanthus midnight blue plants on boulder style waterfall ● rock edged garden beds bordering travertine pool decking ● 2 red and 1 white large deck umbrellas ● 2 resin wicker armchairs under red deck umbrella
10. Roman Bathhouse
Points of Interest ● geometric spool pool with steps ● oil-rubbed bronze Roman scupper on arched and tiled wall niche ● 2 large olive outdoor ceramic planter flanking pool steps ● travertine coping and pebble deck tiles ● poolside shower and changing area with green outdoor drapery
11. Backyard Barn
Points of Interest ● rectangular pool with travertine pool decking ● wooden chaises lounges with cushions ● wooden outdoor dining set with umbrella ● house with red painted weathered wood facade ● shrubbery fronting windows overlooking pool area
12. Turquoise
Points of Interest ● freeform shaped pool calling back turquoise hues of garden stool and throw pillow ● 2 wicker lounge chairs with large turquoise deck umbrella ● tall and small yellow moroccan scrollwork outdoor lanterns near lounge chairs ● white wooden fence with lattice top panel and rounded post tops ● sandstone pool deck and bullnose coping
13. Poolside Bar
Points of Interest ● kidney-shaped pool with corner steps ● beige and jade toned sandstone pavers on pool deck ● areca palms as natural privacy fence ● natural stone veneer wall and poolside bar cladding ● outdoor poolside bar with metal framed wicker bar stools
14. Mimic the Beach
Points of Interest ● freeform-shaped beach entry swimming pool ● 2 fountain bubblers at shallow pool entry ● stone waterfall feature at pool edge ● epoxy pebble stone decking and travertine cantilevered coping ● poolside deck with pergola
15. Go With the Form
Points of Interest ● freeform swimming pool with spa ● stacked modular boulders near pool and on pool edges ● white capped picket fence ● pink sandstone pool decking ● desert style landscaping between pool and fence
16. Pebbles and Stones
Points of Interest ● freeform pool with ornamental boulder rocks ● blue tiled swimming pool liner ● epoxy pebblestone decking and on raised platform ● tapered wooden planter with black cup pull ● Japanese inspired boulder and slab bench on poolside
17. Oasis
Points of Interest ● small kidney-shaped pool ● cascading poolside waterfall with organic-style rocks ● flagstone decking with round skimmer near pool edge ● round outdoor clock with humidity and temperature gauges mounted on stucco pillar ● vinyl framed sliding patio doors leading to pool area
18. Pool Bistro
Points of Interest ● figure-8 swimming pool with diving board and pool ladder ● hibiscus in weathered terracotta tapered pots beside pool fountain with waterfall feature ● flagstone pool patio flooring with DIY rock edging ● 2 terracotta urn planters with flowering plants ● aged bronze solar LED path lights near seating area
19. Happy Frog
Points of Interest ● pool with deck jet bronze spouting frog water feature ● Syagrus palm tree privacy hedge lining one side of pool area ● green and white striped pool cabana ● natural stone coping with tumbled unfilled edges ● circular berm garden with assorted plants
20. Cradle Chair
Points of Interest ● figure-8 swimming pool tiled pool liner and rectangular skimmer ● deck mounted stair rail ● teak wood decking following contours of the pool ● whitewashed privacy fence with lattice top ● 2-seater glider swing with cushions
21. Pagoda Lantern
Points of Interest ● freeform pool with blue tile liner and 2 linear scupper water feature ● square spillover spa with sundeck ledge ● concrete pagoda garden lanterns ● 2 resin wicker outdoor club chairs ● slate stone decking
22. White and Nature
Points of Interest ● small circular inground pool surrounded by greenery ● 4 white stackable chaise lounge with arms and wheels ● white outdoor patio set with market umbrella ● black slate tile pool decking ● boxwood shrubs around pool area
23. Tiny and Blue
Points of Interest ● colocasia shrub and giant bird of paradise on pool side ● small lazy-L pool with circular spillover spa ● pebble stone deck and travertine coping ● western red cedar board fence ● traditional white plaster internal pool finish
24. Giant Bird of the Paradise
Points of Interest ● pool with spillover spa in stacked stone veneer cladding ● stone pool decking and liners ● bamboo plants privacy screen lining poolside wall ● red clay pot planter near raised pool deck ● giant bird of paradise plant at pool end
25. Hacienda Style
Points of Interest ● grass covered lawn with rectangle swimming pool ● narrow stone deck doubling as pool coping ● Spanish-style house with terrace overlooking pool area ● open outdoor shower corner ● large stone veneer circular hot tub ● lattice patterned pool tile mosaic
26. Terracotta Tiles and Planters
Points of Interest ● narrow L-shaped lap pool ● unglazed terracotta tiles on deck ● majesty palm in red terracotta planter ● white wall with wall-mounted wrought iron wire planters ● teal colEntire POI approved to be added to TOA with last source/sored awning with wrapped valance extending from covered patio
27. Fun in the Sun
Points of Interest ● geometric pool and spa with bubbler ● 3 triangle sail sun shade over swimming pool ● travertine pool decking with brown pea gravel borders ● stepping stones to poolside covered patio ● wooden square trellis with climbing rose leaning against wall