Hello and welcome to the Garden Outline photo gallery of rustic wagon planter ideas. Below you will find a summary of the benefits, main options and some design ideas we handpicked for you along with beautiful photos. Enjoy!

What are the benefits of rustic wagon planters?
Beautiful partner to a country or rustic garden
Available in several sizes to accommodate your garden space
Allows you to display a variety of planters and flowers together
Brings a unique piece of history into your home

What are the main options for rustic wagon planters?
Materials: wood, metal, mix
Design: buckboard, brake carriage, telega wagon, miniature, DIY
Plays well with: barrel planters, vintage zinc planters, terracotta pots, recycled hanging flower baskets, flowering plants, vines
Location: lawn, flower garden, cobblestone area, front yard

What follows are beautiful photos of rustic wagon planters along with design ideas we thought may be of interest to you. Enjoy and happy outdoor decorating!
1. Vintage Zinc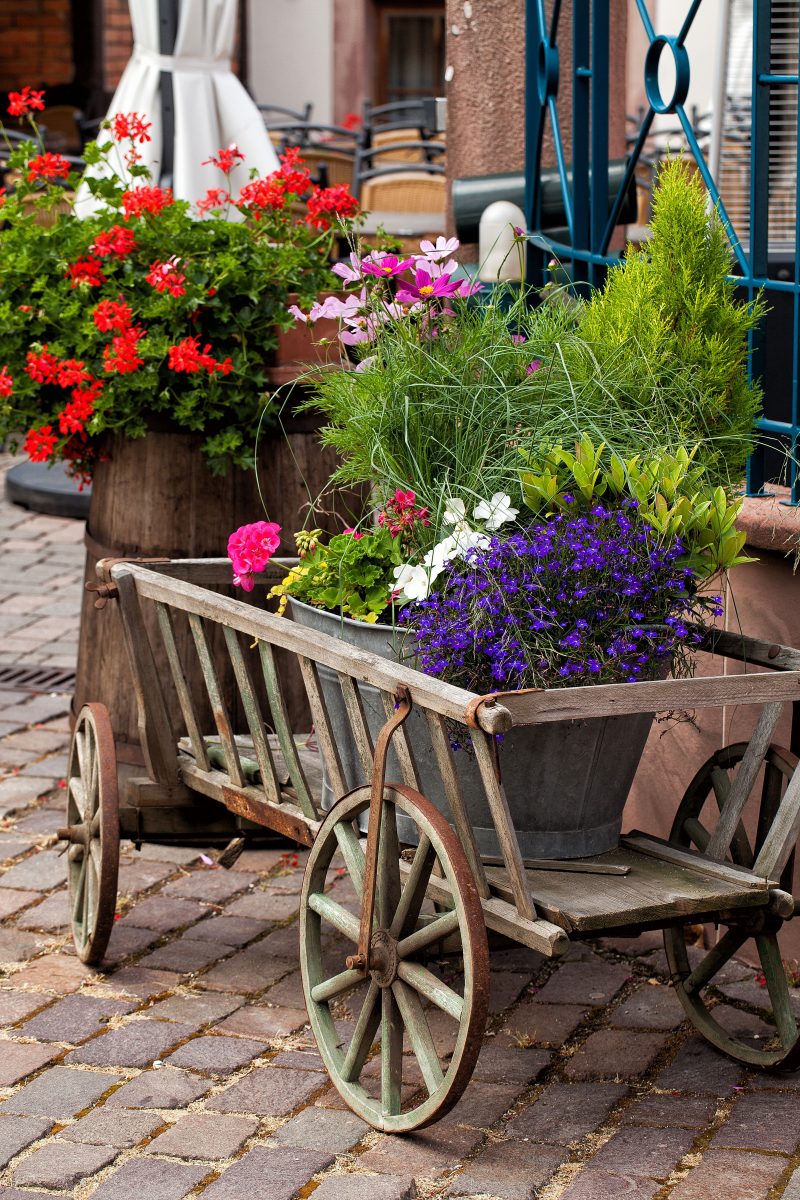 Points of Interest ● aged hay wagon planter with ornate iron wheel hub ● galvanized zinc planter ● pastel and hot pink cosmos ● evergreen mixed with ornamental grasses ● red cranesbill sitting on top of wood barrel ● cobblestone brickwork pattern
2. Stationed Wagon
Points of Interest ● wagon planter with wooden wheel stopper ● rose Picotee and Peppy Cerise petunias ● leaf-carved terracotta flower boxes ● white resin pot hanging from wagon's rear end beams
3. Blooming Alley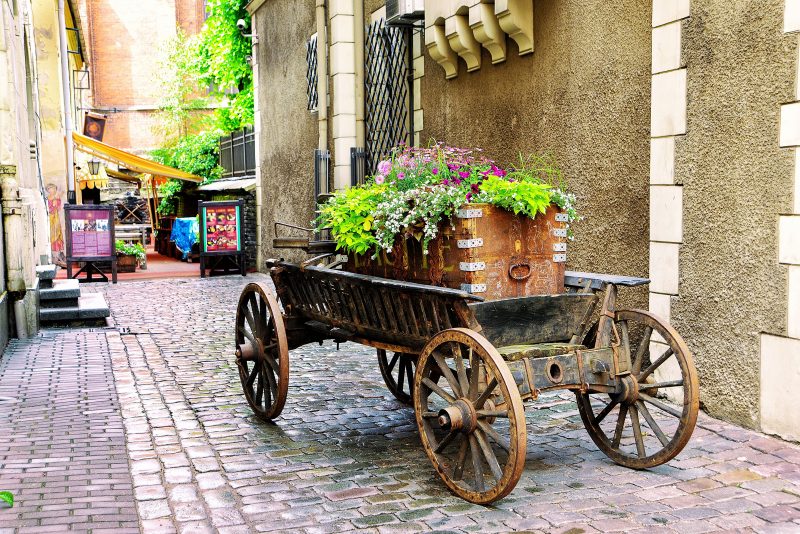 Points of Interest ● old telega wagon with ladder box board ● vintage trunk with handles repurposed as a planter box ● golden hops ● lattice window and wall guard ● cobblestone walkway
4. Fiery Red Anthem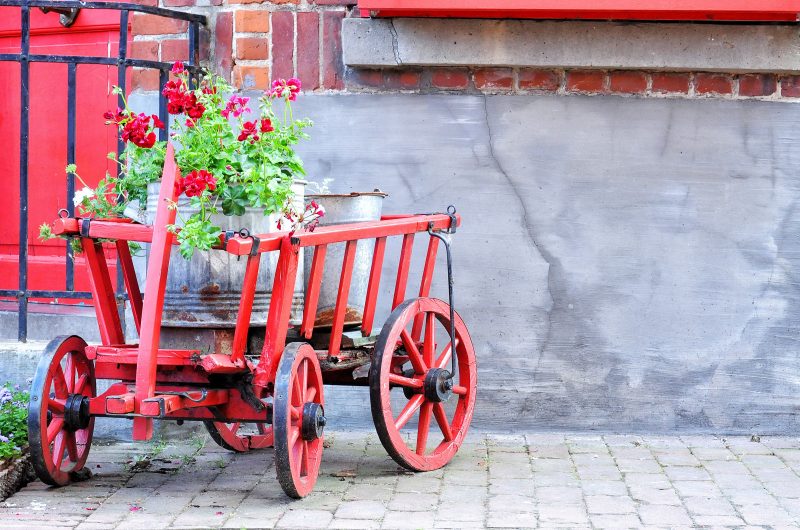 Points of Interest ● red wagon planter with matching red wooden front door ● repurposed zinc buckets ● red geranium matching wagon
5. Wagon by the Wall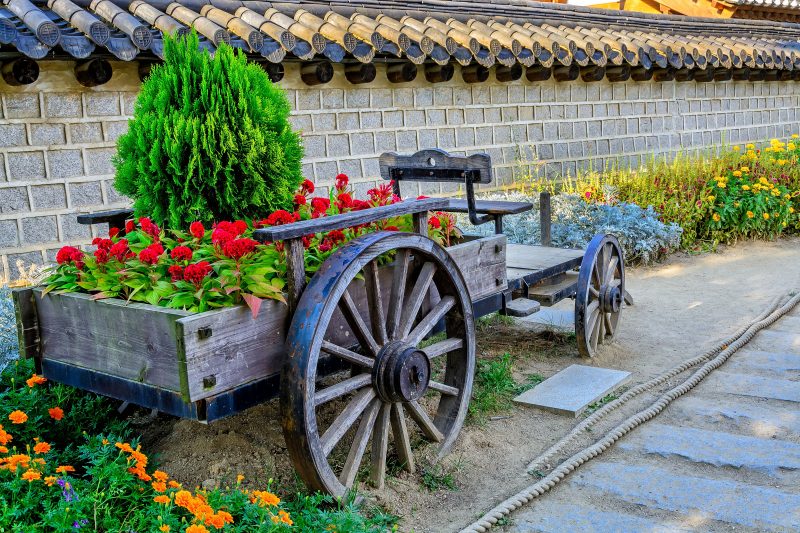 Points of Interest ● old fashion wagon planter with front seat ● wooden wagon with smaller front wheels ● orange and yellow marigold ● rope garden edging
6. Custom Wagon Planter
Points of Interest ● 3-level log wagon garden bed ● dark iron tires with contrasting red spokes and rim ● grouped terracotta planters of different size and styles ● antique Greek antique terra cotta jar on iron stand
7. Stone Edging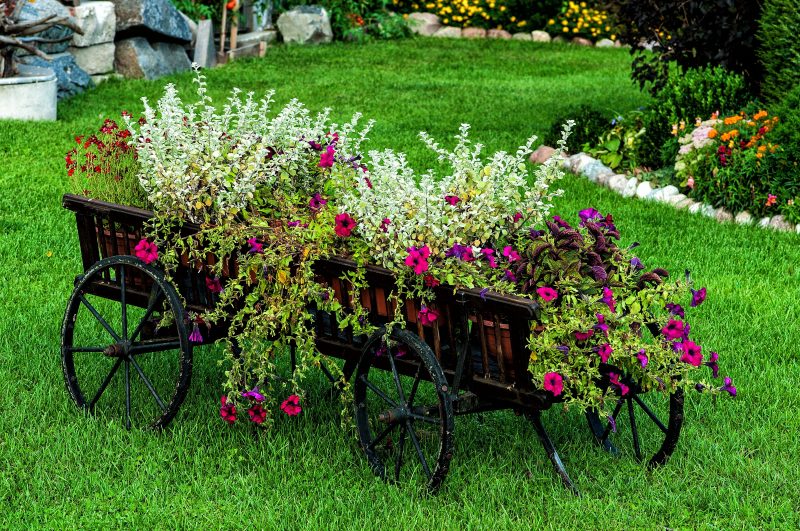 Points of Interest ● long rustic wood wagon planter with iron frame ● stone garden edging in various stain hues ● purple and fuchsia petunias ● green-burgundy coleus ● boulder accents
8. Blooming Scenery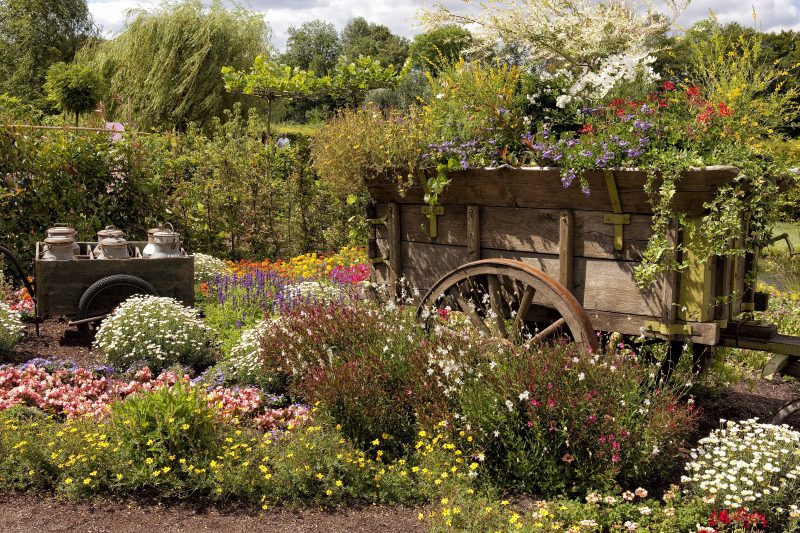 Points of Interest ● wooden wagon planter with cover opened up at an angle ● vintage milk cans in a wagon ● white argyranthemum ● golden forsythia
9. Red Accents
Points of Interest ● geranium in dark wood wheelbarrow ● purple petunias ● stone walkway with wide mortar grout ● wooden facade
10. Hang on the Wheels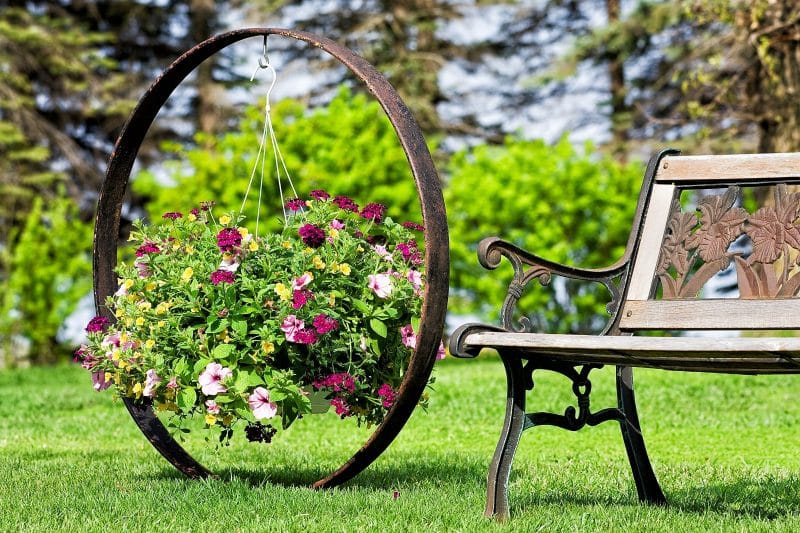 Points of Interest ● ornamental rustic wagon iron wheel with hook on top ● pink petunias in hanging planter ● ironwork bench with flower ornate back
11. Old Style Wagon Planter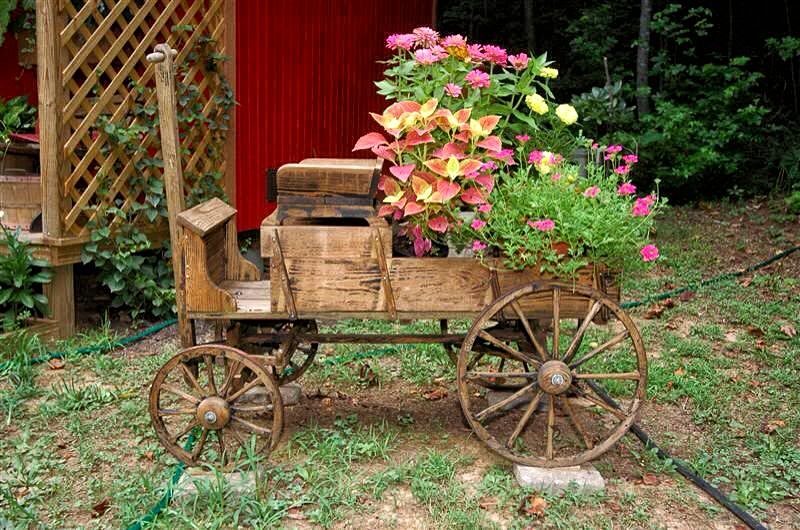 Points of Interest ● vintage buckboard with bigger back wheels ● rustic wooden wagon secured on wheel stoppers ● coleus calling back the pink daisies ● lattice privacy wall ● climbing ivy
12. Buckets of Flowers and Vines
Points of Interest ● wooden wagon planter with rope ornate ● barrel planters ● marigold ● purple petunia ● ivy ● outdoor lamp posts
13. Rustic Wagon in France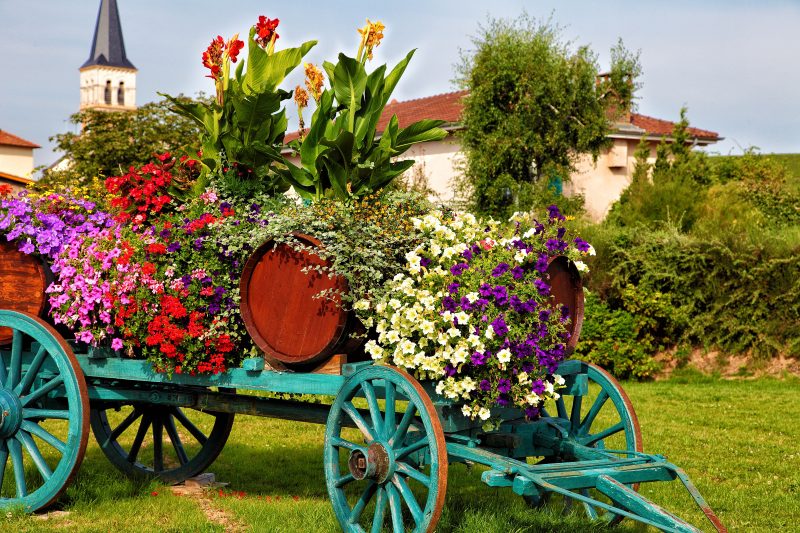 Points of Interest ● old-world teal wagon planter ● wine barrel ● red and yellow cannas ● petunias in vivid colors ● red cranesbill geranium ● sloped turret roof of village church
14. Sun-kissed Centerpiece
Points of Interest ● cranesbill geranium planted in rustic DIY wheelbarrow ● purple petunias ● dwarf Elephant Ear ● grass block pavers ● Dusty Miller perennial
15. Lattice Window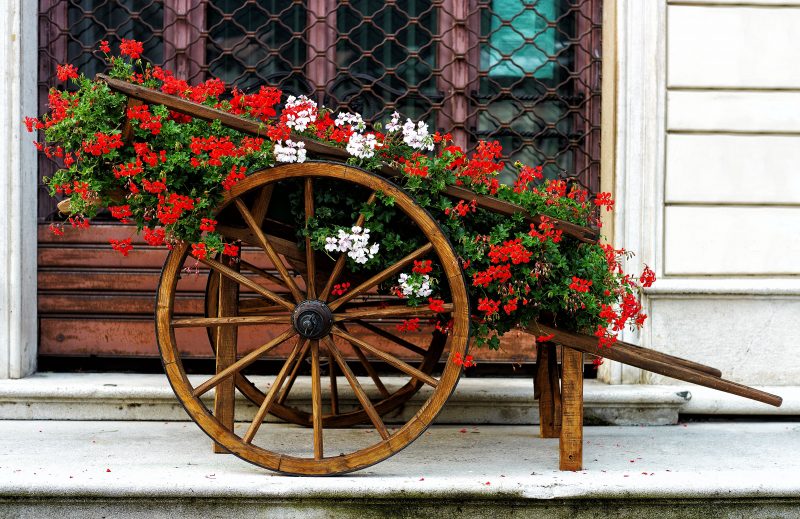 Points of Interest ● cranesbill geranium in wooden wagon planter ● rolling window shutter with lattice design ● white facade matching baseboard and stairs
16. Romantic Garden
Points of Interest ● rustic horse carriage with wagon and box used as planters ● red geranium calling back the petunia hedge ● purple pansies ● stone retaining wall
17. Whitewashed Woods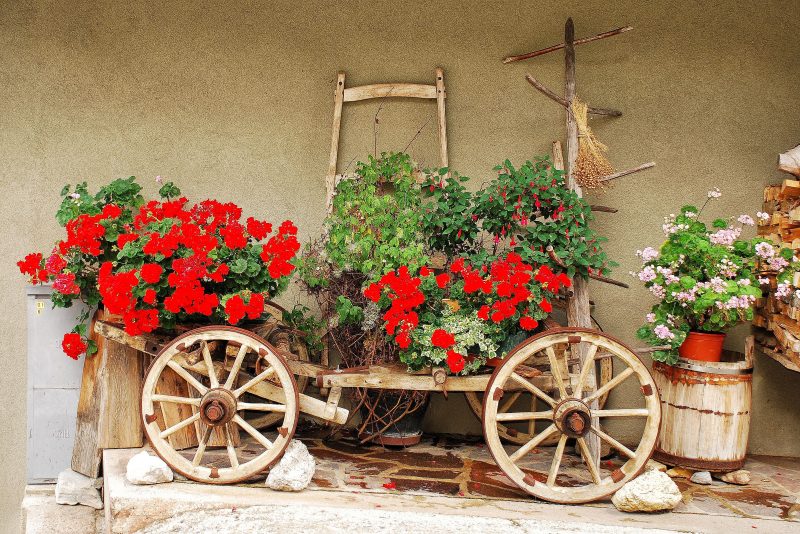 Points of Interest ● wagon planter without sideboard ● DIY dry flower hanger geranium ● red fuchsia ● terracotta planter on top of barrel ● rocks as wheel stoppers
18. Wagon Planter in the Prairie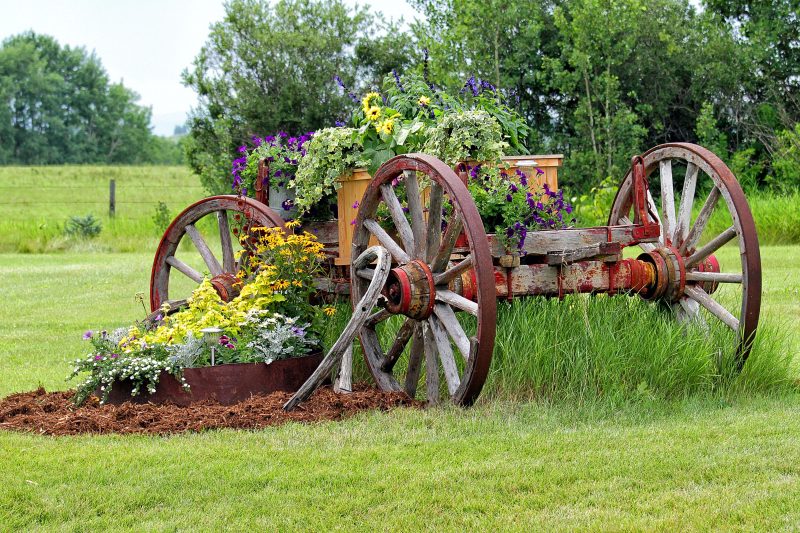 Points of Interest ● large natural wood flower box on rustic wagon ● sunflower calling back the black-eyed Susans ● mulch garden bed with bright golden hops contrasting dull Dusty Miller ● discreet solar walkway light
19. Buried in the Rocks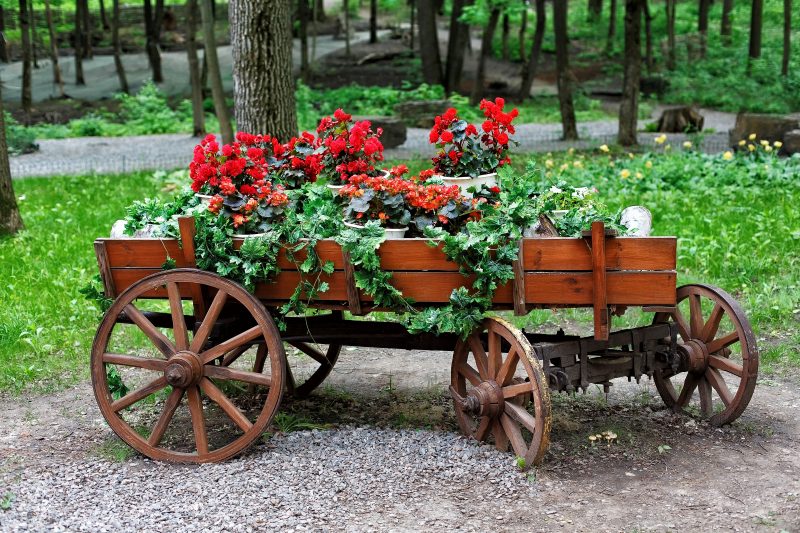 Points of Interest ● white resin flower pots in a wagon planter ● DIY box board made of stained planks ● pea gravel wheel stoppers ● geraniums in white flower pots ● hanging ivy garland
20. Rustic Barrel
Points of Interest ● two-sized wheel rustic ● old barrel with red hues and vintage red metal straps ● fuchsia pink geranium ● rectangular resin terracotta planters ● stepping stones lawn path
21. Yellow Foliage
Points of Interest ● aged wood rustic wagon with growing moss ● joyful bush daisies ● geraniums in forest green window boxes ● weathered wooden window shutters
22. Shades of White
Points of Interest ● white wagon planter calling back the white hues of hexagonal flooring, white washed baseboard and white front door ● yellow and orange calendula ● pink petunias ● light blue window and door casement
23. Welcoming Terracotta
Points of Interest ● 3-tiered wagon planter ● uniformed terracotta bowl planters ● terracotta-stained scallop roof ● horse shoe display wall ● brick facade and privacy wall
24. Hand-Painted Blue Garden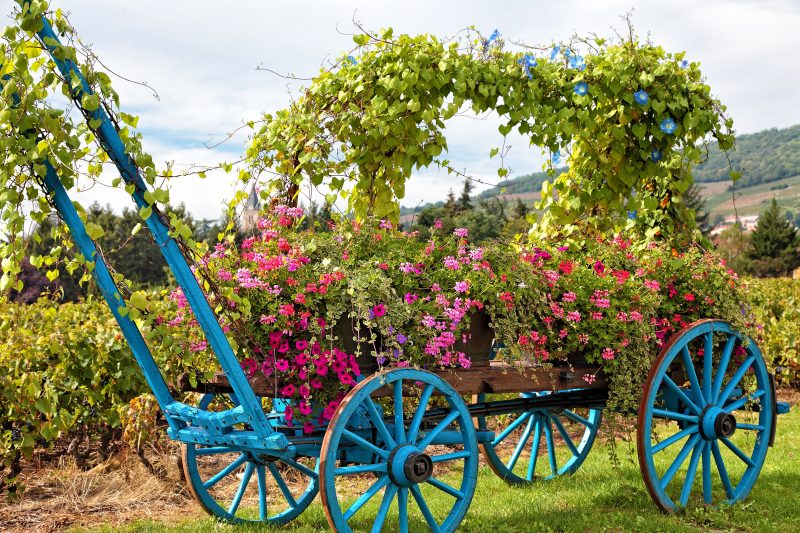 Points of Interest ● blue wooden wagon planter with cerulean accents ● morning glory climbing on wagon arch ● pink cranesbill geranium with petunia companion ● weed controlling straw mulch
25. Blooming Tiers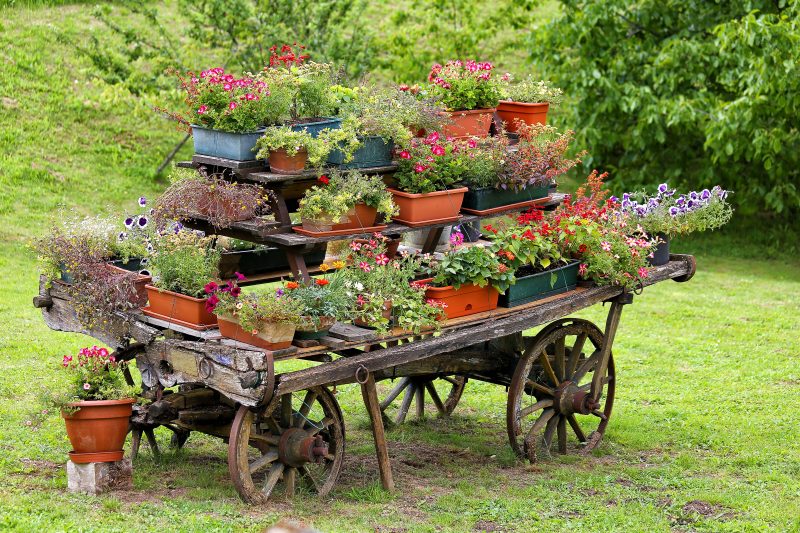 Points of Interest ● 3-tier wagon planter without sideboards ● grouped resin planters in various sizes, styles, and finish ● planks used for pot holder ● striking pansies ● playful petunias ● pink, yellow, and orange daisies
26. White on Brown
Points of Interest ● repurposed wheelbarrow without sideboards ● straw bale used as planter stand ● white petunias ● wooden bench calling back the brown tiles ● white facade with gray tiled baseboard
27. Daisy Wheels
Points of Interest ● refurbished hand painted white wooden wagon planter with crafty wheels painted to look like daisies ● white petunias ● repurposed wooden bucket with metal straps ● pink rose bush on trellis8