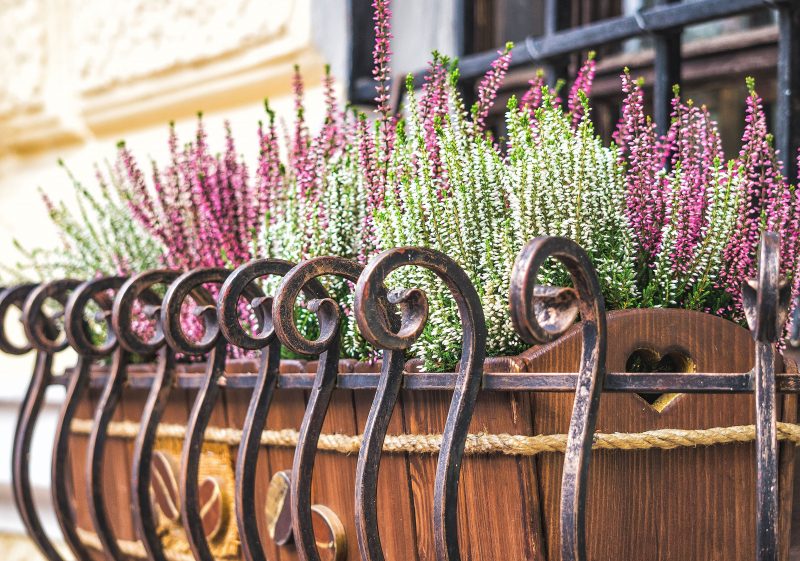 Hello and welcome to the Garden Outline photo gallery of planter ideas. Below you will find a summary of the benefits, main options and some design ideas we handpicked for you along with beautiful photos. Enjoy!

What are the benefits of planters?
Brings colors and fragrance to outdoor space
Allows gardening in small spaces (balcony, sunroom, indoors)
Great for beginner gardeners
Can be moved around depending on your mood and the seasons
Many shapes and styles to choose from

What are the main options for planters?
Types: ceramic and terracotta, plastic, resin, window box, vertical container, garden wall system, urns, vintage zinc, gabion installation, cinder block
Shapes: garden bowl, bulb pot, circular, square, fluted, banded, rolled rim
Repurposed: bookshelf, shoe, vintage wagon, bicycle, wheelbarrow, tin cans, old buckets, wood crates, cinder block, tire, timber stump, barrel

What follows are beautiful photos of planters along with design ideas we thought may be of interest to you. Enjoy and happy outdoor decorating!
1. Boxwood Frame
Points of Interest ● pea gravel square fire pit area ● boxwood matching planters framing the outdoor space ● privacy tree hedge ● lounging chairs ● convenient planter irrigation system
2. River Rock Parterre
Points of Interest ● glossy black composite circular planter ● low bowl planter ● succulent plants ● river rocks parterre ● boulder used as accent pieces ● multicolored tile pavers
3. Z Shutters
Points of Interest ● stone planters ● collection of mini wheelbarrow planters ● wall mounted barrel planters ● stone facade ● wood Z shutters
4. In Zinc
Points of Interest ● zinc planter with handles ● matching gray painted foundation ● symmetrical planters layout ● cobblestone pathway to concrete steps
5. Bike Rack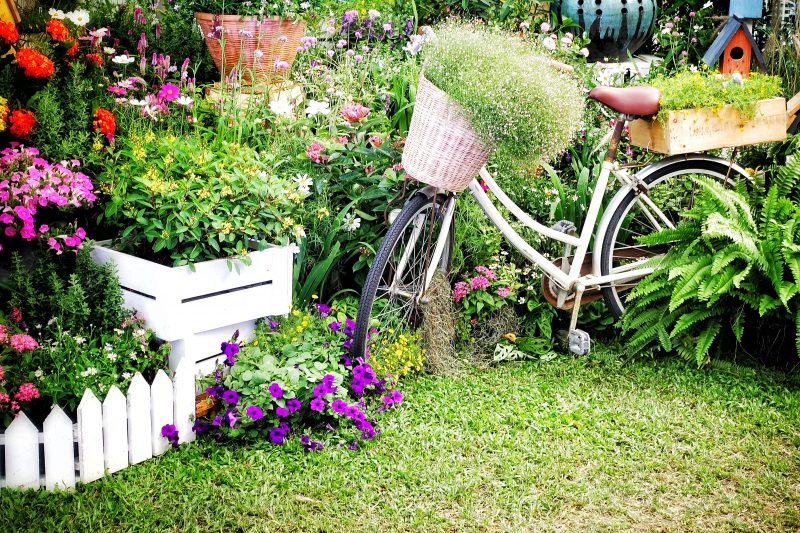 Points of Interest ● painted white wooden boxes ● bicycle garden decor ● white picket garden edging ● birdhouse ● bicycle basket used as planter
6. Firebowls
Points of Interest ● glazed firebowl planters ● zen stones in planters waterfall ● stacked stone pond wall ● discreet planter watering system ● dash stucco retaining wall
7. Topiaries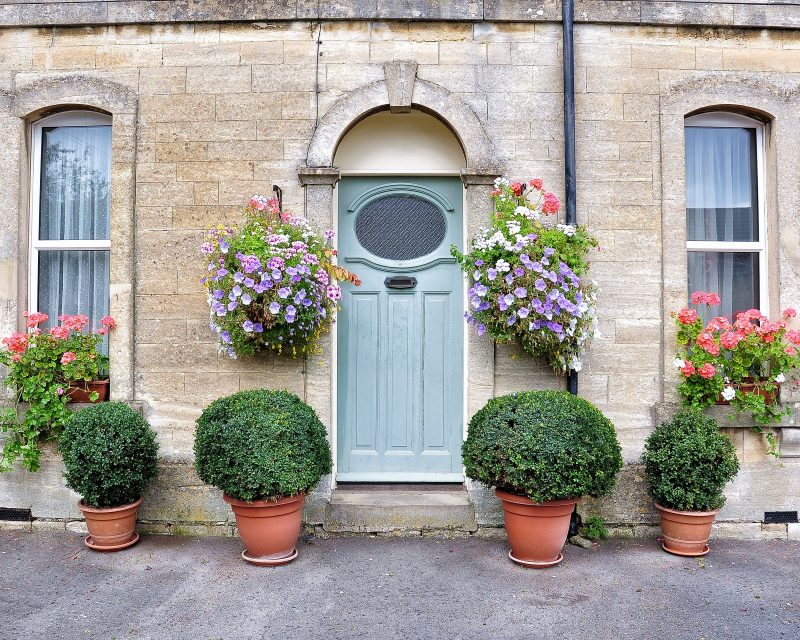 Points of Interest ● four topiary hedges ● twin hanging baskets ● window boxes with geraniums ● skyblue narrow front door with oval toplite ● arched stone doorway
8. Ladder Trellis
Points of Interest ● painted bucket of heather with silver motif ● white candle lamp with dried acorn decor ● repurposed ladder used as trellis ● log plant riser ● wooden plank floor
9. Starfishes
Points of Interest ● DIY built-in white flower box ● decorative painted starfishes ● pink, yellow and orange mums ● sky blue downspout
10. Edible Table
Points of Interest ● stamped concrete top edible garden table with corrugated steel and metal base ● stackable aluminum stools● pebble garden patio flooring ● casement windows
11. Vintage Wagon
Points of Interest ● green vintage wagon reused as flower planter ● cover frame used as trellis ● hibiscus flowers ● garden hedges doubling as privacy fence
12. Carved Flowers
Points of Interest ● twin wooden plant boxes with flower carvings ● weathered stucco wall ● concrete trough ● vintage water fountain
13. Uniformity
Points of Interest ● five brown graphite square planters ● trimmed cypress trees ● stones used as top dressing for planter ● steel patio rail on horizontal lap siding base
14. Backyard Tulips
Points of Interest ● DIY wooden garden trough planter ● stone topped tree stump used as plant riser ● twin wooden adirondack chairs and foot stools ● green cast iron garden set
15. Cinder Blocking
Points of Interest ● stacked cinder block planter installation ● snake plants ● string of pearl succulents ● painted cinder block matching door ● brushed silver outdoor wall mount light
16. Teal Garden Shed
Points of Interest ● teal garden shed ● raised stone beds ● horizontal shadowbox fence with lattice top ● matching green ceramic planters ● callalily flowers
17. Rosebush Crawlers
Points of Interest ● terracotta half round planter ● wrought iron bench with swirl details ● DIY bamboo branch wall trellis ● stone patio floor in random pattern ● rosebushes
18. Boulder Succulents
Points of Interest ● stacked boulder succulent planters ● sliding wrought iron gate ● pebble ground cover ● outlet ready for music and lighting ● beautiful interplay of plant colors
19. Wicker Baskets
Points of Interest ● iron hanging basket brackets ● white wooden front door with sidelites ● wicker geranium baskets ● stone facade ● double spot lights
20. The Odyssey
Points of Interest ● large white stone urn planters with handles ● seafoam green french doors with raised panels ● spotlights on planters ● eco-friendly outdoor iron lantern with LED light
21. Large Bowl
Points of Interest ● large bowl planter ● low stacked stone fence ● stone columns ● entrance with assortment of stones in different shapes and hues ● gray jar planter with topiaries
22. Succulent in a Can
Points of Interest ● DIY wooden benches and table ● old copper bucket reused as a succulent planter ● green prince succulents
23. Bleacher Riser
Points of Interest ● wooden bleachers ● twin glazed brown ceramic urns with blue forget-me-not flowers ● terracotta pots ● various hanging baskets
24. Wooden Circles
Points of Interest ● DIY wood barrel planters ● greenhouse with awning windows ● river rocks greenhouse border ● daffodil garden ● wood and string garden fence
25. Simplicity
Points of Interest ● wood siding ● wooden swing windows ● shutters ● forest green planter matching painted wood accent on shutters ● white and fuschia forget-me-nots
26. Flower Shutters
Points of Interest ● iron planter holders ● tin buckets used as flower vases ● rectangular resin holder matching shutters color ● ceramic pitcher planters ● shutter holders
27. Lemon Planters
Points of Interest ● lemon-colored resin fluted pot and window box ● stone window frame ● pink crane's bill flowers ● iron window rail with swirl and flower details