Hello and welcome to the Garden Outline photo gallery of patio planter ideas. Below you will find a summary of the benefits, main options and some design ideas we handpicked for you along with beautiful photos. Enjoy!

What are the benefits of patio planters?
Brings color and fragrance as you step into your patio
Adds appeal and element of style on your patio
Can double up as a privacy walls
Helps defines outdoor space within your patio area

What are the main options for patio planters?
Types: ceramic and terracotta, plastic, resin, wooden hanging flower basket, urns, repurposed lantern, custom cement container, box crate
Styles: classic, Victorian, Mediterranean, art deco, mid-century, modern
Location: on top of benches, on iron stand, on top of stone floating shelf, stand alone
Partners with: flowering plants, shrubs, trees, tomatoes plants, herbs

What follows are beautiful photos of patio planters along with design ideas we thought may be of interest to you. Enjoy and happy outdoor decorating!

1. English Roses
Points of Interest ● pink and white English roses on arbor ● extra large rolled rim traditional terracotta planters ● short boxwood edges ● low rustic stacked stone wall ● glazed dark wood bench ● stepping stones from arbor to bench
2. Terracotta Planters Under a Pergola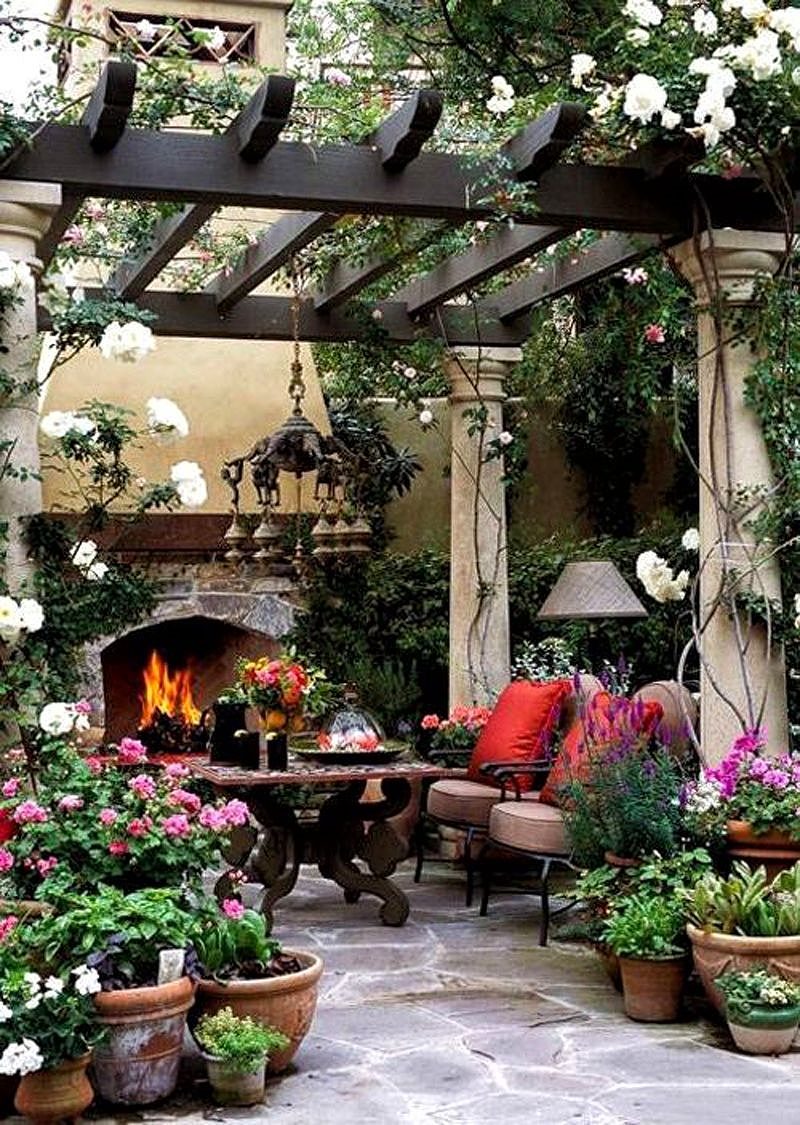 Points of Interest ● grouped terracotta planters in various sizes, styles, and finish ● pergola with doric columns ● antique chandelier ● stone fireplace with wood mantel ● earth-toned coffee table with carved wooden foot and ceramic tiled top
3. View by the Sea
Points of Interest ● sea shell-inspired terra cotta planter with a white washed coating ● olive tree with braided trunk ● crushed white stones on top of planter ● mature ivy geranium in terracotta olive jar blooms ● Synthetic resin wicker sofa with seat cushion and colorful back pillows
4. Picnic on the Patio
Points of Interest ● mid-size terracotta planters with potted shrub twinned with smaller size terracotta pots with flowers of different blooms ● vine covered patio ● square stones patio flooring ● built-in bench by the window ● upcycled iron and green wood chair
5. Hot Tub Deck
Points of Interest ● vibrant glazed blue planter calling back pergola rafters ● natural stones and granite boulders with pond ● twin flower box marking the entrance to jacuzzi deck ● semi-hexagon sunroom with access to pergola ● ornamental grasses
6. Garden Bed with Built-In Fountains
Points of Interest ● built-in fountains on a stained raised wood garden bed ● wood deck tiles and planks ● pebbles pond lining ● Atlas Fescue and Aureola hakone grass ● resin chaise lounge and patio chairs in a dark mahogany finish
7. Outdoor Dining Area
Points of Interest ● twin white rose trees in terracotta planters ● iron planter stands ● terracotta stained cement floor with stone inlay ● potted lemons trees ● DIY candle holders ● three-level planter stand
8. Pop of Greenery
Points of Interest ● blue lapis planters ● painted terracotta planters on stone floating shelf ● broken flagstone patio and walkway ● tree stone edging ● apple green seat cushion ● fairy lights on tree trunk
9. Bonsai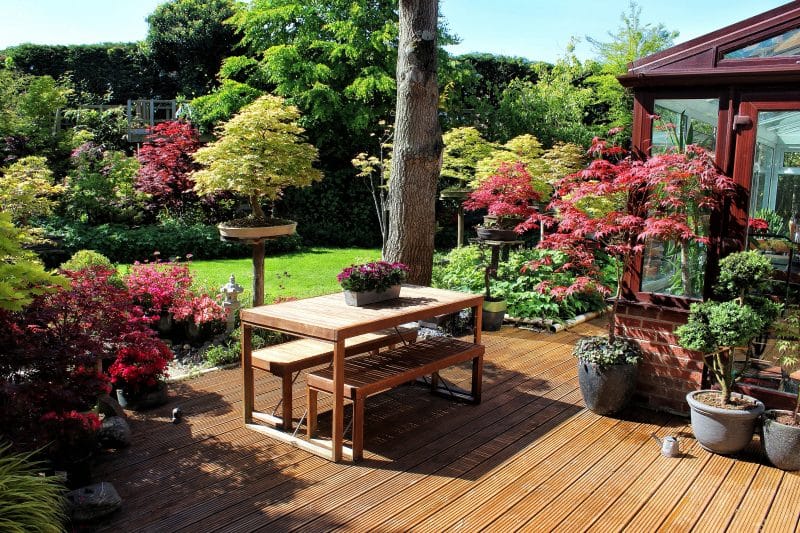 Points of Interest ● bonsai display stands ● Japanese maple bonsai ● white pagoda lantern ● wood deck with PVC pipe edging for eco friendly watering ● slid-in bench and table set
10. Sunrise Nook
Points of Interest ● repurposed antique lantern used as mini planters ● open roof pergola with deck planks ● wind chimes ● red with thin white pinstripes sofa cushions ● glass-topped oval coffee table in textured dark chocolate weave
11. Sunny Porch
Points of Interest ● terracotta planter on copper stand ● black Victorian urns outside sunroom ● potted ficus tree placed on cast stone planter ● rattan chairs ● light pink patio tiles calling back terracotta planters
12. Lemon and Pizza
Points of Interest ● set of rectangular and classic terracotta planters on patio ledge ● breakweave patio tiles ● vinyl tablecloth with lemon print ● exposed beam ceiling ● built-in fireplace with pizza grill
13. Victorian Patio
Points of Interest ● Victorian-inspired decagon sunroom ● DYI wood bench doubling as planter stand ● red and white geranium in terracotta planters ● DIY wood hanging flower basket ● copper rain chain
14. Cascading Garden
Points of Interest ● built-in cascading garden beds matching deck and stairs ● rectangular recessed stair lights ● succulents with grass companions ● patio heater ● navy bean bag
15. Open Ranch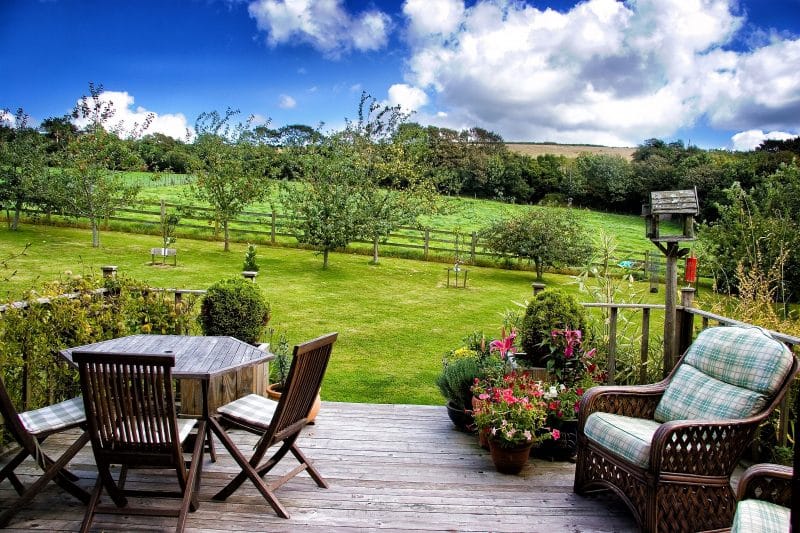 Points of Interest ● evergreen in DIY wooden square planters ● oriental lilies in planters with decorative moldings ● lavender in blue ceramic planter ● hexagon wood deck table ● Wooden birdhouse with wire bird feeder ● split rail fence
16. Rocky Walls
Points of Interest ● mid-size terracotta pots calling back to white-washed patio tiles ● dry boulder retaining walls ● natural stone slabs stairs ● weathered wooden bench ● Gayfeather and variety of perennials
17. Minimalist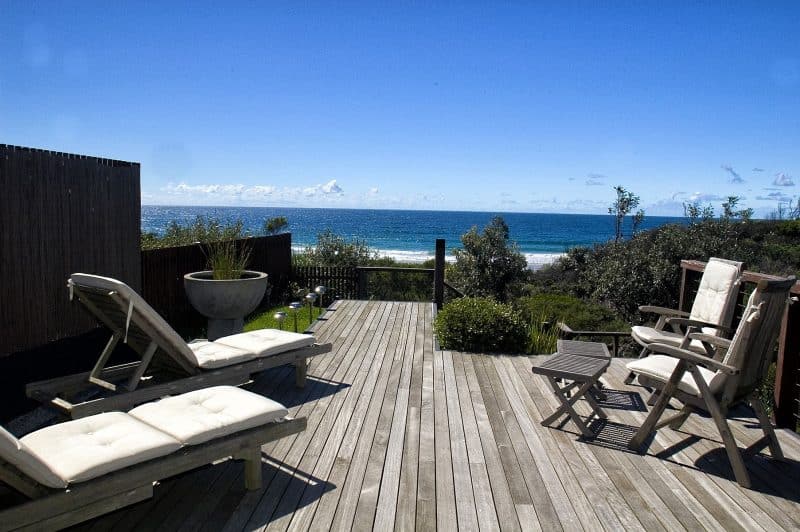 Points of Interest ● custom made cement planter matching deck ● L-shaped deck in a weathered wood finish ● step-down stockade fence ● wooden lounge chairs with white cushions ● outdoor galvanized steel pathway lights
18. Warm Tones
Points of Interest ● matching planters of different sizes ● ceramic color contrasting with warm toned muted brick hues ● herringbone pattern used for patio floors and stairs ● hydrangeas parterre
19. Phlox on Deck
Points of Interest ● Phlox flowers planted on pale green container ● weathered wooden deck ● white synthetic resin wicker chair and foot rest ● contrasting lime and navy blue pillows
20. White on White
Points of Interest ● DIY box-shaped planter ● wrap around porch with stone flooring ● Roman ionic columns ● white rattan chair and side table ● ivory-hued seat cushions and pillows
21. The Trio Planters
Points of Interest ● large tapered square terracotta planter ● large round clay pots ● synthetic resin wicker chairs and side tables ● peach cushion seats with graphic print ● half circle upper balcony ● deck rail stone columns ● iron railings with wavy balusters
22. Outdoor Dining Area
Points of Interest ● brick fireplace and fire pit ● wooden patio deck ● wooden adirondacks around fire pit ● white washed clay jar as log container ● petunias on iron urn
23. Tropical Paradise
Points of Interest ● potted lemon tree on large black planter ● lime steel chairs ● white patio umbrella with chrome-finished stand ● black garden spotlight● palm tree
24. Simple Retreat
Points of Interest ● white and purple petunias on resin terracotta planter ● perennial shrubs and trees for privacy ● adirondack chairs ● DIY side table made of drift woods ● citronella candle in galvanized steel planter ● DIY stone edging
25. Wooden Deck with Privacy Walls au Naturel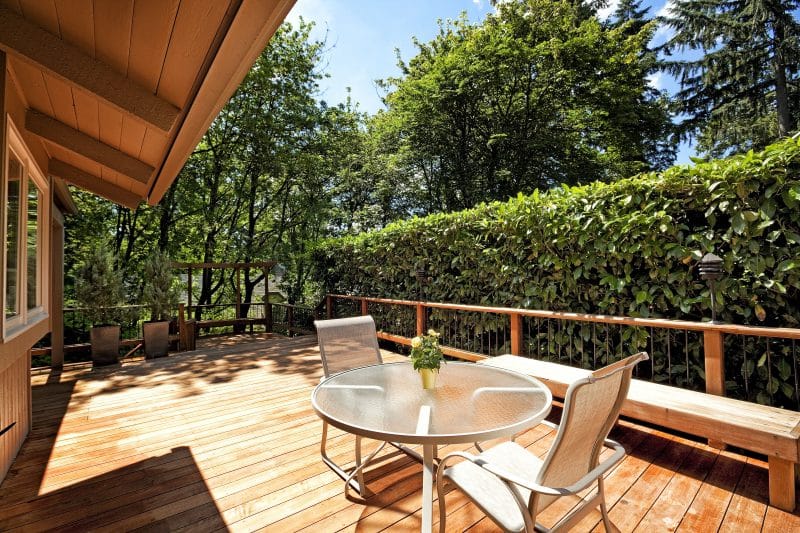 Points of Interest ● young pine trees on tall resin planters ● au naturel clipped rivacy hedge ● wooden deck planks and railings ● custom made deck chairs with wavy backs ● backless DIY wooden benches
26. Three Level High
Points of Interest● square planters matching house siding ● brick chimney and outdoor fireplace ● back porch with lattice privacy wall ● DIY crate planters ● pergola on upper balcony
27. Modern Ranch-Inspired
Points of Interest ● teal ceramic planters in different sizes ● beige pottery planter with lip accent ● brickweave patio pavers ● stone veneer pillars ● cast iron chairs with wavy backs