Hello and welcome to our Garden Outline of patio designs with fireplaces. Below you will find a summary of the benefits, main options, and some design ideas we handpicked for you along with beautiful photos. Enjoy!

What are the benefits of having a patio with fireplace?
Adds warm ambiance – can create a good atmosphere for entertaining guests or for rest and relaxation on the patio
Allows the family to spend time outdoors – can keep you and the family warm on the patio even in cool weather
Aesthetically pleasing – the sound and sight of slow-burning wood can add beauty to your patio landscaping

What are the main options for patios with fireplaces?
Fireplace Style: two-sided, open, ribbon, freestanding, with screen
Fireplace Types: wood, gas, electric, gel, ethanol
Fireplace Material: concrete, stucco, brick, stacked stone, stainless steel, river rock, marble, travertine, stone veneer
Fireplace Accents: surround (natural stone, bricks), plaque, barn star
Fireplace Accessories: candle holders, screen, firewood holder, planters

What follows are beautiful photos of patios with fireplaces, along with design ideas we thought may be of interest to you. For more patio designs, try Covered Patio Ideas, Backyard Patio Designs and Ideas and Brick Patio Ideas. Enjoy and happy outdoor decorating!

1. Stone Surround
Points of Interest ● segmental arched stucco fireplace with stone surround ● arched firewood niche below pizza oven ● small outdoor kitchen with stainless steel barbecue grill ● amber curtain room dividers
2. Two-Sided Fireplace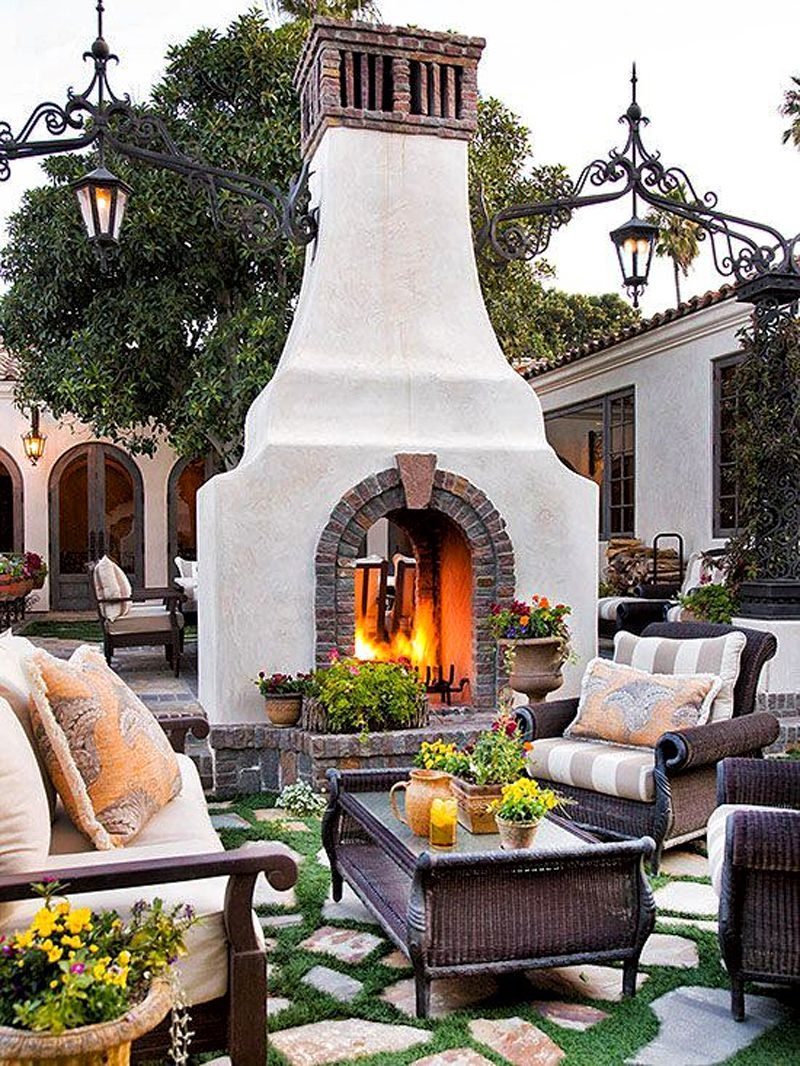 Points of Interest ● brick arched 2-sided fireplace with keystone and raised hearth ● two wicker chairs with rolled armrests matching the tiered coffee table ● natural stone patio flooring with grass inserts
3. Flowering Vine on Pergola
Points of Interest ● open fireplace with brick walls ● mosaic tiled tabletop ● 2 back steel armchairs with tan cushions and red throw pillows ● carved terracotta planters ● climbing white roses on pergola ● flagstone patio flooring
4. Stacked Stone
Points of Interest ● stacked stone fireplace with large firewood niche ● L-shaped outdoor wicker sofa with mixed throw pillows ● 2-tiered glass topped wicker coffee table ● stainless steel gas patio heater ● outdoor string lights
5. Brick Fireplace
Points of Interest ● brick fireplace surround with timber mantel ● al fresco dining area with wicker chairs and solid wood table ● antique copper chandelier ● wood and wrought iron pergola ● large weathered terracotta floor
6. Stainless Steel
Points of Interest ● stainless steel faced fireplace ● TV niche above fireplace ● rattan seating furniture ● stained pedestal coffee table ● stainless steel barbecue grill with soapstone countertop and backsplash
7. Floating Hearth
Points of Interest ● square unfinished concrete fireplace with floating hearth ● outdoor wicker seating furniture with black cushions and matching throw pillows ● black pergola over al fresco dining area ● concrete and soapstone floors
8. Oversized Mantel
Points of Interest ● stacked stone fireplace with herringbone terracotta firebox ● antique bronze chairs with latte cushions ● raised fireplace hearth with recessed floor lights ● large stone fireplace mantel with oversized carved urns
9. English Bond Tiles
Points of Interest ● large concrete open fireplace with cast iron grate and English bond tile patterned rear wall ● wood planked coffee table ● light cement planter by the fireplace ● wicker swoop arm seating furniture with cream cushions
10. Corner Fireplace
Points of Interest ● segmental arched brick corner fireplace ● round unfinished wooden dining table with matching curved back chairs ● gray beadboard ceiling calling back the French door ● wood planked patio floor in matte finish
11. Ribbon Fireplace
Points of Interest ● ribbon outdoor fireplace with stone veneer surround ● gray and white granite topped dining table ● wooden pedestal fruit plate ● gray and off-white striped seat cushions ● concrete slab flooring
12. Mountain View
Points of Interest ● stacked stone fireplace with brick interior walls ● large abstract art on wooden fireplace mantel ● two dual purpose natural fiber woven stools ● TV niche with unfinished barn doors ● wood planked floor
13. River Rock Fireplace
Points of Interest ● river rock fireplace surround ● 3 Adirondack chairs matching the square side table ● rustic pine log railings ● layered area rugs on wide planked flooring ● clear vinyl shades ● pine wood planked ceiling
14. Marble Fireplace
Points of Interest ● marble faced fireplace with raised hearth ● 3 oil-rubbed bronze lantern pendant lights ● white arched French doors ● terracotta diamond tile flooring ● barrel vaulted ceiling with oil-rubbed bronze lantern pendant lights
15. Sunken Patio
Points of Interest ● sunken U-shaped living area with large rectangular fireplace ● TV niche above fireplace ● 3 green ceramic garden stools ● round stainless steel pass-through window ● flagstone patio floor complementing the accent wall
16. Patio with a View
Points of Interest ● 2-sided rough edge travertine faced fireplace ● large patio with pool and golf course view ● 2 antique bronze lanterns on solid wood dining table ● dark espresso beamed ceiling matching the fireplace mantel
17. Concrete Seats
Points of Interest ● step-up patio with stone veneer L-shaped fireplace ● built-in L-shaped concrete seating with blue and olive green throw pillows ● rock coffee table ● flagstone stair risers with step lights
18. Mosaic Coffee Table
Points of Interest ● outdoor fireplace with extended hearth ● cast iron settee with tan leather cushions ● two mosaic outdoor tables ● arched black steel gate ● weathered stone pavers
19. Stucco Fireplace
Points of Interest ● stucco fireplace with 3-panel glass screen with tiled hearth ● decorative plate above fireplace ● whitewashed wood pedestal dining table ● blue green door and window frames ● terracotta tile floor with decorative tile inserts
20. Raised Planter
Points of Interest ● arched open fireplace with subway tile interior walls ● slim arched niches flanking the fireplace ● concrete raised planter with stone sidings ● ● mixed travertine mosaic tile floor in Versaille pattern
21. Ocean View
Points of Interest ● whitewashed brick segmental arched fireplace ● 2 square brick firewood niches ● stainless steel natural gas patio heater ● slatted wood outdoor coffee table ● patterned tile flooring on living area
22. Carved Travertine Fireplace
Points of Interest ● small open fireplace with carved keystone accent ● travertine fireplace mantel with decorative molding ● lattice metal coffee table with green small urn-style planter ● facing camel back sofas with coordinated pillows
23. BBQ on the Patio
Points of Interest ● segmental arched stone fireplace with brick interior walls ● arched oven above firewood niche ● L-shaped outdoor kitchen with built-in fridge ● black rattan seating furniture with matching tables
24. Antique Touches
Points of Interest ● antique stone fireplace with curved hearth ● antique bronze seating furniture with striped multi-toned brown cushions ● lattice topped antique bronze coffee table ● rustic barn star on fireplace chimney
25. Soapstone Fish Pond
Points of Interest ● flat stucco fireplace surround with concrete raised hearth ● concrete sofa with pale sage green cushions and small bolster pillow ● soapstone fish pond ● pre-cast concrete slab garden path
26. Gazebo
Points of Interest ● black freestanding fireplace ● two chaise lounges with pastel green leather cushions ● white ceramic garden stool as side table ● gold chandelier in gazebo with privacy curtains
27. Rustic Walls
Points of Interest ● stone veneer fireplace surround with sliding mesh screens ● TV niche above fireplace with reclaimed wood rear wall ● large copper firewood bucket on octagon wooden plant stand ● reclaimed wood planked walls