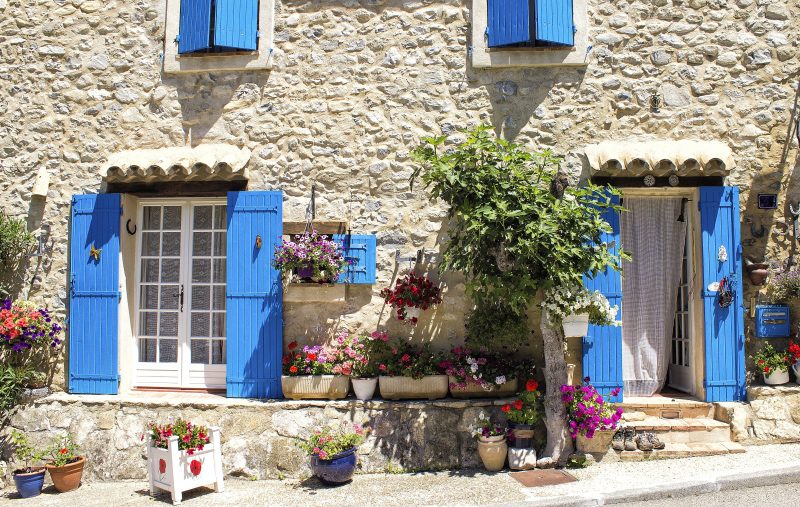 Hello and welcome to the Garden Outline photo gallery of hanging flower basket ideas. Below you will find a summary of the benefits, main options, and some design ideas we handpicked for you along with beautiful photos. Enjoy!

What are the benefits of hanging flower baskets?
Colorful and just lovely – instantly brighten up any outdoor area and uplift everybody's mood with an eyeful of blooms
Convenient mobile garden – takes very little space and does not even need a plot of land, it can also be moved about to suit the weather and decorating schemes
Easy TLC for plants – you can prevent weeds, pests, poor weather, and trampling feet from ruining your favorite plants

What are the main options for hanging flower baskets?
Types: terracotta pots, wicker baskets, metal/wire baskets, fiber lined planters, moss lined planters
Shapes: round, half-round, conical, square cone
Location: pergola rafters, eaves, iron stands, on walls with hooks, on front door steps, under door awnings, on front door steps, outside windows, over balcony railings
Favorite flowers for hanging baskets: petunias, fuschia, geraniums, pelargoniums (ivy, scented), coreopsis, pansies, diascias, scaevola, trailing nepeta, impatiens, phlox amoena, ferns

What follows are beautiful photos of hanging flower baskets, along with design ideas we thought may be of interest to you. Enjoy and happy outdoor decorating!

1. Plush Red
Points of Interest ● red ethnic rug Kilim rug with geometric motifs ● red cushions with contrasting yellow pillow on wicker chair ● garden pathway lined with red geranium and black-eyed susans ● petunias hanging on rafters ● pineapple design ceramic planter
2. Ferns by the Sliding Doors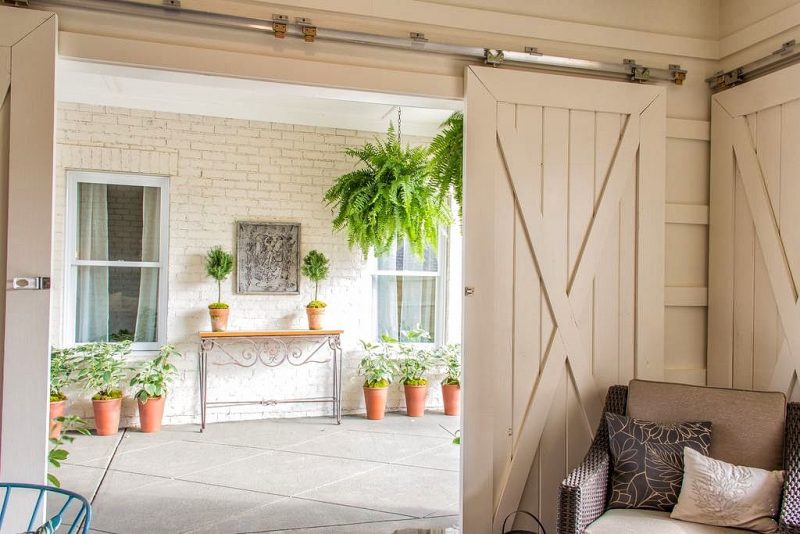 Points of Interest ● Boston fern in hanging planters ● eggshell painted barn door ● glazed ceramic relief sculpture above wood topped wrought iron console table ● synthetic resin wicker chair with foliage print pillow ● matching terracotta planters lined under single-hung windows
3. Balancing Flower Baskets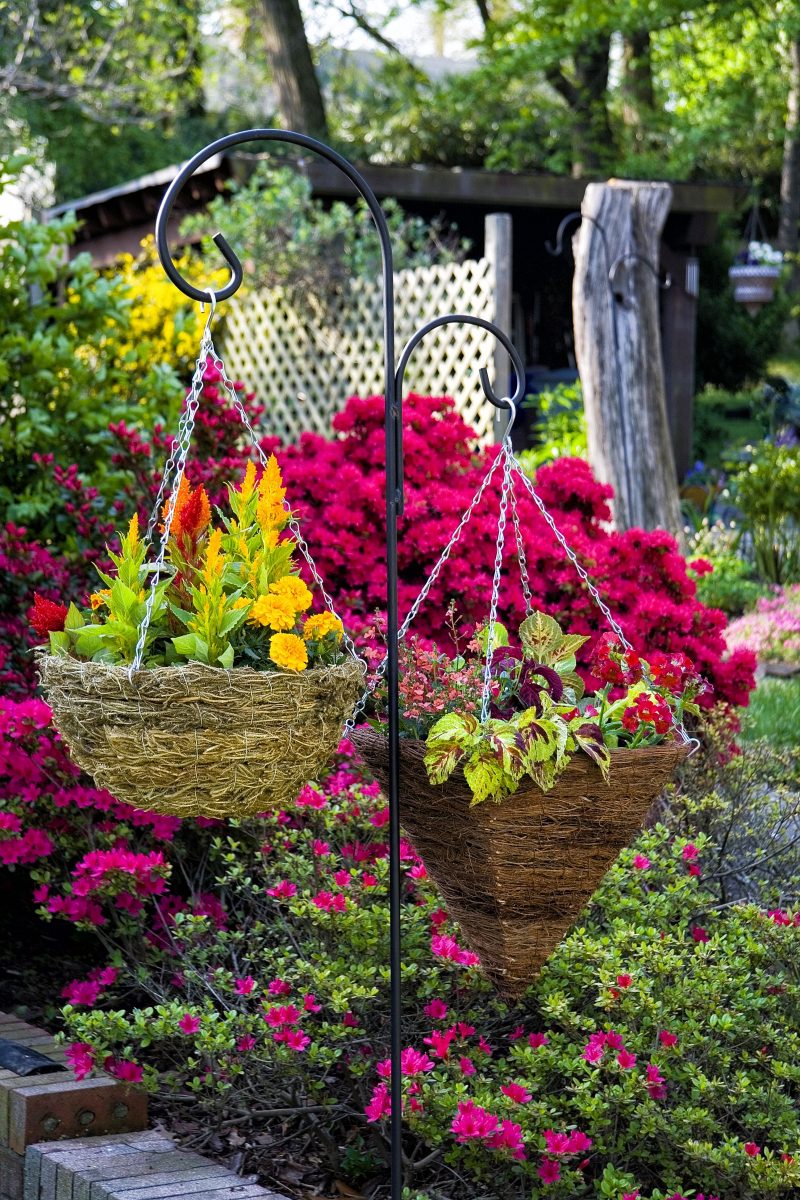 Points of Interest ● crestal yellow French marigolds and celosia blooms in round fiber-lined hanging planter ● Chocolate Splash coleus in square cone planter ● fuschia pink azaleas in raised garden bed ● white lattice privacy fence
4. Hanging on the Sides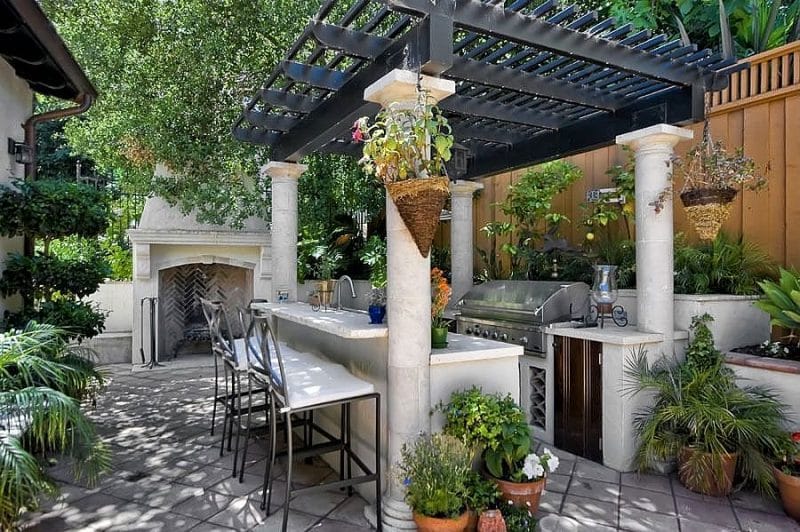 Points of Interest ● perennials potted in fiber-lined cone hanging baskets ● pergola covered barbecue patio area with fully equipped outdoor kitchen ● cast stone outdoor fireplace ● cross back bar stools with white seat cushions ● potted palms in grouped terracotta planters
5. Welcoming Blooms
Points of Interest ● pink geraniums in terracotta resin hanging baskets suspended from door awning ● plum veined easy wave petunias potted in bentwood bamboo flower basket ● blue lobelias in terracotta urns ● carved terracotta wall accent ● imperial blue French door with baby blue outdoor curtains
6. Black and Green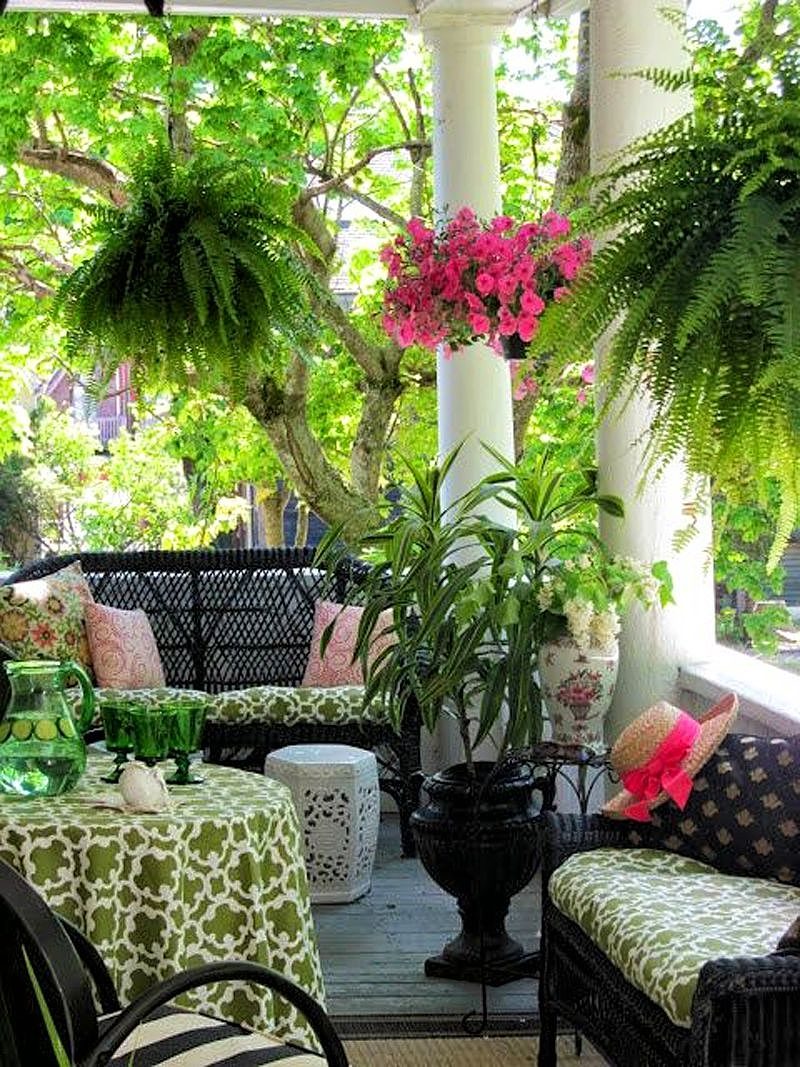 Points of Interest ● black urn planter matching the synthetic resin wicker benches ● hanging ferns and dark pink petunias over seating area ● peridot green and white patterned fabrics ● white ceramic garden stool ● large hand painted ceramic vase beside white column
7. A Ball of Petunias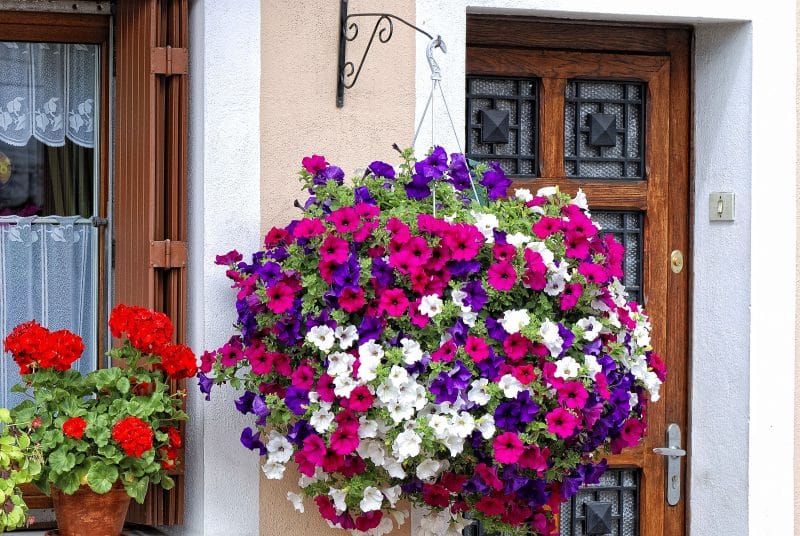 Points of Interest ● hanging petunias in white, pink, and purple ● designer dark red geranium in clay planter ● wrought iron wall hanging bracket with hook ● wrought iron grille and textured glass inserts on wood framed front door
8. Symmetric Entry
Points of Interest ● petunias, geraniums, and Citrine coreopsis hanging on both sides of door ● salmon pink geraniums in window boxes ● pruned boxwood topiaries in descending size ● powder blue door with oval textured glass insert and mail slot ● arched doorway with keystone accent
9. Flower-Lined Pergola
Points of Interest ● white, light, and dark purple petunias in hanging wire flower baskets ● dark lilac pergola with railing-mounted ribbed terracotta half round wall pots with single African daisy ● tender yellow painted rectangular tapered planters with geranium, baby's breath, and dahlia "Honka White" ● blue and orange birdhouses on pergola posts
10. Blooming Window in Provence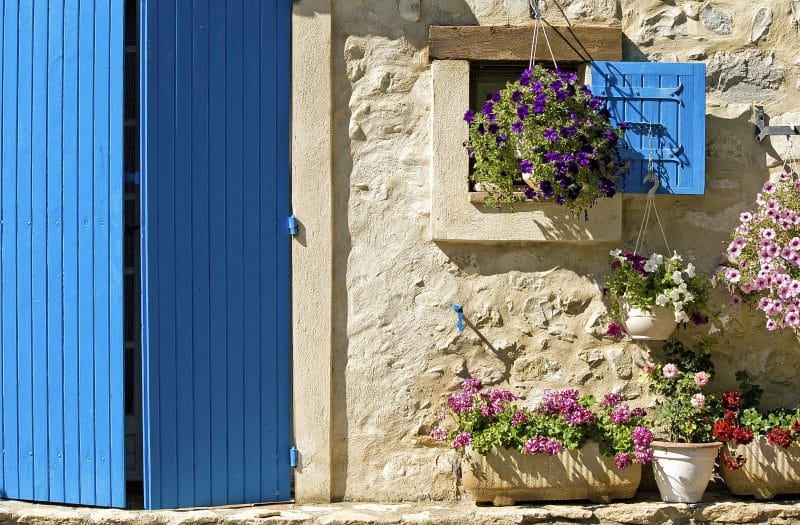 Points of Interest ● hanging midnight petunias in front of small window with painted exterior shutter ● plastered stone wall with iron bracket for hanging flower basket ● geraniums in cast stone trough planter ● pink climbing roses in whitewashed clay pot ● wooden out-swing shutter in Bleu de France color
11. Hanging Viola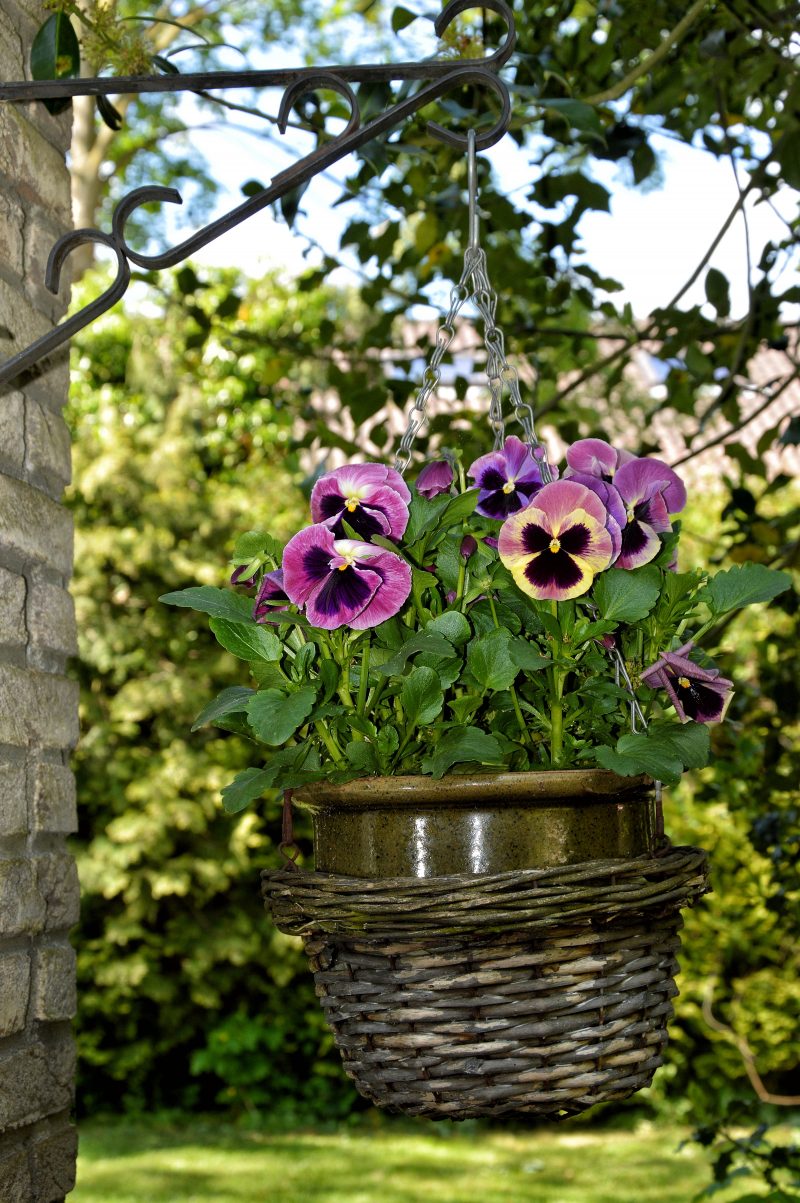 Points of Interest ● round wicker basket with chain links ● Ocean pansy in glazed ceramic planter ● wrought iron flower pot hooks with scroll design ● weathered brick wall wall
12. Ironwork Hanging Planters
Points of Interest ● moss-lined hanging baskets filled with red geraniums, purple petunias, and yellow coreopsis ● white weathered wooden pergola
13. Yellow Blooms by the Door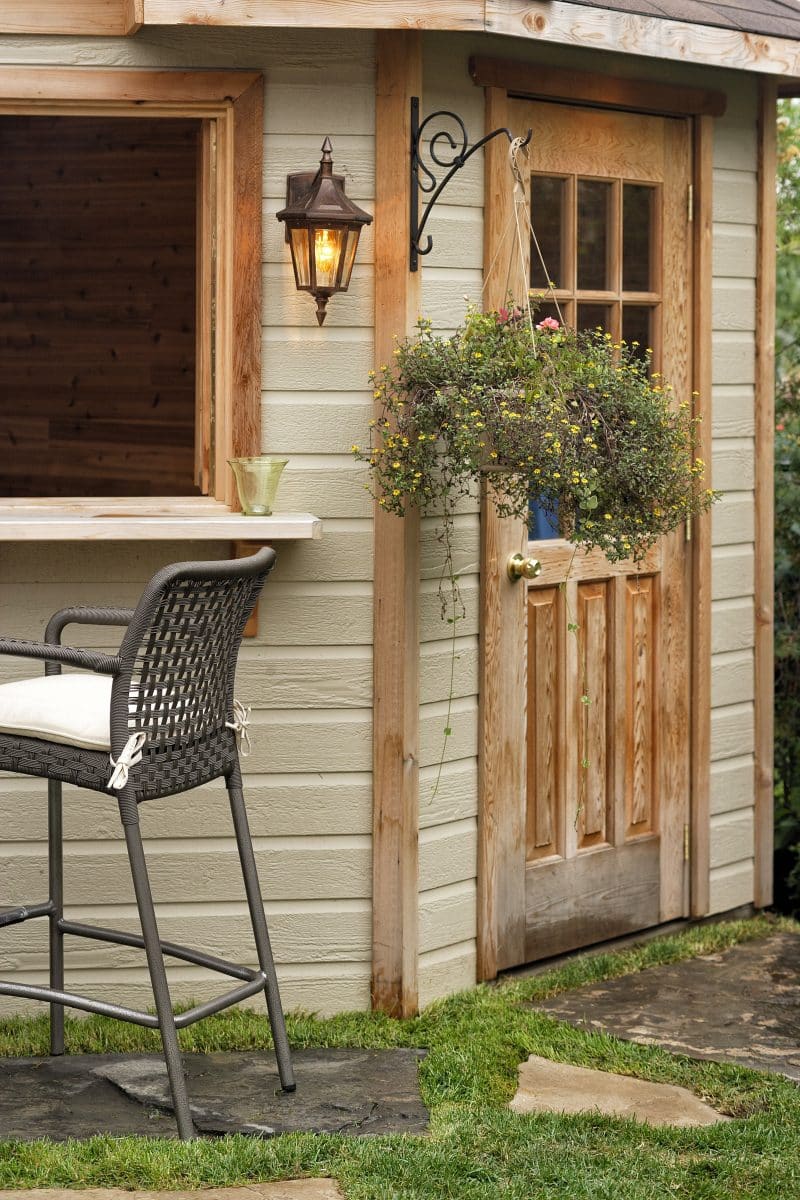 Points of Interest ● yellow coreopsis and pink rose in tan polypropylene hanging flower basket ● wall-mounted cast iron hanging basket hook ● outdoor wall-mounted lantern ● outdoor resin wicker bar stool ● flagstone stepping stones
14. Perennials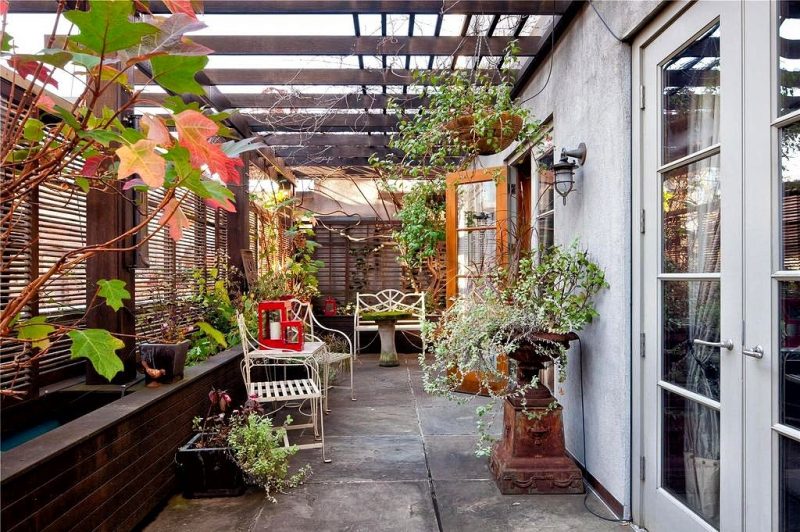 Points of Interest ● perennial plant potted in hanging coconut fiber-lined planter ● dark walnut stained raised wooden garden bed ● pergola covered patio with slatted wood privacy fence ● weathered cast iron urn on plinth in rust finish
15. Dining by the Falls
Points of Interest ● two-level waterfall with boulder retaining wall and ledgestone edging ● cast iron outdoor patio dining with cushions ● flower pot hanging from pergola wood beam ● flowering plants potted in assorted large planters ● exposed aggregate concrete patio flooring
16. Blue Shutters with Splash of Reds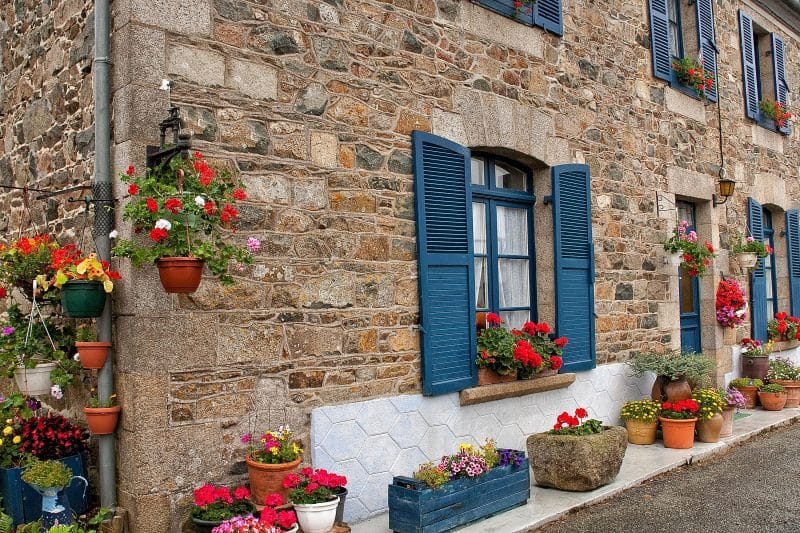 Points of Interest ● potted red geranium on window sill and in boulder planter ● mixed blooms in blue wooden planter box calling back window shutter color ● grouped earthenware planters in different shapes, styles and finish ● hanging flower pots with a variety of geraniums clustered near downspout ● white tile accents in honeycomb pattern on stone wall
17. Big Hanging Blooms
Points of Interest ● 5 moss flower baskets hanging from eaves with perennial flowers in different hues ● brick patio columns with white corner guards ● blue green wicker furniture under covered patio ● French doors with sidelights
18. Terracotta Planters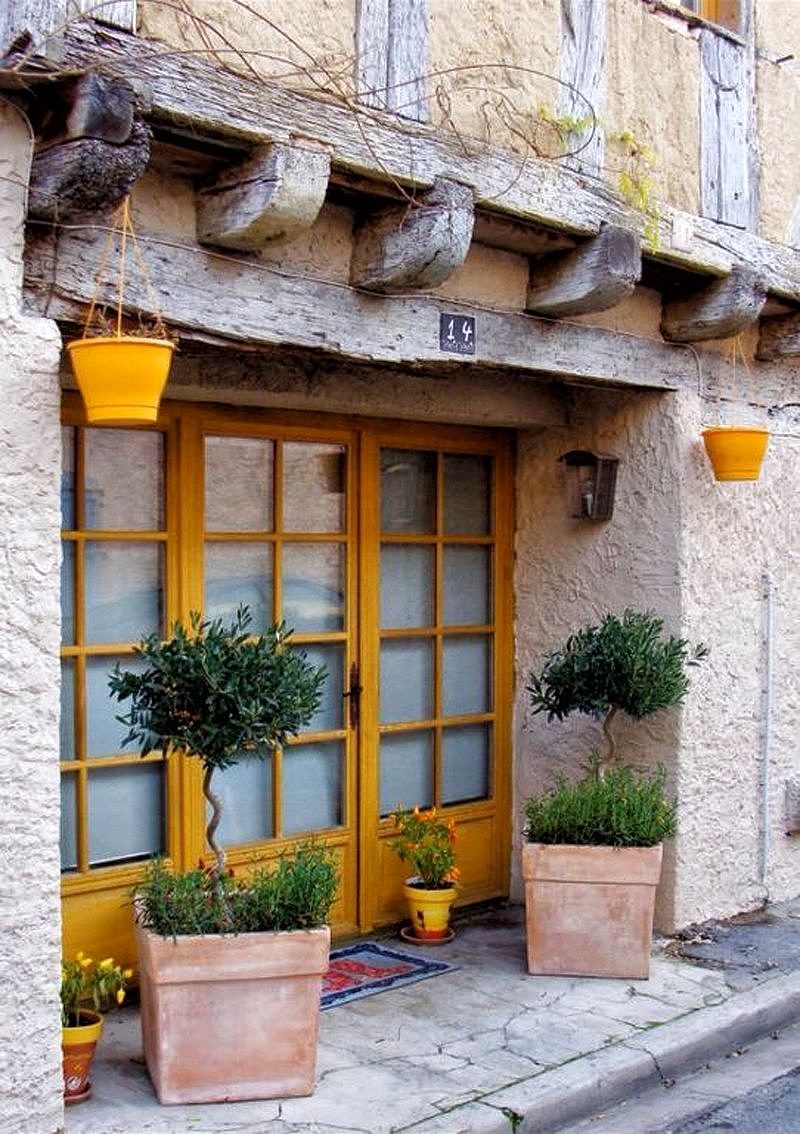 Points of Interest ● 2 pruned twisted olive trees in square planters ● lemon yellow flower pots hanging from weathered reclaimed wood rafters ● small DIY painted terracotta pots ● single French door with sidelights ● antique copper outdoor sconce
19. Triple Cones
Points of Interest ● cone wicker flower baskets suspended by coconut fiber rope ● wooden awning over door ● iron outdoor lantern ● white painted wood railing with post ball caps ● Parisian-style decorative window box planter
20. Fence with Hanging Flower Pots
Points of Interest ● petunias and diascias in white resin hanging flower pots ● convex top basketweave fence ● wrought iron hanging plant brackets on fence posts ● tall Zebrina privacy hedge behind fence
21. Wood Beam
Points of Interest ● coco fiber-lined metal flower baskets hanging from pergola beams ● lavender scaevola and rose canna in hanging baskets ● boxwood between stone garden benches
22. Pink Wall Accents
Points of Interest ● red petunias and trailing nepeta in wall-mounted moss-lined hanging baskets planter ● climbing roses on white plastered wall ● trimmed evergreens in planter boxes ● courtyard with red brick paving ● black downspout calling painted wooden black door
23. Pink with Purple Center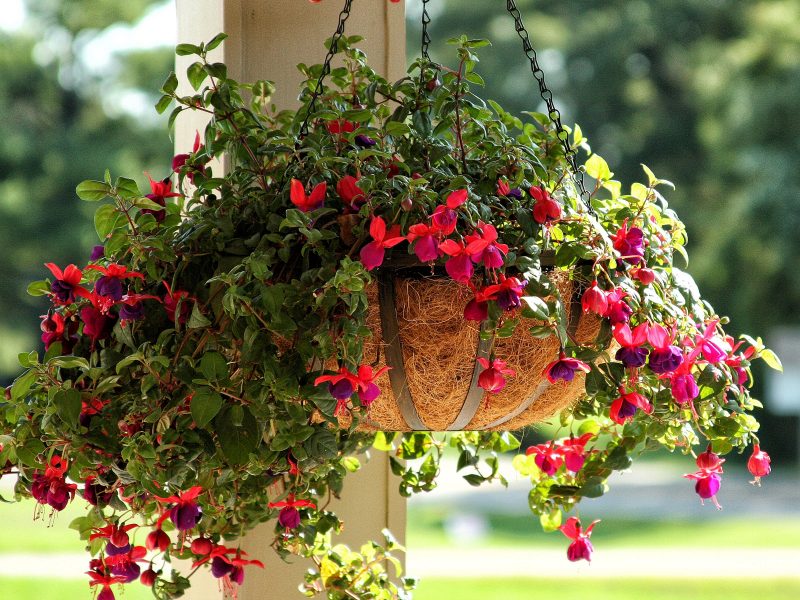 Points of Interest ● fuchsia in brushed antique copper round metal hanging basket ● black powder coated iron wire hanging basket chain ● non-tapered square PVC porch column wrap
24. Playful Reds and Pinks
Points of Interest ● pink geraniums in white hanging flower basket ● blazing red hibiscus ● laceleaf Japanese maple ● wooden porch steps with railings ● brick exterior walls and porch columns
25. Flowers Hanging Around Gazebo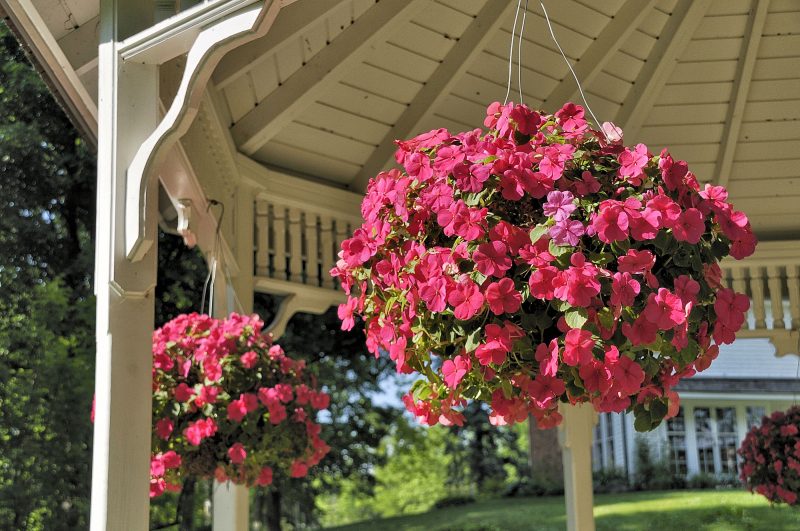 Points of Interest ● hanging flower balls of pink impatiens ● flower pots hanged with thin wires ● white pavilion wooden gazebo with Colonial style frets ● simple decorative gazebo knee brace
26. Pink and Red Border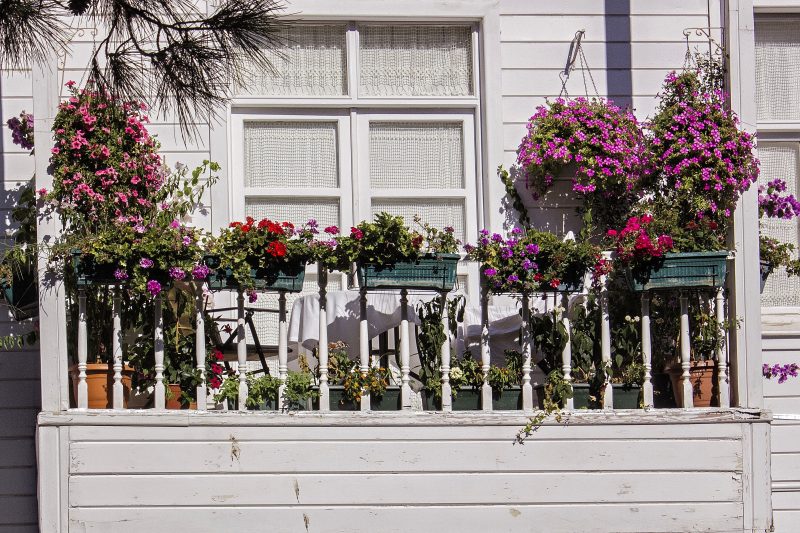 Points of Interest ● pink petunias and phlox amoena hanging from pewter hanging basket bracket ● flowering perennials in forest green resin planters ● white balustrade railing on small porch ● French doors and transom windows with white lace crochet curtains ● white shiplap exterior walls
27. Rosy Entrance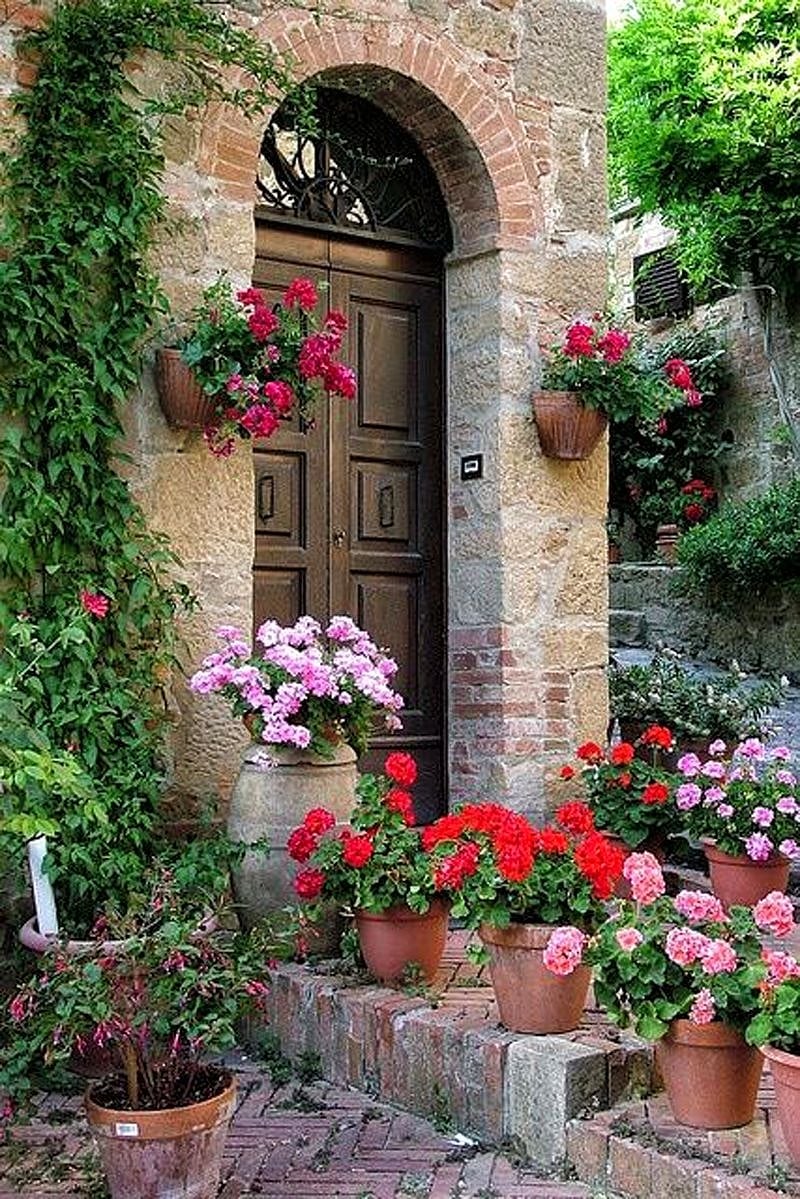 Points of Interest ● 2 ribbed brown glazed terracotta wall planters with ivy burgundy geraniums ● potted pink, red, and peach geraniums lining the walkway ● slim 6-panel wooden double front door with fanlight and brick archway ● herringbone patterned brick entryway path ● climbing ivy on weathered brick wall