Hello and welcome to our Garden Outline of garden pond ideas. Below you will find a summary of the benefits, main options and some design ideas we handpicked for you along with beautiful photos. Enjoy!

What are the benefits of garden ponds?
The sight and sounds of slow moving pond water provides a feeling of relaxation and calmness
Ponds can be the focal point of the backyard
They are good areas to add aquatic (fish ponds and frog friends) and plant life
They can be DIY

What are the main options for garden ponds?
Types: formal, koi, water garden, fountain, modern, waterfall, natural, formal
Material: stone (cobble, pebble, river rock) gravel, concrete, brick
Accessories: water plants, lighting (downlighting, uplighting), statues, fish, garden bridges, stepping stones
Location: visible from the main house, frontyard or backyard, with sunlight exposure, on a slope (i.e. to accommodate a waterfall) or not

What follows are beautiful photos of garden ponds along with design ideas we thought may be of interest to you. Enjoy and happy outdoor decorating!
1. Courtyard Pond
Points of Interest ● cantilever-edged pond ● frog spout ● corner river rock parterre ● irregular cut flagstone pavers ● pebble aggregate inlays ● arched wooden door with iron insert
2. Koi Pond
Points of Interest ● water garden pond ● koi fishes ● multi-tier waterfalls ● upright boulders by the waterfalls ● overhanging wooden deck ● Japanese-inspired sliding doors
3. Angled Garden
Points of Interest ● rectangular-shaped formal pond ● stamped concrete pond coping matching the pavers ● topiaries on sides of the pond ● she shed with French doors ● various arched arbors
4. Mountain Stucco
Points of Interest ● mini water garden with waterfall feature ● trio of large antique terracotta water jars ● flagstone crazy paving ● solid stucco fence ● custom wooden swing doors with wave-like millwork design
5. Submerged Garden Bed
Points of Interest ● rectangular pond ● pond coping calling back stone slabs ● square tile inlays by the pond ● weathered wooden bench ● privacy fence ● irregular cut stepping stones in salmon shades
6. Green Water
Points of Interest ● formal pond ● crushed rocks raised bed ● cascading horizontal board wooden fence ● metal garden edging ● stamped concrete flooring
7. Baskets in Water
Points of Interest ● natural stone pond ● woven rattan basket planters ● stone ledges ● DIY wooden bench ● wooden window box planter teeming with perennials
8. Water Cross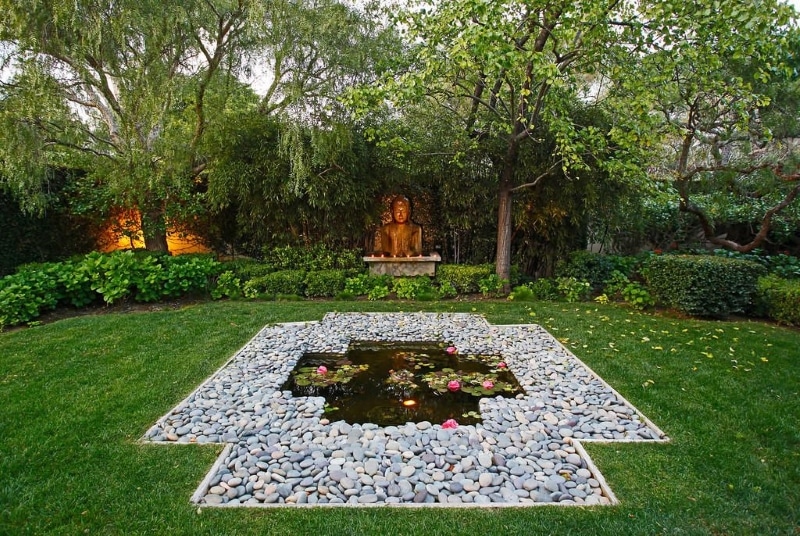 Points of Interest ● cross-shaped natural pond ● pebble parterre following shape of pond ● wood garden edging ● buddha bust ● under pond lighting
9. Circular Petite
Points of Interest ● pebble and boulder pond siding ● decorative stone ball ● concrete floor tiles ● iron garden set ● directional outdoor light
10. Wrapped in Rocks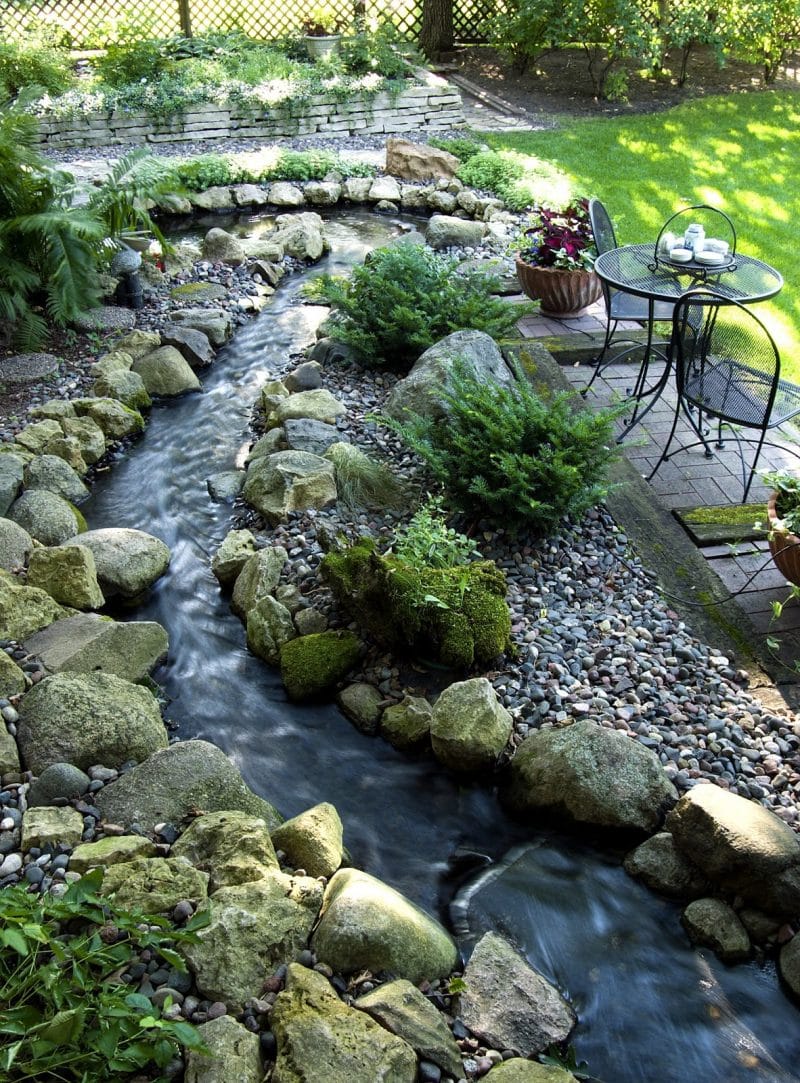 Points of Interest ● waterfall pond ● natural stones lining sides of pond ● stacked stone raised bed ● terracotta scalloped edge planter ● lattice wooden fence ● afternoon tea spot
11. Pagoda by the Water
Points of Interest ● natural koi pond ● lush vegetation of plants around pond ● composite deck ● brick pond siding ● stone pagoda decors ● bonsai plant on riser
12. Hexagonal Shape
Points of Interest ● hexagon-shaped pond ● composite deck material ● elevated outdoor lamps ● waterlilies ● hostas and perennial grass
13. Soft Pond Lights
Points of Interest ● pond with bamboo water spout ● cantilevered stone pond coping ● composite garden bridge ● red painted concrete raised bed with young bamboo plants matching deck low wall ● stacked stone raised bed parterre
14. Pink Stucco
Points of Interest ● pouring terracotta jars waterfall pond ● vine covered wall trellis ● rubber tile driveway flooring ● stucco columned gazebo ● arched window frame ● transom window
15. Floating Step Stones
Points of Interest ● koi pond ● combination of rectangular and irregular-shaped floating pond stepping stones ● pagoda stone decor ● miniature maple tree ● slatted bamboo privacy fence with square cutouts
16. Narrow Stream
Points of Interest ● natural narrow stream-like waterfall pond ● slab pond edges ● stone bench ● white stone urn planters ● stone slab makeshift bridge
17. All Slabbed Up
Points of Interest ● koi geometric-shaped pond ● stone slab pavers and pond edging ● stacked stone slab columns ● various potted plants in pond
18. Storks
Points of Interest ● natural koi pond ● water lilies ● slate stone coping in warm hues ● blue heron pair sculpture ● 2-tier stone fountain ● relaxing space under the tree with adirondack chairs
19. Lily Pond
Points of Interest ● roman-shaped pond ● water lilies ● various boxwood hedges ● bronze garden statue doubling up as a bird bath ● concrete pond coping ● built-in narrow stone bench
20. Red Crossing
Points of Interest ● natural pond ● curved wooden garden bridge ● painted aluminum bridge handrail ● natural stone edging ● wooden beach chair matching bridge ● lanterns
21. Stoney Waterfalls
Points of Interest ● water garden pond ● river rocks pond flooring ● random stacked stones around the pond ● 2-level waterfall ● split rail wooden fence ● black chicken wire screen
22. Water Wall Feature
Points of Interest ● stone veneer siding matching the half-circle pond surround ● water wall ● concrete pond coping ● water lilies
23. Boxwood Hedge Surround
Points of Interest ● circular water garden pond ● pond bubbler ● box hedges forming a circle around the pond ● wooden bench ● rough slate tile flooring
24. Stone on Stone
Points of Interest ● two-tiered waterfall pond ● pebble aggregate concrete ● red tile 2-step stairs ● downlight waterfall lighting ● yellow tulips ● round rock planter
25. Garden Swing
Points of Interest ● water garden koi pond ● wood awning garden swing ● low bowl and urn planters ● brick siding ● attached sunroom ● twin lime green plastic stools
26. Planter Installation
Points of Interest ● formal pond ● polished white laminate flooring ● multi-level raised bed installation ● decorative laser cut metal privacy screen panels
27. Shadowbox Estate Fence
Points of Interest ● DIY mini pond ● pebble pond edging ● terracotta pagoda decor by the pond ● stained shadowbox estate fence