Hello and welcome to the Garden Outline photo gallery of garden path ideas. Below you will find a summary of the benefits, main options and some design ideas we handpicked for you along with beautiful photos. Enjoy!

What are the benefits of garden paths?
Guides the way and provides easy access to and from different areas of the garden/frontyard/backyard
Gives structural definition to the garden
Comfortably guides people around the outdoor spaces in your home

What are the main options for garden paths?
Material: brick, cobblestone, flagstone, gravel, pebble, concrete slab, brushed cement, wood planks
Structure: straight, curved, winding, zigzag, elevated on garden pond, tiered, ascending
Partners beautifully with: flowering plants, bushes, hedges, trellis, archway, allée of trees

What follows are beautiful photos of garden path designs along with ideas we thought may be of interest to you. Enjoy and happy outdoor decorating!

1. Japanese Inspired
Points of Interest ● japanese-inspired house ● wooden garden bridge with black newels ● stacked slate stone steps ● 6-lite wooden door ● iron outdoor lanterns
2. Hacienda
Points of Interest ● hacienda style home ● 2-tiered fountain ● custom Spanish-inspired swing gate ● bougainvillea flanking the gate ● multi-colored terracotta roof tiles
3. Hidden Pergola
Points of Interest ● brick pavers ● concrete garden edging ● pergola ● stone garden wall ● mulched garden beds ● arched porch window cutout
4. Stair Step Fence
Points of Interest ● above ground plunge pool ● stair step wooden privacy fence ● stone veneer columns ● pebble pool drain ● step stones with same material as pool coping
5. All Brick
Points of Interest ● running and stack bond, chevron patterns on brick path ● mulched plant bed ● aged brick wall ● tree fence with boxwood edging
6. Water Garden
Points of Interest ● water garden ● lilies ● elevated stone steps ● thatched roof ● bamboo slat lattice support for thatching ● concrete pond edge
7. Ceramic Tile
Points of Interest ● terracotta jars ● colorful Spanish ceramic tile on steps ● knotted iron rails ● tiered stone retaining walls ● bench with flagstone slab
8. Freeform Step Stones
Points of Interest ● freeform fieldstone slab stepping stones ● concrete garden bench ● full lite front door ● stone house ● arched iron trellis
9. Sunny Palm Trees
Points of Interest ● dirt path edged with stones ● stone retaining wall ● large date palm trees ● balcony ● large bay window above front door
10. Lattice Bamboo
Points of Interest ● bamboo lattice fence ● square stone path ● irregular shaped stones as border ● variegated ginger plants
11. Bluestone Chips
Points of Interest ● blue stone wood chips ground cover ● salvaged wood steps ● wood chip parterre calling back steps ● plants beautifully situated in between boulders
12. Cobbled with Grass
Points of Interest ● walkway with multi-hued pavers ● natural stone edging ● salvaged wood raised bed ● kitten statue ● assortment of terracotta and stone planters
13. Wooden Steps
Points of Interest ● wooden plank steps ● full garden cover ● tree-lined road ● industrial road lamp ● boxwood lining the street
14. Green Diamonds
Points of Interest ● garden fountain ● pink and white plants surrounding the fountain ● green grout ● diamond plant patterns on stone wall ● single hung windows
15. Tiers
Points of Interest ● tiered retaining walls ● concrete step borders ● stacked slab waterfall ● brick patio ● red brick siding ● red Japanese maple trees
16. Wood Chips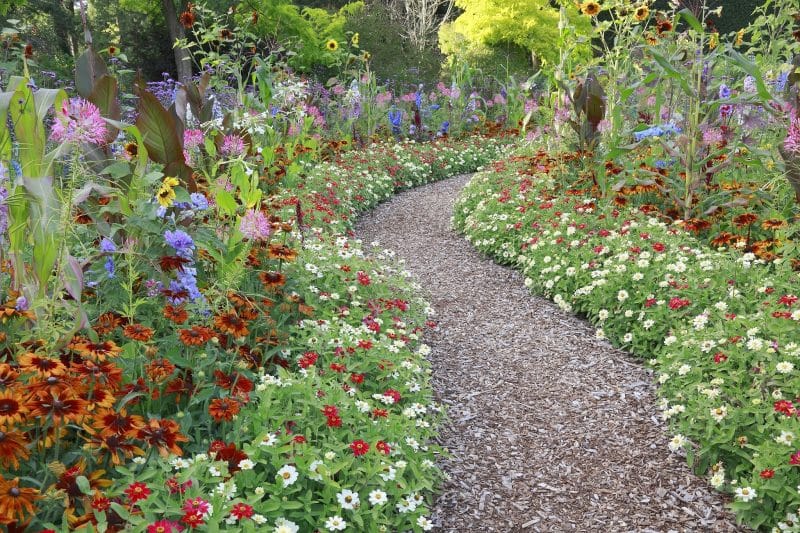 Points of Interest ● DIY wood chip curved garden path ● wildflowers ● sunflowers ● ground level perennial flowers as border ● rainbow of colorful flowers
17. Basket Weave Low Wall
Points of Interest ● iron fence and step rail ● basketweave designed concrete paver low wall ● cement and gravel garden path ● gravel shrub bed ● vibrant yellow forsythia flowers
18. Irregular Boxwood
Points of Interest ● boxwood parterres ● lattice wood on brick foundation ● statues ● iron rail with swirl design ● trellis by the statues teeming with crawling vines
19. Brushed Cement
Points of Interest ● pink rosebushes ● brushed cement matching home facade ● gravel mulch ● fountain ● iron gate ● elevated patio
20. Water Well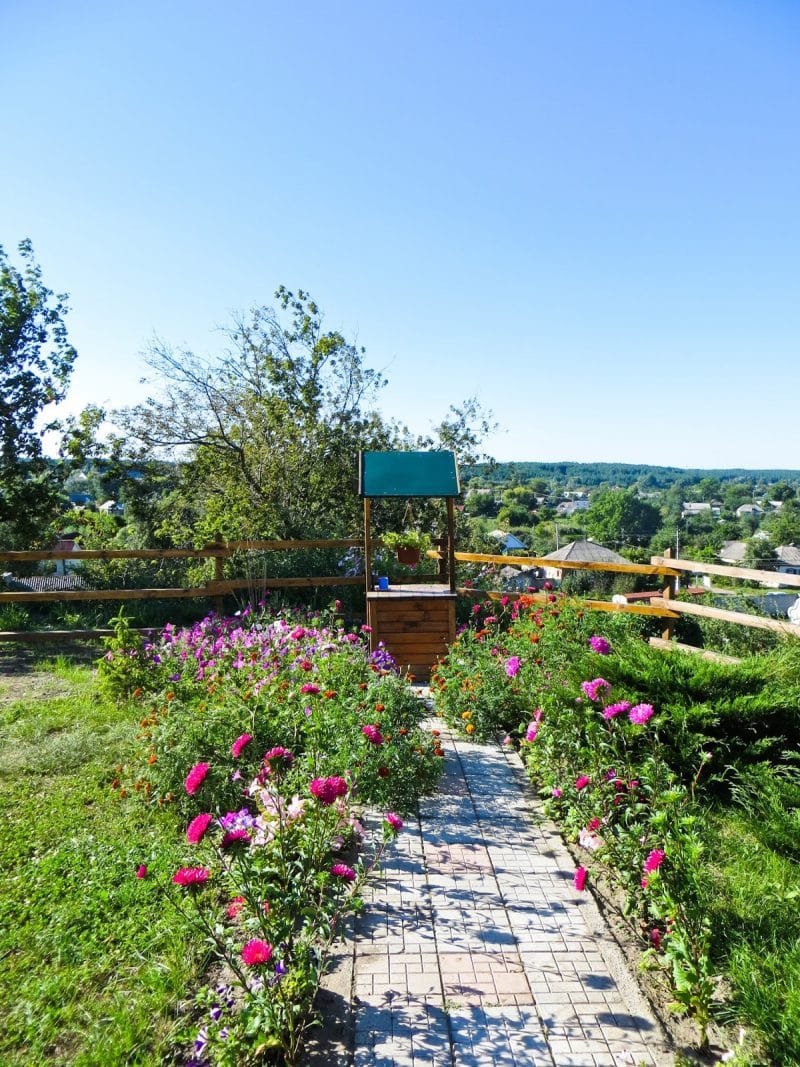 Points of Interest ● stacked bond stone pattern tiles on walkway ● wooden wishing well converted as a garden table ● DIY 2-rail wood fence ● pink chrysanthemums
21. Striped Steps
Points of Interest ● cobblestone pavement ● stone stairs with dark brown stripe accent ● privacy hedges lining the stairs ● iron fence ● drain
22. Crushed Gravel Path
Points of Interest ● crushed gravel trail ● yellow and lavender wildflowers ● wood picket garden gate ● cypress trees in the distance
23. Flagstone
Points of Interest ● elevated garden bed and stone curbing ● wooden portico ● front door with top-lite ● vintage wooden rocker ● sidelites ● flagstone front entry path
24. French Garden
Points of Interest ● french formal garden ● boxwoods ● wooden garden gate ● allium flower bulbs ● grass covered walkway
25. Lattice
Points of Interest ● curved pebble garden path with concrete paver border ● wooden lattice arbor ● bamboo edging ● wooden fence with lattice top detail ● patio circular design
26. Tree Allée
Points of Interest ● tree/shrub allée ● moss covered stone pathway edging ● wood shingle roof ● 12-lite front door ● convenient mail slot
27. Stone Gazebo
Points of Interest ● pond ● asian inspired bluestone gazebo ● raised half circle parterres with stacked slate edges ● cut marble step stones ● property fence with black fence and newel tops