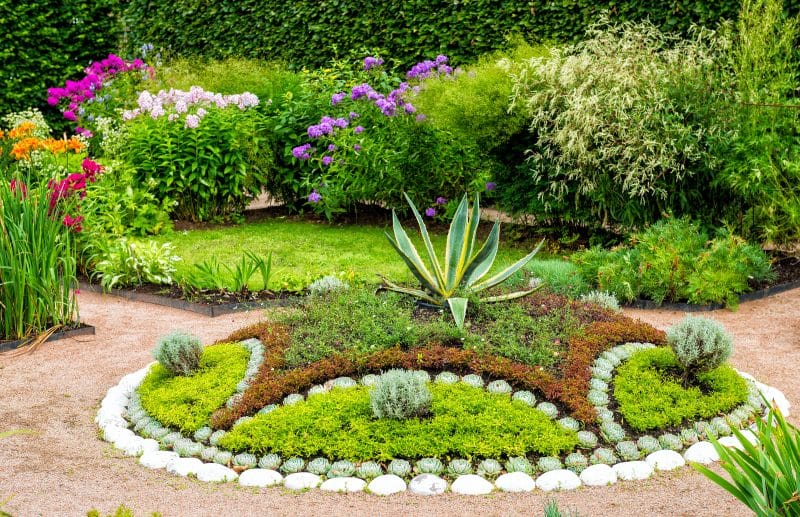 Hello and welcome to the Garden Outline photo gallery of garden edging ideas. Below you will find a summary of the benefits, main options and some design ideas we handpicked for you along with beautiful photos. Enjoy!

What are the benefits of garden edging?
Helps define spaces of your flower beds and parterres
Makes lawn maintenance easier: keeps mulch out of the lawn and grass out of the garden beds, prevents accidentally mowing your prized plants
Makes your garden more appealing

What are the main options for garden edging?
Material: brick, stone, wood, aluminum, resin, plastic paver, concrete mow strip
Types: straight, curved, slightly raised, railroad tie, no dig
Where to use them: lawn, flower garden, vegetable garden, flower beds, pond

What follows are beautiful photos of garden edging along with design ideas we thought may be of interest to you. For more garden inspiration, try Garden Path Ideas, Backyard Garden Ideas, Garden Design Ideas and Backyard Landscape Design Ideas. Enjoy and happy outdoor decorating!

1. Flower Garden
Points of Interest ● curved garden benderboard edging ● limestone fine walkway ● weathered wooden split rail fence ● two flower garden gates on each end ● pink and red roses ● DIY tree made of curly willow branches
2. Modern Renaissance Garden
Points of Interest ● straight and curved boxwood hedges ● fountain with brick edging ● pink zinnia ● clipped hedges for privacy and green backdrop ● decomposed red granite garden path
3. Winding Garden Edging
Points of Interest ● edgestone pavestone curved garden bed edging ● step-down stockade and double concave picket fence ● open walls birdhouse on iron stand ● ornamental grasses with perennial companions
4. Rocky Evergreen
Points of Interest ● river rock pond edging ● combination of block and dry stones retaining wall ● cobblestone paver mosaic with t-cross border garden path ● lily pads ● variety of pine trees for year-round privacy and shade
5. Green Foliage with a Splash of Red
Points of Interest ● garden path resin strip edging ● variety of perennial foliage in flat bed ● raised bed with dry stacked stone edging ● Red Ti plant in a decorative planter ● brass outdoor lanterns ● white lattice privacy fence
6. Bushy Arbor Entrance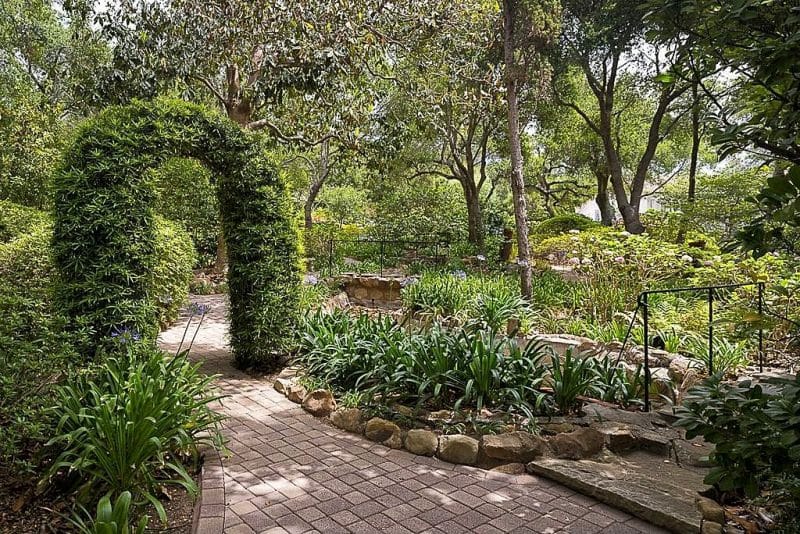 Points of Interest ● rock and pavers edging ● bushy arbor mimicking trees natural curved lines ● wood stepping stairs ● perennial foliage mixed with violet blooms ● thin cast iron fences
7. Timber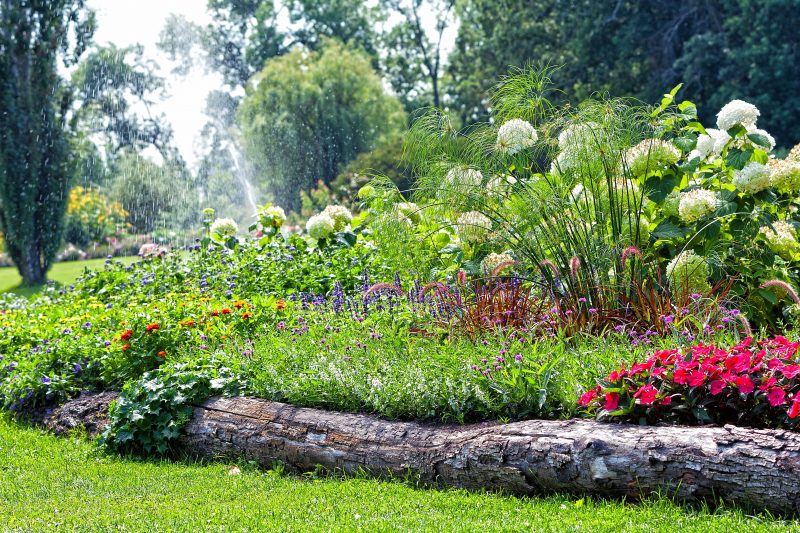 Points of Interest ● log garden edging ● blooming white hydrangeas ● Agastache Blue Boa with Oriental Fountain Grass ● trimmed Cypress tree ● yellow and orange daisies
8. Wood and Stones Walkway
Points of Interest ● natural edging with combination walkways of flagstone, wood planks, and stepping stones ● pea gravel beneath weathered wood deck ● colonial carriage decor ● stacked stones and bricks house walls
9. Green on Green
Points of Interest ● mulch and brick edging ● tall boxwood hedges for privacy ● short boxwood hedges for parterre ● hydrangeas ● tall tree for shade and garden centerpiece ● bird bath
10. Full Blooms on the Rocks
Points of Interest ● large boulder edging ● three levels of "Ad Rem", "Big Smile" and Curly Sue tulips ● red, white and yellow pansies
11. White Picket Fence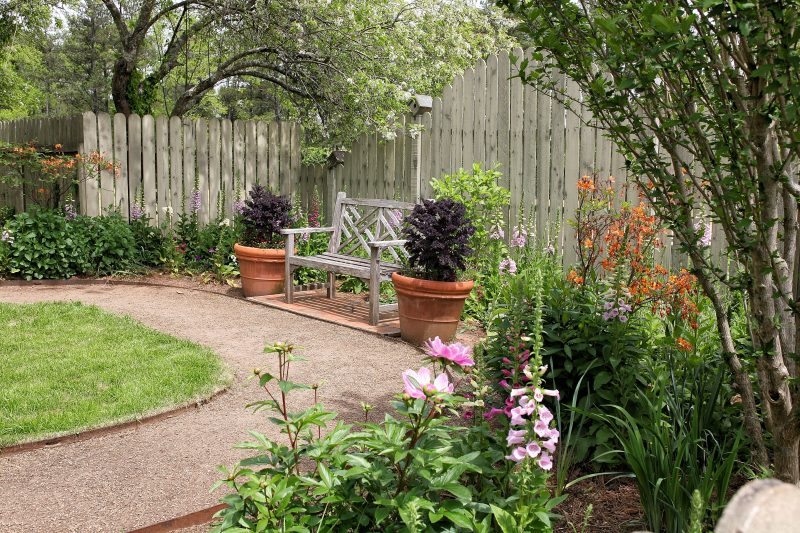 Points of Interest ● galvanized steel edging in age copper finish ● white washed stockade and single convex fence ● bench with decorative back ● perilla potted in terracotta planters ● foxgloves in pastel and fuschia pink ● dogwood tree
12. Geranium on the Edge
Points of Interest ● pavestone edging with dog-ear short fence ● Jungle Geranium planted on garden bed edge ● cluster of white, orange, red, and pink pansies ● bench made of wood and iron ● small palm tree on blue green planter
13. Blooming Borders
Points of Interest ● hidden edging ● vibrant winding garden bed with flowers and plants of varied heights ● Red Tip Photinia shrubs ● Spanish Dagger and Dusty Miller companion ● cream windows calling back to ivory siding and white blooms
14. Zen Walkway
Points of Interest ● pea gravel walkway with brick garden edging ● wooden bench with white cushions and thin pinstripe pillows ● boxwood hedges and topiaries ● citronella candle holder on side tables ● trimmed topiaries in large clay planters
15. Rows of Blooming Flowers and Shrubs
Points of Interest ● orange zinnia with red and white dahlias companions ● boxwood parterre hedges ● Golden Hops on stacked row trellises ● DIY greenhouse ● mature ragwort ● red gravel garden path calling back brick fence
16. Straight Bed of Evergreens
Points of Interest ● straight stacked stone edging ● lush garden bed of mixed perennials ● Northern Golden Forsythia ● Purple Smoke Tree ● tall clipped boxwood columns
17. Colorful Blooms Year-Round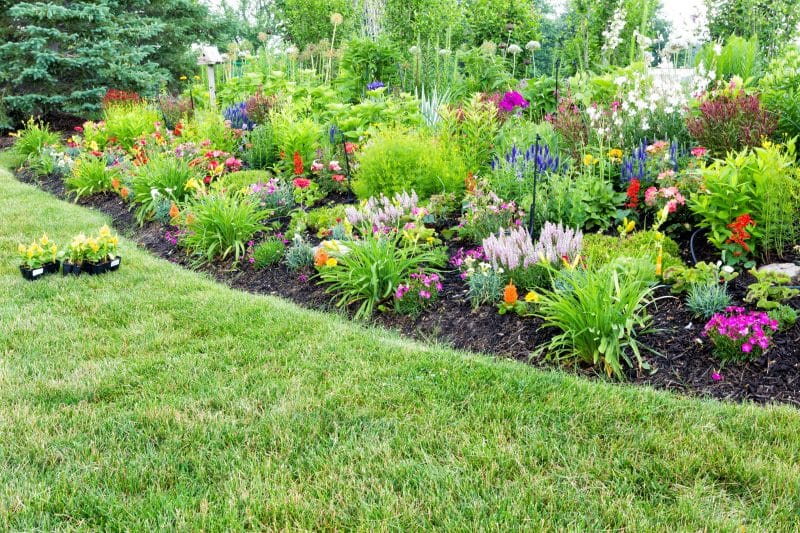 Points of Interest ● yellow lilies and fuchsia pink pansies on mulch garden edging ● pastel astilbe ● Agastache 'Blue Fortune' ● wooden bird feeder ● allium "Mount Everest"
18. French Paradise
Points of Interest ● trimmed boxwood parterre ● wrought iron 4-tiered water fountain ● straight rows of palm trees ● fountain basin with brick coping ● brick garden path leading to the porch
19. Lavender and Lupines
Points of Interest ● raised brick edging ● lavender on garden bed border ● colorful lupines ● Painted Daisies ● ecru market umbrella
20. Concrete Jungle
Points of Interest ● stamped concrete patio ● curved flagstone walkway leading to patio and forest ● dry stacked boulder retaining wall ● cast iron dining table with market umbrella ● red and purple petunias in dark resin planters
21. Evergreens on Deck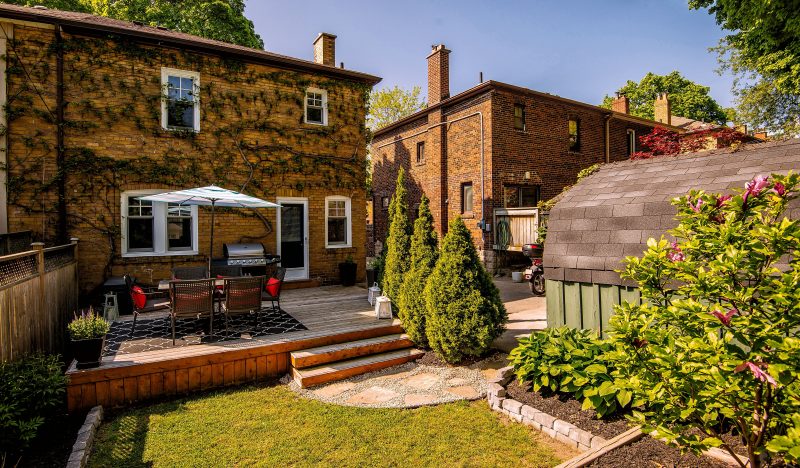 Points of Interest ● combined garden edging of pavestones and resin strip ● evergreen in cascading heights ● deck with wooden planks and stairs ● outdoor area rug with geometric print ● wooden privacy fence with lattice
22. Triangular Garden Bed
Points of Interest ● railroad tie garden edging ● tall orange butterfly weed plant ● garden gate with lattice woodwork design ● wooden picket fence with regular point
23. Side Porch Blooms
Points of Interest ● hidden edging with boulder accents ● silver gazing balls on iron display stand ● white daisies ● geranium ● yellow pansies in terracotta planter
24. Blooming Walkway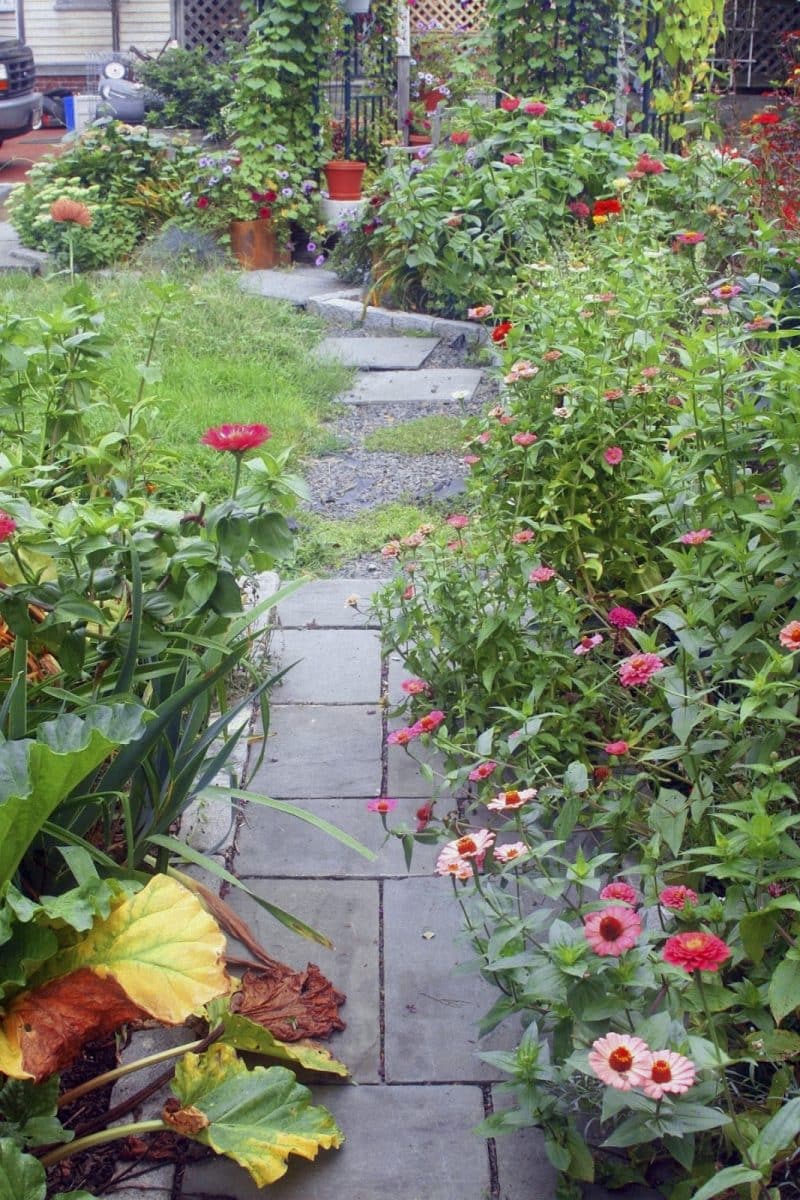 Points of Interest ● flat and raised pavestone garden edging ● China Asters ● cement slabs stepping stones ● pea gravel ● blue arbor trellis
25. Two Level Parterre
Points of Interest ● two level parterre with rock covering and stone edging ● cascading stacked stone retaining walls ● Goldmound Spirea with ornamental grasses ● flagstone veneer home facade
26. Pinks by the Pond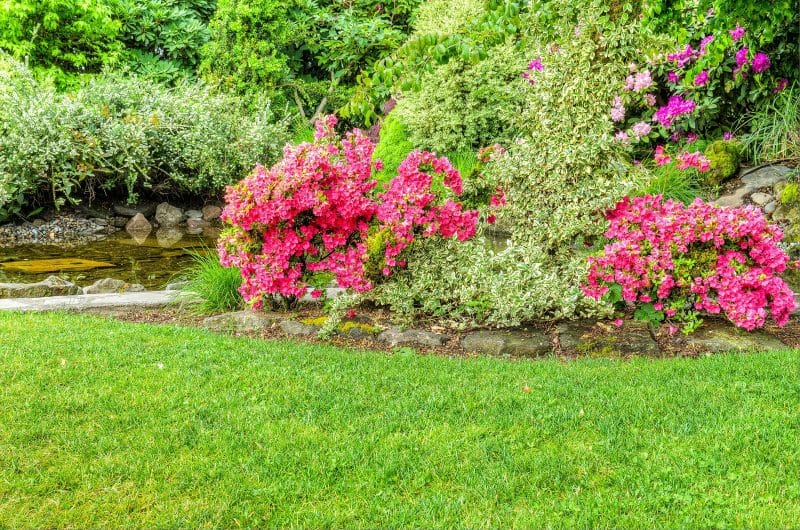 Points of Interest ● moss covered dry stone garden edging ● pond with pebbles and boulder lining ● pink blooms ● hostas ● poured concrete walkway
27. Bamboo Privacy
Points of Interest ● curved hidden edging with variety of foliage ● stockade bamboo fence ● sunflowers ● black cast aluminum garden set ● ceramic pots in different sizes