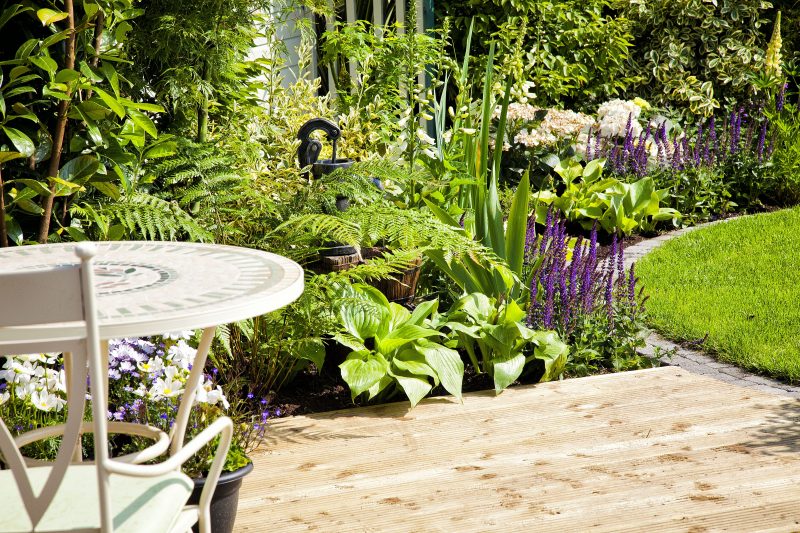 Hello and welcome to the Garden Outline photo gallery of garden edging ideas with bricks and rocks. Below you will find a summary of the benefits, main options, and some design ideas we handpicked for you along with beautiful photos. Enjoy!

What are the benefits of using bricks and rocks for garden edging?
Complements your natural landscape – brick and rock edging adds a natural decorative element to your garden
Pairs well with native plants and wildflowers – edging materials like bricks and rocks can add both practical and beautiful accents to a natural landscape design
Easy to use – you can DIY as they can be laid without the use of mortars or any heavy masonry and deep digging

What are the main options for brick and rock garden edging?
Type: brick (half, full, long), natural stone, cobblestone, flagstone, pebble, flat rock, faux rock, boulder, slate, brick block
Color/Finish: gray, red, cream, whitewashed
Application: lawn, flower bed, raised bed, pathway
Layout/Pattern: straight set, curved, rectangular, circular, soldier course

What follows are beautiful photos of gardens with brick and rock edging, along with design ideas we thought may be of interest to you. Enjoy and happy outdoor decorating!
1. Curved Pathway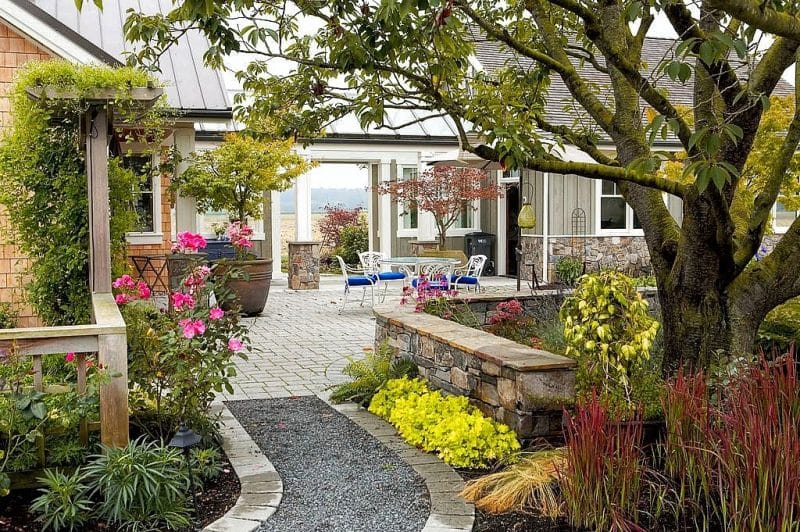 Points of Interest ● gray cobblestone curved garden edging ● crushed stone pathway to patio ● small trellis with vines attached to veranda ● Red Baron Japanese blood grass by the moss-covered multi-stem tree ● aegean blue outdoor sideboard
2. Rough Edge Fire Pit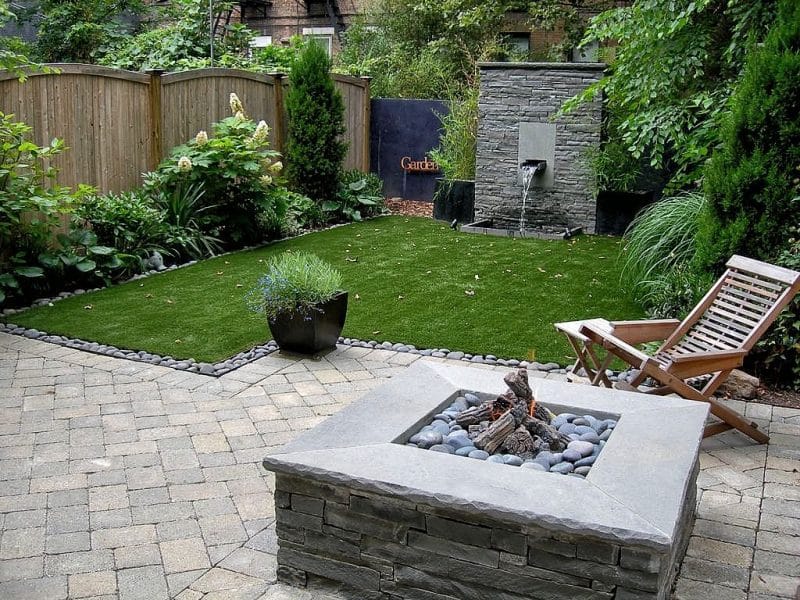 Points of Interest ● river rock lawn edging ● gray stone veneer water fountain with built-in black raised planters ● rough edge concrete topped square fire pit with fire pit log set and river rocks around burner ● convex wood fence ● copper textual art on concrete privacy wall
3. Seaside Escape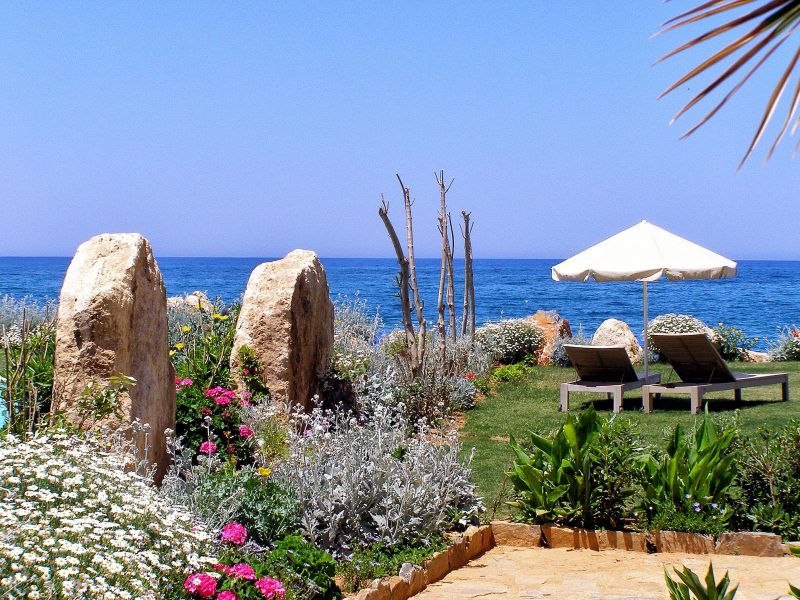 Points of Interest ● irregular stone garden edging set vertically ● weathered limestone boulder landscaping accents ● 2 twin resin contemporary contemporary sun lounger with adjustable backrest ● white parasol in between loungers
4. Stone Birdbath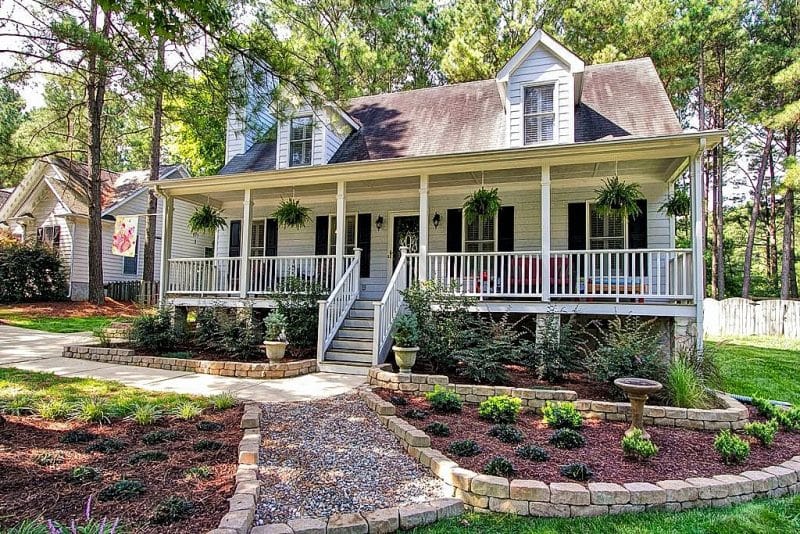 Points of Interest ● dry stack stone edging ● washed river gravel pathway ● weathered stone birdbath on garden bed ● white front porch with hanging fern planters
5. Formal Garden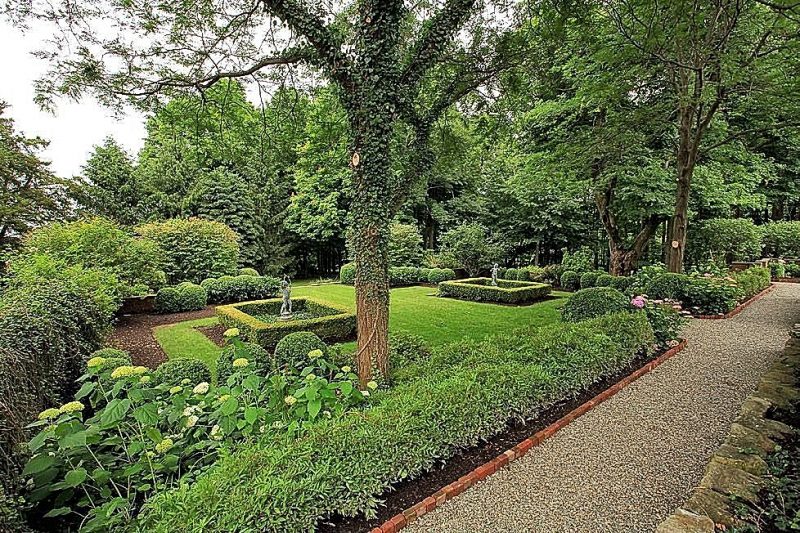 Points of Interest ● DIY half brick garden edging with curved corners ● little lime hydrangeas behind globe boxwood shrubs ● 2 square boxwood hedges around stone garden statues ● natural stone raised bed along pea gravel pathway
6. Garden Shed
Points of Interest ● gray brick-shaped stone edging ● large raised bed with wood retaining walls and high back side ● 2 Adirondack chairs on raised bed with dark turquoise square side table ● small sage green garden shed with gray felt roof
7. Garden Pergola
Points of Interest ● multi-toned brown brick landscape edging ● mid-pea gravel pathway with limestone stepping stones ● redwood stained pergola with planked deck flooring ● small waterfall feature on pond with sandstone edging ● black pre-cast stone fisherman statuette by the pond
8. Clay Roofed Gazebo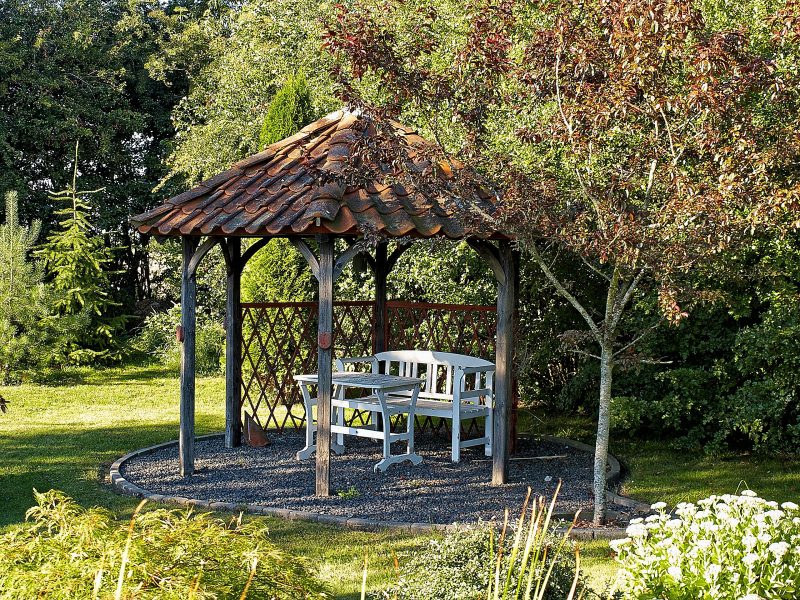 Points of Interest ● gray brick-shaped stone gazebo edging ● weathered terracotta clay roofed gazebo with diamond lattice panels ● white distressed wooden bench with matching table ● gray pea gravel gazebo flooring
9. The River House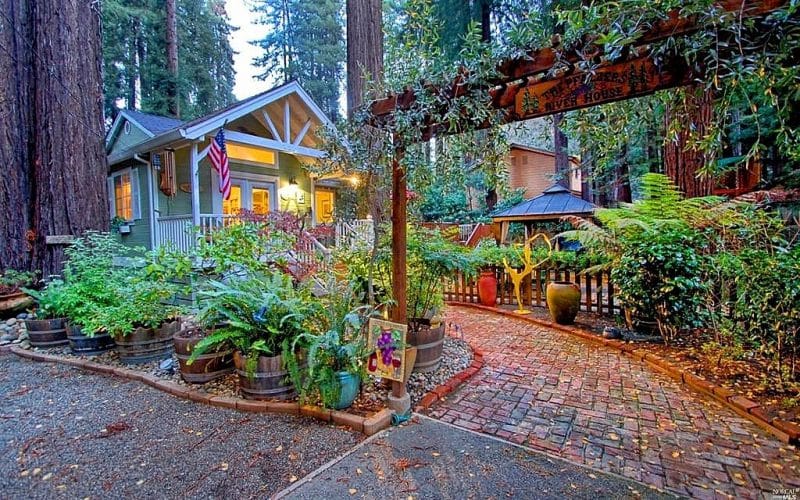 Points of Interest ● red brick curved garden edging ● stained wood entry arbor with trellis and signage ● canary yellow modern metal garden art ● oak wine barrel planters ● 90 degree herringbone brick pathway to front porch
10. Diamond Garden Bed
Points of Interest ● red half brick parterre edging ● matching red brick flooring in basket weave pattern ● diamond shaped garden bed with barberry shrubs ● smooth finished wooden bench ● white thin wood slat fence
11. Mirrored Windows
Points of Interest ● soldier course brick pathway and balcony floor border ● wrought iron balcony railing calling back the speakeasy grilles ● decorative carved stones above mirrored windows ● vertical planked front door with off-white carved wood portico
12. Milk Painted Bench
Points of Interest ● pebble mosaic garden edging ● milk painted green wooden bench ● gray pebbles around hypertufa stepping stones by the bench ● leaf stamped concrete pathway
13. Whimsical Garden
Points of Interest ● flat rock garden edging ● weathered cast stone cherub with bowl planter under arched wood trellis ● tall dog-ear privacy fence ● giraffe topiary by the metal garden obelisk ● irregular flagstone pavers over pea gravel
14. Love Affair with Purple
Points of Interest ● vertical soldier course brick edging ● lavender anonview on raised bed ● ecru white market patio umbrella over seating area
15. Love for Flagstone
Points of Interest ● irregular flagstone lawn edging ● shrub border complementing the lawn ● smaller flagstone stair steps ● weathered green lantern on stair's stone veneer post ● hammered copper chiminea on upper stone patio
16. Square Boulders
Points of Interest ● large square boulder raised bed edging ● curved mulched garden bed and evergreen ring with a natural edge ● front porch with 3 French doors with fanlights and keystone accent ● cast stone basket garden planter on porch
17. Limestone Boulder
Points of Interest ● limestone boulder edging ● decorative weathered copper rooster on flat boulder ● antique brass garden stake lights along pathway ● decomposed granite pathway
18. Shaded Pool Deck
Points of Interest ● curved soldier course brick patio edging ● small pond with flat fieldstone edging ● resin black landscape edging ● timber edging on slightly raised bed ● above ground pool deck with 2 patio umbrellas attached to deck balustrades ● decorative deck railing
19. Garden in the Woods
Points of Interest ● dry stack stone edging ● flagstone natural stone pavers leading to secluded seating area ● shredded hardwood mulch on raised bed
20. Rough Edge Stairs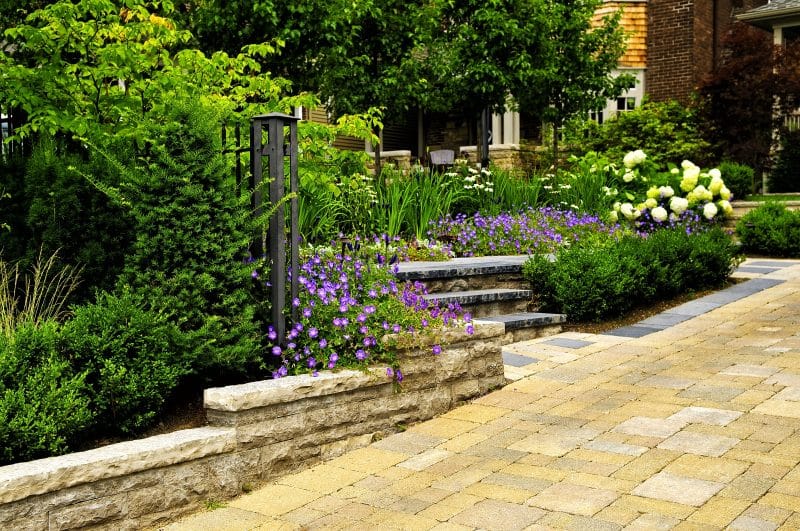 Points of Interest ● two-toned gray slate tile garden edging matching the tile inserts on pathway ● tiered stone veneer raised bed ● rough edge slate tile stair steps ● limelight hydrangeas brightening up the pathway corner
21. Lancet Arch
Points of Interest ● stacked stone DIY bed edging ● lancet arched reclaimed wood planked door on garden shed ● multicolored stacked stone shed facade with octagonal transom window ● curved wood planked walkway to garden shed ● stone birdbath beside small birdhouse
22. Scalloped Edge
Points of Interest ● scalloped concrete tree edging ● red flowering Crown of Thrones around tree ● purple and green evergreen Moses-in-the-Cradle lining edging ● white powder coated iron bench with ornate lattice back
23. Landscape Boulders
Points of Interest ● natural stone sloped garden bed edging ● 2 antique bamboo chairs on mulched seating area ● gazebo style bird feeder ● widely spaced flagstone steps leading up to main house ● 3 car garage with stacked square stone archways
24. Sloped Fence
Points of Interest ● whitewashed stone edging ● sloping wrought iron fence with brick posts ● handpainted ceramic planter with bay leaf branch design ● carved stone planter on fence post
25. Lakeside Garden
Points of Interest ● brick-shaped courtyard stone edging ● black glazed ceramic birdbath surrounded by square stone circular edging ● 2 blue Adirondack chairs ● flagstone steps to seating area laid on buff pea gravel
26. Paver Bricks
Points of Interest ● pre-cast concrete paver edging with interlocking ends ● small hanging wood bird feeder ● white scalloped style low picket fence
27. Spool Table
Points of Interest ● precast Lego-inspired brick block curved garden bed edging ● cyan painted wood planked spool table ● metallic turquoise bench with curved corners ● hand painted antique glazed oriental terracotta planter ● weathered fluted brick pavers in herringbone pattern