Hello and welcome to the Garden Outline photo gallery of front porch ideas. Below you will find a summary of the benefits, main options and some design ideas we handpicked for you along with beautiful photos. Enjoy!

What are the benefits of front porches?
Welcomes your guest with character and beauty
Extends your living space
Neighbor friendly with a space to socialize in front of the house
Adults can relax on the porch while keeping an eye on children playing in the neighborhood
Porches protects from the elements (sun, rain, bugs if screened) while enjoying the outdoors
Can be DIY

What are the main options for front porches?
Types: attached, open type, screened-in, glassed-in, wraparound, balcony porch
Materials for flooring: wood plank, brick, concrete (can be stained)
Materials for railing: wood, iron, aluminum, au naturel
Add-ons: running trim, rafter tails, decorative brackets, lattice panels, porch shades
Decor: weather resistant wicker-type furniture, window boxes, planters, colorful pillows and cushions, wall art

What follows are beautiful photos of front porches along with front porch decorating ideas that we thought may be of interest to you. Whether you are looking ideas for a small front porch for a small house, ideas for a ranch style home or railing, furniture or planter ideas there is a good chance that you will find some inspiration from the following 27 photos. If you want even more front porch design ideas, take a look at all the photos along with points of interest and terms of art in Front Porch Ideas with Flowers. Enjoy and happy outdoor decorating!

1. Paper Lanterns
Points of Interest ● beadboard vaulted ceiling ● baroque pink design and yellow and white striped cushions and pillows ● vintage white washed wooden daybed ● round paper lanterns ● area rug
2. Beachside Respite
Points of Interest ● painted lattice porch siding ● transom windows ● red fabric hammock ● wooden swing bench ● motorized roll-up doors ● string lights ● glazed white tapered planters
3. Stark Contrast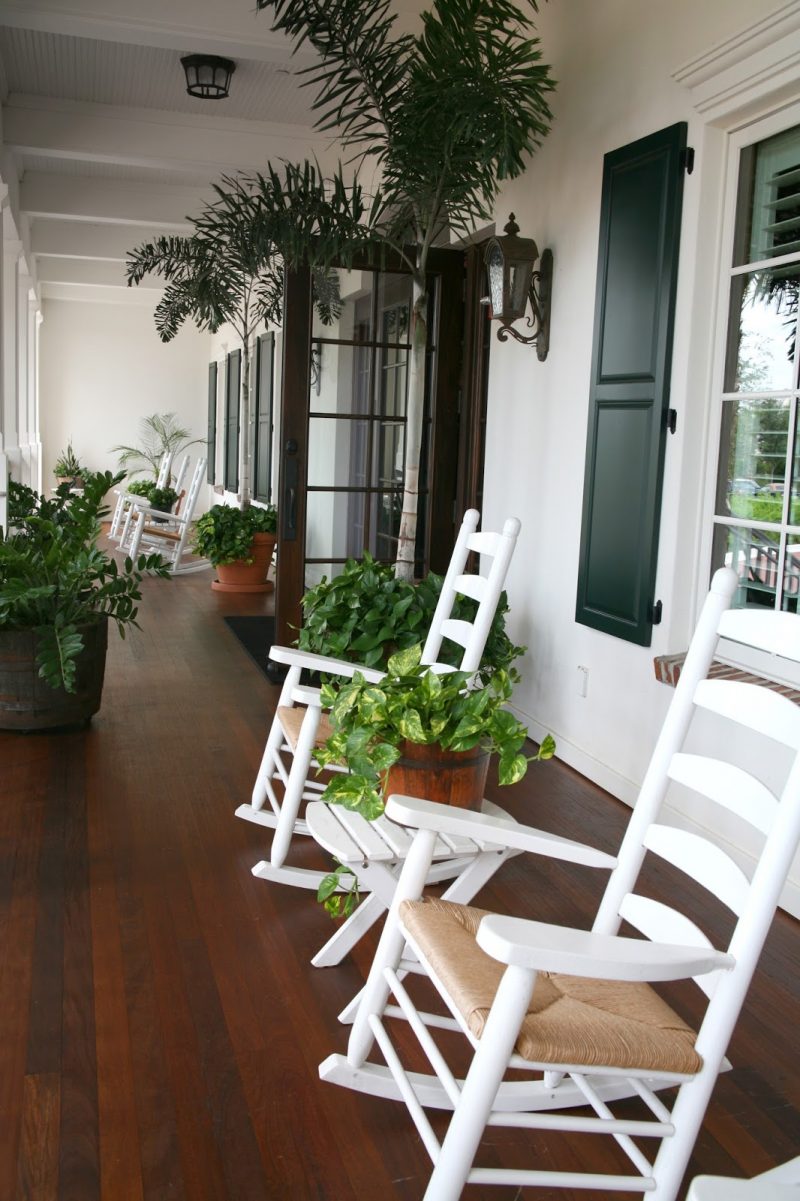 Points of Interest ● dark forest green wooden window shutters ● white rockers with rush seats ● stained hardwood floor ● glass swing out double doors with wooden muntins ● vintage barrel planters
4. Pastels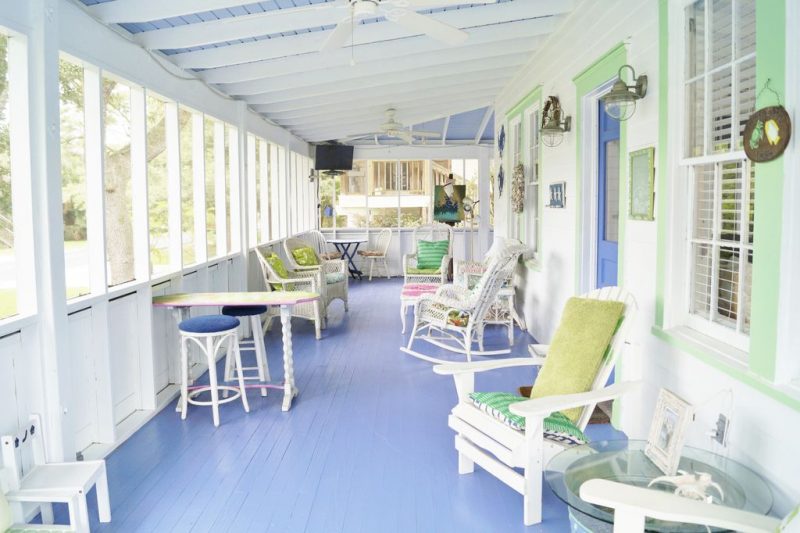 Points of Interest ● screened in porch ● baby blue front door with glass panel ● matching blue wooden board flooring ● mint green window and door frames ● antique painted pink and yellow table with twisted leg design
5. Profuse Lines
Points of Interest ● painted porch railing with handrail, newel posts and ball post caps ● matching white picket ● porch privacy corner partially covered by tall shrubs and trees ● 12-lite front door with side lites ● twin ceramic jars flanking front door
6. Vintage Porch Swing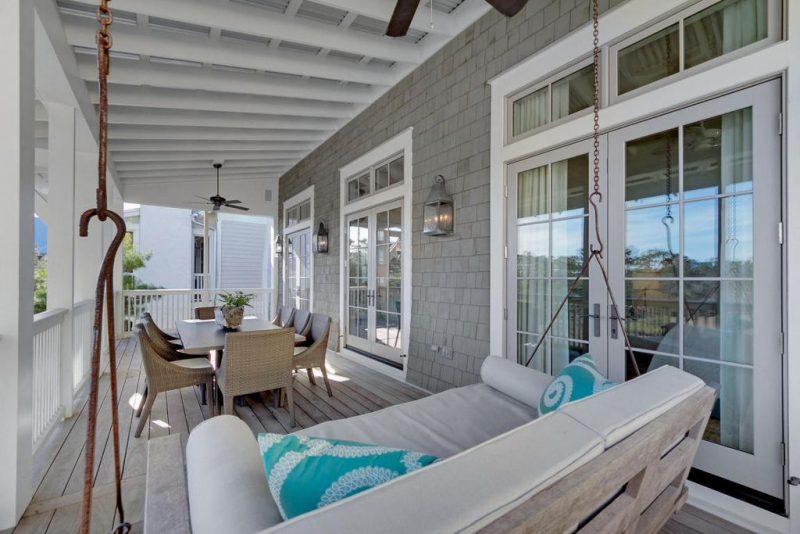 Points of Interest ● natural wood floor blending nicely with shingle siding ● swing daybed bench with neutral hued cushions ● turquoise throw pillows ● two oil rubbed fans
7. Decorative Running Trim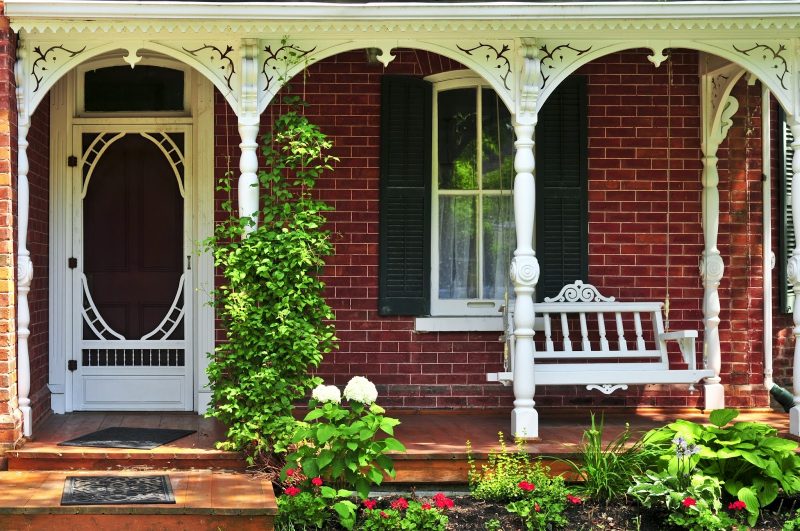 Points of Interest ● arched porch running trim ● corbels on top of porch posts ● parterre ● stained wooden deck and steps ● painted porch swing with details calling back porch trim
8. Warm Lights
Points of Interest ● arched columns with trellis accents ● sun design porch brackets ● bank of single hung windows ● green fixed shutters ● hanging wrought iron flower baskets ● porch lamps
9. Spandrels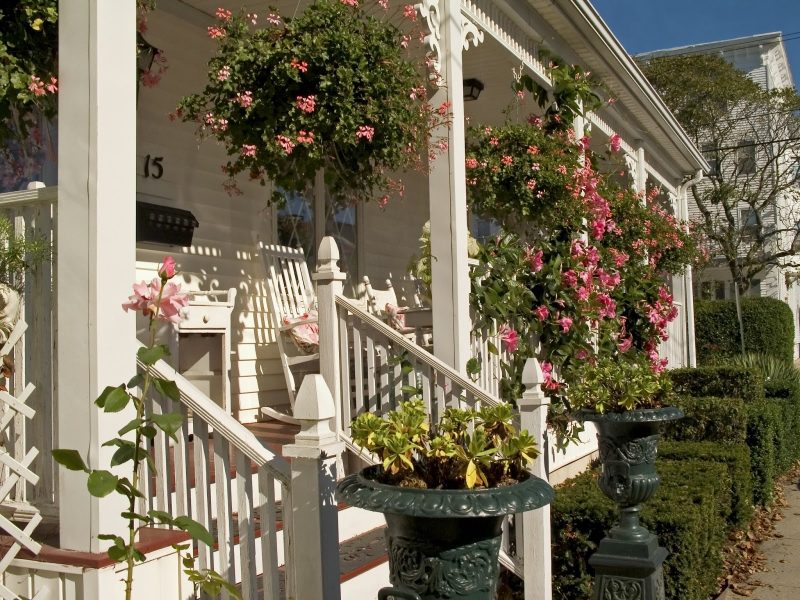 Points of Interest ● porch spandrels ● swirl brackets ● pair of dark green urn planter ● wooden balustrade with gothic newel caps ● terra cotta painted porch floor two-tones ● stairs ● trimmed hedges ● vintage mailbox
10. Rafter Tails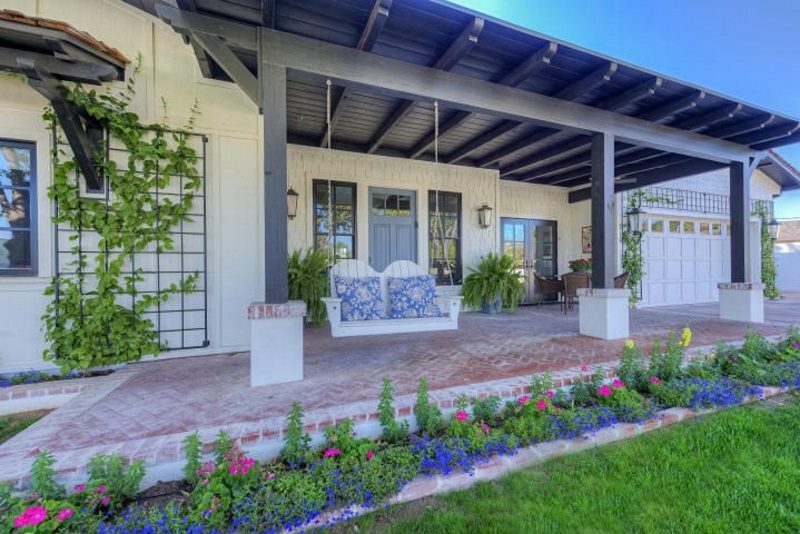 Points of Interest ● attached covered pergola roof ● timber columns with stucco base ● aluminum attached wall and garage door trellis ● parterre with brick edging ● brick porch pavers with herringbone pattern
11. Two-Tone Columns
Points of Interest ● two-tone porch columns ● lattice and stone veneer porch skirt ● white porch balustrade with red accents on spindles ● red, round newel post caps ● red window fabric awning calling back red blooms and red porch accents
12. Fluted Columns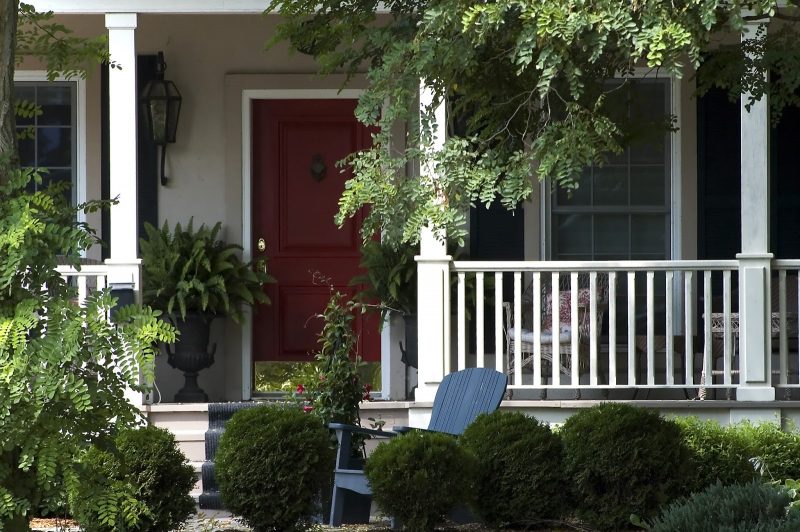 Points of Interest ● white porch balustrade ● raised panel on column bases ● red front door with chrome kickplate ● pair of antique cast iron urn planters with ferns ● stair runner calling back the planters
13. Antique Terracotta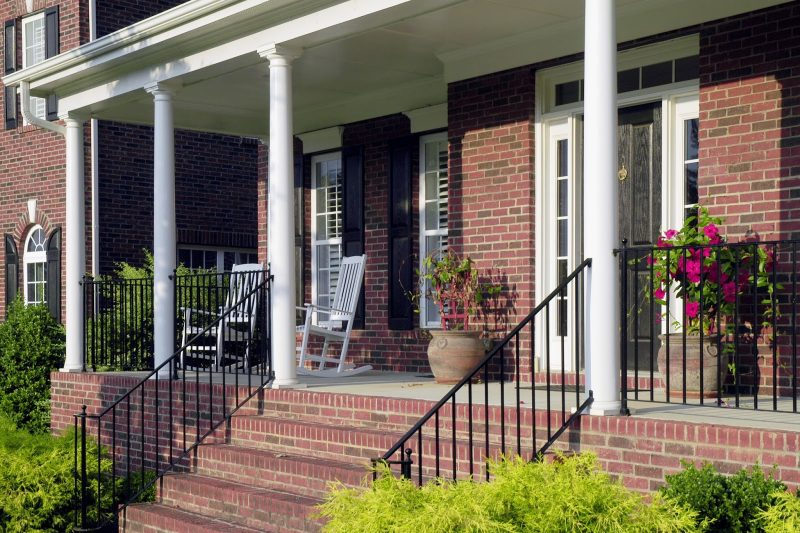 Points of Interest ● brick siding and porch skirt with running bond pattern ● wrought iron railing and stair balustrade calling back shutters and front door ● round pillars with roman-inspired capitals ● twin antique terracotta planters
14. Overlooking the Beach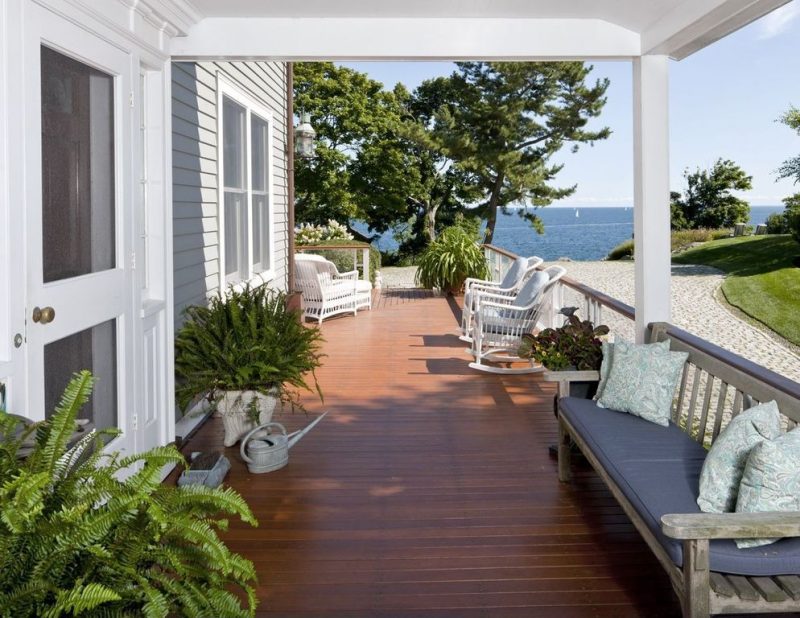 Points of Interest ● wooden board flooring calling back top of railing ● weathered wooden bench ● railing panels with glass inserts ● side entry to the porch ● antique galvanized zinc watering can
15. Balcony Porch
Points of Interest ● U-shaped porch with upper balcony ● stucco column with recessed panels and crown base ● sage green horizontal lap siding ● raised stucco square planter risers ● forest green base matching the steps
16. Cane Mini Bench
Points of Interest ● polished, stamped concrete porch flooring ● tiled stairs ● wooden double swing doors with antique bronze door handle ● wooden french doors ● cast iron lamp brackets
17. Weathered Wood Floor
Points of Interest ● fluted stucco columns with greek-inspired capitals ● stained wooden porch swing ● wicker garden furniture spray painted in burgundy ● area rug in earth tone calling back the swing bench ● fern hanging baskets
18. Picture Window
Points of Interest ● painted porch flooring ● column base with recessed panels ● full lite storm door with white frame ● hanging birdhouse decor ● olive green wooden shutters calling back porch swing
19. Caramel Toned Seating
Points of Interest ● concrete paver flooring ● slightly arched columns ● caramel-stained porch swing bench matching the chairs ● adjustable reclining adirondack chairs with footrests ● cast iron green mailbox ● planter wall artwork
20. Fourth of July
Points of Interest ● square columns with double molding on capitals ● brick steps ● trimmed hedges ● repurposed yellow wooden box planter ● red rocking chairs calling back front door with beveled glass top lite ● green vintage birdhouse decor
21. Lattice Porch Edge
Points of Interest ● wicker design porch swing ● brick with white grout flooring ● two-toned beadboard ceiling ● lattice end columns ● black cast iron urn planters ● trimmed hedges doubling as porch rail
22. Gabled Roof
Points of Interest ● stone veneer steps and column base ● single hung windows ● white window frames ● board and batten gable facade ● two-shade concrete steps with half hexagon top stair ● decorative scroll walldecor
23. Urn Designed Spindles
Points of Interest ● wraparound porch ● light gray painted porch flooring calling back the balustrade top ● olive green fixed shutters ● weathered brick pavers and garden edging
24. Column Moldings
Points of Interest ● porch posts with molding ● twin blue adirondack chairs ● painted wooden simple DIY steps ● brick garden edged parterres ● shrubs and plants working as au naturel fence
25. Window Boxes
Points of Interest ● balcony porch ● gray handrail and newel caps on stair railing with white spindles ●resin and wooden window boxes in a terra cotta finish ● wooden plank porch flooring ● outdoor wall lantern ● plants and hanging flower baskets on porch
26. Very Green
Points of Interest ● green porch rail ● fluted columns ● decorative bracket ● vintage cast iron chairs and cafe table ● wheelchair-friendly ramp ● stained wood plank flooring ● painted water spout
27. Twin Rockers
Points of Interest ● stacked stone column base matching siding base ● stone porch flooring with paver edging ● pair of hardwood wood rockers ● beige horizontal lap siding matching porch column ● privacy and shade friendly maple tree