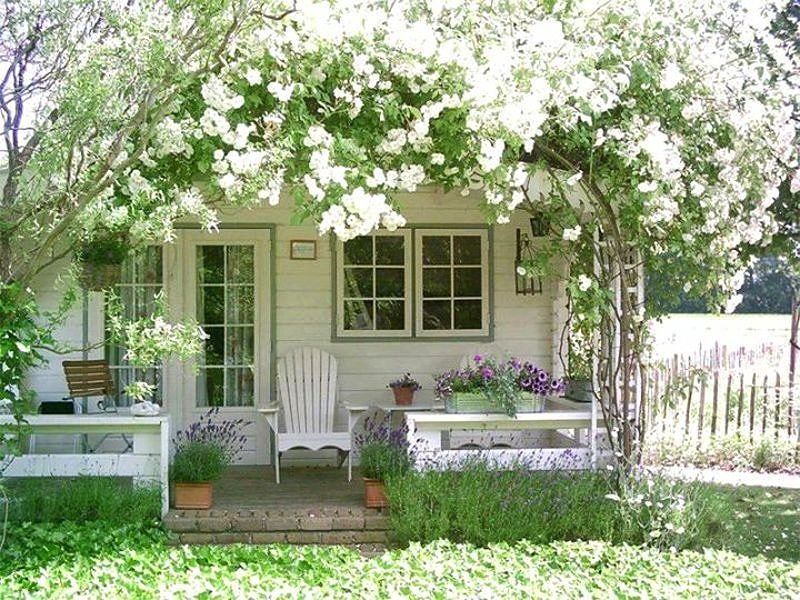 Hello and welcome to the Garden Outline photo gallery of flowering porch ideas. Below you will find a summary of the benefits, main options, and some design ideas we handpicked for you along with beautiful photos. Enjoy!

What are the benefits of porches with flowers?
Welcoming – a flowering porch adds beauty to your home exterior and boosts your home's curb appeal
Aromatherapy on your doorstep – porch steps lined up with colorful and fragrant blooms can be a peaceful place to relax
Versatile – you can can choose from a wide variety of flowers and plants depending on your mood and the seasons

What are the main options for flowering porches?
Flower Varieties: roses, lavender, sunflowers, bougainvillea, geraniums, hibiscus, hydrangeas, petunias, sundiascia peach, million bells, azaleas
Bloom Colors: white, red (dark, red orange), pink (peach), blue (light blue), yellow, purple (lavender)
Flower Containers/Stand: ceramic vase, hanging/wall mounted baskets, pots, planters (terracotta, glazed ceramic, moss and coconut, stone, urn, concrete, wooden box), ladder plant stand, wrought iron planter holder, rolling planter caddies

What follows are beautiful photos of front porches with flowers along with design ideas we thought may be of interest to you. For more front porch design ideas, take a look at all the photos and points of interest in Front Porch Ideas. Enjoy and happy outdoor decorating!

1. Spring Flowers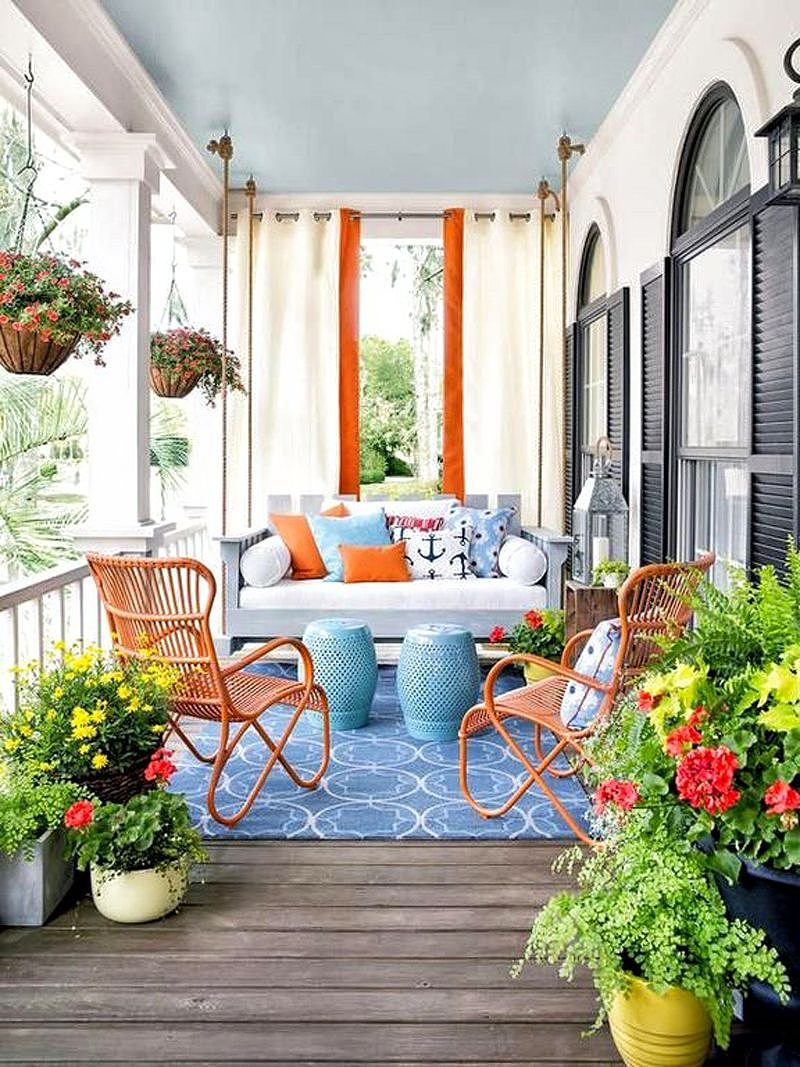 Points of Interest ● 2 hanging baskets with million bells ● light gray hanging porch swing bed ● orange hand woven Rizza chair ● 2 powder blue ceramic lattice garden stools doubling as coffee tables ● black window shutters
2. Mixed Planters
Points of Interest ● mixed planters lining the concrete stairs ● light blue hydrangeas framing entrance to porch ● yellow wreath on wooden front ● 2 bowl pedestal planters ● brick porch pillar base
3. Scalloped Siding Gable
Points of Interest ● red petunias on porch entrance columns ● hanging baskets alternating between white and pink petunias ● scalloped siding gable ● varnished wooden top rails with white porch spindles ● scallop garden edging
4. Archways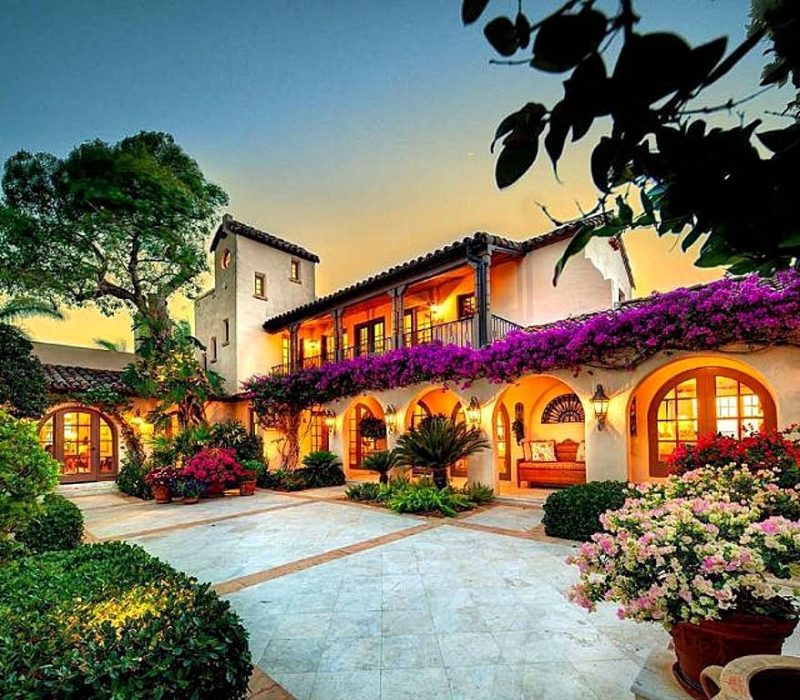 Points of Interest ● vibrant purple bougainvillea above porch arch ways ● arched wooden framed double doors ● "Pink and White Surprise" bougainvillea in large terracotta planters ● large decorative fan above wooden settee
5. Pass-Through Window
Points of Interest ● mixed flowers in glazed ceramic planters ● segmental arched pass-through window ● bare wooden settee with blue green cushion ● taupe columns and porch ceiling ● weathered terracotta tiled porch flooring
6. Ladder Plant Stands
Points of Interest ● red geraniums in resin terracotta planters ● 2 vintage red ladder plant stands ● antique wooden rocking chair ● brick stairs to porch with twisted wrought iron railing ● glass storm door ● light hardwood porch flooring
7. Lounge Chairs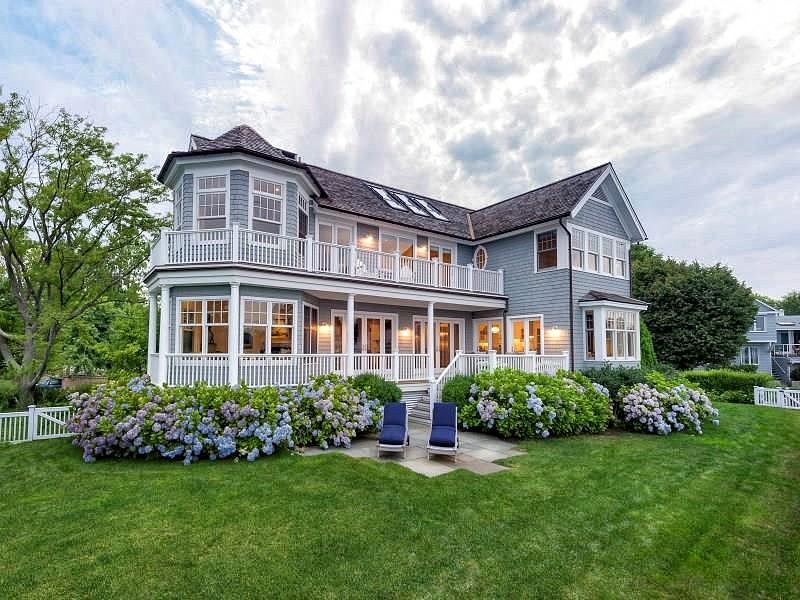 Points of Interest ● blue and pink hydrangeas shrubs framing the porch ● white porch fence matching fence and gate ● white framed glass double doors with sidelights ● soapstone tiled small deck area with 2 blue cushioned lounge chairs
8. Stone Risers
Points of Interest ● sundiascia peach flowers in 2 terracotta planters ● dark wooden front door with sidelights ● light pink hibiscus tree in large cast stone planters ● stone risers on concrete stairs ● 2 oil-rubbed bronze wall sconces
9. Flagstone Pathway
Points of Interest ● black-eyed Susan lining the flagstone stepping stone garden path ● wicker brown chair in diamond pattern ● mustard yellow ceramic planters with dwarf sunflowers and lavender
10. Wall-Mounted Trellis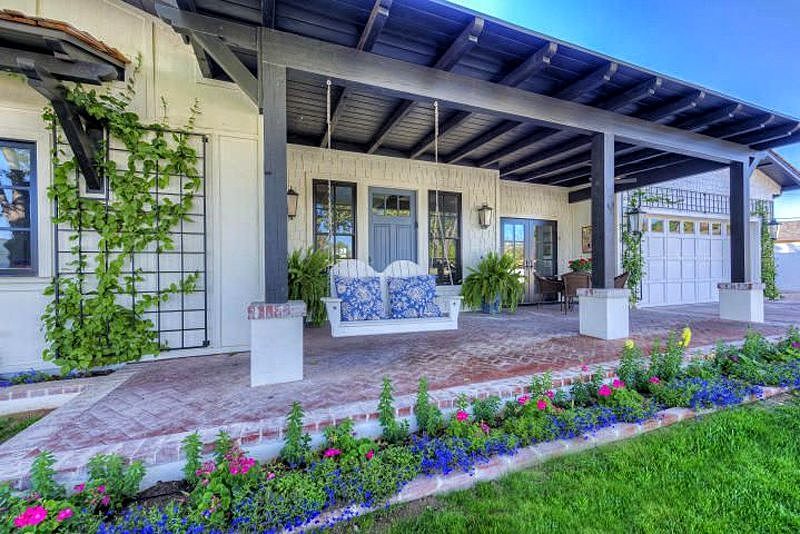 Points of Interest ● perennial flower bed with brick edging ● couple porch swing with light blue hues ● wall-mounted trellis with climbing vine ● white shiplap porch walls ● herringbone brick porch flooring
11. Brick Porch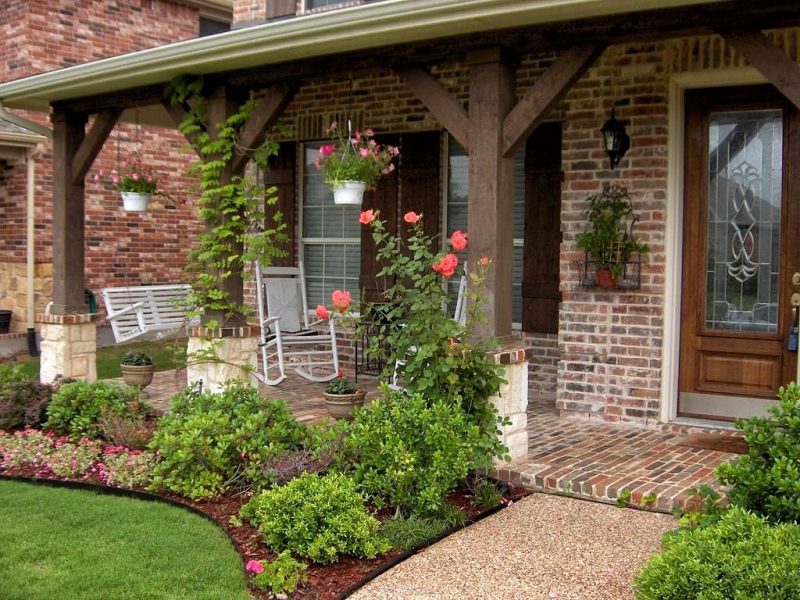 Points of Interest ● peach roses by the porch column ● dark brown board and batten shutters on windows ● wrought iron planter holder on exposed brick wall ● 2 white wooden rocking chairs ● pebblestone pathway to porch
12. Adirondack Chairs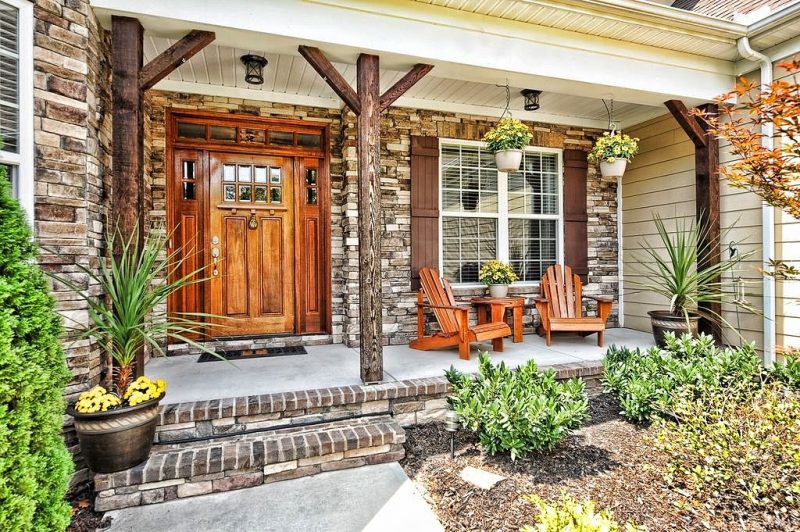 Points of Interest ● yellow bidens in 2 cream hanging planters ● 2 varnished adirondack chairs ● rustic dark stained porch columns ● stone veneer walls ● soldier course brick porch border ● 2 ceiling mounted lantern style lights
13. Lake View
Points of Interest ● 2 terracotta planters potted with red chrysanthemums ● gray wicker chairs with matching footstools ● light wood paneled ceiling in semi-gloss finish ● sunflowers on glass topped wicker dining table ● slate tiled flooring
14. Box Window Planter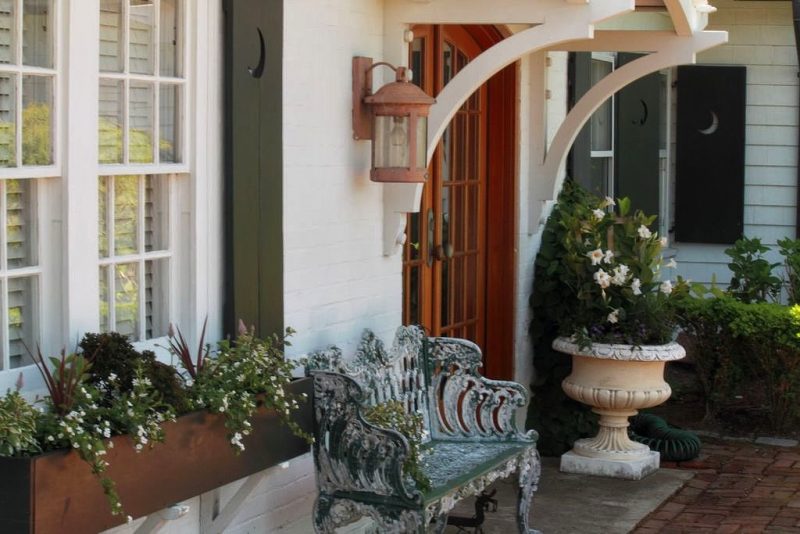 Points of Interest ● cast stone pedestal planter with white azaleas ● rectangular window box planter ● antique iron settee with verdigris ● arched country French front door ● dark gray window shutters with crescent moon cutouts
15. Under Deck Lattice
Points of Interest ● 2 hanging basket planters with pansies ● white trellises with vines below pergola ● blue ceramic planters on porch stairs ● 2 moss and coconut fiber planters ● garden solar lantern on iron display stand
16. Sculptures
Points of Interest ● bougainvillea in blue pot ● 2-tiered glass topped cart with Buddha statuette ● admiral blue door ● cement garden face sculpture on wall
17. Duck Statuette
Points of Interest ● two-level front porch ● boxwood parterre with brick edging in front of covered porch area ● Emerald Green arborvitae on corner of flower parterre ● stone duck statuette
18. Arched Clapboard Siding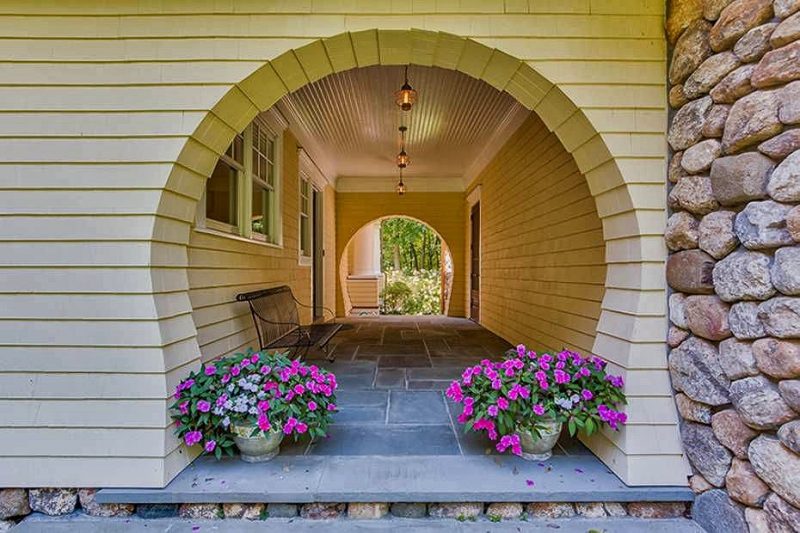 Points of Interest ● mauve and bright pink petunias in twin stone planters ● light yellow clapboard siding with circular archways ● black powder coated wrought iron bench with mesh backrest ● stacked natural stone wall and stair risers
19. Faux Bricks
Points of Interest ● yellow chrysanthemum on red planter stand ● clematis on porch pillar ● faux brick bottom accent wall in a soldier course pattern ● white rocking chairs in multiple styles
20. Mountain View
Points of Interest ● potted azaleas in cast stone planters matching porch columns ● wooden settee with curved backrest ● large archways with panoramic mountain view ● stamped concrete floor with slate tile inlay
21. Large Columns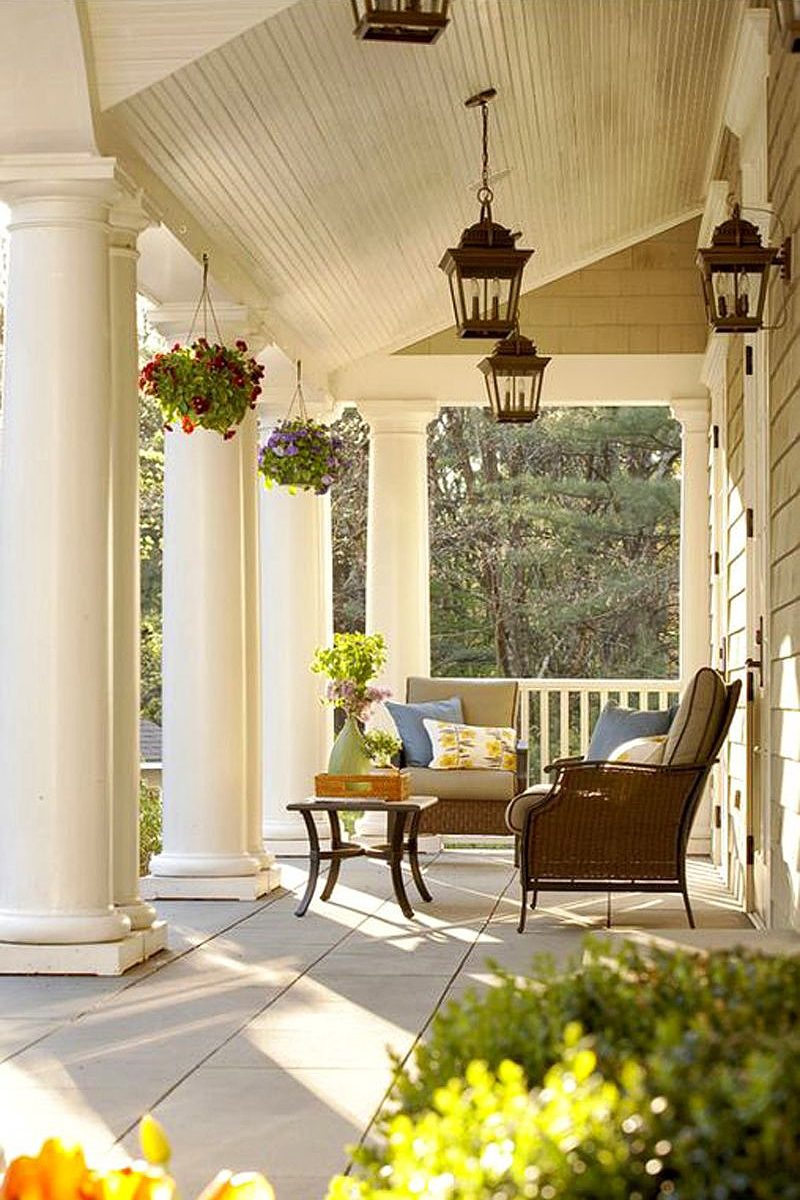 Points of Interest ● burgundy and mauve petunia hanging baskets ● 2 oil-rubbed bronze wrought iron and wicker chairs ● pale olive green ceramic vase in wicker tray ● large white columns supporting the sloped beadboard porch ceiling
22. From Mauve to Indigo
Points of Interest ● colorful aster flower bed ● 2 indigo adirondack chaise lounges ● mauve clapboard siding with off-white chair rail ● stained concrete porch flooring
23. Sparkling Twig Wreath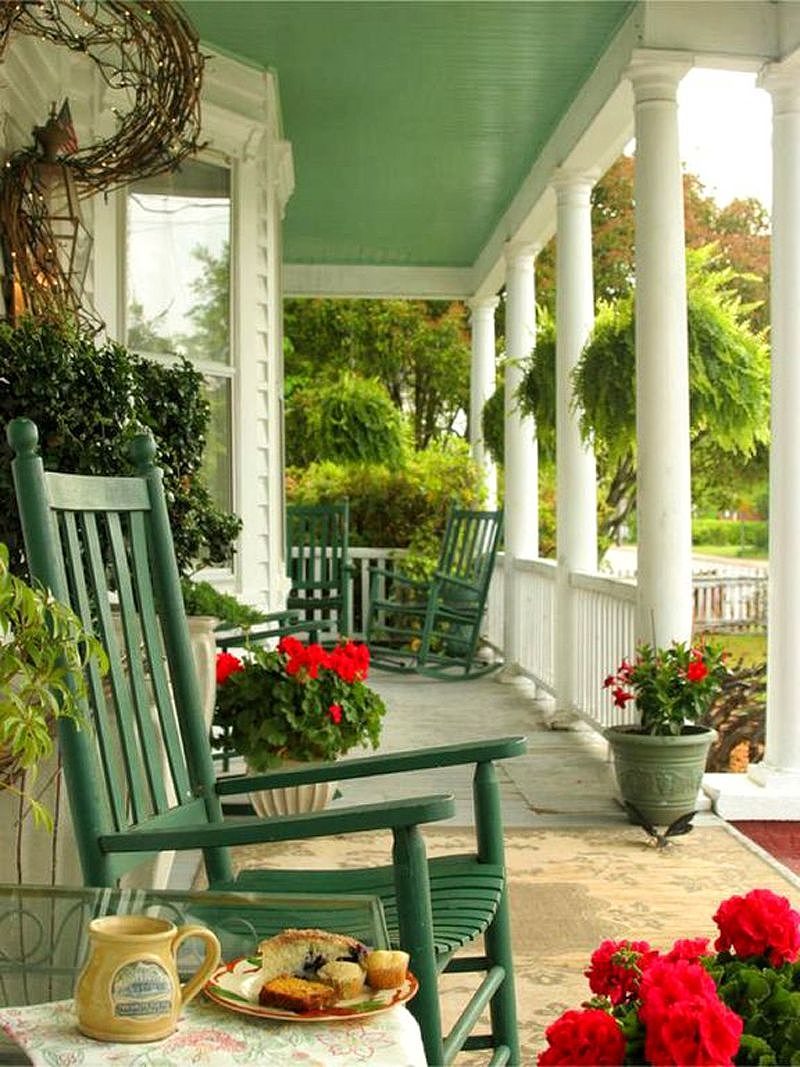 Points of Interest ● dwarf red hibiscus in sage green planter ● fluted concrete planter with red geraniums ● 2 basil green wood slat rocking chairs ● light sage green porch floor calling back the brighter mint green porch ceiling
24. Glossy Terracotta Floor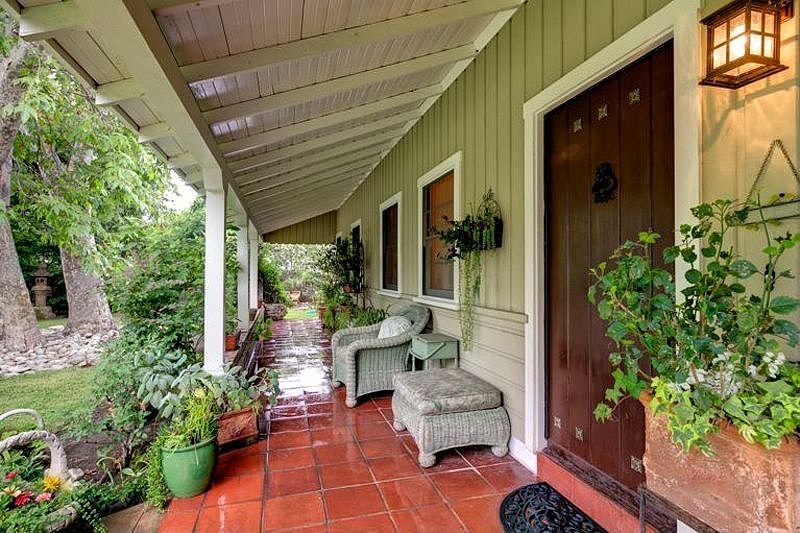 Points of Interest ● creeping wire vine on wall-mounted iron baskets ● zinnias in cast stone basket planter ● olive green vertical tongue and groove siding ● weathered terracotta box planter ● terracotta tiled porch floor in high gloss finish
25. Rolling Planter Caddies
Points of Interest ● fuschias in white planters with rolling planter caddies ● white reeded pillars with rough concrete base ● white wrought iron sofa ● two-tone high gloss finished hardwood floor
26. Au Naturel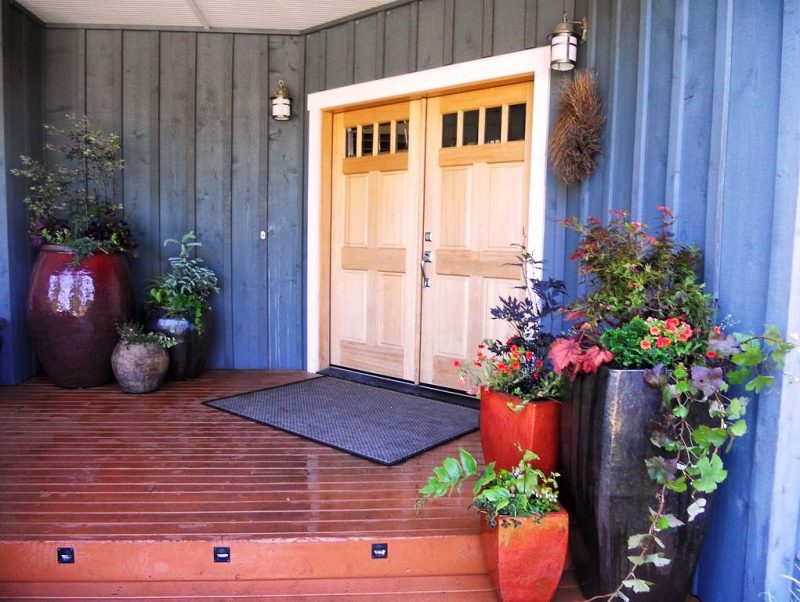 Points of Interest ● blue milk painted board and batten walls ● tall hammered steel planter with coral bells (Heuchera americana) ● twin glazed square ceramic planters ● clear wooden front doors
27. Red Fountain Grass
Points of Interest ● red fountain grass in corner mulched area matching potted one in cooper planter on porch ● gray potted white petunias on antique planter stand ● thin floral wreath on gray wall ● white pillar with stacked stone base