Hello and welcome to the Garden Outline photo gallery of flower garden gate ideas. Below you will find a summary of the benefits, main options and some design ideas we handpicked for you along with beautiful photos. Enjoy!

What are the benefits of flower garden gates?
Acts as a window into your garden
Sets the tone for your home exterior and can establish a theme for your garden
Adds beauty and your individual style to your outdoor space
Also protects your plants, flowers and vegetables from foot traffic, uninvited animals

What are the main options for flower garden gates?
Types: picket, privacy, lattice, natural (made out of branches, twigs), moon, antique
Material: wrought iron, wood, vinyl
Works well with: arbor, stucco columns, au naturel fence, arches, peek-a-boo accents (iron grills, decorative panels, glass cutouts)

What follows are beautiful photos of flower garden gate ideas along with design options we thought may be of interest to you. Enjoy and happy outdoor decorating!

1. Rose Arbor
Points of Interest ● painted wooden arbor with decorative brackets ● arched white picket gate ● white regular point picket fence ● rosebush crawlers ● brick siding ● circular brick pavers path pattern ● screen door with decorative trim
2. Adobe Fence
Points of Interest ● arched hardwood gate with iron brackets and lock ● azure blue painted front door ● matching azure blue window frame ● adobe style home and fence ● viga beams ● mulched parterres
3. Concave Picket Gate
Points of Interest ● concave picket garden gate ● white vinyl arbor teeming with english holly ● lavender-lined path ● rustic rope top garden edging ● gravel path ● twin topiary shrubs
4. Lattice Top Detail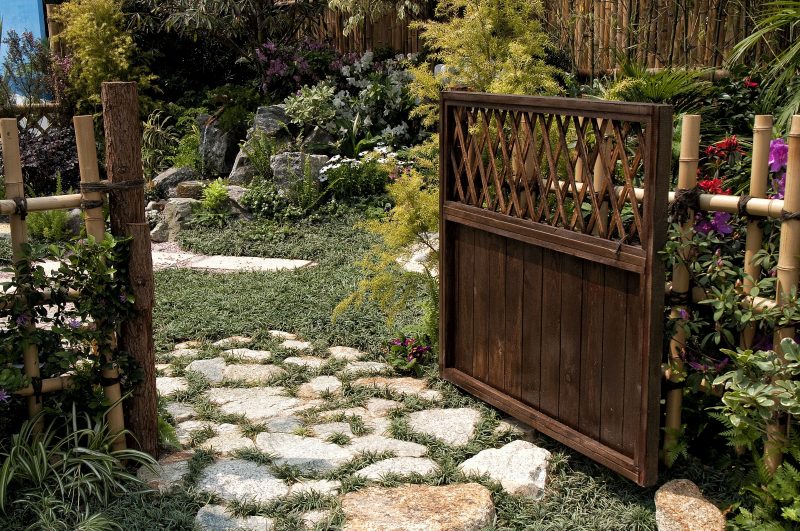 Points of Interest ● wooden garden gate with lattice top detail ● DIY bamboo fence ● DIY upcycled log gate column ● natural stone stepping stones ● oriental inspired stone and bamboo fountain ● bamboo privacy fence
5. Weathered Arbor
Points of Interest ● DIY wooden gate with rope handle ● weathered wooden gabled arbor ● stacked stone raised bed ● white cosmo blooms ● natural stone garden path lined with stoned raised beds
6. Japanese Inspirations
Points of Interest ● Japanese-inspired wooden gate with square cutout detail and pergola top ● wood arbor with fairy lights ● large weathered glazed planters ● stone tile path ● square cutout lattice fence calling back the gate details
7. Secret Garden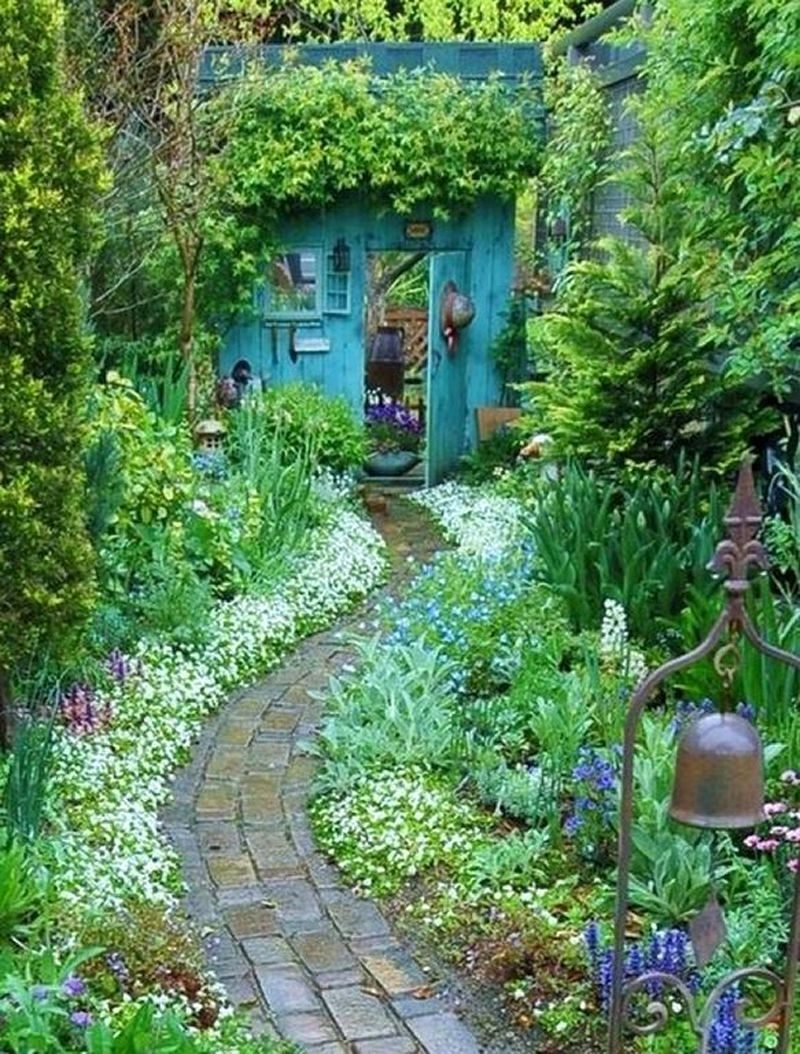 Points of Interest ● turquoise wooden facade and door ● antique ornamental iron bell ● little window with shutters ● flower-lined cobblestone path ● small pagoda and duck statues ● tall wooden fence
8. Vine Arbor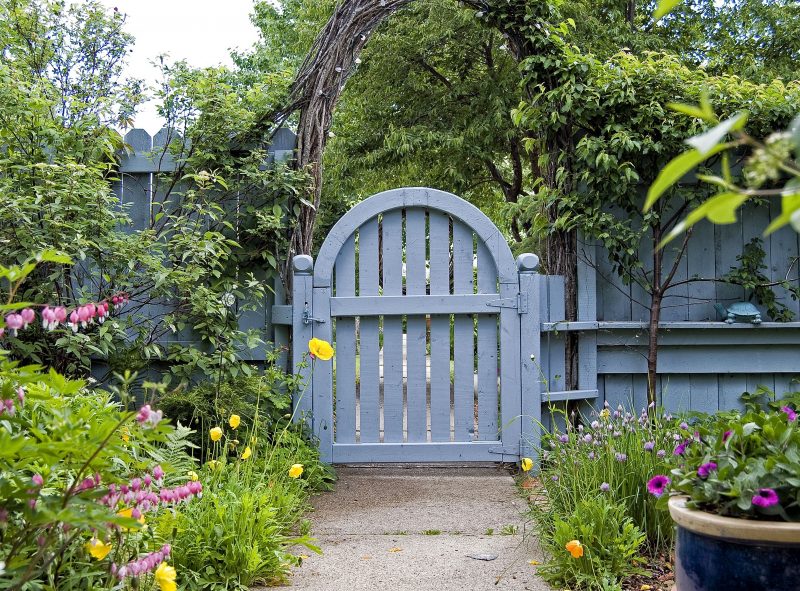 Points of Interest ● matte sky blue arched garden gate ● matching sky blue dog ear privacy fence ● natural vine arbor ● antique patinated turtle statue ● pebble aggregate path ● blue ceramic glazed planter ● string lights on natural arbor
9. Japanese Pagoda
Points of Interest ● torii-inspired wooden swing gate ● cast iron japanese pagoda ● pair of red banana plants ● matching glazed black planters ● green directional outdoor in-ground light ● outdoor high back rocking chair
10. White Vinyl Fence
Points of Interest ● white vinyl picket gate with granite posts ● white vinyl picket garden fence with regular points loose pebble path ● painted flag pole ● stone slab bench ● pink and yellow daylilies
11. Slate Grey Pergola
Points of Interest ● grey vinyl arched garden gate with hanging planter ● slate-grey pergola top arbor ● outdoor wall lamp ● grey handcrafted planters ● horizontal lap siding ● brick garden path
12. Formal Garden
Points of Interest ● cast iron double swing gate ● cast iron leaf and scroll archway ● tall au naturel fence ● brick steps and grass path ● terra cotta planters lining the path ● chain links and poles
13. Yellow Adobe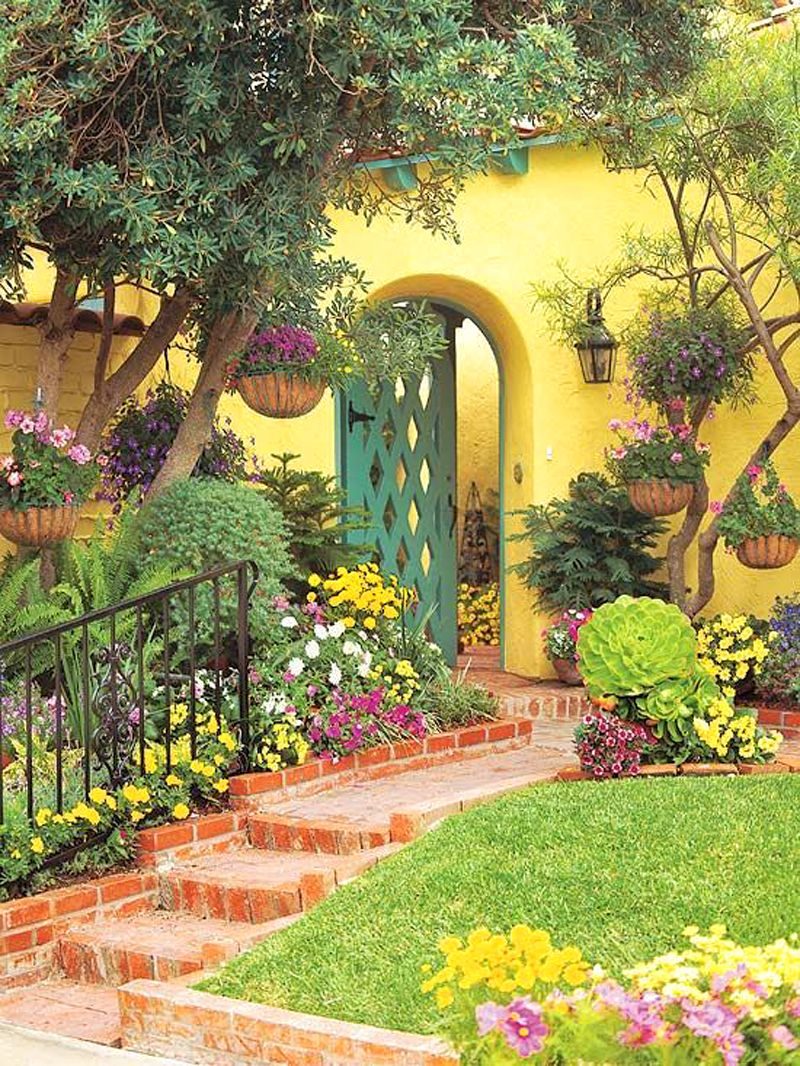 Points of Interest ● teal arched gate with diamond-shaped lites ● yellow adobe siding and painted low brick fence ● brick steps ● brick garden edging ● terracotta roof tiles
14. Net Fence
Points of Interest ● natural wood garden fence panels and gate ● garden fence netting ● raised wooden garden beds ● newel caps on posts ● irregular shaped stepping stone ● pea gravel garden flooring
15. Mortared Arch
Points of Interest ● cast iron arched gate with circle and flower details ● mortared stone fence and archway ● boulder accent ● stone pagoda decor
16. Moon Gate
Points of Interest ● brick moon gate ● brick garden edging calling back the gate ● swing gate with glass top and lower lites ● charcoal granite gravel path ● outdoor lamp with green post
17. Custom Gate Cutouts
Points of Interest ● blue wooden gate with square cutouts ● granite fence ● ground fire pit with cone shaped spark screen ● natural stone balancing structure ● white vase with black vines on gate
18. Branch Openings
Points of Interest ● artistic DIY garden gate made from branches ● dark and light pink rose bushes ● random patterned elevated stone path ● wire mesh fence ● pergola made from branches
19. Moon Details
Points of Interest ● wooden moon gate with pergola accent ● twin brass urn planters ● low dry stack fence ● stone garden edging ● mulched parterres ● stacked stone ● outdoor fireplace matching the stone fence
20. Fence on Fence
Points of Interest ● black solid board vinyl gate ● contrasting white arched arbor/gate frame ● au naturel hedge fence with painted iron fence providing extra security ● low vinyl fence with lattice designed panels
21. Iron Grills
Points of Interest ● custom wooden arched swing gate with iron grill inserts ● stone veneer gate frame ● stucco columns with stone veneer base ● pergola with stucco columns ● two-tone yellow fence ● concrete paver entryway path
22. High Gloss Red
Points of Interest ● high gloss enamel paint on wooden arched gate with hand-shaped door knocker ● mortared stone fence ● stone slab path under the gate ● pink bougainvillea
23. Concave Picket
Points of Interest ● white wooden concave picket gate with regular points ● stone and pea gravel path ● wooden lattice fence
24. Spear Accents
Points of Interest ● arched iron fence with spear points ● low concrete and wrought iron fence ● dash stucco siding ● flower covered gate arch ● black glazed planter
25. Hardwood Gate
Points of Interest ● custom hardwood gate with iron door knocker ● adobe style fence ● decorative ceramic tile accents with blue borders home plate ● outdoor wall lantern with X detail ● morning glory in twin glazed ceramic planters
26. Brick Path
Points of Interest ● painted wooden picket gate with regular points ● low brick and wooden lattice fence ● irregular patterned stone path ● red cosmos flowers
27. Chinese Crawlers
Points of Interest ● painted iron gate with open grill top ● chinese trumpet creeper crawling vines ● pink concrete fence with wooden split rail ● brick path to front door calling back gate columns ● eye level hedges adding to privacy