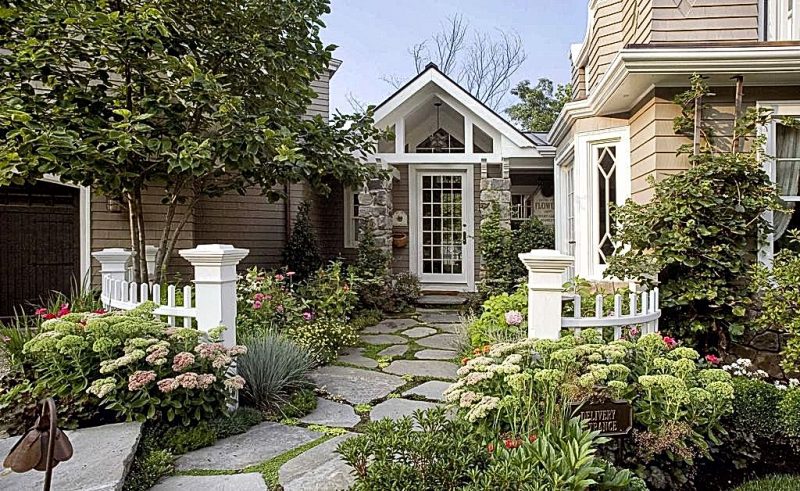 Hello and welcome to the Garden Outline photo gallery of fence designs and ideas. Below you will find a summary of the benefits, main options and some design ideas we handpicked for you along with beautiful photos. Enjoy!

What are the benefits of fences?
Enhances the look the home and makes it more appealing
Can be used for security and to add privacy to the home
Used to define areas, like a fenced in pool area or a garden

What are the main options for fences?
Material: wood, wrought iron, stone, concrete, metal, aluminum, vinyl, bamboo, brick, combination of material, au naturel (with trees and shrubs)
Design: picket, rail, lattice, solid board, shadowbox, lock board, dog-eared
Types: privacy, semi-privacy, garden, security fence

What follows are beautiful photos of fence designs along with ideas we thought may be of interest to you. Enjoy and happy home decorating!
1. Southern Cross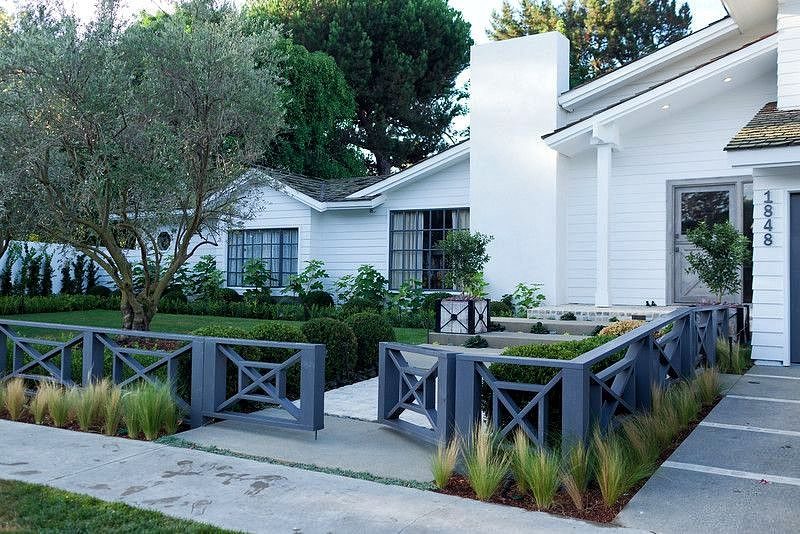 Points of Interest ● southern cross fence panels ● grass mulched parterre ● topiaries flanking pathway ● iron planter matching fence design ● square tiles and concrete top step
2. Towering Wall
Points of Interest ● stacked concrete brick wall ● DIY painted aluminum trellises ● tanning ledge ● perimeter overflow pool ● bamboo tree adding to privacy
3. Step Down Patio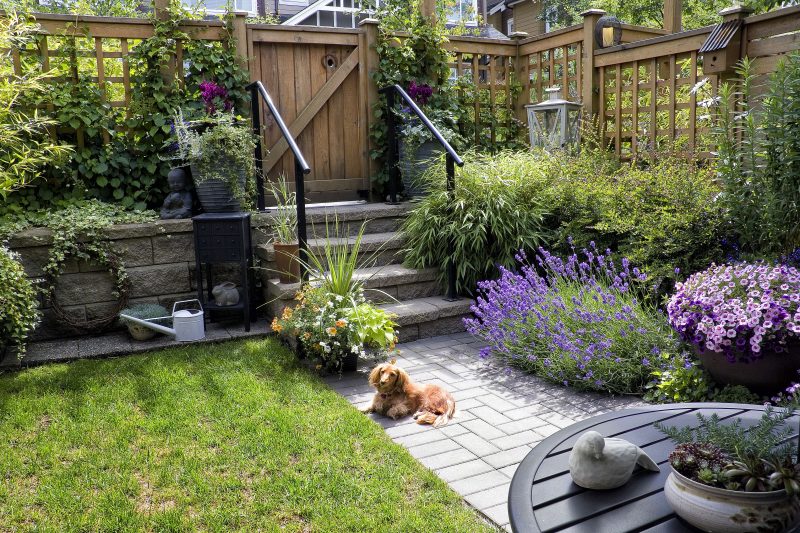 Points of Interest ● plant friendly wooden lattice fence ● finial caps ● 4-steps down to patio ● ridged planters flanking gate ● garden statues ● bird house
4. Diamond Accents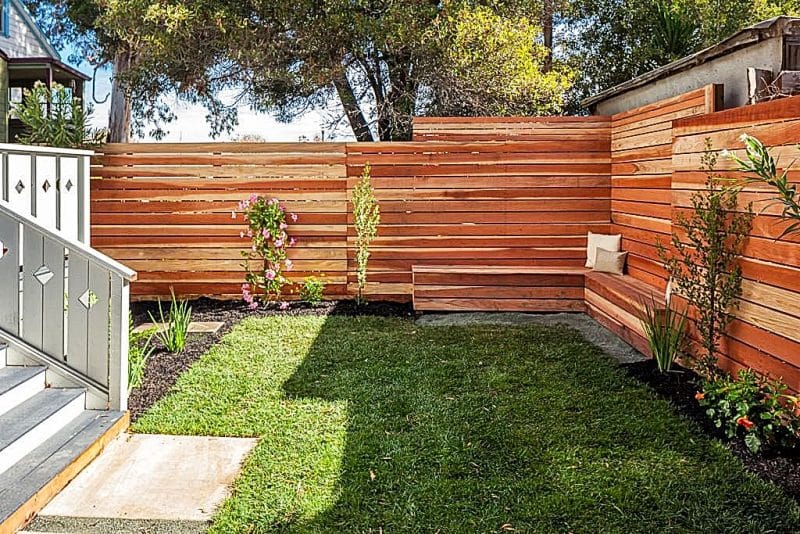 Points of Interest ● 3D-effect wooden staggered privacy fence ● built-in bench ● diamond accent on white wood railing ● two-tones painted wooden steps ● mulched parterres
5. Arbor Topping
Points of Interest ● white lattice panels on fence ● arbor ● splayed flowers wall trellis ● arched gate with iron leaf insert square stepping stones ● hedges and plants in graduated heights
6. Brick Cutouts
Points of Interest ● brick fence with arch detail ● dark accent bricks ● brick fence cutouts ● custom wooden arched gate with round peephole ● random-shaped stepping stones ● iron accents on gate
7. Intricate Cast Iron
Points of Interest ● antique cast iron fence with sculpted post ● moss covered brick base supporting fence ● rectangular boxwood hedge lining pathway to front door ● fluted column
8. Au Naturel
Points of Interest ● natural fence ● gravel ground cover by the fence ● stone veneer fire pit ● classic rectangular pool ● octagon shaped hot tub
9. Two Fences
Points of Interest ● cedar privacy fence with latticework ● stockade side fence with stain calling back mulch ● sunlight top trellis ● patio garden umbrella
10. Six Squares
Points of Interest ● aged wood fence ● pea gravel garden ground cover ● square beds ● topiaries ● box hedges ● hydrangea beds ● boxwood ● outdoor Bertoia style dining chair
11. Split Rail
Points of Interest ● split rail fence ● DIY salvaged timber material used for fence ● natural cedar shingle siding ● circular garden bed for each rail panel ● gabled dormer windows
12. Vinyl Pickets
Points of Interest ● white vinyl picket fence ● white newel posts ● grecian urn style porch balusters ● dentil molding and corbels on porch overhang ● white window boxes
13. Green Crown
Points of Interest ● low stacked brick fence ● low wooden white picket gate ● plant covered walls ● full arbor ● built-in planters on either side of gate ● flowers in repurposed barrel planters
14. Bamboo Panels
Points of Interest ● painted concrete fence base ● wood framed bamboo fence privacy panels ● raised bed following shape of wall ● pink flamingo statue ● combined with dog ear wooden board fence
15. Green Newel Caps
Points of Interest ● slim picket fence ● green newel post caps ● balcony over porch ● rooftop balcony ● shingle siding ● dentil molding on balcony roof ● green front door calling back caps
16. Stamped Concrete Tiles
Points of Interest ● two-toned estate plank wooden fence ● darker stained fence posts ● garden shed ● circular stainless steel top gas fire pit table ● covered deck ● stamped concrete tiles
17. Pebble Aggregate
Points of Interest ● pebble aggregate concrete low fence doubling as retaining wall ● blue wooden lattice porch skirt ● barrel planter ● fanlight design on roof ● two-tone wooden steps
18. Keyhole
Points of Interest ● stone wall ● keyhole gate design ● weathered wooden arched gate ● flourishing flowers and plants ● concrete stepping stones ● pea gravel garden
19. Arched Fence
Points of Interest ● wooden convex fence ● circular pavers pebble center ● cut bamboo raised bed edging calling back stain of chair ● gravel ground cover
20. Secured by Trees
Points of Interest ● stucco fence base ● wrought iron fence with rings and ball top caps ● evergreen trees adding privacy ● fence ledge ● white banded planters wickerwork baskets
21. Cascading Fence
Points of Interest ● cascading wooden fence following natural landscape of the property ● different varieties of trees and bushes ● submerged fire pit ● concrete stone patio flooring
22. Yellow Daylilies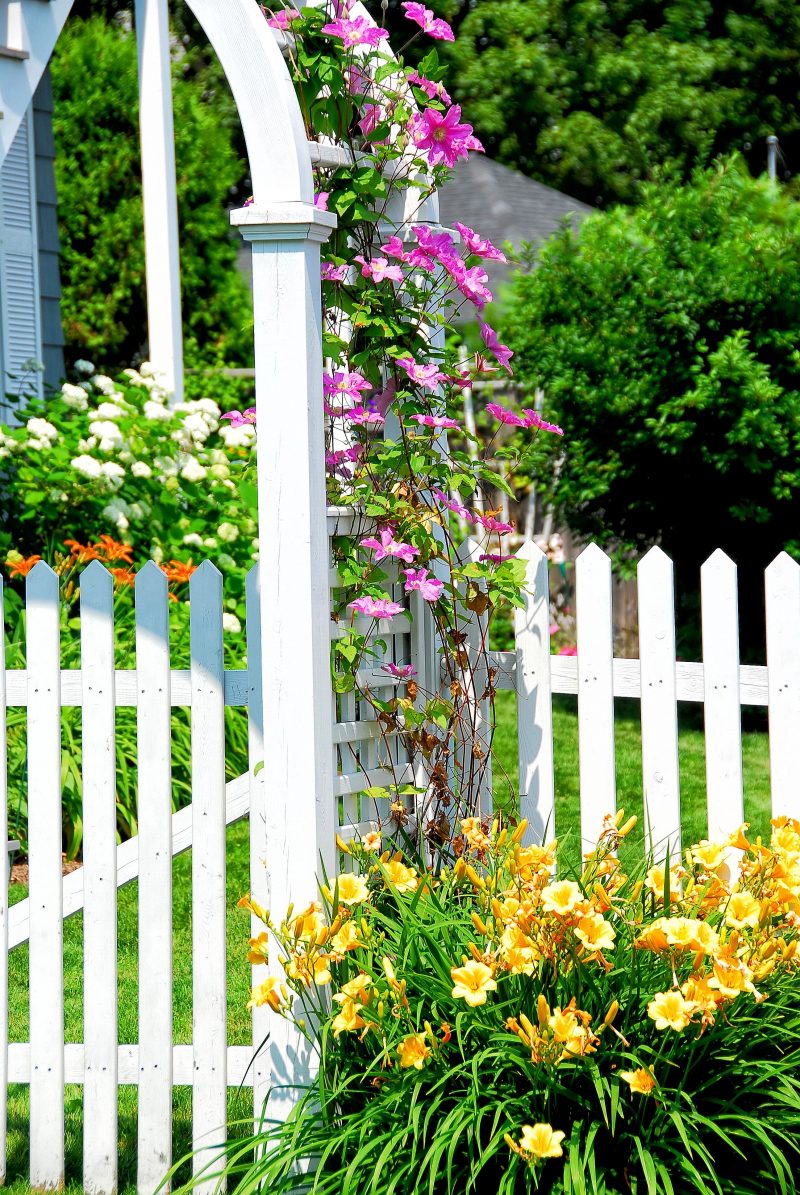 Points of Interest ● white wooden picket fence ● regular picket points ● vinyl arbor ● white picket gate ● yellow dwarf daylilies ● clematis vines with lavender flowers
23. Column Support
Points of Interest ● DIY wood and dark wire fence ● stone clad columns ● terrace garden ● alcove-designed door and window frames ● gable dormer windows ● crawling ivy
24. Box Hedges
Points of Interest ● stacked slab fence ● box hedge on top of fence ● stone slab steps ● mini stoop with white picket fence railing ● narrow red front door ● matching red-framed storm door
25. Iron on Stone
Points of Interest ● wrought iron fence on stone wall ● shaped boxwood lining inside of the fence ● paneled posts with white urn planter ● window pediment frames
26. Weathered Wood
Points of Interest ● estate plank privacy fence ● garden beds along the fence with shrubs of different heights and hues ● row of evergreen trees on other side of fence
27. Mountaintop Lattice
Points of Interest ● bamboo slatted lattice fence ● concrete posts ● spray painted metal rectangular planter ● gravel ground cover