Hello and welcome to the Garden Outline photo gallery of decorating ideas for patio fences. Below you will find a summary of the benefits, main options, and some design ideas we handpicked for you along with beautiful photos. Enjoy!

What are the benefits of having a decorated patio fence?
Can act as a conversation piece – decorated fences draw the eyes and make for a good conversation when entertaining guests on the patio
Breaks the monotony of fence style – decors bring a unique and interesting touch to the fence pattern, showcasing your creativity and sense of design
Can be achieved in many ways – fence decor can be store-bought or DIY, plus you can use your existing greenery to bring life to the fence

What are the main options for decorating patio fences?
Material: wood, bamboo, bricks, concrete, wire/metal, hedge, stacked stone
Pattern/Style: lattice, trellis, planks (horizontal, vertical), picket fence (dog ear, gothic), bamboo poles, crossbuck, chain link
Color: white (ivory), brown (chocolate, taupe), green (tea), blue spruce, gray, neutral (bare wood)
Accents/Decor: greenery, tall concrete planters, mirror, stone plaque, stone garden statues, metal butterfly fence hanger, lights (string, solar-powered, wall sconces), wire panel inserts, lighted handrails, fire pit, built-in features (bench, barbecue station, gate), mounted cables

What follows are beautiful photos of decorated patio fences, along with design ideas we thought may be of interest to you. Enjoy and happy outdoor decorating!

1. Mesh Chairs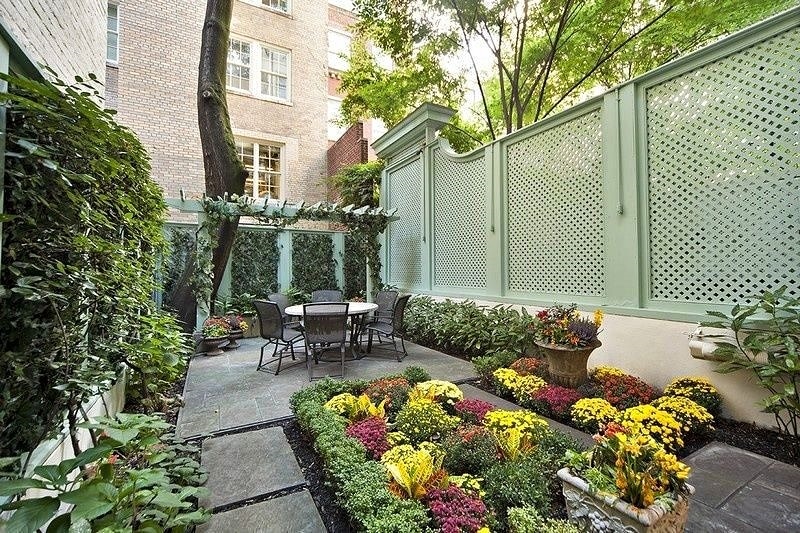 Points of Interest ● pale sage green lattice fence with curved top transition panel and concrete base ● tea green pergola with climbing vines ● square cut flagstone garden path pavers ● 6 cast aluminum mesh chairs in antique bronze finish ● 3 cast stone urn planter with succulent arrangements
2. Concrete Planters
Points of Interest ● horizontal wood plank fence with 4 tall concrete planters ● labrador blue clapboard wall with clear globe string lights ● dark gray powder coated steel slat patio table with matching cushioned chair ● weathered ground level wood deck
3. Peacock Chair
Points of Interest ● wooden fence with rough concrete base ● sanded bamboo chairs with faux fur covers ● rattan peacock chair ● three 19th century Mediterranean terracotta amphora jars with white patina ● wicker globe pendant light
4. Fire Pit Table
Points of Interest ● horizontal bamboo pole patio fence illuminated by globe bulb string lights ● dark stained wood plank bench with 2 red cube tables ● U-shaped cushioned seating area with fire pit table
5. Brick & Lattice
Points of Interest ● gray lattice fence with brick base and amber outdoor wall sconces ● arched French iron garden gate ● ssorted cast iron planters ● muntin style glass doors with fixed sidelights ● yellow limestone tiled patio floor
6. Rooftop Patio
Points of Interest ● dog ear style rooftop patio fence complemented by rich greenery ● ball top wrought iron fence surrounding pyramid skylight ● wooden pergola shaded by vines over seating area ● cast stone garden statues
7. Al Fresco Patio Dining
Points of Interest ● brown wooden fence with chicken wire inserts and top posts with hanging string lights ● bluestone topped sideboard ● contemporary dining table with white Modway stencil chairs ● geometric candle lantern on gold drum side table
8. Mirror on Fence
Points of Interest ● blue spruce fence with small built-in gate and mounted mirror ● large blue spruce planters ● cast stone foo dog statues ● stainless steel outdoor cooking barbecue grill ● stamped concrete patio flooring
9. Stone Plaque
Points of Interest ● cast concrete wall fountain with stone plaque and half circle water basin ● Parisienne cafe chairs ● whitewashed square wooden dining table ● brushed limestone tiled floor
10. Firewood Rack
Points of Interest ● chocolate brown trellis on brick wall ● wrought iron fence with climbing vines ● glass topped square wicker coffee table with matching side table ● curved steel firewood rack ● stamped concrete patio floor
11. Patio Deck
Points of Interest ● bare wood deck railing ● cedar shake shingle wall with 2 black framed windows ● square concrete fire pit ● folding sliding glass doors to patio deck ● brick basketweave flooring in seating area
12. Cast Stone Birdbath
Points of Interest ● ivory cross buck fence ● aged cast stone planter with spiral buxus topiary ● cast stone birdbath ● oil-rubbed bronze wrought iron patio chairs with mint green cushions ● brushed flagstone flooring
13. Smoker Grill
Points of Interest ● spruce blue fence with bottom privacy lattice panels and open weave lattice top panels ● brick walls with climbing ivy vines ● stone blue slatted bench calling back the wrought iron chairs ● blue dome charcoal grill
14. Hedge Fences
Points of Interest ● manicured boxwood hedge as privacy fence ● whitewashed rectangular and round wooden tables ● lattice style iron outdoor furniture ● stamped concrete patio flooring
15. Sage Bushes
Points of Interest ● dry stacked stone patio fence with Mexican bush sage ● 4 chocolate brown outdoor wicker armchairs ● marble topped table with curved corners and legs ● large stained concrete bowl planter with mixed plants
16. Low Curved Fence
Points of Interest ● white curved gothic picket fences ● round patio table with umbrella ● gray metal patio chairs with damask cutout backrest ● aged brick floor in herringbone pattern
17. Resin Wicker Seats
Points of Interest ● black powder coated metal railing with pink weigela ● resin wicker patio sets ● paver raised beds doubling as bench ● stamped concrete patio floor ● flagstone pathway to patio
18. Under-Top Rail Lights
Points of Interest ● horizontal wood plank patio fence with solar powered semi-circle lights under top rail ● gas fountain fire pit ● brown wicker outdoor furniture with white cushions and mixed throw pillows ● sealed slate tiled deck flooring
19. Fire Pit
Points of Interest ● concrete fence with built-in soapstone bench and rectangular fire pit ● timber retaining wall with with galvanized beams ● river rock polished pebbles in patinated metal screen ● cinder block bench base and fire pit side wall
20. Pole-Supported Climbers
Points of Interest ● taupe painted privacy fence decorated with climbers ● soapstone topped barbecue grill station with stone veneer base ● river rock pebble insert on concrete stairs ● exposed aggregate patio flooring
21. Wire Mesh Seating
Points of Interest ● curved stacked stone low patio retaining wall doubling as bench ● built-in stacked stone barbecue grilling station ● antique bronze wrought iron low gates ● 2 wire mesh armchairs ● mix of square and brick shape patio floor
22. Arborvitae
Points of Interest ● horizontal plank patio fence with arborvitae planted along fence line ● rattan outdoor cube chair and sofa with matching glass topped coffee table ● 3 gray planter boxes with horsetail plants ● pea gravel flooring
23. Lighted Handrails
Points of Interest ● black powder coated steel horizontal fence with LED handrails ● rooftop plunge pool ● light beige modern modular sofa ● pergola bemas with integrated globe string light● stainless steel pyramid outdoor heater
24. Chiminea Fireplace
Points of Interest ● chain link fence with metal butterfly fence hanger ● DYI textured stone raised bed ● cast iron chiminea fireplace in bronze finish ● 2 adirondack chairs with plaid cushions ● irregular flagstone floor in seating area
25. Wood Slats
Points of Interest ● mixed width wood slat fencing with black posts and leaning blue surfboard ● dark gray wicker seats with T-shaped turquoise cushions ● glass coffee table with geometric wooden legs ● weathered wood planked flooring
26. Pebble Mosaic
Points of Interest ● trellis fence with climbing vines ● trellis panel on exposed gray brick wall ● cast stone urn planter ● tree-encompassing pebble mosaic floor
27. Modern Folding Chair
Points of Interest ● vertical wood plank privacy fence with tension wire trellis ● large multi-shaped weathered concrete planters ● folding deck chair with wood and metal legs ● composite decking