Hello and welcome to the Garden Outline photo gallery of brick patio ideas. Below you will find a summary of the benefits, main options, and some design ideas we handpicked for you along with beautiful photos. Enjoy!

What are the benefits of having a brick patio?
Can last a long time – bricks can last for a long period of time if installed and cared for properly
Easy to maintain – dirt and spills can be cleaned up easily, tends to hide stains and imperfections because of brick's natural color and texture
Timeless beauty – with its variety of colors and textures, brick can be used in any architectural style, plus bricks look better as they age

What are the main options for brick patios?
Application: flooring, paver, stairs, windows (frame, sill), pergola post base, wall, niche, fireplace, sandpit base
Pattern: herringbone, straight set, running bond/offset, basketweave, circular, curved
Color: red, brown (beige, caramel, multi-toned), whitewashed

What follows are beautiful photos of brick patios along with design ideas we thought may be of interest to you. If you would like to see even more patio ideas, try Covered Patio Ideas, Backyard Patio Designs and Ideas and Patio Designs with Fireplaces. Enjoy and happy outdoor decorating!

1. Sculptural Chandeliers
Points of Interest ● brick patio flooring in herringbone pattern ● gray wicker high back chairs with caramel cushions ● red and white zigzag patterned jar ● 2 sculptural wooden chandeliers ● sheer cream privacy curtain
2. Wood Stool Coffee Table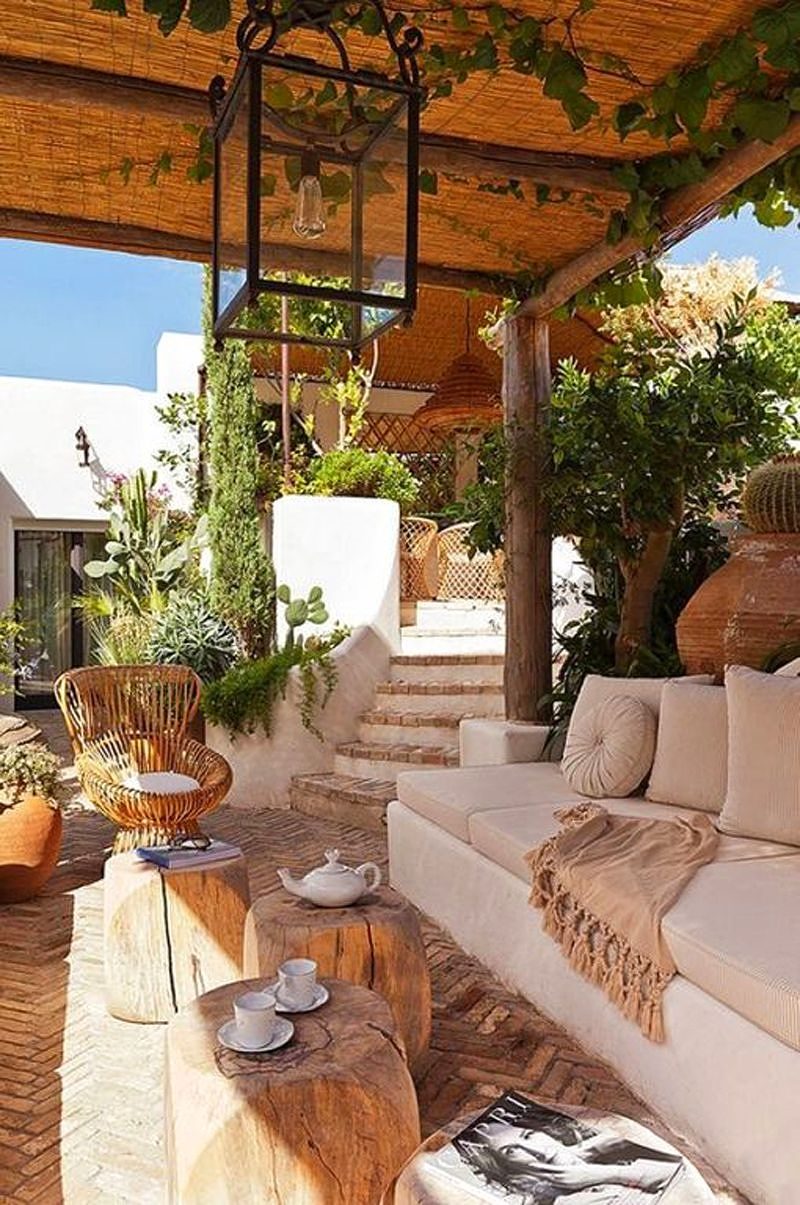 Points of Interest ● herringbone brick floor ● brick stair steps ● 4 log stools doubling as coffee tables ● built-in white concrete sofa with beige cushions ● round bamboo chair with white cushion ● glass lantern pendant light
3. Stone Fireplace
Points of Interest ● brick patio flooring in herringbone pattern ● stone fireplace with counter height hearth ● 4 dining chairs with wingback rattan backrest ● reclaimed timber doorway header and fireplace mantel
4. String Lights
Points of Interest ● red brick flooring ● stacked stone open fireplace ● brown wicker chairs with matching tiered table ● natural rattan ball string lights ● black framed rectangular mirror ● wooden pergola with climbing vines
5. Brick Window Frames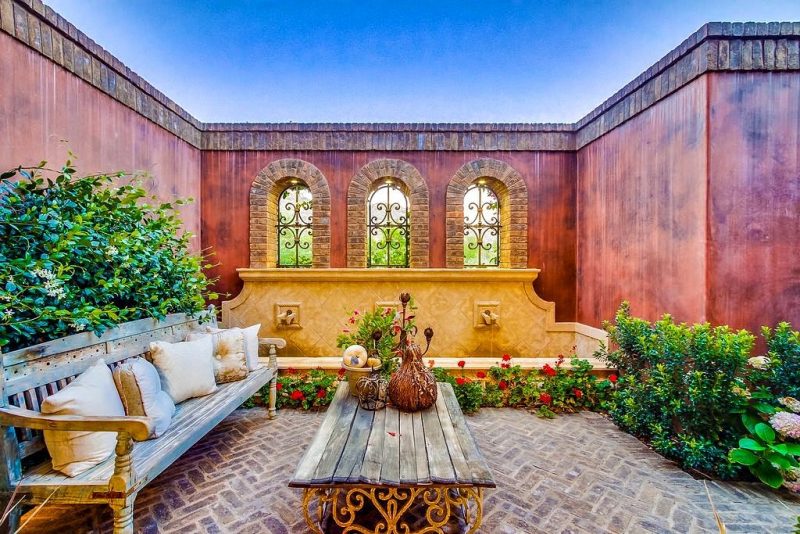 Points of Interest ● weathered brick patio floor ● 3 arched brick framed windows with wrought iron grilles ● reclaimed planked coffee table with yellow wrought iron legs ● milk painted long bench with throw pillows
6. Multicolored Chairs
Points of Interest ● straight set brick flooring ● multicolored wrought iron chairs with yellow throw pillows ● rectangular pedestal concrete table ● string lights on weathered pergola ● gray curtains with tassels
7. Faux Rattan
Points of Interest ● faded red brick patio floor ● faux rattan chairs with matching storage bench coffee table ● antique brass mirror with lattice design ● stone veneer fireplace ● contrasting black and sheer white privacy curtains
8. Fire Pit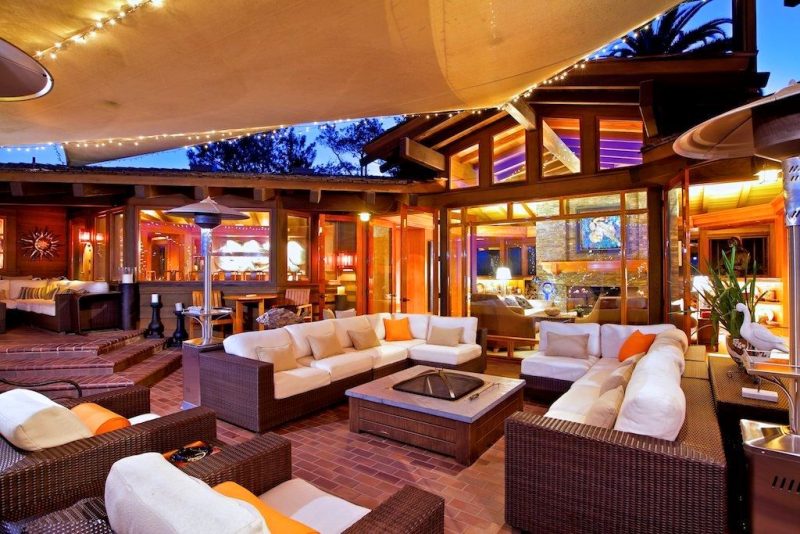 Points of Interest ● multi-toned brown brick floor ● soapstone topped square gas fire pit ● outdoor wicker seating furniture with white cushions and orange throw pillows ● 3 outdoor patio heaters ● beige canopy with string lights
9. Pom Pom Flowers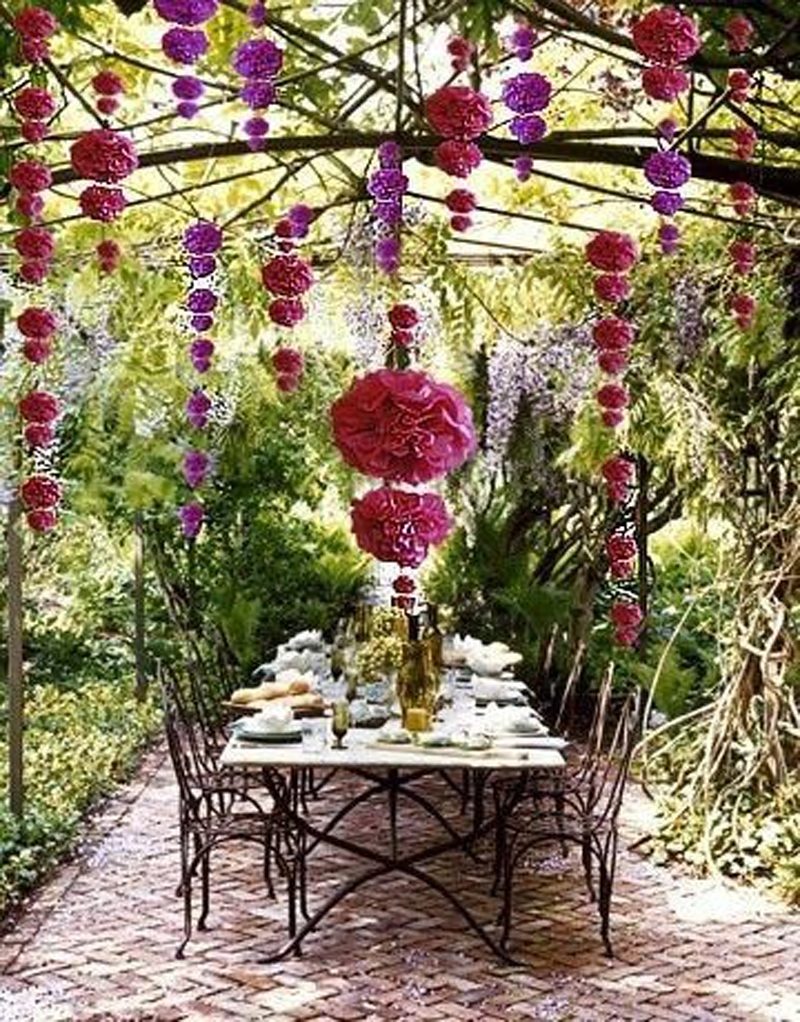 Points of Interest ● herringbone brick floor ● antique bronze wrought iron dining chairs ● marble topped dining table ● DIY pink and purple hanging tissue paper pom pom flowers
10. Brick Parquet
Points of Interest ● red brick floor in basketweave pattern ● satin finish wood chaise lounge with dark chocolate cushion ● concrete fire pit ● thick privacy hedges ● solid wood square side table
11. Garden Patio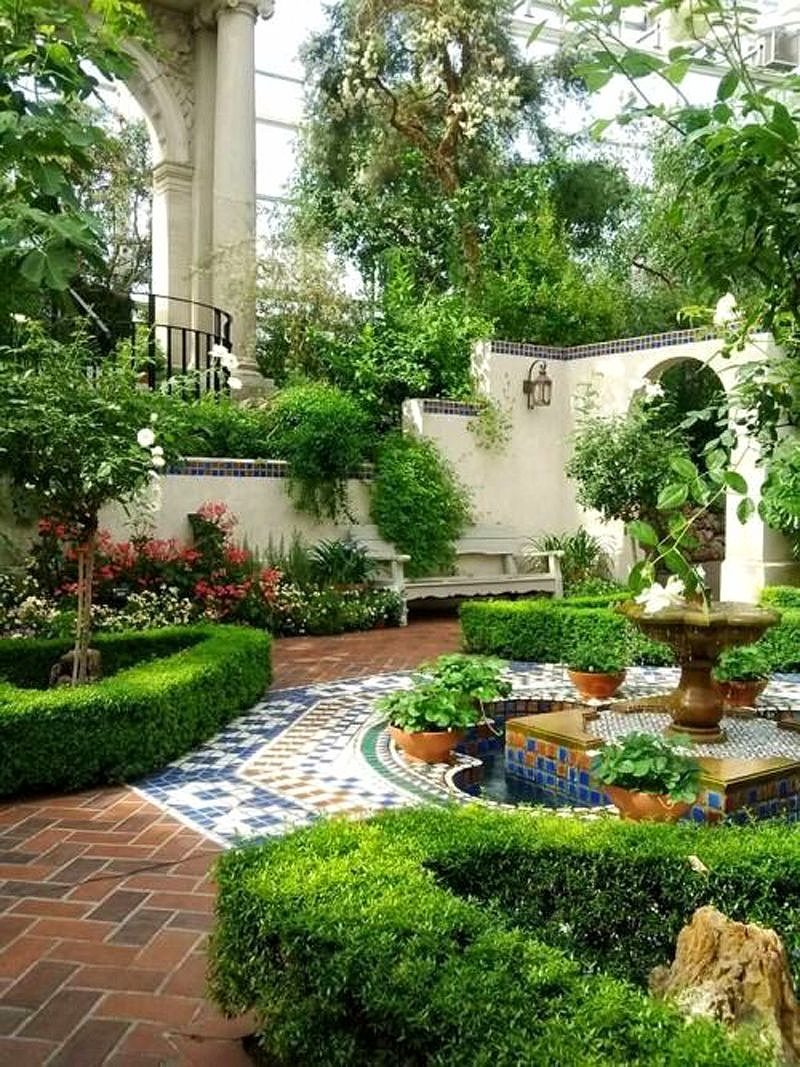 Points of Interest ● herringbone brick flooring with multicolored porcelain inlay ● flower-shaped water fountain ● sculpted shrubs ● white wooden bench against white wall with blue porcelain mosaic tile trim
12. BBQ Bar
Points of Interest ● brick base for wooden pergola posts ● stacked stone fireplace ● stone veneer outdoor kitchen countertop base ● 2 bar stools with wicker backrests ● curved brick floor edging
13. Antique Sideboard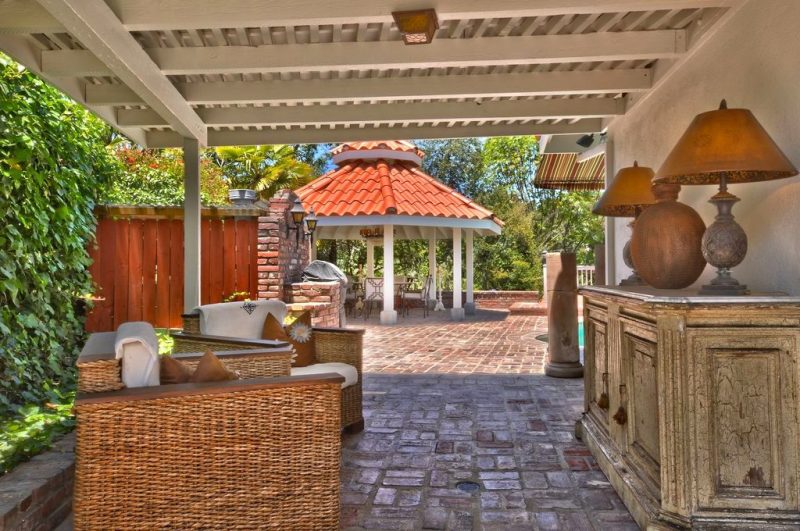 Points of Interest ● brick basketweave flooring ● 2 wicker armchairs with white cushions and wood armrests ● large antique weathered sideboard with white marble countertop ● antique bronze lampshade base
14. Climbing Roses
Points of Interest ● brick floor in herringbone pattern ● 2 white painted wrought iron chairs with patterned cushions ● climbing roses on exterior wall ● white French doors with fanlight
15. Tile Art
Points of Interest ● red brick flooring ● printed cement tile faced fireplace with brick firebox ● matte black tubular steel sofa with red cushions ● printed cement tile art on overmantel ● 3-tiered water fountain
16. Antique Copper
Points of Interest ● running bond red brick patio flooring ● medium-stained wooden pergola with 4 white support columns ● antique copper lattice round table with antique copper chairs ● 2-tiered L-shaped outdoor kitchen
17. Suspended Candle Holders
Points of Interest ● whitewashed brick floor ● 2 wingback rattan chairs ● large round table with pink ruffled tablecloth ● sculptural brass candle holders suspended from tree branches
18. Slatted Steel Table
Points of Interest ● multi-toned red brick exterior wall in offset pattern ● brick basketweave flooring ● gray slatted steel table ● gray steel chairs with powder blue cushions ● dark gray French doors
19. Grass Inserts
Points of Interest ● weathered brick floor with grass inserts ● 2 white sun loungers with scrolled armrests ● mustard yellow pedestal planter ● white garage door with climbing vines
20. Shiplap Barn Wall
Points of Interest ● faded red brick patio floor ● wood slat bench with lattice wrought iron armrests ● galvanized square folding table ● weathered dark brown barn door with shiplap wall
21. Whitewashed Outdoor Furniture
Points of Interest ● brick basketweave flooring with soldier course border ● whitewashed outdoor furniture with off-white patio umbrella ● pale taupe shiplap exterior wall ● red and blue framed sidelights and in-swing bedroom door
22. Corner Fireplace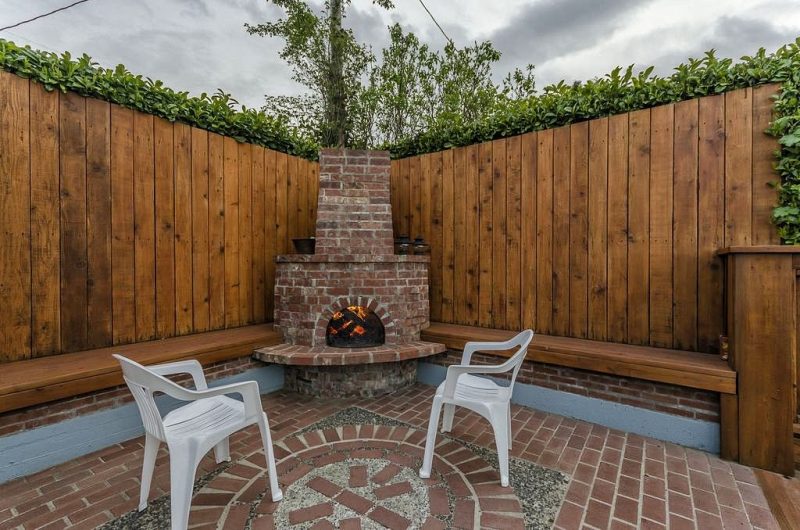 Points of Interest ● corner brick arched fireplace with raised brick hearth ● 2 antique bronze lanterns on fireplace mantel ● brick and exposed aggregate concrete medallion inlay on floor ● wood plank fencing with built-in benches
23. Push-Out Windows
Points of Interest ● brick patio flooring in basketweave pattern ● exposed stone countertop base with drawers underneath ● white push-out muntin style windows ● white shiplap wainscoting ● slim wood planked ceiling
24. Brick Pavers
Points of Interest ● matching patio flooring and garden path ● unfinished slatted wood bench ● camelback wood seating furniture ● black and gray metal box planters ● blue windows and French doors
25. Arched Brick Niche
Points of Interest ● faded basketweave brick floor ● arched brick planter niche ● 2 olive green low chairs ● square concrete table with cutout ● black steel French doors with sidelights
26. Multicolored Hammock
Points of Interest ● brick flooring in offset pattern ● curved brick soldier course edging around tree ● multicolored hammock ● multicolored metal chairs ● wooden table with slatted legs ● bare wood French gothic picket fence
27. Raised Sandpit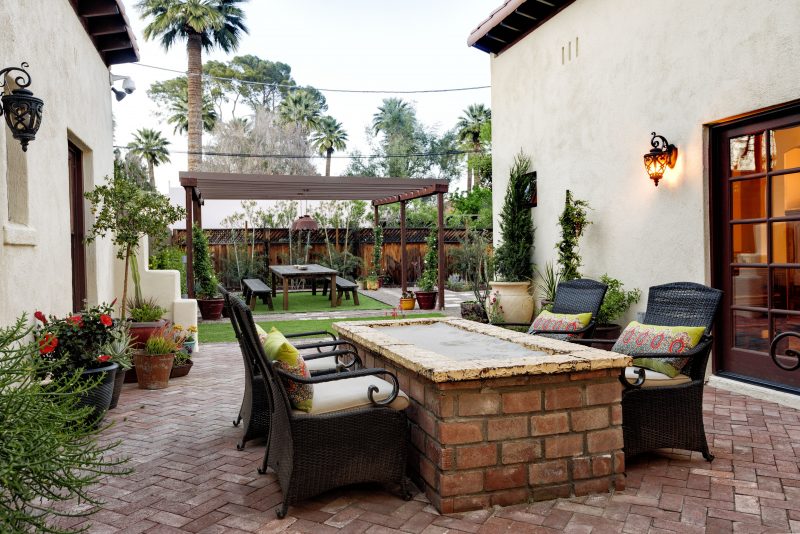 Points of Interest ● gas fire pit with sand fill and running bond brick base ● herringbone brick flooring ● black wicker chairs with scrolled armrests ● oil-rubbed bronze wall sconces ● brown pergola over matching table and benches