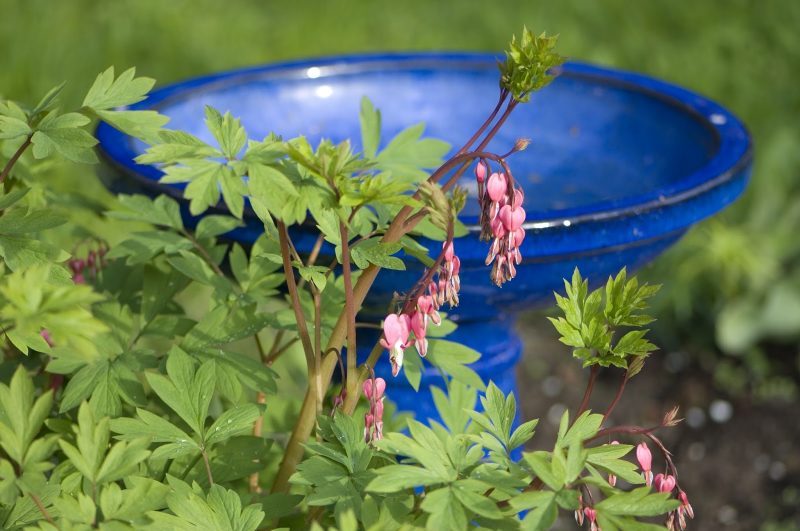 Hello and welcome to our Garden Outline of backyard bird bath ideas. Below you will find a summary of the benefits, main options and some design ideas we handpicked for you along with beautiful photos. Enjoy!

What are the benefits of backyard bird baths?
Attract more birds to make your backyard experience even more enjoyable
Birdwatching and listening to bird singing in your own backyard can be fun and calming
Birds also help with garden insect and pest control
Adds beauty with many designs and decorative styles to choose from

What are the main options for backyard bird baths?
Types: pedestal, fountain, ground, hanging
Material: concrete, metal, brass, stone, shell mosaic, marble
Location: in an open area, near a perch (tree, arbor or trellis), on top of a fountain or pond

What follows are beautiful photos of backyard bird baths along with design ideas we thought may be of interest to you. Enjoy and happy outdoor decorating!

1. Turtle on Top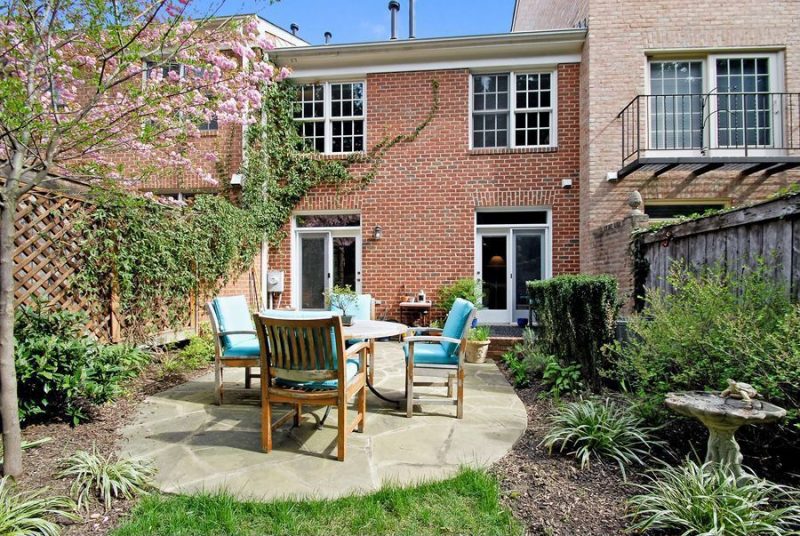 Points of Interest ● carved stone bird bath ● turtle bird bath accent ● flagstone irregular cut patio pavers ● brick siding ● lattice wooden fence also working as trellis
2. Concrete Basin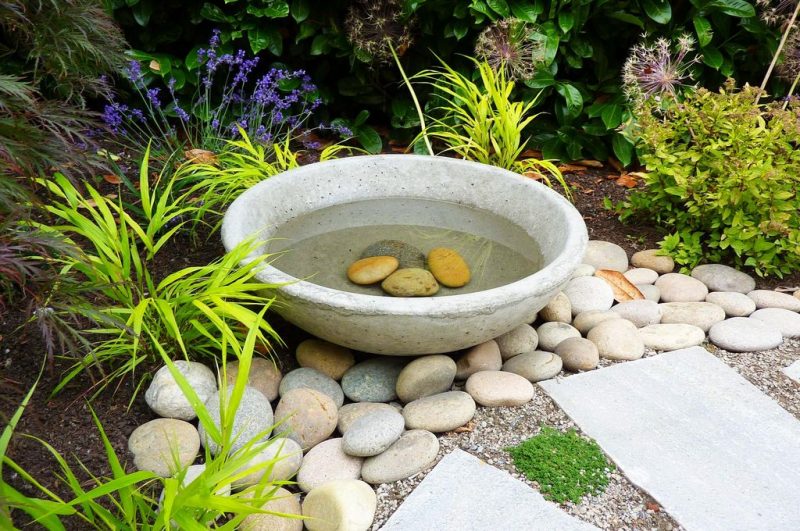 Points of Interest ● stone ground bird bath ● river rocks ● rectangular concrete stepping stones ● gravel cover around step stones ● mulched garden bed
3. Circular Courtyard Patio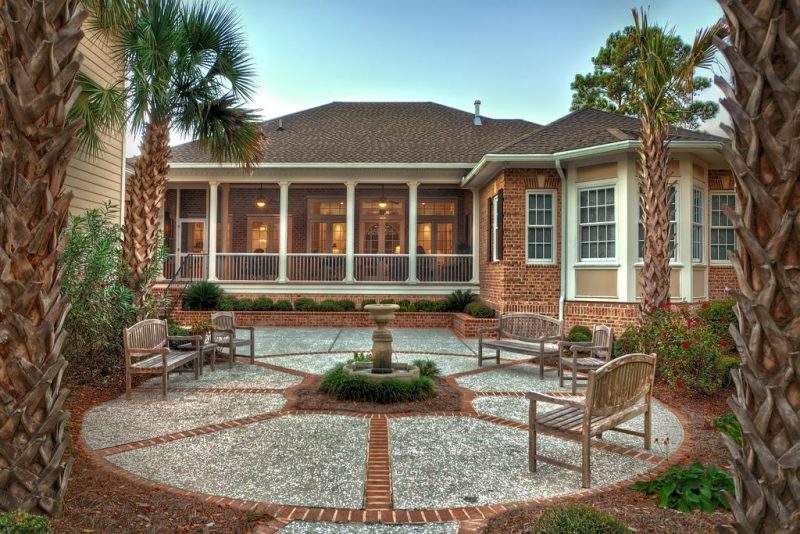 Points of Interest ● stone pedestal birdbath ● water fountain base ● pebble aggregate patio flooring ● brick inlays ● raised brick plant bed ● aged wooden benches
4. Bird Cutouts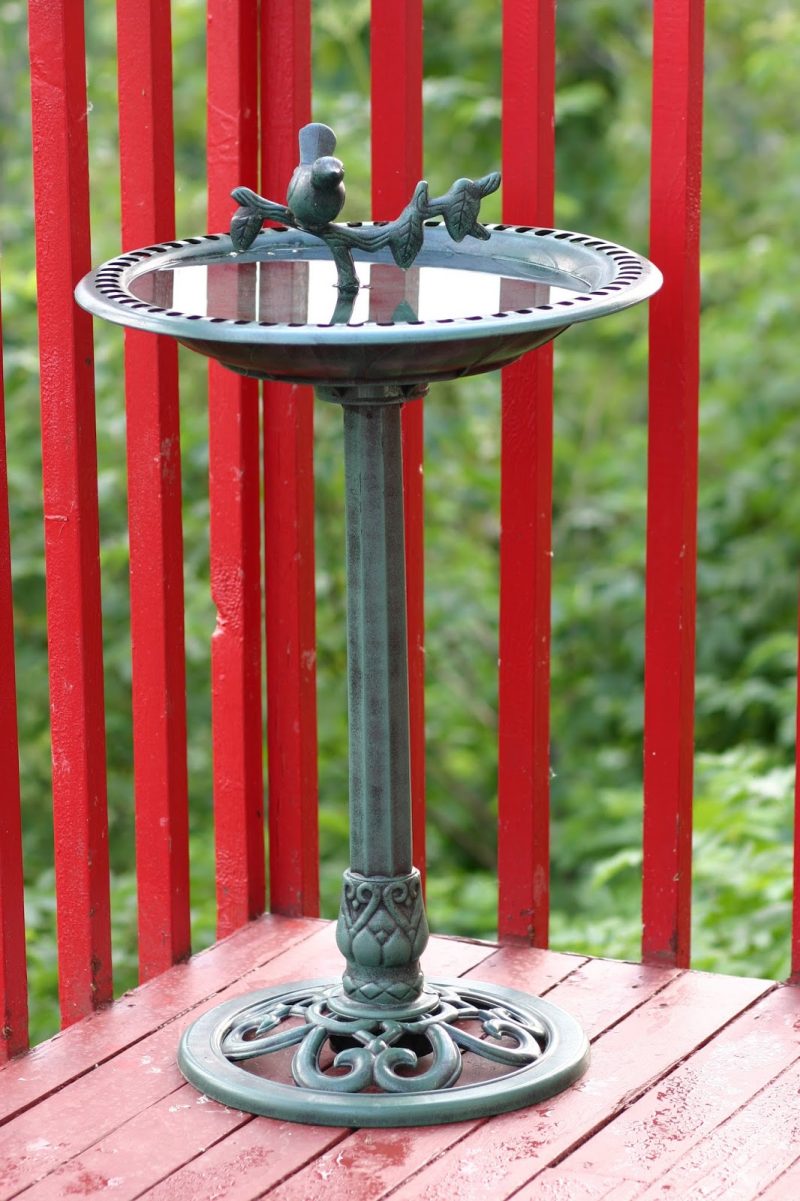 Points of Interest ● green patina resin pedestal bird bath with scrollwork accents ● bird on a branch accent ● rectangular cutouts on lip ● red aluminum fence ● painted wooden deck
5. Mixing the Old and the New
Points of Interest ● weathered stone pedestal carved bird bath ● polished rock pile base ● painted stone urn planters ● folding wooden lawn chairs ● aluminum and glass double pergola
6. Angel Watching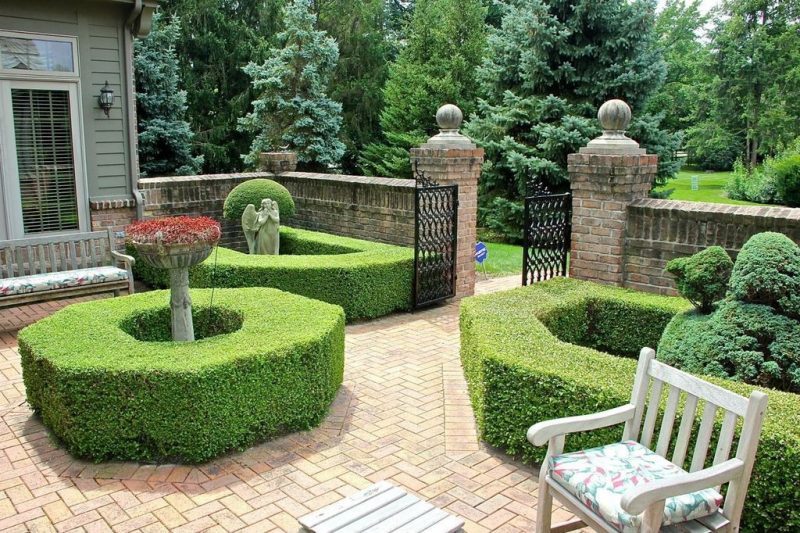 Points of Interest ● sculpted stone pedestal bird bath ● geometric boxwood shrubs ● aged brick pave fence ● stone angel statue ● cast iron garden gate ● angel statue
7. Twin Birdhouses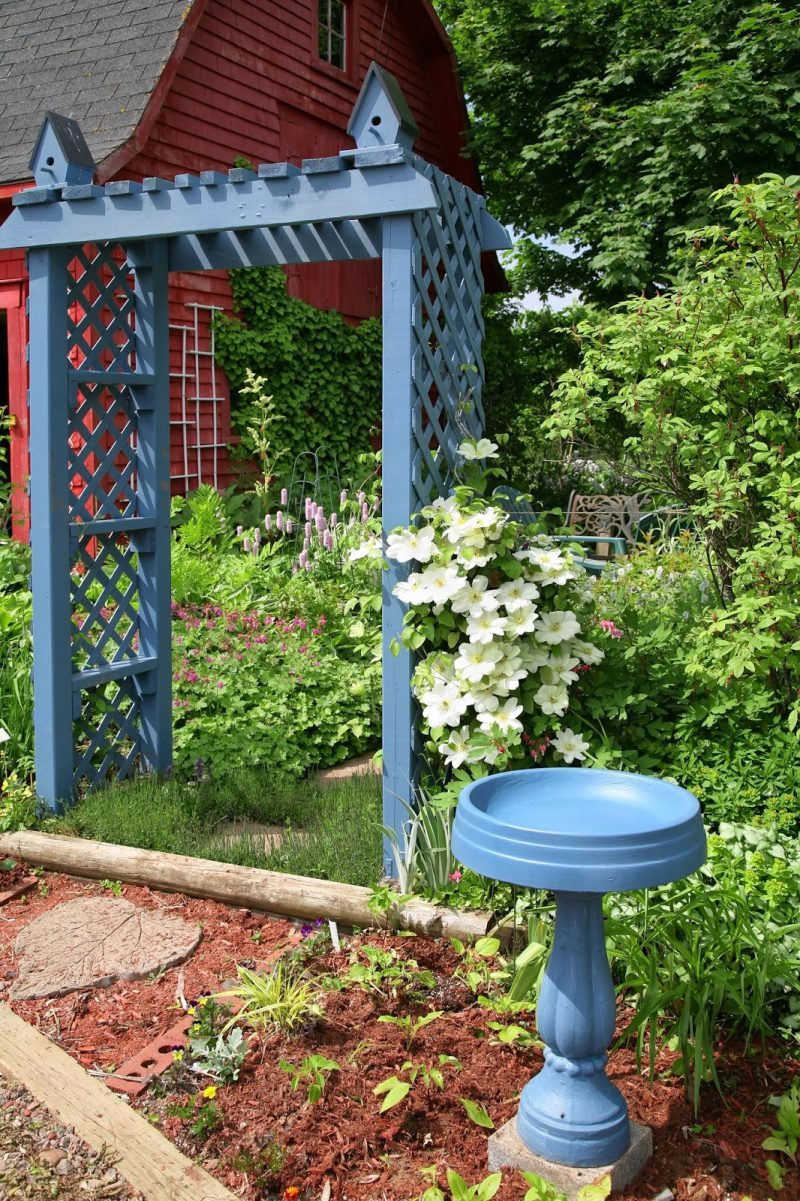 Points of Interest ● painted pedestal bird bath ● matching blue pergola with twin birdhouses ● concrete leaf stepstone ● repurposed wood edging ● white clematis flowers ● white ladder trellises
8. Sipping Pigeon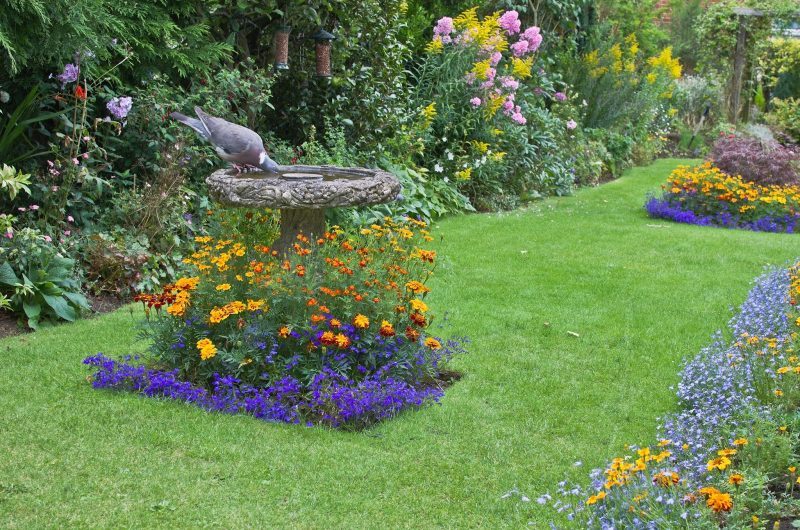 Points of Interest ● carved wood look concrete pedestal bird bath ● iris and marigold bird bath flower bed ● twin hanging bird feeders
9. Scalloped Lip
Points of Interest ● carved stone pedestal bird bath with scalloped basin ● weathered 3-tier stone base ● concrete pathway ● trimmed hedges ● wooden bench
10. In the Pond
Points of Interest ● moss-covered stone bird bath ● irregular cut flagstone flooring matching pond coping ● wood shingle siding ● vine covered pond ● driftwood artwork
11. Swan Song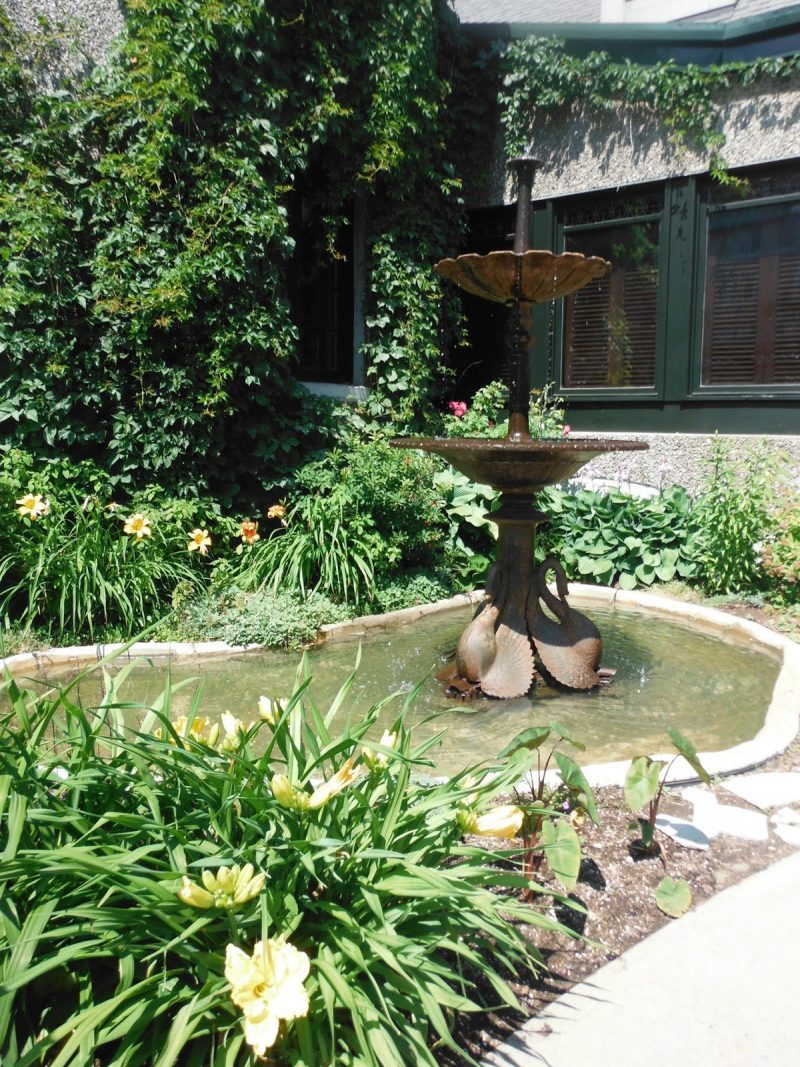 Points of Interest ● 2-tiered brass fountain bird bath ● carved swan accents ● freeform pond ● concrete paver ● climbing plants ● stucco siding
12. Lavender Beds
Points of Interest ● stone pedestal bird bath ● lavender shrubs ● rosebushes ● garden benches ● irregular stone flooring ● boxwood hedge privacy wall
13. Weathered Bath
Points of Interest ● carved concrete bird bath with acorn accent nestled in parterre ● larger river rock plant bed edging ● white cylinder planter ● wooden deck ● stacked stone low fence
14. Eclectic Mix
Points of Interest ● weathered copper basin with wrought iron circle base bird bath ● two ball and urn fountains ● 6-tier pouring pots fountain ● tiki torches ● square stepping stones ● weathered aluminum arbor
15. Daylilies
Points of Interest ● mushroom-shaped concrete birdbath ● wooden birdhouse ● split rail wooden fence ● daylilies
16. Metal Edging
Points of Interest ● fountain birdbath ● concrete fountain coping ● curved trimmed hedges ● metal garden edging ● garden path to bird bath lined with garden beds
17. Stone Retaining Walls
Points of Interest ● pedestal birdbath with granite basin ● two-tiered retaining wall ● concrete slab steps ● garden bed with daylilies ● stone slab benches
18. Hostas
Points of Interest ● pedestal birdbath with fluted base ● raised garden bed on upper level ● concrete stone slabs doubling as benches ● stone steps calling back the garden bed edging
19. Grape Vines
Points of Interest ● antique concrete and marble basin birdbath ● circular stone wall ● concrete wall top molding ● grape vines
20. Center of Attraction
Points of Interest ● concrete scalloped lip with fluted base birdbath ● pansies and forget-me-not flowers ● garden shed ● yellow lilies ● rattan armchairs ● red wheelbarrow
21. Glazed Ceramic
Points of Interest ● gray ceramic bird bath ● angled garden beds ● concrete edging ● sage green arched door and window frames ● meadow grass garden path ● cobblestone house siding
22. Blue Starlings
Points of Interest ● stone birdbath ● birdbath bubbler ● blue-eared starlings and dark-eyed junco birds
23. Cutout Heart
Points of Interest ● wrought stone bird bath ● birdhouse with scallop-like roof ● white picket slanted fence ● garden gate with heart cutout ● dog ear cut fence ● rosebushes
24. Tabby Cat
Points of Interest ● DIY stone aggregate birdbath ● pink blooming tree ● tabby cat ● split rail fence
25. Windchime Bird
Points of Interest ● antique low birdbath ● windchimes ● iron plant hanger with bird design ● yellow daisy flowers ● stone garden curbing
26. Oriental White Eye Birds
Points of Interest ● pair of terracotta dishes used as basin bird baths ● scalloped bird bath lip ● oriental white eye birds
27. Spraying Water
Points of Interest ● moss-covered clamshell lip fountain birdbath ● sprayer in the center of the basin ● visiting bird ● topiaries ● gravel pathway