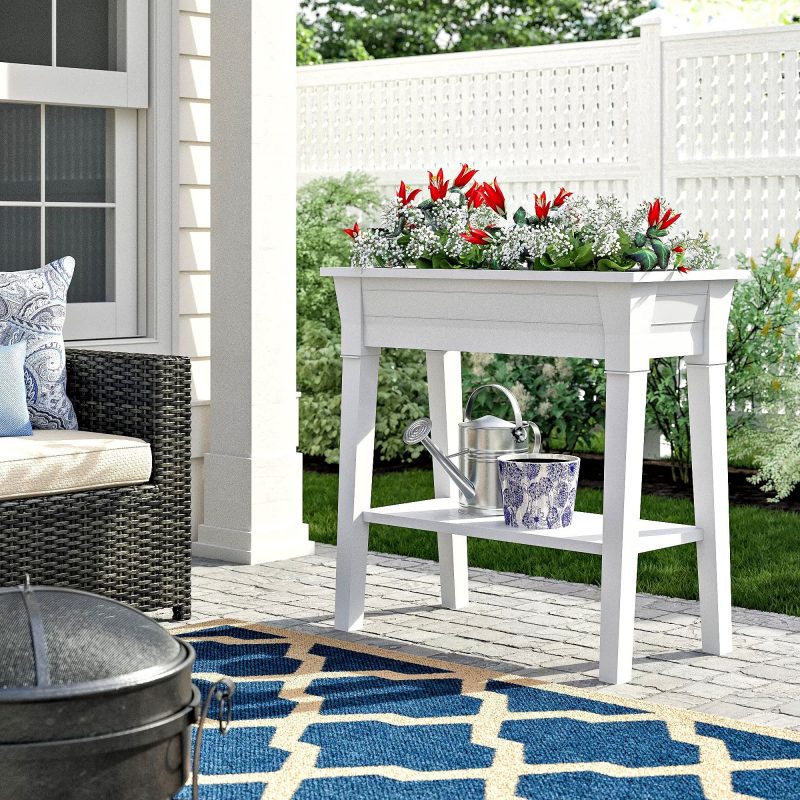 Hello and welcome to our carefully curated selection of raised garden beds and elevated planters. Check the variety of beautiful, high-quality raised garden beds and elevated planters we handpicked for you. To derive this list, we carefully reviewed customer reviews and are only bringing up to your attention raised garden beds and elevated planters that clients have enjoyed in their yard. Hope you find inspiration in these photos and find this information useful, enjoy!

What are the types of raised garden beds and elevated planters voted best off?
Style: classic, traditional, modern farmhouse, rustic, vintage, industrial, modern, contemporary, cottage, French country
Design Features: type (raised garden bed, elevated planter, vertical garden bed, freestanding wall hugger), shape (rectangular, square, star, hexagonal, modular/flexible, triangle/angular, tapered), material (wood, metal, steel, iron, vinyl, plastic, composite boards, polypropylene), distinct design (tub-inspired design , lattice base, slatted shelf, wire mesh panels, corrugated metal design, terraced design), added feature (cascading drainage system, fitted membrane liner, stackable, bottom shelf, wheels, self-watering, self-draining, door with latch, folding panels), durability (rot resistant, warp resistant, fade resistant, moisture resistant, weather resistant, decay resistant, rust resistant, UV resistant)
Price Range: $37.99 to $1,049.99

How are clients using their raised garden beds and elevated planters in their outdoor décor:
Where: deck, backyard, garden, patio, porch, courtyard, kitchen, sunroom, veranda, balcony, deck, lanai
Things to consider: style and design, size and height, purpose and function, craftsmanship and quality, durability, extra features
Favorite Features: beautiful natural cedar look, easy to assemble, great indoors or outdoors, sturdy and durable, beautiful and functional, lovely instant little garden, great size, sleek and simple design, comfortable back-friendly height, great for veggies and herbs, clever self-watering feature, brightens up the yard, attractive and eye-catching, great depth, handy lower shelf, great quality, holds up to different weather conditions

Hope you enjoy the showroom visit!

1. Jaxon Cedar Raised Garden by Freeport Park
Points of Interest:
● Clients Rating: 4.5 Stars
● Style Inspiration: classic, traditional
● Material: cedar wood
● Color Options: natural
● Design Features: rough cut wood, comes in 3 sizes, quick and easy setup, insect/rot/rust/weather resistant, stackable
● What Clients Love: lovely addition to the yard, beautiful natural cedar look, easy to assemble, well made, great price
2. Bloomsbury Composite Planter by New England Arbors
Points of Interest:
● Clients Rating: 4.6 Stars
● Style Inspiration: classic, traditional
● Material: vinyl, recycled wood pulp
● Color Options: brown
● Design Features: real wood look, maintenance free, slatted lower shelf
● What Clients Love: looks great in the garden, gets many compliments, back-friendly height, great quality, easy to set up
3. Raised Garden Bed – Vertical Garden Freestanding Elevated Planter by Outland Living
Points of Interest:
● Clients Rating: 4.5 Stars
● Style Inspiration: contemporary
● Material: steel, plastic
● Color Options: forest green, espresso brown
● Design Features: vertical garden bed, free standing, 4 rectangular container boxes, ergonomically designed, cascading drainage system, weather resistant, powder coated stand
● What Clients Love: gorgeous color and finish, clever cascading feature, great indoors or outdoors, beautiful and functional
4. Tool-Free Classic Sienna Raised Garden Bed profile by Frame It All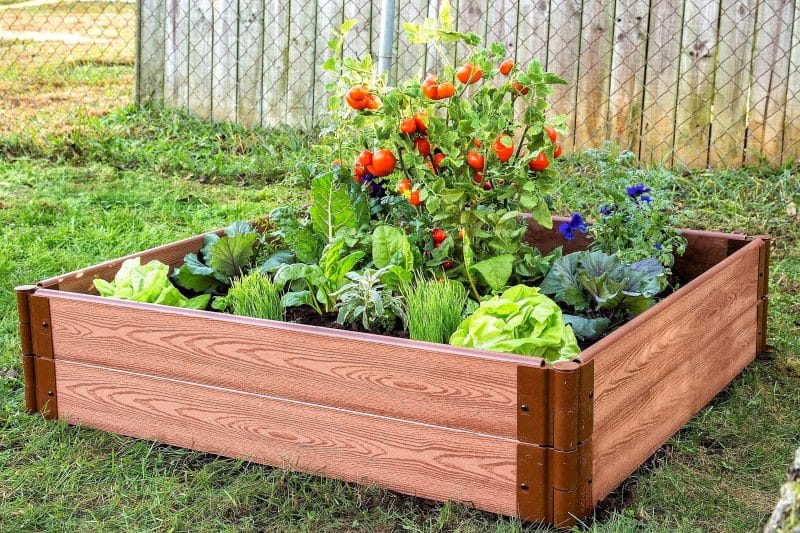 Points of Interest:
● Clients Rating: 4.9 Stars
● Style Inspiration: contemporary
● Material: plastic
● Color Options: brown
● Design Features: 2 levels, wood-grain texture finish, snap-lock brackets pivots up to 270 degrees, rot/warp/fade resistant, modular
● What Clients Love: great for planting veggies, holds up well to outdoor elements, well made and durable, great quality at a great price
5. Rectangular Wallhugger Medium by VegTrug
Points of Interest:
● Clients Rating: 5.0 Stars
● Style Inspiration: classic, traditional, country
● Material: cedar wood, steel, polypropylene
● Color Options: natural
● Design Features: wall hugger elevated planter, rectangular shape, freestanding, water preservative base, fitted membrane liner
● What Clients Love: looks beautiful, great for herbs, back-friendly height, great for narrow spaces, keeps plants safe from pets, easy to set up
6. Becker 2 Piece Metal Raised Garden Set by Gracie Oaks
Points of Interest:
● Clients Rating: 4.5 Stars
● Style Inspiration: rustic, modern farmhouse, cottage
● Material: metal
● Color Options: silver/gray
● Design Features: rectangular wash tub-inspired design, metal legs, set of 2, aged finish
● What Clients Love: charming addition to the patio, looks much more beautiful in person, sturdy and has great quality, great value
7. Resin Elevated Garden by Keter
Points of Interest:
● Clients Rating: 4.7 Stars
● Style Inspiration: modern farmhouse, country
● Material: polypropylene resin
● Color Options: anthracite, brown
● Design Features: rectangular shape, woven rattan texture, self-watering, water gauge, drainage caps, all-weather
● What Clients Love: looks lovely on deck, clever water level indicator and drainage caps, great height, solid and very stable, great craftsmanship
8. Patio Fir Wood Raised Garden by Convenience Concepts
Points of Interest:
● Clients Rating: 4.6 Stars
● Style Inspiration: classic, rustic, French country
● Material: fir wood
● Color Options: light oak, weathered cedar
● Design Features: base with lattice design, rectangular shape, drainage holes, weather resistant, comes in 2 sizes
● What Clients Love: lovely addition to patio, beautiful wood, eye-catching and gorgeous design, great quality, easy to assemble
9. Elevated Garden Bed – Vertical Planter by Oakeskaran
Points of Interest:
● Clients Rating: 4.5 Stars
● Style Inspiration: classic, country
● Material: Chinese fir wood
● Color Options: natural
● Design Features: rectangular shape, detachable design, easy assembly
● What Clients Love: beautiful solid wood, compact size great for small spaces, great back-friendly height, great craftsmanship and quality, easy to assemble
10. Vinyl Raised Garden by New England Arbors
Points of Interest:
● Clients Rating: 4.6 Stars
● Style Inspiration: classic, cottage
● Material: plastic – vinyl
● Color Options: white
● Design Features: rectangular shape, paneled sides, slatted lower shelf, maintenance-free, moisture/weather/decay/rust resistant, posts with caps
● What Clients Love: great for herbs, lovely addition to deck, handy bottom storage, great height, sturdy and holds up very well
11. Plastic Raised Garden by Lifetime
Points of Interest:
● Clients Rating: 4.8 Stars
● Style Inspiration: modern, contemporary
● Material: plastic- high-density polyethylene
● Color Options: brown
● Design Features: wood-look design, square shape, stackable, rust and weather resistant, set of 2, double walled construction, comes with 1 clear vinyl cover
● What Clients Love: lovely and functional, solid and sturdy, holds up well outdoors, great quality, great value
12. Elevated Cedar Planter by CedarCraft
Points of Interest:
● Clients Rating: 4.9 Stars
● Style Inspiration: traditional, country
● Material: Western red cedar
● Color Options: natural
● Design Features: rectangular shape, with landscape fabric, posts with caps
● What Clients Love: cedar wood looks and smells good, great height that doesn't strain back, beautiful indoors or outdoors, well made and durable, holds up to different weather conditions
13. Eckert Iron Raised Garden by Evergreen Enterprises, Inc
Points of Interest:
● Clients Rating: 4.8 Stars
● Style Inspiration: rustic, vintage, modern farmhouse
● Material: iron
● Color Options: white washed
● Design Features: galvanized metal cart, bottom shelf, with wheels, weathered whitewashed finish, weather resistant
● What Clients Love: charming vintage appeal, nice weathered finish, mobile and easy to move around, great multi-functional piece
14. Western Red Cedar Raised Garden Bed by Outdoor Living Today
Points of Interest:
● Clients Rating: 4.8 Stars
● Style Inspiration: classic, rustic, country
● Material: Western red cedar wood
● Color Options: natural
● Design Features: panelized walls, upper wire mesh panels, door with latch, 2 folding hinged wire mesh panels, rust/weather/insect/decay resistant
● What Clients Love: wonderful addition to the yard, gorgeous and gets many compliments, keeps vegetables protected from pests, perfect height, great quality
15. Emery Corrugated Metal Raised Garden Bed with Lining by Belham Living
Points of Interest:
● Clients Rating: 4.8 Stars
● Style Inspiration: industrial, farmhouse
● Material: steel
● Color Options: silver
● Design Features: corrugated metal design, rectangular shape, with lining
● What Clients Love: beautiful industrial look, attractive and functional addition to the yard, great size, great quality at a great price
16. Cedar Raised Garden Bed by Outdoor Living Today
Points of Interest:
● Clients Rating: 4.8 Stars
● Style Inspiration: classic, rustic, French country
● Material: Western red cedar wood
● Color Options: natural
● Design Features: raised garden bed, wire mesh panels, 2 hinged folding wire mesh panels, rust/weather/insect/decay resistant
● What Clients Love: makes a lovely little garden, beautiful natural cedar wood, back-friendly height, keeps plants safe from critters, great craftsmanship
17. Cedar Raised Garden by Infinite Cedar
Points of Interest:
● Clients Rating: 4.7 Stars
● Style Inspiration: classic, country
● Material: Western red cedar wood
● Color Options: natural
● Design Features: rectangular shape, with drainage holes, rust/rot/weather resistant, comes in 2 sizes, half-lapped corners
● What Clients Love: makes gardening much more convenient, great depth, easy to assemble, great quality, holds up nicely
18. Idella Raised Garden by Freeport Park
Points of Interest:
● Clients Rating: 4.8 Stars
● Style Inspiration: traditional
● Material: North American cedar wood
● Color Options: natural
● Design Features: rectangular shape, drainage holes, with fabric liner, dovetail construction, rot/insect/rust resistant
● What Clients Love: great for a small yard, sleek and simple design, back-friendly height, great for veggies and herbs
19. EZ-Gro Raised Garden by Victory8 Garden
Points of Interest:
● Clients Rating: 4.6 Stars
● Style Inspiration: modern
● Material: polypropylene
● Color Options: black
● Design Features: rectangular shape, UV resistant non-woven fabric, self-supporting structure, rust and weather resistant, 3 sizes
● What Clients Love: lovely instant little garden, great size, great for balconies and rooftops, holds up nicely
20. White Composite Garden Star Raised Garden Bed by Frame It All
Points of Interest:
● Clients Rating: 4.6 Stars
● Style Inspiration: modern, contemporary
● Material: composite wood – recycled plastic and hardwood fibers
● Color Options: classic white
● Design Features: star shaped, 7 separate planting areas, modular system, insulates soil, weather resistant, can be converted to a hexagon
● What Clients Love: visually appealing, unique and eye-catching design, fun addition to the garden, well made and functional
21. Cypress Wood Raised Garden by Leisure Season
Points of Interest:
● Clients Rating: 4.5 Stars
● Style Inspiration: classic, rustic, country
● Material: wood
● Color Options: medium brown
● Design Features: rectangular shape, slatted lower shelf, decay/rust/weather resistant
● What Clients Love: elegant addition to patio, comfortable height, convenient for gardening, well made, useful lower shelf
22. Garden Wizard Plastic Raised Garden by Good Ideas
Points of Interest:
● Clients Rating: 4.7 Stars
● Style Inspiration: contemporary
● Material: plastic
● Color Options: khaki, oak
● Design Features: rectangular shaped opening, tapered bottom, self-watering, includes potting gravel for self-draining feature
● What Clients Love: attractive and functional, clever self-watering feature, great height, nice extra hooks, great value
23. Raised Garden Bed by Lifetime
Points of Interest:
● Clients Rating: 4.5 Stars
● Style Inspiration: contemporary, farmhouse
● Material: high-density polyethylene (HDPE)
● Color Options: brown
● Design Features: square shape, inter-locking assembly, stackable, wood-look design, UV/weather/rot/crack/peel resistant
● What Clients Love: easy and convenient way to raise veggies and herbs, great craftsmanship, holds up well to different weather conditions, great value
24. Handy Bed Vinyl PVC Raised Garden by Cook Products
Points of Interest:
● Clients Rating: 4.5 Stars
● Style Inspiration: classic, cottage
● Material: plastic – vinyl PVC
● Color Options: white
● Design Features: various sizes in square or rectangular shape, stackable, rust/weather/rot resistant
● What Clients Love: brightens up the yard, attractive and eye-catching raised garden, great for a small space, well made, easy to assemble
25. Infinite Cedar Raised Garden Bed by Smart Carts
Points of Interest:
● Clients Rating: 4.6 Stars
● Style Inspiration: classic, traditional, rustic, country
● Material: Western red cedar wood
● Color Options: natural
● Design Features: 2 sizes in square or rectangular shape, all natural chemical-free wood, rot resistant, half-lapped corners
● What Clients Love: attractive and functional addition to the yard, beautiful natural wood that's free from chemicals, easy to assemble, great quality
26. Elevated Planter by New Age Garden
Points of Interest:
● Clients Rating: 4.5 Stars
● Style Inspiration: classic, contemporary, cottage
● Material: reclaimed wood composite
● Color Options: light beige
● Design Features: rectangular shape, beadboard sidings, drainage holes, bottom shelf, weather/rust/frost resistant, comes in 2 sizes
● What Clients Love: clean and sleek look, great depth, back-friendly height, protects herbs from pests, sturdy and durable, great quality
27. Cedar Raised Garden by Smart Carts
Points of Interest:
● Clients Rating: 4.9 Stars
● Style Inspiration: classic, traditional, farmhouse
● Material: cedar wood
● Color Options: natural
● Design Features: rectangular shape, slatted bottom shelf, ergonomically-designed, 3 drainage holes, weather/rot/rust resistant
● What Clients Love: lovely addition to the deck, works well for flowers and veggies, great depth, perfect height, handy lower shelf