Hello and welcome to our carefully curated selection of porch swings. We handpicked for you a variety of beautiful, high-quality porch swings that can fit many styles, color schemes, and budgets. To derive this list, we carefully read through customer reviews and are only bringing up to your attention porch swings that have been highly rated by lots of clients who have bought swings to relax on the porch. Hope you find inspiration in these photos and find this information useful, enjoy!

What are the types of porch swings voted best off?
Style: classic, traditional, country, beach, coastal, farmhouse, cottage chic, rustic, mission/craftsman, French Country modern, contemporary, shaker, vintage, French provencal
Design Features: swing types (swing bed, bench type, daybed swing, cushion swing), materials (wood, wrought iron, steel, resin wicker/rattan, plastic), seating capacity (1 to 4), swing inclusions (chains, ropes, hooks, cushions, pillows), swing add-ons (cupholders, tray, side table, canopy, frame/stand), distinct designs (slatted design, woven wicker, openwork scrolling frame, rolled arms, rolled back, curved seat), durability (weather, water, UV, termite, decay, rust, chip and fade resistant)
Price Range: $104.99 to $537.99

How are clients using their porch swings in their home décor:
Where: porch, garden, backyard, poolside, gazebo, lanai, sunroom, patio, deck
Things to consider: material, comfort, style and look, quality and craftsmanship, size and capacity, price, height, all-weather or not, cleaning method
Favorite Features: gorgeous wood, great to sit or lounge on, warm and lovely addition to porch, beautifully complements home, has a cozy appeal, great craftsmanship, easy to assemble, glides smoothly, gorgeous color, well made and durable, unique and eye-catching design, great for relaxing, beautifully blends with other furniture, spacious and comfy seat, affordable price, wide armrests, convenient cup holders

Hope you enjoy the outdoor showroom visit!

1. Brighton Deep Seating Porch Swing Bed with Cushion by Belham Living
Points of Interest:
● Clients Rating: 4.7 Stars
● Style Inspiration: classic, mission/craftsman
● Material: eucalyptus wood, polyester (cushions)
● Color Options: natural/khaki
● Design Features: swing bed type, slat design, with seat cushion, seating capacity: 3, 4-foot chain
● What Clients Love about this Porch Swing: gorgeous wood, huge and comfy, great to sit or lounge on, warm and lovely addition to porch, great craftsmanship
2. Swanley Porch Swing with Chain by Highland Dunes
Points of Interest:
● Clients Rating: 4.5 Stars
● Style Inspiration: classic, mission/craftsman, shaker, country, cottage
● Material: ash hardwood
● Color Options: various colors to choose from
● Design Features: slat back, contoured seat, interlocking joints, seating capacity: 4, rust resistant, includes chains and hooks
● What Clients Love about this Porch Swing: beautifully complements home, wide variety of colors to choose from, lovely finish, strong and sturdy, easy to assemble
3. Forest Hills 3-Seat Cushion Canopy Porch Swing by Mainstays
Points of Interest:
● Clients Rating: 4.6 Stars
● Style Inspiration: traditional
● Material: steel, fabric
● Color Options: tan/beige, red, blue
● Design Features: 3-seat cushion swing, adjustable canopy, button-tufted back cushions, powder-coated metal frame, rust resistant
● What Clients Love about this Porch Swing: charming and inviting addition to yard, very comfy and sturdy, cute canopy, gets many compliments, reasonable price
4. Handmade Cypress Porch Swing by Southern Cypress Furniture
Points of Interest:
● Clients Rating: 4.6 Stars
● Style Inspiration: traditional, rustic, mission/craftsman
● Material: cypress wood, metal
● Color Options: natural
● Design Features: handmade, sanded finish, slatted and contoured back and seat, rounded slat edges, cup holders on each armrest, includes chains and hooks
● What Clients Love about this Porch Swing: handy cup holders, nice smooth finish, wide armrests can hold small items, sturdy and comfy, great quality
5. Portland Teak Porch Swing by Beachcrest Home
Points of Interest:
● Clients Rating: 4.6 Stars
● Style Inspiration: coastal, traditional
● Material: teak wood, rope
● Color Options: oak
● Design Features: hand-painted, slatted design, curved high back, 48″ rope, weather resistant, seating capacity: 2, comes in 2 sizes
● What Clients Love about this Porch Swing: fun and relaxing addition to patio, holds up nicely, lovely teak wood, beautiful rich color, well made
6. Cottonwood Deep Seating Porch Swing Bed with Cushion by Belham Living
Points of Interest:
● Clients Rating: 4.5 Stars
● Style Inspiration: cottage, country, mission/craftsman
● Material: eucalyptus wood
● Color Options: gray glaze
● Design Features: swing bed, driftwood finish, slatted sides, crossed back design, removable cushion with piping, seating capacity: 3, includes 48" hanging chain
● What Clients Love about this Porch Swing: thick and comfy cushion, beautiful and stylish, great craftsmanship, affordable price
7. Tropico Wrought Iron Porch Swing by International Caravan
Points of Interest:
● Clients Rating: 4.7 Stars
● Style Inspiration: French Country, classic
● Material: wrought iron
● Color Options: black
● Design Features: rolled arms, slatted back and seat, scrolled accents, powder-coated finish, includes hanging chains and hooks
● What Clients Love about this Porch Swing: beautifully matches other furniture, attractive and stylish, lightweight yet sturdy, great value
8. Northbrook Porch Swing with Stand by Charlton Home
Points of Interest:
● Clients Rating: 4.5 Stars
● Style Inspiration: modern
● Material: steel, polyester/polyester blend
● Color Options: sand/black
● Design Features: 2 single-seater swings with stand, removable cushions, with canopy, rust resistant, with cup holders, powder coated steel frame
● What Clients Love about this Porch Swing: swings smoothly, comfortable and relaxing, unique design, nice separate swings, convenient cup holders
9. Amish Heavy Duty Porch Swing by CAF
Points of Interest:
● Clients Rating: 4.8 Stars
● Style Inspiration: rustic, mission/craftsman, shaker
● Material: pine wood
● Color Options: cedar stain
● Design Features: handmade, slatted design, rolled back, 2 side cup holders, includes hanging chains
● What Clients Love about this Porch Swing: warm and inviting addition to front porch, well made and very comfy, beautiful and functional, great cup holders
10. Tarawa Porch Swing by August Grove
Points of Interest:
● Clients Rating: 4.6 Stars
● Style Inspiration: coastal, farmhouse, cottage chic
● Material: steel, resin wicker
● Color Options: finish – black, espresso, honey, white; various cushion colors to choose from
● Design Features: hand-woven resin wicker, braided trim, weather/rust/water resistant, seating capacity: 2, includes cushion, and chain
● What Clients Love about this Porch Swing: complements other patio furniture, has a cozy appeal, lovely colors, impressive details, gorgeous wicker, great quality
11. Brighton Beach Deep Seating Porch Swing Bed with Cushion by Belham Living
Points of Interest:
● Clients Rating: 4.7 Stars
● Style Inspiration: contemporary, beach, coastal
● Material: eucalyptus wood, polyester
● Color Options: white/nautical blue
● Design Features: swing bed, slat design, removable seat pad and cushion cover, includes bolster pillows
● What Clients Love about this Porch Swing: great for napping and relaxing, very comfy deep seat, lovely timeless appeal, stylish and functional
12. Silvia Porch Swing by Andover Mills
Points of Interest:
● Clients Rating: 4.7 Stars
● Style Inspiration: classic, traditional, country
● Material: cypress wood, metal
● Color Options: natural
● Design Features: contoured slatted back, smooth edges, adjustable chains, rolled seat, scrolled arms, zinc fasteners, seating capacity: 3
● What Clients Love about this Porch Swing: nice and smooth wood, curved arms and seat add comfort, great craftsmanship, holds up very well, solid and sturdy
13. ROLLED seating Amish Heavy Duty 800 Lb 5ft. Porch Swing by Ecommersify Inc
Points of Interest:
● Clients Rating: 4.8 Stars
● Style Inspiration: classic, rustic, mission/craftsman
● Material: pine wood
● Color Options: natural
● Design Features: slatted design, rolled seating, smooth edges, portable cupholder slides from side to side, termite/decay resistant
● What Clients Love about this Porch Swing: very handy tray with cup holders, lovely natural wood finish, can be painted with color of choice, sturdy and comfy, great quality at a great price
14. Arianna Hardwood Hanging Porch Swing with Stand by Langley Street
Points of Interest:
● Clients Rating: 4.5 Stars
● Style Inspiration: classic, mission/craftsman
● Material: meranti wood, galvanized steel
● Color Options: natural
● Design Features: slatted back and seat, teak oil treated wood, galvanized steel chain, water/rust resistant, seating capacity: 2, includes chain and stand
● What Clients Love about this Porch Swing: lovely addition to backyard, gorgeous wood color, swings smoothly, sturdy and has great quality, great value
15. Norwood Outdoor Horizontal Slat Back Porch Swing by Coral Coast
Points of Interest:
● Clients Rating: 4.7 Stars
● Style Inspiration: traditional, rustic, mission/craftsman
● Material: acacia wood, metal
● Color Options: brown
● Design Features: slatted design, gently curved arms, seating capacity: 3, includes hanging chain
● What Clients Love about this Porch Swing: nice and smooth finish, gorgeous and high quality wood, well made and durable, great value, easy to assemble
16. Bristol Porch Swing by Beachcrest Home
Points of Interest:
● Clients Rating: 4.6 Stars
● Style Inspiration: traditional, coastal, cottage
● Material: acacia wood, manufactured wood
● Color Options: natural stain, mint green, barn red, sky blue, white
● Design Features: hand-painted, slatted design, weather resistant, seating capacity: 2, includes ropes
● What Clients Love about this Porch Swing: lovely color choices, nice thick rope, high end look at an affordable price, holds up nicely, great quality and craftsmanship
17. Carson Creek Three-Seat Canopy Patio Swing by Mainstays
Points of Interest:
● Clients Rating: 4.5 Stars
● Style Inspiration: contemporary
● Material: steel, polyester
● Color Options: red
● Design Features: freestanding canopy swing, reversible plush cushions, powder-coated steel frame, adjustable canopy, weather and fade resistant, seating capacity: 3
● What Clients Love about this Porch Swing: glides smoothly, cozy addition to patio, thick and comfy cushions, gorgeous color, well made and durable
18. Soucy Wicker Porch Swing by Bay Isle Home
Points of Interest:
● Clients Rating: 4.7 Stars
● Style Inspiration: cottage, country, coastal
● Material: steel, resin wicker
● Color Options: white, antique black, antique moss, antique pecan, mocha
● Design Features: wicker swing, back with diamond lattice pattern, deep seating, seating capacity: 2, includes 48" chain and hooks, rust and weather resistant
● What Clients Love about this Porch Swing: lovely addition to yard, nice deep seat, great craftsmanship, holds up very well, great price
19. Delahey Outdoor Porch Swing by Better Homes & Gardens
Points of Interest:
● Clients Rating: 4.5 Stars
● Style Inspiration: traditional, rustic, mission/craftsman
● Material: wood
● Color Options: espresso, white
● Design Features: slatted design, teak oil finish, weather resistant, seating capacity: 2, includes chains
● What Clients Love about this Porch Swing: lovely timeless appeal, comfortable curved seat, nice smooth finish, sturdy and durable
20. Nocona Porch Swing by Fleur De Lis Living
Points of Interest:
● Clients Rating: 4.7 Stars
● Style Inspiration: vintage
● Material: wrought iron
● Color Options: brown
● Design Features: camelback design with radiating metal spokes, scrolled arms, distressed antique bronze finish, double powder coated, weather and UV resistant, seating capacity: 2, includes chains and hooks
● What Clients Love about this Porch Swing: unique and eye-catching, beautifully blends with other furniture, gets many compliments, heavy duty and well made
21. Vineyard Swing by POLYWOOD
Points of Interest:
● Clients Rating: 4.7 Stars
● Style Inspiration: traditional, country, mission/craftsman
● Material: plastic – polywood, metal
● Color Options: white, sand, slate gray, teak, black, green, mahogany
● Design Features: slatted design, UV/water/weather/rust resistant, seating capacity: 3, includes chain
● What Clients Love about this Porch Swing: adds curb appeal, real wood look, holds up well through different seasons, maintenance-free, great value
22. Amherst Single Seat Wood Porch Swing by Coral Coast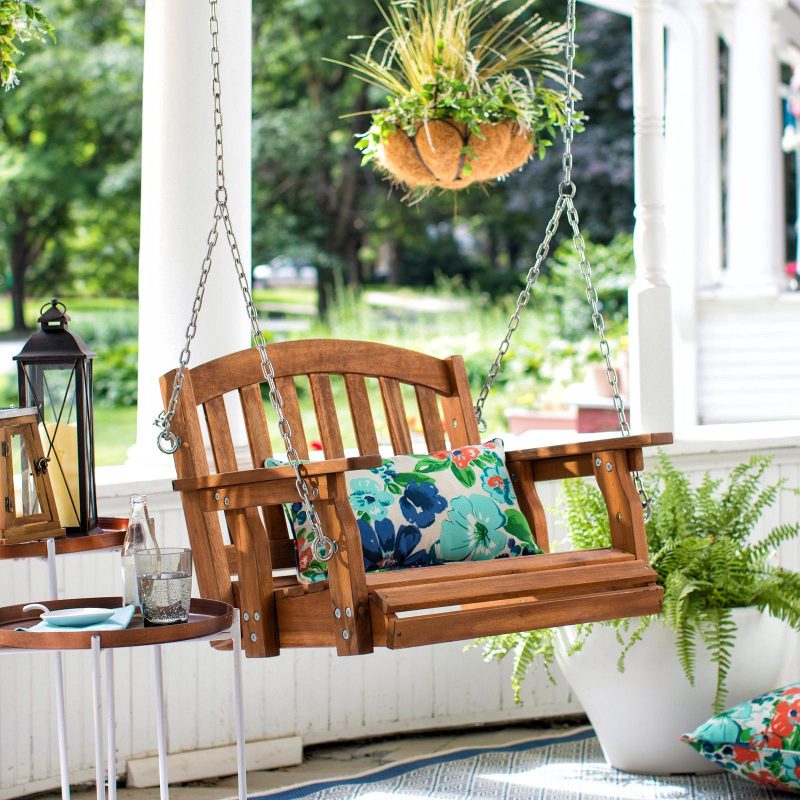 Points of Interest:
● Clients Rating: 4.7 Stars
● Style Inspiration: traditional, classic, mission/craftsman
● Material: acacia wood, metal
● Color Options: natural
● Design Features: slatted design, natural oil stain finish, single seating capacity, includes chain
● What Clients Love about this Porch Swing: cute and unique, great for small spaces, lovely finish, spacious and comfy seat, great quality at an affordable price
23. Shondra Porch Swing by Darby Home Co
Points of Interest:
● Clients Rating: 4.8 Stars
● Style Inspiration: classic, traditional
● Material: plastic, stainless steel
● Color Options: various colors to choose from
● Design Features: slatted seat and back, wood-look plastic, seating capacity: 2, UV/water/weather/rust/chip resistant, includes chains, comes in 2 sizes
● What Clients Love about this Porch Swing: nice real wood look, beautifully complements decor, maintenance free, sturdy and durable
24. Country Garden Porch Swing with Stand by Lakeland Mills
Points of Interest:
● Clients Rating: 4.9 Stars
● Style Inspiration: rustic, classic
● Material: Northern white cedar wood, steel
● Color Options: brown
● Design Features: slatted design, unfinished, contoured seat, rot resistant wood, includes swing and frame
● What Clients Love about this Porch Swing: has a nice rustic appeal, fun and relaxing swing, beautiful and comfortable, impressive quality, very sturdy
25. Marquette 3-Seat Daybed Porch Swing with Stand by Andover Mills
Points of Interest:
● Clients Rating: 4.7 Stars
● Style Inspiration: modern, contemporary
● Material: steel, polyester, olefin fabric
● Color Options: gray
● Design Features: daybed swing, adjustable design (sit, lay back, recline), curved frame, built-in cup holders, powder-coated steel, removable canopy, seating capacity: 3, removable cushion and cushion cover
● What Clients Love about this Porch Swing: clever design, convenient little side tables and cup holders, great for relaxing, thick and comfy cushions, well made and durable
26. 3 Person Steel Canopy Porch Swing by Outsunny
Points of Interest:
● Clients Rating: 4.7 Stars
● Style Inspiration: traditional
● Material: steel, polyester
● Color Options: black
● Design Features: curved cushion seat, adjustable canopy, powder-coated steel frame, seating capacity: 3
● What Clients Love about this Porch Swing: comfy and relaxing, easy to assemble, great quality, great price
27. Noonday Porch Swing by Fleur De Lis Living
Points of Interest:
● Clients Rating: 4.8 Stars
● Style Inspiration: French provencal, coastal
● Material: resin wicker/rattan, steel
● Color Options: antique brown, black antique, chocolate, honey
● Design Features: woven wicker, openwork scrolling frame, powder-coated finish, rust resistant, seating capacity: 2, includes 48" chain
● What Clients Love about this Porch Swing: beautifully blends with outdoor furniture, lovely metal work, comfy and sturdy, great quality at an unbeatable price