Hello and welcome to our carefully curated selection of pergolas. We handpicked for you a variety of beautiful, high-quality pergolas that can fit beautifully with many landscape styles and outdoor budgets. To derive this list, we carefully reviewed customer reviews and are only bringing up to your attention pergolas that clients have enjoyed in their backyard. Hope you find inspiration in these photos and find this information useful, enjoy!

What is a pergola?
Definition: a pergola is a structure built to cover a deck or patio area. It also works as a stand alone structure in the backyard or near a pool to delineate a seating area while providing shade. A pergola is built with vertical posts supporting an open roof made of beams, rafters and optional purlins. The pergola roof can be left bare or canopy shades or louvers can be added to provide additional shades.
Style: classic, country, traditional, modern, contemporary,Mediterranean, cottage, tropical, retro-industrial
Design Features: shape (square, rectangular, triangular), material (hardwood, vinyl, aluminum, steel, manufactured wood, fabric shade) roof style (flat, arched), installation type (anchored, freestanding, spiked), added features (built-in bench, built-in side table, with canopy/louver, maintenance-free, plant compatible, fire pit compatible), adjustable canopy/sun shade (sliding, drag down canopy, retractable, adjustable louver), durability (water, weather, fade, crack, rot, mildew, warp, and UV resistant)
Price Range: $309.99 to $5,754.07

How are clients using their pergolas in their home décor:
Where: backyard, patio, pool area, garden, front yard, deck
Things to consider: style and look, material, quality and craftsmanship, durability, size, added features, maintenance, DIY or not, budget
Favorite Features: gorgeous addition to patio, lovely wood color, heavy and sturdy, easy to assemble, great quality, cleverly designed canopy, adds elegance to yard, well made and durable, great for small spaces, easy to clean, adds an inviting appeal to backyard, wonderfulbench and table feature, perfect for entertaining, beautiful and functional, great big size, great wood quality, conveniently maintenance-free, can withstand strong winds, wonderfully provides privacy, easily adjustable canvas cover

Hope you enjoy the showroom visit!

1. Preston Solid Wood Pergola by Yardistry
Points of Interest:
● Clients Rating: 4.5 Stars
● Style Inspiration: classic, contemporary
● Material: cedar wood, metal
● Color Options: tugboat brown
● Design Features: 3 canopy styles (none, retractable, snap on), L-mounts, X corner panels, arched roof beams, cornerplinths, anchored installation, size: 12' x 12'
● What Clients Love about this Pergola: gorgeous addition to patio, lovely wood color, heavy and sturdy, easy to assemble, great quality
2. Atlantics Outdoor Extra Large BBQ Grill Pergola with Sun Shade by Kozyard
Points of Interest:
● Clients Rating: 4.5 Stars
● Style Inspiration: classic, country, retro-industrial
● Material: aluminum, fabric
● Color Options: beige
● Design Features: easy to close and open sliding sun shade canopy, aluminum poles, rust/UV/fire resistant, size: 10′ x 13′
● What Clients Love about this Pergola: cleverly designed canopy, adds elegance to yard, well made and durable, great size, holds up very well
3. Cedar Pergola by Backyard Discovery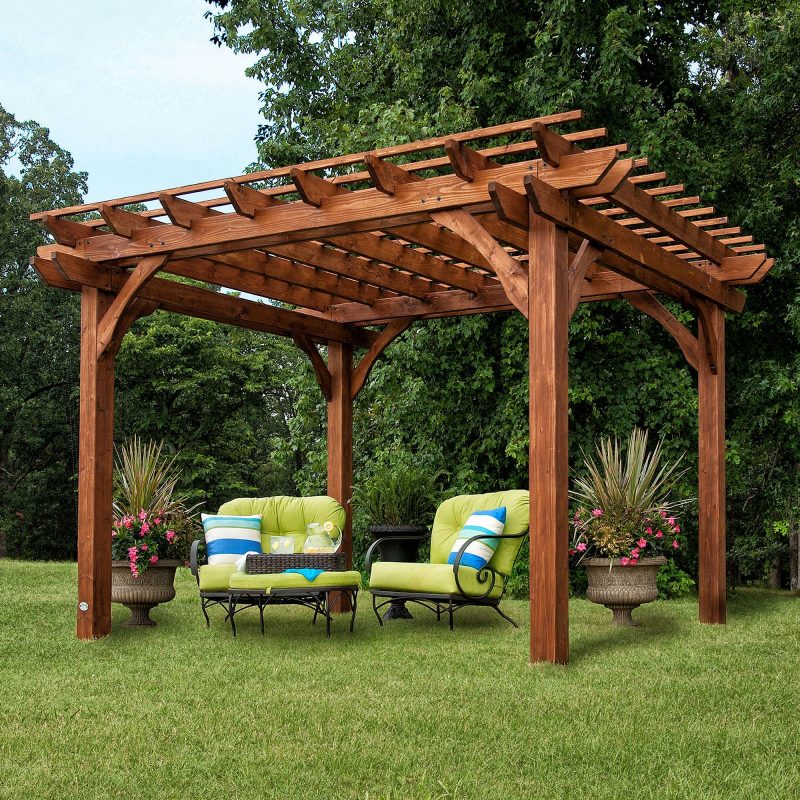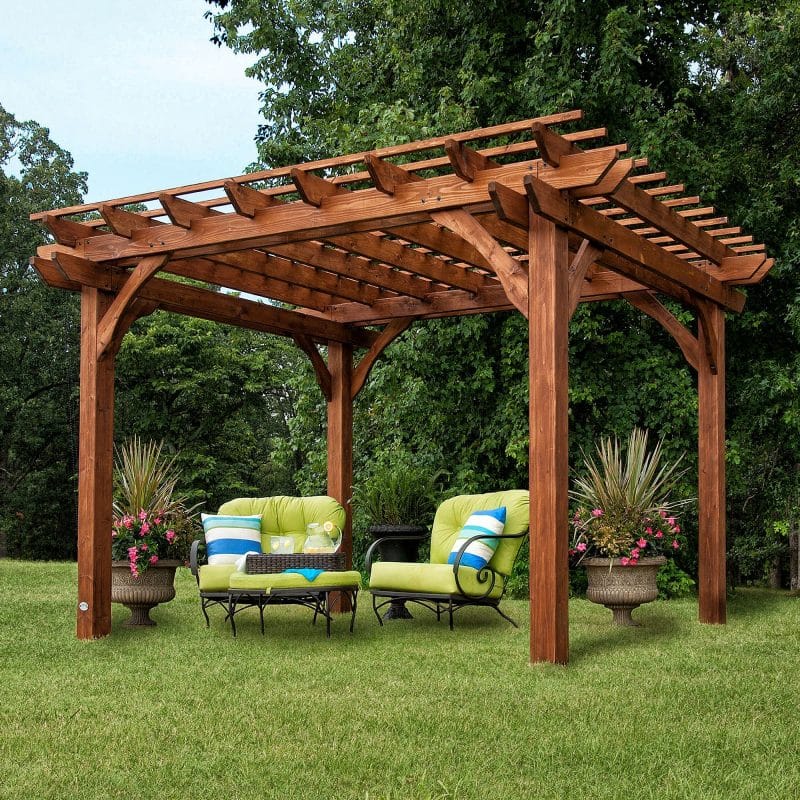 Points of Interest:
● Clients Rating: 4.5 Stars
● Style Inspiration: classic, Mediterranean
● Material: cedar wood
● Color Options: brown
● Design Features: posts with diagonal braces, sculpted beams, anchors with foot covers, size: 120′ x 10′
● What Clients Love about this Pergola: adds a sophisticated touch to backyard, lovely cedar wood, solid and sturdy, gets many compliments, great value
4. Kingston Vinyl Pergola by Dura-Trel
Points of Interest:
● Clients Rating: 4.6 Stars
● Style Inspiration: classic, modern
● Material: PVC vinyl
● Color Options: white
● Design Features: square shape, maintenance free, fade/crack/peel resistant, anchored installation, size: 7' x 7'
● What Clients Love about this Pergola: great for small spaces, enhances the look of patio, holds up great to strong winds, easy to clean, easy to assemble
5. Naples Steel Pergola by Sunjoy
Points of Interest:
● Clients Rating: 4.7 Stars
● Style Inspiration: modern, contemporary
● Material: metal – steel, polyester, vinyl
● Color Options: beige/black
● Design Features: pergola with canopy, rectangular shape, installation type: freestanding, weather/water/rust/UV resistant, size: 10' x 8', powder coated metal frame
● What Clients Love about this Pergola: wonderfully provides privacy and a good amount of shade, lovely addition to yard, great on poolside, heavy and durable
6. Abilene Pergola by Backyard Discovery
Points of Interest:
● Clients Rating: 4.9 Stars
● Style Inspiration: contemporary
● Material: cedar wood, metal
● Color Options: brown
● Design Features: square shape, crisscross sculpted beams with metal braces, posts with diagonal braces, rot and decay resistant, size: 10′ x 10′
● What Clients Love about this Pergola: adds an inviting appeal to backyard, great for get-togethers, gorgeous natural wood finish, very sturdy and has great quality
7. Eden Vinyl Pergola by New England Arbors
Points of Interest:
● Clients Rating: 4.5 Stars
● Style Inspiration: classic, cottage
● Material: vinyl, canvas, stainless steel
● Color Options: white/beige
● Design Features: square shape, canvas shade cover, roofstyle: flat, installation type: anchored, fade/crack/rot/mildew/warp/UV resistant, size: 10' x 10', posts with crown moldings
● What Clients Love about this Pergola: fancy addition to deck, beautifully transforms yard, gorgeous details, sturdy and heavy duty, easy to clean
8. Meadow Steel Pergola by Sunjoy
Points of Interest:
● Clients Rating: 4.7 Stars
● Style Inspiration: modern, contemporary
● Material: metal – steel, canvas
● Color Options: brown
● Design Features: easy-to-adjust drag down canopy, arched roof style, installation type: freestanding, water/weather/UV resistant, size: 8' x 10', powder-coated metal frames
● What Clients Love about this Pergola: easily adjustable canvas cover, wonderful addition to patio, as beautiful as the photos show, heavy and well made
9. Queensbrook Pergola by Dura-Trel
Points of Interest:
● Clients Rating: 4.6 Stars
● Style Inspiration: traditional
● Material: vinyl, steel
● Color Options: white
● Design Features: square shape, Asian-inspired design,steel anchors, size: 115" x 115"
● What Clients Love about this Pergola: attractive and gets many compliments, looks beautiful on poolside, conveniently maintenance-free, easy assembly, well made and durable
10. Oasis Wood Pergola by Backyard Discovery
Points of Interest:
● Clients Rating: 4.7 Stars
● Style Inspiration: modern, contemporary
● Material: Chinese cedar wood, metal
● Color Options: brown
● Design Features: rectangular shape, built-in bar/serving table, built-in bench, roof style: flat, installation type: anchored, with corner braces and railings, water/weather/mildew resistant, size: 14' x 10'
● What Clients Love about this Pergola: wonderful bench and table feature, perfect for entertaining, beautiful and functional, great big size, gorgeous wood, great craftsmanship and quality
11. Doubleton Pergola by Sunjoy
Points of Interest:
● Clients Rating: 4.5 Stars
● Style Inspiration: modern, contemporary
● Material: steel, polyester
● Color Options: black/beige
● Design Features: distressed matte black powder-coated finish, adjustable roof design, water resistant,size: 10' x 8', freestanding
● What Clients Love about this Pergola: wonderfully gives protection from sun and rain, attractive and functional, sturdy and holds up well to strong winds, has option to remove fabric shade
12. Regency Vinyl Pergola by New England Arbors
Points of Interest:
● Clients Rating: 4.9 Stars
● Style Inspiration: traditional, classic
● Material: vinyl, stainless steel
● Color Options: white
● Design Features: square shape, anchored installation, roof style: flat, fade/crack/rot/mildew/warp/UV resistant, size: 12' x 12', posts with crown moldings, freestanding
● What Clients Love about this Pergola: enhances the look of patio, lovely classic appeal, easy to install, provides needed shade, great quality
13. Sonoma Solid Wood Pergola by The Outdoor GreatRoom Company
Points of Interest:
● Clients Rating: 4.9 Stars
● Style Inspiration: classic, contemporary
● Material: douglas fir wood,stainless steel
● Color Options: redwood, mocha
● Design Features: rectangular shape, redwood stain, roof type: arched/pitched, anchored installation, optional lattice roof and wall, fade/crack/rot/mildew/warp/UV/rust resistant, size: 16' x 16', with corner braces and mounting kit, freestanding
● What Clients Love about this Pergola: charming and classy addition to yard, looks very elegant, great wood quality, eye-catching and gets many compliments
14. Portland Pergola by New England Arbors
Points of Interest:
● Clients Rating: 4.7 Stars
● Style Inspiration: classic
● Material: vinyl, stainless steel
● Color Options: white
● Design Features: square shape, classic design, weather resistant, size: 8' x 8', freestanding
● What Clients Love about this Pergola: enhances the look of the yard, adds a touch of class, great quality at an affordable price, easy to clean
15. Breeze Solid Wood Pergola by Outdoor Living Today
Points of Interest:
● Clients Rating: 5.0 Stars
● Style Inspiration: classic, country
● Material: wood -western red cedar, stainless steel
● Color Options: natural
● Design Features: rectangular shape, roof style: flat, installation type: anchored or freestanding, water/weather/rot/rust/mildew resistant, size: 20' x 12', with corner braces
● What Clients Love about this Pergola: beautiful addition to yard, easy assembly, provides protection from the sun, strong and sturdy, great quality
16. Camelot Vinyl Pergola by New England Arbors
Points of Interest:
● Clients Rating: 4.6 Stars
● Style Inspiration: traditional, contemporary
● Material: vinyl
● Color Options: white
● Design Features: square shape, adjustable 3-panel louvered shade with turn bar, roof style: flat, installation type: anchored, weather resistant, size: 12' x 12'
● What Clients Love about this Pergola: clever louver design, beautifully uplifts the look of the patio, stylish and functional, great quality, easy to clean
17. Aluminum Patio Pergola by Outsunny
Points of Interest:
● Clients Rating: 5.0 Stars
● Style Inspiration: modern, contemporary
● Material: aluminum, polyester
● Color Options: brown/black
● Design Features: retractable canopy cover with 5 rails, black aluminum frame, water and UV resistant, size: 10' x 10'
● What Clients Love about this Pergola: lovely addition to patio, easy to assemble, great quality at a reasonable price
18. Avalon Vinyl Pergola by New England Arbors
Points of Interest:
● Clients Rating: 4.9 Stars
● Style Inspiration: traditional, cottage
● Material: vinyl
● Color Options: white
● Design Features: square shape, adjustable 3-panel louvered shade, roof style: flat, installation type: anchored, weather resistant, size: 10' x 10'
● What Clients Love about this Pergola: convenient adjustable louvers, wonderful addition to deck, easy to assemble, holds up very well, great value
19. Verona Aluminum Pergola by Paragon-Outdoor
Points of Interest:
● Clients Rating: 4.7 Stars
● Style Inspiration: contemporary
● Material: metal – aluminum, stainless steel; polyester, plastic
● Color Options: brown/cocoa
● Design Features: rectangular shape, adjustable canopy top, installation type: spiked, roof style: flat, maintenance-free, size: 11' x 16', powder-coated frame with wood-look finish, water-resistant, includes ground stakes and bolts
● What Clients Love about this Pergola: very versatile and beautiful, great on poolside, durable and can withstand strong winds, easy to assemble
20. Lakewood Vinyl Pergola by New England Arbors
Points of Interest:
● Clients Rating: 4.5 Stars
● Style Inspiration: classic, traditional
● Material: vinyl-wood pulp blend
● Color Options: brown
● Design Features: square shape, wood-look finish, size: 7.25' x 7.25'
● What Clients Love about this Pergola: nice real wood look, looks attractive on deck, well made and durable
21. Regency Vinyl Pergola by New England Arbors
Points of Interest:
● Clients Rating: 4.6 Stars
● Style Inspiration: classic
● Material: vinyl
● Color Options: white
● Design Features: rectangular shape, roof style: flat, installation type: anchored, plant compatible, maintenance-free, water/weather/fade/crack/rot/rust/warp/UV resistant, size: 26' x 14.5'
● What Clients Love about this Pergola: attractive and gets many compliments, great big size, easy to assemble, great quality, great value
22. Solid Wood Pergola by YardCraft
Points of Interest:
● Clients Rating: 4.5 Stars
● Style Inspiration: classic, traditional, tropical
● Material: cedar wood or southern yellow pine wood, stainless steel
● Color Options: unfinished, stained
● Design Features: rectangular shape, laminated posts with decorative skirts, roof style: flat, 3-pc arched joists, installation type: anchored, with corner braces and brackets, plant and fire pit compatible, size: 11.5' x 13.5', powder-coated hardware
● What Clients Love about this Pergola: beautiful addition to patio, impressive wood quality, easy to assemble, solid and study
23. Freemont Vinyl Pergola by New England Arbors
Points of Interest:
● Clients Rating: 4.7 Stars
● Style Inspiration: classic
● Material: vinyl, stainless steel
● Color Options: white
● Design Features: square shape, roof style: flat, plant compatible, installation type: anchored, weather/fade/crack/rot/mildew/warp/UV resistant, size: 12' x 12', 2 front posts, designed to be attached to a house
● What Clients Love about this Pergola: as beautiful as the photos show, enhances the look of the deck, lovely design, easy to assemble, great quality
24. Breeze Pergola by Outdoor Living Today
Points of Interest:
● Clients Rating: 5.0 Stars
● Style Inspiration: classic
● Material: western red cedar wood
● Color Options: natural
● Design Features: rectangular shape, sculptured top joists, crisscrossed girders, size: 12' x 16', with diagonal braces
● What Clients Love about this Pergola: lovely and beautiful addition to yard, eye-catching and gets many compliments, great wood quality
25. Venetian Vinyl Pergola by New England Arbors
Points of Interest:
● Clients Rating: 4.9 Stars
● Style Inspiration: classic
● Material: vinyl, stainless steel
● Color Options: white
● Design Features: square shape, roof style: flat, installation style: anchored, plant compatible, weather/fade/crack/rot/mildew/warp/UV resistant, size: 10' x 10', posts with crown moldings
● What Clients Love about this Pergola: adds curb appeal, lovely details, as beautiful as the photos show, easy assembly, great quality
26. Roosevelt Manufactured Wood Pergola by New England Arbors
Points of Interest:
● Clients Rating: 4.5 Stars
● Style Inspiration: traditional, classic
● Material: manufactured wood – vinyl and wood pulp blend, stainless steel
● Color Options: cedar
● Design Features: square shape, roof style: flat, plant compatible, installation type: anchored, weather/fade/crack/rot/mildew/warp/UV resistant, size: 12' x 12', wood-look finish
● What Clients Love about this Pergola: lovely addition to patio, much more attractive in person, gorgeous color, conveniently maintenance-free, durable and can withstand strong winds
27. Alcove Vinyl Pergola by New England Arbors
Points of Interest:
● Clients Rating: 4.7 Stars
● Style Inspiration: classic
● Material: vinyl, stainless steel
● Color Options: white
● Design Features: triangular shaped alcove pergola, roof style: flat, installation type: anchored, water/weather/fade/crack/rot/mildew/warp/UV resistant, size: 8' W x 10.5' D
● What Clients Love about this Pergola: unique shape, great for corners, interesting design, well made and sturdy, beautiful addition to patio