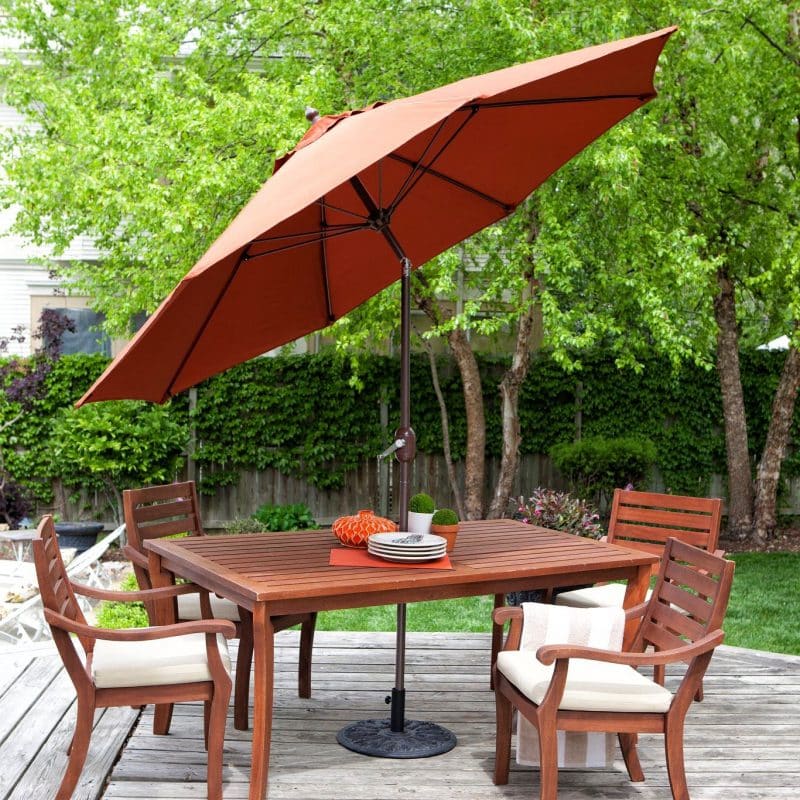 Hello and welcome to our carefully curated selection of patio umbrellas. Check the variety of beautiful, high-quality patio umbrellas we handpicked for you. To derive this list, we carefully reviewed customer reviews and are only bringing up to your attention patio umbrellas that have brought joy, and cheer, to many clients. Hope you find inspiration in these photos and find this information useful, enjoy!

What are the types of patio umbrellas that made the "Best Of" list?
Style: traditional, coastal, cottage, vintage, tropical, French country, contemporary, modern
Umbrella Type: market umbrella, cantilever umbrella
Design Features: canopy shape (round, square, rectangular, hexagonal, octagonal, half round), lift mechanism (crank lift, double pulley lift, push up and lift), tilt function (none, manual, push-button), pole material (aluminum, wood), canopy material (polyester, Sunbrella, olefin fabric), durability (fade-resistant, water-resistant, UV-resistant, rust-resistant, wind-resistant, mildew-resistant, weather-resistant), added features (wind vent, valance drapes, solar powered LED lights, comes with base/stand)
Price Range: $15.95 to $272.99

How are clients using their patio umbrellas in their home décor:
Where: patio, porch, deck, balcony, poolside, garden, terrace, yard
Things to consider: size and shape, look and style, quality and craftsmanship, material, durability, added features (lights, lift and tilt mechanism), coverage
Favorite Features: convenient crank lift feature, nice stable base, covers the whole table, adds a pop of color to the patio, sturdy and durable, beautifully matches furniture, provides ample shade, well made and heavy duty, clever solar-powered lights, beautifully lights up at night, adds an inviting appeal, holds up beautifully to different weather conditions, unique design, perfect for small deck, eye-catching and gets lots of compliments, great value, easy to assemble, cools down the space, space saver, great tilt feature

Hope you enjoy the showroom visit!

1. Hapeville Market Umbrella by Zipcode Design
Points of Interest:
● Clients Rating: 4.5 Stars
● Style Inspiration: traditional, modern
● Material: polyester, metal
● Color Options: navy, brown, burgundy, gray, hunter green, red, royal blue, tan, yellow, navy
● Design Features: 9' octagonal canopy, crank lift, manual tilt, powder-coated 2-pc metal pole, water and rust resistant, wind rating: 15 MPH
● What Clients Love about this Patio Umbrella: adds pop of color to patio, awesome tilt feature, lovely color choices, sturdy and durable, great quality at a great price
2. Aluminum Patio Umbrella with Auto Crank by Pure Garden
Points of Interest:
● Clients Rating: 4.7 Stars
● Material: polyester, aluminum
● Color Options: terracotta, blue, red, lime green
● Design Features: 9' round canopy, crank lift system, 8 heavy duty metal ribs, wind vent, powder-coated pole, wind/mold/mildew resistant
● What Clients Love about this Patio Umbrella: lightweight yet sturdy, convenient crank lift feature, gorgeous color, very easy to set up, great quality, great value
3. Aluminum Spun Poly Rectangle Patio Umbrella by Coral Coast
Points of Interest:
● Clients Rating: 4.5 Stars
● Material: polyester, aluminum
● Color Options: antique beige, deep gray, terracotta
● Design Features: rectangular canopy shape, 8 metal ribs, crank lift system, weather-treated fabric, bronze finish metal frame, size 8' x 11'
● What Clients Love about this Patio Umbrella: beautifully matches outdoor furniture, provides ample shade, well made and heavy duty, great value
4. Solar Powered LED Lighted Patio Umbrella by Sundale Outdoor
Points of Interest:
● Clients Rating: 4.5 Stars
● Material: polyester, aluminum, steel
● Color Options: apple green, coffee, gray, lime green, navy blue, red, tan, yellow, dark green
● Design Features: 7' octagonal canopy, crank lift system, push-button tilt, 24 LED lights – 3 LED lights on each of the 8 steel ribs, bronze finish aluminum pole, air-vented top, fade/water/UV/rust resistant
● What Clients Love about this Patio Umbrella: clever solar-powered lights, beautifully lights up at night, lovely color, crank and tilt mechanism works well, great craftsmanship
5. Sunbrella Deluxe Tilt Aluminum Patio Umbrella by Coral Coast
Points of Interest:
● Clients Rating: 4.6 Stars
● Material: Sunbrella, fiberglass, aluminum, steel
● Color Options: various colors to choose from
● Design Features: 9' round canopy, 8 fiberglass ribs, crank lift system, push-button tilt, powder-coated pole, can be used through a table or freestanding
● What Clients Love about this Patio Umbrella: beautiful poolside umbrella, great crank mechanism and tilt feature, high quality Sunbrella fabric, great value
6. Bellana Cantilever Umbrella by Sol 72 Outdoor
Points of Interest:
● Clients Rating: 4.7 Stars
● Material: polyester, aluminum, plastic
● Color Options: taupe, beige, blue lavender, black, gray
● Design Features: 9' 10" octagonal canopy, crank lift system, manual tilt – 360 degrees rotation, cantilever design, wind vent, water and rust resistant, includes umbrella base
● What Clients Love about this Patio Umbrella: impressive huge coverage, sturdy and stable, conveniently tilts in any direction, clever water-filled base, easy to assemble
7. Key Largo Wood Market Umbrella with Base by Coral Coast
Points of Interest:
● Clients Rating: 4.5 Stars
● Material: polyester, iron, solid wood, brass
● Color Options: stand – black, antique bronze; shade – canvas, green, navy, pacific blue, red
● Design Features: 11' round canopy, 8 ribs, double pulley lift, powder-coated pole, weather resistant, cast iron base, includes umbrella, base
● What Clients Love about this Patio Umbrella: nice stable base, covers the whole table, beautiful and functional, great quality, great value
8. Woll Lighted Market Umbrella by Mercury Row
Points of Interest:
● Clients Rating: 4.5 Stars
● Material: polyester, aluminum
● Color Options: various colors to choose from
● Design Features: 9' octagonal canopy, crank lift mechanism, manual tilt, wind vent, water resistant, solar-powered LED lights, adjustable height
● What Clients Love about this Patio Umbrella: convenient tilt feature, creates a lovely ambiance at night, gets many compliments, great coverage, great value
9. Sunbrella Patio Outdoor Table Umbrella by EliteShade
Points of Interest:
● Clients Rating: 4.5 Stars
● Material: aluminum, Sunbrella fabric
● Color Options: various colors to choose from
● Design Features: 9' octagonal canopy, 8 powder-coated ribs, wind-vented canopy, crank open system, push-button tilt, powder-coated frame, with a strap to tie up umbrella when not in use
● What Clients Love about this Patio Umbrella: gorgeous color choices, holds up well to strong winds, well made, high quality materials
10. Delaplaine Market Umbrella by Zipcode Design
Points of Interest:
● Clients Rating: 4.7 Stars
● Material: polyester, aluminum
● Color Options: beige, burnt orange, gold, green, navy blue, red turquoise
● Design Features: 9' octagonal canopy, crank lift mechanism, can be tilted, powder-coated pole, weather-resistant, with wind vent, adjustable height
● What Clients Love about this Patio Umbrella: great poolside umbrella, beautiful bright color, easy to open and close, well made
11. Bondi Square Cantilever Umbrella by Sol 72 Outdoor
Points of Interest:
● Clients Rating: 4.6 Stars
● Material: polyester, aluminum, plastic
● Color Options: beige, blue lavender, taupe, black, gray, teal
● Design Features: 9' 8" square canopy, cantilever design, crank lift mechanism, wind vent, water resistant, includes: umbrella, base, pole, levers
● What Clients Love about this Patio Umbrella: huge size with great coverage, easy to set up and use, cools down the space, high end features for a reasonable price
12. Square Offset Patio Umbrella by Coral Coast
Points of Interest:
● Clients Rating: 4.7 Stars
● Material: polyester, aluminum
● Color Options: pole – anthracite, bronze; shade – boulder, mocha, sunset
● Design Features: 8' 5" square canopy, crank lift mechanism, 350-degree rotation with foot pedal, front to back tilt, powder-coated pole, comes with protective cover, 8 ribs
● What Clients Love about this Patio Umbrella: handy protective cover, easy to adjust to desired position, sturdy and durable, gorgeous addition to patio
13. Jerrell Rectangular Market Umbrella by Freeport Park
Points of Interest:
● Clients Rating: 4.6 Stars
● Material: polyester, aluminum, steel
● Color Options: red, beige, dark green
● Design Features: 10' x 6.5' rectangular canopy, crank lift mechanism, push-button tilt, powder-coated pole, water/UV/mildew/rust resistant, wind vent
● What Clients Love about this Patio Umbrella: convenient crank lift, rectangular shape complements table, high quality materials, well made and durable
14. Half Round Market Umbrella by Pure Garden
Points of Interest:
● Clients Rating: 4.6 Stars
● Material: polyester, steel
● Color Options: red, blue, dusty green, tan, brilliant blue, burnt orange, hunter green, sand
● Design Features: 7.5' half shape umbrella, 5 metal ribs, crank lift mechanism, wind vent, weather/water/rust resistant, metal pole
● What Clients Love about this Patio Umbrella: unique shape and size, clever design, great for small spaces, space saver, adds pop of color to patio
15. Solar LED Tilt Patio Umbrella by Best Choice Products
Points of Interest:
● Clients Rating: 4.5 Stars
● Material: polyester, aluminum, steel
● Color Options: various colors to choose from
● Design Features: 10' octagonal canopy, 8 ribs, 24 solar powered LED lights, crank lift mechanism, easy tilt system, wind vent, water/UV/fade/rust resistant, powder coated metal frame
● What Clients Love about this Patio Umbrella: awesome LED lights, looks beautiful in the patio, very convenient crank, covers a huge space, great value
16. Capresa Market Umbrella by Sol 72 Outdoor
Points of Interest:
● Clients Rating: 4.6 Stars
● Material: polyester, aluminum, fiberglass
● Color Options: antique beige, red brick, pacific blue, green palm, yellow
● Design Features: 7.5' hexagonal canopy, valance drapes, crank lift mechanism, push-button tilt, wind vent, weather and UV resistant, champagne finish metal pole
● What Clients Love about this Patio Umbrella: unique and useful drapes, nice vibrant color, holds up very well, beautiful and functional, strong and well made
17. Jericho Market Umbrella by Zipcode Design
Points of Interest:
● Clients Rating: 4.7 Stars
● Material: polyester, aluminum
● Color Options: beige, burnt orange, navy blue, red
● Design Features: 9' octagonal canopy, 24 solar-powered LED lights, crank lift mechanism, wind vent, push-button tilt, 360-degree rotation, weather and water resistant, powder-coated metal pole
● What Clients Love about this Patio Umbrella: lightweight yet sturdy, lights create a lovely ambiance, holds up beautifully to different weather conditions, great quality at a great price
18. Steel Market Patio Umbrella by Coral Coast
Points of Interest:
● Clients Rating: 4.8 Stars
● Material: polyester, steel
● Color Options: various color choices
● Design Features: 9' round canopy, 8 ribs, crank lift mechanism, push-button tilt, dark bronze powder-coat frame
● What Clients Love about this Patio Umbrella: wonderful addition to patio, lovely color choices, well made and durable, great quality for a reasonable price
19. Boracay Square Cantilever Umbrella by Sol 72 Outdoor
Points of Interest:
● Clients Rating: 4.6 Stars
● Material: polyester, metal, plastic
● Color Options: beige, blue lavender
● Design Features: 10' square shape, cantilever style, adjustable height metal pole, crank lift mechanism, manual tilt, weather resistant, includes umbrella stand
● What Clients Love about this Patio Umbrella: beautifully complements the poolside, strong and stable, great coverage, easy to set up and to pull down
20. Lorinda Market Umbrella by Sol 72 Outdoor
Points of Interest:
● Clients Rating: 4.6 Stars
● Material: aluminum, fabric – olefin, pacifica, sunbrella
● Color Options: various colors to choose from
● Design Features: 9' octagonal canopy, crank lift design, auto tilt feature, wind vent, water and rust resistant
● What Clients Love about this Patio Umbrella: wide selection of colors, convenient crank and tilt feature, high quality materials, holds up nicely
21. Aluminum Tilt Sunbrella Patio Umbrella by Galtech
Points of Interest:
● Clients Rating: 4.7 Stars
● Material: Sunbrella/other fabrics, aluminum
● Color Options: pole – black, bronze, charcoal, white; shade – various color choices
● Design Features: 9' octagonal canopy, crank-lift system, auto-tilt function, choice of pole height: standard or bar height, wind and fade resistant, 8 ribs
● What Clients Love about this Patio Umbrella: beautiful and wide selection of colors, adds an inviting appeal, sturdy fabric, well made
22. Dade City North Half Market Umbrella by Beachcrest Home
Points of Interest:
● Clients Rating: 4.6 Stars
● Material: polyester, steel, aluminum
● Color Options: aqua blue very berry, chocolate, grass green, khaki, lemon yellow, ruby red, tangerine dream
● Design Features: 8' 11" W x 4' 5.5" D half round canopy, crank lift system, wind vent, powder-coated finish, weather and rust resistant, includes cover
● What Clients Love about this Patio Umbrella: unique design, perfect for small deck, adds pop of color to patio, eye-catching and gets lots of compliments
23. Winchester Market Umbrella by Zipcode Design
Points of Interest:
● Clients Rating: 4.7 Stars
● Material: polyester, aluminum, steel
● Color Options: beige, dark green, red, turquoise
● Design Features: 9' octagonal shape, 8 metal ribs, crank lift mechanism, push-button tilt, antique bronze powder-coated pole, wind vent, water resistant
● What Clients Love about this Patio Umbrella: complements outdoor furniture, heavy and durable, lovely color, smooth lift mechanism and tilt function, great quality
24. Annika Market Umbrella by Freeport Park
Points of Interest:
● Clients Rating: 4.8 Stars
● Material: polyester, aluminum
● Color Options: awning stripe (red/tan/black), Catalina beach stripe (black/dark gray/light gray/cream)
● Design Features: stripe pattern, 9' octagonal shape, crank lift mechanism, push-button tilt, 360-degree rotation, water and rust resistant
● What Clients Love about this Patio Umbrella: adds a pop of color to the deck, beautiful and functional, great tilt feature, sturdy and durable, great value
25. Wood Commercial-Grade Sunbrella Market Umbrella by Belham Living
Points of Interest:
● Clients Rating: 4.5 Stars
● Material: sunbrella, wood
● Color Options: various colors to choose from
● Design Features: 9' octagonal canopy, 8 wooden ribs, push-up lift-and-pin system, rich brown wooden pole, weather resistant
● What Clients Love about this Patio Umbrella: beautifully matches decor, holds up well to sun and rain, great quality sunbrella fabric, great value
26. Cooper Rectangular Market Umbrella by Sol 72 Outdoor
Points of Interest:
● Clients Rating: 4.7 Stars
● Material: aluminum, Solefin/Sunbrella fabric
● Color Options: various colors to choose from
● Design Features: 10′ W X 6.5′ D rectangular canopy, crank lift mechanism, push-button tilt, wind vent, weather and mildew resistant, bronze finish powder-coated pole
● What Clients Love about this Patio Umbrella: nice large size, perfectly shades table, sturdy and heavy, beautiful color choices, great quality
27. McDougal Market Umbrella by Zipcode Design
Points of Interest:
● Clients Rating: 4.5 Stars
● Material: polyester, aluminum
● Color Options: antique beige, forest green, lime green, navy blue, pacific blue, sunflower yellow, Tuscan brick, Tuscan orange
● Design Features: 11' hexagonal canopy, crank lift mechanism, wind vent, powder-coated pole, rust/water/UV/mildew resistant
● What Clients Love about this Patio Umbrella: beautiful addition to poolside, huge coverage, easy to open and close, durable and holds up very well