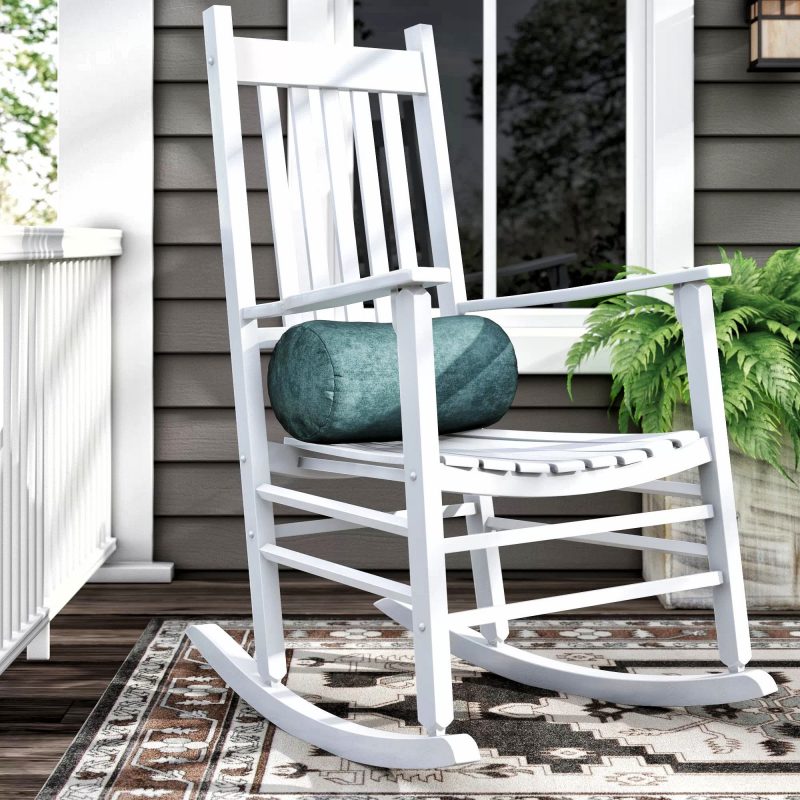 Hello and welcome to our carefully curated selection of patio rocking chairs. We handpicked for you a variety of beautiful, high-quality patio rocking chairs that can fit many styles and budgets. To derive this list, we carefully read through customer reviews and are only bringing up to your attention patio rocking chairs that have been highly rated by lots of clients. Hope you find inspiration in these photos and find this information useful, enjoy!

What are the types of patio rocking chairs voted best off?
Style: classic, traditional, cottage, country, rustic, coastal, tropical, modern farmhouse, mission/craftsman, French country, modern, contemporary
Design Features: rocking chair style (classic, adirondack, low), material (wood, resin wicker, aluminum, iron, steel, HDPE polywood, synthetic wood), back (woven, slatted, cushioned, tufted, angled, reclined, curved, X-back), seat (woven, contoured, wide, deep, cushioned, slatted), durability (water resistant, stain resistant, mildew resistant, UV resistant, weather resistant, rot resistant, rust resistant, stain resistant, chip resistant, fade resistant), added features (with coffee table, with cushion, with lumbar pillow, maintenance free, adjustable backrest and footrest, ergonomic design, eco-friendly)
Price Range: $89.00 to $370.99

How are clients using their patio rocking chairs in their home décor:
Where: patio, front porch, deck, poolside, ceranda, garden, balcony, around the firepit, sunroom
Things to consider: comfort, style and look, size, quality and craftsmanship, durability, added features, price
Favorite Features: spacious and comfy seat, comes with a lovely coffee table, relaxing rocking chair, cute and great for small spaces, unique and beautiful, easy to get in and get up from, smooth rocking motion, well made, provides good back support, very cushy and comfy cushions, sturdy and durable, nice smooth finish, comfortable wide seat, great craftsmanship, great value, beautiful solid wood, unique and eye-catching style, great quality at a great price, eco-friendly, conveniently maintenance-free

Hope you enjoy the showroom visit!

1. Norton Rocking Chair by Loon Peak
Points of Interest:
● Clients Rating: 4.8 Stars
● Style Inspiration: coastal, tropical, rustic
● Material: eucalyptus wood, resin wicker
● Color Options: brown, ash brown, gray/taupe
● Design Features: extra wide woven seat and back, curvy seat, 2-tone, natural wood knots, weather and water resistant
● What Clients Love about this Patio Rocking Chair: beautiful 2-tone color, lovely wood and wicker, spacious and comfy seat, great quality at an unbeatable price
2. Outdoor 3-Piece Rocking Wicker Bistro Set by SUNCROWN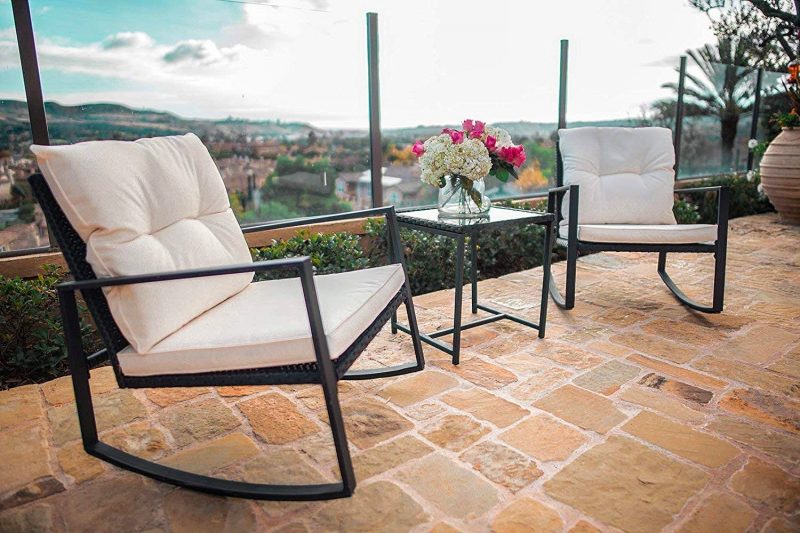 Points of Interest:
● Clients Rating: 4.6 Stars
● Style Inspiration: contemporary, modern
● Material: resin wicker, iron
● Color Options: black, brown
● Design Features: all weather wicker set, thick removable cushions, weather and UV resistant, includes: 2 rocking chairs, 1 glass-top coffee table
● What Clients Love about this Patio Rocking Chair: comes with a lovely coffee table, comfy wide seats, relaxing rocking chair, cute and great for small spaces, great quality
3. Nuna Acacia Wood Rocking Chair With Cushion by Christopher Knight Home
Points of Interest:
● Clients Rating: 5.0 Stars
● Style Inspiration: modern farmhouse, coastal
● Material: acacia wood, fabric
● Color Options: brown/white
● Design Features: natural finish, seat cushion with water resistant fabric, weather resistant, slatted back with diagonal accents
● What Clients Love about this Patio Rocking Chair: unique and beautiful, great huge size, easy to get in and get up from, smooth rocking motion, well made
4. Indoor/Outdoor Mission Slat Rocking Chair by Coral Coast
Points of Interest:
● Clients Rating: 4.5 Stars
● Style Inspiration: classic, cottage, country
● Material: acacia wood
● Color Options: white
● Design Features: ergonomic design, protective finish, slatted backrest, slatted and contoured seat
● What Clients Love about this Patio Rocking Chair: looks inviting on the front porch, lovely classic white rocking chair, nice smooth finish, great value
5. Willow Springs 3-Piece Rocking Outdoor Bistro Set by Mainstays
Points of Interest:
● Clients Rating: 4.5 Stars
● Style Inspiration: traditional
● Material: steel, olefin cushions, polyurethane and polyester fill
● Color Options: blue, cream
● Design Features: removable tufted cushions with velcro tab, scrolled arms, powder-coated steel frame, water/stain/mildew/UV resistant, includes: 2 rocking chairs, 1 round glass top table
● What Clients Love about this Patio Rocking Chair: lovely floral pattern, provides good back support, very cushy and comfy cushions, sturdy and durable
6. Brayan Rocking Chair with Cushion by Sol 72 Outdoor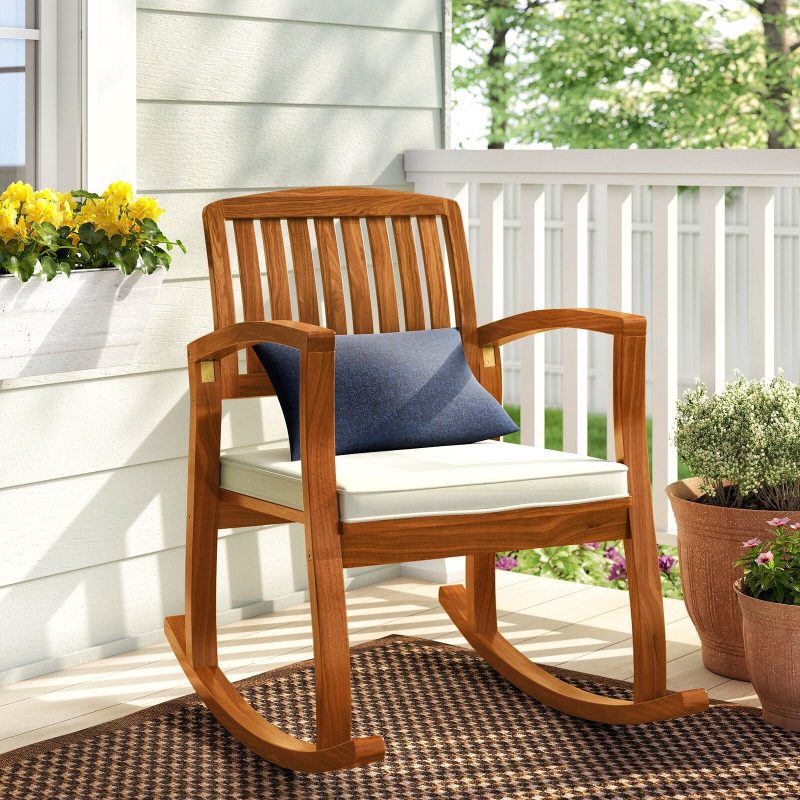 Points of Interest:
● Clients Rating: 4.8 Stars
● Style Inspiration: mission/craftsman
● Material: acacia wood, polyester, foam
● Color Options: teak/white
● Design Features: low slatted back, curved arms, removable cushion and cushion cover, natural finish, treated for outdoor use, weather resistant
● What Clients Love about this Patio Rocking Chair: classy and beautiful, gorgeous wood details, wide and comfy seat, velcros keep cushion in place, great value
7. Jefferson Recycled Plastic Rocking Chair by POLYWOOD
Points of Interest:
● Clients Rating: 4.6 Stars
● Style Inspiration: classic, country, rustic
● Material: plastic – HDPE Polywood
● Color Options: slate gray, black, white, mahogany, green, sand, teak
● Design Features: contoured seat, slatted back, finial-topped rails, eco-friendly – made from recycled plastics, weather resistant
● What Clients Love about this Patio Rocking Chair: nice wood grain pattern, heavy and sturdy, easy to assemble, withstands different weather conditions
8. Weatherly Rocking Chair by Highwood
Points of Interest:
● Clients Rating: 4.6 Stars
● Style Inspiration: contemporary
● Material: synthetic wood, stainless steel
● Color Options: black, Charleston green, coastal teak, dried sage, nantucket blue, toffee, Tuscan taupe, weathered acorn, white, whitewash
● Design Features: slatted back and seat, ultra-low maintenance, fade/UV resistant, deep curved seat, slightly angled back
● What Clients Love about this Patio Rocking Chair: beautiful and functional, eco-friendly, holds up well to outdoor conditions, comfy and sturdy
9. Azalea Ridge Outdoor Rocking Chair by Better Homes and Gardens
Points of Interest:
● Clients Rating: 4.5 Stars
● Style Inspiration: traditional, tropical
● Material: resin wicker, steel, olefin fabric
● Color Options: brown, green, white
● Design Features: woven resin wicker, rust-resistant metal frame, curved arms, mildew/stain/water/UV resistant, removable back and seat cushions, comes with lumbar pillow
● What Clients Love about this Patio Rocking Chair: gentle rocking motion, warm addition to deck, gorgeous color, nice and comfy oversized seat, great quality
10. Alston Wood Porch Rocking Chair by Cambridge Casual
Points of Interest:
● Clients Rating: 4.5 Stars
● Style Inspiration: classic, mission/craftsman, coastal, cottage
● Material: mahogany wood
● Color Options: white, black, brown
● Design Features: contoured seat, slatted back and seat, straight arms, solid color, painted finish – polyurethane coating, weather resistant
● What Clients Love about this Patio Rocking Chair: solid and sturdy, classic front porch rocking chair, great indoors or outdoors, unbeatable price
11. Losani All Weather Wicker Outdoor Rocking Chair by Coral Coast
Points of Interest:
● Clients Rating: 4.8 Stars
● Style Inspiration: contemporary
● Material: resin wicker, aluminum
● Color Options: espresso/beige
● Design Features: resin wicker on powder-coated metal frame, removable back and seat cushions, chip/fade/UV resistant
● What Clients Love about this Patio Rocking Chair: beautifully complements different decor styles, relaxing rocking chair, sturdy and has great quality
12. Pine Hills Rocking Chair by Beachcrest Home
Points of Interest:
● Clients Rating: 4.5 Stars
● Style Inspiration: traditional, coastal, mission/craftsman, rustic
● Material: acacia wood
● Color Options: stain, black/oak, red, white/oak, white
● Design Features: slatted seat and back, solid color or 2-toned, weather/UV resistant
● What Clients Love about this Patio Rocking Chair: comfortable wide seat, beautiful finish and color, great wood quality, easy to assemble, holds up nicely
13. Seacliff 3 Piece Rocking Chair Bistro Set by Better Homes and Gardens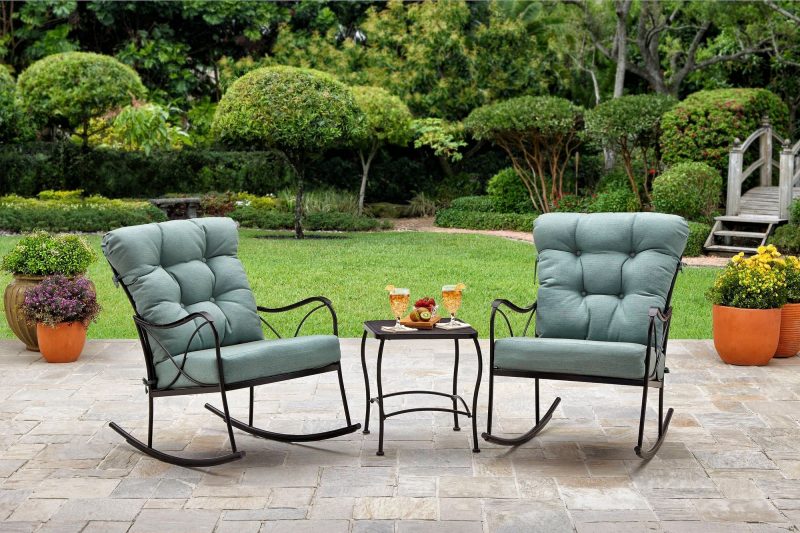 Points of Interest:
● Clients Rating: 4.6 Stars
● Style Inspiration: French country
● Material: steel, olefin fabric, polyester
● Color Options: green, teal
● Design Features: powder-coated steel frames, with seat cushion and tufted back cushion, UV/water/mildew/stain resistant, comes in a set: 2 rocking chairs, 1 mesh top side table
● What Clients Love about this Patio Rocking Chair: huge and comfy, lovely set for the patio, great chair to relax on, stylish and sturdy, great value
14. Outdoor Rocking Chair by Mainstays
Points of Interest:
● Clients Rating: 4.5 Stars
● Style Inspiration: traditional, mission/craftsman, rustic, country
● Material: eucalyptus wood
● Color Options: black, dark brown, natural wood, red, white
● Design Features: slatted contoured seat, slatted back, wide armrests, oil rubbed finish
● What Clients Love about this Patio Rocking Chair: great front porch rocker, comfy with or without cushions, lightweight yet durable, great price
15. Teak Adirondack Rocker by Linon
Points of Interest:
● Clients Rating: 4.5 Stars
● Style Inspiration: rustic, coastal
● Material: acacia wood
● Color Options: teak
● Design Features: Adirondack style rocking chair, angled seat and backrest, natural teak finish, weather resistant, curved slatted back, rolled seat
● What Clients Love about this Patio Rocking Chair: beautiful natural wood, looks warm and inviting, gets many compliments, great craftsmanship, great value
16. Presidential Rocking Chair by POLYWOOD
Points of Interest:
● Clients Rating: 4.8 Stars
● Style Inspiration: traditional, contemporary, cottage
● Material: manufactured wood – polywood
● Color Options: various colors to choose from
● Design Features: slatted seat and back, contoured seat, eco-friendly, weather/water/UV/mildew resistant
● What Clients Love about this Patio Rocking Chair: comes in bold and vibrant colors, great on poolside, sturdy and durable, conveniently maintenance-free
17. Knollwood Mission Rocker by Jack Post
Points of Interest:
● Clients Rating: 4.5 Stars
● Style Inspiration: classic, mission/craftsman, cottage, country
● Material: hardwood
● Color Options: white, gray, natural
● Design Features: vertical slats on back, slatted and contoured seat, gentle rocking motion
● What Clients Love about this Patio Rocking Chair: nice and smooth finish, much more beautiful in person, looks lovely on deck, comfy and sturdy
18. Freeburg Rocking Chair by Alcott Hill
Points of Interest:
● Clients Rating: 4.6 Stars
● Style Inspiration: contemporary
● Material: resin wicker, aluminum
● Color Options: brown/black
● Design Features: wide curved seat, wicker seat and back, sleek aluminum frame, weather resistant, curved arms
● What Clients Love about this Patio Rocking Chair: rocks smoothly, lightweight yet durable, comfortable and spacious seat, easy to clean and maintain
19. Nocona Iron Outdoor Porch Rocking Chair by Fleur De Lis Living
Points of Interest:
● Clients Rating: 4.9 Stars
● Style Inspiration: traditional, French Countr
● Material: wrought iron
● Color Options: black
● Design Features: slatted seat and back, scrolled details, weather and UV resistant, rolled arms, powder-coated frame
● What Clients Love about this Patio Rocking Chair: unique and eye-catching, adds curb appeal, complements decor, smooth rocking motion, gets lots of compliments
20. Cambridge Park Wicker Outdoor Rocking Chair by Mainstays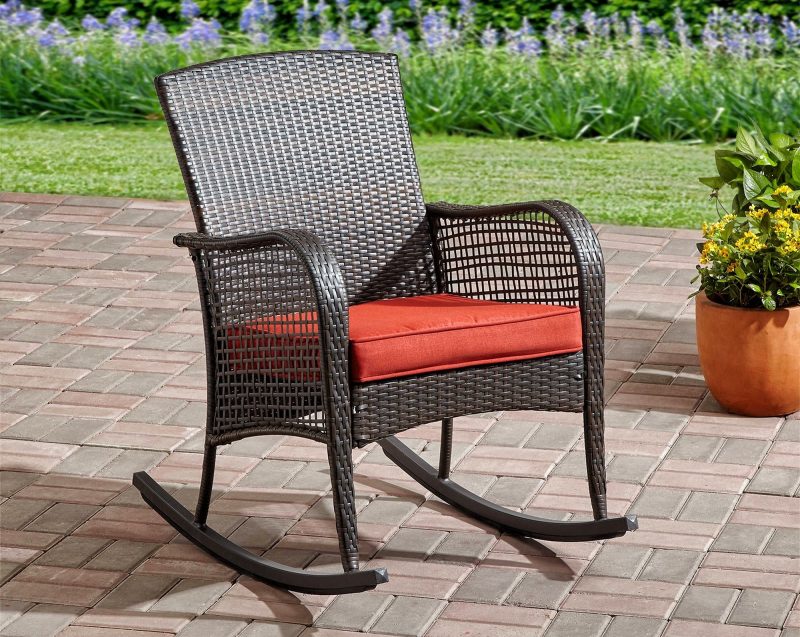 Points of Interest:
● Clients Rating: 4.7 Stars
● Style Inspiration: contemporary, coastal
● Material: resin wicker, steel, olefin and polyester fabric
● Color Options: brown
● Design Features: woven wicker, removable seat cushion, curved arms, sturdy steel frame, water/stain/mildew resistant
● What Clients Love about this Patio Rocking Chair: simple yet classy, elegant addition to porch, comfy to sit and relax on, great quality at a great price
21. Fordyce Rocking Chair by Andover Mills
Points of Interest:
● Clients Rating: 4.6 Stars
● Style Inspiration: traditional, country
● Material: mahogany hardwood
● Color Options: black, blue, green, red, white
● Design Features: slatted seat and back, solid color, smooth rocking motion, weather/water/UV resistant, contoured seat
● What Clients Love about this Patio Rocking Chair: gorgeous color and finish, looks beautiful and inviting on the front porch, high quality wood, solid and sturdy
22. Eucalyptus and Wicker Outdoor Rocker Chair by Vineyard
Points of Interest:
● Clients Rating: 5.0 Stars
● Style Inspiration: classic, tropical, country
● Material: resin wicker, Brazilian eucalyptus hardwood
● Color Options: ash, gray, brown
● Design Features: all-weather resin wicker back and seat, hardwood frame, eco-friendly, insect and decay resistant, contoured seat
● What Clients Love about this Patio Rocking Chair: homey addition to porch, cozy and comfy, gorgeous wood frame, good big size, great craftsmanship, great value
23. Englewood Rocking Chair with Cushions by Beachcrest Home
Points of Interest:
● Clients Rating: 4.8 Stars
● Style Inspiration: coastal, rustic
● Material: mahogany wood, polyester, foam
● Color Options: cappuccino, spruce blue
● Design Features: X-back design, wire-brushed weathered finish, removable seat cushion, smooth rocking motion, weather resistant
● What Clients Love about this Patio Rocking Chair: beautiful weathered finish, blends well with different designs, lightweight yet durable, stylish and sturdy
24. Indoor & Outdoor PE Wicker Rocking Chair by SCYL Color Your Life
Points of Interest:
● Clients Rating: 4.5 Stars
● Style Inspiration: French country, cottage
● Material: PE wicker, aluminum
● Color Options: dark brown/beige
● Design Features: adjustable reclining back and footrest, ergonomic design, wide curved armrests, removable seat and back cushion, weather resistant
● What Clients Love about this Patio Rocking Chair: footrest and backrest can be adjusted to desired angle, wonderful porch chairs, great for indoor and outdoor use, beautiful and functional
25. Thomson Rocking Chair by Alcott Hill
Points of Interest:
● Clients Rating: 4.7 Stars
● Style Inspiration: cottage, coastal
● Material: teak, eucalyptus wood
● Color Options: ash gray, natural
● Design Features: curved back and seat with horizontal slats, scrolled arms, weather resistant, rolled seat
● What Clients Love about this Patio Rocking Chair: smooth texture, wide and comfy seat, beautiful solid wood, unique and eye-catching style, well made
26. Portside Modern Adirondack Rocking Chair by Belham Living
Points of Interest:
● Clients Rating: 4.7 Stars
● Style Inspiration: modern, contemporary
● Material: eucalyptus wood
● Color Options: black
● Design Features: Adirondack style, reclined slatted back, deep contoured seat, wide arms, rot and insect resistant
● What Clients Love about this Patio Rocking Chair: attractive modern appeal, beautiful black color, sleek and compact, great value
27. Wellington High Back Patio Rocking Chair by Birch Lane Heritage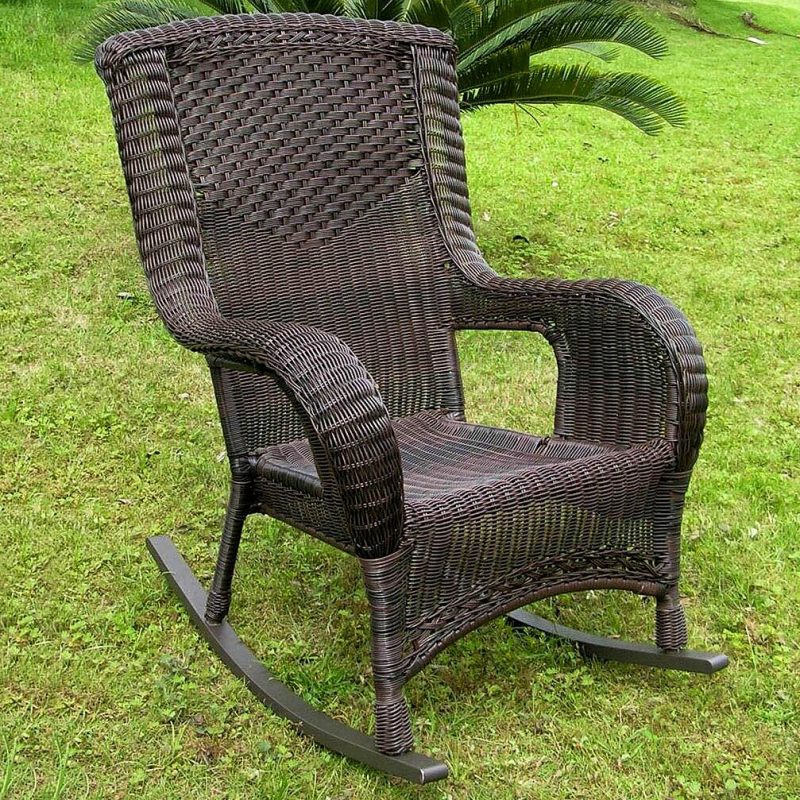 Points of Interest:
● Clients Rating: 4.7 Stars
● Style Inspiration: traditional, tropical
● Material: resin wicker, aluminum
● Color Options: antique black, antique moss, antique pecan, mocha, white
● Design Features: high back design, deep seating, curved arms, weather/UV/rust resistant, mixed woven wicker pattern
● What Clients Love about this Patio Rocking Chair: charming addition to patio, impressive craftsmanship, comfy and sturdy, holds up nicely to outdoor conditions