Hello and welcome to our carefully curated selection of patio recliners. Check the variety of beautiful, high-quality patio recliners we handpicked for you. To derive this list, we carefully reviewed customer reviews and are only bringing up to your attention patio recliners that many clients are enjoying in their outdoor spaces. Hope you find inspiration in these photos and find this information useful, enjoy!

What are the types of patio recliners that made the "Best Of" list?
Style: classic, traditional, French Country, coastal, tropical, cottage, modern, modern, contemporary
Design Features: chair style (club chair, Adirondack chair, armchair, chaise lounge, sling chair, steamer chair, gravity chair), material (PE wicker/resin wicker, wood, steel, aluminum, iron, plastic, polyester/textilene fabric), durability (rust resistant, water resistant, UV resistant, mildew resistant, weather resistant, fade resistant), additional features (ergonomic design, multiple recline positions, foldable, stackable), bonus (adjustable headrest, folding side table/tray, sunshade/canopy, cup holder, pillow)
Price Range: $49.99 to $763.99

How are clients using their patio recliners in their home décor:
Where: patio, porch, deck, sunroom, backyard, balcony, veranda, poolside, garden, lanai, gazebo
Things to consider: style and look, comfort, reclining feature, back height, foldable, ease of storage and maintenance, craftsmanship, quality, price, bonus features (sunshade, cup holder)
Favorite Features: spacious and comfy, provides good back support, smooth reclining mechanism, lovely color choices, easy to fold and store, well made and sturdy, locks in different positions, lightweight for easy mobility, great value, convenient cup holder/tray, easy to no assembly needed, beautiful and functional, quick drying, adds elegant flair to patio, easy to clean

Hope you enjoy the showroom visit!

1. Outdoor Adjustable Recliner by Babylon
Points of Interest:
● Clients Rating: 4.6 Stars
● Style Inspiration: traditional, coastal, country
● Material: aluminum, resin wicker
● Color Options: brown/brown, brown/orange, gray/beige
● Design Features: ergonomic design, curved arms, removable cushions with velcro straps, 3 recline positions (90/120/160 degrees), rust-resistant, UV and weather resistant
● What Clients Love about this Patio Recliner: great relaxing chair, spacious and comfy, looks much more beautiful in person, provides good back support, lightweight yet sturdy
2. Oversized Zero Gravity Chair by Caravan Global Sports
Points of Interest:
● Clients Rating: 4.7 Stars
● Style Inspiration: modern, contemporary, coastal
● Material: textilene polyester, steel
● Color Options: various colors to choose from
● Design Features: oversized, powder coated frame, bungee cord suspension, adjustable headrest and lumbar support, foldable, multiple recline positions
● What Clients Love about this Patio Recliner: smooth reclining mechanism, very comfortable, lovely color choices, easy to fold and store, well made and sturdy
3. Outdoor Breckenridge Wicker Outdoor Recliner with Sunbrella Cushion by La-Z-Boy
Points of Interest:
● Clients Rating: 4.8 Stars
● Style Inspiration: classic, French Country
● Material: resin wicker, aluminum, fabric
● Color Options: meredian brick, spectrum sand
● Design Features: handwoven all-weather resin wicker, rolled arms, Sunbrella fabric cushions, stain and fade resistant fabric, rust proof frame, multiple recline positions (closed, midway, full recline), with toss pillow
● What Clients Love about this Patio Recliner: stylish patio chairs, looks lovely by the pool, cozy and comfy, great craftsmanship, great quality
4. Keenes Recliner Patio Chair with Cushion by Darby Home Co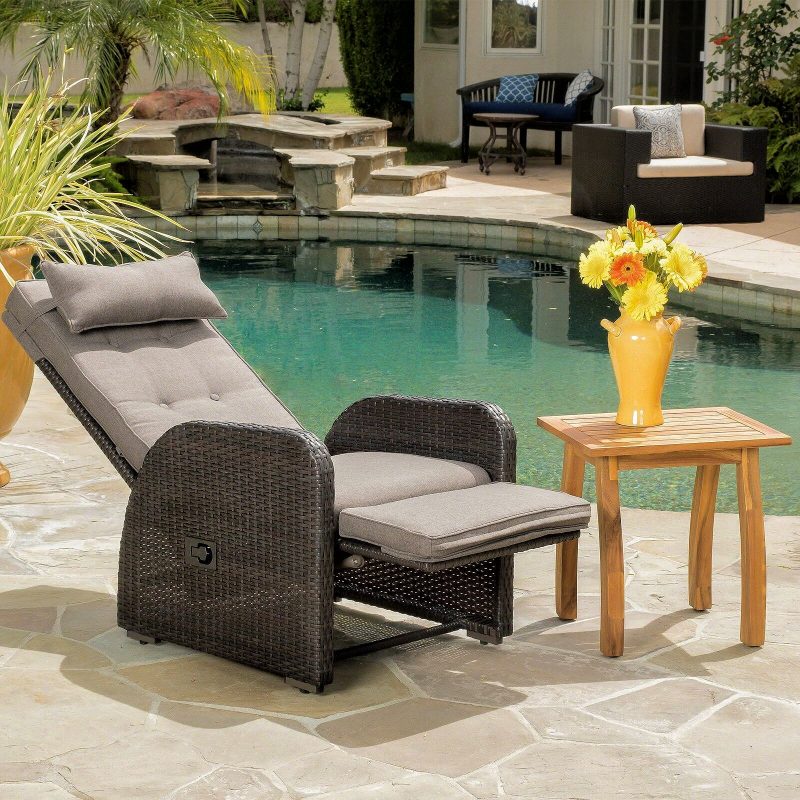 Points of Interest:
● Clients Rating: 4.5 Stars
● Style Inspiration: classic, contemporary
● Material: resin wicker, polyester/polyester blend, aluminum
● Color Options: brown
● Design Features: multi-position recliner, removable button-tufted cushion, with adjustable headrest, rust and weather resistant
● What Clients Love about this Patio Recliner: great reading or relaxing chair, locks in different positions, conveniently lightweight for easy mobility, great value
5. Zero Gravity Chair with Drink Tray and Sunshade by Coral Coast
Points of Interest:
● Clients Rating: 4.6 Stars
● Style Inspiration: modern, contemporary, coastal
● Material: steel, polyester
● Color Options: gray, navy blue, terracotta, white
● Design Features: foldable, sling fabric, black metal frame, padded headrest, with canopy and folding side tray
● What Clients Love about this Patio Recliner: gorgeous color, convenient cup holder, foldable and lightweight, well made and sturdy, no assembly needed, great price
6. Zero Gravity Adjustable Recliner Patio Lounge Chair by Timber Ridge
Points of Interest:
● Clients Rating: 4.5 Stars
● Style Inspiration: modern, contemporary, coastal
● Material: steel – aluminum, polyester
● Color Options: beige, black, navy blue, gray, blue-padded
● Design Features: tubular metal frame, mesh polyester fabric, bungee, wood suspension, with position lock, multi-position from upright to fully laid back, padded pillow, folding side tray, foldable
● What Clients Love about this Patio Recliner: ergonomic design, pillow can be used as headrest or for lumbar support, easy reclining mechanism, easy to sit in and get up from
7. Tiffany 16 Position High Back Chair by Kettler USA
Points of Interest:
● Clients Rating: 4.8 Stars
● Style Inspiration: classic, cottage, coastal
● Material: plastic
● Color Options: white
● Design Features: extra wide, contoured back and seat, ergonomic design, 16 adjustable positions, foldable, weather-proof, lacquered finish
● What Clients Love about this Patio Recliner: classic design, works well for sitting or lounging, great outdoor chair, very comfy, holds up to weather
8. Ventura Wicker Luxury Patio Recliner with Pillow by Hanover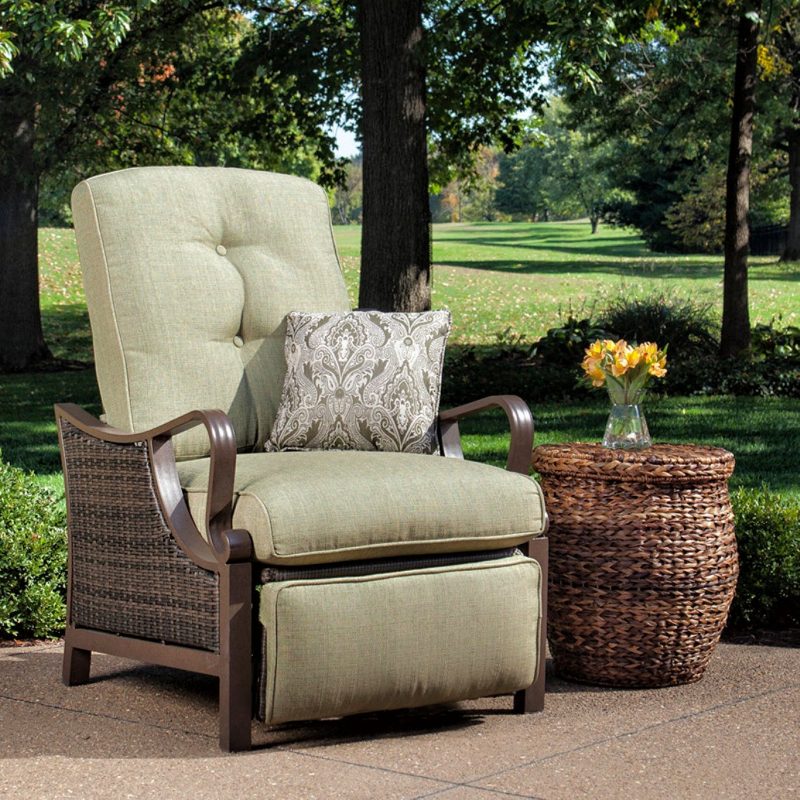 Points of Interest:
● Clients Rating: 4.5 Stars
● Style Inspiration: traditional
● Material: polyethylene, steel
● Color Options: cushions – crimson red, ocean blue, vintage meadow, cocoa stone wicker
● Design Features: woven resin wicker recliner, rust-resistant metal frame, tufted back cushion, cushioned seat and leg rest, curved arms, straight legs
● What Clients Love about this Patio Recliner: great relaxing chair, easy to recline, plush cushions, very beautiful it would work well indoors too
9. Oversized Zero Gravity Outdoor Reclining Patio Chair by Best Choice Products
Points of Interest:
● Clients Rating: 4.7 Stars
● Style Inspiration: modern, contemporary, coastal
● Material: steel, mesh
● Color Options: black, brown, burgundy, gray, light blue, navy, tan
● Design Features: mesh seat and metal frame, ergonomic design, side tray with cup holder, adjustable padded headrest, foldable, UV resistant, with position lock
● What Clients Love about this Patio Recliner: nice napping chair, handy cup holder, foldable and portable, spacious and comfy
10. Patio Padded Folding 3-Piece Chair Set by SUNCROWN
Points of Interest:
● Clients Rating: 4.6 Stars
● Style Inspiration: modern, contemporary
● Material: steel, fabric
● Color Options: beige
● Design Features: foldable, tufted cushions, 2 recline positions, powder coated metal frame, UV resistant fabric, comes in a set (2 chairs, 1 coffee table)
● What Clients Love about this Patio Recliner: beautiful addition to patio, great reclining feature, foldable for easy storage, great value
11. Recycled Plastic Folding Reclining Adirondack by A & L Furniture
Points of Interest:
● Clients Rating: 4.7 Stars
● Style Inspiration: traditional, coastal, country
● Material: plastic
● Color Options: various colors to choose from
● Design Features: Adirondack style slatted chair with adjustable back, pullout leg rest, foldable
● What Clients Love about this Patio Recliner: wide range of colors to choose from, adjusts to different positions, recycled material, easy assembly, foldable and portable, easy to clean
12. Juliette Reclining Zero Gravity Chair by Freeport Park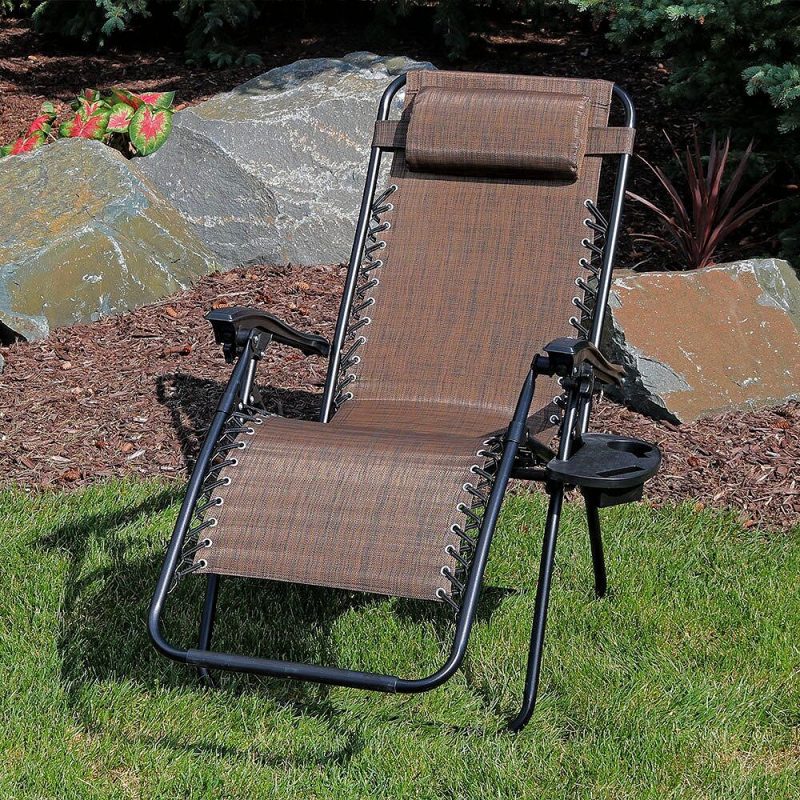 Points of Interest:
● Clients Rating: 4.7 Stars
● Style Inspiration: modern, contemporary, coastal
● Material: PVC-coated polyester, steel
● Color Options: various colors to choose from
● Design Features: multi-position angle, adjustable and detachable headrest, side tray with cup holder, powder coated frame, weather/UV/fade resistant, foldable, with position lock
● What Clients Love about this Patio Recliner: comfy and sturdy, gorgeous colors, easy to recline, easy to fold, lightweight and portable, great quality at a great price
13. Rattan Wicker Outdoor Adjustable Recliner Lounge Chair by Outsunny
Points of Interest:
● Clients Rating: 5.0 Stars
● Style Inspiration: contemporary
● Material: metal, resin wicker, polyester
● Color Options: beige
● Design Features: fold-out side table, adjustable backrest and footrest, UV and rust resistant
● What Clients Love about this Patio Recliner: beautiful and functional, great outdoor chair to relax on, well made and durable, easy assembly, great value
14. Ragland Reclining Zero Gravity Chair by Latitude Run
Points of Interest:
● Clients Rating: 4.6 Stars
● Style Inspiration: modern, contemporary, coastal
● Material: steel, PVC-coated polyester
● Color Options: orange, tan
● Design Features: sling style seat, adjustable headrest, full back, fixed arms, with canopy and side tray, powder coated tubular metal frame, weather resistant, foldable, with position lock
● What Clients Love about this Patio Recliner: clever design, just the right size, easy on the back, convenient sunshade and cup holder, easy to recline
15. Sawyer Wicker Outdoor Recliner with Sunbrella Spectrum Cushion by La-Z-Boy
Points of Interest:
● Clients Rating: 4.5 Stars
● Style Inspiration: traditional, country, tropical
● Material: steel, resin wicker, Sunbrella fabric
● Color Options: cilantro, grenadine
● Design Features: powder coated metal frame, woven resin wicker, all-weather fabric, rust and weather resistant, with toss pillow, multiple recline positions (closed, mid way recline, full recline)
● What Clients Love about this Patio Recliner: great poolside chairs, comfy and roomy seat, holds up nicely, smooth reclining mechanism, lovely chair to relax on
16. Banker Patio Chair with Cushion by Wade Logan
Points of Interest:
● Clients Rating: 4.6 Stars
● Style Inspiration: contemporary, coastal, tropical
● Material: PE wicker, metal, polyester, foam
● Color Options: frame – brown, gray; cushion – beige, blue
● Design Features: powder-coated frame, adjustable back, water and weather resistant, removable cushions with ties, comes in a set (1 chair, 1 ottoman)
● What Clients Love about this Patio Recliner: attractive patio chair, ottoman can be used as a side table, different reclining levels, lightweight yet sturdy, great value and quality
17. Reclining Zero Gravity Chair by Caravan Sports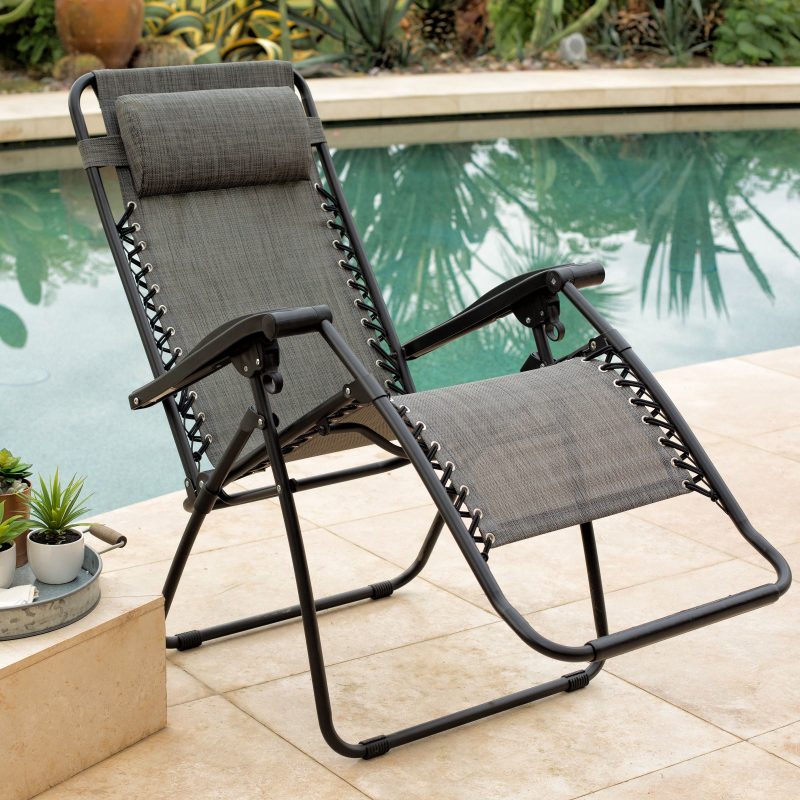 Points of Interest:
● Clients Rating: 4.7 Stars
● Style Inspiration: modern, contemporary, coastal
● Material: textilene fabric, steel, bungee cord
● Color Options: blue, beige, black, burgundy, camouflage, gray, red
● Design Features: adjustable pillow as headrest/lumbar support, with position lock, powder coated metal frame, double bungee cord suspension, foldable
● What Clients Love about this Patio Recliner: just the right height, easy to use, foldable and portable, can adjust and lock position, well made and durable
18. Sherwood Luxury Recliner Chair with Cushions by Three Posts
Points of Interest:
● Clients Rating: 4.7 Stars
● Style Inspiration: traditional, country, classic
● Material: steel, wicker, polyester/polyester blend, foam
● Color Options: ocean blue, navy blue, olive, crimson red
● Design Features: walnut rib weave wicker, removable cushions, scrolled arms, powder coated frame, weather/UV/rust resistant, with accent pillow, 3 reclining positions (closed, semi-reclined, fully reclined)
● What Clients Love about this Patio Recliner: adds an elegant flair to patio, comfortable on different positions, smooth reclining feature, lovely color
19. Hayle Reclining Outdoor Adirondack Chair with Footrest by Best Selling Home
Points of Interest:
● Clients Rating: 4.5 Stars
● Style Inspiration: classic, traditional, coastal, cottage
● Material: acacia wood
● Color Options: blue, gray, stained, white
● Design Features: Adirondack style slatted chair with attached footrest, broad armrests, multiple reclining positions, different finish options
● What Clients Love about this Patio Recliner: good looking recliner, very comfy, sturdy and durable, great quality
20. Infinity Zero Gravity Chair by Bonnlo
Points of Interest:
● Clients Rating: 4.5 Stars
● Style Inspiration: modern, contemporary, coastal
● Material: iron, steel, textilene sling, plastic, bungee cord
● Color Options: blue, brown, gray
● Design Features: folding recliner, with utility tray, all-weather textilene sling seat, removable/adjustable headrest, bungee cords connect seat to frame, UV and weather resistant, set of 2
● What Clients Love about this Patio Recliner: versatile chairs, convenient tray holds drinks, easy to recline, foldable for easy storage, stable and well made
21. Andrew Reclining Chaise Lounge with Cushion by Latitude Run
Points of Interest:
● Clients Rating: 4.7 Stars
● Style Inspiration: modern, contemporary
● Material: metal, polyester/polyester blend, foam
● Color Options: cabana sand, dark gray, navy blue
● Design Features: tufted cushion with piped seams, powder coated frame, 3 reclining positions (chair, lounger, bed), with headrest, water/rust resistant
● What Clients Love about this Patio Recliner: thick and comfy cushion, great big size, well made and durable, looks pricey
22. Woven Outdoor Recliner by Mainstays
Points of Interest:
● Clients Rating: 4.5 Stars
● Style Inspiration: traditional, contemporary
● Material: steel, resin wicker, olefin, polyurethane and polyester fill
● Color Options: beige, green ashwood
● Design Features: all-weather wicker on metal frame, cushions with velcro to secure, includes patterned lumbar pillow, water/stain/mildew/rust resistant, curved arms
● What Clients Love about this Patio Recliner: beautiful and functional, thick and comfy cushions, quick drying, good price, easy assembly
23. Erin 3 Piece Patio 2 Person Seating with Cushions by Charlton Home
Points of Interest:
● Clients Rating: 5.0 Stars
● Style Inspiration: contemporary
● Material: iron, polyester/polyester blend
● Color Options: burgundy, beige, blue
● Design Features: powder coated metal frame with dark brown finish, non-slip foot base, button tufted back cushions, removable cushions with straps to secure, curved arms, weather and rust resistant, comes in a set (2 chairs, 1 coffee table)
● What Clients Love about this Patio Recliner: lovely modern look, comfy and sturdy design, easy assembly, great value for the set
24. Hand Woven PE Wicker Outdoor Reclining Chair by Greendale Home Fashions
Points of Interest:
● Clients Rating: 5.0 Stars
● Style Inspiration: tropical, coastal, country
● Material: PE resin, aluminum
● Color Options: brown
● Design Features: hand-woven design, 7 reclining positions, foldable, stackable, extra tall back
● What Clients Love about this Patio Recliner: conveniently foldable, comfortable chair, great reclining feature, well made and sturdy, good looking recliner
25. Basic Plus Reclining Camping Chair by Kettler USA
Points of Interest:
● Clients Rating: 4.9 Stars
● Style Inspiration: contemporary, modern
● Material: aluminum, stainless steel, sling, polymer
● Color Options: silver
● Design Features: reclining backrest, ergonomic design, foldable, weather and weather resistant, powder coated metal frame
● What Clients Love about this Patio Recliner: great deck chair, comfy back support, lightweight and portable, easy to fold for easy storage, nice multiple positions
26. Patio Recliner by Ulax furniture
Points of Interest:
● Clients Rating: 5.0 Stars
● Style Inspiration: classic, traditional
● Material: steel, olefin fabric, foam
● Color Options: sailcloth beige, navy, red
● Design Features: 3 angle reclining positions, powder coated steel frame, tufted cushions, water and UV resistant, curved arms
● What Clients Love about this Patio Recliner: comfy with great back support, great craftsmanship, smooth reclining mechanism, high end look at an affordable price
27. Kimmel Original Orbital Reclining Zero Gravity Chair by Latitude Run
Points of Interest:
● Clients Rating: 4.6 Stars
● Style Inspiration: contemporary, modern
● Material: metal – aluminum, PVC mesh sling
● Color Options: beige, light green, orange
● Design Features: interlocking hoops frame, removable headrest, foldable, quick-drying sling mesh seat, weather and fade resistant, rocking motion
● What Clients Love about this Patio Recliner: has an interesting modern appeal, unique and eye-catching, fun and unique design, comfy to lounge on