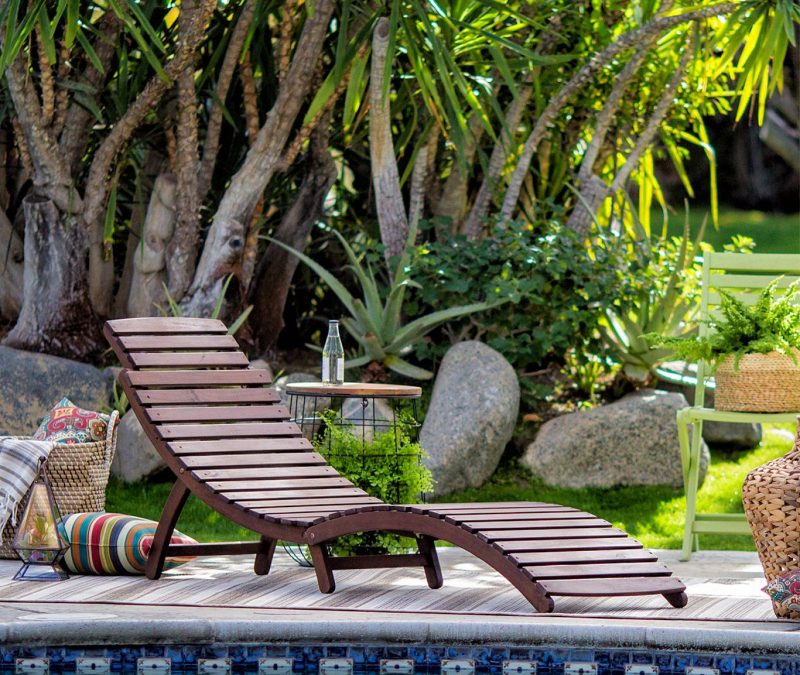 Hello and welcome to our carefully curated selection of patio lounge chairs in the market. You often ask us, "where can I get this?", "how do I get that look?", so here it is! We spent hours reviewing what people who actually bought a patio lounge chair had to say about their purchase, and after reviewing hundreds of them, we are only listing patio lounge chairs that have "wowed" these clients and have the highest rating. After our careful research, the following patio lounge chairs raised to the top of the list. Hope you find inspiration in these photos and find this information useful, enjoy!

What are the types of patio lounge chair voted "the best"?
Style: French Riviera, traditional, craftsman/mission, tropical, coastal, vintage, French country, rustic, contemporary
Design Features: lounge chair material (metal, resin wicker, wood, fabric), folding frame, stackable, reclining adjustable backrest, with or without cushions, seat style (slatted wood seat, mesh sling seat, curved, contoured, suspended)
Price Range: $84.99 to $691.99

How are clients using their patio lounge chair in their outdoor home décor:
Where: porch, patio, balcony, garden, poolside, deck
Things to consider: style and design, quality (color, material, workmanship), feel and comfort, size and fit, durability (weather resistant, water resistant, rust resistant, mildew resistant), weight and mobility, stackable and folding
Favorite Features: dries quickly, nice design, easy to clean, lightweight, holds up well to weather, looks pricey, stable and sturdy, mobile with wheels, great slide out tray, can be used with or without cushions, very ideal for outdoor use, can be used all year round, easy to store, very comfortable seat, doesn't take up a lot of space, easy to assemble, good quality at a great price

Hope you enjoy the showroom visit!

1. Cranesville Reclining Chaise Lounge with Cushion by Three Posts
Points of Interest:
● Clients Rating: 4.7 Stars
● Style Inspiration: French Riviera, coastal, tropical, craftsman/mission
● Material: eucalyptus, teak, polyester, foam
● Color Options: cushions – yellow, beige, navy
● Design Features: 4 reclining positions, reclines flat, with back wheels, includes detachable cushions, removable cushion cover, pull out tray, slatted frame
● What Clients Love about this Patio Lounge Chair: looks pricey, stable and sturdy, mobile with wheels, great slide out tray
2. Benoit Adjustable Wicker Chaise Lounge by Sol 72 Outdoor
Points of Interest:
● Clients Rating: 4.8 Stars
● Style Inspiration: coastal, tropical, contemporary
● Material: metal, wicker
● Color Options: dark brown
● Design Features: set of 2 lounge chairs, 5 recline positions, can recline fully flat, curved arms, contoured seats
● What Clients Love about this Patio Lounge Chair: comfortable design, durable material, holds up well to weather, can be used with or without arms
3. Wave Adjustable Chaise Lounge with Optional Cushion by International Caravan
Points of Interest:
● Clients Rating: 4.7 Stars
● Style Inspiration: vintage, French country, rustic
● Material: wrought iron
● Color Options: black or dark green marble finish, cushion comes in several colors
● Design Features: adjustable backrest, 4 recline positions, with back wheels, scrolling and curved details, decorative balls finials, curved armrests, optional cushions with dacron fill and velcro tabs, removable cushion cover with zipper
● What Clients Love about this Patio Lounge Chair: looks very nice, sturdy frame, lovely cushion colors, looks pricey
4. Ardoin Reclining Chaise Lounger Set with Cushion by Brayden Studio
Points of Interest:
● Clients Rating: 4.6 Stars
● Style Inspiration: coastal, tropical, contemporary
● Material: iron, resin wicker, polyester blend cushion
● Color Options: brown, cushions – beige, green
● Design Features: set of 3 (2 lounge chairs, 1 side table), folding and stackable, comes with cushions with removable cover
● What Clients Love about this Patio Lounge Chair: lovely and simple design, easy to store, good quality at a great price, durable outdoor furniture
5. 3-Pc Chaise Lounge Chair Set for Garden, Patio, Pool by HTTH
Points of Interest:
● Clients Rating: 4.9 Stars
● Style Inspiration: coastal, tropical, contemporary
● Material: steel, resin wicker, polyester (cushion cover)
● Color Options: available in several colors
● Design Features: removable cushion, water-proof cushion fabric, adjustable reclining backrest, comes in a set (2 lounge chairs, 2 cushions, 1 glass topped table)
● What Clients Love about this Patio Lounge Chair: mildew resistant and waterproof cushions, dries quickly, nice design, easy to clean, lightweight
6. Emilia Chaise Lounge With Cushions by Latitude Run
Points of Interest:
● Clients Rating: 4.6 Stars
● Style Inspiration: coastal, tropical, contemporary, modern
● Material: metal, fabric
● Color Options: royal blue, orange
● Design Features: weather and rust resistant, comes with detachable cushion, removable canopy, with small headrest, curved suspended seat with cord suspension
● What Clients Love about this Patio Lounge Chair: unique design, feels relaxing to get on it, sturdy frame, very comfortable seat
7. Dorado Acacia Steamer Deck Lounge Chair by Coral Coast
Points of Interest:
● Clients Rating: 4.7 Stars
● Style Inspiration: craftsman/mission, coastal, tropical
● Material: acacia hardwood
● Color Options: warm brown finish
● Design Features: adjustable backrest, multi-position recline, slatted design, contoured back and seat, elevated footrest with 2 positions, angled armrests
● What Clients Love about this Patio Lounge Chair: stylish, looks beautifully old fashioned, good quality material, easy to move around
8. Salem 3pc Wicker Patio Adjustable Chaise Lounge Set by Christopher Knight Home
Points of Interest:
● Clients Rating: 4.8 Stars
● Style Inspiration: coastal, tropical, contemporary
● Material: wicker, iron
● Color Options: brown, gray, mocha
● Design Features: adjustable backrest, curved seat design, folding legs, set of 3 (2 lounge chairs, 1 coffee table), 2-tone finish
● What Clients Love about this Patio Lounge Chair: can be used all year round, comfortable recline angles, easy to clean, lovely finish
9. Outdoor Chaise Lounge, Orange Geo Pattern by Mainstays
Points of Interest:
● Clients Rating: 4.5 Stars
● Style Inspiration: traditional
● Material: steel, polyester (cushion)
● Color Options: orange
● Design Features: powder-coated metal frame, adjustable back, 5 recline positions, removable and reversible cushion
● What Clients Love about this Patio Lounge Chair: cushions look lovely, homey and cute, comfortable adjustable back, rust proof powder coated metal frame
10. Bellview Reclining Chaise Lounge with Cushion by Sol 72 Outdoor
Points of Interest:
● Clients Rating: 4.8 Stars
● Style Inspiration: coastal, tropical, contemporary
● Material: polyester/polyester blend, foam, iron, resin wicker
● Color Options: brown, charcoal, jungle green, red, textured beige
● Design Features: adjustable backrest, 4 recline position, reclines flat, folding and stacking, set of 2 lounge chairs, comes with removable cushions and covers, curved silhouette
● What Clients Love about this Patio Lounge Chair: easy to clean, durable material, can be used with or without cushions, lightweight and easy to move around
11. Varley Chaise Lounge by Wade Logan
Points of Interest:
● Clients Rating: 4.8 Stars
● Style Inspiration: coastal, tropical, contemporary
● Material: iron, resin wicker
● Color Options: brown
● Design Features: curvy silhouette, folding legs, 5 recline positions, folding and stacking
● What Clients Love about this Patio Lounge Chair: attractive design, easy to store, comfortable adjustable backrest, sturdy construction
12. Athanasius Reclining Chaise Lounge by Mercury Row
Points of Interest:
● Clients Rating: 4.7 Stars
● Style Inspiration: coastal, tropical, contemporary
● Material: iron, polyethylene wicker
● Color Options: brown, gray, mix mocha
● Design Features: curved silhouette, folding, reclines flat, 4 reclining positions
● What Clients Love about this Patio Lounge Chair: looks classy, folding and easy to store good quality materials, great price
13. Bellora Acacia Chaise Lounger with Pullout Table by Coral Coast
Points of Interest:
● Clients Rating: 4.6 Stars
● Style Inspiration: craftsman/mission, coastal, tropical
● Material: acacia hardwood
● Color Options: warm brown finish
● Design Features: reclining back, pullout tray, 2 back wheels, slatted design
● What Clients Love about this Patio Lounge Chair: conveniently mobile, beautiful lounger, nice finish, solid and sturdy
14. Athanasius Reclining Chaise Lounge by Mercury Row
Points of Interest:
● Clients Rating: 4.7 Stars
● Style Inspiration: coastal, tropical, contemporary
● Material: aluminum, polyethylene wicker
● Color Options: brown, gray, mix mocha
● Design Features: 4 recline positions, folding, reclines flat, curved design
● What Clients Love about this Patio Lounge Chair: well made, sturdy and quality materials, comfortable to lounge on, lightweight, easy to store
15. Zero Gravity Locking Lounge Chair by Timber Ridge
Points of Interest:
● Clients Rating: 4.5 Stars
● Style Inspiration: traditional
● Material: aluminum, polyester
● Color Options: available in 5 colors
● Design Features: adjustable backrest, levers to lock and adjust recline, mesh polyester sling seat with bungee suspension, comes with headrest pillow, folding side table, oversized seat, folding frame
● What Clients Love about this Patio Lounge Chair: sturdy construct, comfortable, slim and easy to store, doesn't take up a lot of space, easy to move and carry around
16. Bloomville Chaise Lounger Set by Sol 72 Outdoor
Points of Interest:
● Clients Rating: 4.7 Stars
● Style Inspiration: coastal, tropical, contemporary
● Material: metal, resin wicker
● Color Options: brown
● Design Features: set of 3 (2 loungers, 1 end table), folding and stackable, reclines flat, 5 recline positions, contoured seat
● What Clients Love about this Patio Lounge Chair: holds up well to weather, good quality, easy to store, comfortable construction
17. Nannette Chaise Lounge by Beachcrest Home
Points of Interest:
● Clients Rating: 4.5 Stars
● Style Inspiration: coastal, tropical, contemporary, craftsman/mission
● Material: acacia hardwood
● Color Options: natural
● Design Features: slatted and curvy design, folding, set of 2 lounge chairs
● What Clients Love about this Patio Lounge Chair: good looking loungers, solid and sturdy, lovely finish, well made
18. Benoit Reclining Chaise Lounger Set by Sol 72 Outdoor
Points of Interest:
● Clients Rating: 4.7 Stars
● Style Inspiration: coastal, tropical, contemporary
● Material: metal, resin wicker
● Color Options: neutral brown hue
● Design Features: set of 3 (1 lounge chair, 1 side table), reclines flat, 5 recline positions, curved arms, folding legs
● What Clients Love about this Patio Lounge Chair: holds up well to weather, easy to dry, looks stylish, nice texture
19. Cozy Aluminum Chaise Lounge Chair by Kozyard
Points of Interest:
● Clients Rating: 4.5 Stars
● Style Inspiration: traditional, modern
● Material: aluminum, Textilene-woven mesh fabric
● Color Options: beige, gray
● Design Features: ergonomic design, padded sling seat, adjustable backrest, 5 recline positions, folding and stackable
● What Clients Love about this Patio Lounge Chair: lightweight, sturdy frame, simple and beautiful design, easy to move around
20. Noelle Reclining Chaise Lounger Set by Wade Logan
Points of Interest:
● Clients Rating: 4.7 Stars
● Style Inspiration: coastal, tropical, contemporary
● Material: iron, wicker
● Color Options: multi-brown
● Design Features: set of 6 (4 lounge chairs, 2 accent tables), reclines flat, folding and stackable, woven wicker construction
● What Clients Love about this Patio Lounge Chair: folding and easy to stash away, great price for the set, bonus side tables
21. Azalea Ridge Outdoor Chaise Lounge by Better Homes & Gardens
Points of Interest:
● Clients Rating: 4.5 Stars
● Style Inspiration: vintage, tropical, traditional
● Material: wicker, steel, olefin cushions
● Color Options: brown
● Design Features: comes with cushion and lumbar pillow, adjustable backrest, 4 recline position, curved arms
● What Clients Love about this Patio Lounge Chair: comfortable cushions, easy to maintain, sturdy material, well made, easy to assemble
22. Brentwood Reclining Chaise Lounge with Cushion by Sol 72 Outdoor
Points of Interest:
● Clients Rating: 4.7 Stars
● Style Inspiration: coastal, tropical, contemporary
● Material: aluminum, resin wicker, polyester/polyester blend cushion
● Color Options: cushions available in several colors, espresso lounge
● Design Features: removable cushions and covers, 3 reclining positions, folding legs, reclines flat, weather and water resistant, powder-coated metal frame
● What Clients Love about this Patio Lounge Chair: great price, looks great around the pool area, solid but lightweight
23. Kiara Chaise Lounge by Mistana
Points of Interest:
● Clients Rating: 4.7 Stars
● Style Inspiration: coastal, tropical, contemporary, modern
● Material: plastic and polypropylene resin
● Color Options: available in several colors
● Design Features: stacking, mesh sling seat, recessed wheels, adjustable backrest, reclines flat, 5 recline positions, reclines flat, set of 2
● What Clients Love about this Patio Lounge Chair: very durable and weather resistant, stays cool even under the sun, very ideal for outdoor use, stylish design
24. Mathena Reclining Chaise Lounge by Brayden Studio
Points of Interest:
● Clients Rating: 4.7 Stars
● Style Inspiration: coastal, tropical, contemporary
● Material: metal, resin wicker
● Color Options: gray, multi brown, mixed mocha
● Design Features: set of 4 lounge chairs, curved frame, folding and stackable, reclines flat, 4 reclining positions
● What Clients Love about this Patio Lounge Chair: looks gorgeous, strong frame, nice texture, lovely finish
25. Sola All-Weather Wicker Adjustable Chaise Lounge by Coral Coast
Points of Interest:
● Clients Rating: 4.7 Stars
● Style Inspiration: coastal, tropical, contemporary
● Material: resin wicker, aluminum, 100% polyester cushion
● Color Options: dark brown longer, gray cushions
● Design Features: detachable cushions and covers, adjustable reclining backrest, foldable legs, stackable, set of 2 lounge chairs
● What Clients Love about this Patio Lounge Chair: easy to clean and maintain, comfortable cushions, nice quality
26. Avi 3 Piece Chaise Lounge Set by Ivy Bronx
Points of Interest:
● Clients Rating: 4.6 Stars
● Style Inspiration: coastal, tropical, contemporary
● Material: metal, resin wicker
● Color Options: gray, mixed mocha, brown
● Design Features: set of 3 (2 lounge chairs, 1 folding side table), folds flat, stackable, 5 recline positions, weather resistant, woven wicker frame
● What Clients Love about this Patio Lounge Chair: gentle curves makes it comfortable, great value for 2 loungers, adjustable headrest hits the right spot, very convenient folding loungers
27. Calypso Chaise Lounge with Cushion by Beachcrest Home
Points of Interest:
● Clients Rating: 4.6 Stars
● Style Inspiration: coastal, tropical, contemporary
● Material: resin wicker, iron frame
● Color Options: brown lounge chair, tan cushion
● Design Features: reclines fully flat, 4 reclining positions, comes with a removable cushion, stacking, folding legs, woven resin wicker construction
● What Clients Love about this Patio Lounge Chair: comfortable lounger, easily stored, durable material, can be used with or without cushions, lightweight