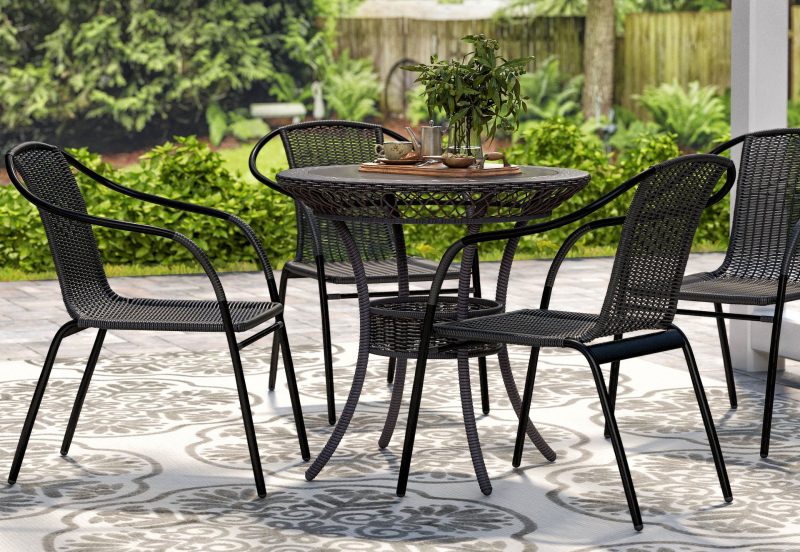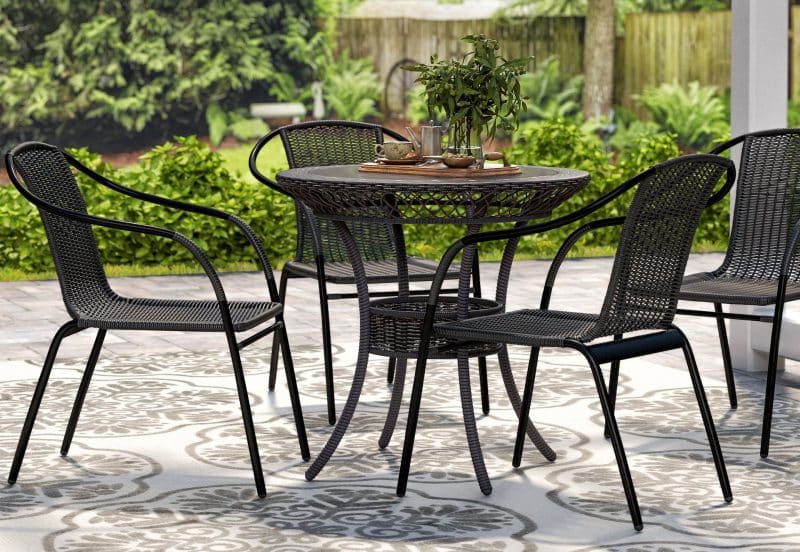 Hello and welcome to our carefully curated selection of patio dining chairs. You often ask us, "Where can I get this?", "How do I get that look?", so here it is! We handpicked for you a variety of beautiful, high-quality patio dining chairs that can fit many backyard and patio settings. To derive this list, we carefully read through customer reviews and are only bringing up to your attention patio dining chairs that have been highly rated by lots of clients. Hope you find inspiration in these photos and find this information useful, enjoy!

What are the types of patio dining chairs that made the "Best Of" list?
Style: classic, traditional, cottage, country, vintage, retro, French bistro, French country, craftsman/mission, modern, contemporary, transitional, industrial, coastal, eclectic, mid-century, tropical, French provincial
Design Features: chair styles (French bistro/ cafe style chair, Tolix style chair, slat back chair, side chair, arm chair, ), material (PE wicker/resin wicker, wood, steel, aluminum, iron, sling, plastic), cushion material (polyester/polyester blend, olefin), chair back design (slatted, curved, mesh/lattice style, tall, camelback, rounded), durability (rust-resistant, water-resistant, UV-resistant, mildew-resistant, weather-resistant, fade-resistant, stain-resistant), added features (with removable cushions, stackable, rocks, swivels, comes in a set)
Price Range: $40.34 to $506.35

How are clients using their patio dining chairs in their outdoor décor:
Where: patio, porch, deck, sunroom, backyard, balcony, veranda, poolside, garden, lanai, gazebo, screened porch, rooftop deck
Things to consider: material, durability, use (year round or not), climate zone, style and look, quality, ease of storage, ease of assembly, size and comfort, price
Favorite Features: gorgeous and high quality wood, works well with different decor themes, lovely addition to porch, stable and sturdy, conveniently stackable, looks much more expensive than its price, impressive real wicker look, no assembly needed, great craftsmanship, comfy and spacious seat, classy timeless piece, gorgeous matte finish, fun and bright addition to patio, visually interesting design, holds up well to different weather conditions

Hope you enjoy the showroom visit!

1. Bella All Weather Wicker Patio Dining Chair by Belham Living
Points of Interest:
● Clients Rating: 4.9 Stars
● Style Inspiration: coastal, classic, tropical
● Material: resin wicker, aluminum
● Color Options: natural – variegated colors
● Design Features: woven resin wicker, powder-coated metal frame, seat cushion with piped edges, set of 2, moisture and rust resistant, dimensions: 25.5" W x 22.5" D x 33.75" H
● What Clients Love about this Patio Dining Chair: beautiful and durable chair, lightweight yet sturdy, good quality, easy to clean, comfy enough to sit on for hours
2. 7-Piece Outdoor Wicker Dining Set by Great Deal Furniture
Points of Interest:
● Clients Rating: 4.6 Stars
● Style Inspiration: modern, contemporary
● Material: PE wicker, steel
● Color Options: brown, gray, mixed mocha
● Design Features: woven resin wicker chairs, arched back, swoop arms, stackable, rubber feet, powder-coated metal frames, set includes 1 wicker dining table and 6 chairs (also available as a 2-pc chair set or a 5-pc dining set), dimensions: 24″D x 24″W x 32.3″H
● What Clients Love about this Patio Dining Chair: comfy and spacious seat, nice tight weave, lovely and high quality patio set, no assembly needed
3. Lucia Stacking Patio Dining Chair by Beachcrest Home
Points of Interest:
● Clients Rating: 4.9 Stars
● Style Inspiration: French bistro, nautical/coastal
● Material: PE Rattan, aluminum
● Color Options: various color choices
● Design Features: checkered wicker weave, French bistro design, bamboo inspired, powder-coated metal frame, stackable, water-resistant, set of 2, dimensions: 35" H x 18" W x 22" D
● What Clients Love about this Patio Dining Chair: adds a charming French appeal, enhances the look of the patio, eye-catching and gets lots of compliments, great craftsmanship
4. Clayton Court 5-Piece Patio Dining Set by Better Homes and Gardens

Points of Interest:
● Clients Rating: 4.7 Stars
● Style Inspiration: traditional, French provincial
● Material: steel, fabric, polyurethane and polyester fill
● Color Options: red
● Design Features: powder coated wrought iron frame, mesh curved back, scrolled metal accents, water-resistant tie-on seat cushions, set includes 1 table and 4 chairs, dimensions: 24.25″ x 22.75″ x 34.25″
● What Clients Love about this Patio Dining Chair: gorgeous design, good looking outdoor furniture, reasonably priced set, comfy and sturdy chairs
5. Holden Wicker Patio Dining Chair Set by Threshold
Points of Interest:
● Clients Rating: 5.0 Stars
● Style Inspiration: modern farmhouse, French country, coastal
● Material: wicker, aluminum, polyester, stainless steel
● Color Options: tan, beige cushions
● Design Features: hand-woven wicker, rounded back, powder-coated metal frame, with removable seat cushions, set of 2, dimensions: 33.5"H x 24.5" W x 25.5" D, weather and rust resistant
● What Clients Love about this Patio Dining Chair: unique style, complements different decor themes, comfy to sit on, great craftsmanship and quality, holds up nicely
6. Griffith Patio Dining Chair by Turn on the Brights
Points of Interest:
● Clients Rating: 4.7 Stars
● Style Inspiration: contemporary, mid-century modern, retro
● Material: metal – steel
● Color Options: red, white, sky blue, aqua, grasshopper green, keylime, tangerine
● Design Features: solid color or 2 toned, contoured seat, rounded backrest with debossed sheaf design, powder-coated tubular metal frame, sleigh base design, dimensions: 34.5" H x 21" W x 18" D, weather-resistant
● What Clients Love about this Patio Dining Chair: lovely retro appeal, colors hold up well, fun and bright addition to patio, comfortable and sturdy
7. Metal Dining Chair by Furmax
Points of Interest:
● Clients Rating: 4.8 Stars
● Style Inspiration: modern, industrial
● Material: metal
● Color Options: gun, metal gray, metal silver
● Design Features: bistro/cafe style chairs, rubber feet, stackable, set of 4, double varnished, water and rust resistant, seat with cross support, dimensions: 19.3" x 18.1" x 32.3"
● What Clients Love about this Patio Dining Chair: gorgeous looking chair, versatile and easy to match style, conveniently stackable, good value for the set
8. Acadian Stacking Patio Dining Chair by Three Posts
Points of Interest:
● Clients Rating: 4.6 Stars
● Style Inspiration: traditional, retro
● Material: metal – steel, wicker/rattan
● Color Options: black, dark brown, gray
● Design Features: solid color, curved back and arms, woven rattan seat and back, stackable, weather resistant, dimensions: 28.5" H x 21.75" W x 23.5" D
● What Clients Love about this Patio Dining Chair: stackable for convenient storage, comfortable woven back, durable and well crafted, no assembly needed, great value
9. Ventana Outdoor Patio Chairs by Walker Edison
Points of Interest:
● Clients Rating: 4.6 Stars
● Style Inspiration: classic, craftsman/mission, tropical
● Material: acacia hardwood
● Color Options: warm redwood
● Design Features: slat back and side panels, curved armrests, removable seat cushions, set of 2, dimensions: 24" W x 28" D x 37" H
● What Clients Love about this Patio Dining Chair: complements outdoor table, lovely addition to porch, gorgeous and high quality wood, great value
10. Athol Stacking Patio Dining Chair by Zipcode Design
Points of Interest:
● Clients Rating: 4.6 Stars
● Style Inspiration: contemporary, industrial
● Material: metal – aluminum
● Color Options: black, silver
● Design Features: curved back with integrated arms, slatted back and seat, textured seat, stackable, dimensions: 28.5" H x 21.5" W x 24" D
● What Clients Love about this Patio Dining Chair: clean and modern design, lightweight yet durable, stackable for easy storage, comfortable design
11. Wrought Iron 3-Piece Outdoor Bistro Set by Mainstays
Points of Interest:
● Clients Rating: 4.6 Stars
● Style Inspiration: classic, traditional
● Material: steel, olefin cushions, polyester fill
● Color Options: multi-color/black
● Design Features: wire mesh back, curved integrated arms, powder-coated metal frame, tie-on seat pads, set includes 2 chairs and 1 mesh-top table, dimensions: 26.50″ L x 22.50″ W x 33.00″ H
● What Clients Love about this Patio Dining Chair: works well with different decor themes, lovely addition to porch, stable and sturdy, great quality at a great price, will hold up to weather
12. Mobley Stacking Patio Dining Chair by Turn on the Brights
Points of Interest:
● Clients Rating: 4.7 Stars
● Style Inspiration: modern, contemporary, eclectic
● Material: plastic/resin – polycarbonate
● Color Options: blue, black, green, orange, red, white, gray, taupe
● Design Features: solid color, openwork back, stackable, weather and UV resistant, dimensions: 34" H x 17" W x 20" D
● What Clients Love about this Patio Dining Chair: interesting modern appeal, cool and fun addition to patio, adds a pop of color, lightweight and easily moved around, easy to clean and durable material
13. Outdoor Stackable Wicker Dining Armchairs by Great Deal Furniture
Points of Interest:
● Clients Rating: 4.6 Stars
● Style Inspiration: classic, tropical, vintage
● Material: PE wicker, iron
● Color Options: brown, black, gray
● Design Features: stackable wicker chair, curved integrated arms, UV and mildew resistant, set of 2, dimensions: 24.2" x 25.2" x 33.2"
● What Clients Love about this Patio Dining Chair: lovely and attractive chair, comfortable and relaxing, great craftsmanship, no assembly needed, lightweight yet sturdy, easy to stack
14. Magallon Stacking Patio Dining Chair by Darby Home Co
Points of Interest:
● Clients Rating: 4.7 Stars
● Style Inspiration: traditional, contemporary
● Material: resin wicker
● Color Options: brown
● Design Features: stackable wicker armchair, square back, water and UV-resistant, set of 4, dimensions: 35.1" H x 25" W x 25.5" D
● What Clients Love about this Patio Dining Chair: clean and classy look, roomy and comfy seats, stackable for easy storage, sturdy and has great quality, looks good anywhere
15. Wimberley Padded Sling Swivel/Rocker Dining Chairs by Coral Coast
Points of Interest:
● Clients Rating: 4.7 Stars
● Style Inspiration: traditional
● Material: aluminum, sling
● Color Options: tan/java
● Design Features: swivels and rocks, padded sling seats, high back, powder-coated metal frame, dimensions: 25" L x 29" W x 43" H
● What Clients Love about this Patio Dining Chair: unique design, nice comfortable seats, swivels and rocks smoothly, highly functional, great quality and value
16. Safira Patio Dining Chair by Beachcrest Home
Points of Interest:
● Clients Rating: 4.5 Stars
● Style Inspiration: coastal, craftsman/mission, tropical
● Material: acacia wood
● Color Options: natural
● Design Features: 2 armchairs attached together by a slim table, slatted seat and back, weather-resistant, dimensions: 35.5" H x 25" W x 27" D
● What Clients Love about this Patio Dining Chair: gorgeous wood, spacing chair set, unique style, comfy by itself or with added cushions, great value, well made and durable
17. Levy Patio Dining Chair by Project 62
Points of Interest:
● Clients Rating: 4.5 Stars
● Style Inspiration: contemporary, tropical, coastal, modern
● Material: steel, rope
● Color Options: beige/brown
● Design Features: deep seated, curved back and armrests, rope seats and backrests, powder-coated frames, weather-resistant, set of 4, dimensions: 32.7" H x 23.2" W x 26.2" D
● What Clients Love about this Patio Dining Chair: great as poolside chairs, lovely eye-catching design, easy to match neutral colors, sturdy and comfy
18. Curnutt Stacking Patio Dining Chair by Mercury Row
Points of Interest:
● Clients Rating: 4.7 Stars
● Style Inspiration: mid-century, modern, contemporary
● Material: polypropylene, resin
● Color Options: white, dark gray, orange, red, black, taupe, tropical green, yellow
● Design Features: integrated arms, mesh strap style curved back and seat, stackable, weather and UV resistant, water and mildew resistant, rust-resistant, dimensions: 32.3″ H x 22.4″ W x 23.6″ D
● What Clients Love about this Patio Dining Chair: visually interesting design, cool and modern look, chic and comfy, holds up well to different weather conditions, great value, lovely colors to choose from
19. Tolix Style Dining Chairs by Costway
Points of Interest:
● Clients Rating: 4.5 Stars
● Style Inspiration: industrial, modern, contemporary
● Material: metal – steel
● Color Options: black, copper, matte white, silver, silvery gray
● Design Features: Tolix style armchair, ergonomic design, rounded back, tapered legs with caps, stackable, water and rust resistant, set of 4, dimensions: 20.5" X 22" X 30"
● What Clients Love about this Patio Dining Chair: as beautiful as the photos show, looks great with industrial theme decor, good quality finish, easy to assemble
20. Stanton Wrought Iron Coil Spring Dining Chair by Woodard by Belham Living
Points of Interest:
● Clients Rating: 4.5 Stars
● Style Inspiration: traditional, contemporary
● Material: wrought iron
● Color Options: textured black
● Design Features: open diamond mesh seat and back, textured finish, curved arms, powder-coated metal frame, spring coil seat base, set of 2, dimensions: 25.2"W x 23.2"D x 37.8"H
● What Clients Love about this Patio Dining Chair: comfortable construction, very sturdy and stable, easy to assemble, great value, great finish
21. Caraquet Stacking Patio Dining Chair by Beachcrest Home
Points of Interest:
● Clients Rating: 4.7 Stars
● Style Inspiration: coastal, tropical
● Material: resin wicker, iron
● Color Options: brown
● Design Features: basket-weave pattern, resin wicker-wrapped frame, stackable, water-resistant, diamond lattice back design, set of 2, dimensions: 33" x 20.25" x 24"
● What Clients Love about this Patio Dining Chair: conveniently stackable, looks much more expensive than its price, great design, stable and well made
22. Tampa Acacia Wood Outdoor Dining Chairs by Christopher Knight Home
Points of Interest:
● Clients Rating: 4.5 Stars
● Style Inspiration: coastal, craftsman/mission, tropical
● Material: acacia wood
● Color Options: teak finish
● Design Features: slatted camelback design, removable seat cushions with piped edges, set of 2, dimensions: 26.75" D x 24.75" W x 35.00" H
● What Clients Love about this Patio Dining Chair: lovely addition to patio, solid and sturdy, easy assembly, very solid and durable
23. Plumerville Patio Dining Chair by Zipcode Design
Points of Interest:
● Clients Rating: 4.7 Stars
● Style Inspiration: industrial, retro, modern
● Material: metal – galvanized steel
● Color Options: gunmetal, green, red, black, blue, orange, white, yellow, silver, copper
● Design Features: narrow square seat, powder-coated finish, stackable, UV-resistant, seat with cross brace, dimensions: 33.5" H x 17.75" W x 18" D
● What Clients Love about this Patio Dining Chair: gorgeous colors to choose from, chic retro vibe, stackable and easily stored, easy to clean
24. Tiara Garden All Weather Wicker Patio Swivel Dining Chairs by Coral Coast
Points of Interest:
● Clients Rating: 4.6 Stars
● Style Inspiration: contemporary, country, cottage
● Material: resin wicker, olefin cushion
● Color Options: brown
● Design Features: resin wicker swivel chair, with detachable back and seat cushions, UV and water resistant, set of 2, dimensions: 27.5" W x 25.5" D x 34" H
● What Clients Love about this Patio Dining Chair: convenient swivel feature, looks more beautiful in person, great craftsmanship, great size, comfy cushions
25. Goguen Stacking Patio Dining Chair by Ebern Designs
Points of Interest:
● Clients Rating: 4.6 Stars
● Style Inspiration: modern, contemporary
● Material: polypropylene, plastic/resin
● Color Options: black, gray, light blue, orange, silver, white green
● Design Features: solid color, stackable, UV and weather resistant, water and rust resistant, dimensions: 32" H x 17.3" W x 20" D
● What Clients Love about this Patio Dining Chair: attractive modern design, lightweight and stackable, easy to clean, great price, great colors
26. Mayhew All Weather Wicker Patio Dining Chair by Threshold
Points of Interest:
● Clients Rating: 4.8 Stars
● Style Inspiration: traditional, coastal, tropical
● Material: wicker, steel, polyester
● Color Options: tan, navy
● Design Features: tall back, all-weather wicker chair, with removable seat cushion, weather and rust resistant, fade-resistant, set of 2, dimensions: 36" H x 26.5" W x 23" D
● What Clients Love about this Patio Dining Chair: comfy and attractive chair, real wicker look, no assembly needed, great craftsmanship and quality
27. Grimm Patio Dining Chair by Darby Home Co
Points of Interest:
● Clients Rating: 4.6 Stars
● Style Inspiration: traditional, classic, French country
● Material: cast aluminum
● Color Options: black
● Design Features: diamond lattice seat and back, scrolled arms, curved legs, weather-resistant, set of 2, dimensions: 35.43" H x 23.43" W x 26.18" D
● What Clients Love about this Patio Dining Chair: comfy and spacious seat, classy timeless piece, gorgeous matte finish, holds up well to varying weather conditions, sturdy and has great quality