Hello and welcome to our carefully curated selection of outdoor throw pillows. Throw pillows are a budget friendly way to dress up your outdoor living space. We handpicked for you a variety of beautiful high quality outdoor throw pillows that can fit many styles, color schemes, and budgets. To derive this list, we carefully reviewed customer reviews and are only bringing up to your attention outdoor throw pillows that have impressed clients with their beauty and durability. Hope you find inspiration in these photos and find this information useful, enjoy!

What is an outdoor throw pillow?
Definition: a small decorative pillow usually made of water and weather-resistant fabric suitable as an accent for outdoor furniture
Design Features: polyester or acrylic material, square or rectangle, solid colored or patterned, reversible (same or different front and back designs) or not, edge style (piped, corded, flanged), zippered or sewn seams
Price Range: $14.99 to $64.99

How are clients using their outdoor throw pillows in their home décor:
Where: deck, patio, porch, lanai, pool side, lake side, outdoor dining area, outdoor swing, hammock, backyard
Things to consider: material (weather and waterproof, mold/mildew resistant, hypoallergenic), size and shape, color and design (solid colored or patterned), maintenance (wipe clean or washable), budget
Favorite Features: no visible fading even under extreme exposure, comfortable to lie on when lounging outdoors, nice support for lower back, beautiful designs, great as indoor pillow too, great price and durable, looks expensive, zippered and washable cover

Hope you enjoy the showroom visit!

1. Aitana Outdoor Throw Pillow by Willa Arlo Interiors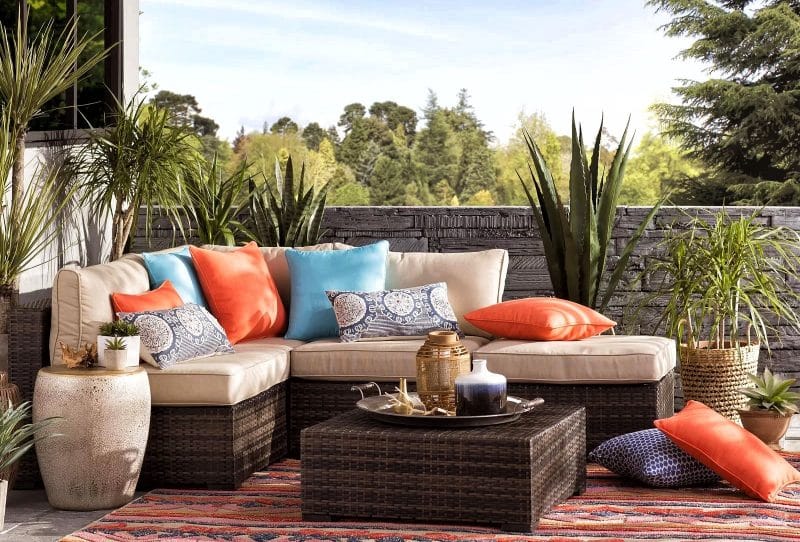 Points of Interest:
● Clients Rating: 4.6 Stars
● Material: polyester blend
● Color Options: pool, tango, yellow, lime
● Design Features: square, solid color, piped edges, reversible, size: 17" x 17"
● What Clients Love about this Outdoor Throw Pillow: fun vibe, quick and easy upgrade to outdoor furniture, vibrant colors, no visible damage from exposure, firm but soft, no zippers
2. Forsyth Corded Rectangular Throw Pillow by Pillow Perfect
Points of Interest:
● Clients Rating: 4.5 Stars
● Material: 100% polyester
● Color Options: wide selection of color and pattern choices
● Design Features: 2-pc set, rectangle, solid or patterned, cord trim, fade resistant, size: 18.5" x 11.5" x 5"
● What Clients Love about this Outdoor Throw Pillow: durable even under exposure to elements, true to color, beautiful patterns, colorful, nicely stuffed
3. Alla Outdoor Throw Pillow Cover by Zipcode Design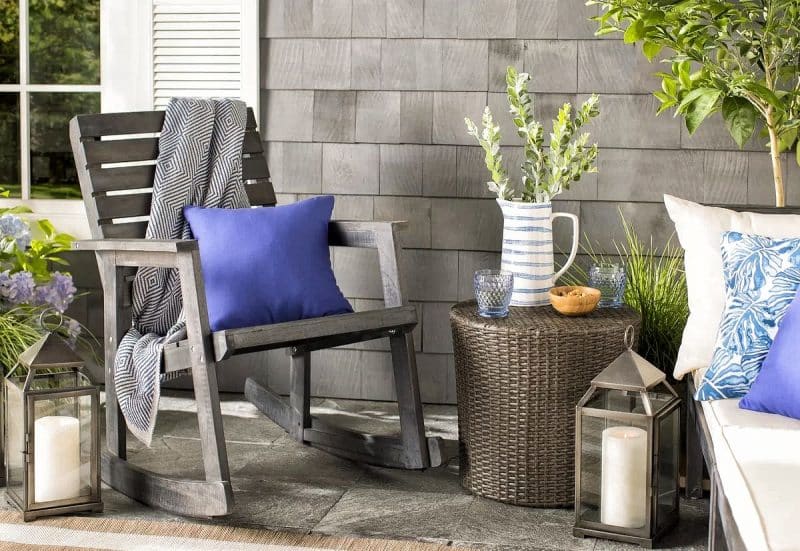 Points of Interest:
● Clients Rating: 4.6 Stars
● Material: 100% polyester
● Color Options: available in several colors
● Design Features: 2-pc set, square, reversible, stain resistant, flanged edges, available in 3 sizes
● What Clients Love about this Outdoor Throw Pillow: bright colors, beautiful designs, also nice for indoor use, nicely stuffed, well-made
4. Belmont Outdoor Accent Pillows by Grand Basket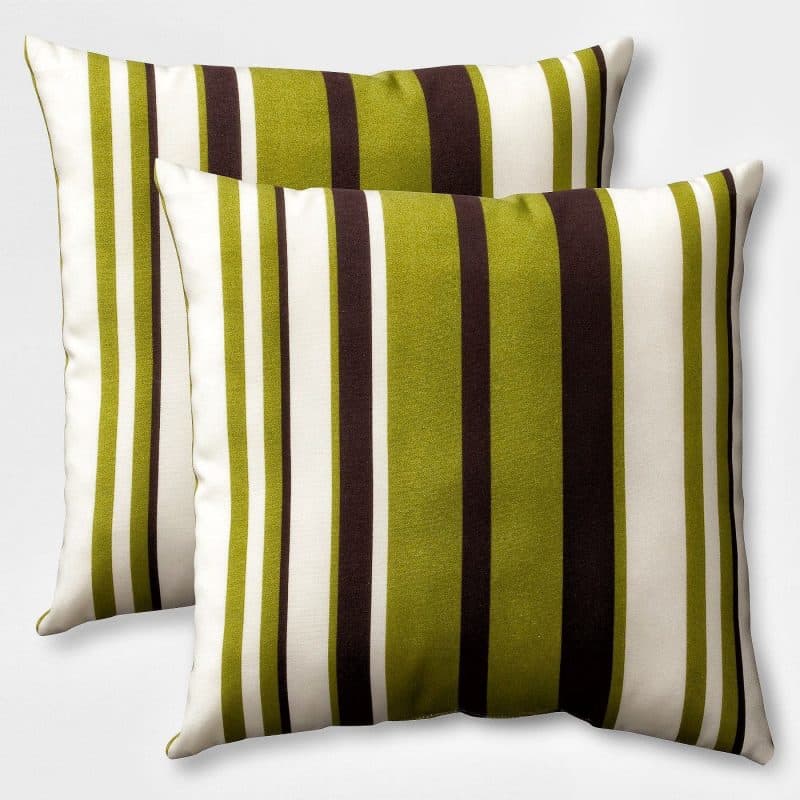 Points of Interest:
● Clients Rating: 4.9 Stars
● Material: 100% polyester
● Color Options: green
● Design Features: square, 2-pc set, multicolored striped pattern, size: 16" x 16"
● What Clients Love about this Outdoor Throw Pillow: earth tones, stylish, can withstand sun and rain, looks great even indoors
5. Pearson Outdoor Lumbar Pillow Cover by World Menagerie
Points of Interest:
● Clients Rating: 4.7 Stars
● Material: 100% Polyester
● Color Options: summer, spray
● Design Features: 2-pc set, rectangle, lumbar pillow type, suzani pattern, reversible, flanged edges, size: 12" x 19"
● What Clients Love about this Outdoor Throw Pillow: brightens up the deck and patio, no visible fading even under extreme sun exposure, well-made, great colors
6. Annie Westport Reversible Corded Throw Pillow by Pillow Perfect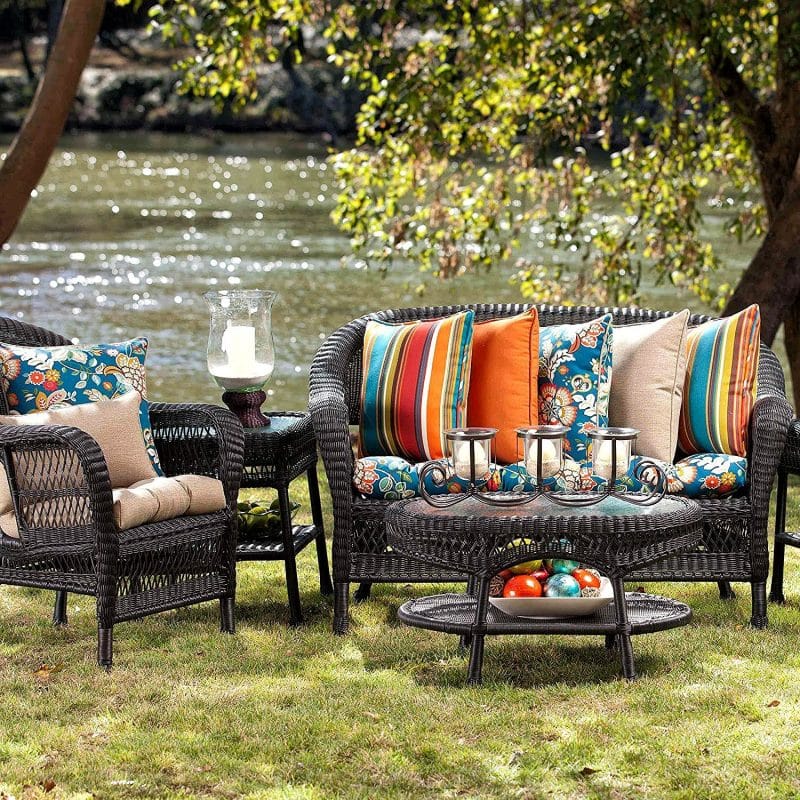 Points of Interest:
● Clients Rating: 4.8 Stars
● Material: 100% polyester
● Color Options: multicolored patterns
● Design Features: 2-pc set, striped on one side and floral on reverse, cord trim edges, weather resistant, 18.5" x 18.5" x 5"
● What Clients Love about this Outdoor Throw Pillow: beautiful patterns on each side, dresses up outdoor area, bright colors, stitched nicely
7. Outdoor Throw Pillow by Home Accent Pillows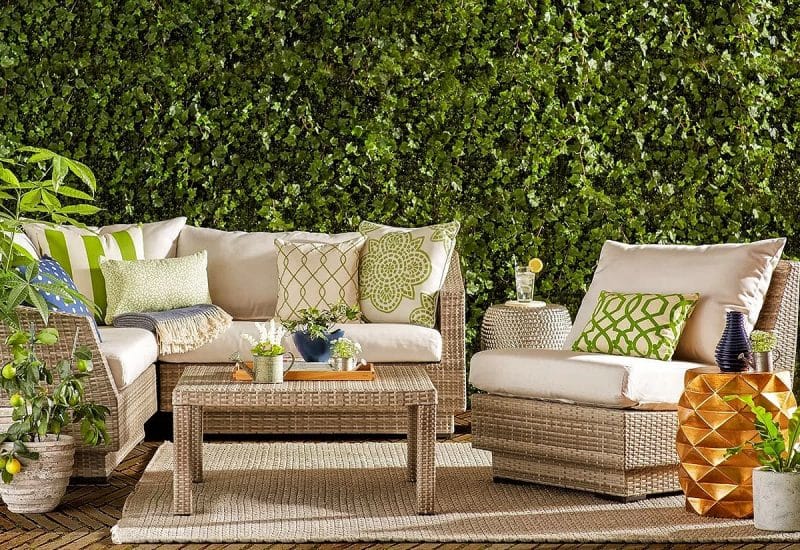 Points of Interest:
● Clients Rating: 4.8 Stars
● Material: acrylic, polyester, polyfill
● Color Options: aqua, black, gray, lime, navy, orange, yellow
● Design Features: 2-pc set, square, striped pattern, 100% waterproof, anti-UV, hypoallergenic, reversible, 18" x 18"
● What Clients Love about this Outdoor Throw Pillow: made the outdoor area look stunning, zipped and washable cover, well-made, great price and durable
8. Classic Outdoor Toss Pillow by Coral Coast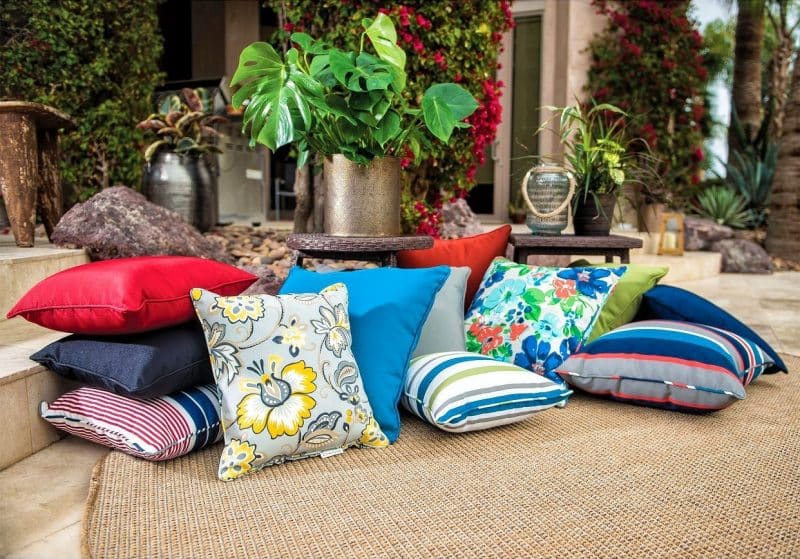 Points of Interest:
● Clients Rating: 4.8 Stars
● Material: polyester
● Color Options: available in several colors
● Design Features: 2-pc set, rectangle, zipped closure, 20" x 20" x 6", piped edges
● What Clients Love about this Outdoor Throw Pillow: bright colors, smooth fabric feel, colors do not fade after long-term sun and rain exposure, waterproof, lends color to outdoor area
9. Coleridge Throw Pillow by Sol 72 Outdoor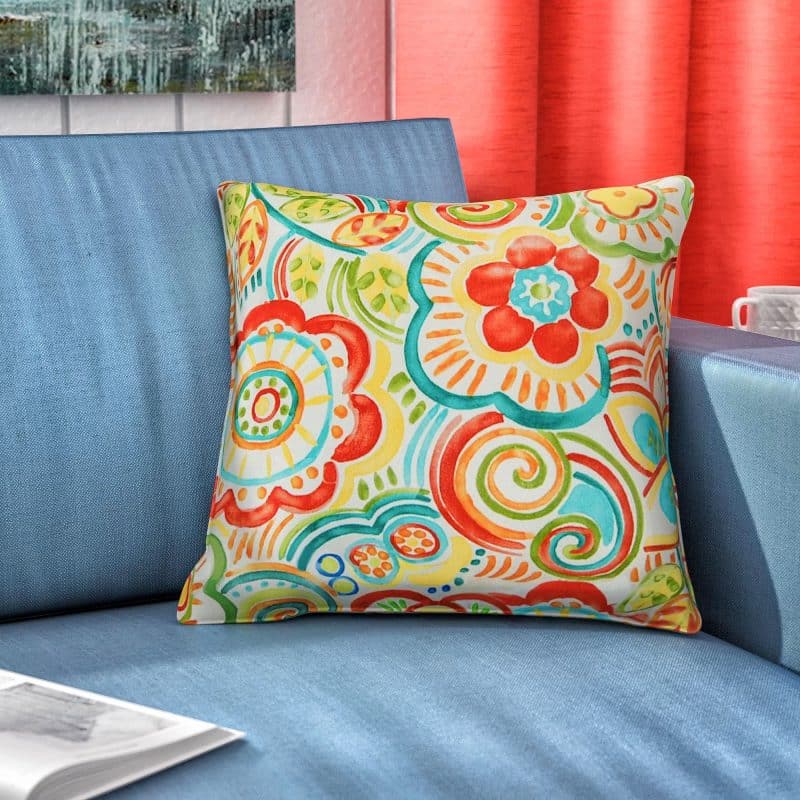 Points of Interest:
● Clients Rating: 4.7 Stars
● Material: polyester
● Color Options: caribbean, carnival
● Design Features: square, floral pattern, piped edges, reversible, 17" x 17"
● What Clients Love about this Outdoor Throw Pillow: festive patterns, vibrant colors, livens up the patio, comfortable
10. Classic Rectangle Outdoor Lumbar Pillow by Coral Coast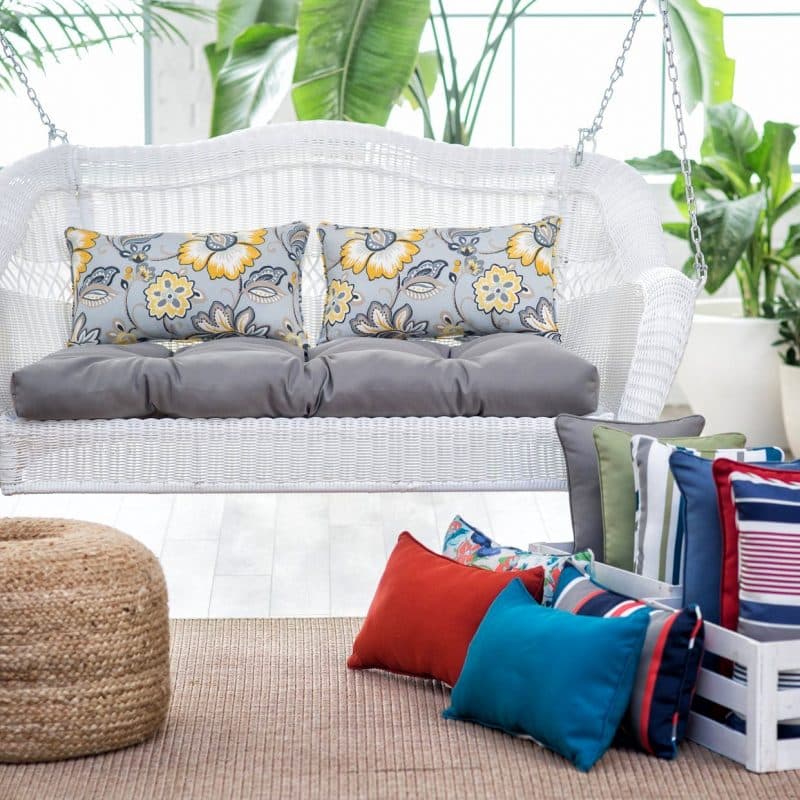 Points of Interest:
● Clients Rating: 4.7 Stars
● Material: polyester
● Color Options: available in several colors and patterns
● Design Features: 2-pc set, rectangular, piped edges, 18" x 10" x 6"
● What Clients Love about this Outdoor Throw Pillow: comfortable to lie on when lounging outdoors, pretty patterns, reasonably priced, soft to the touch
11. Knopp Indoor/Outdoor Lumbar Pillow by Alcott Hill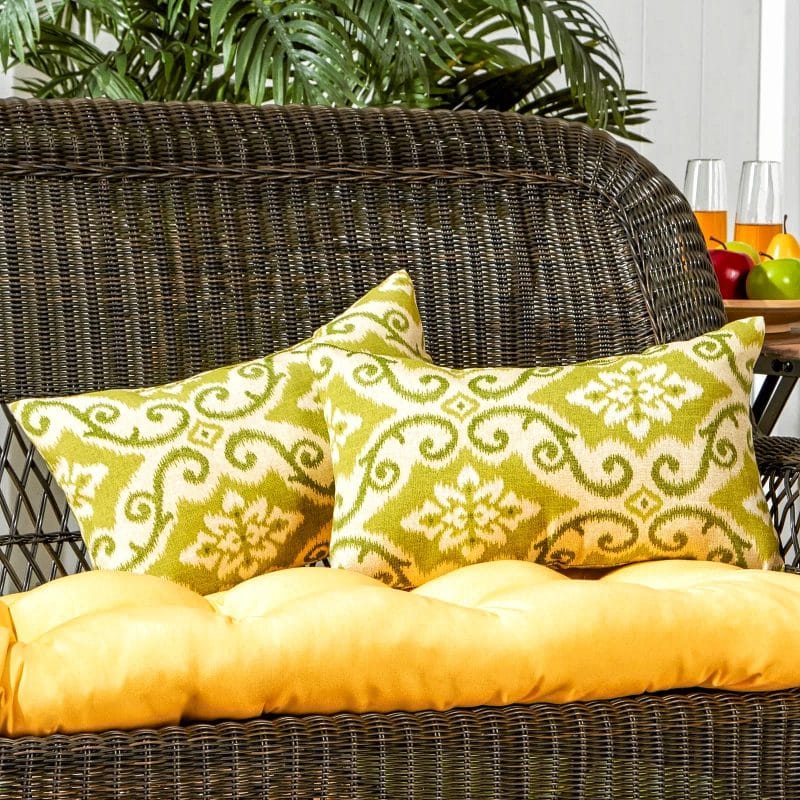 Points of Interest:
● Clients Rating: 4.7 Stars
● Material: polyester
● Color Options: green
● Design Features: 2-pc set, rectangular, ikat print, reversible, water and stain resistant, 12" x 19"
● What Clients Love about this Outdoor Throw Pillow: colors remain bright even after sun exposure, comfortable even as indoor pillows, looks luxurious
12. Lakeside Outdoor Toss Pillow by Coral Coast
Points of Interest:
● Clients Rating: 4.7 Stars
● Material: polyester
● Color Options: available in several colors and patterns
● Design Features: rectangular, piped trim edges, zipped closure, 14" x 16" x 6"
● What Clients Love about this Outdoor Throw Pillow: exceeds expectations, cheerful colors, comfortable
13. Sarver Indoor/Outdoor Lumbar Pillow by Andover Mills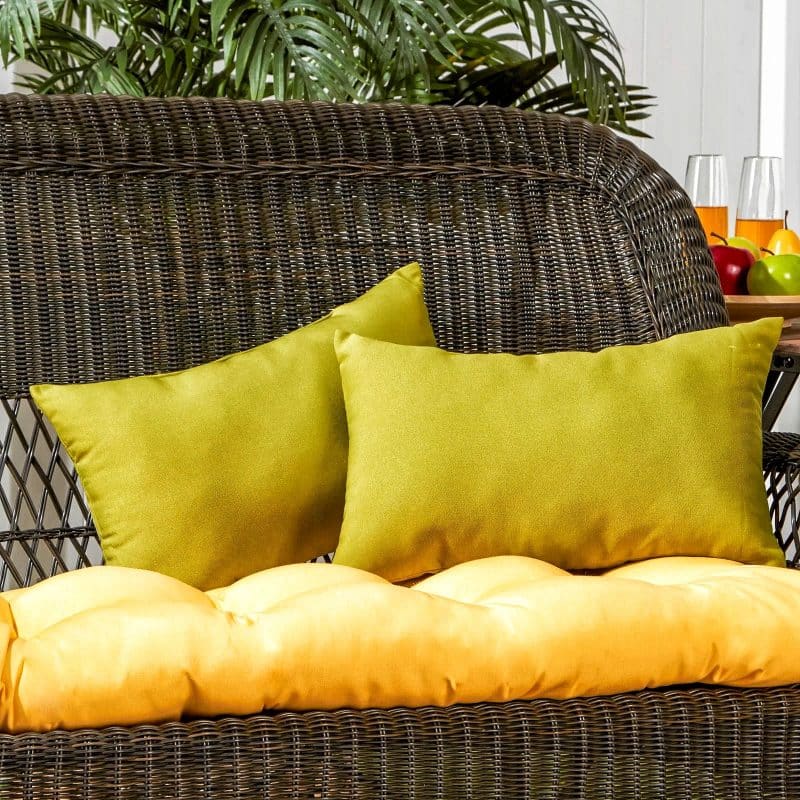 Points of Interest:
● Clients Rating: 4.6 Stars
● Material: polyester
● Color Options: marine blue, kiwi, salsa, sunbeam, summerside green
● Design Features: 2-pc set, rectangular, solid color, reversible, weather resistant, 12" x 19"
● What Clients Love about this Outdoor Throw Pillow: provides great back support, comfortably stuffed, beautiful, elegant, vibrant colors
14. Carnival Stripe Outdoor Rectangle Accent Pillow by Greendale Home Fashions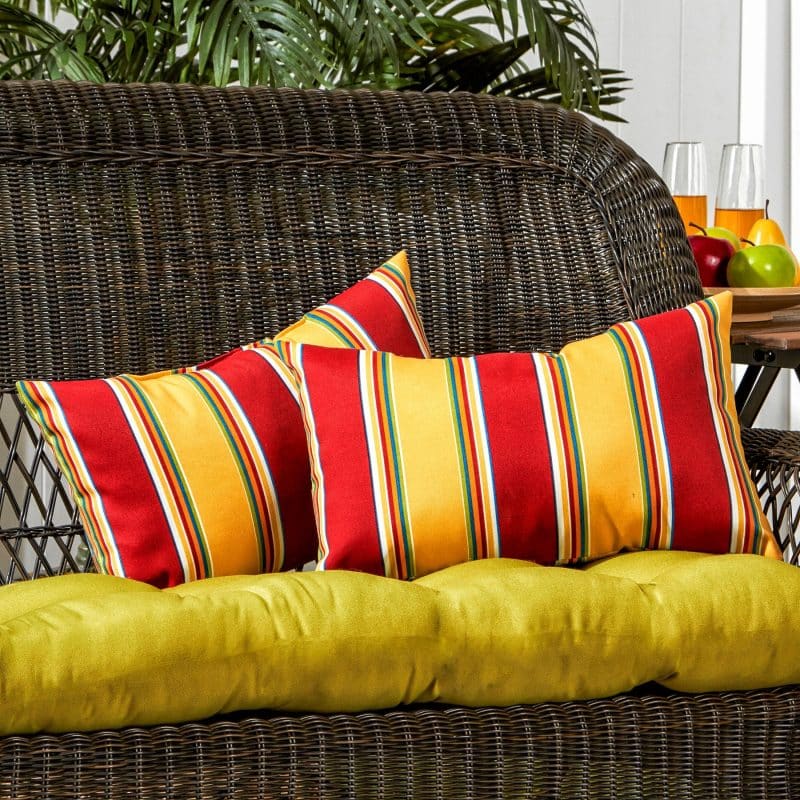 Points of Interest:
● Clients Rating: 4.7 Stars
● Material: polyester
● Color Options: carnival (yellow, red, teal)
● Design Features: 2-pc set, rectangular, striped pattern, water and stain-resistant, 19" x 12"
● What Clients Love about this Outdoor Throw Pillow: vibrant colors, nice accent to solid colored pillows, cute patterns, lightweight
15. Peltz "My Happy Place" Outdoor Lumbar Pillow by Ebern Designs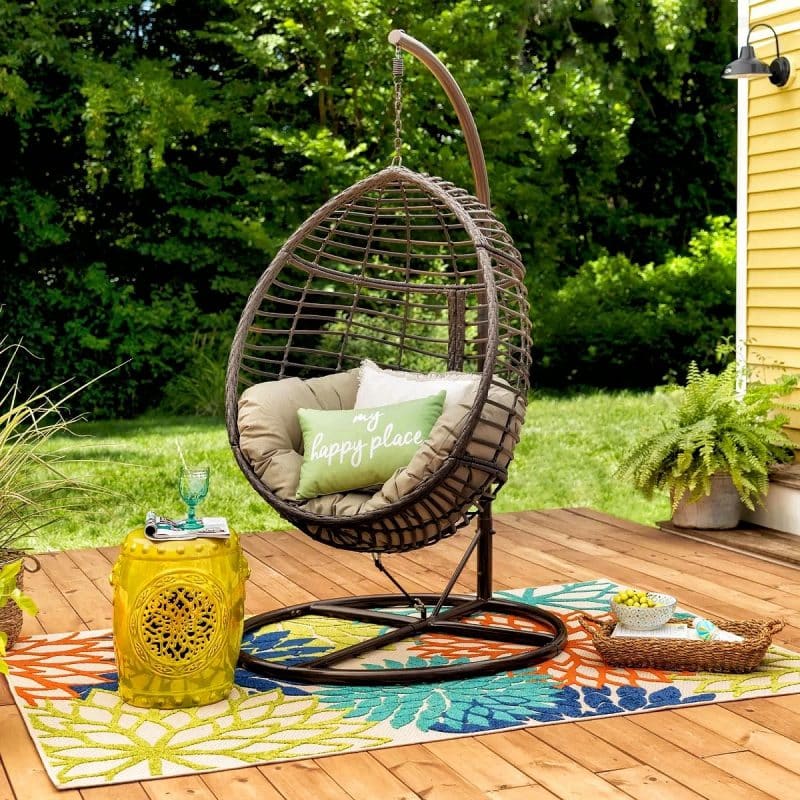 Points of Interest:
● Clients Rating: 4.7 Stars
● Material: polyester
● Color Options: dandelion, charcoal, midnight, olive, rose, sand, sky, tangerine
● Design Features: rectangular, white textual print: 'my happy place', weather-resistant, 14" x 20" x 3"
● What Clients Love about this Outdoor Throw Pillow: nice printed message, gives me joy, cozy feel, feels soft, bubbly colors
16. Home Fashions Outdoor Accent Pillows by Greendale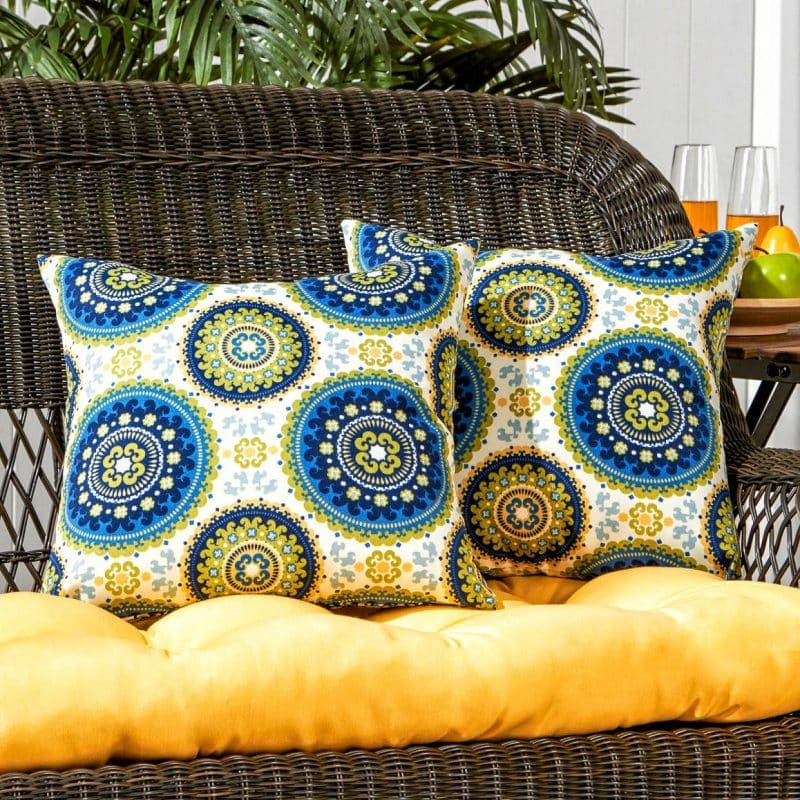 Points of Interest:
● Clients Rating: 4.5 Stars
● Material: 100% polyester
● Color Options: available in several colors and patterns
● Design Features: 2-pc set, square, patterned or solid colored, water and stain resistant, 17" x 17"
● What Clients Love about this Outdoor Throw Pillow: more beautiful in person, a nice touch to the patio, fun and vibrant, nicely filled
17. Indoor/Outdoor Lumbar Pillow by Greendale Home Fashions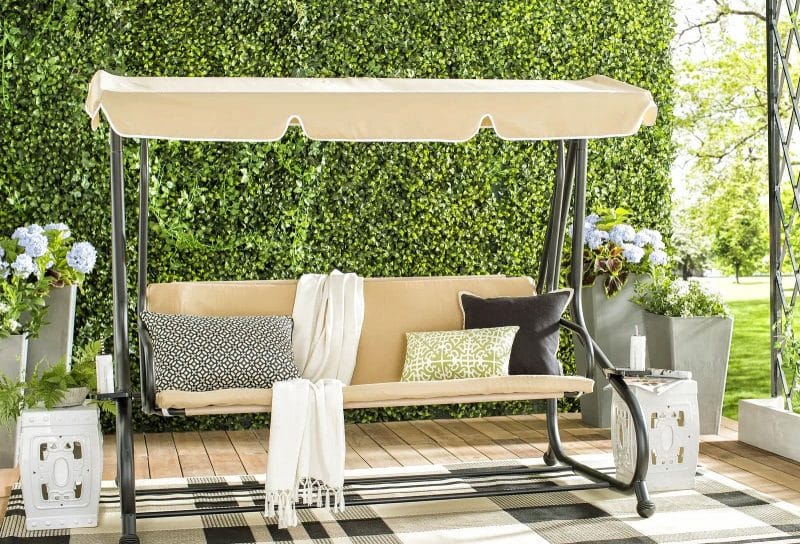 Points of Interest:
● Clients Rating: 4.7 Stars
● Material: 100% polyester
● Color Options: indigo, grass
● Design Features: 2-pc set, rectangular, damask patterned, flanged edges, reversible, 12" x 19"
● What Clients Love about this Outdoor Throw Pillow: makes the outdoor seating area more attractive, lovely, nice support for lower back, good quality
18. Wyckoff Reversible Outdoor Lumbar Pillow by Beachcrest Home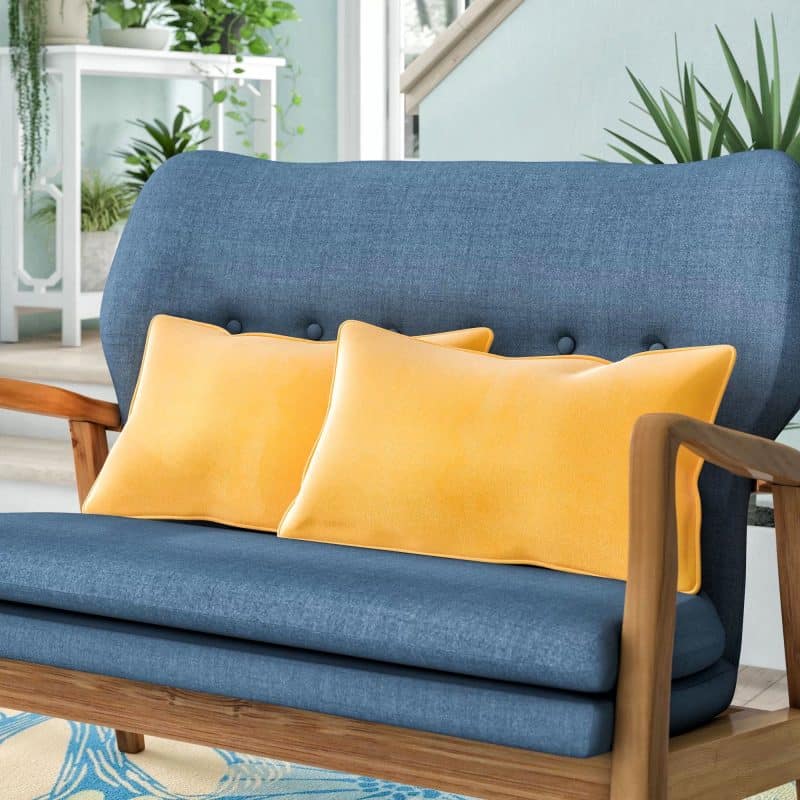 Points of Interest:
● Clients Rating: 4.6 Stars
● Material: acrylic (Sunbrella), polyester
● Color Options: available in several colors
● Design Features: 2-pc set, rectangular, reversible, solid color, piped edges, 12" x 22",
● What Clients Love about this Outdoor Throw Pillow: makes the outdoor space more appealing, water-proof, striking colors, great quality, stuffed nicely
19. Georgia Outdoor Throw Pillow by Three Posts
Points of Interest:
● Clients Rating: 4.5 Stars
● Material: polyester, synthetic down
● Color Options: available in several colors
● Design Features: square, solid color, available in 3 sizes, sewn closure, mold and mildew resistant, weather resistant
● What Clients Love about this Outdoor Throw Pillow: finishes the look of the seating area, comfortable, looks as pictured
20. Aspidoras Apple Outdoor Throw Pillow by Pillow Perfect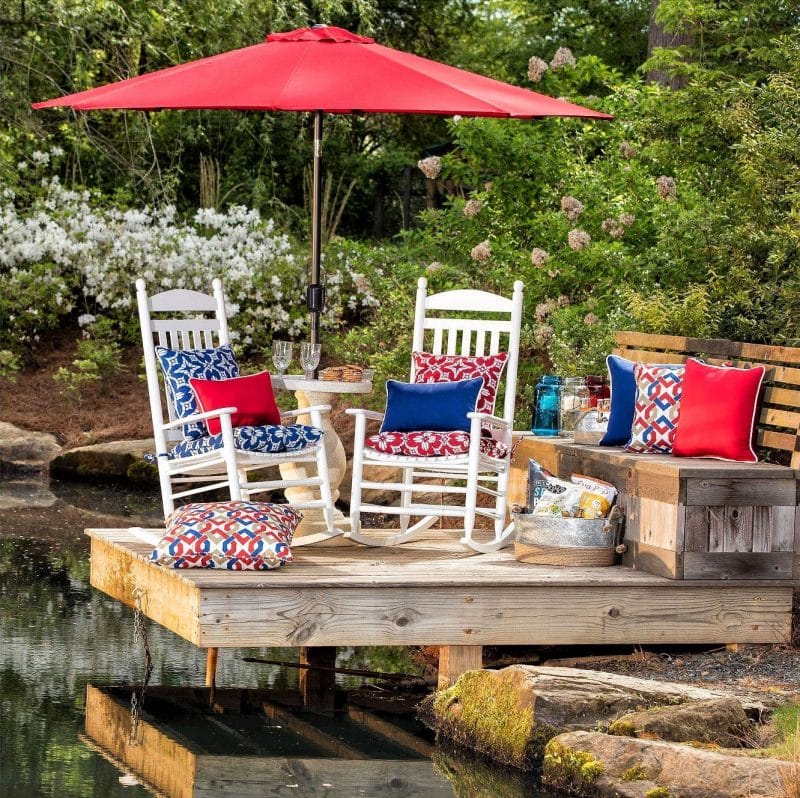 Points of Interest:
● Clients Rating: 4.9 Stars
● Material: 100% polyester, polyurethane foam
● Color Options: red
● Design Features: 2-pc set, rectangular, corded edge, weather and fade resistant, reversible, 18.5" x 11.5"
● What Clients Love about this Outdoor Throw Pillow: beautiful addition to outdoor seating, color stays vibrant even under the sun, firm, lively colors
21. Henrich Indoor/Outdoor Lumbar Pillow by Andover Mills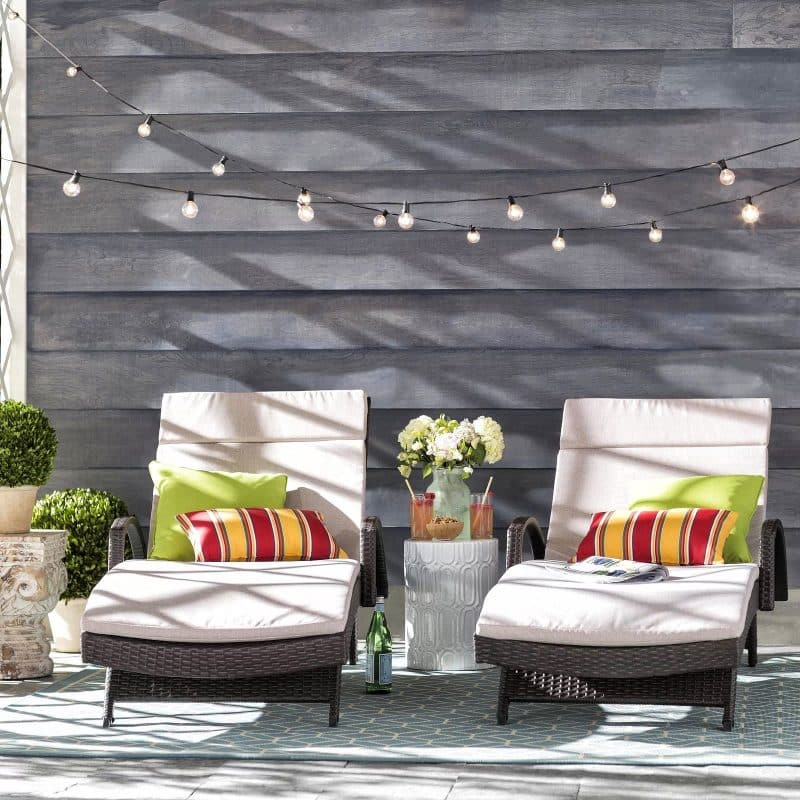 Points of Interest:
● Clients Rating: 4.7 Stars
● Material: polyester
● Color Options: carnival
● Design Features: 2-pc set, rectangular, striped pattern, reversible, flanged edges, weather and stain resistant, 12" x 19"
● What Clients Love about this Outdoor Throw Pillow: adds a colorful touch to the patio, bright colors, awesome quality, cute
22. Arleigh Throw Pillow by Trent Austin Design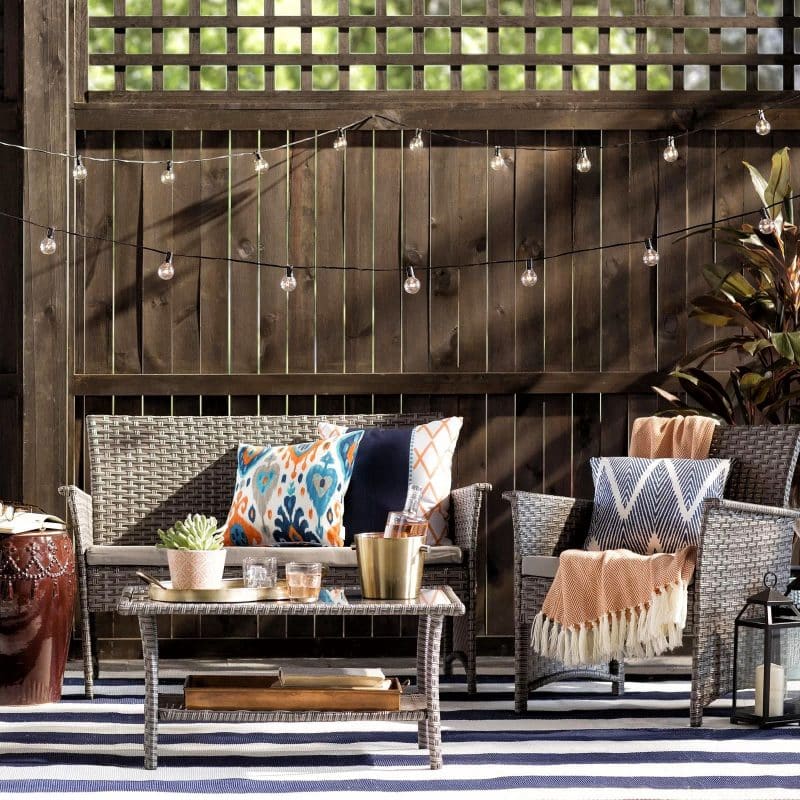 Points of Interest:
● Clients Rating: 4.9 Stars
● Material: polyester
● Color Options: orange/blue/gray
● Design Features: square, ikat pattern, water and stain-resistant, available in 3 sizes, removable closure, zipped closure
● What Clients Love about this Outdoor Throw Pillow: a nice addition to the patio, bright colors, pretty, washable zipped cover, great quality
23. Indoor/Outdoor Throw Pillow by Greendale Home Fashions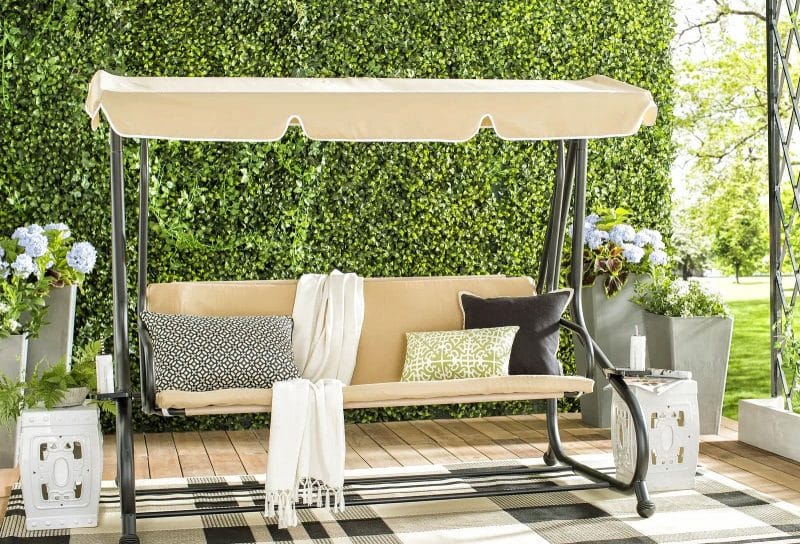 Points of Interest:
● Clients Rating: 4.9 Stars
● Material: polyester
● Color Options: graphite, seaside, azule
● Design Features: 2-pc set, square, ikat pattern, reversible, flanged edges, weather and stain resistant, 17" x 17"
● What Clients Love about this Outdoor Throw Pillow: beautiful patterns, easy to wipe clean, great as indoor pillows too, comfortable, adequately firm, good back support
24. Mayson Outdoor Throw Pillow by Beachcrest Home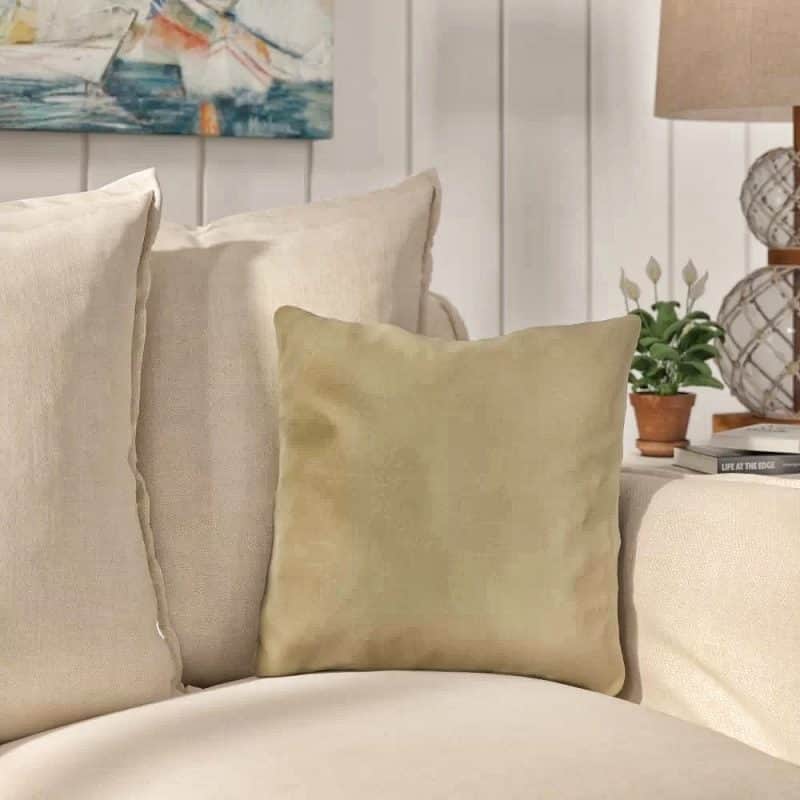 Points of Interest:
● Clients Rating: 4.6 Stars
● Style Inspiration: modern
● Material: acrylic (Sunbrella), polyester
● Color Options: available in several colors
● Design Features: 2-pc set, square, solid color, sewn seam, weather-resistant, reversible, 16" x 16"
● What Clients Love about this Outdoor Throw Pillow: also looks great indoors, looks just as pictured, a colorful addition to neutral-colored outdoor seating, well made
25. Greater Northdale Outdoor Throw Pillow by Beachcrest Home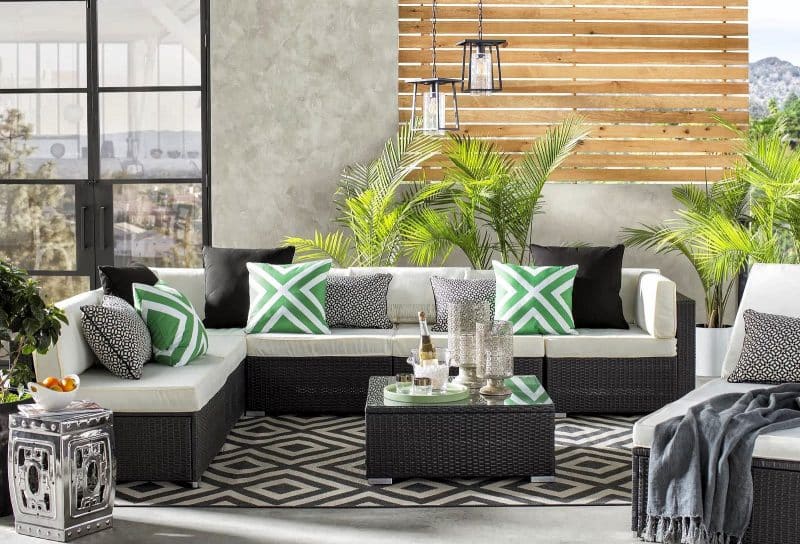 Points of Interest:
● Clients Rating: 4.6 Stars
● Material: polyester, synthetic down
● Color Options: azure, bewitching, cardinal, leaf green, lemon
● Design Features: square, two-toned geometric pattern, available in 3 sizes, water and weather-proof, reversible, hypoallergenic
● What Clients Love about this Outdoor Throw Pillow: nice contrast to solid colored seating, beautiful colors, months of sun exposure and the colors remain bright
26. Outdoor Paisley Bird Toss Pillow by Better Homes and Gardens
Points of Interest:
● Clients Rating: 5.0 Stars
● Material: polyester
● Color Options: multicolor
● Design Features: 2-pc set, rectangular, bird and paisley theme, braided jute trim, size 14" x 19", water resistant
● What Clients Love about this Outdoor Throw Pillow: fancy design, looks expensive, fun colors, comfortable back support
27. Outdoor Throw Pillow by Home Accent Pillows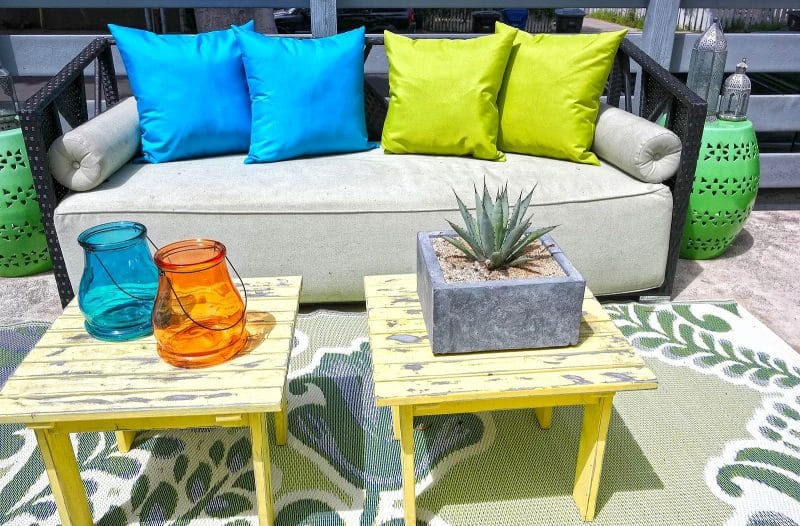 Points of Interest:
● Clients Rating: 4.8 Stars
● Material: acrylic, polyester blend
● Color Options: aqua, yellow, gray, green, ivory, orange, light gray, navy
● Design Features: 2-pc set, square, solid color, available in 2 sizes, waterproof, hypoallergenic, stain resistant
● What Clients Love about this Outdoor Throw Pillow: high-end fabric, large size, assorted colors, removable and washable cover, great quality, very comfortable