Hello and welcome to our carefully curated selection of outdoor rugs. You often ask us "where can I get this?", "how do I get that look?, so here it is! We handpicked for you a variety of beautiful high quality outdoor rugs that can fit many styles, color schemes, and budgets. To derive this list, we carefully reviewed customer reviews and are only bringing up to your attention outdoor rugs that have clients have enjoyed and are raving about. Hope you find inspiration in these photos and find this information useful, enjoy!

What is an outdoor rug?
Style: contemporary, Moroccan, tribal, garden-inspired, traditional, transitional, modern, beach, coastal, tropical, French countryside, Bohemian
Design Features: floral pattern, medallion motif, kilim design, quatrefoil motif, geometric pattern, tribal pattern, vine pattern, striped, checkered, ikat pattern
Price Range: $19.99 to $109.99

How are clients using their outdoor rugs in their home décor:
Where: poolside, outdoor lounge area, patio, balcony, terrace, deck, outdoor lanai, gazebo, front porch
Things to consider: color, texture, style, material, ease of cleaning, how well it hold up to different weather conditions
Favorite Features: lovely colors, matches different styles, holds up thru different seasons, lovely pattern, great texture, versatile, rich looking, gorgeous pattern, brightens up space, easy to clean, soft on feet, nicely woven, quick dry, pet friendly

Hope you enjoy the showroom visit!

1. Baringer Power Loom Orange Indoor/Outdoor Area Rug by Sol 72 Outdoor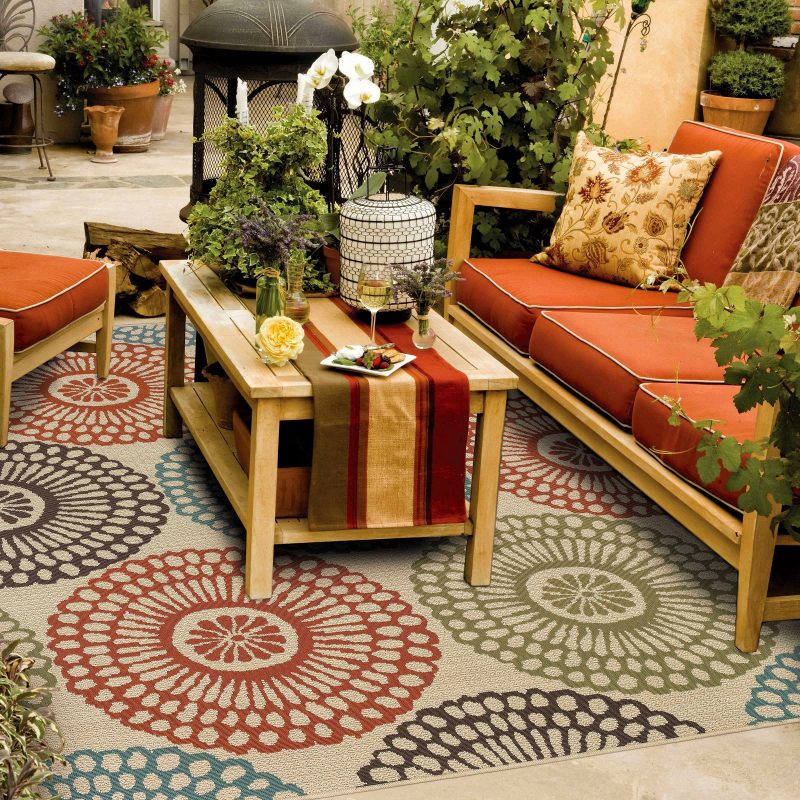 Points of Interest:
● Clients Rating: 4.7 Stars
● Style Inspiration: floral medallion
● Material: polypropylene
● Color Options: orange/multicolor
● Design Features: floral pattern, medallion motif, various shapes and sizes
● What Clients Love about this outdoor rug: lovely colors, brightens up room, looks gorgeous on patio, adds fun pops of color, holds up thru different seasons, matches different styles, good quality, great value, nice design, dries quickly
2. Lhasa Indoor/Outdoor Rug by Fab Habitat
Points of Interest:
● Clients Rating: 4.5 Stars
● Style Inspiration: kilim style
● Material: 100% recycled premium plastic
● Color Options: orange/violet, empire yellow/gray, royal blue/chocolate brown
● Design Features: traditional kilim design, reversible, with jute carrying bag, various sizes
● What Clients Love about this outdoor rug: vibrant colors, lovely pattern, interesting, got many compliments, pet friendly, easy to clean, great quality, lightweight, eco-friendly, brightens up the area, ideal for glamping
3. Kulpmont Hand-Braided Gray Indoor/Outdoor Area Rug by Wade Logan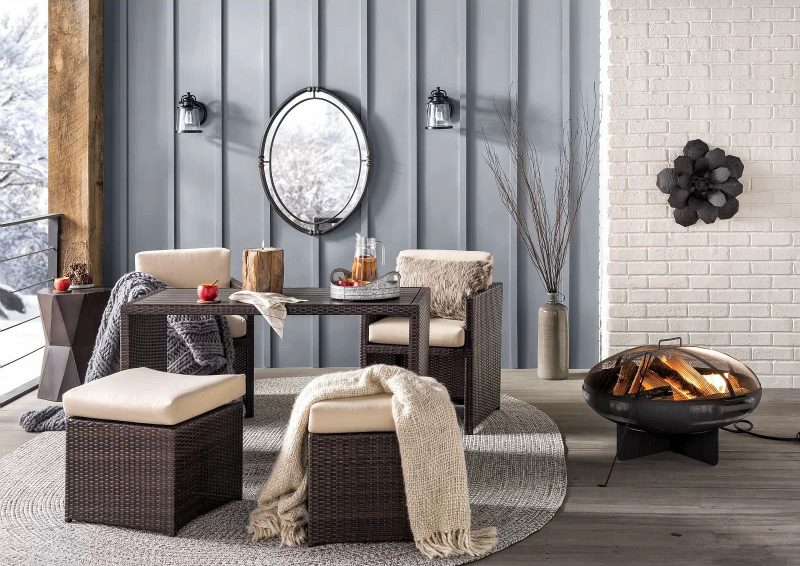 Points of Interest:
● Clients Rating: 4.6 Stars
● Style Inspiration: European-inspired
● Material: polypropylene
● Color Options: gray
● Design Features: hand braided, solid color, various shapes and sizes
● What Clients Love about this outdoor rug: neutral color goes with any decor, beautiful blend of colors, lovely design, brightens up room, great texture, very soft, easy to clean, good material, great quality, tightly woven, excellent value
4. Home Alexa Medallion Indoor/Outdoor Nylon Rug by Mohawk
Points of Interest:
● Clients Rating: 4.5 Stars
● Style Inspiration: contemporary
● Material: nylon
● Color Options: multicolored
● Design Features: floral medallions, marine backing, size: 5' x 8'
● What Clients Love about this outdoor rug: very soft, nice bright colors, looks good on balcony, versatile, timeless style, classy, lovely pattern, adds warmth, very well made, very attractive, ideal for high traffic area, great quality
5. Maritza Power Loomed Indoor/Outdoor Area Rug by Willa Arlo Interiors
Points of Interest:
● Clients Rating: 4.5 Stars
● Style Inspiration: Moroccan
● Material: polypropylene
● Color Options: light gray/ivory, gray, navy/ivory, ivory/black, ivory/light green, black/gray
● Design Features: quatrefoil motif, geometric pattern, multiple shapes and sizes
● What Clients Love about this outdoor rug: beautiful color, lovely design, soft on feet, nice contemporary pattern, durable, plushy, perfectly matches decor, high quality, rich looking, great for the price
6. Ikat Outdoor Rug by Threshold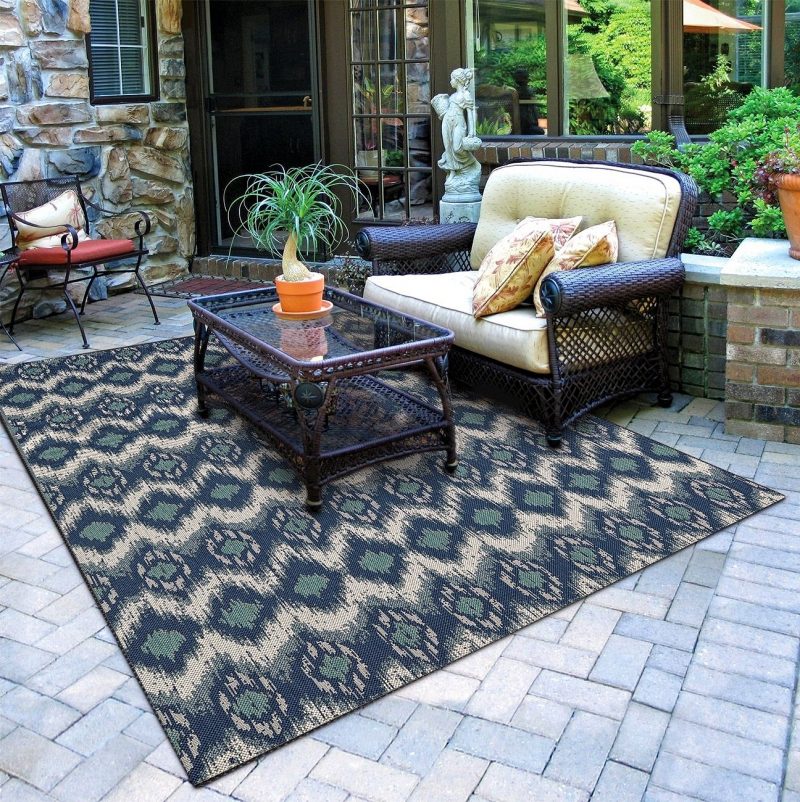 Points of Interest:
● Clients Rating: 4.9 Stars
● Style Inspiration: tribal pattern
● Material: polypropylene
● Color Options: blue
● Design Features: geometric tribal pattern, flatweave, finished edge, various sizes
● What Clients Love about this outdoor rug: vibrant colors, gorgeous pattern, lovely texture, easy to clean, durable, great quality, excellent price, looks expensive, luxurious, stunning, unique
7. Nathalie Cream Indoor/Outdoor Area Rug by Zipcode Design
Points of Interest:
● Clients Rating: 4.8 Stars
● Style Inspiration: contemporary/ garden-inspired
● Material: 100% polypropylene, latex backing
● Color Options: sage green, blue, turquoise, and orange on tan background
● Design Features: raised floral patterns, comes in various sizes and shapes
What Clients Love about this Leather Ottoman: brightens up space, adds pop of color, holds up well outside, got many compliments, stylish, piece of art, great design, eye catching, beautiful, vibrant colors, good quality, very soft
8. Saddle Stitch Indoor/Outdoor Area Rug by Couristan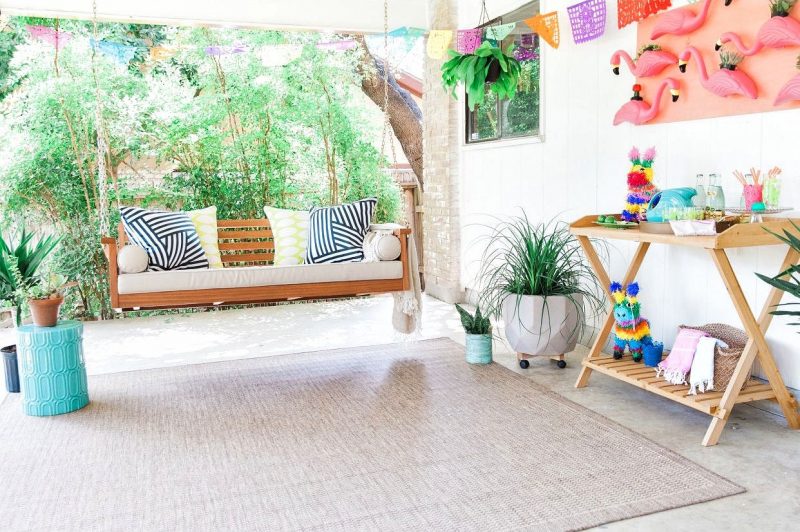 Points of Interest:
● Clients Rating: 4.8 Stars
● Style Inspiration: traditional, transitional, modern / contemporary
● Material: polypropylene
● Color Options: black/cocoa, blue/champagne, cocoa natural, gray, taupe/champagne, terra cotta/natural
● Design Features: flatweave construction, solid colors, various shapes and sizes
● What Clients Love about this outdoor rug: nice accent rug, brightens up space, very versatile, got several compliments, functional, perfectly fits gazebo, looks fabulous on lanai, easy to clean, durable, pet friendly, excellent quality
9. Barkley Indoor/Outdoor Area Rug by Sol 72 Outdoor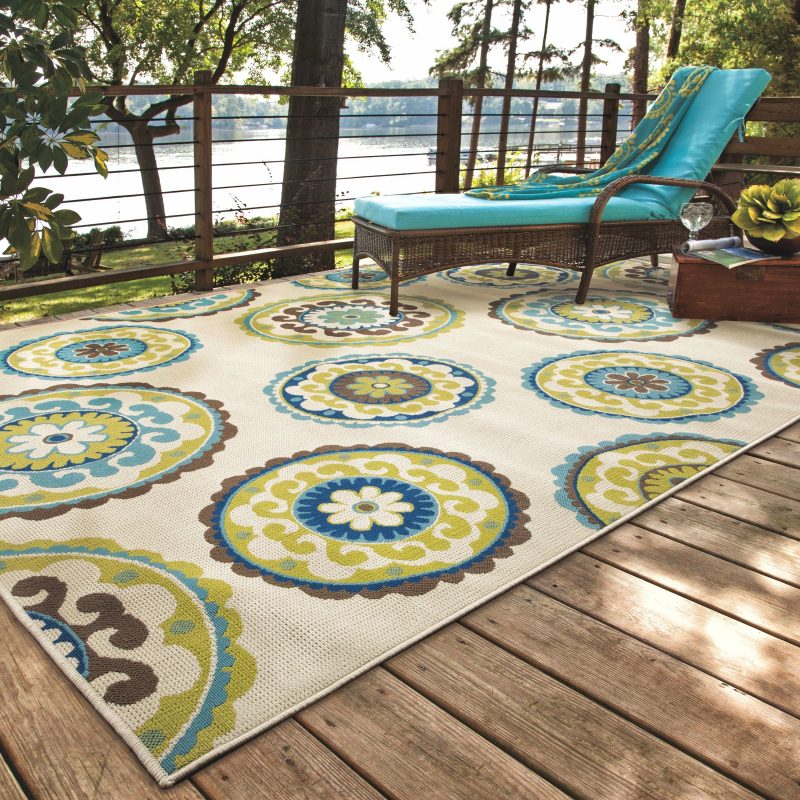 Points of Interest:
● Clients Rating: 4.6 Stars
● Style Inspiration: floral medallion
● Material: polypropylene
● Color Options: beige/green
● Design Features: medallion motif, geometric pattern, various shapes and sizes
● What Clients Love about this outdoor rug: looks great on patio, bright colors, pretty pattern, feels soft on feet, complements deck furniture, beautifully pulls furniture together, adds pop of color, easy to clean, dries fast, pet friendly
10. Recife Veranda Indoor/Outdoor Area Rug – Natural/Terra Cotta by Couristan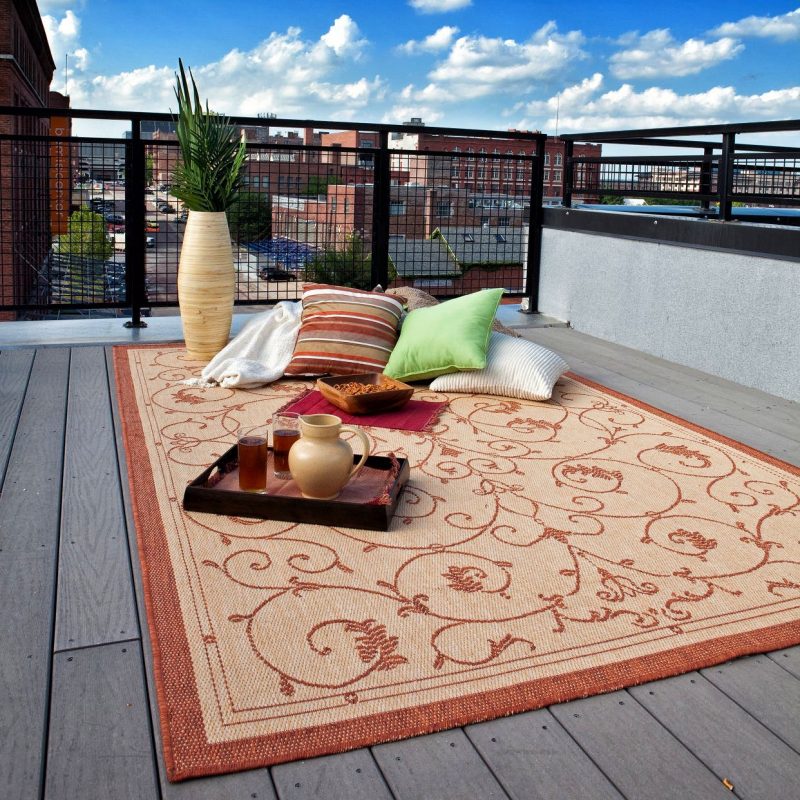 Points of Interest:
● Clients Rating: 4.5 Stars
● Style Inspiration: traditional, transitional
● Material: polypropylene
● Color Options: blue/champagne, cocoa/black, natural/cocoa, natural/terra cotta, taupe/champagne,
● Design Features: vine pattern, flatweave, various shapes and sizes
● What Clients Love about this outdoor rug: perfect color, classic design, complements space, beautiful addition to pool deck, beautiful pattern, vibrant color, looks fantastic on patio, durable, feels good on feet
11. Critchlow Indoor/Outdoor Area Rug by Charlton Home
Points of Interest:
● Clients Rating: 4.6 Stars
● Style Inspiration: Moroccan
● Material: polypropylene
● Color Options: navy blue, terracotta/bone
● Design Features: trellis motif, geometric pattern, double striped border, various shapes and sizes
● What Clients Love about this outdoor rug: vibrant color, looks great, holds up well to rain and sun, ideal for high traffic areas, works great outdoors, adds pop of color, pet friendly, good quality, unbeatable price, easy to clean
12. Jasmine Estates Indoor/Outdoor Area Rug by Beachcrest Home
Points of Interest:
● Clients Rating: 4.7 Stars
● Style Inspiration: beach/coastal
● Material: polypropylene
● Color Options: sand/turquoise
● Design Features: woven, striped pattern various sizes
● What Clients Love about this outdoor rug: beautiful colors, perfect on beach house, blends well with porch decor, works well outdoors, perfect porch accent, nice texture, feels good on feet, dries quickly, pet friendly, great quality, nice finish
13. Liseron Indoor/Outdoor Area Rug by Sol 72 Outdoor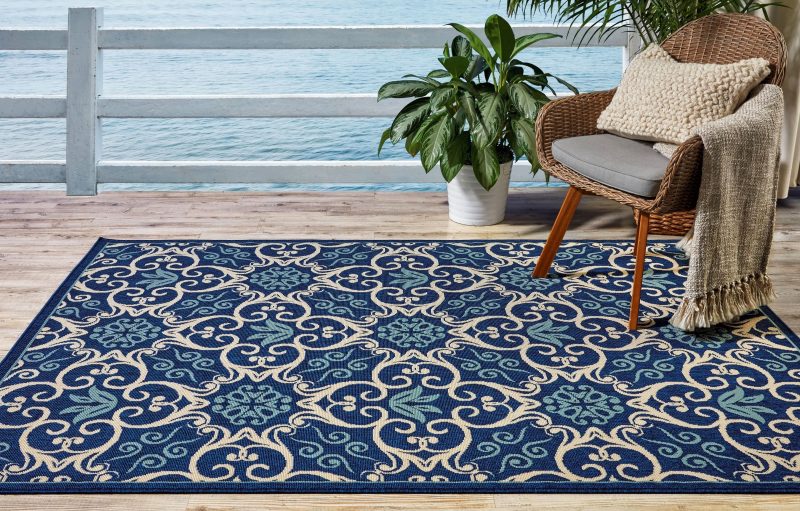 Points of Interest:
● Clients Rating: 4.7 Stars
● Style Inspiration: tropical
● Material: polypropylene
● Color Options: navy
● Design Features: floral/foliage pattern, coarse texture, various shapes and sizes
● What Clients Love about this outdoor rug: perfect pattern, vibrant blue color, looks great on porch, perfectly fits decor, feels soft on feet, right pop of color, elegant design, pet friendly, baby friendly, great value, dries quickly
14. Recife Garden Cottage Indoor/Outdoor Area Rug by Couristan
Points of Interest:
● Clients Rating: 4.8 Stars
● Style Inspiration: traditional/transitional
● Material: polypropylene
● Color Options: black/cocoa
● Design Features: flat-weave, floral pattern, various shapes and sizes
● What Clients Love about this outdoor rug: looks great, holds up well, looks good indoors and outdoors, great accent piece, very classy look, easy to clean, adds charm to space, brightens up deck, looks rich, soft on feet
15. Orris Sand Indoor/Outdoor Area Rug by Lark Manor
Points of Interest:
● Clients Rating: 4.6 Stars
● Style Inspiration: French countryside
● Material: polypropylene
● Color Options: sand
● Design Features: woven, solid color, various shapes and sizes
● What Clients Love about this outdoor rug: beautiful weave pattern, great jute rug look, lovely texture, warm neutral color, perfect on beach house, pet friendly, soft on feet, perfect outdoors, easy to clean, high quality
16. Outdoor Rug – Bold Stripe by Treshold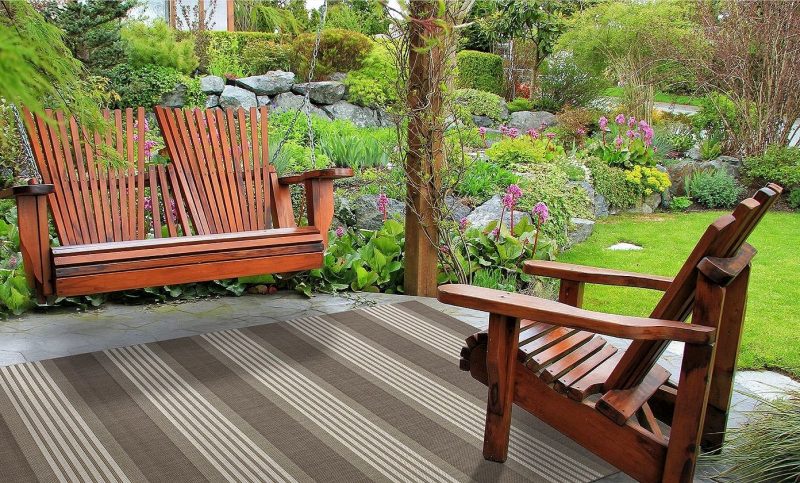 Points of Interest:
● Clients Rating: 4.9 Stars
● Style Inspiration: modern
● Material: polypropylene
● Color Options: taupe/red
● Design Features: striped pattern, flatweave, size: 6' x 9'
● What Clients Love about this outdoor rug: vibrant color, looks great on patio, holds up well, great pattern, brings cozy feel, good value, well made, lightweight, easy to store, quality piece, easy to clean, feels soft on feet, spruces up space
17. Monterey Navy Indoor/Outdoor Area Rug by Sol 72 Outdoor
Points of Interest:
● Clients Rating: 4.7 Stars
● Style Inspiration: contemporary, tropical
● Material: polypropylene
● Color Options: navy, rust
● Design Features: geometric trellis, various shapes and sizes
● What Clients Love about this outdoor rug: bright gorgeous colors, fun pattern, lovely piece, adds pop of color, suits high traffic area, got lots of compliments, great value, looks cool, feels great, easy maintenance, pet friendly
18. Alber Indoor/Outdoor Area Rug by Sol 72 Outdoor
Points of Interest:
● Clients Rating: 4.8 Stars
● Style Inspiration: contemporary
● Material: 100% polypropylene
● Color Options: brown
● Design Features: textured weave, flatwoven, size: 5'3 x 7'2
What Clients Love about this Leather Ottoman: looks good with different styles, perfectly covers porch, easy to clean, looks amazing, beautiful on wood floor, nicely holds up outside, dries quickly, very durable, texture feels good
19. Conaway Brown Indoor/Outdoor Area Rug by Winston Porter
Points of Interest:
● Clients Rating: 4.8 Stars
● Style Inspiration: garden-inspired
● Material: polypropylene
● Color Options: brown/green
● Design Features: bold floral pattern, various sizes
● What Clients Love about this outdoor rug: impressive bold design, vibrant colors, brightens up area, enhances decor, very soft, beautiful design, excellent quality, easy to clean, comfy, cheerful, feels good on feet, dries quickly
20. Recife Checkered Field Indoor/Outdoor Area Rug by Couristan
Points of Interest:
● Clients Rating: 4.7 Stars
● Style Inspiration: traditional
● Material: polypropylene
● Color Options: black/cocoa, cocoa/black, gray, natural/cocoa, natural/green
● Design Features: checkered pattern, with border, flatweave construction, various shapes and sizes
● What Clients Love about this outdoor rug: elegant pattern, gorgeous weave, perfect color, looks good on patio, great quality, soft on feet, dries quickly, holds up very well on different weather conditions, nice material
21. Maen Neutral Cream Indoor-Outdoor Area Rug by Latitude Run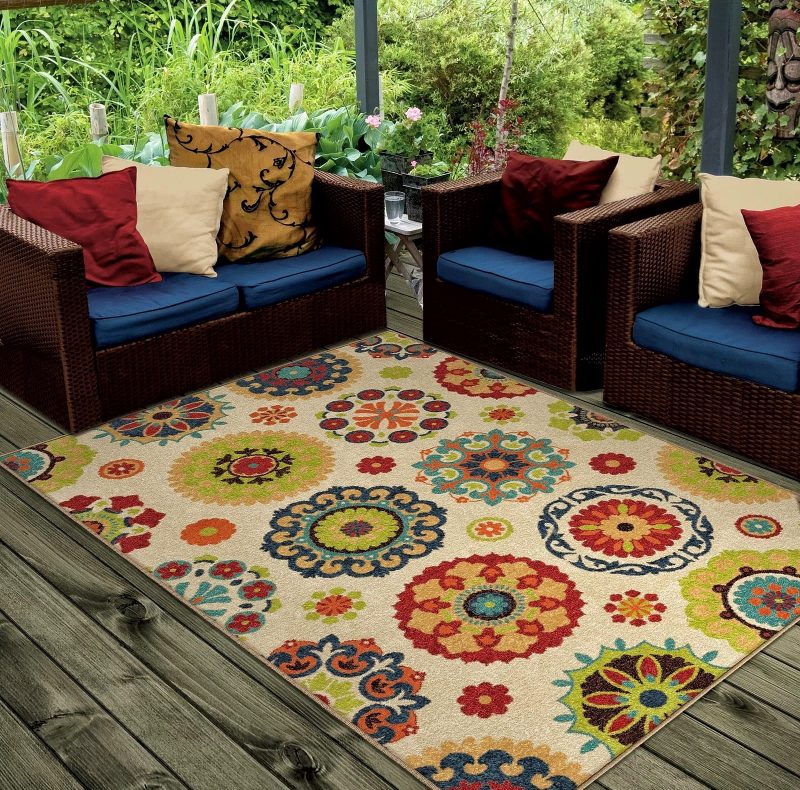 Points of Interest:
● Clients Rating: 4.7 Stars
● Style Inspiration: contemporary, cottage/country
● Material: polypropylene
● Color Options: beige/multicolored
● Design Features: floral pattern, medallion design, various sizes
● What Clients Love about this outdoor rug: fun and vibrant colors, brightens up area, great texture, eye-catching, gets lots of compliments, excellent quality, very soft, easy to clean, adds cozy feel, holds up well outdoors, awesome spring look
22. Recife Island Retreat Indoor/Outdoor Area Rug by Couristan
Points of Interest:
● Clients Rating: 4.8 Stars
● Style Inspiration: tropical
● Material: polypropylene
● Color Options: beige/natural, terracotta/natural
● Design Features: palm tree border, flat-weave construction, various shapes and sizes
● What Clients Love about this outdoor rug: brightens up patio, impressive design, adds appeal, nicely fits front porch, great color, good quality, easy to clean, holds up very well to different weather conditions, lightweight
23. Lenoir Indoor/Outdoor Area Rug by Lark Manor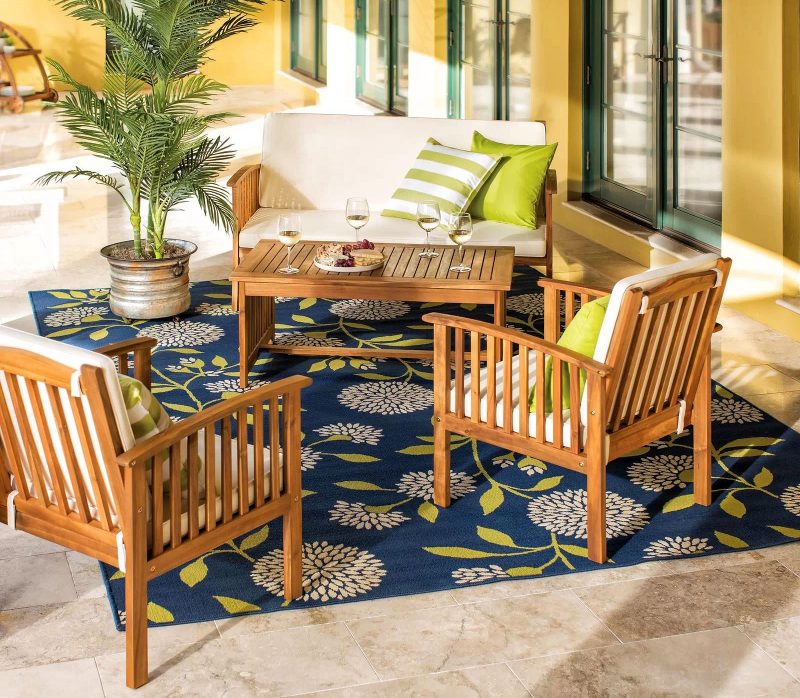 Points of Interest:
● Clients Rating: 4.6 Stars
● Style Inspiration: tropical
● Material: polypropylene
● Color Options: blue/green, beige/blue/green
● Design Features: floral pattern, woven, various shapes and sizes
● What Clients Love about this outdoor rug: vibrant colors, looks lovely, got lots of compliments, looks great on front porch, adds pop of color, very good quality, adds beauty on outdoor space, easy to clean, holds up well outdoors
24. Margarita Brown Indoor/Outdoor Area Rug by Sol 72 Outdoor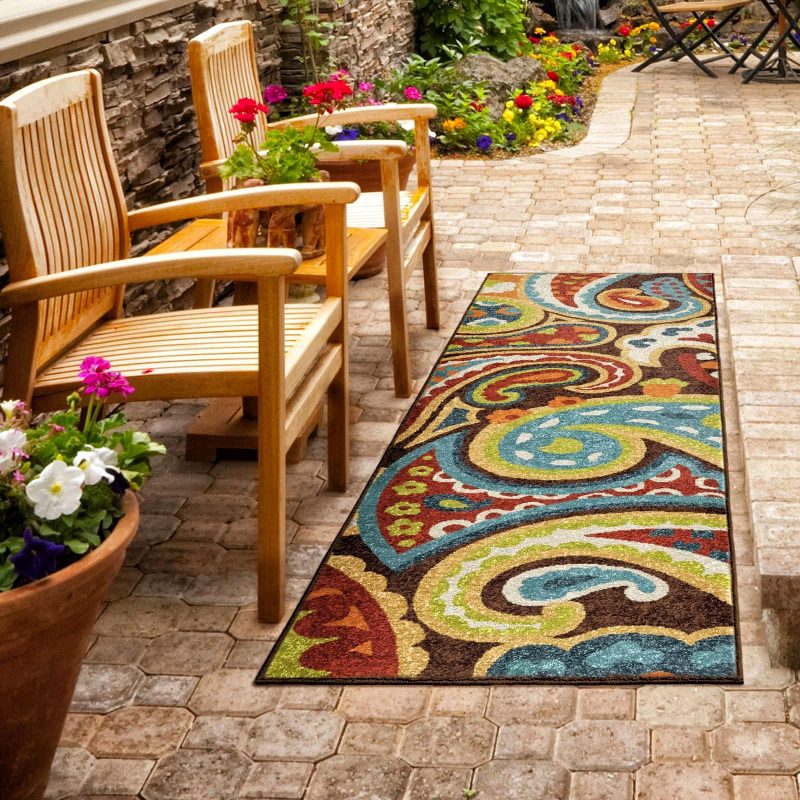 Points of Interest:
● Clients Rating: 4.8 Stars
● Style Inspiration: transitional
● Material: polypropylene
● Color Options: brown/multi-colored
● Design Features: paisley pattern, machine woven, various sizes
● What Clients Love about this outdoor rug: beautiful vibrant colors, brightens up space, looks cheerful, adds pop of color, gets lots of compliments, looks great on patio, brings cozy feel, holds up very well, easy to clean, lovely, plush
25. Gee Indoor/Outdoor Area Rug by Bungalow Rose
Points of Interest:
● Clients Rating: 4.8 Stars
● Style Inspiration: Eastern-inspired, Bohemian
● Material: polypropylene
● Color Options: cloud gray/light gray/ash gray
● Design Features: ikat pattern, oriental medallion design; sizes: 5'3x 7'4, 7'10 x 10'
● What Clients Love about this area rug: brightens up space, great for entryway, looks elegant, lovely color, looks good on balcony, pet friendly, unbeatable price, easy to clean, comfortable, high quality, practical, durable, design pops
26. Waterhog Indoor/Outdoor Runner Rug by Bungalow Flooring
Points of Interest:
● Clients Rating: 4.8 Stars
● Style Inspiration: contemporary
● Material: polypropylene
● Color Options: bluestone, charcoal, dark brown, evergreen, khaki/camel, medium grey
● Design Features: ridged geometric design, rubber border, various sizes
● What Clients Love about this outdoor rug: fantastic product, great color, efficient waterhog mat, lovely pattern, looks gorgeous, great quality, durable, worth the price, very sturdy, holds up nicely, easy to clean
27. Kailani Indoor/Outdoor Area Rug by Beachcrest Home
Points of Interest:
● Clients Rating: 4.7 Stars
● Style Inspiration: beach-inspired/coastal
● Material: polypropylene
● Color Options: navy/green
● Design Features: geometric border, various shapes and sizes
● What Clients Love about this outdoor rug: vibrant colors, impressive design, highlights front porch, perfectly fits patio, great texture, eye-catching, soft on feet, looks elegant, holds up well, easy to clean, dries quickly, excellent quality