Hello and welcome to our carefully curated selection of outdoor club chair ideas. We handpicked for you a variety of beautiful, high-quality outdoor club chairs that can fit beautifully with different outdoor styles and budgets. To derive this list, we carefully reviewed customer reviews and are only bringing up to your attention outdoor club chairs that clients have enjoyed in their backyard. Hope you find inspiration in these photos and find this information useful, enjoy!

What are the types of outdoor club chairs voted best off?
Style: classic, traditional, transitional, coastal, tropical, mission/craftsman, French provencal, country, modern, contemporary, French country, cottage
Design Features: back (cross-back, slatted, curved, arched, lattice), arms (curved, square, straight, track, scrolled, open, sloped), seat (slatted, contoured, deep, sling, lattice), materials (wood, steel, aluminum, iron, plastic, resin wicker), durability (weather resistant, moisture resistant, UV resistant, water resistant, fade resistant, stain resistant), added features (detachable cushions with removable covers, flip-top storage, swivel function, stackable, quick drying, maintenance free, lumbar pillow, with side table)
Price Range: $118.99 to $899.99

How are clients using their outdoor club chairs in their outdoor décor:
Where: patio, porch, deck, poolside, garden, backyard, lanai, balcony, terrace, veranda
Things to consider: look and style, comfort, durability – how well it holds up to outdoor conditions, quality and craftsmanship, added features
Favorite Features: beautifully matches other furniture, great quality, great value, eye-catching design, lovely modern look, wide and comfy deep seats, easy to clean, sleek and stylish, conveniently stackable, holds up well to different weather conditions, great craftsmanship, very sturdy and durable, nice hidden storage, provides good back support, nice reversible seat cushion, comfortably firm, bonus lumbar pillows

Hope you enjoy the showroom visit!

1. Brighton Outdoor Wood Deep Seating Chat Set by Belham Living
Points of Interest:
● Clients Rating: 4.5 Stars
● Style Inspiration: coastal, transitional, mission/craftsman
● Material: eucalyptus wood, polyester, stainless steel hardware
● Color Options: natural
● Design Features: cross-back design, removable back and seat cushions with ties, zipped cushion covers, set of 2 club chairs with cushions and 1 slatted side table
● What Clients Love about this Outdoor Club Chair: beautifully matches other furniture, spacious seats, stylish and sturdy set, great quality, great value
2. Standish 2pk Patio Club Chair Black/Gray by Project 62
Points of Interest:
● Clients Rating: 4.8 Stars
● Style Inspiration: classic, modern, contemporary
● Material: steel, polyester-blend, sling
● Color Options: black/gray
● Design Features: powder-coated and e-coated steel frames, rust-resistant, sling-wrapped armrests, removable seat and back cushions, set of 2, stain and moisture resistant
● What Clients Love about this Outdoor Club Chair: eye-catching design, lovely modern look, unique and classy, wide and comfy deep seats, easy to clean, great value
3. Danna Patio Chair by Mercury Row
Points of Interest:
● Clients Rating: 4.7 Stars
● Style Inspiration: tropical, contemporary
● Material: PE wicker, iron frame
● Color Options: brown, gray
● Design Features: wicker-wrapped metal frame, curved backrest, cut-outs under the sloping armrests, stackable, rubber capped legs, set of 2
● What Clients Love about this Outdoor Club Chair: sleek and stylish, conveniently stackable, holds up well to different weather conditions, great craftsmanship, very sturdy and durable
4. Oversized Outdoor Patio Wicker Club Arm Chair by Best Choice Products
Points of Interest:
● Clients Rating: 4.7 Stars
● Style Inspiration: classic, contemporary
● Material: PE wicker, aluminum, polyester
● Color Options: brown/white
● Design Features: hand-woven design, metal frame wrapped in all-weather wicker, block levelers on base, seat and back cushions with piped edges, machine-washable covers, rust and weather resistant
● What Clients Love about this Outdoor Club Chair: clean and modern design, delightfully comfy oversized seat, great big size, nice reading and relaxing chair, solid and sturdy
5. Preston Outdoor Wooden Club Chairs w/Beige Cushions by GDF Studio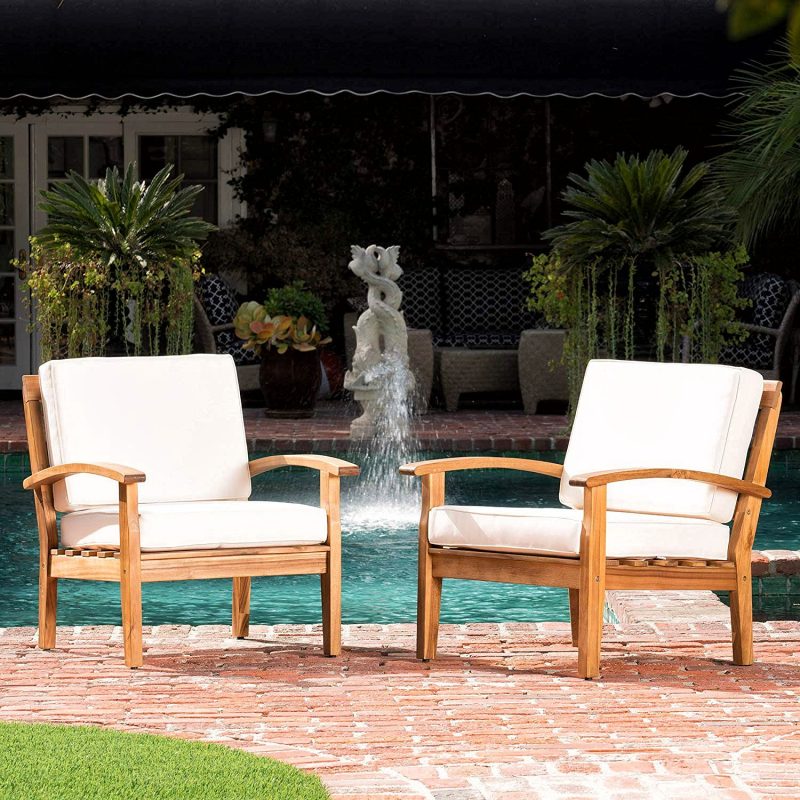 Points of Interest:
● Clients Rating: 4.6 Stars
● Style Inspiration: classic, coastal, mission/craftsman
● Material: acacia wood
● Color Options: natural/beige
● Design Features: deep seated chair, slatted seat and back, gently curved arms, seat and back cushions with piped edges, set of 2 or 4
● What Clients Love about this Outdoor Club Chair: warm and lovely addition to patio, low and deep seat great for lounging, firm yet comfy cushions, great value
6. Portola Patio Chair with Cushion by Sol 72 Outdoor
Points of Interest:
● Clients Rating: 4.7 Stars
● Style Inspiration: classic, contemporary
● Material: PE wicker, iron, polyester
● Color Options: light brown, light gray
● Design Features: woven wicker-wrapped iron frame, straight feet, sloped arms, seat and back cushions with removable covers, weather resistant, set of 2
● What Clients Love about this Outdoor Club Chair: cozy deep seats, complements other furniture, high end look at a reasonable price, great quality and craftsmanship, easy to clean
7. Henning Patio Club Chair by Project 62
Points of Interest:
● Clients Rating: 4.7 Stars
● Style Inspiration: contemporary
● Material: steel, polyester
● Color Options: black/white
● Design Features: faux wood top armrests, open square arms, powder-coated steel frame, Scotchgard-treated fabric on seat and back cushions, rust/stain/moisture resistant, set of 2
● What Clients Love about this Outdoor Club Chair: sleek and modern design, sturdy and durable, classy looking chairs at a great price, thick and cozy cushions, holds up well outdoors
8. Burrowes Wicker Chair with Cushion by Three Posts
Points of Interest:
● Clients Rating: 4.7 Stars
● Style Inspiration: traditional, coastal, tropical, French country
● Material: steel, resin wicker, polyester/polyester blend cushions
● Color Options: finish – white, black, espresso, honey; fabric – various color choices
● Design Features: all-weather wicker, arched back, splayed back legs, powder-coated steel frame, removable seat cushions, stackable, weather and fade resistant, set of 2
● What Clients Love about this Outdoor Club Chair: lovely color choices, comfortably wide and deep seats, conveniently stackable, easy to clean, no assembly needed
9. Edwards Patio Chair with Cushion by Highland Dunes
Points of Interest:
● Clients Rating: 4.8 Stars
● Style Inspiration: traditional, coastal, contemporary
● Material: steel, resin wicker, polyester/polyester blend cushions
● Color Options: gray, amber
● Design Features: open weave wicker on steel frame, removable tufted back and seat cushions, set of 2 armchairs, weather/UV/water/rust resistant
● What Clients Love about this Outdoor Club Chair: looks lovely on patio, comfortably roomy seat, tall back provides good support, easy assembly, great craftsmanship, excellent quality
10. Emilano Acacia Wood Patio Club Chair by Best Selling Home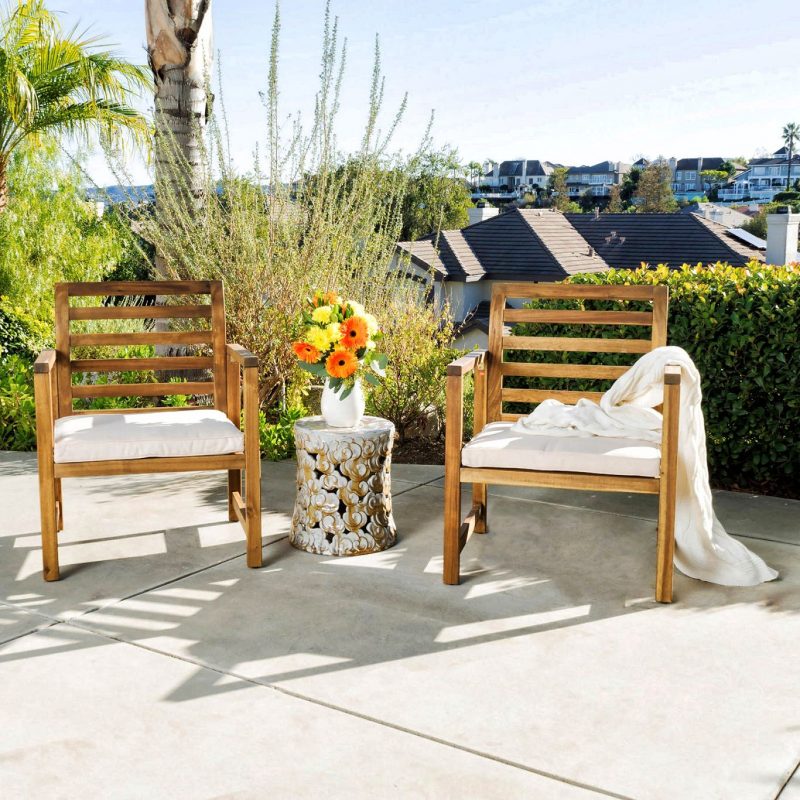 Points of Interest:
● Clients Rating: 4.7 Stars
● Style Inspiration: tropical, classic, mission/craftsman
● Material: acacia wood, fabric
● Color Options: brown/white
● Design Features: slatted back, straight arms, quick dry seat cushion with piped edges, water and weather resistant, set of 2 chairs with cushions, laminated wood finish
● What Clients Love about this Outdoor Club Chair: comfy and spacious seats, velcros keep cushions in place, great craftsmanship, easy to assemble
11. Amelia Patio Chair by Three Posts
Points of Interest:
● Clients Rating: 4.6 Stars
● Style Inspiration: traditional, mission/craftsman, country
● Material: plastic
● Color Options: various color choices
● Design Features: slatted back and seat, straight legs, natural wood look, rust/water/UV/weather/mildew resistant
● What Clients Love about this Outdoor Club Chair: lovely color choices, decorative and functional, well made and durable, low maintenance, easy to assemble
12. Lawson Chair with Cushion by Birch Lane Heritage
Points of Interest:
● Clients Rating: 4.5 Stars
● Style Inspiration: traditional, coastal, tropical
● Material: steel, resin wicker, polyester/polyester blend cushions
● Color Options: sand/brown, sangria/brown, navy/brown
● Design Features: woven resin wicker armchair, slightly curved track arms, steel inner frame, deep seat, 2-toned removable seat and back cushions with piped edges, rust/water/mildew/UV/weather resistant
● What Clients Love about this Outdoor Club Chair: very classy and stylish, warm and lovely addition to the deck, thick and comfortable cushions, well made and durable, great value
13. Sedona Solid-Cast Aluminum Outdoor Club Chair by Crosley Furniture
Points of Interest:
● Clients Rating: 4.8 Stars
● Style Inspiration: classic, traditional, French provencal
● Material: cast aluminum
● Color Options: black
● Design Features: woven lattice design, backrest with foliage accents, scrolled arms, contoured seat, matte charcoal black powder-coated finish, UV and weather resistant
● What Clients Love about this Outdoor Club Chair: lovely timeless appeal, heavy and durable, great craftsmanship, easy to assemble, holds up well to outdoor elements
14. Hagler Patio Chair with Cushion by Sol 72 Outdoor
Points of Interest:
● Clients Rating: 4.6 Stars
● Style Inspiration: coastal, contemporary
● Material: PE wicker, iron, polyester blend cushions
● Color Options: brown, gray
● Design Features: woven wicker-wrapped iron frame, slightly curved open armrests, back and seat cushions with piped edges and removable covers, weather and rust resistant, powder-coated frame
● What Clients Love about this Outdoor Club Chair: elegant addition to patio, gorgeous indoors or outdoors, great quality for a reasonable price, withstands different weather conditions
15. Summerton Teak Patio Chair with Cushions by Birch Lane Heritage
Points of Interest:
● Clients Rating: 4.7 Stars
● Style Inspiration: classic, cottage
● Material: solid teak wood, polyester blend cushions
● Color Options: natural
● Design Features: slatted seat and back, curved arms, natural finish, back and seat cushions with piped edges and removable covers, weather and rot resistant
● What Clients Love about this Outdoor Club Chair: beautifully blends with other furniture, lovely classic appeal, comfortably thick and deep cushion, great quality at a great price
16. Navneet Lounge Chair with Cushions by Birch Lane Heritage
Points of Interest:
● Clients Rating: 4.7 Stars
● Style Inspiration: classic, coastal, tropical, French provencal
● Material: steel, resin wicker, polyester fabric
● Color Options: frame – black, espresso, honey, white; various fabric color choices
● Design Features: tall arched back, woven wicker-wrapped frame, back and apron with decorative weave, removable seat cushion with piped edges, weather-resistant
● What Clients Love about this Outdoor Club Chair: looks lovely on the porch, works great with or without the cushion, gorgeous colors to choose from, great quality at a good price, sturdy and has excellent quality
17. Dillard Outdoor Aluminum Framed Mix Brown Wicker Swivel Club Chair by GDF Studio
Points of Interest:
● Clients Rating: 4.6 Stars
● Style Inspiration: classic, tropical
● Material: polyethylene wicker, aluminum, polyester fabric
● Color Options: mixed khaki, navy blue
● Design Features: curved back club chair, swivel base, wicker wrapped-frame, removable seat and back cushions, water resistant, comes in sets of 2 or 4
● What Clients Love about this Outdoor Club Chair: lovely finish, warm and cozy addition to patio, solid and sturdy, holds up well outdoors
18. Mosca Patio Chair with Cushion by World Menagerie
Points of Interest:
● Clients Rating: 4.5 Stars
● Style Inspiration: classic, contemporary, French country
● Material: wicker, polyester and polyester blend
● Color Options: brown/rust
● Design Features: wicker-wrapped frame, 2-toned seat and back cushions with piped edges and removable covers, UV resistant
● What Clients Love about this Outdoor Club Chair: complements outdoor decor, gorgeous color, great size, removable and washable cushion covers, great craftsmanship
19. Elements Club Chair by Suncast
Points of Interest:
● Clients Rating: 4.9 Stars
● Style Inspiration: traditional, coastal
● Material: resin wicker
● Color Options: white
● Design Features: embossed woven wicker texture, large seat with flip-top storage, ergonomic design, broad armrests, contoured back
● What Clients Love about this Outdoor Club Chair: nice hidden storage, provides good back support, perfect weight, great on poolside, easy to clean, holds up very well
20. Darlington Armchair by Home Loft Concepts
Points of Interest:
● Clients Rating: 4.9 Stars
● Style Inspiration: coastal, traditional, French provencal
● Material: PE wicker, steel frame
● Color Options: brown
● Design Features: wicker-wrapped frame, open weave design on back and apron, stackable, weather resistant, set of 2
● What Clients Love about this Outdoor Club Chair: beautifully complements other furniture, attractive addition to patio, holds up nicely, easy to clean, great quality
21. Brunswick Teak Patio Chair with Cushions by Birch Lane Heritage
Points of Interest:
● Clients Rating: 4.8 Stars
● Style Inspiration: cottage, tropical, coastal, cottage
● Material: teak wood, steel, polyester blend
● Color Options: natural/beige
● Design Features: slatted design, curved arms with openwork sides, natural stain finish, detachable cushions, removable cushion cover, weather/UV resistant/rust resistant
● What Clients Love about this Outdoor Club Chair: versatile and blends well with different decor themes, nice reversible seat cushion, comfortably firm, solid and well made, great quality
22. Belton Outdoor Wicker Deep Seating Patio Chair with Cushion by Mercury Row
Points of Interest:
● Clients Rating: 4.5 Stars
● Style Inspiration: contemporary, tropical, coastal
● Material: steel, resin wicker
● Color Options: sand/brown, gray/brown, tan/brown
● Design Features: square arms, seat and back cushions with piped edges, removable waterproof cushion covers, UV and fade resistant
● What Clients Love about this Outdoor Club Chair: beautifully matches other furniture, holds up well to different seasons, arms can hold small items, well made and durable
23. Kentwood Resin Wicker Patio Chair without Cushion by Alcott Hill
Points of Interest:
● Clients Rating: 4.9 Stars
● Style Inspiration: traditional, coastal, tropical, cottage
● Material: resin wicker, steel
● Color Options: gray, espresso
● Design Features: arched back, splayed back legs, sling seat, wicker-wrapped hand-welded steel frame, powder-coated finish
● What Clients Love about this Outdoor Club Chair: charming addition to front porch, great stackable chairs, lightweight yet durable, sturdy and has great quality
24. Northridge Chair with Cushions by Three Posts
Points of Interest:
● Clients Rating: 4.8 Stars
● Style Inspiration: coastal, tropical
● Material: resin wicker, aluminum, polyester
● Color Options: cushion – various color choices
● Design Features: resin wicker-wrapped frame, sloping square arms, powder-coated finish, includes seat and back cushions and lumbar pillows, water and rust resistant, set of 2
● What Clients Love about this Outdoor Club Chair: lovely set, thick and comfy seat cushions, gorgeous colors, solid and well made, bonus lumbar pillows with beautiful pattern
25. Falmouth Patio Chair with Cushions by Sol 72 Outdoor
Points of Interest:
● Clients Rating: 5.0 Stars
● Style Inspiration: coastal, modern
● Material: resin wicker, aluminum, acrylic upholstery, polyester foam
● Color Options: cushion – various color choices, frame – vanilla créme
● Design Features: square arms, wicker-wrapped frame, with height adjusters, includes detachable cushions with removable covers, UV resistant, powder-coated frame
● What Clients Love about this Outdoor Club Chair: beautifully complements beach theme decor, great on poolside, comfortably deep and spacious seat, well made, great value
26. Freitag Patio Chair with Cushions by Ivy Bronx
Points of Interest:
● Clients Rating: 4.8 Stars
● Style Inspiration: modern, contemporary
● Material: steel, polyester and polyester blend cushions
● Color Options: frame – brown, white; cushion – linen, navy gray, mist
● Design Features: gently curved arms, X-design on sides, includes detachable cushions with removable covers, weather/UV/mildew resistant, set of 2
● What Clients Love about this Outdoor Club Chair: enhances patio look, comfy and high quality cushions, expensive look at an affordable price, well made and durable
27. Linwood Patio Chair with Cushions by Beachcrest Home
Points of Interest:
● Clients Rating: 4.6 Stars
● Style Inspiration: coastal, contemporary
● Material: steel, resin wicker, polyester blend cushions, foam
● Color Options: dark brown
● Design Features: square arms, wicker-wrapped frame, includes detachable cushions with removable covers, weather/moisture/UV resistant
● What Clients Love about this Outdoor Club Chair: lovely addition to deck, deep and cozy cushions, low maintenance, well made, great value