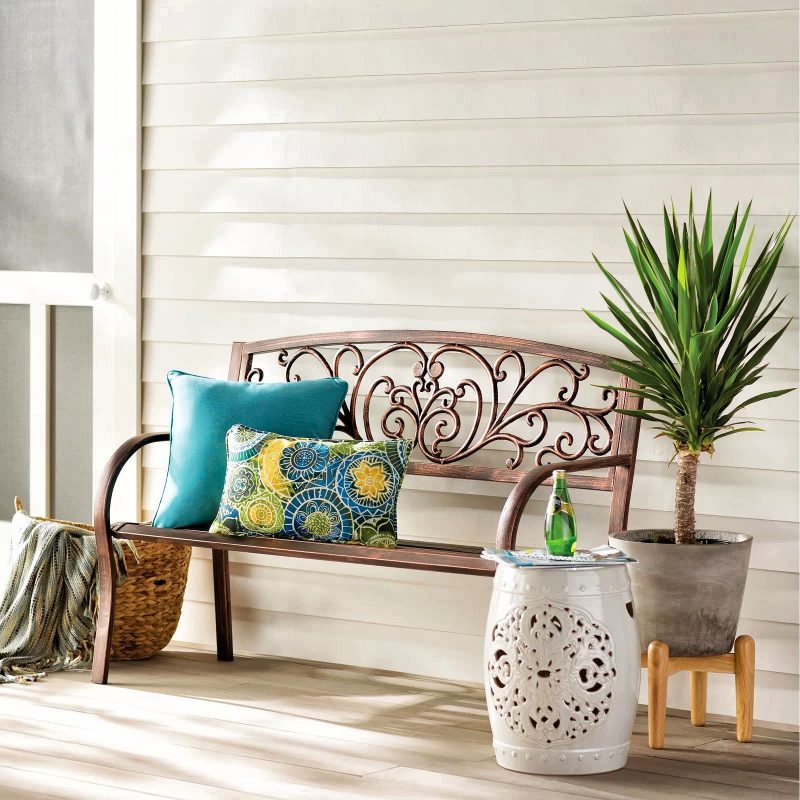 Hello and welcome to our carefully curated selection of outdoor benches. Check the variety of beautiful, high-quality outdoor benches we handpicked for you. To derive this list, we carefully reviewed customer reviews and are only bringing up to your attention outdoor benches that have brought outdoor joy to many clients. Hope you find inspiration in these photos and find this information useful, enjoy!

What are the types of outdoor benches voted "the best"?
Style: classic, traditional, country, rustic, industrial, modern farmhouse, coastal, beach chic, mid century, modern, contemporary, mission/craftsman, Southwestern, French country, vintage
Design Features: material (wood, steel, cast iron, aluminum, plastic, resin), back (none, curved, slatted, openwork, "WELCOME" text, lattice pattern, scrolled, woven, sculptural motif), arms (none, curved, contoured, scrolled), seat (slatted, contoured, basketweave pattern, curved, scalloped edge), added features (lift top seat, storage, convertible, glider/rocker, with planters), durability (fade resistant, rust resistant, UV resistant, weather resistant, stain resistant, water resistant, mildew resistant, scratch resistant, moisture resistant, rot resistant)
Price Range: $52.65 to $226.99

How are clients using their outdoor benches in their home décor:
Where: porch, yard, garden, patio, deck, balcony, terrace, poolside, around fire pit, sunroom, entryway
Things to consider: design and style, quality and craftsmanship, durability, added features, ease of cleaning and maintenance, function and purpose, size and seating capacity, comfort
Favorite Features: convenient built-in storage, clever design, space saver, high quality wood, beautiful and functional, great craftsmanship, easy to clean and maintain, durable and holds up well to different weather conditions, practical little bench, great value, gets many compliments, well made, easy to assemble, very versatile piece, great for a small space, bench-storage-and-table-in-one, wonderfully enhances the patio, lightweight yet solid

Hope you enjoy the showroom visit!

1. Richmond Curved-Back Outdoor Wood Bench by Belham Living
Points of Interest:
● Clients Rating: 4.5 Stars
● Style Inspiration: traditional, mission/craftsman, country
● Material: red shorea wood, galvanized steel
● Color Options: natural
● Design Features: curved back, with armrests, slatted seat and back, oil-dipped, natural wood tone variations
● What Clients Love about this Outdoor Bench: beautiful solid wood, gorgeous color, lovely addition to patio, sturdy and has great quality, fits 3 comfortably
2. Slat Outdoor Garden Bench by Mainstays
Points of Interest:
● Clients Rating: 4.5 Stars
● Style Inspiration: classic, traditional
● Material: steel
● Color Options: black
● Design Features: solid color, slatted seat, vertical slats on backrest, curved armrests
● What Clients Love about this Outdoor Bench: simple yet attractive, versatile look complements different decor themes, solid and sturdy, great quality, great value
3. Maliyah Solid Wood Garden Bench by Andover Mills
Points of Interest:
● Clients Rating: 4.6 Stars
● Style Inspiration: modern farmhouse
● Material: eucalyptus wood
● Color Options: natural
● Design Features: openwork back, contoured slatted seat, fits 2, natural wood grain color variation, weather resistant
● What Clients Love about this Outdoor Bench: lovely design, looks pretty on the garden, gorgeous wood, holds up nicely to different weather conditions
4. Metal Welcome Bench by Leigh Country
Points of Interest:
● Clients Rating: 4.5 Stars
● Style Inspiration: classic, modern farmhouse
● Material: steel
● Color Options: bronze
● Design Features: "WELCOME" text surrounded by ivy leaves on back panel, powder-coated finish, curved armrests, slatted seat, curved armrests
What Clients Love about this Outdoor Bench: looks elegant and classy, warm and welcoming addition to front yard, gets lots of compliments, solid and stable
5. Windsor Metal Stack Patio Loveseat Bench by Project 62
Points of Interest:
● Clients Rating: 4.8 Stars
● Style Inspiration: mid-century, modern farmhouse
● Material: steel
● Color Options: black
● Design Features: slat back, armless loveseat design, powder-coated, stackable, lightweight, weather resistant, seating capacity: 2
● What Clients Love about this Outdoor Bench: sleek design, cute with or without decorative pillows, great indoors or outdoors, lightweight yet sturdy
6. Steel Glider Bench by Lifetime
Points of Interest:
● Clients Rating: 4.7 Stars
● Style Inspiration: classic, traditional
● Material: steel, polystyrene
● Color Options: brown/black, harbor gray/black
● Design Features: slatted glider/rocker bench, contoured seat, curved backrest, smooth gliding motion, UV/weather/stain/solvent resistant, seating capacity: 2
● What Clients Love about this Outdoor Bench: glides smoothly, holds up beautifully, wonderful bench for a great price, heavy and sturdy, great quality
7. Crossweave Curved Back Metal Garden Bench by Coral Coast
Points of Interest:
● Clients Rating: 4.5 Stars
● Style Inspiration: rustic, Southwestern, French country
● Material: metal
● Color Options: black
● Design Features: textured cross weaved back design, slatted seat, curved armrests, powder-coated, weathered black finish, tubular steel construction
● What Clients Love about this Outdoor Bench: beautiful weathered finish, complements outdoor decor, lovely details, lightweight yet solid and durable
8. Pearson Curved Back Storage Bench by Belham Living
Points of Interest:
● Clients Rating: 4.5 Stars
● Style Inspiration: mission/craftsman, rustic
● Material: red mangrove wood, galvanized steel
● Color Options: natural
● Design Features: lift-up seat storage bench, slatted curved back and storage base, contoured seat and armrests, moisture resistant, oil finish
● What Clients Love about this Outdoor Bench: convenient built-in storage, clever design, space saver, high quality wood, beautiful and functional
9. 1pc Antique Bronze Cast Aluminum Patio Bench by Patio Sense
Points of Interest:
● Clients Rating: 4.8 Stars
● Style Inspiration: traditional, French country
● Material: cast aluminum, galvanized steel
● Color Options: antique bronze
● Design Features: basket weave pattern seat and back, scrolled arms, fade/rust/UV/weather/insect/rot/water resistant, seating capacity: 2
● What Clients Love about this Outdoor Bench: elegant addition to patio, great craftsmanship, easy to clean and maintain, durable and holds up well to different weather conditions
10. Patio Garden Bench Steel Frame Porch Chair by FDW
Points of Interest:
● Clients Rating: 4.7 Stars
● Style Inspiration: rustic, modern farmhouse
● Material: steel, cast iron
● Color Options: black
● Design Features: "WELCOME" text with scrolled details on backrest, slatted seat, non-slip footrest, curved armrests, powder-coated, smooth edges, rust resistant
● What Clients Love about this Outdoor Bench: gorgeous color and finish, perfect welcoming bench on front porch, well made and durable, great value
11. Williston Resin Storage Bench by Suncast
Points of Interest:
● Clients Rating: 4.7 Stars
● Style Inspiration: contemporary, country
● Material: plastic
● Color Options: java, white
● Design Features: deck box storage bench, weave pattern design, flat lift-top seat, UV/water/weather/rust/scratch resistant
● What Clients Love about this Outdoor Bench: very versatile piece, beautiful and functional, bench-storage-and-table-in-one, great for a small space, solid and sturdy
12. Scroll Curved Back Metal Garden Bench by Coral Coast
Points of Interest:
● Clients Rating: 4.5 Stars
● Style Inspiration: rustic, Southwestern, French country, vintage
● Material: steel
● Color Options: black/antique bronze
● Design Features: backrest with scrollwork, contoured slatted seat, curved armrests, tubular steel construction, weathered finish, powder-coated
● What Clients Love about this Outdoor Bench: lovely garden bench, attractive design, heavy and sturdy, expensive look at an affordable price
13. Celtic Knot Iron Garden Bench by Plow & Hearth
Points of Interest:
● Clients Rating: 4.6 Stars
● Style Inspiration: rustic, modern farmhouse
● Material: steel, cast iron
● Color Options: black
● Design Features: Celtic knot backrest design, tubular iron frame, curved arms, seating capacity: 2, slatted seat
● What Clients Love about this Outdoor Bench: adds curb appeal, beautiful back design, great for narrow spaces, lightweight yet sturdy, holds up nicely outdoors
14. Patio Storage Bench by Rubbermaid
Points of Interest:
● Clients Rating: 4.5 Stars
● Style Inspiration: modern, contemporary
● Material: resin
● Color Options: olive/sandstone
● Design Features: lift-up seat for storage, maintenance-free, easy assembly, seating capacity: 2, flared arms, curved back with cutouts
● What Clients Love about this Outdoor Bench: very useful storage, space saver, comfy to sit on, clever way to hide clutter, well made and durable
15. Clifford Cast Aluminum Garden Bench by Alcott Hill
Points of Interest:
● Clients Rating: 4.7 Stars
● Style Inspiration: traditional, rustic, French Country
● Material: cast aluminum
● Color Options: antique copper
● Design Features: basket-weave style seat and back, scrolled arms, seating capacity: 2
● What Clients Love about this Outdoor Bench: elegant addition to garden, lovely color and design, high end look at an affordable price, holds up beautifully
16. Mocha Brown Wood Grain Convertible Bench by Lifetime Hong Kong
Points of Interest:
● Clients Rating: 4.6 Stars
● Style Inspiration: contemporary
● Material: steel, wood
● Color Options: brown
● Design Features: convertible slatted bench, simulated wood, powder-coated steel frame, weather and rust resistant, set of 2 makes a picnic table
● What Clients Love about this Outdoor Bench: clever design, awesome multi-functional piece, beautiful and practical, solid and durable
17. Resin Storage Bench by Suncast
Points of Interest:
● Clients Rating: 4.6 Stars
● Style Inspiration: modern, contemporary
● Material: resin
● Color Options: light taupe, dark brown
● Design Features: lift-top seat storage bench, snap lock lid, hinged top, rust/weather/water/leak/dent/rot/mildew/UV resistant
● What Clients Love about this Outdoor Bench: ample storage space, keeps stuff dry, practical little bench, lightweight yet durable, great value
18. Steel Bench by Mainstays
Points of Interest:
● Clients Rating: 4.6 Stars
● Style Inspiration: traditional
● Material: steel
● Color Options: black
● Design Features: lattice pattern back, slatted contoured seat, curved armrests, powder-coated steel
● What Clients Love about this Outdoor Bench: looks lovely on front porch, quality product for a good price, heavy and sturdy, easy to assemble
19. Leora Acacia Wood Garden Bench by Beachcrest Home
Points of Interest:
● Clients Rating: 4.8 Stars
● Style Inspiration: traditional, coastal, mission/craftsman
● Material: acacia wood
● Color Options: teak, dark gray, navy blue, white, coral, light mint, light blue
● Design Features: vertical slats on back, slatted seat, slightly curved armrests, seating capacity: 2
● What Clients Love about this Outdoor Bench: gorgeous color, roomy and comfy seat, nice solid wood, withstands different weather conditions
20. Hummingbird Metal Garden Bench by Plow & Hearth
Points of Interest:
● Clients Rating: 4.7 Stars
● Style Inspiration: classic, country, traditional
● Material: cast aluminum, steel
● Color Options: black
● Design Features: hummingbirds and scrolled floral details on back, curved arms, weather resistant, seating capacity: 2
● What Clients Love about this Outdoor Bench: perfectly fits the garden, lovely details, wonderful addition to patio, great quality at a great price
21. Delahey Backless Outdoor Garden Bench by Better Homes & Gardens
Points of Interest:
● Clients Rating: 4.7 Stars
● Style Inspiration: modern, minimalist
● Material: wood, galvanized steel
● Color Options: deep espresso/black
● Design Features: slatted seat, backless design, teak oil finished, weather resistant
● What Clients Love about this Outdoor Bench: sleek and simple design, versatile little bench, beautifully matches other furniture, sturdy and durable
22. Brazil Outdoor Wood Picnic Bench by Trent Austin Design
Points of Interest:
● Clients Rating: 4.8 Stars
● Style Inspiration: modern farmhouse, industrial, rustic
● Material: acacia wood, iron
● Color Options: natural/sandblast
● Design Features: wood plank construction, natural wood knots, sawhorse-style base, weather resistant, sandblasted finish
● What Clients Love about this Outdoor Bench: beautiful wood and metal bench, lovely wood finish, stylish and functional, solid and sturdy, excellent quality
23. Arianna Rectangular Wood Planter Bench by Langley Street
Points of Interest:
● Clients Rating: 4.7 Stars
● Style Inspiration: contemporary
● Material: meranti hardwood
● Color Options: brown
● Design Features: bench seat attached to 2 box planters, tight slatted design, weather/water resistant
● What Clients Love about this Outdoor Bench: unique design, wonderfully enhances the patio, gets many compliments, well made, easy to assemble
24. Roseland Eucalyptus Garden Bench by Beachcrest Home
Points of Interest:
● Clients Rating: 4.7 Stars
● Style Inspiration: contemporary, coastal, mission/craftsman
● Material: eucalyptus wood
● Color Options: brown
● Design Features: slatted design, curved back and seat, 2 curved arms, natural wood grain variations, UV/water/weather/rust/mildew resistant, seating capacity: 2
● What Clients Love about this Outdoor Bench: has a warm and welcoming appeal, gorgeous natural wood, great craftsmanship, great value
25. Designs Fir Wood Log Fire Pit Curved Bench by Stonegate
Points of Interest:
● Clients Rating: 4.5 Stars
● Style Inspiration: rustic
● Material: cedar/fir wood
● Color Options: natural
● Design Features: curved backless design, slatted seat, 8 benches form a circle
● What Clients Love about this Outdoor Bench: adds a rustic touch to patio, perfect around the firepit, solid and well made, great value
26. Tim Wooden Picnic Bench by Birch Lane Heritage
Points of Interest:
● Clients Rating: 4.8 Stars
● Style Inspiration: classic, contemporary
● Material: acacia wood
● Color Options: brown, dark brown, gray wash
● Design Features: rectangular shape, backless and armless, planked design, wood grain details, water/weather/rust resistant, seating capacity: 3
● What Clients Love about this Outdoor Bench: beautifully matches other outdoor furniture, versatile bench, perfect size, easy assembly, sturdy and durable
27. Brynne Blue Fish Metal Garden Bench by Highland Dunes
Points of Interest:
● Clients Rating: 4.9 Stars
● Style Inspiration: coastal, beach chic, vintage
● Material: cast iron
● Color Options: blue
● Design Features: scrolling metal frame, scalloped seat edge, seahorse and fish accents on back, weathered blue finish, UV/water/weather/rust resistant, seating capacity: 2
● What Clients Love about this Outdoor Bench: impressive details, eye-catching and interesting design, complements beach theme decor, cool vintage vibe, sturdy and has great quality