Hello and welcome to our carefully curated selection of hammocks. We handpicked for you a variety of beautiful, high-quality hammocks that can fit many outdoor settings and budgets. To derive this list, we carefully read through customer reviews and are only bringing up to your attention hammocks that have been highly rated by lots of clients. Hope you find inspiration in these photos and find this information useful, enjoy!

What are the types of hammocks that made the "Best Of" list?
Style: boho chic, coastal, nautical, tropical, bohemian, country, cottage, modern, traditional, transitional, contemporary
Design Features: hammock types (chair hammock, bed hammock, tree hammock, camping hammock), capacity (single, double, 3 or more), fabric (polyester, cotton, nylon, Sunbrella), fabric style (solid color, 2-toned, multicolored, patterned), hammock details (padded, quilted, woven, rope construction, fringed), inclusions (pillow, pad/quilt, stand, storage bag, drink holder, straps, carabiners, chains, ropes), durability (weather-resistant, water-resistant, UV-resistant, rust-resistant, tear-resistant, fade-resistant, mildew-resistant, stain-resistant)
Price Range: $20.99 to $211.99

How are clients using their hammocks outside and inside their home:
Where: garden, gazebo, patio, porch, bedroom, balcony, deck, backyard, poolside, sunroom, lanai
Beyond the home: boat trips, road trips, camping, backpacking, and hiking
Things to consider: style and look, craftsmanship and quality, maintenance, material, comfort, function/purpose, capacity
Favorite Features: gets lots of compliments, lovely addition to the garden, beautiful color combination, quick-drying, well made and durable, gorgeous fabric pattern, easy to set up, great to snuggle up and get cozy on, complements decor, sturdy, beautiful and functional, easy assembly, secure and stable, fun and eye-catching, for kids and adults alike, comfy and relaxing, great for reading/playing/napping, great value, great big size, great quality

Hope you enjoy the showroom visit!

1. Dorinda Double Hammock with Stand by Beachcrest Home
Points of Interest:
● Clients Rating: 4.7 Stars
● Style Inspiration: coastal, tropical
● Material: cotton, steel
● Color Options: black/blue green, denim, oasis, tropical, Cayo reef/blue, blue/red/yellow, Cayo reef, desert moon, natural, plumeria, retro, blue lagoon, Gold Coast, Maui; stand – black, white
● Design Features: tree/camping hammock style, striped patterned fabric, adjustable hooks, collapsible stand, with carrying case, fits 2, rubber floor protectors, powder coated metal stand
● What Clients Love about this Hammock: very comfy and relaxing, well made and durable, easy to assemble, holds up to weather, conveniently adjustable, can be used indoors
2. Quilted Double Hammock by Best Choice Products
Points of Interest:
● Clients Rating: 4.7 Stars
● Style Inspiration: classic, modern
● Material: polyester, wood, steel
● Color Options: red/yellow
● Design Features: multicolor striped fabric, with wooden spreader bar, metal rings on ends, fits 2 persons, includes: hammock, pillow, 2 chains, S-hooks and carrying case
● What Clients Love about this Hammock: very comfy and spacious, very relaxing, thick and high quality fabric, excellent craftsmanship at a great price
3. Camping Hammock – XL Double Parachute Hammock by Gold Armour
Points of Interest:
● Clients Rating: 4.8 Stars
● Style Inspiration: modern
● Material: nylon
● Color Options: various colors to choose from
● Design Features: solid color parachute fabric, XL size, lightweight, durable, mildew resistant, fits 2 persons, includes: hammock with attached stuff sack, 2 carabiners, 2 tree straps, attachment loops
● What Clients Love about this Hammock: great big size, conveniently attached storage pouch, gorgeous color choices, heavy duty straps, easy to hang
4. Crowell Rope Cotton Chair Hammock by Beachcrest Home
Points of Interest:
● Clients Rating: 4.7 Stars
● Style Inspiration: coastal, tropical
● Material: cotton, wood
● Color Options: off-white
● Design Features: chair hammock, woven rope design, solid color, UV resistant, wooden spreader bar
● What Clients Love about this Hammock: looks lovely, great indoors or outdoors, very relaxing, warm addition to patio, great space for reading
5. Nautical Quilted Hammock by Coral Coast
Points of Interest:
● Clients Rating: 4.5 Stars
● Style Inspiration: coastal, transitional
● Material: polyester, juniper wood
● Color Options: blue
● Design Features: striped patterned fabric, weather resistant, capacity: 2, includes: hammock, button-on pillow, wooden spreader bars, and hanging hardware
● What Clients Love about this Hammock: great big size, spacious and comfy, lovely color and striped design, durable fabric, high quality
6. Single Point Rope Hammock Chair by Algoma
Points of Interest:
● Clients Rating: 4.5 Stars
● Style Inspiration: coastal, tropical
● Material: cotton, wood
● Color Options: off-white
● Design Features: woven rope chair hammock, wooden spreader bar, weather resistant
● What Clients Love about this Hammock: lovely addition to the garden, cool and fun swing, holds up very well, well made and durable
7. Brookside 4 Piece Rope Cotton Hammock with Stand by Beachcrest Home
Points of Interest:
● Clients Rating: 4.7 Stars
● Style Inspiration: coastal, tropical
● Material: polyester, cotton, steel, wood
● Color Options: burgundy/tan stripe, green/tan stripe
● Design Features: woven rope design, hardwood spreader bars, free-standing frame, striped detachable cushion, weather and rust resistant
● What Clients Love about this Hammock: complete package, very comfy and relaxing, easy to assemble, great craftsmanship, great value
8. Double Tropical Hammock with Stand Combo by Vivere Ltd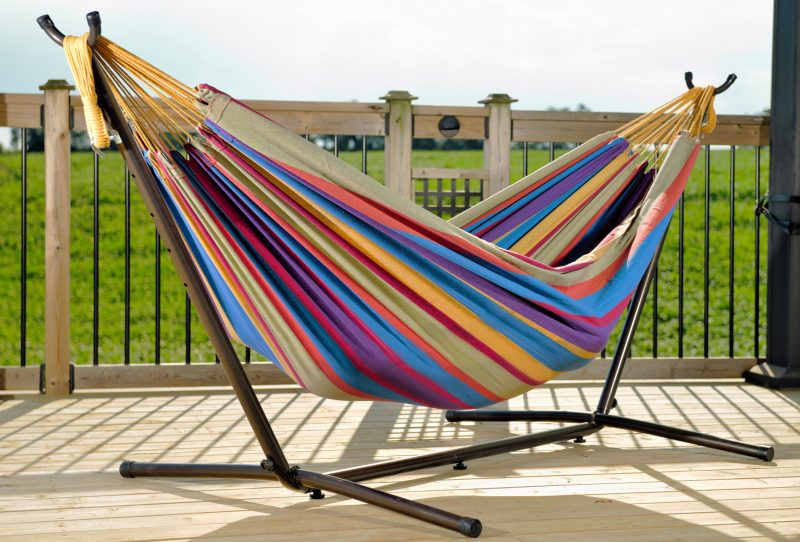 Points of Interest:
● Clients Rating: 4.7 Stars
● Style Inspiration: tropical
● Material: colorfast cotton, steel, polyester
● Color Options: multicolor
● Design Features: striped fabric, powder coated steel frame, charcoal finish,includes a carrying case, fits 2
● What Clients Love about this Hammock: big enough to fit 2 comfortably, nice napping hammock, vibrant colors, comes with a bag for easy storage or for travelling
9. Large Grand Caribbean Nicaraguan Double Hammock with Spreader Bar and Fringe by Coral Coast
Points of Interest:
● Clients Rating: 4.6 Stars
● Style Inspiration: tropical, Caribbean, Nicaraguan
● Material: soft-spun cotton, wood
● Color Options: natural, aqua, kiwi green
● Design Features: handwoven bed hammock, with fringed side borders and tassels, wooden spreader bars, fits 2
● What Clients Love about this Hammock: has a calming vibe, great space to relax and spend peaceful time, charming fringes, great craftsmanship, lovely color
10. Portable Double Tree Hammock by MalloMe
Points of Interest:
● Clients Rating: 4.8 Stars
● Style Inspiration: modern
● Material: nylon
● Color Options: various colors to choose from
● Design Features: 2-tone parachute hammock, XL size fits 2, ultra light, tear-resistant, includes: hammock, 2 carabiners, premium rope, and stuff sack
● What Clients Love about this Hammock: great stitching, strong and durable, spacious and fits 2 or more comfortably, conveniently portable, high quality material
11. Beckson Tree Hammock with Stand by Sol 72 Outdoor
Points of Interest:
● Clients Rating: 4.5 Stars
● Style Inspiration: coastal, nautical, tropical
● Material: larch wood, cotton, steel
● Color Options: various colors to choose from
● Design Features: solid color or striped pattern fabric, quick drying Sunbrella cotton, wooden stretch bar, hand-woven rope construction, water resistant, includes a brown wooden stand, reversible
● What Clients Love about this Hammock: thin breathable fabric, great on poolside, beautiful and functional, easy assembly, well made and stable
12. Algoma Cotton Rope Hammock with Metal Stand Deluxe Set by Coral Coast
Points of Interest:
● Clients Rating: 4.7 Stars
● Style Inspiration: transitional
● Material: cotton rope, steel, polyester
● Color Options: navy/teal
● Design Features: H-shaped steel base, woven rope construction with removable quilt, 2-tone lattice patterned fabric, fits 2, includes: hammock, hammock stand, pillow, pad, and drink/iPad holder
● What Clients Love about this Hammock: quick-drying, handy drink/tablet holder, bonus cover and pillow, lightweight yet sturdy, very easy to assemble, great price
13. TearDrop Tree Hammock by Flowerhouse
Points of Interest:
● Clients Rating: 4.6 Stars
● Style Inspiration: tropical, modern
● Material: metal, PVC mesh fabric
● Color Options: bark, blue, dark blue, dark green, red
● Design Features: teardrop-shaped tree hammock, solid color, with viewing windows, breathable, washable, weather/water/UV resistant, fits 2, includes: storage bag, metal spreader bar, and tree strap
● What Clients Love about this Hammock: fun and eye-catching, for kids and adults alike, great for reading/playing/napping, comfy and relaxing, great value
14. Quick Dry Poolside Navy Stripes Hammock by Coral Coast
Points of Interest:
● Clients Rating: 4.6 Stars
● Style Inspiration: nautical, coastal
● Material: polyester, wood
● Color Options: white/navy
● Design Features: bed hammock, striped pattern fabric, dark wooden spreader bars, weather resistant, fits 2 persons
● What Clients Love about this Hammock: beautifully matches decor, secure and stable, dries up quickly, sturdy and holds up nicely, unbeatable price
15. Brenda Polyester Chair Hammock by Mistana
Points of Interest:
● Clients Rating: 4.7 Stars
● Style Inspiration: boho chic, tropical
● Material: polyester, wood
● Color Options: tan, navy, burgundy
● Design Features: chair hammock, solid color, handwoven rope construction, wooden spreader bar, weather/mildew/rust resistant, single capacity
● What Clients Love about this Hammock: comfortable to stretch out or curl up on, , holds up nicely to different weather conditions, lovely color, great value
16. XXL Hand Woven Thick String Double Hammock by Coral Coast
Points of Interest:
● Clients Rating: 4.7 Stars
● Style Inspiration: tropical, boho
● Material: cotton
● Color Options: natural, Carribean stripe, meadow stripe, mocha stripe, multicolor
● Design Features: striped pattern, diamond weave technique, hand-woven string construction, , XXL size fits 3 or more
● What Clients Love about this Hammock: gorgeous woven hammock, fun colors, delightfully comfortable, decorative and functional, well made, great quality, great value
17. Antoine Double Tree Hammock by Freeport Park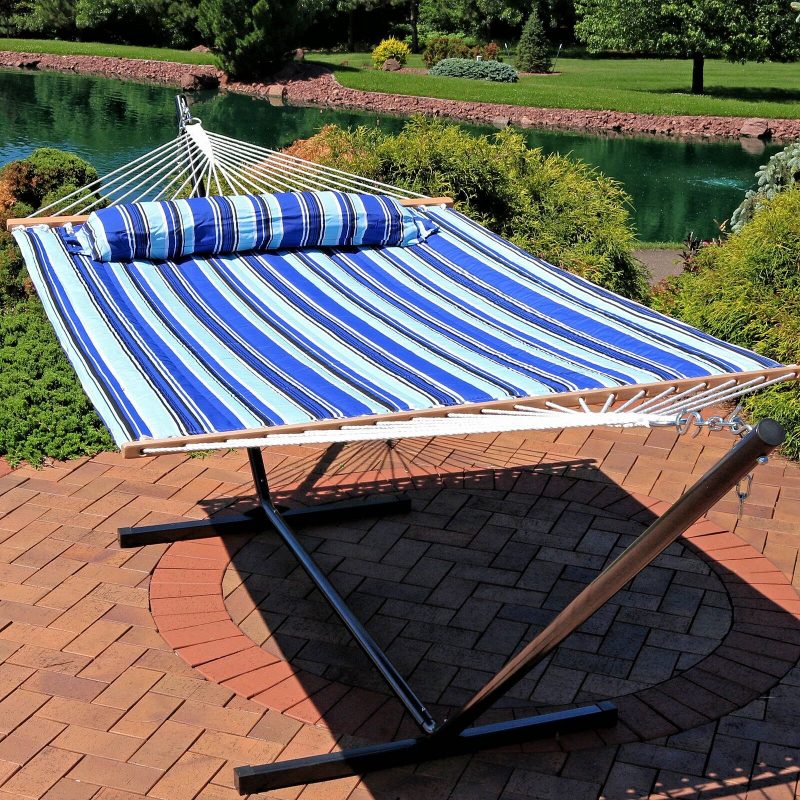 Points of Interest:
● Clients Rating: 4.8 Stars
● Style Inspiration: coastal, contemporary
● Material: polyester, wood
● Color Options: blue/green, Catalina beach, red stripe
● Design Features: braided rope and fabric tree hammock, striped fabric pattern, wooden spreader bars, fits 2, UV/stain/fade/weather resistant, includes: hammock, neck pillow, 2 chains and 2 S-hooks
● What Clients Love about this Hammock: vibrant colors, soft and feel-great fabric, wide and comfy, as beautiful as the photos show, sturdy and has great quality
18. Camping Hammock by Kootek
Points of Interest:
● Clients Rating: 4.6 Stars
● Style Inspiration: tropical
● Material: nylon, steel
● Color Options: various colors to choose from
● Design Features: tree hammock, parachute fabric material, adjustable tree-friendly straps, folds into attached sack, includes: hammock, straps, carabiners
● What Clients Love about this Hammock: breathable and durable fabric, dries quickly, roomy and comfy enough for 2 persons, high-quality straps, easy assembly
19. Hawkins Cotton Rope Chair Hammock by Mistana
Points of Interest:
● Clients Rating: 4.6 Stars
● Style Inspiration: bohemian, tropical
● Material: cotton, wood
● Color Options: beige
● Design Features: woven rope chair hammock, solid color, with wooden spreader bar, weather resistant, capacity: single
● What Clients Love about this Hammock: very cozy and relaxing, has a charming boho appeal, versatile swing, easy to hang, durable and sturdy
20. Sienna Stripe Quilted Hammock by Coral Coast
Points of Interest:
● Clients Rating: 4.7 Stars
● Style Inspiration: transitional, contemporary
● Material: polyester, juniper wood, ward
● Color Options: brown/orange
● Design Features: bed hammock, striped fabric, wooden spreader bars, weather resistant, fits 2, includes: hammock, button-on pillow, hanging hardware
● What Clients Love about this Hammock: lovely addition to patio, beautiful color combination, wide and comfy, quick-drying, well made and durable
21. Amaryllis Quilted Tree Hammock with Stand by Sol 72 Outdoor
Points of Interest:
● Clients Rating: 4.5 Stars
● Style Inspiration: cottage, contemporary
● Material: polyester, aluminum, oak wood, zinc
● Color Options: black stripe, blue and green, chevron, gray, ikat, light blue, medallion, navy
● Design Features: padded tree hammock, solid color or patterned – (chevron, striped, ikat, medallion), woven rope construction, beige powder-coated stand, with wooden spreader bar, capacity: single, includes: pillow and stand
● What Clients Love about this Hammock: gorgeous fabric pattern, great for reading or napping, very comfy and relaxing, sturdy and durable, easy to set up
22. Flat Weave Macrame Fringe Hammock Chair by Opalhouse
Points of Interest:
● Clients Rating: 4.5 Stars
● Style Inspiration: boho chic
● Material: polyester, hardwood
● Color Options: natural
● Design Features: chair hammock, fringed edges, with wooden, spreader bar, weather-resistant
● What Clients Love about this Hammock: cozy addition to room, great swing to read or relax, lovely fringe details, comfy and stylish, gorgeous color
23. Holyoke Double Camping Hammock with Stand by Bay Isle Home
Points of Interest:
● Clients Rating: 4.8 Stars
● Style Inspiration: tropical
● Material: pine wood, cotton
● Color Options: natural, oasis, tropical, blue lagoon, cayo reef, retro, blue/purple, orange/red
● Design Features: camping hammock, solid neutral color or striped pattern, comes in 2 sizes, solid pine stand, fits 2, includes: hammock, stand, and carry bag, decorative woven fringe
● What Clients Love about this Hammock: beautiful addition to yard, cozy to read or nap on, very sturdy, great price, lovely colors
24. Taupe Quilted Double Hammock by Coral Coast
Points of Interest:
● Clients Rating: 4.8 Stars
● Style Inspiration: cottage, country
● Material: polyester, wood
● Color Options: taupe
● Design Features: thick quilted fabric, wide spreader bars, fits 2, heavy duty rope
● What Clients Love about this Hammock: adds a luxurious touch to patio, soft and cozy fabric, complements outdoor decor, strong and sturdy, great value
25. Patrick Polyester Hammock with Stand by World Menagerie
Points of Interest:
● Clients Rating: 4.7 Stars
● Style Inspiration: nautical, tropical
● Material: polyester, pine wood, steel
● Color Options: brown
● Design Features: solid color, tightly woven rope design, wooden arc frame, hardwood spreader bars, weather and rust resistant, capacity: one person, with matching pillow
● What Clients Love about this Hammock: beautiful addition to backyard, holds up well to different weather conditions, sturdy and durable, easy assembly
26. Large Duracord Rope Double Hammock by Pawleys Island Hammocks
Points of Interest:
● Clients Rating: 4.7 Stars
● Style Inspiration: coastal, traditional, tropical
● Material: duracord rope, oak wood
● Color Options: antique brown, coastal blue, green, meadow, oatmeal, tan
● Design Features: woven rope construction, oak spreader bars with marine varnish, mildew and fade resistant, fast-drying, fits 2
● What Clients Love about this Hammock: beautiful rope and wood hammock, easy to hang, well made and durable, soft and comfy, dries quickly
27. Banach Chair Hammock by Bungalow Rose
Points of Interest:
● Clients Rating: 4.7 Stars
● Style Inspiration: country, boho chic
● Material: cotton, beech wood
● Color Options: natural, salsa, cayo reef, plumeria, retro, rio night, paradise, tropical, denim, desert moon, oasis
● Design Features: woven rope and fabric hammock chair, striped fabric pattern, with crocheted fringes, wooden spreader bar, weather/UV/rust resistant, capacity: single, comes with hanging sling
● What Clients Love about this Hammock: great to snuggle up and get cozy on, complements decor, lovely colors, adorable and functional, durable and sturdy