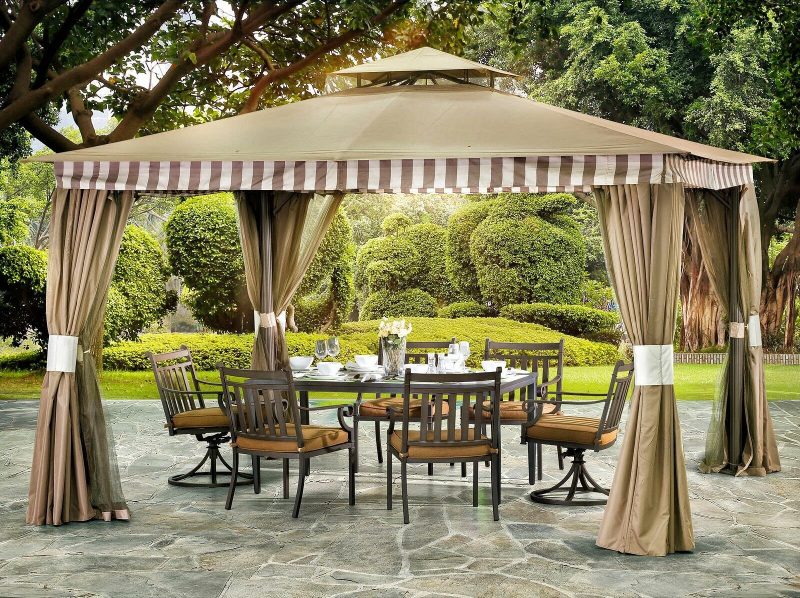 Hello and welcome to our carefully curated selection of gazebos. We handpicked for you a variety of beautiful, high-quality gazebos that can fit beautifully with many landscape designs and outdoor budgets. To derive this list, we carefully reviewed customer reviews and are only bringing up to your attention gazebos that clients have loved and enjoyed in their backyard. Hope you find inspiration in these photos and find this information useful, enjoy!

What is a gazebo?
Definition: A gazebo is a stand alone structure covering a deck, patio, or garden area to provide shade and shelter. Gazebos come in different shapes and styles but are typically built with vertical posts supporting a canopy or roof. They can be left open on all sides or can also be built with railings or have curtains and screens for privacy and protection from insects.
Style: classic, French provencal, country, traditional, transitional, modern, contemporary
Design Features: shape (square, rectangular, octagonal, hexagonal), gazebo type (patio gazebo, grill gazebo, pop-up gazebo), roof (hardtop, soft-top, 2 tiered, single tiered), installation type (spiked, anchored, foundation), common features (vented canopy, mesh screen, side wall curtains, powder-coated finish), added features (built-in shelf, LED lights, cupola, finial, railings, scrolled legs, storage bag), durability (weather resistant, UV resistant, fire resistant, rust resistant, mildew resistant, insect resistant, decay resistant, water resistant)
Price Range: $109.99 to $4,931.99

How are clients using their gazebos in their outdoor décor:
Where: deck, backyard, garden, patio, courtyard, poolside
Things to consider: purpose, durability, size and capacity, quality, craftsmanship, style, ease of assembly
Favorite Features: provides protection from sun and rain, durable and stands up to strong winds, wonderfully provides shade and cools down the space, great craftsmanship, awesome sunbrella fabric, handy side shelves, great for outdoor get togethers, beautiful and functional, provides privacy, nice big size, multi-functional, easy to put up and take down, great quality at a great price, great to cover grilling area, great all-year round gazebo

Hope you enjoy the showroom visit!

1. Prairie Grass Gazebo by Coral Coast
Points of Interest:
● Clients Rating: 4.5 Stars
● Style Inspiration: contemporary, cottage
● Material: steel, polyester
● Color Options: brown
● Design Features: square shape, vented canopy, 2-tiered soft-top roof, scrollwork legs, mosquito net-protected top vent, powder-coated frame, weatherproof top, dimensions: 96.1" x 96.1" x 106.3"
● What Clients Love about this Gazebo: gorgeous addition to deck, provides protection from sun and rain, great for small spaces, durable and stands up to strong winds
2. Backyard Structure Canopy Top by Paragon-Outdoor
Points of Interest:
● Clients Rating: 4.7 Stars
● Style Inspiration: classic, contemporary
● Material: aluminum, polyester
● Color Options: gray, navy, rust, sand, cocoa
● Design Features: 2-tiered canopy, vented top, powder-coated frame, with ground stakes and anchor bolts, rust free, dimensions: 120" x 144" x 115.2"
● What Clients Love about this Gazebo: sleek and simple, awesome sunbrella fabric, sturdy and has great quality
3. Bayshore Metal Patio Gazebo by Sol 72 Outdoor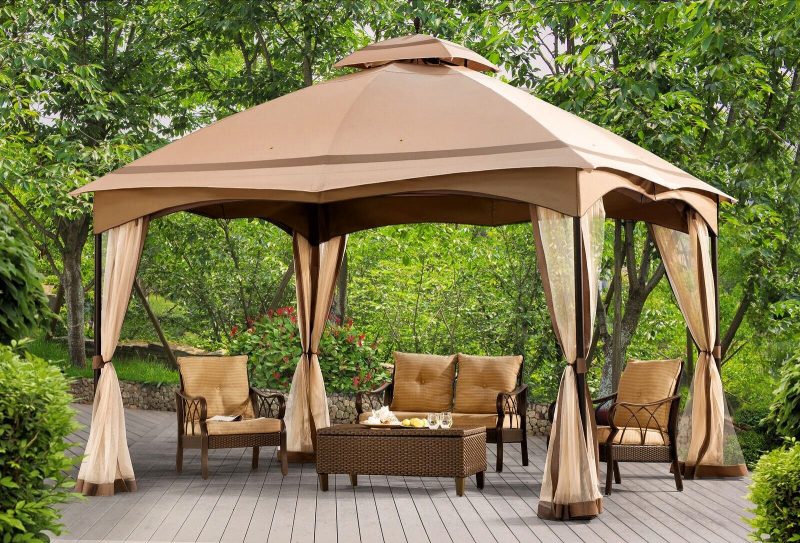 Points of Interest:
● Clients Rating: 4.5 Stars
● Style Inspiration: classic, transitional
● Material: steel, polyester
● Color Options: brown
● Design Features: rectangular shape, 2-tiered soft-top roof, includes mesh screens with zipped closure, installation type: spiked, weather and rust resistant, dimensions: 12′ 3/32" W x 10′ 1/16" D x 10′ 8 11/32" H
● What Clients Love about this Gazebo: big and beautiful, wonderfully provides shade and cools down the space, sturdy and can withstand strong winds, great craftsmanship
4. Garden Bloom Gazebo by Coral Coast
Points of Interest:
● Clients Rating: 4.8 Stars
● Style Inspiration: transitional
● Material: steel, polyester
● Color Options: brown
● Design Features: square shape, scrollwork legs – leaf pattern on panels, vented top, powder-coated frame, weather and rust resistant, dimensions: 118"L x 118"W x 112.2"H
● What Clients Love about this Gazebo: looks lovely on deck, provides good shade for outdoor sitting, well made, holds up well to wind and rain
5. Bayamo Steel Grill Gazebo by Sol 72 Outdoor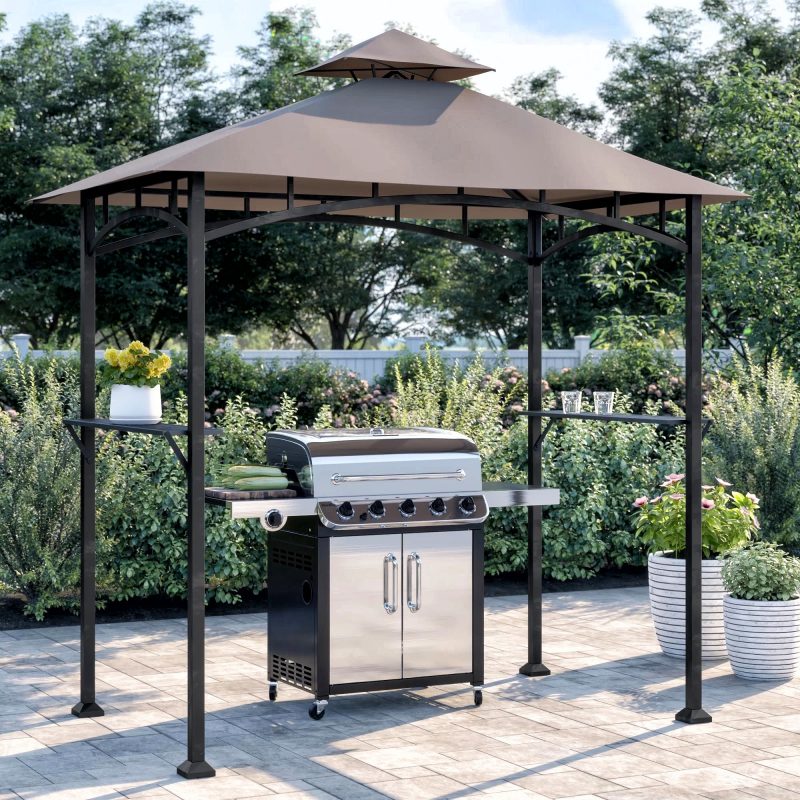 Points of Interest:
● Clients Rating: 4.5 Stars
● Style Inspiration: modern, contemporary
● Material: steel, polyester
● Color Options: black
● Design Features: grill gazebo design, built-in shelves as leg supports, powder-coated finish, 2-tiered soft-top roof, installation type: spiked, weather/fire/rust resistant, dimensions: 8′ W x 5′ D x 8′ 9 1/32" H
● What Clients Love about this Gazebo: handy side shelves, great for grilling, provides protection from sun and rain, withstands different weather conditions
6. Meridien Hard Top Sunshelter Outdoor Gazebo with Side Netting by SOJAG INC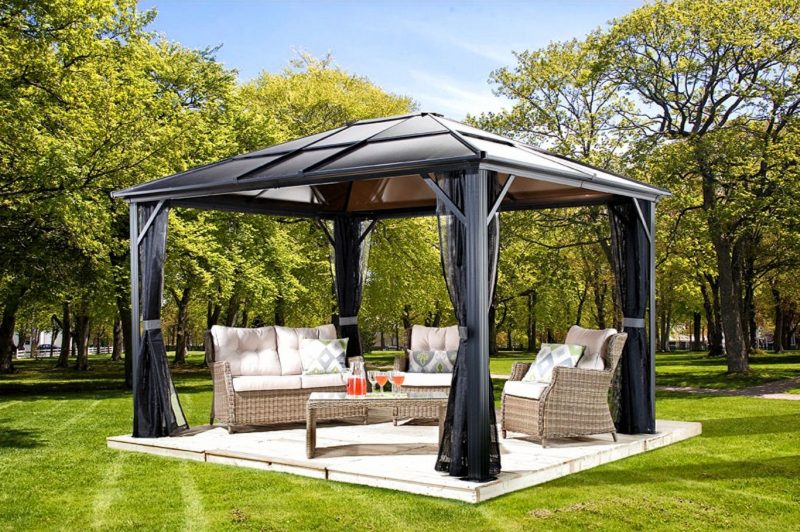 Points of Interest:
● Clients Rating: 4.8 Stars
● Style Inspiration: modern, contemporary
● Material: aluminum, polycarbonate, polyester
● Color Options: dark gray
● Design Features: comes in 4 sizes, square or rectangular shape, hard-top roof, anchored design, with nylon mesh curtains, powder-coated finish, rust/UV/weather resistant
● What Clients Love about this Gazebo: great for outdoor get togethers, beautiful and functional, wonderful addition to backyard, nice roof that still lets light pass through while protecting from UV rays
7. Parlay Steel Patio Gazebo by Sunjoy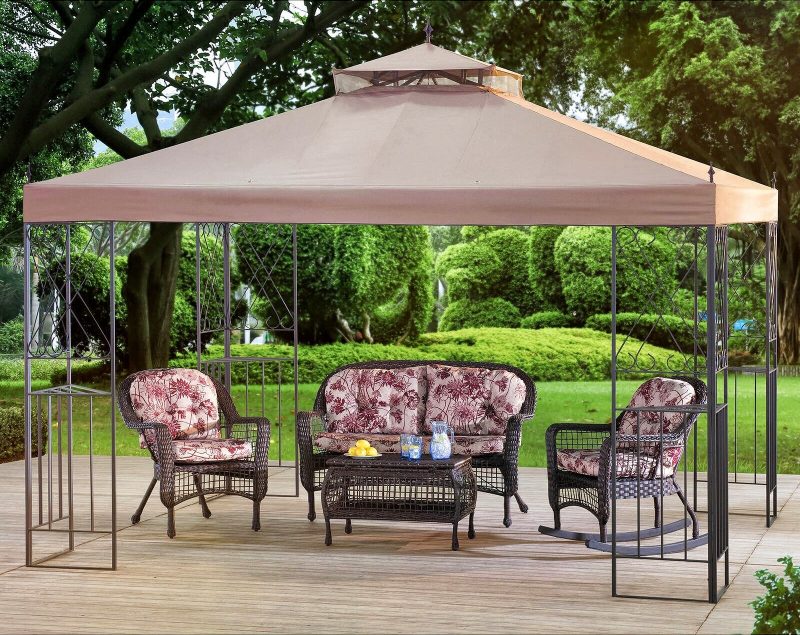 Points of Interest:
● Clients Rating: 4.5 Stars
● Style Inspiration: French country, cottage
● Material: metal – steel
● Color Options: brown
● Design Features: rectangular shape, 2-tiered soft-top roof, scrollwork legs, powder-coated finish, weather and rust resistant, dimensions: 10′ W x 12′ D x 9′ 2 1/32" H
● What Clients Love about this Gazebo: great for outdoor dining, wonderfully provides shade and cools down the deck, holds up really well, great quality
8. Siesta Garden Metal Patio Gazebo by Sunjoy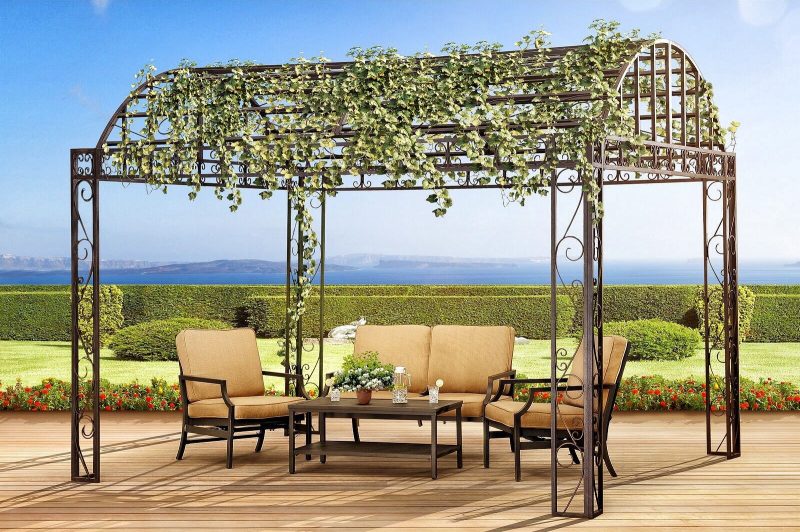 Points of Interest:
● Clients Rating: 4.5 Stars
● Style Inspiration: French provencal, country
● Material: metal – iron
● Color Options: bronze
● Design Features: hard-top arched roof, scrollwork design, installation type: spiked, fire resistant, dimensions: 9′ 9 19/32" W x 12′ D x 9′ 6 1/8" H
● What Clients Love about this Gazebo: lovely gazebo with ornate details, can be decorated in so many ways, great big size, well made and durable
9. Metal Outdoor Hardtop Gazebo with Mesh Sidewalls by Outsunny
Points of Interest:
● Clients Rating: 4.7 Stars
● Style Inspiration: classic, contemporary
● Material: steel, aluminum, polyester
● Color Options: black/brown
● Design Features: powder-coated frame, arched hardtop roof, roof area with 2 hanging hooks, zippered netting, doubled curtains, rust and weather resistant, dimensions: 13′ L x 9.8′ W x 9.2′ H, comes with ground stakes and screws
● What Clients Love about this Gazebo: gorgeous on poolside, spacious and provides good amount of shade, sturdy and durable, great value
10. Steel Grill Gazebo by Sunjoy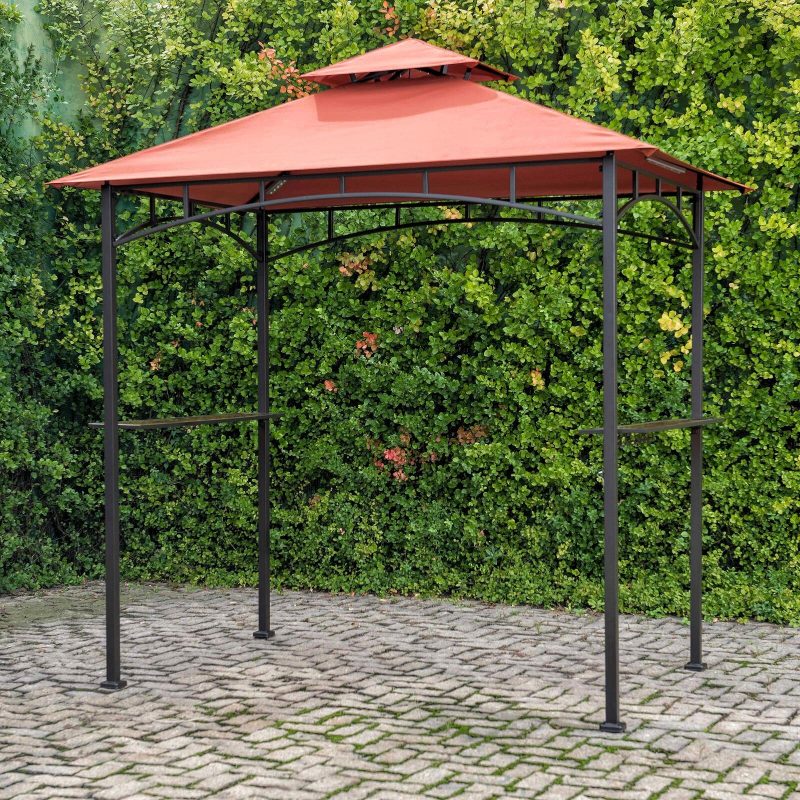 Points of Interest:
● Clients Rating: 4.6 Stars
● Style Inspiration: modern, contemporary
● Material: steel, glass
● Color Options: black/terracotta red (canopy)
● Design Features: grill gazebo design, 2-tiered soft-top roof, with side shelves and LED lights, installation type: anchored, weather and UV resistant, dimensions: 8′ W x 5′ D x 8′ 2 13/32" H
● What Clients Love about this Gazebo: handy hooks and shelves, lovely and versatile addition to yard, easy to set up and take down, sturdy and holds up nicely
11. Messina Aluminum Patio Gazebo by Sojag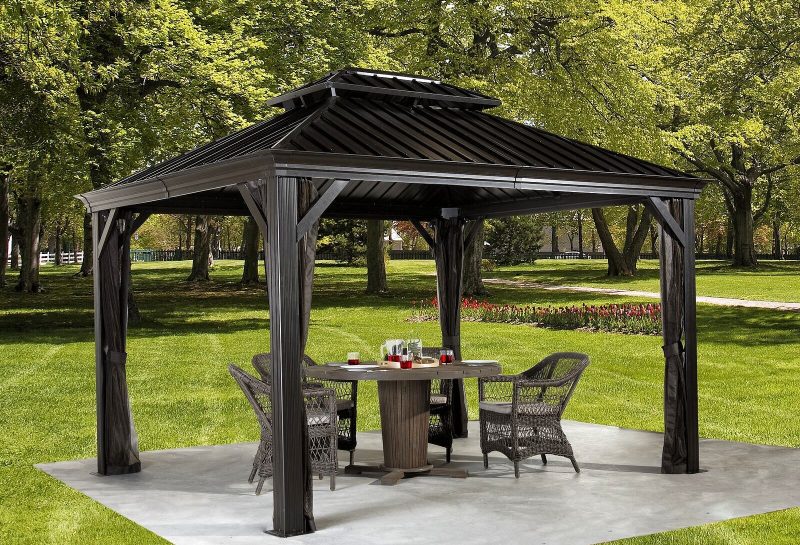 Points of Interest:
● Clients Rating: 4.6 Stars
● Style Inspiration: classic, modern
● Material: aluminum, steel
● Color Options: charcoal gray
● Design Features: rectangular or square shape, comes in 3 sizes, 2-tiered hardtop galvanized steel roof, powder-coated finish, includes mesh screen, installation style: anchored, weather/UV/fire/rust/mildew resistant
● What Clients Love about this Gazebo: great all-year round gazebo, enhances the look of the patio, nice mesh curtains, solid and well made
12. Easy Pop Up Canopy with Mesh Side Walls by Outsunny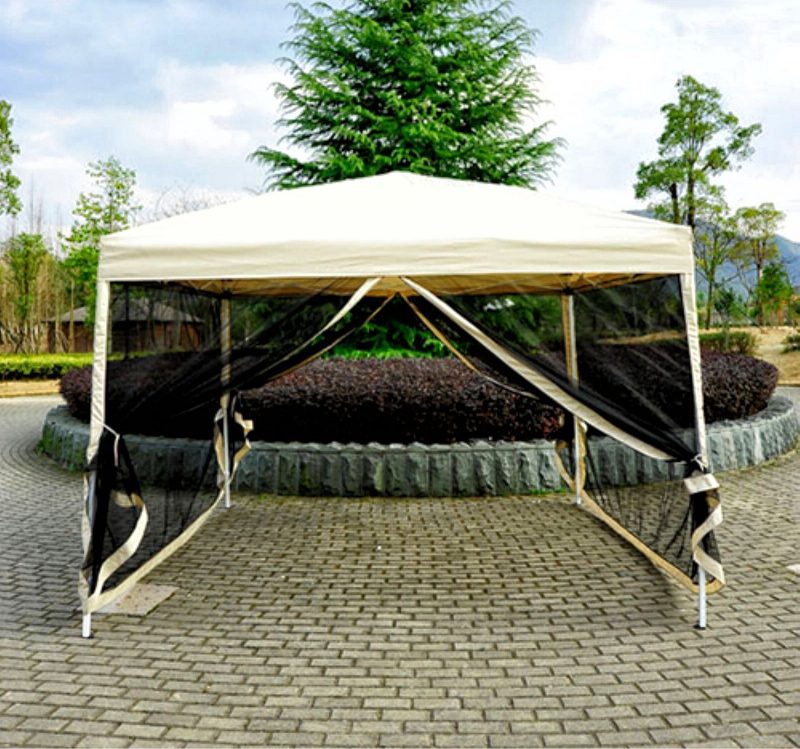 Points of Interest:
● Clients Rating: 4.7 Stars
● Style Inspiration: traditional, cottage, country
● Material: steel, Oxford fabric, mesh
● Color Options: silver
● Design Features: pop-up tent, mesh side walls, includes carrying bag, water resistant, dimensions: 9.8′ x 9.8′ x 8.4'
● What Clients Love about this Gazebo: portable and comes with a carrying bag, easy to set up and take down for storage, well made, great value
13. Bayside Cedar Patio Gazebo by Outdoor Living Today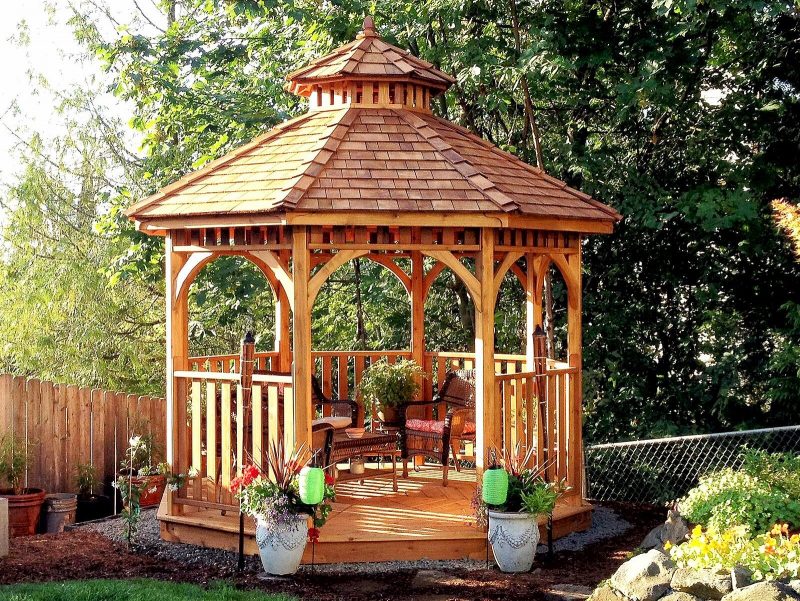 Points of Interest:
● Clients Rating: 4.5 Stars
● Style Inspiration: classic, country
● Material: Western redcedar
● Color Options: natural cedar
● Design Features: octagonal shape, gazebo with railing, lap sided ceiling, hardtop roof with cupola, installation style: foundation, includes flooring, year-round use, insect/decay/weather resistant, dimensions: 10′ W x 10′ D x 12′ 2" H
● What Clients Love about this Gazebo: stunning addition to patio, beautiful cedar wood, great craftsmanship, timeless design
14. Iron Garden Steel Patio Gazebo by Design Toscano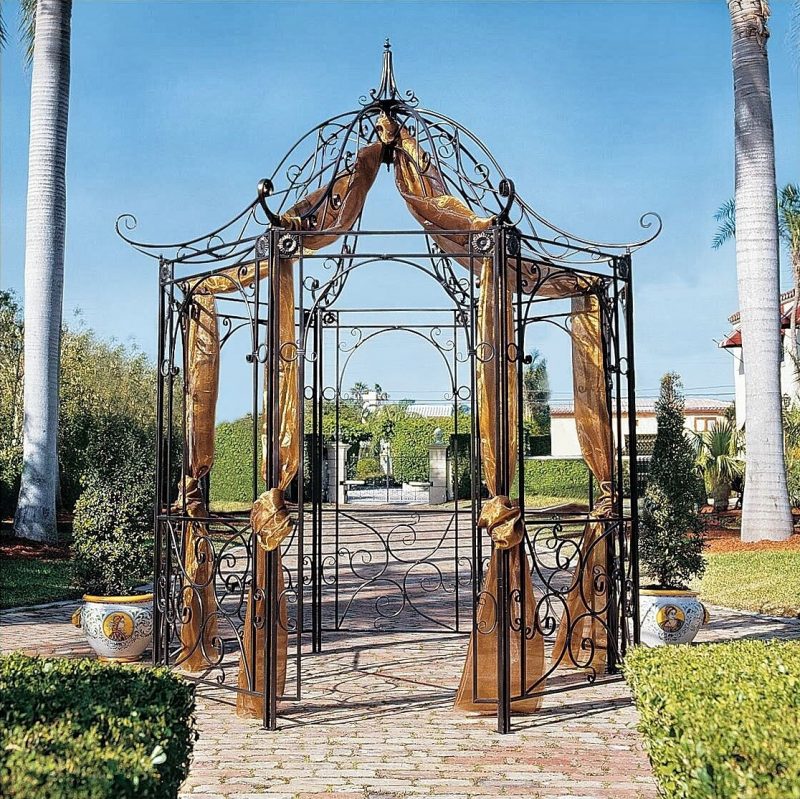 Points of Interest:
● Clients Rating: 4.6 Stars
● Style Inspiration: French country, classic
● Material: steel
● Color Options: chocolate brown
● Design Features: octagonal shape, hardtop roof with finial, curved steel arches, metal florettes and scrollwork details, powder-coated tubular steel, bracketed feet, installation style: anchored, weather/UV/rust/mildew resistant, dimensions: 8' W x 8' D x 10' 6" H
● What Clients Love about this Gazebo: elegant addition to garden, has a lovely European appeal, enhances the landscape, beautiful ornate details
15. Square OutDura Gazebo Canopy by ACACIA by Riverstone Industries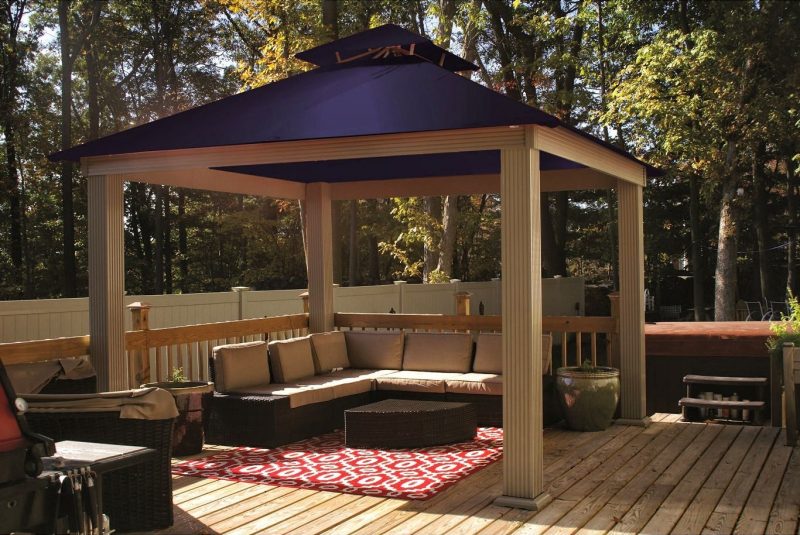 Points of Interest:
● Clients Rating: 5.0 Stars
● Style Inspiration: transitional, contemporary
● Material: aluminum, acrylic marine fabric
● Color Options: various colors to choose from
● Design Features: square shape, comes in 2 sizes, electrostatic finish frame, 2 pc. soft-top canopy roof, hidden ground attachment, rust free, UV-protected
● What Clients Love about this Gazebo: beautiful and functional addition to patio, durable aluminum construction, sturdy and stable, easy to set up
16. Franz Steel Patio Gazebo by Red Barrel Studio
Points of Interest:
● Clients Rating: 4.5 Stars
● Style Inspiration: transitional, cottage
● Material: steel, iron, polyester
● Color Options: beige, nutmeg
● Design Features: 2-tiered soft top roof, with side curtains/panels and mesh screens, roof cover attached by hook and loop fasteners, installation style: anchored, rust/weather/UV resistant, dimensions: 10' W x 10' D x 9' H
● What Clients Love about this Gazebo: beautifully complements deck, stylish and classy, versatile and can be enjoyed in many ways, heavy and sturdy, holds up really well
17. Robert Steel Gazebo by Freeport Park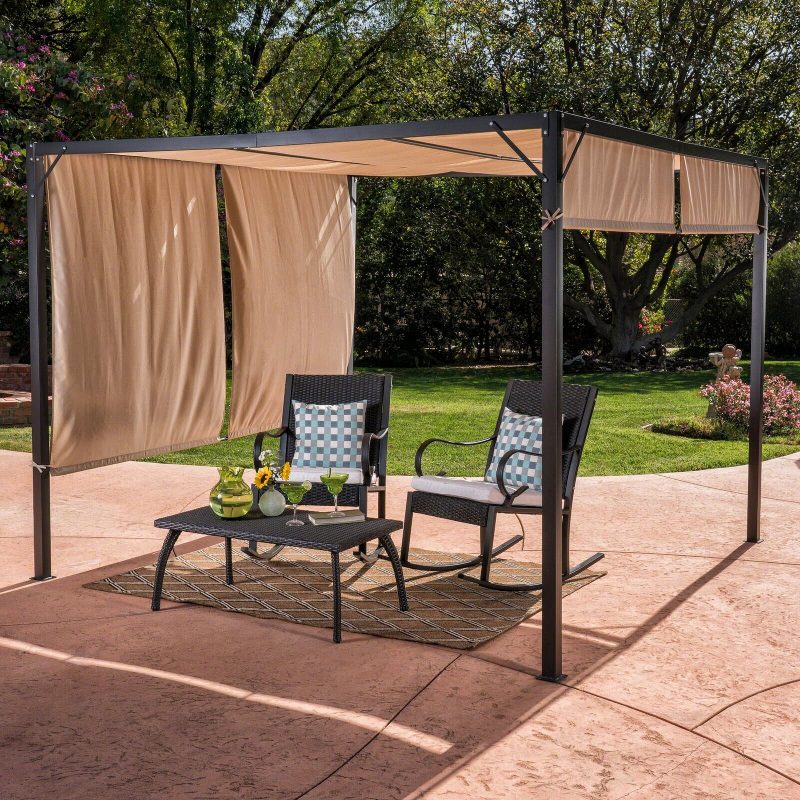 Points of Interest:
● Clients Rating: 4.6 Stars
● Style Inspiration: modern, contemporary
● Material: steel, polyester
● Color Options: beige, gray
● Design Features: soft-top roof, adjustable shade, hook and loop fastener, weather/water/mildew resistant, dimensions: 9′ 5 1/4" W x 9′ 5 1/4" D x 7′ 3" H
● What Clients Love about this Gazebo: conveniently adjustable canopy, provides good amount of shade, washable fabric, well made and durable
18. Aluminum Outdoor Gazebo with Curtains by Outsunny
Points of Interest:
● Clients Rating: 4.7 Stars
● Style Inspiration: transitional, classic
● Material: aluminum, polyester
● Color Options: coffee brown
● Design Features: rectangular shape, 2-tiered soft-top roof with scalloped edges, sidewall curtains with tie-backs, dimensions: 156"L x 118"W x 108"H
● What Clients Love about this Gazebo: wonderfully provides shade and privacy, nice big size, multi-functional, well made, great value
19. Solid Wood Patio Gazebo by Yardistry
Points of Interest:
● Clients Rating: 4.9 Stars
● Style Inspiration: classic, traditional
● Material: solid wood – cedar, aluminum
● Color Options: brown
● Design Features: square shape, hardtop roof, tugboat brown stained cedar, installation style: anchored, weather resistant, dimensions: 12′ W x 12′ D x 10′ 6" H
● What Clients Love about this Gazebo: lovely timeless structure, great size, stable and sturdy, solid and heavy, great quality at a great price
20. Rosemary Aluminum Patio Gazebo by Sunjoy
Points of Interest:
● Clients Rating: 4.5 Stars
● Style Inspiration: transitional
● Material: aluminum, steel, polyester
● Color Options: black/beige (canopy)
● Design Features: square shape, 2-tiered soft top roof, with side curtains/panels and mesh screen, installation style: spiked, weather and rust resistant, dimensions: 12′ 5 5/8" W x 12′ 5 5/8" D x 10′ 3 31/32" H
● What Clients Love about this Gazebo: multi-functional gazebo, provides shade and privacy, great big size, beautiful and sturdy, protects from sun, rain and insects
21. Easy Setup Gazebo by Sunjoy
Points of Interest:
● Clients Rating: 5.0 Stars
● Style Inspiration: transitional, contemporary
● Material: steel, polyester
● Color Options: black/beige (canopy)
● Design Features: square shape, legs with openwork design, 2-tiered soft-top roof, powder coated finish, weather resistant, lightweight, dimensions: 10'H x 10'W x 10'D
● What Clients Love about this Gazebo: lovely style, nicely provides shade, easy to set up and take down, easy to clean, low maintenance
22. Bermuda Aluminum Patio Gazebo by Paragon-Outdoor
Points of Interest:
● Clients Rating: 4.5 Stars
● Style Inspiration: contemporary
● Material: aluminum, steel
● Color Options: black/blue
● Design Features: rectangular shape, hardtop roof, powder-coated frame, weather/UV/rust/mildew resistant, year-round use, dimensions: 10′ 8" W x 13′ 1" D x 9′ 3 19/32" H
● What Clients Love about this Gazebo: looks lovely on deck, great additional outdoor space, nice for day or night entertaining, great quality
23. Fully Enclosed Canopy Aluminum Pop-Up Gazebo by Suntime
Points of Interest:
● Clients Rating: 4.8 Stars
● Style Inspiration: traditional
● Material: aluminum, polyester
● Color Options: brown
● Design Features: pop-up gazebo, 2-tiered soft top roof, powder-coated finish, with mesh screen side walls, includes storage bag, weather and mildew resistant, dimensions: 12′ W x 12′ D x 10′ H
● What Clients Love about this Gazebo: conveniently portable, looks great on yard, easy to use, well made, bonus lights
24. Steel Hardtop Gazebo With Curtains by Outsunny
Points of Interest:
● Clients Rating: 4.6 Stars
● Style Inspiration: transitional
● Material: metal, polyester
● Color Options: black/brown
● Design Features: rectangular shape, textured hardtop canopy, mesh screen, dimensions: 143"W x 118"L x 108"H
● What Clients Love about this Gazebo: spacious and beautiful, protects against sun and rain, holds up well to different weather conditions, well made and durable
25. Fiberglass Pop-Up Gazebo by Gazelle
Points of Interest:
● Clients Rating: 4.7 Stars
● Style Inspiration: camping
● Material: fiberglass, polyester
● Color Options: beige
● Design Features: pop-up gazebo, portable with storage bag, mesh screen, side walls, attachable rain fly, detachable floor panel, UV resistant, dimensions: 9′ 7" W x 8′ 10" D x 7′ 1" H
● What Clients Love about this Gazebo: spacious and sturdy, great for camping, keeps insects away, easy to put up and take down
26. Crawford Steel Patio Gazebo by Sunjoy
Points of Interest:
● Clients Rating: 4.7 Stars
● Style Inspiration: classic
● Material: steel, polyester
● Color Options: black
● Design Features: hexagonal shape, 2-tiered soft-top roof with awning, 1 shelf, powder-coated finish, weather and rust resistant, dimensions: 11' W x 12' 9" D x 8' 9" H
● What Clients Love about this Gazebo: nice built-in shelf, gets many compliments, strong and stable, great value, lightweight yet sturdy, easy assembly
27. Sanibel II Aluminum Patio Gazebo by Sojag
Points of Interest:
● Clients Rating: 4.6 Stars
● Style Inspiration: modern, contemporary
● Material: galvanized steel, aluminum
● Color Options: dark gray/black
● Design Features: hardtop roof, square shape, 2 sizes, with mesh screens, powder-coated finish, installation style: anchored, year-round use, weather and rust resistant, dimensions: 8′ 1/16" W x 8′ 1/16" D x 8′ 9 11/16" H
● What Clients Love about this Gazebo: sleek and modern design, unique and beautiful, upgrades the look of the deck, great quality