Hello and welcome to our carefully curated selection of Adirondack chairs. We handpicked for you a variety of beautiful, high-quality Adirondack chairs that can fit many outdoor spaces and budgets. To derive this list, we carefully read through customer reviews and are only bringing up to your attention Adirondack chairs that have been highly rated by lots of clients who enjoyed them on their patio and backyard. Hope you find inspiration in these photos and find this information useful, enjoy!

What is an Adirondack chair?
Definition: the Adirondack chair is an outdoor slatted chair typically made of wood and was first made in 1903 by Thomas Lee while vacationing in the Adirondack Mountains. It was called the 'Westport plank chair' or 'Westport chair'. The Adirondack chair's initial design was then modified in 1938 in the classic style we know today. It is characterized by a contoured and slanted seat, a high curved back, and wide paddle arms.
Style: classic, traditional, country, modern, contemporary, coastal, rustic, Cape Cod, cottage
Design Features: material (wood, plastic/resin, HDPE – high-density polyethylene), classic Adirondack style (slatted seat and back, wide armrests, high back, slanted and deep seat, rolled seat, with scalloped apron), added features (cup holder on armrest, built-in ottoman/leg rest, foldable, stackable, adjustable back/can be reclined), color/finish (solid color/2 toned, natural/unfinished, weathered, wood-look), durability (weather-resistant, water-resistant, UV-resistant, mildew-resistant, rust-resistant, fade-resistant, rot-resistant, warp-resistant, and insect-resistant)
Price Range: $17.10 to $339.00

How are clients using their Adirondack chairs in their outdoor décor:
Where: porch, patio, deck, poolside, backyard, garden, gazebo, around a firepit
Things to consider: craftsmanship, comfort, quality, durability, color/stain, cleaning, added features
Favorite Features: gorgeous color, smooth finish, lovely classic look, wide and comfy seat, solid and sturdy, provides good back support, great value, great poolside chairs, conveniently stackable, can be reclined to desired position, beautiful weathered finish, great craftsmanship, holds up nicely to different weather conditions, nice real wood look, easy to clean and maintain, clever pull-out footrest feature, handy cup holders

Hope you enjoy the showroom visit!

1. Zander Plastic Adirondack Chair by Beachcrest Home
Points of Interest:
● Clients Rating: 4.6 Stars
● Style Inspiration: traditional, coastal
● Material: plastic/resin – 100% recycled content, stainless steel
● Color Options: graystone, bordeaux, cactus green, cobalt blue, espresso, onyx
● Design Features: rounded backrest, tight slats, scalloped apron, weather/water/UV/mildew/rust/fade resistant
● What Clients Love about this Adirondack Chair: gorgeous color, smooth finish, lovely details, comfy and pretty, solid and durable, easy to clean
2. Recycled Plastic Big Daddy Adirondack Chair with Pull-out Ottoman by POLYWOOD
Points of Interest:
● Clients Rating: 4.7 Stars
● Style Inspiration: traditional, modern
● Material: 90% recycled plastic
● Color Options: green, sand, pacific blue, teak, sunset red, black, white
● Design Features: built-in slide-out ottoman/leg rest, spacious seat, weather resistant, wide paddle arms
● What Clients Love about this Adirondack Chair: relaxing patio chair, clever pull-out footrest feature, great space saver, easy to clean, well made and durable
3. Richmond Deluxe Shorea Wood Adirondack Chair by Belham Living
Points of Interest:
● Clients Rating: 4.5 Stars
● Style Inspiration: classic, rustic, country
● Material: red shorea wood, stainless steel
● Color Options: medium wood
● Design Features: ergonomic design, curved backrest and seat, wide armrests, rot/insect/rust resistant, oiled finish, scalloped apron
● What Clients Love about this Adirondack Chair: has a charming appeal, adds warmth to deck, provides good back support, holds up really well, great value
4. RealComfort Resin Adirondack Chair by Adams Manufacturing
Points of Interest:
● Clients Rating: 4.7 Stars
● Style Inspiration: modern
● Material: plastic
● Color Options: blue, gray
● Design Features: restful back angle, lumbar and neck support, safety grip foot design, weather resistant, no assembly needed, stackable, rolled seat
● What Clients Love about this Adirondack Chair: comfy deep seats, great poolside chairs, conveniently stackable, great back support, great value
5. Cape Cod Adirondack Chair by Trex Outdoor Furniture by Polywood
Points of Interest:
● Clients Rating: 4.9 Stars
● Style Inspiration: classic, traditional, Cape Cod
● Material: plastic – polywood lumber, stainless steel
● Color Options: classic white, charcoal black, rainforest canopy, sand castle, stepping stone, tree house, vintage lantern
● Design Features: contoured slatted back, genuine polywood lumber, crack/chip/peel/rot/weather resistant
● What Clients Love about this Adirondack Chair: gorgeous addition to patio, chairs are great around fire pit, easy to clean and maintain, great quality
6. Classic Wood Folding Adirondack Chair by POLYWOOD
Points of Interest:
● Clients Rating: 4.7 Stars
● Style Inspiration: classic, contemporary
● Material: plastic/resin – polywood lumber, stainless steel
● Color Options: various colors to choose from
● Design Features: contoured seat, foldable, curved slatted back, weather/water/UV/mildew/fade resistant
● What Clients Love about this Adirondack Chair: nice wood-like texture, bright and lovely colors, foldable for easy storage, sturdy and durable
7. Belmore Recycled Plastic Classic Adirondack Chair by Belham Living
Points of Interest:
● Clients Rating: 4.7 Stars
● Style Inspiration: classic
● Material: recycled plastic
● Color Options: white, apple green, red
● Design Features: classic Adirondack style, cedar wood-like texture, warp/fade/rust resistant
● What Clients Love about this Adirondack Chair: lovely classic look, wide and comfy seat, solid and sturdy, great quality at an unbeatable price
8. Boone Solid Wood Folding Adirondack Chair by Three Posts
Points of Interest:
● Clients Rating: 4.8 Stars
● Style Inspiration: traditional, cottage, country
● Material: acacia wood
● Color Options: natural stained, blue, dark gray, gray, white
● Design Features: slanted seat, foldable, set of 2, rust resistant, curved slatted back, scalloped apron
● What Clients Love about this Adirondack Chair: gorgeous solid wood, lovely finish, foldable for easy storage, looks beautiful on front porch, comfy and inviting
9. Folding Adirondack Chair with Rolled Seating by Ecommersify Inc
Points of Interest:
● Clients Rating: 4.7 Stars
● Style Inspiration: modern,
● Material: plastic – poly lumber, stainless steel
● Color Options: various colors to choose from
● Design Features: rolled seat, painted wood look, fade resistant, curved slatted back, wide paddle arms
● What Clients Love about this Adirondack Chair: conveniently foldable, deep and comfy seat, great craftsmanship, durable and holds up very well to different weather conditions
10. Anette Plastic Folding Adirondack Chair by Sol 72 Outdoor
Points of Interest:
● Clients Rating: 4.6 Stars
● Style Inspiration: classic, coastal
● Material: plastic/resin, stainless steel
● Color Options: coastal teak, Nantucket blue, whitewash, white, toffee, black, Charleston green, weathered acorn
● Design Features: curved slatted back, adjustable backrest – reclines, foldable, wood like texture, weather/water/UV/mildew/rust/fade/rot resistant
● What Clients Love about this Adirondack Chair: great relaxing or reading chair, gorgeous wood like look, awesome 3 recline position feature, well made and durable
11. Richmond Curveback Shorea Wood Deluxe Adirondack Chair by Belham Living
Points of Interest:
● Clients Rating: 4.5 Stars
● Style Inspiration: classic, traditional, Cape Cod, rustic, country
● Material: shorea wood
● Color Options: red shorea
● Design Features: fan-shaped slatted back, contoured seat, linseed oil finish, wide arms, rolled seat, scalloped apron
● What Clients Love about this Adirondack Chair: lovely finish, as beautiful as the photos show, gorgeous addition to patio, great wood quality, solid and sturdy
12. Adirondack Chair by Plow & Hearth
Points of Interest:
● Clients Rating: 4.5 Stars
● Style Inspiration: classic, contemporary, coastal
● Material: eucalyptus wood, metal
● Color Options: navy
● Design Features: curved front, contoured seat, wide arms, foldable, with side chain to secure close when folded
● What Clients Love about this Adirondack Chair: conveniently foldable, nicely finished wood, easy to assemble, high end look at an affordable price
13. St. Croix Contemporary Adirondack Chair by POLYWOOD
Points of Interest:
● Clients Rating: 4.8 Stars
● Style Inspiration: contemporary, modern
● Material: HDPE (high-density polyethylene), stainless steel
● Color Options: various color choices
● Design Features: contoured seat, waterfall front, 2 wide back slats, weather/fade/water resistant
● What Clients Love about this Adirondack Chair: modern design, unique and stylish, very comfortable, durable and holds up well to different weather conditions
14. Phat Tommy Plastic Folding Adirondack Chair by Buyers Choice
Points of Interest:
● Clients Rating: 4.7 Stars
● Style Inspiration: traditional, cottage
● Material: plastic/resin, stainless steel
● Color Options: various color choices
● Design Features: fan-shaped slatted back, curved front, foldable, eco friendly recycled material
● What Clients Love about this Adirondack Chair: wide selection of colors to suit your needs, sturdy and durable, holds up nicely, collapsible for easy storage
15. Palm Coast Plastic Adirondack Chair by POLYWOOD
Points of Interest:
● Clients Rating: 4.9 Stars
● Style Inspiration: country, coastal, classic
● Material: plastic/resin, stainless steel
● Color Options: various color choices
● Design Features: 5-slat fan shaped back, recycled content material, weather/water/UV resistant
● What Clients Love about this Adirondack Chair: complements the porch, very comfy and sturdy, perfect for outdoor use, easy assembly, easy to clean and maintain
16. Hamilton Folding & Reclining Adirondack Chair by Highwood USA
Points of Interest:
● Clients Rating: 4.6 Stars
● Style Inspiration: traditional, cottage, country
● Material: plastic, stainless steel
● Color Options: various colors to choose from
● Design Features: wood grain look, adjustable curved back – reclines, foldable, rolled seat, fade-resistant
● What Clients Love about this Adirondack Chair: beautiful colors, great reclining and folding feature, nice wood look, easy to maintain, heavy duty
17. Knowlson Solid Wood Adirondack Chair by Beachcrest Home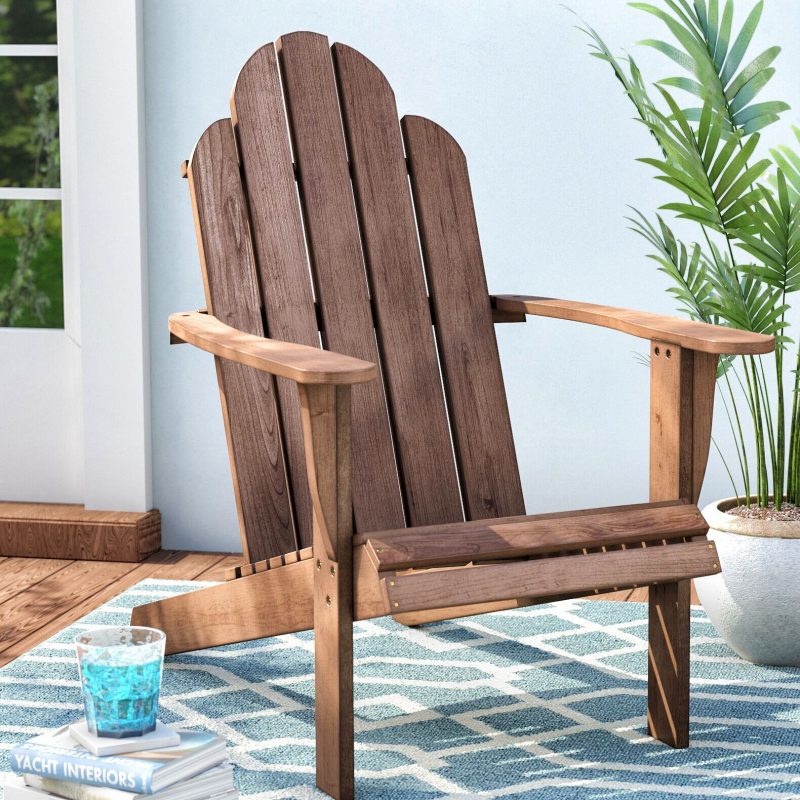 Points of Interest:
● Clients Rating: 4.7 Stars
● Style Inspiration: coastal, contemporary
● Material: acacia wood
● Color Options: teak
● Design Features: high arc back, slanted base, rolled seat, wide armrests, weather resistant, planked construction
● What Clients Love about this Adirondack Chair: lovely color, gorgeous wood, comfy and easy to get up from, great craftsmanship, great quality at a reasonable price
18. Aryana Plastic Folding Adirondack Chair by Beachcrest Home
Points of Interest:
● Clients Rating: 4.7 Stars
● Style Inspiration: contemporary, coastal
● Material: plastic/resin, stainless steel
● Color Options: various colors to choose from
● Design Features: full slatted back, slanted seat, cupholders on armrests, foldable, weather/water/UV/fade resistant
● What Clients Love about this Adirondack Chair: bright and fun colors, handy cup holders, folds up for easy storage, well made and durable
19. Vineyard Adirondack Chair by POLYWOOD
Points of Interest:
● Clients Rating: 4.6 Stars
● Style Inspiration: traditional, coastal
● Material: plastic – polywood lumber, stainless steel
● Color Options: various colors to choose from
● Design Features: waterfall front, contoured seat, corrosion/UV/fade/chip/peel/crack/rot/weather resistant, slatted back
● What Clients Love about this Adirondack Chair: lovely addition to yard, holds up nicely to weather, easy to clean and maintain, well made and comfortable
20. Belford Solid Wood Adirondack Chair with Ottoman by Sol 72 Outdoor
Points of Interest:
● Clients Rating: 4.7 Stars
● Style Inspiration: traditional, coastal, country
● Material: acacia wood
● Color Options: natural stained, blue, gray, white
● Design Features: 4 reclining positions, extendable/retractable built-in footrest, set of 2, weather resistant, slatted construction, scalloped apron
● What Clients Love about this Adirondack Chair: comfy and can be reclined to desired position, beautiful weathered finish, handy pull-out footrest, holds up nicely, great craftsmanship
21. St Croix Modern Adirondack by POLYWOOD
Points of Interest:
● Clients Rating: 4.8 Stars
● Style Inspiration: modern, contemporary
● Material: HDPE (high-density polyethylene)/polywood lumber, stainless steel
● Color Options: various colors to choose from
● Design Features: 3 back slats, gently contoured back, weather/water/fade/UV resistant
● What Clients Love about this Adirondack Chair: adds pop of color, unique modern design, stylish and looks high end, solid and sturdy
22. Imane Solid Wood Folding Adirondack Chair by Birch Lane Heritage
Points of Interest:
● Clients Rating: 4.5 Stars
● Style Inspiration: classic, traditional, rustic
● Material: acacia wood
● Color Options: gray wash, navy wash, white wash
● Design Features: color washed finish, slanted seat, waterfall front, foldable, weather/water/rust resistant, high arc back
● What Clients Love about this Adirondack Chair: warm addition to garden, gorgeous finish, foldable for easy storage, easy to assemble, great quality
23. Shoreline Wooden Adirondack Chair by Belham Living
Points of Interest:
● Clients Rating: 4.5 Stars
● Style Inspiration: traditional, coastal, rustic
● Material: eucalyptus wood, galvanized steel
● Color Options: driftwood
● Design Features: slatted construction, comfort-back seat design, wide armrests, weather resistant, rolled seat
● What Clients Love about this Adirondack Chair: beautifully complements deck, great chair to relax on, comfy and sturdy, great craftsmanship
24. Norgren Solid Wood Adirondack Chair by Beachcrest Home
Points of Interest:
● Clients Rating: 4.7 Stars
● Style Inspiration: traditional, coastal
● Material: oak wood
● Color Options: red
● Design Features: angled slatted seat, high arc back, weather/water/UV resistant, wide armrests
● What Clients Love about this Adirondack Chair: lovely red color, nice smooth finish, wide and comfy seat, holds up nicely to different weather conditions, high end look at a great price
25. Cedar Log Lounge Adirondack Chair by Lakeland Mills
Points of Interest:
● Clients Rating: 4.8 Stars
● Style Inspiration: rustic
● Material: wood – northern white cedar
● Color Options: natural/unfinished
● Design Features: contoured seat slats, high back, unfinished wood, rot/insect resistant, slatted design, log frame
● What Clients Love about this Adirondack Chair: adds rustic touch to patio, unique and eye-catching, comfy to sit and relax on, weathers beautifully, solid and sturdy
26. Hamptonburgh Essential Plastic Adirondack Chair by Beachcrest Home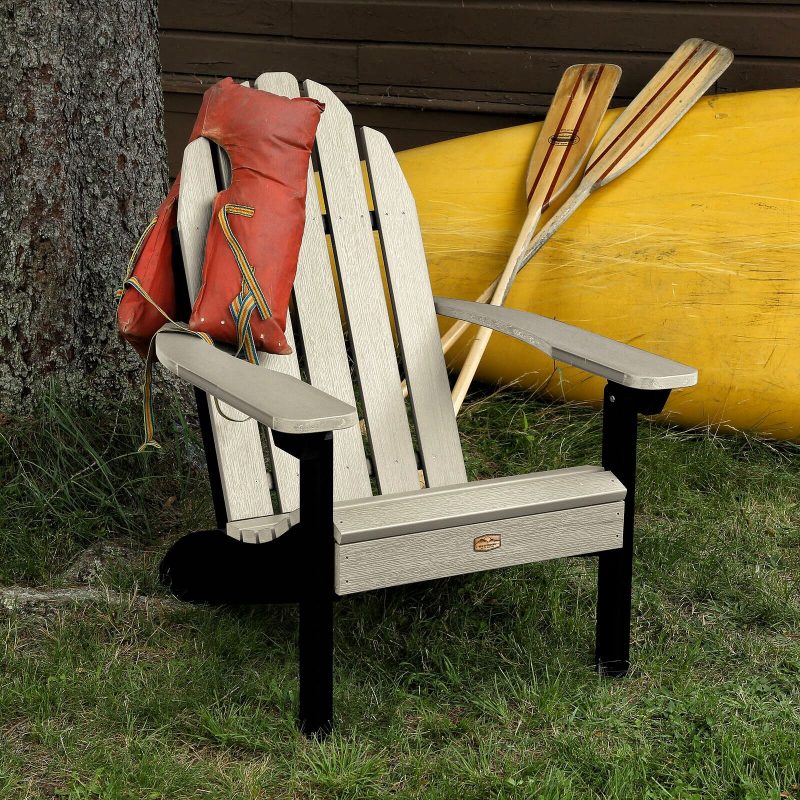 Points of Interest:
● Clients Rating: 4.8 Stars
● Style Inspiration: modern, coastal, contemporary
● Material: plastic/resin, stainless steel
● Color Options: black/tan, brown, black, black/blue, black/gray, black/ivory
● Design Features: solid color or 2 toned, wood-like texture, eco-friendly – recycled content, weather/water/UV/mildew/rust/fade resistant, slatted construction, wide armrests
● What Clients Love about this Adirondack Chair: nice real wood look, gorgeous color, great chairs around the firepit, comfortable deep seat, easy to clean and maintain
27. Premium Folding Adirondack Chair w/Cup Holder by Furniture Barn USA
Points of Interest:
● Clients Rating: 4.8 Stars
● Style Inspiration: classic, modern
● Material: polyresin, stainless steel
● Color Options: aruba blue
● Design Features: fan shaped back, slanted seat, cup holder on armrest, foldable, slatted construction, rolled seat
● What Clients Love about this Adirondack Chair: beautiful bright blue color, easy to assemble, sturdy and comfy, great value, great quality