Hello and welcome to the Garden Outline photo gallery of beautiful front yard landscape design ideas. Below you will find a summary of the benefits, main options and some design ideas we handpicked for you along with beautiful photos. Enjoy!

What are the benefits of front yard landscape designs?
Enhances curb appeal
Creates a welcoming environment when coming home everyday
Helps provide energy efficiency to the home with trees for shade and well-placed plants to provide a cool breeze
Allows for easier navigation to entrance and backyard areas for guests
Keeps dirt, mud and water away from front entry

What are the main options for front yard landscape designs?
Structures: driveway, front porch, portico, pergola, garage, walkway, retaining wall, steps
Fence: picket, iron, wood, stone, stucco/cement, natural (hedge, tree)
Gate: garden gate, wide driveway gate
Walkway: stone, brick, gravel, pebble, concrete pavers, cement (slabs, poured)
Landscaping features: waterfalls, pond, parterre, boxwood, plant/tree hedge, edging

What follows are beautiful photos of beautiful front yard landscape designs along with ideas we thought may be of interest to you. For even more design inspiration, try Front Porch Ideas, Front Porch Ideas with Flowers and Backyard Landscape Design Ideas. Enjoy and happy outdoor decorating!
1. Rock Patio Accent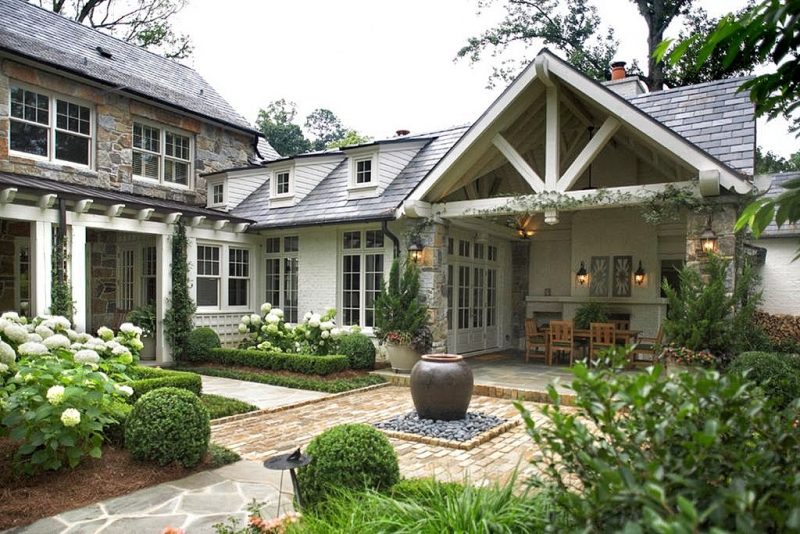 Points of Interest ● irregular flagstone path ● ground topiaries flanking path ● brick courtyard pavers ● square river rocks patio accent ● glazed water jar ● hydrangea parterres
2. Decorative Step Tiles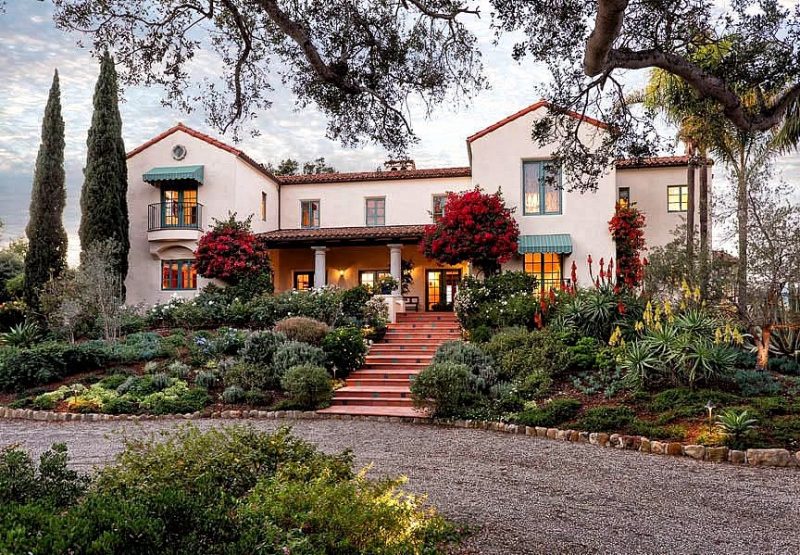 Points of Interest ● gravel driveway ● stone edging ● inclined parterres ● terracotta-colored steps ● decorative tile accents on steps ● ground cover plants on lower part of parterre
3. Rock Waterfall
Points of Interest ● 2-level waterfall feature made of river rocks and stone slabs ● pond ● stairs with same stone slab material ● clapboard house siding ● stone veneer bottom siding
4. Diamond Boxwoods
Points of Interest ● diamond-shaped boxwoods ● two-level plant beds with retaining wall matching house facade ● flat terracotta roof design ● alternating tree and shrub inside boxwood
5. Gable on Gable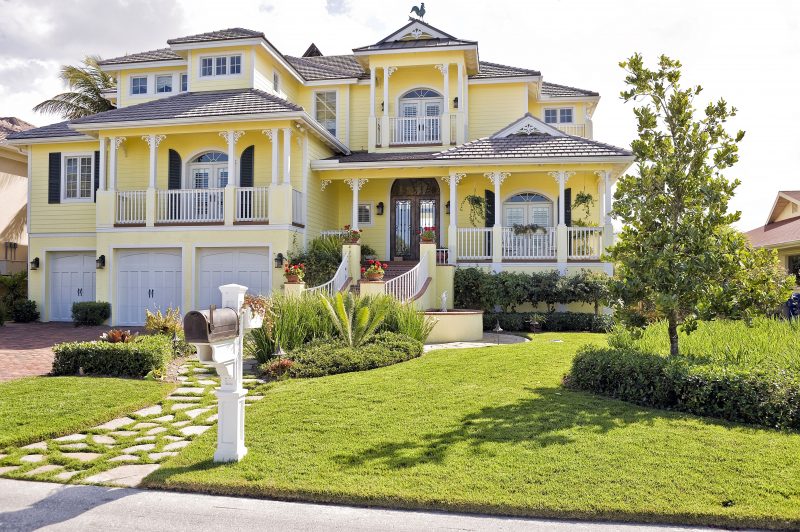 Points of Interest ● brick driveway ● three-door garage ● stone slabs with grass grout path ● vintage brass mailbox ● bronze bell-shaped pathway lights ● half circle pond with fountain
6. Spheres
Points of Interest ● boxwood spheres lining the driveway and walkway ● stone retaining walls ● wrought iron automatic security gate ● trees near house to help with cooling
7. Tree-lined Driveway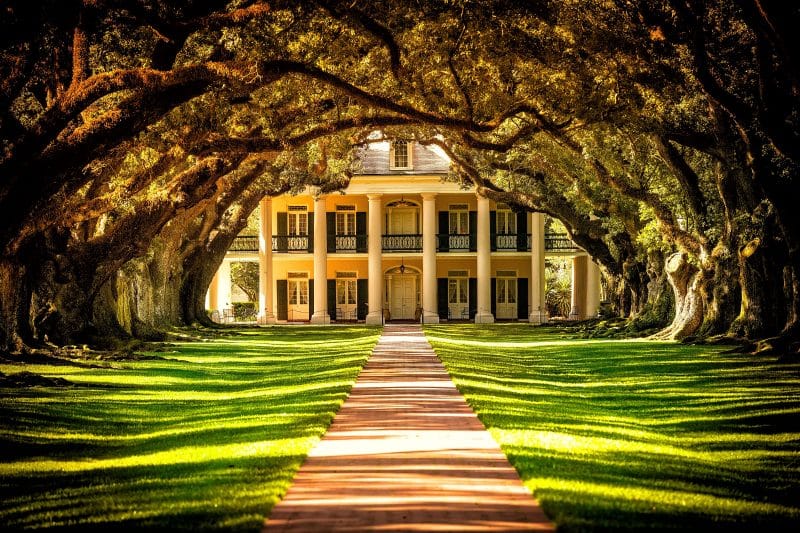 Points of Interest ● giant oak tree arch lining driveway ● Greek revival style mansion ● symmetrical wraparound upper balcony ● abundance of french doors with transoms
8. Parterre Driveway
Points of Interest ● convenient circular driveway ● curved garden beds on lawn ● plant beds in between rocks ● stone slab steps ● boulder edging ● stone artwork in center parterre
9. Welcoming Mailbox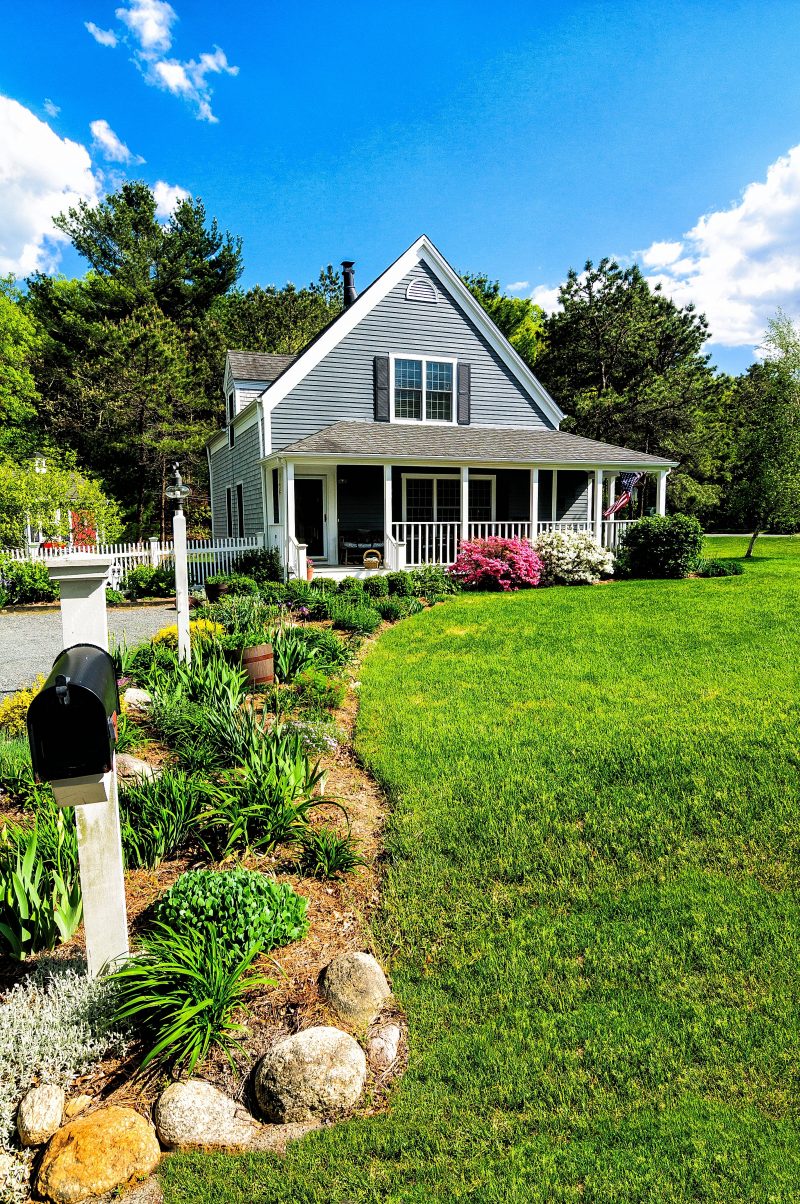 Points of Interest ● pink and white azalea bush in front of the porch ● black mailbox on white post ● barrel planter ● white picket fence ● shrub garden bed separating driveway and lawn
10. Edgy in Brick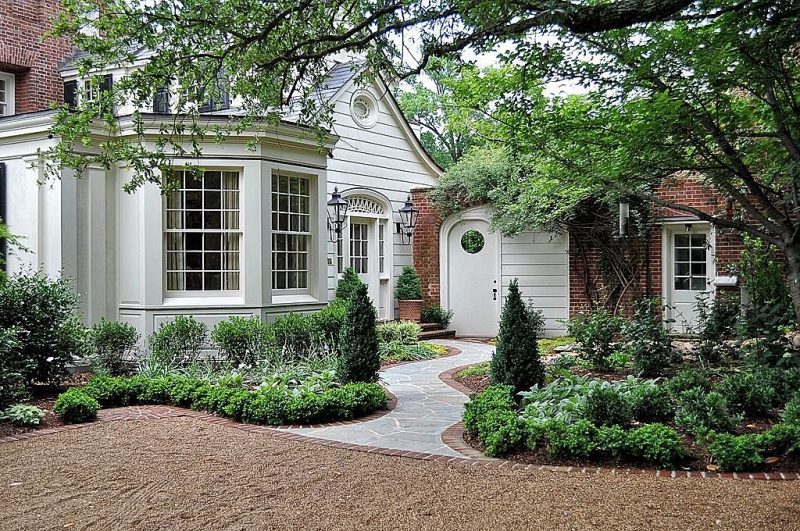 Points of Interest ● gravel driveway ● irregular flagstone curved pathway ● brick driveway and garden edging ● brick steps ● cypress trees flanking path
11. Lined with Beds
Points of Interest ● mulched garden bed bordering lawn ● iron property fence ● stamped concrete driveway ● lavender blooms ● low stucco fence and columns ● bowl planters
12. Rocky Path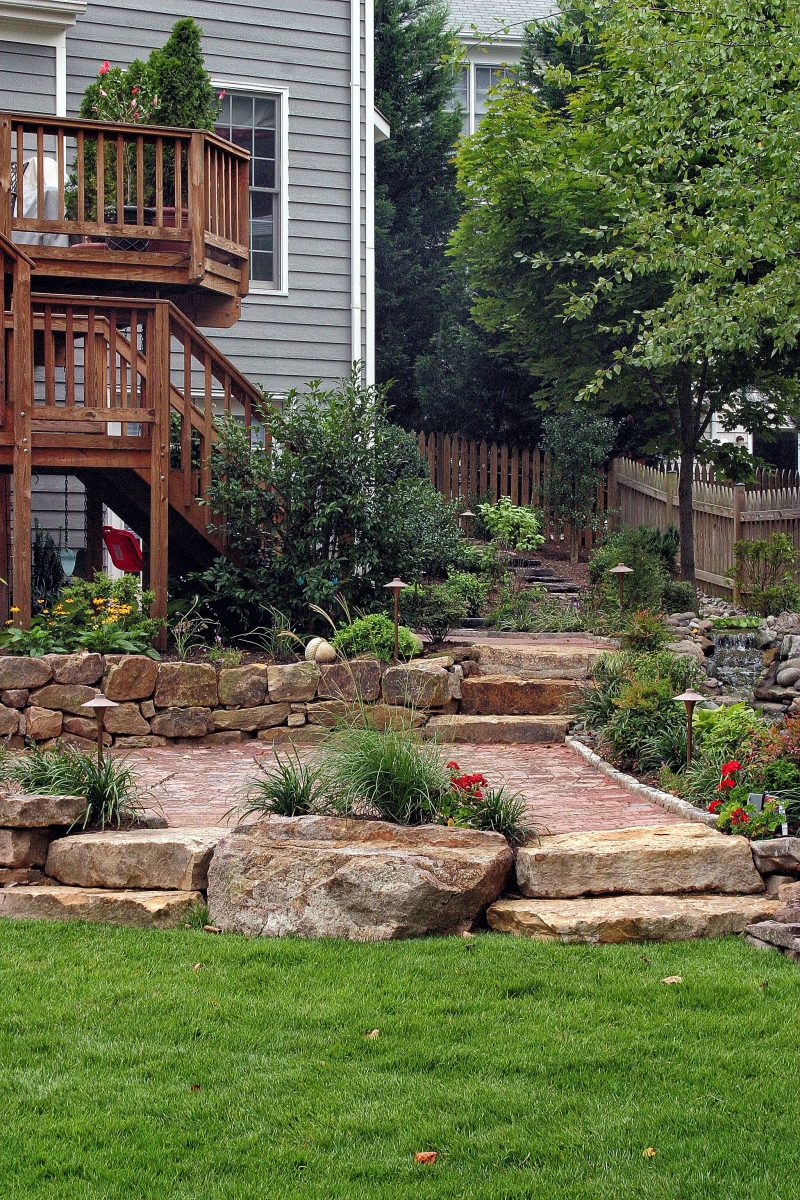 Points of Interest ● brick entryway ● raised pond and waterfall edging ● boulders and stone landscaping ● dark step stones leading to backyard ● cobblestone edging
13. Tiered Stone
Points of Interest ● front porch ● wooden privacy wall and side door ● adirondack chairs ● tiered stone landscaping ● wooden french doors ● dark stained wooden steps ● outdoor wall lanterns
14. Grassy Wall
Points of Interest ● broken stone slab and grass walkway ● portico ● vine covered walls ● zen stones around tree ● large cylinder planters flanking the doorway ● up-lighting
15. Pergola Canopy
Points of Interest ● vine covered wood pergola ● curved plant bed ● white blooms matching facade ● green diamond tile steps on lawn ● dark inlay on step to front door
16. A Fork in the Road
Points of Interest ● brick pathway ● lady garden statue ● tall bushes near porch for added privacy ● boxwood garden edging ● twin lampposts ● twin adirondack chairs under Zebrina
17. Grand Staircase
Points of Interest ● entryway steps flanked by colorful hill parterres ● grand staircase ● columns ● vine covered pair of pergolas ● pool
18. Fountain
Points of Interest ● Italian-inspired fountain ● hidden lighting fixtures ● raised concrete beds ● sleeping lion statue ● concrete steps ● uplighting on parterre and fountain
19. Half-Circle
Points of Interest ● half-circle two-tiered parterre ● stone veneer raised bed matching portico columns and stairs ● stone garden edging ● ground cover flowers on lower bed
20. 3-Step Entry
Points of Interest ● mulched garden bed lining front lawn ● white concrete landscape curbing ● low stucco fence with 3 terra cotta water spots ● 3-step entry path ● climbing blooming vines
21. Large Portico
Points of Interest ● 4-columned portico ● cobblestone garden edging ● pebble covered parterre ● stacked stone entry siding ● dormer windows with stone frame corbels
22. Privacy Hedges
Points of Interest ● stone retaining wall ● decorative cast iron open gate ● trimmed hedges working as privacy fence ● evergreen trees in front of stone fence
23. Bay Windows
Points of Interest ● tiered landscape ● multi-hued hedges and shrubs ● outdoor garden bed lighting ● red full lite front door ● dormer and bay windows
24. Brick Craftsman
Points of Interest ● brick retaining wall with running bond pattern ● upright brick used as cap block ● stained concrete driveway flooring ● brick driveway column with white lamp
25. Fair Crabapple
Points of Interest ● hedges of different heights ● large window with fanlight ● slate roofs ● crabapple tree ● mulched parterre ● concrete garden edging
26. Curved Bed
Points of Interest ● curved garden bed ● concrete pavers on driveway ● raised concrete tree bed ● red geraniums ● bluestone steps ● sand finish stucco siding
27. Angles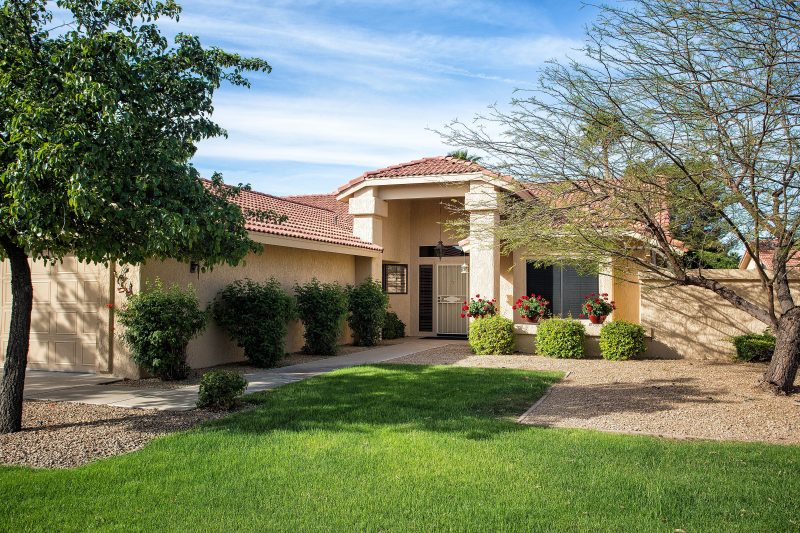 Points of Interest ● geometric gravel and grass area patterns ● concrete driveway and alley to front door ● hedges lining path ● portico ● red geraniums in glazed pots