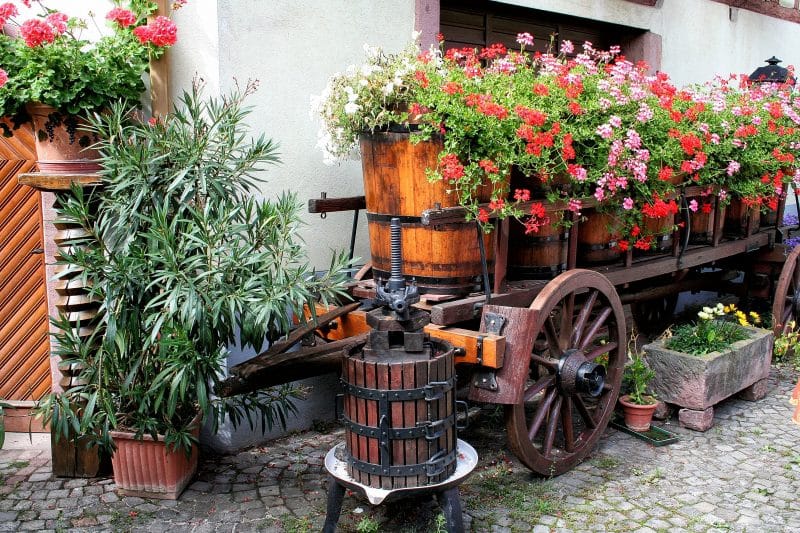 Hello and welcome to the Garden Outline photo gallery of barrel planter ideas. Below you will find a summary of the benefits, main options and some design ideas we handpicked for you along with beautiful photos. Enjoy!

What are the benefits of barrel planters?
Beauty of aged wood takes centerstage – recycled wine barrels or whiskey barrels can be the focal point of your garden and bring along the history it carries with it
So many choices – barrels come in different types of wood, shapes and sizes
Eco-friendly – supports the creative reuse of hardwood barrels

What are the main options for barrel planters?
Types of wood: oak, fir, spruce, pine, larch, ash and mulberry
Potted with: pink anemone, yellow pansies, pink dahlia, herbs, American aloe, purple tulips, pink geranium tree, hanging petunias, blue salvia, young Cypress tree
Accents: hand water pump, conch shell, hoop with handles, wishing well chain

What follows are beautiful photos of barrel planter ideas along with options we thought may be of interest to you. Interested in even more planter ideas? We have quite a few planter ideas that will fit in with a variety of settings and styles. For example, if you are focused on touching up a particular space, try Patio Planter Ideas, Planter Ideas and Fence Planters Ideas. If you're trying to find a planter that has a particular look, try Antique Planter Ideas, Wheelbarrow Planter Ideas, Rustic Wagon Planter Ideas, Terra Cotta Planter Ideas and Recycled Planter Ideas. Enjoy and happy outdoor decorating!

1. Cobbled
Points of Interest ● full-sized dark wood barrel ● swing out windows ● painted wooden siding with green accents ● cobblestone pavers ● wooden garden bench
2. Built-In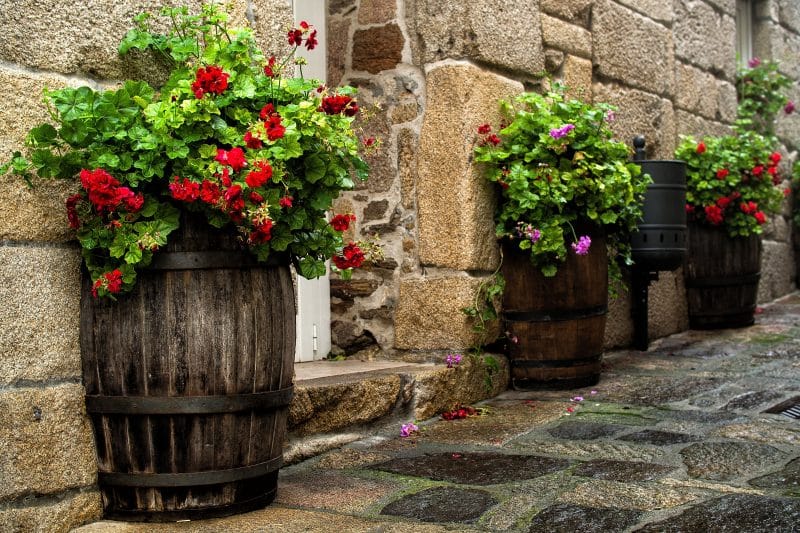 Points of Interest ● antique full size built-in port pipe barrel planters ● iron barrel hoops ● stacked granite slab siding ● red and pink geraniums in barrel planters and flower box
3. Color Blocked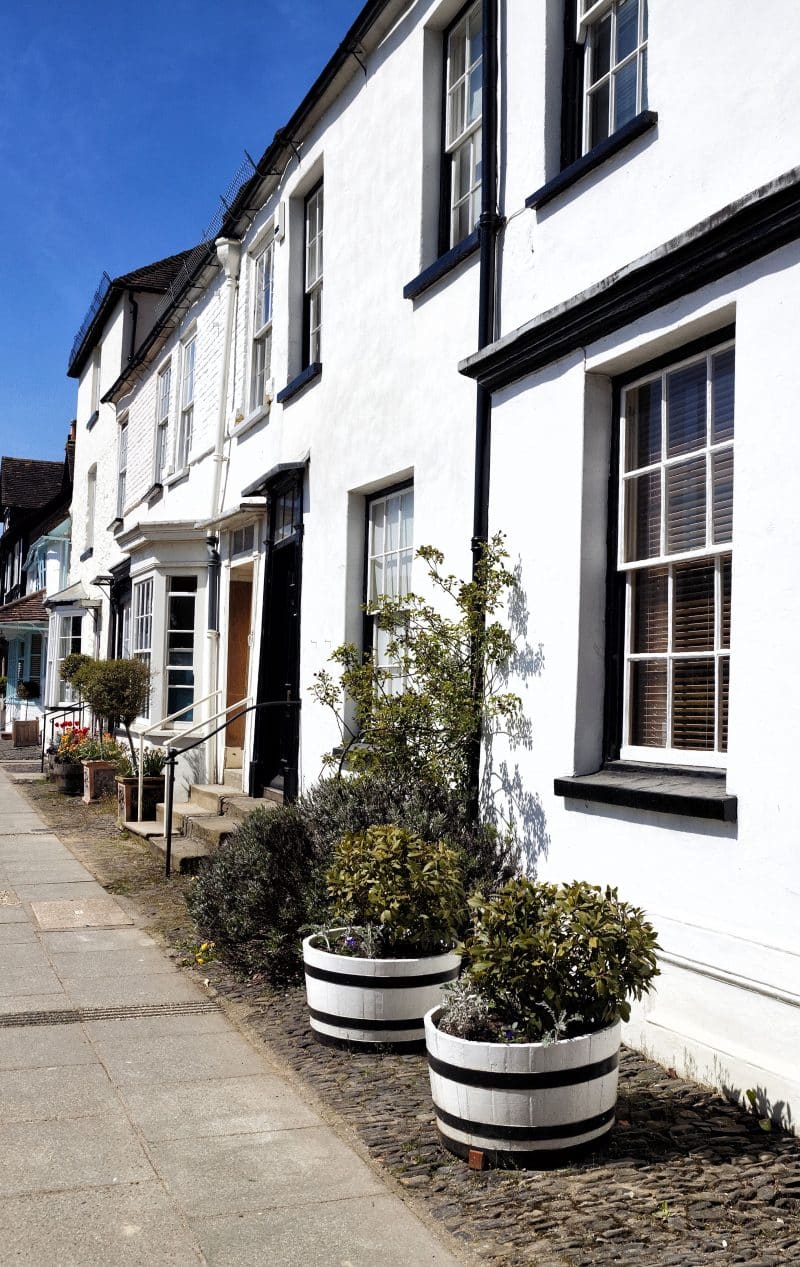 Points of Interest ● white half barrels on one side and twin aged barrel planters on the other side ● contrasting black barrel hoops ● square engraved terra cotta tree planters ● painted wooden window and door canopies ● bay windows
4. White Water Pump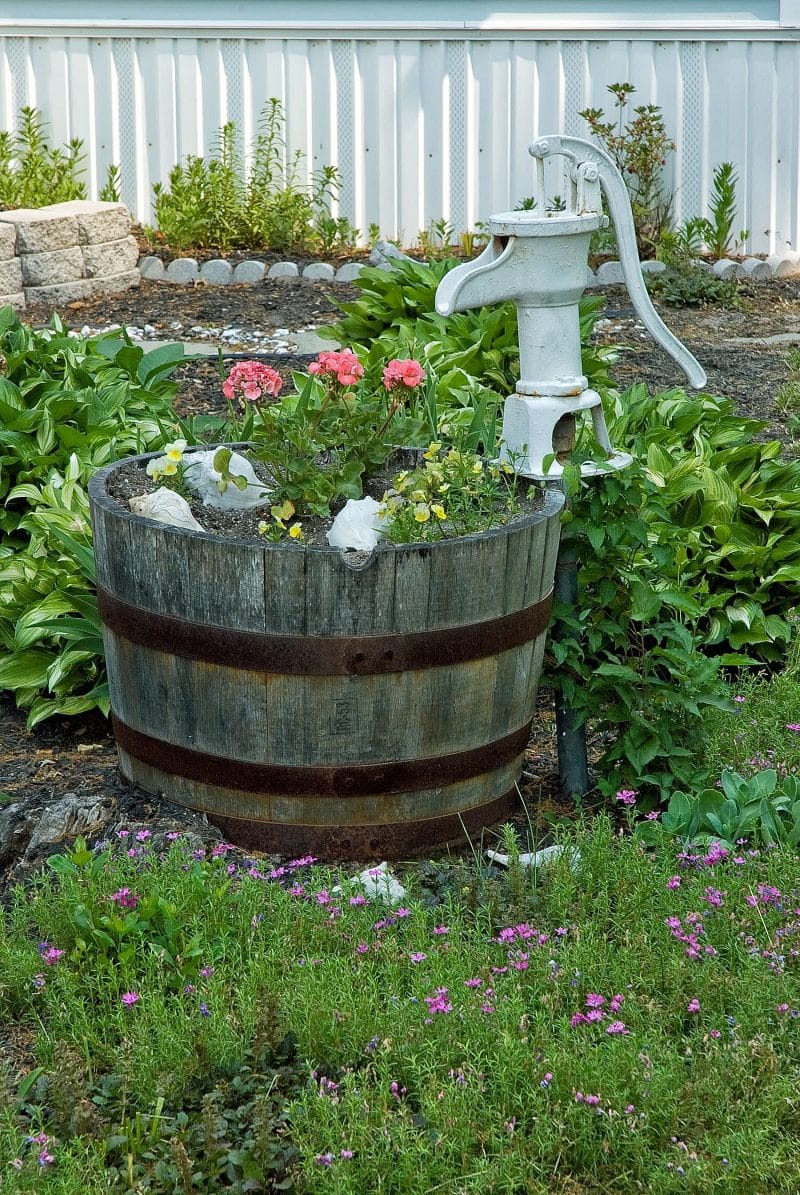 Points of Interest ● half barrel planter ● painted antique hand water pump ● concrete scalloped garden edging ● pink geraniums and white and yellow pansies ● conch shells
5. Herbs in Pots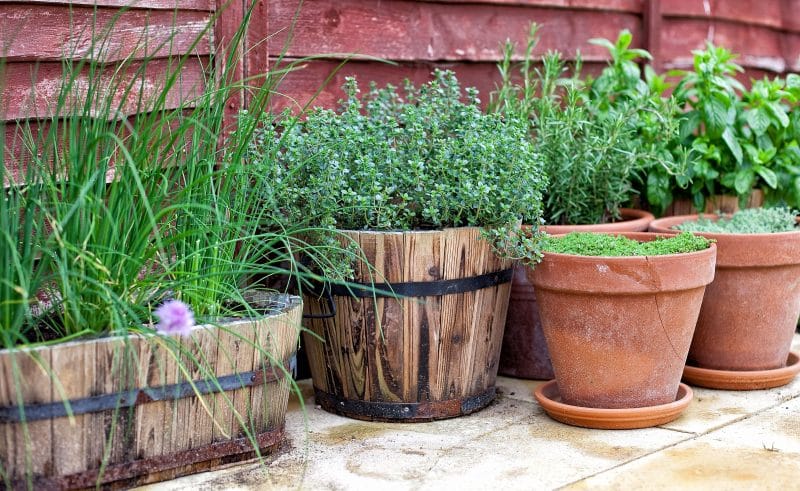 Points of Interest ● hardwood half barrel ● vintage wooden trough ● banded cylinder terracotta planters ● DIY painted wooden fence ● stamped concrete flooring
6. Flower Cutouts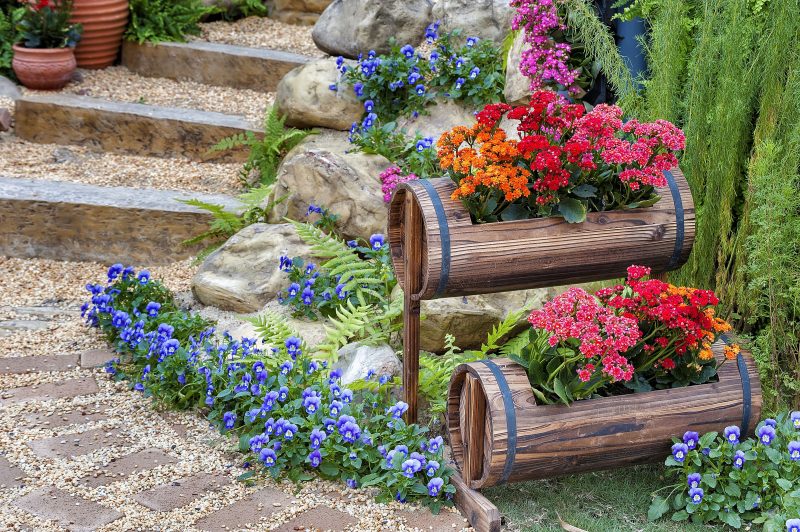 Points of Interest ● small barrels with cutouts to accommodate flowering plants ● barrel stands ● wooden stairs with pea gravel steps ● pansies on the ground and in between boulders
7. Keeping Guard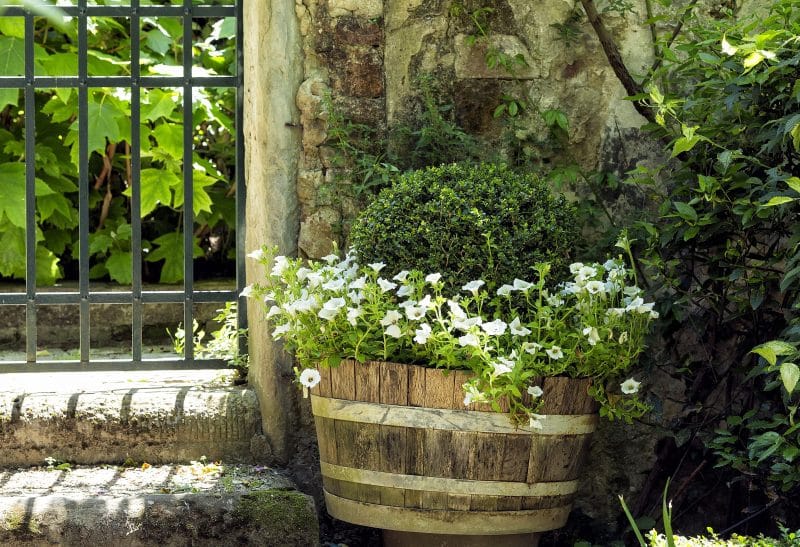 Points of Interest ● half barrel with galvanized zinc hoops ● white violas ● hammered iron gate ● concrete steps ● trimmed topiary
8. Natural Pool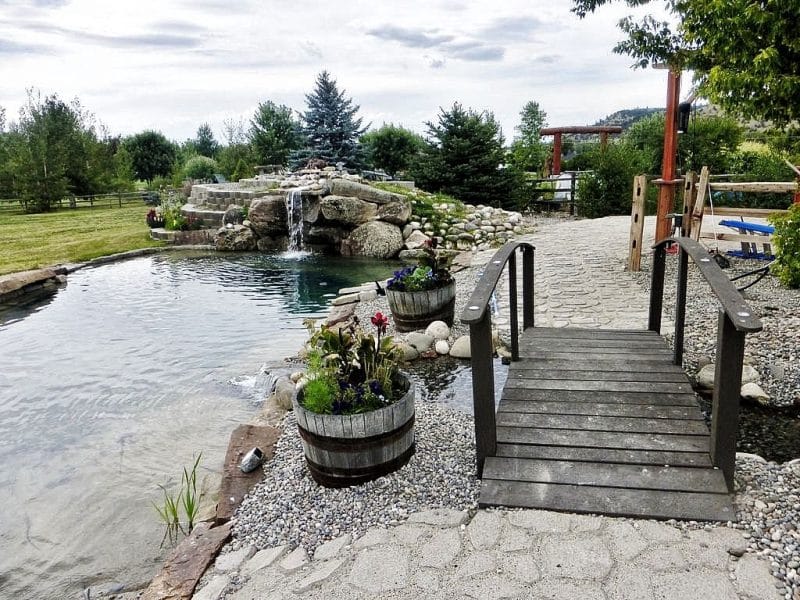 Points of Interest ● twin antique drum half barrels repurposed as planters ● wooden garden bridge ● natural swimming pool ● tiered retaining walls ● stone garden path ● rock in lieu of mulch on parterres
9. Desert Colors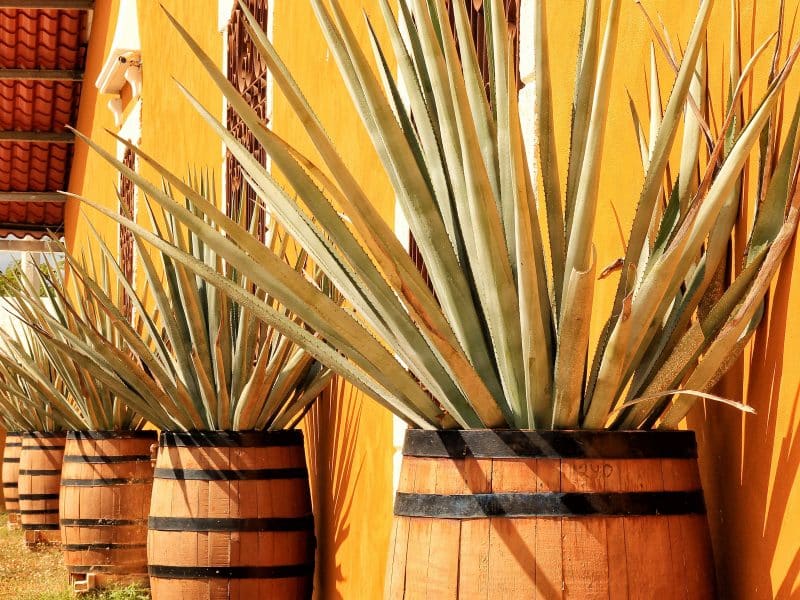 Points of Interest ● line of painted port pipe barrels ● American aloe (i.e. agave americana) ● terracotta roof tiles calling back the barrels ● painted stucco siding ● wrought iron window grills
10. Barrel o' Tulips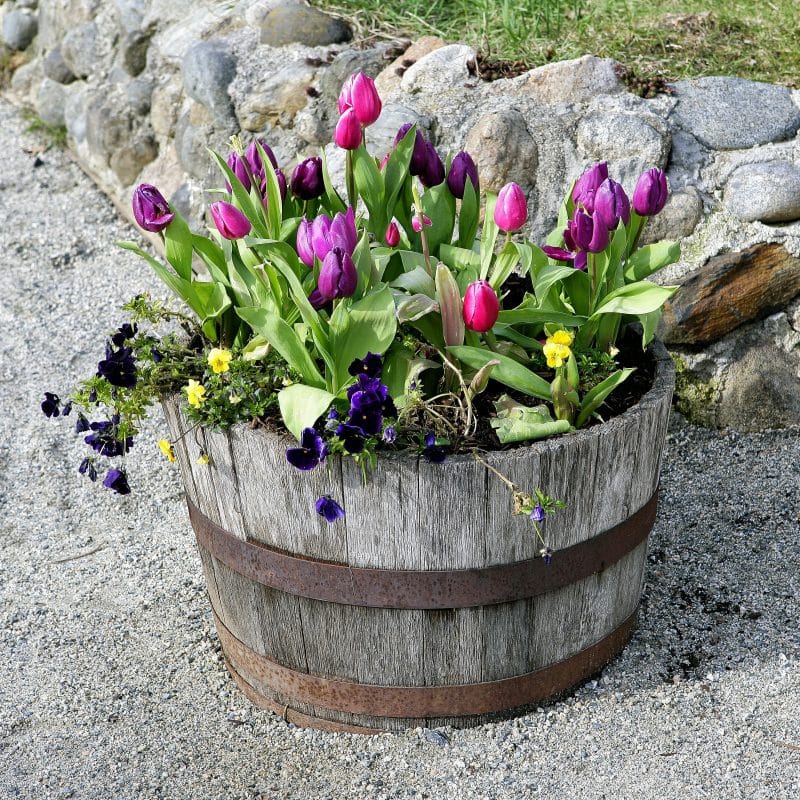 Points of Interest ● aged recycled barrel planter ● pink and purple tulips ● mortared stone retaining wall ● gray pea gravel garden path
11. Wagon Wheels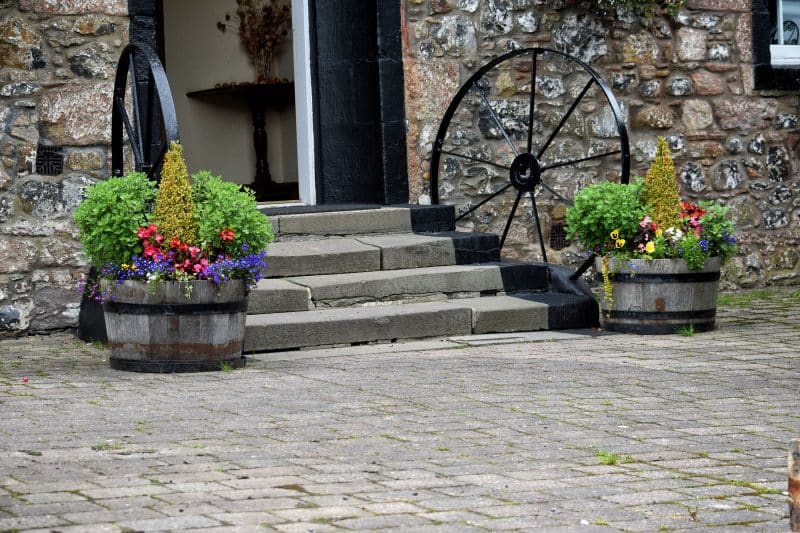 Points of Interest ● double half barrels ● painted wagon wheels with 9 spokes doubling up as stair railing ● cement pavers ● stone siding ● concrete steps with edges painted in black
12. Metal Handles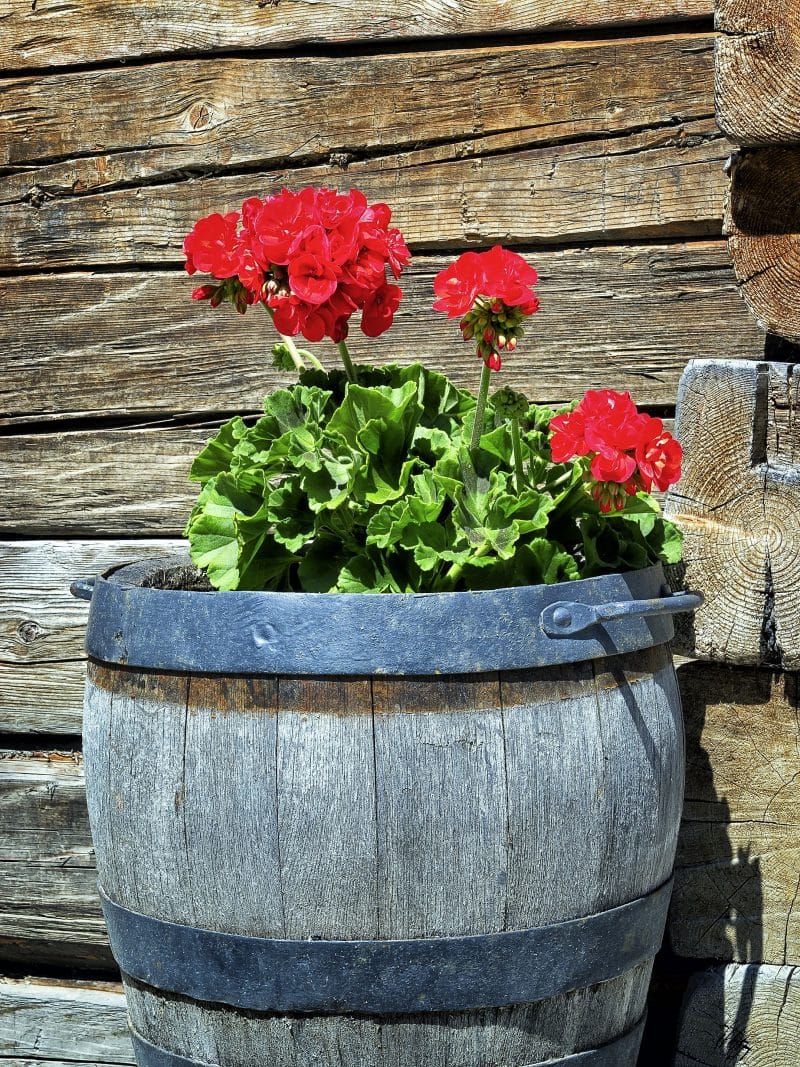 Points of Interest ● aged barrel planter ● top metal hoop with handles ● red geranium flowers ● aged wood and log siding
13. Accent Wall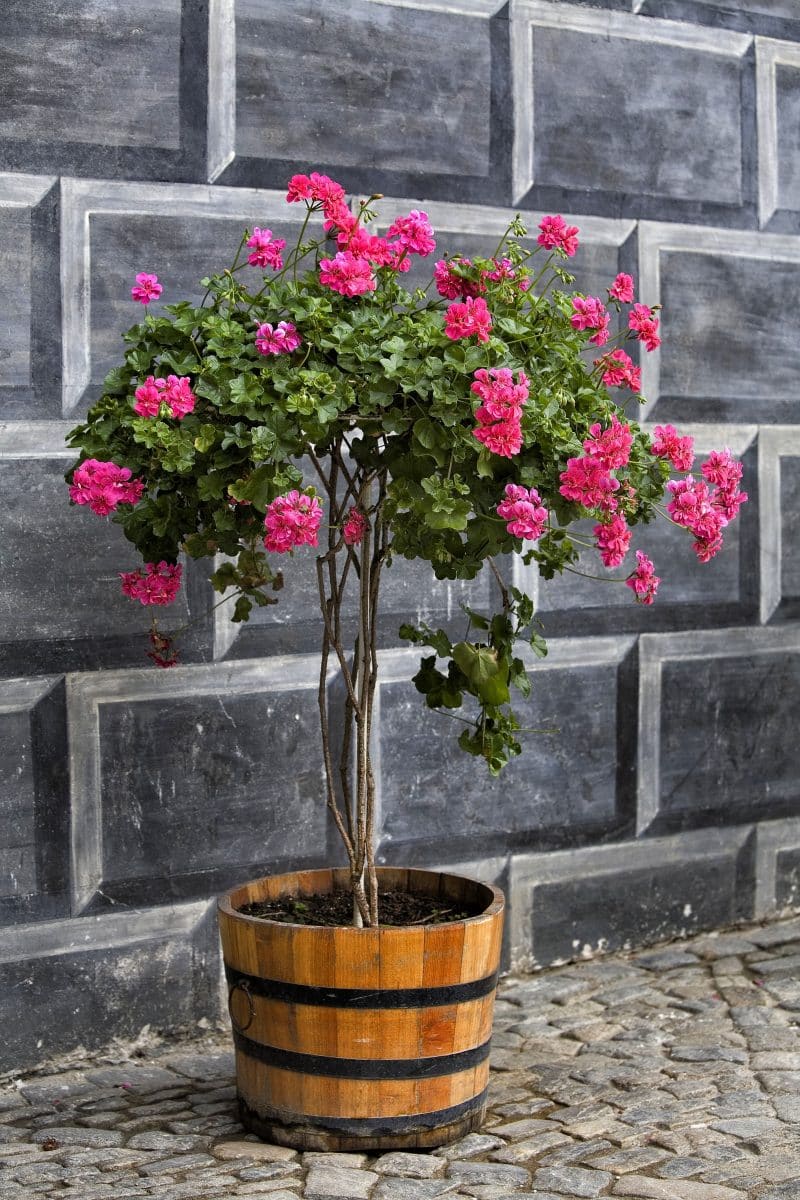 Points of Interest ● half barrel with 3 hoops ● chalkboard wall stenciled to mimic cinder blocks ● cobblestone flooring ● vibrant pink bloom geranium tree
14. Pink Shades
Points of Interest ● 2-hooped vintage barrel planter ● DIY barrel legs ● barrel rivets ● dahlia blooms in center of planter ● hanging petunias
15. Colorful Tubs
Points of Interest ● pair of rustic half drum planters ● wooden DIY trough planter ● blue salvia ● dash stucco siding in a terracotta shade ● aqua window sill and sashes
16. Grape Press
Points of Interest ● antique wood and cast iron base grape press ● hogshead barrel used as plant riser ● pink petunias ● arched doorway ● pink stucco siding ● polycarbonate door canopy with swirl brackets
17. Paneled Colors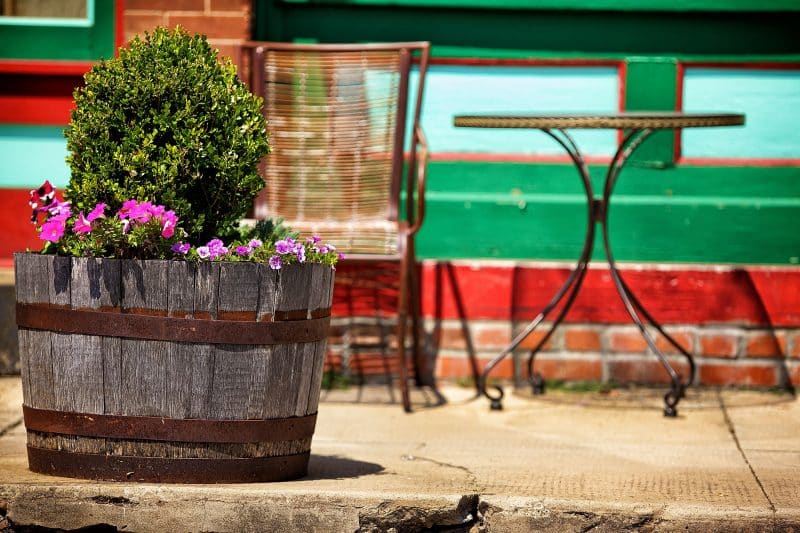 Points of Interest ● vintage half oak barrel ● brick siding with red, green and sky blue wood siding accents ● aluminum garden chair and table in a bronze finish
18. Mountain View
Points of Interest ● large barrel planter teeming with wild violets ● metal barrel hoops ● cypress tree ● view of long span bridge
19. Overflow of Flowers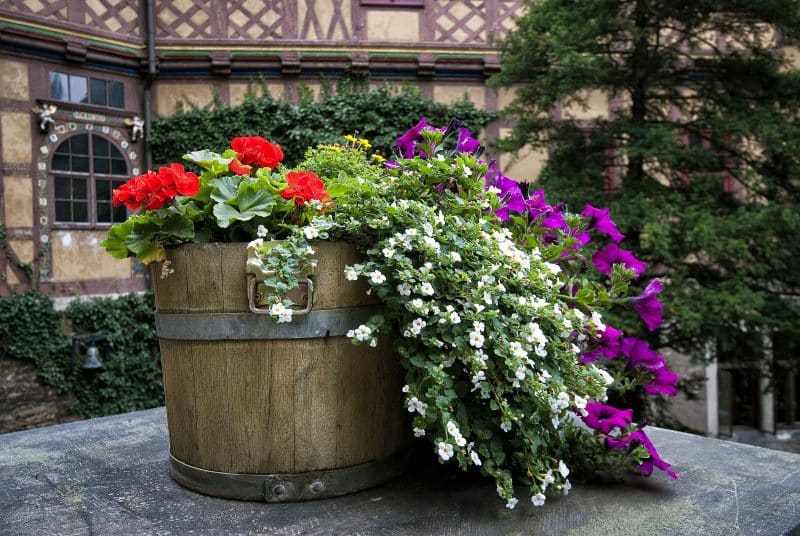 Points of Interest ● light colored barrel planter with solid metal handles ● healthy geraniums and wild violets ● half timber work siding ● antique door bell ● transom windows above stenciled arched window
20. Wishing Well
Points of Interest ● wishing well bucket repurposed as planter ● metal chain and handle ● red, white, and pink petunias ● stamped concrete siding
21. Hogshead
Points of Interest ● pair of hogshead barrels ● half barrel by the wall ● twin large terracotta cylinder planters ● frosted glass outdoor light ● wrought iron grills on lower windows
22. Barn Wagon
Points of Interest ● three barrels used as planter holders ● half barrel planters ● vintage wagon display ● terracotta jar with scalloped rim ● wooden barn
23. Young Cypress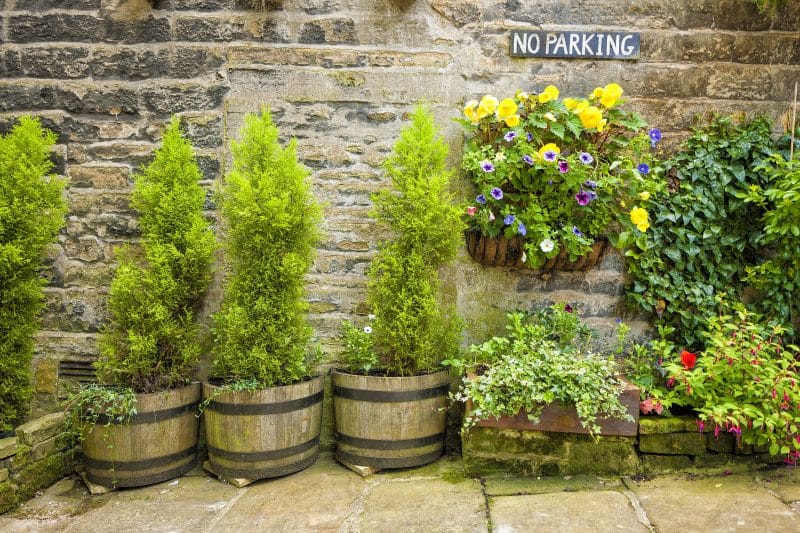 Points of Interest ● three half barrels planters ● two wrought iron built-in wall flower boxes ● DYI stacked stone raised bed ● weathered stone and concrete siding ● young cypress trees
24. Recycled Row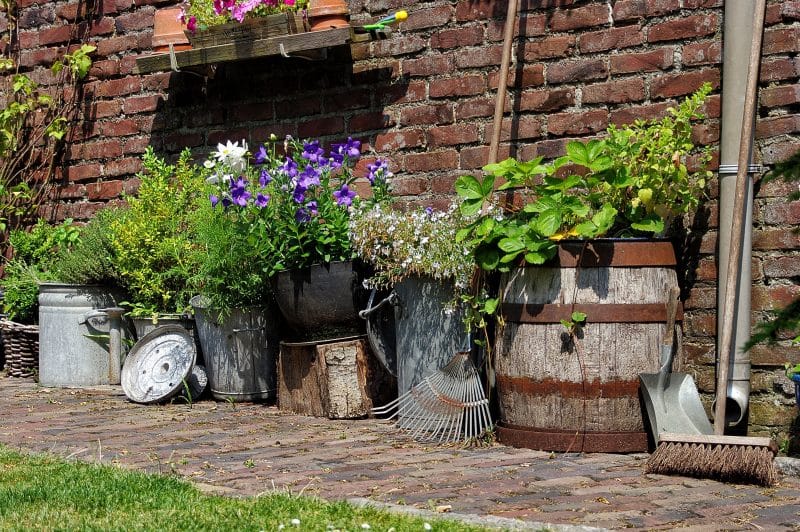 Points of Interest ● aged hogshead barrel planter ● recycled wooden tray ● zinc water containers used as planters ● DIY wooden shelf ● repurposed rattan basket ● brick garden path
25. Time-Worn Barrel
Points of Interest ● time-worn half oak barrel planter ● iron fence ● large stone flooring with moss ● square concrete planters on wall
26. Stacked Stones
Points of Interest ● half barrel planters with visible wine discoloration ● lattice wooden fence panel ● stacked rocks ● wax begonias on parterre
27. Double Fence
Points of Interest ● rustic half barrel wood planters potted with pink anemone ● DIY twig and branch decorative fence ● horizontal wood slatted privacy fence