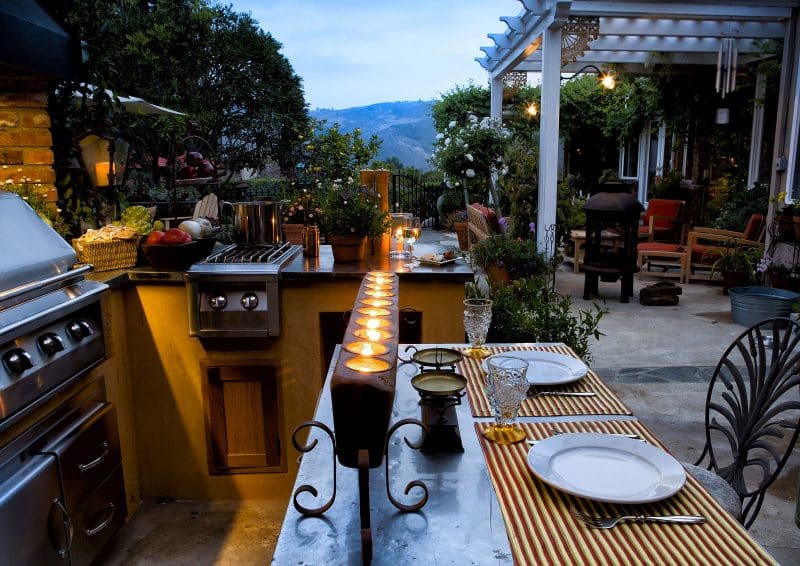 Hello and welcome to the Garden Outline photo gallery of barbecue patio ideas. Below you will find a summary of the benefits, main options and some design ideas we handpicked for you along with beautiful photos. Enjoy!

What are the benefits of having a barbecue station on the patio?
Dedicated outdoor entertaining area – an area to relax and entertain outside of the house, or an additional space for barbecues and cookouts while enjoying the view of the garden, or having fun at the pool
Enjoy living space outdoor – hot or breezy weather can be fully enjoyed in open kitchens while dining al fresco or having cocktails. Lovely spot to spend a hot summer afternoon or a sultry evening to gaze at the stars or bathe in moonlight.
Versatility in function and cooking – because it is an open kitchen, it can be designed and styled in any way to function as a bar, a kitchen, a dining area, a living area, or all of the above. You can also do a lot of cooking without worrying about smoke and smell.

What are the main options for patio barbecue stations ?
Layout: L-shaped, galley, straight, G-shaped
Barbecue Type: built-in, portable, dome, column, kettle, smokers, wood fired
Features: countertop or side prep. table, searing burner, built-in outdoor cabinets, bar area, ceiling fan,
Shade area: none/open, covered, glass roof, pergola, umbrella
Flooring: natural stone, tiles, bricks, decking

What follows are beautiful photos of patio barbecue stations, along with design ideas we thought may be of interest to you. Enjoy and happy outdoor decorating!
1. Whitewashed Cottage
Points of Interest ● built-in stainless steel barbecue, refrigerator, and storage ● mortar washed brick pillars and base cabinets ● light blue ceiling with recessed lights and leaf blade ceiling fan ● hand painted ceramic biscotti jar ● two tier dessert stand used to store ceramic dinnerware
2. Moroccan Nights
Points of Interest ● black marble countertops with built-in barbecue ● covered patio with arches and columns with capitals ● custom stone range hood with carved decorative detail ● etched amber glass pendant light ● white vintage birdcage on ottoman coffee table
3. Treehouse
Points of Interest ● stainless steel barbecue grill beside white Corian topped counter ● upper level deck with storage shed underneath ● patio umbrella with multi-colored string lights ● stained wooden cabinets with bar pulls and tile border ● painted deck deck railing ● DIY wall-mounted outdoor TV cabinet
4. Open Bar
Points of Interest ● serving hatch with black framed bi-fold windows ● matching wooden brackets holding up counter and ceiling ● swing arm wall lamps above single-hung windows with upper mullions ● wooden bar stools with low backrests ● horizontal cable railing on deck and staircase
5. Country Cottage
Points of Interest ● wood pergola with cut-out for tree trunk ● L-shaped stone half wall sectioning off barbecue area ● decorative corten steel candle chandelier ● wooden outdoor round table ● white framed french door and picture window with sage green craftsman molding
6. Wooden Cove
Points of Interest ● corner brick barbecue station with sink ● brick wall with cut-out window ● white beam and column supporting the rafters ● white wooden railing calling back painted beam and columns ● footed green glass candle holders on oval sanded wood planked table
7. Hacienda Diner
Points of Interest ● galley style barbecue station with limestone countertop and farmhouse sink ● tiled range hood with accent tile border and rope tile trim ● tile backsplash in diamond pattern ● stone veneer columns framing back porch entry ● faucet with arched spout
8. Grill and Lounge
Points of Interest ● river rock fireplace surround with screen ● black adirondack chairs and table ● glass hurricane candle holder ● patio privacy wooden fence with rafter tails on beam ● picture wall window with transoms offering deck view from the living room
9. Barbeque Buffet
Points of Interest ● wood slab table with block stool ● brick floor in basketweave pattern ● stone veneer counter base with built-in cabinetry ● L-shaped wood bench ● upper deck wooden railing doubling as privacy fence for barbecue patio area
10. Malibu Mansion
Points of Interest ● screened in patio with barbecue and octagonal gazebo bar ● white Tuscan column arches ● metal framed glass walls and roofing ● glazed pottery with chinoiserie motif ● carved stone garden sculpture
11. Al Fresco
Points of Interest ● tiled covered barbecue area with T-shaped lounging sofa adjacent deck dining area ● wine cooler with glass door ● bar cart with three tiers ● pair of stick room divider ● sectional sofa with throw pillows
12. Dad's Cookout
Points of Interest ● Sivasaki pink granite barbecue station countertop with sandstone painted base ● built-in fridge and cabinets with stainless doors ● stainless steel double bowl sink ● textured concrete patio flooring ● poolside sun loungers with wheels ● gas patio heater beside counter
13. Glass Cube
Points of Interest ● blue-tinted sliding glass patio doors on open-concept living area ● open kitchen with wooden countertop base and stainless toe kick ● adjustable swivel bar stools ● outdoor dining area with both backless and with backrest benches ● outdoor wicker furniture with orange cushions ●
14. Wine and Dine
Points of Interest ● glass roof patio cover over cooking and dining area ● slate tile floors in running bond pattern ● granite topped barbecue station with built-in appliance and storage ● ceiling bar rack holding kitchen tools ● bowl pendant light over wood slab table
15. Almost an Outdoor Kitchen
Points of Interest ● bi-fold wood patio doors opening kitchen to deck and pool area ● trestle table with lyre leg design ● stainless steel built-in refrigerator and range hood ● large planters lining deck railing ● lower deck with rectangular inground pool
16. Woodland View
Points of Interest ● built-in Big Green Egg ceramic smoker ● arched storage door on counter base ● mortared stone counter with light fixtures ● wooden saddle seat bar stools ● composite wood decking
17. Desert Island
Points of Interest ● slightly raised wooden deck over limestone floor patio flooring ● L-shaped counter over decking● planters with snake plants on limestone tiled raised beds ● three storage drawer under counter ● black metal fence with vertical railing
18. Garden Greens
Points of Interest ● circular portable white dome barbecue grill in white ● composite decking bordered by flowers and greenery ● white powder coated metal furniture with pale aqua mint chair cushion ● ornamental water fountain with pump nestled among plants ● cobblestone circular lawn edging
19. Sunset Cocktails
Points of Interest ● covered patio with stamped and stained concrete flooring ● kitchen island with built-in storage drawers and appliances ● vaulted ceiling with skylight and in-ceiling speakers ● stone veneer retaining walls doubling as sitting benches ● adobe walls with white framed glass doors and windows
20. Wide and Free
Points of Interest ● barbecue area with L-shape horizontal slat privacy screen ● covered patio with extended wood decking ● full view sliding glass doors with barn-style sliding shutters ● barbecue area with horizontal slat privacy screen ● painted concrete countertop with refrigerator underneath
21. Barbecue under the Pergola
Points of Interest ● outdoor kitchen with built-in stainless steel smoker and 7-burner barbecue ● outdoor kitchen stainless steel cabinet base with double sink brown quartz countertops ● cobblestone paver flooring with brick border in running bond pattern
22. Hawaiian Vacation
Points of Interest ● Weber original kettle white charcoal grill ● terracotta painted walls with concrete baseboard ● bi-fold glass doors with frames in dark brown finish ● slim wall sconces and outdoor speakers ● hawaiian hibiscus print cushions on chairs
23. Lawn and Order
Points of Interest ● G-shaped barbecue kitchen layout ● 2-tier granite countertops with chiseled edges ● slate flooring in both barbecue and dining area ● topiaries hedges on rock mulch lining up patio area ● brick pillars topped with angel statuary
24. Spanish Touch
Points of Interest ● column grill with black charcoal tray ● Spanish Colonial building with private patios ● pergola with clay roof tiles ● folding chairs with canvas seat and backrest ● bougainvillea bush as privacy screen
25. Blue Oasis
Points of Interest ● open gazebo with curtains and asian-inspired cupola ● stone veneer wrap on column base and as accents on counter base ● red round chaise lounge illuminated by ceiling fan with lamp ● L-shaped barbecue station with counter height patio furniture ● Italian cypress lining the patio
26. Red Wall
Points of Interest ● wood-fired barbecue with anthracite faux brick backsplash and small side stone countertop ● matching faux brick column with firewood storage niche ● cobblestone floor in fish scale pattern ● muted red exterior walls ● adjustable recessed downlight on ceiling
27. Backyard Grill
Points of Interest ● 4-burner gas grill with searing side burner and side prep. table ● wide gap deck flooring ● wall with feather-edge timber cladding ● white PVC deck railing with posts ● outdoor furniture with tan patio umbrella