Hello and welcome to our Garden Outline of beautiful backyard landscape design ideas. Below you will find a summary of the benefits, main options and some design ideas we handpicked for you along with beautiful photos. Enjoy!

What are the benefits of backyard landscaping?
Beautifies your home outdoor space
Place to enjoy the pleasures of gardening
Area for cultivating a vegetable, herb garden or grow flowers
Your own haven to relax and to enjoy nature

What are the main options for backyard landscaping?
Structures: patio, pond, gazebo, garden bridge, gabion, waterfall, pool, natural fence, garden path
Furniture: lounge chairs, benches, wicker garden sets
Accents: statues, fountains, bird bath, re-purpose accent pieces, lighting fixtures

What follows are beautiful photos of beautiful backyards along with design ideas we thought may be of interest to you. Enjoy and happy backyard landscaping!

1. Waterfall Feature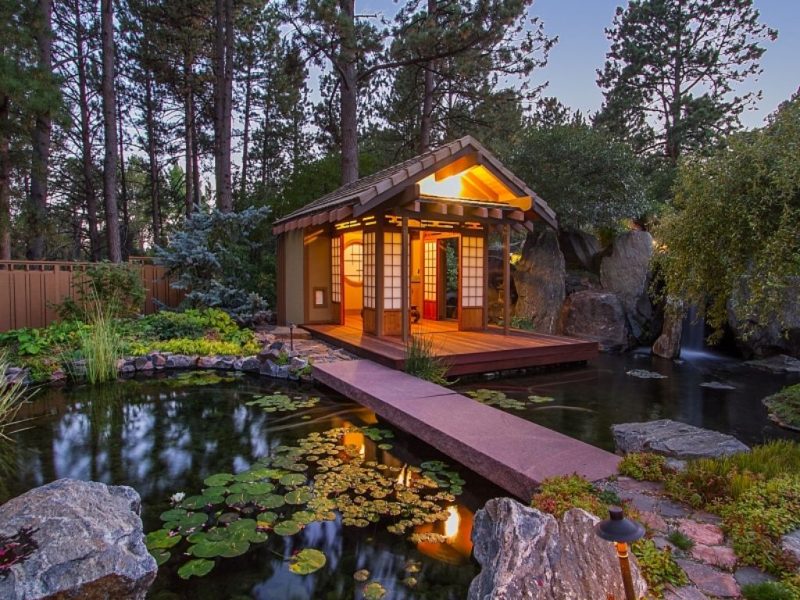 Points of Interest ● Japanese-inspired covered patio ● pond ● waterfall ● stone slab bridge ● stone and boulder pond surround
2. Serpentine Bench
Points of Interest ● serpentine concrete banquet bench ● yellow and orange West Elm martini side tables ● curved stone garden edging that doubles as pathway ● colorful throw pillows
3. Raised Patio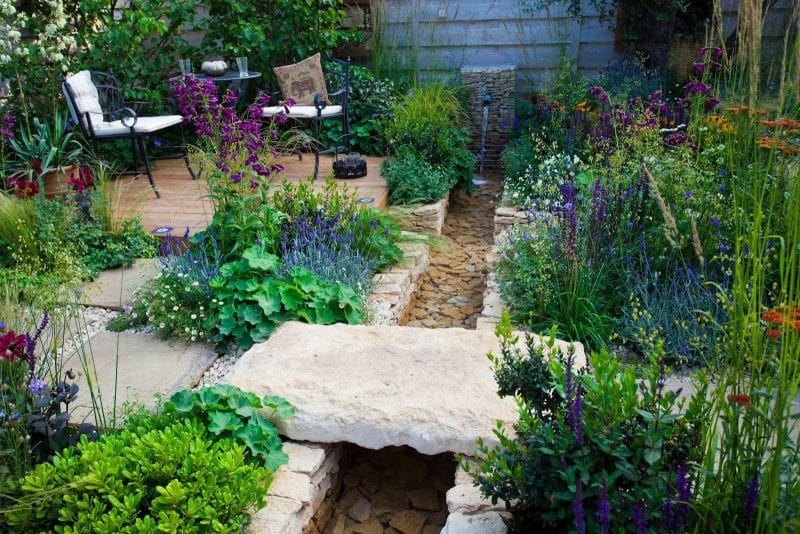 Points of Interest ● gabion column with water feature ● natural stone retaining walls ● wooden deck ● iron garden armchairs and cafe table ● purple perennial flowers in beds
4. Lap Pool Patio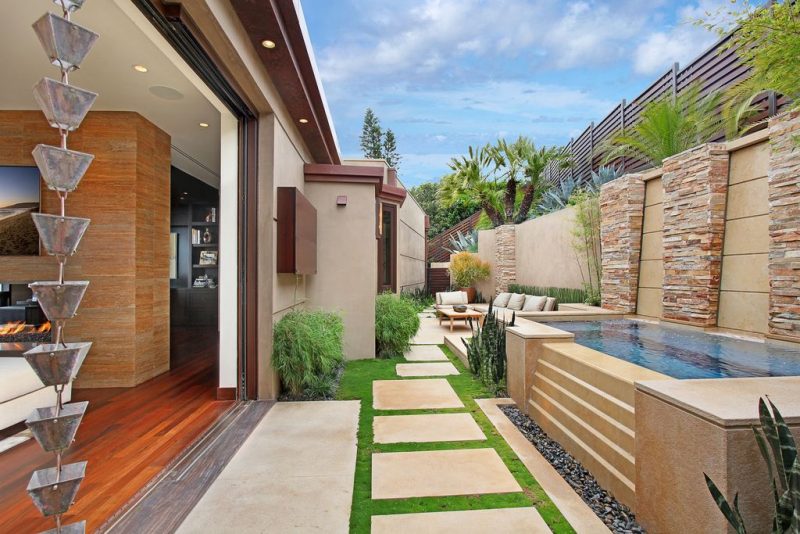 Points of Interest ● mini lap pool ● water walls ● pebble catch basin for pool overflow ● outdoor patio ● dry stacked stone pillars
5. Blue Bridge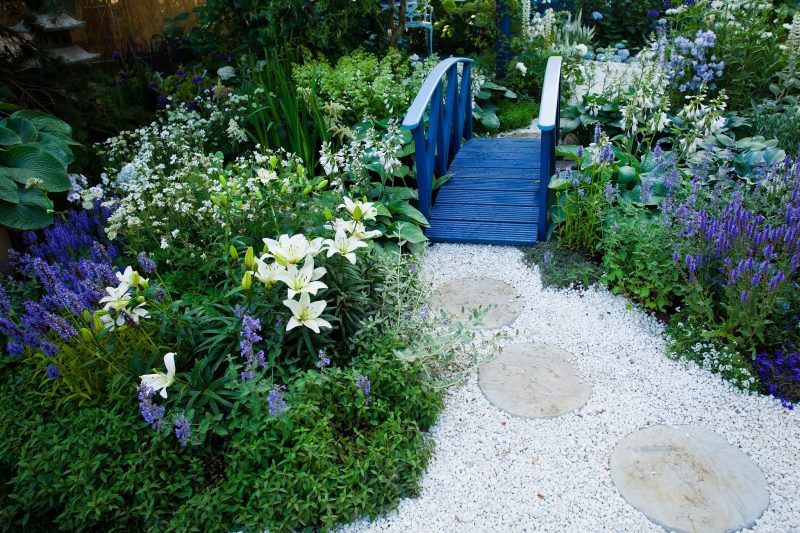 Points of Interest ● blue vinyl curved bridge ● light colored pebbles and limestone step stones on path ● oriental lilies ● garden pagoda
6. Beachy Backyard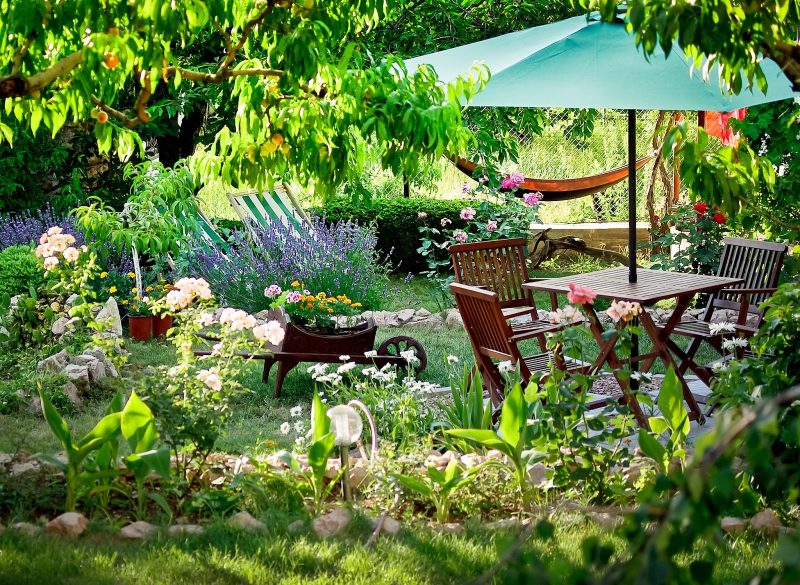 Points of Interest ● wheelbarrow planter box ● pair of beach chairs ● hammock ● plant beds with river rock garden edging ● chicken wire fence
7. Japanese Inspirations
Points of Interest ● wood and brown main structure palette ● Japanese inspired wood garden bridge ● wave roof tile ● wood slats picket fence ● wind chime
8. Garden Terraces
Points of Interest ● expansive terraced gardens ● mini ponds on two levels ● small evergreen bushes lining the larger terrace ● waterfalls ● light stone retaining walls and stairs
9. Boxwood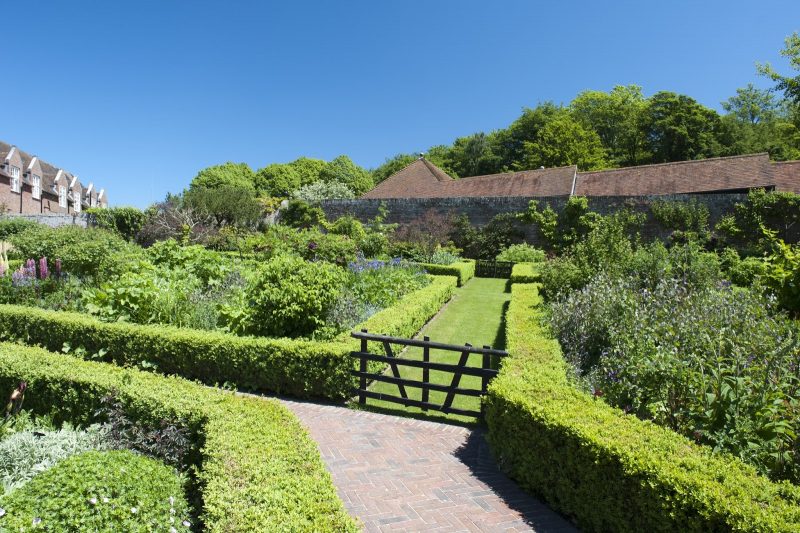 Points of Interest ● French style garden ● boxwood edging ● herringbone brick pattern pavers ● slatted garden gates
10. Wicker Seating
Points of Interest ● natural grass used as privacy fence ● wooden deck and path ● slate pond edging ● resin wicker garden furniture ● DIY slat privacy wall
11. Flower Colors
Points of Interest ● vintage garden bench ● flower planter repurposed from an old wooden rowboat ● colorful asters, mums and tulips ● tall trees used as natural fence
12. Full Trellis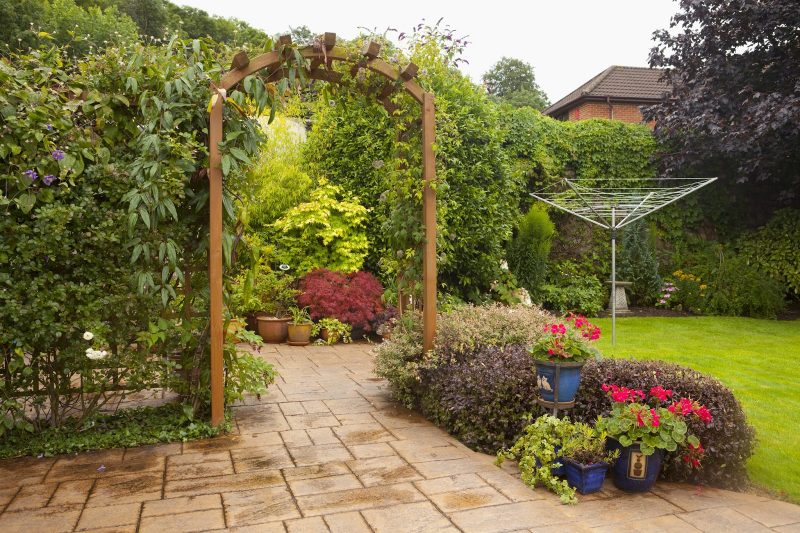 Points of Interest ● outdoor tiles in herringbone pattern ● arbor and trellis fence ● blue ceramic pots ● vine covered concrete fence ● bird bath
13. Small Pond
Points of Interest ● small pond with stone pavers surround ● waterfall feature ● wooden garden bench ● shadow box fence with lattice top detail ● frog and flamingo statues
14. Lighted Planters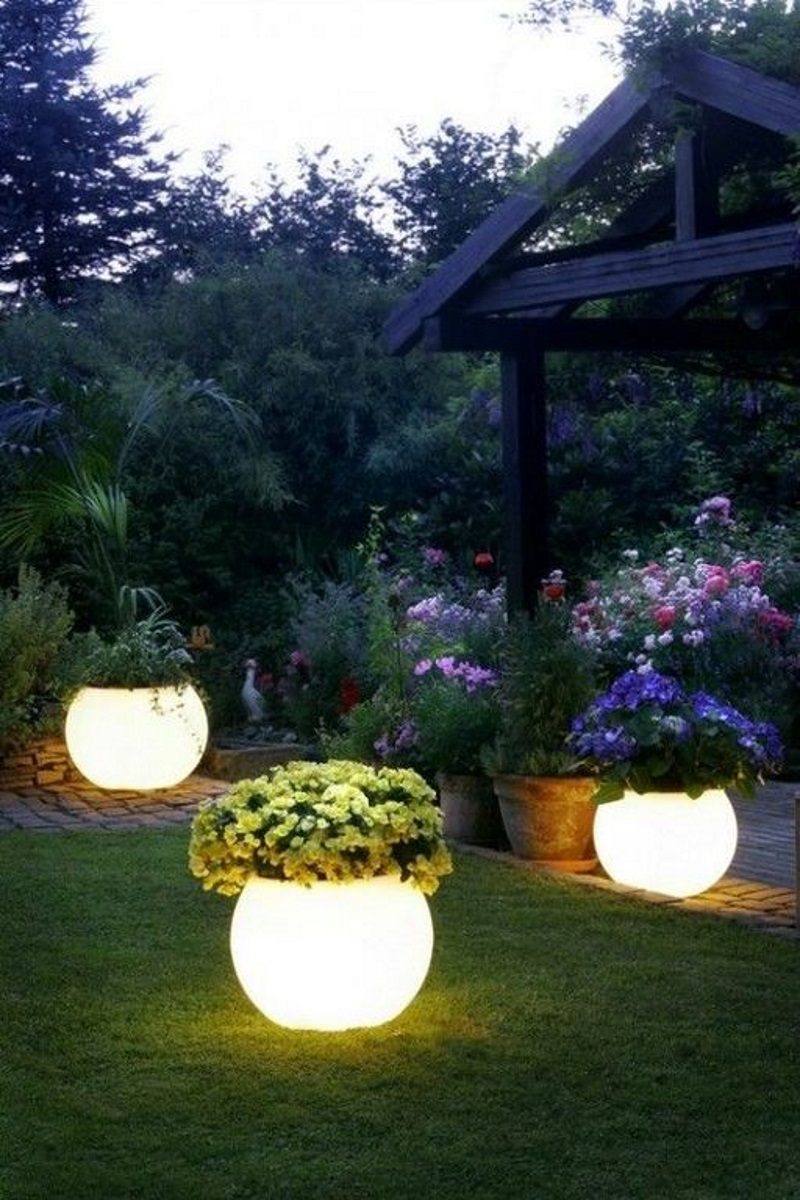 Points of Interest ● illuminated LED planters ● cobblestone path and edging ● dark wooden pergola ● aged terra cotta planters ● raised beds
15. Red Cover
Points of Interest ● red groundcover perennial plants ● river rocks pond edging ● kaleidoscope of plant colors ● pond lining made of large slabs of stone
16. Vine Coverings
Points of Interest ● three tiered fountain used as a planter ● white picket fence ● red bench ● large double hung windows ● green shutters
17. Gazebo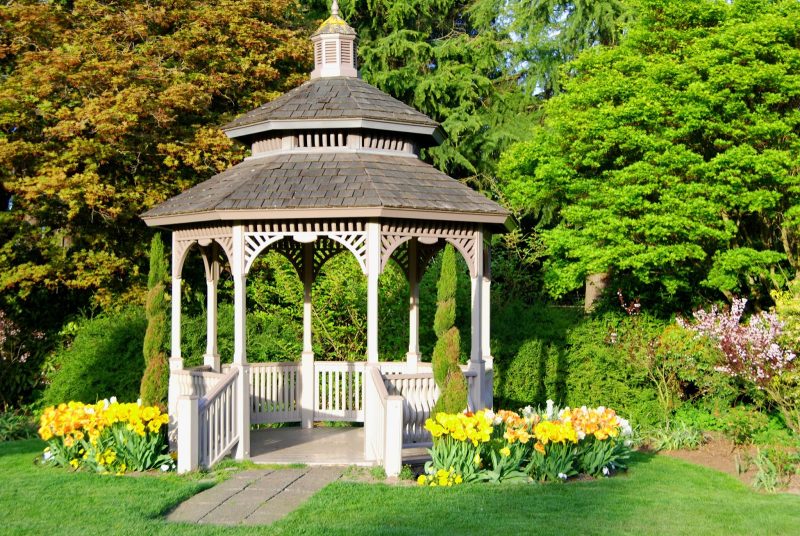 Points of Interest ● octagon vinyl gazebo with tile roof ● yellow and white freesia flowers ● pathway with concrete tiles ● evergreen and cypress trees that border the area
18. Wood Beds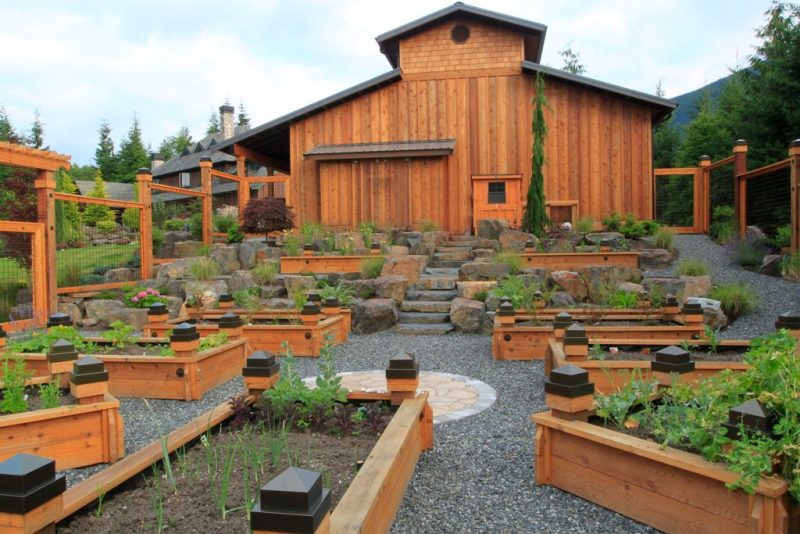 Points of Interest ● wooden raised garden beds with black newel posts ● multilevel landscaping ● stone slab stairs ● garden pebble floor ● circle stone accent
19. Lavender Shed
Points of Interest ● lavender garden shed ● raised plant beds ● concrete blocks retaining wall ● horizontal shadowbox wooden fence with lattice top ● pink hydrangea blooms
20. Adirondacks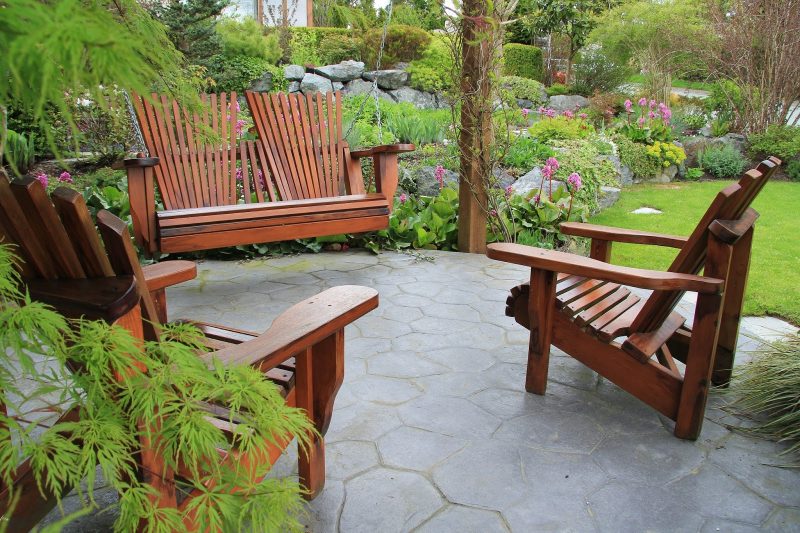 Points of Interest ● rock garden landscaping ● low lying plants and flowers nestled in between rocks ● adirondack porch swing ● smooth stone patio floor
21. Wildflowers
Points of Interest ● flower bed of wildflowers and rose bushes ● arched stucco entry ● pergolas ● lamp post ● beige stone garden path edging that matches stucco
22. Garden Bench
Points of Interest ● curved back wooden garden bench with cast iron frame ● step stones and grass walkway ● flowering hedges
23. Iron Point Fence
Points of Interest ● parterre with stone edging and painted iron accent ● wave design iron fence with pointed tops ● precast concrete tops on brick columns ● wind chime
24. Miniature Maple
Points of Interest ● sleeping angel statue ● mulched parterre ● miniature maple tree ● yellow and white ground cover flowers ● large trees in surrounding area
25. Arbor Trellis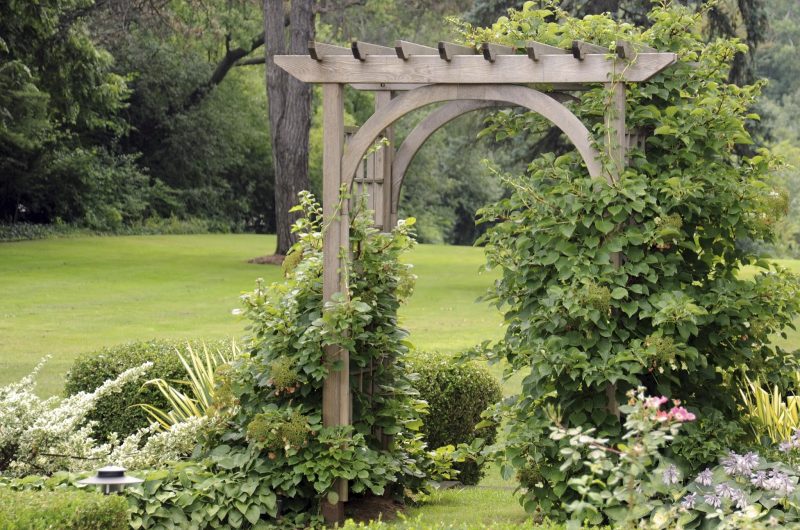 Points of Interest ● vinyl arbor pergola ● crawling plants ● outdoor lighting fixtures ● boxwood hedges
26. Backyard Pond
Points of Interest ● petite pond ● mixed sized stone surround ● wood plank fence ● miniature Japanese maple ● plants in varying heights and hues
27. Tulips
Points of Interest ● flower gardens of tulips and violets ● red french front door ● crabapple trees ● ladder to heart-shaped balcony ● gable dormer window