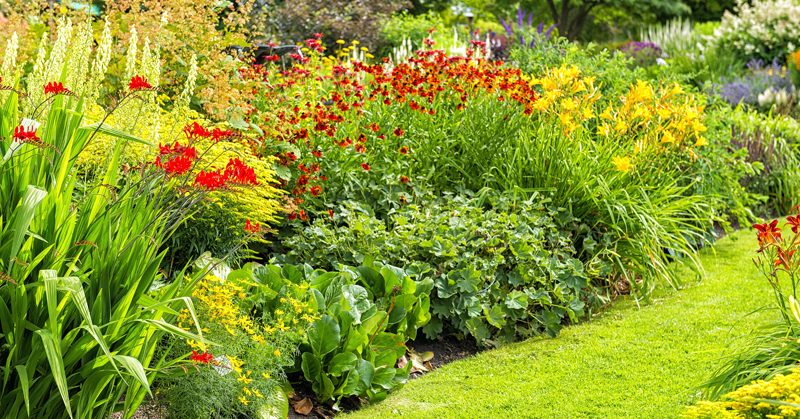 Hello and welcome to the Garden Outline photo gallery of backyard garden ideas. Below you will find a summary of the benefits, main options and some design ideas we handpicked for you along with beautiful photos. Enjoy!

What are the benefits of a backyard gardens?
Beautifies the outdoor space in your home
Can be a colorful and fragrant welcoming gathering spot for family and friends
Reduces stress due to the therapeutic aroma of certain flowers
You can experiment with edible gardening and harvest the freshest fruits, vegetables, and herbs
Gardening is a great low-to-moderate-impact exercise

What are the main options for backyard gardens?
Structures: pergola, gazebo, arbors, trellis, pond, garden bridge, mini waterfalls, garden gates
Furniture: wrought iron chairs, teak bench, synthetic resin wicker garden seating set
Accents: glazed pots, terracotta fountain, stone firepit, bronze statue, wooden birdhouse, water well, lighting fixture
Walkway: pea gravel, grass and concrete pavers, brick, stone, cement slabs, flagstone, step stones

What follows are beautiful photos of backyard gardens along with design ideas we thought may be of interest to you. For even more garden inspiration, try Garden Path Ideas, Garden Design Ideas, Garden Edging Ideas, Backyard Landscape Design Ideas and Backyard Patio Designs and Ideas. Enjoy and happy outdoor decorating!

1. Lavender Walkway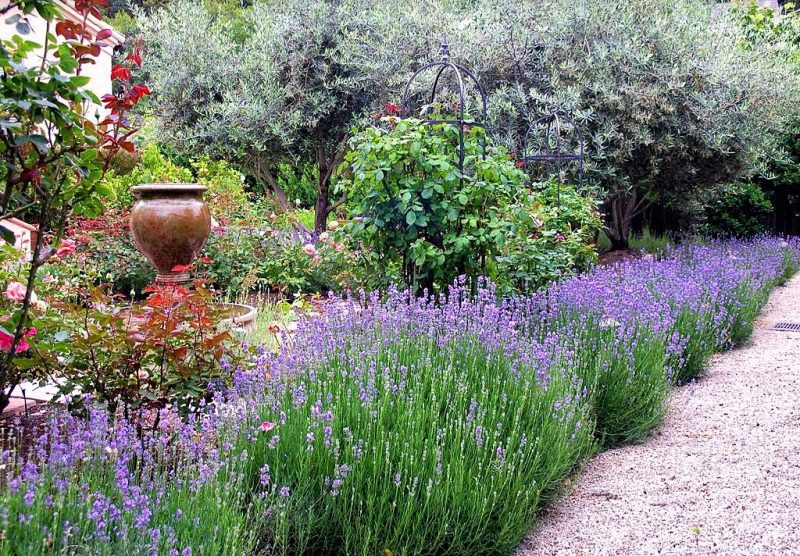 Points of Interest ● Lavender shrubs as garden edging ● limestone fines walkway ● terracotta fountain with glazed urn ● iron cage trellis ● English rose and "Blue Mist" fothergilla
2. Country Victorian Garden in Full Bloom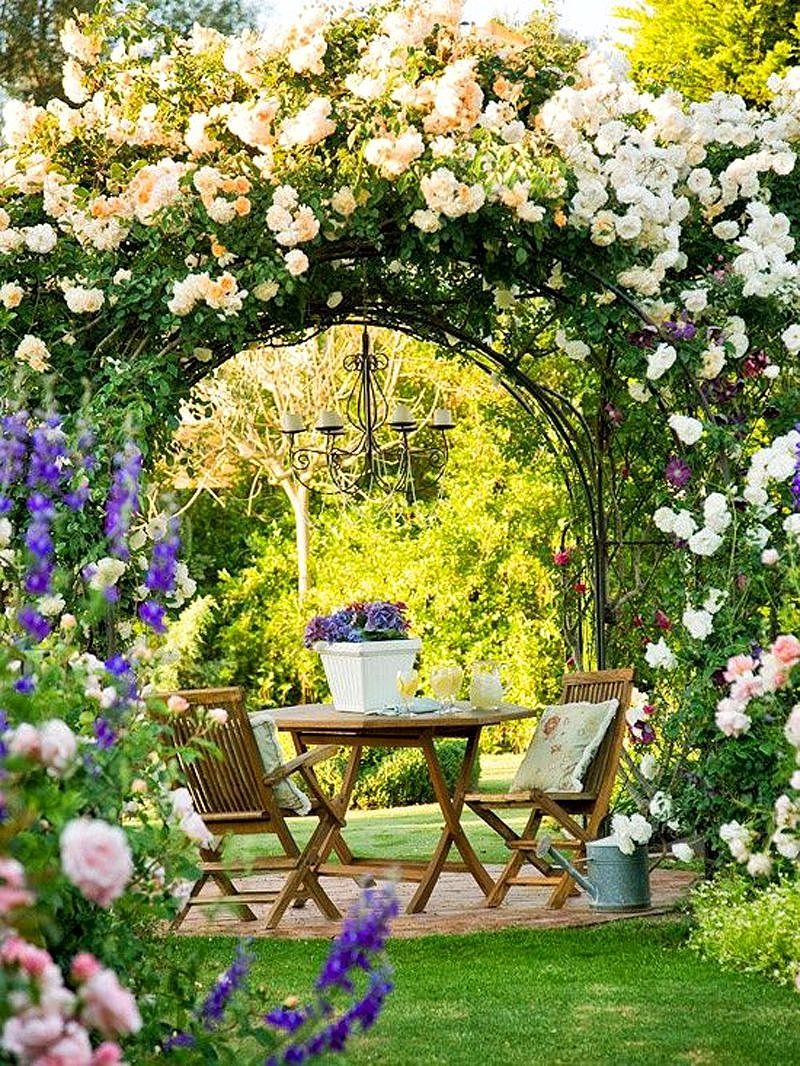 Points of Interest ● hexagonal tea table set with throw pillows ● Victorian-inspired chandelier ● climbing peach, white roses and clematis "etoile violette" (i.e. purple star in French) ● wrought iron arbor ● galvanized zinc watering can
3. Colonial Lawn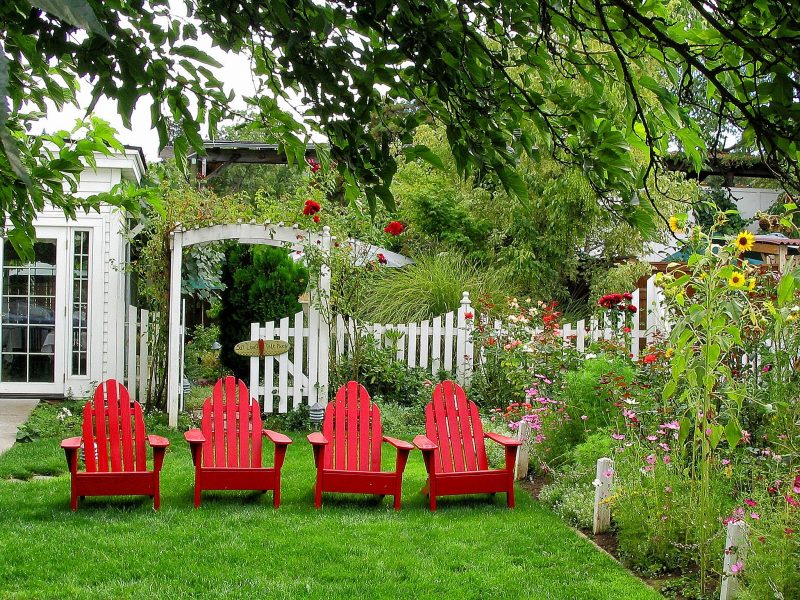 Points of Interest ● blazing red picket fence adirondack chairs ● sunflowers and red roses ● white single concave picket fence ● classic French doors with sidelight ● concrete garden bed edging
4. Colonial Back Garden in Bold Colors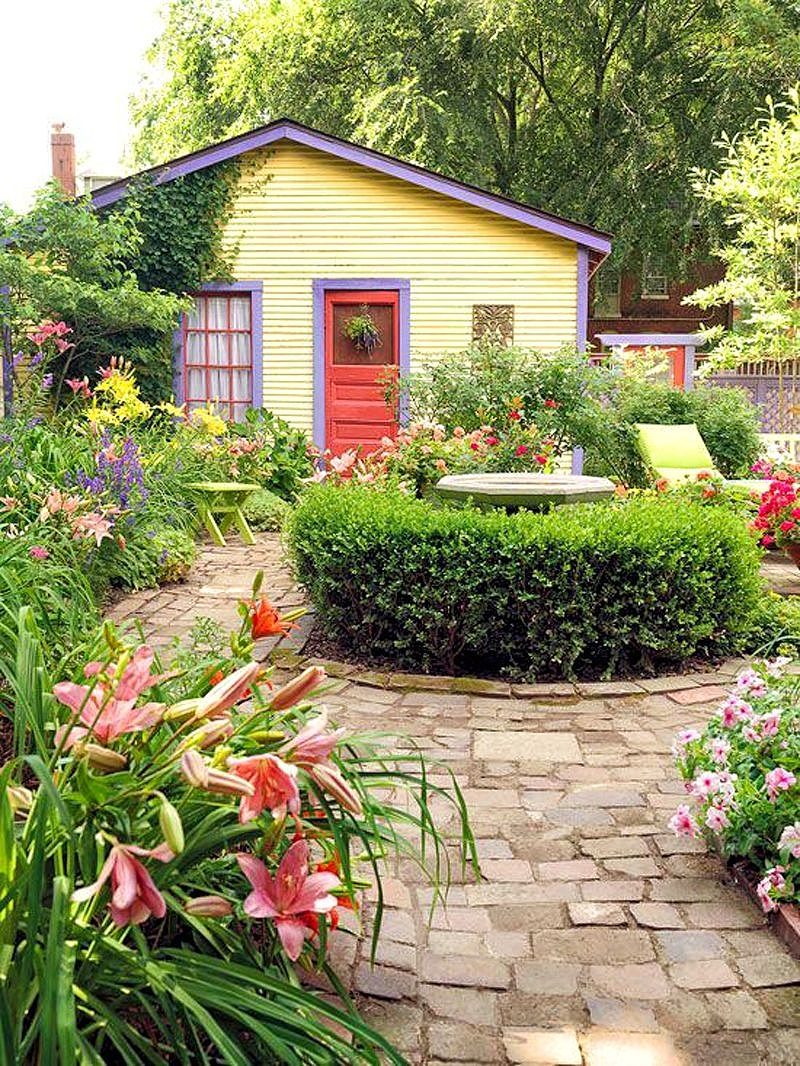 Points of Interest ● colorful home exterior paint calling back various hues from the garden ● round topiary surrounding bird bath centerpiece ● Arizona flagstone walkway ● lattice fence ● bold apple green lounge chair and side table
5. Garden Bridge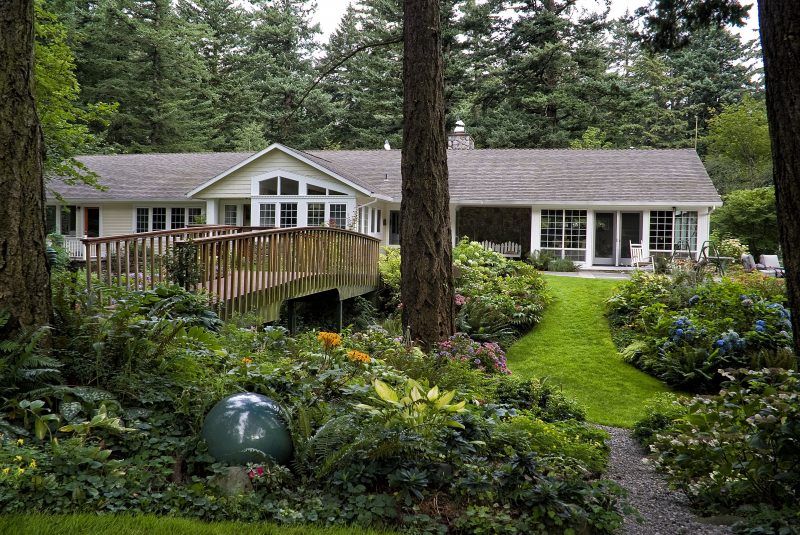 Points of Interest ● arched bridge with stained concrete based and wooden railing ● blue green glazed ceramic sphere ● gravel dry riverbed ● bountiful perennial foliage and pine trees ● blue hydrangeas
6. Bird Bath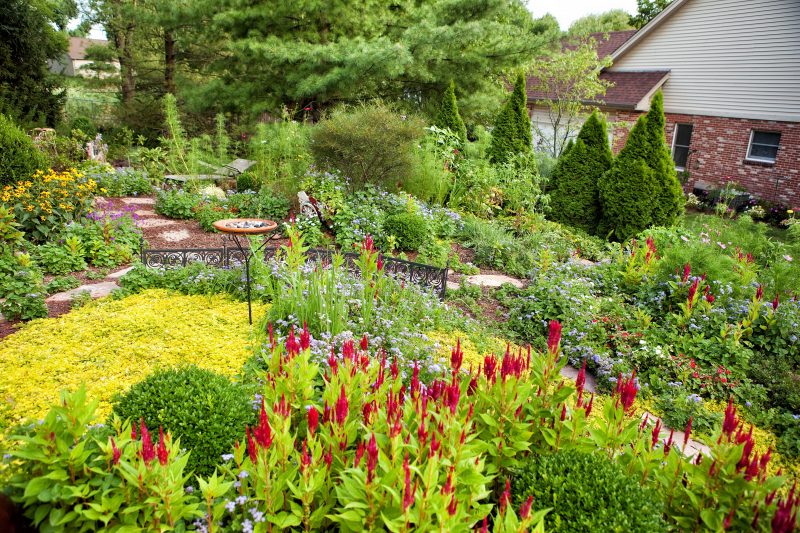 Points of Interest ● clay bird bath with pebbles ● wrought iron scrolled garden border fence with spear finials ● decorated wheelbarrow ● flagstone step stones
7. Outdoor Seating Retreat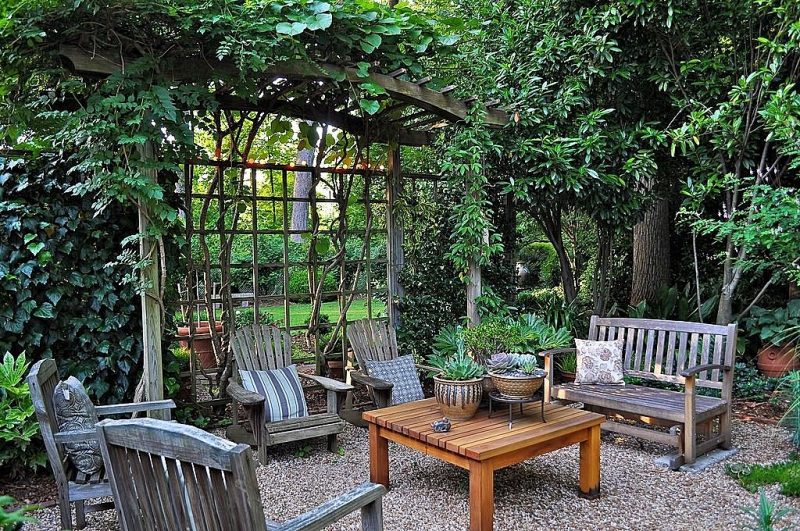 Points of Interest ● pea gravel patio area ● low-apron wooden chairs with rustic cushion ● succulents and Crassula on clay pots ● English ivy entwined with Moonflower on aged wood arbor with a matching lattice privacy wall ● warm tone fairy lights
8. Privacy Arbor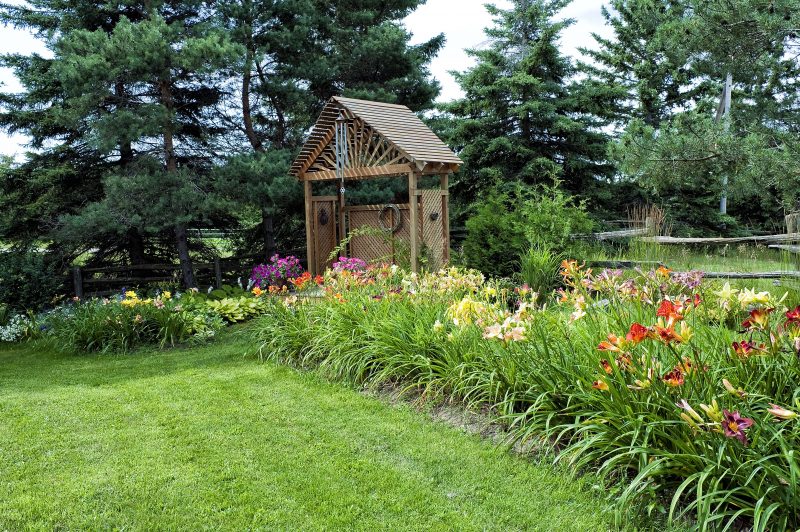 Points of Interest ● DIY wooden arbor with lattice back and side privacy panels ● outdoor wind chimes ● oriental lilies, irises, daylilies "Night Beacon" garden bed ● lush pine trees for year round privacy ● split rail fence
9. Hobbit House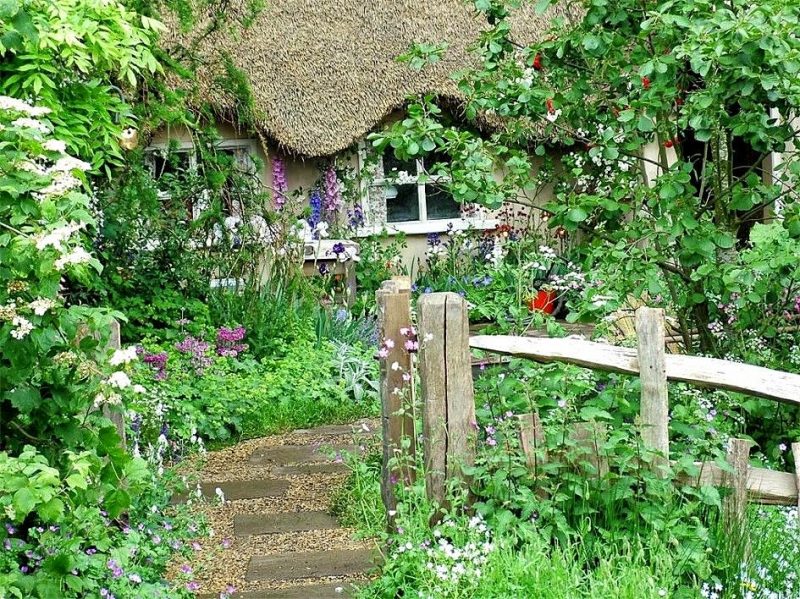 Points of Interest ● cottage with thatched roof ● split rail fence ● pea gravel walkway with stepping stones ● white and pastel flower blooms on walkway and facade ● strawberry guava tree
10. Relaxing by the Waterfall
Points of Interest ● terraced backyard with boulder retaining walls ● wrought iron chair set and citronella candle holders ● pondless two-level waterfalls made of stone slabs ● flagstone patio and glazed urns ● covered arbor with hanging plants
11. Modern Sunroom
Points of Interest ● veranda with sliding doors and fireplace ● brick fence with stone fence ● fence pole tops matching chimney caps ● hip dormer window ● discreet rain gutter downspout matching door frames
12. Private Garden
Points of Interest ● weathered wood dog ear cut fence for privacy ● variety of yellow, pink, and violet daisies ● Concrete slab bench framed by twin planters ● antique bicycle backyard decoration ● natural garden edging
13. "Rainforest" Backyard
Points of Interest ● natural rock garden edging ● daffodils and "Ad Rem" tulips ● stone veneer retaining walls each with a different selection of perennials and flowers ● boulder retaining wall lined with boxwood ● cabana on terraced garden
14. Waterfalls by the Garden Shed
Points of Interest ● heron sculpture ● cascading waterfalls ● lily pods ● redwood garden shed ● natural stone pond coping and lining
15. Red Bench
Points of Interest ● red glazed cast iron bench with intricate back design ● short flat wooden bridge painted to match terra cotta planters ● hanging bird house ● metal wind chimes ● combination of stone boulders, railroad ties, and hidden edging
16. Tuscan Inspiration
Points of Interest ● wood pergola with matching trellis ● ceramic tile accent on stair risers ● lattice privacy fence ● Japanese maple and colorful pansies ● Small pond with terracotta urns and brick coping
17. Country Farmhouse-Inspired Garden
Points of Interest ● wishing well with terracotta scallop roof ● white light holder with hearts and windows ● weather resistant resin white folding chairs and tea table ● joyful fuchsia cushion seats calling back rose design on pillow and tea pot ● lush trees and shrubs for year round privacy
18. Stone and Wicker
Points of Interest ● synthetic resin wicker garden chairs and table ● stone firepit ● two-toned cobblestone pavement ● raised stone garden beds ● glazed urns on elevated stone pillars
19. Garden Shed
Points of Interest ● white garden storage with matching house roof ● wooden bird feeder hanging on iron pole ● black-eyed Susan ● hostas ● stockade fence ● natural garden edge
20. Greens and Violets
Points of Interest ● Agastache Blue Boa and fairy bellflowers ● decorative stones with moss near lavender parterre ● red zinnia ● detached brick covered patio
21. Rustic Gazebo Surrounded by Greenery
Points of Interest ● rustic gazebo with clay tiles roof and half lattice privacy wall ● wooden bench with low camel back and rolled arms ● pink flowering rhododendron ● flowering dogwood trees ● sedge and stones edging
22. Earth and Fire
Points of Interest ● terracotta pot with heron carvings ● Red Tip Photinia shrubs calling back red geranium flower bed ● stone facade ● vestibule entrance outdoor lantern ● elevated stone edging
23. Patch in the Desert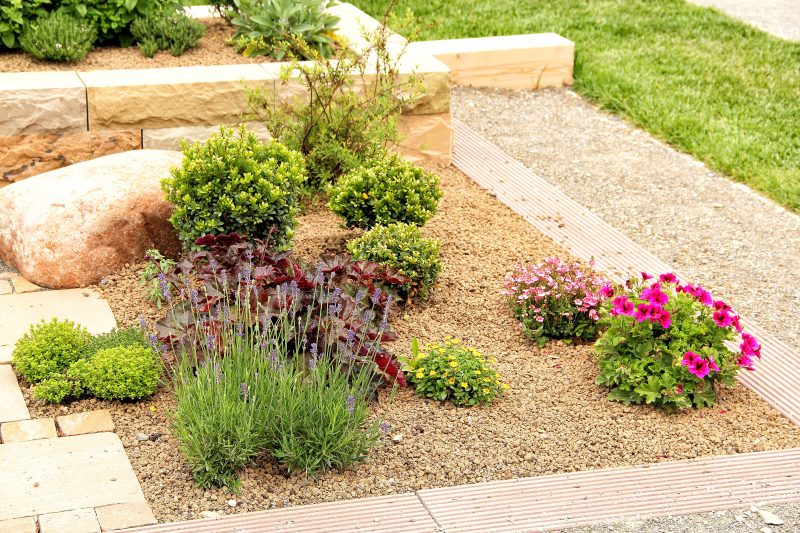 Points of Interest ● two level parterre with warm toned pea gravel covering ● flat garden edge with rough cut stones and tiled planks ● boulder accent ● English lavender on flat edged parterre ● stone raised bed
24. French Hedges
Points of Interest ● lawn walkway with boxwood hedges ● aged brick fence ● grouped Cypress trees ● alliums ● pink lupines
25. Simplistic Raised Garden Bed
Points of Interest ● fish shaped raised aged brick garden bed ● cast iron garden statue with mini bird bath ● Serviceberry tree ● Concave fence gate with iron and wire combination fence ● iron plant hanger on fence pole
26. Lots of Green
Points of Interest ● white washed barrel planter ● pink petunias ● split rail fence ● white lupines ● curved resin strip edging
27. Cobblestone Secret Garden
Points of Interest ● stacked stone fence with iron gate ● stone pillar with carved stone finial ● weathered carved stone flower box ● pink and white edge Geranium Elke ● yellow hues of the Lady's Mantle bloom ● Bellflower Beardtongue ● elephant ears plants