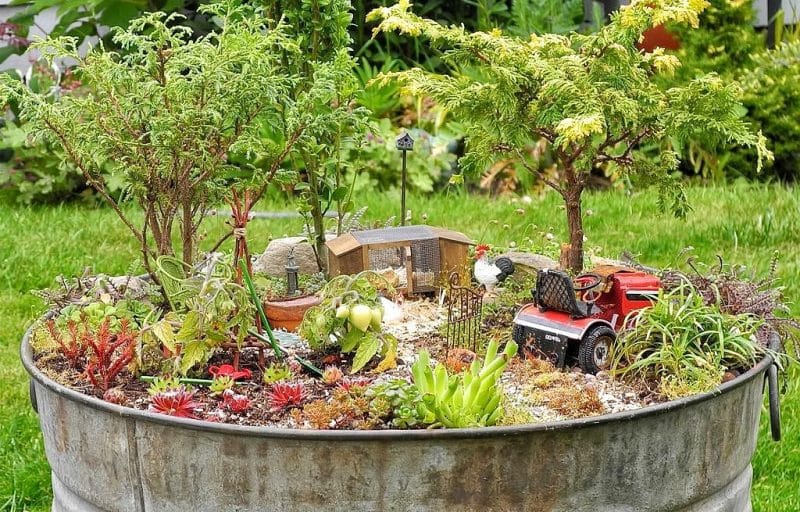 Hello and welcome to the Garden Outline photo gallery of antique planter ideas. Below you will find a summary of the benefits, main options and some design ideas we handpicked for you along with beautiful photos. Enjoy!

What are the benefits of antique planters?
Character – antique planters share their character and can make your space more interesting
Beautiful garden partner – antique planters create an appealing contrast with the lush greenery of a garden
Test of time – antique pieces have been tested by time and are typically made of high quality material
Eco-friendly – antique planters have been used and re-used over many years (or centuries!) so that's a beautiful way to be eco-friendly

What are the main options for antique planters?
Types: jar, pot, urn, window box, repurposed (trunk, carriage, zinc bucket, bird bath)
Material: wrought and cast iron, stone, terracotta, concrete, zinc, marble, glazed clay
Antique signatures: white cast on terracotta planters, patina, moss, rust, scuffs of time, unique imperfections

What follows are beautiful photos of antique planter ideas along with design options we thought may be of interest to you. If you are interested in more planter ideas, have a look at our Planter Ideas photo gallery. If it is antiques that you fancy, try Ideas to Garden with Antiques. Enjoy and happy outdoor decorating!

1. Green Pergola Arbor
Points of Interest ● antique cast iron urn planter in a vibrant rust finish ● green pergola top arbor ● mint green wooden bench ● hardwood estate plank fence ● mulched garden path
2. Louvre Windows
Points of Interest ● bronze bird bath in a rust patina repurposed as planter ● attached pergola with privacy walls ● round table with moss-covered top ● wooden sliding louvre windows ● wall mounted marine lantern style patio lighting
3. Privacy Cypress
Points of Interest ● antique fluted glazed planters in various sizes ● twin adirondack chairs ● portable fire pit ● pea gravel around stepping stone garden path ● irregular slate paving in fire pit area ● vintage bicycle deco
4. Cherubs Keeping Watch
Points of Interest ● pair of painted stone urn planters ● twin reclining cherubs stone garden statues ● cherub clamshell wall fountain ● mini wall pond ● carved stone door topper ● foresr green outdoor shutters
5. Jar with Feet
Points of Interest ● antique handcrafted terracotta jar with feet ● orange tree in banded terracotta planter ● mini raised beds flanking steps ● aged brick siding
6. Twins
Points of Interest ● pair of antique cast iron urn planters ● circular pond with water fountain ● slate tile pond coping ● stacked stone retaining wall ● sunroom with stone base ● boxwood hedges covering perimeter of pond
7. Rolled Rim Cylinders
Points of Interest ● rolled rim cylinder planters with bands and handcrafted fruit designs ● blue lobelia ● pea gravel patio flooring
8. Repurposed Planter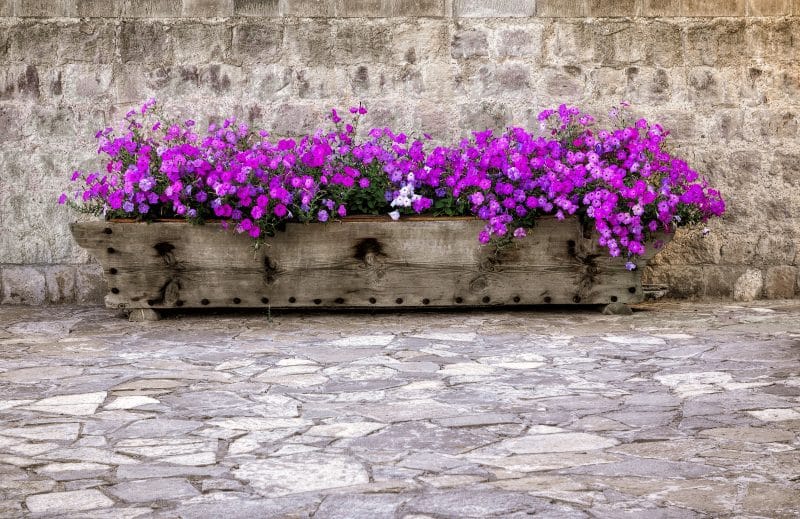 Points of Interest ● antique wooden wagon body repurposed as planter ● white and violet viola flowers ● irregular stone pavers ● mortared stone fence
9. Low Bowl
Points of Interest ● low spray painted cast iron urn with ornate handles ● young variegated plant ● weathered urn base ● cobblestone pavers
10. Row of Antique
Points of Interest ● row of large aged terracotta jars ● bougainvillea plants in jars ● low granite fence between jars doubling up as bench ● irregular granite tiles of various hues ● arched entryways
11. Geraniums in Tuscany
Points of Interest ● aged banded terracotta planter ● fuschia geranium ● marble top round cafe style table ● aluminum and wood folding outdoor chairs
12. Herringbone Brick Pattern
Points of Interest ● aged metal cylinder repurposed as planter ● 4-lite front door ● brick flooring with herringbone pattern ● handcrafted window box ● variegated crawling plants
13. Mossy Terracotta
Points of Interest ● handcrafted terracotta urn planter with moss and white cast ● daffodils ready to bloom ● snowdrops ● purple heather
14. Mint Green Lattice
Points of Interest ● hand carved clay pot in center of garden bed ● vertical garden ● mint green wooden lattice fence panels ● mint green pergola ● stamped concrete flooring with matching stepping stone garden path
15. French Porch
Points of Interest ● antique stone urn planter ● begonias pots ● stacked stone fence with growing rosette Succulents ● Z-style wooden shutters ● outdoor front door lantern
16. Braids
Points of Interest ● Grecian stone urn planter with braided rim ● fan palm plant ● vertical braid siding accent matching the planter
17. Flower Accent
Points of Interest ● ridged terracotta jar ● handcrafted terracotta trough with cherubs ● stone aggregate flooring ● floor pebble flower inlay ● 2-panel wooden door with toplite
18. Towering Trees
Points of Interest ● antique bronze low urn planter with patina ● three ridged terracotta olive jars ● stone staggered retaining wall ● boxwood hedges ● tall evergreen trees
19. Hand Carved Terracotta
Points of Interest ● handcarved rolled rim terracotta planters with fruit and flower designs ● hydrangea flowers ● stone and plaster siding ● resin wall planters ● stone window ledges
20. Antique Planters in Crete
Points of Interest ● painted and ridged cast stone jars ● terra cotta planters of different shapes with blooming red geraniums ● scalloped wooden bench ● glass front built-in mailbox ● stone raised bed
21. Basil under the Sun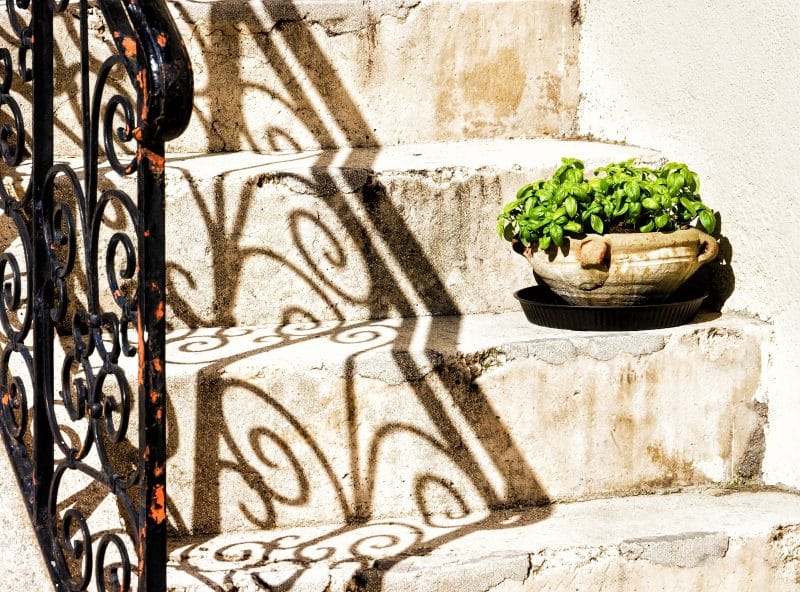 Points of Interest ● weathered bowl planter with handles ● basil herb plant ● painted wrought iron banister with scrolls
22. The Door
Points of Interest ● pair of weathered built-in wall planters ● pink petunias ● custom recessed panel wooden front door with iron rivets ● iron kick plate
23. Carved Leaves
Points of Interest ● weathered terracotta jar with handles and hand carved leaf designs ● arched doorway ● aged wooden swing doors ● resin fluted planters on ground and wall
24. Pansies in Antique
Points of Interest ● aged rolled rim stone planter ● bright yellow and brown pansies ● stone fence ● trimmed hedges ● cobblestone garden path with mortared rock edging
25. Hand-Painted Touch
Points of Interest ● rolled rim terracotta water jar repurposed as planter ● stenciled design on jar ● mortared stone wall ● circular screen window with metal insert
26. Weathered By Time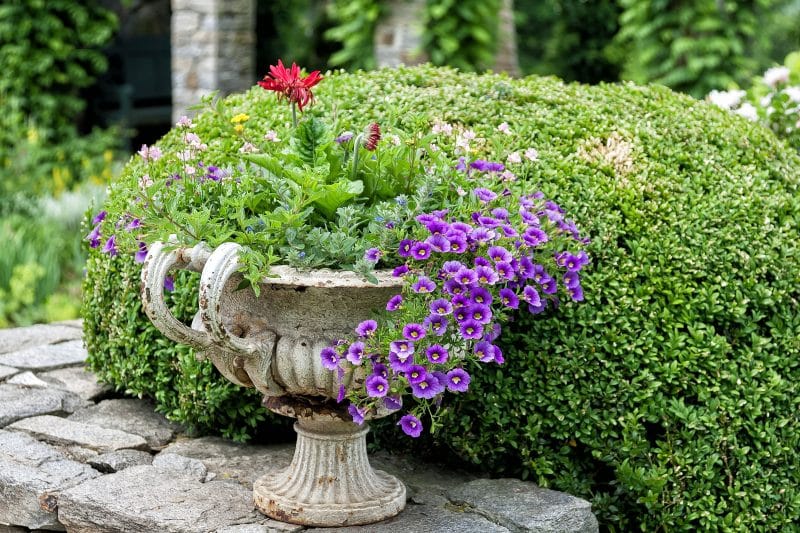 Points of Interest ● weathered white cast iron ridged planter ● calibrachoa (i.e. miniature petunias) and daisies in planter ● low dry stone fence ● trimmed hedge ● stacked stone columns
27. White Baskets
Points of Interest ● row of vintage molded concrete basket planters ● white and salmon pink geraniums ● weathered stone path